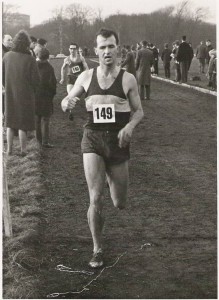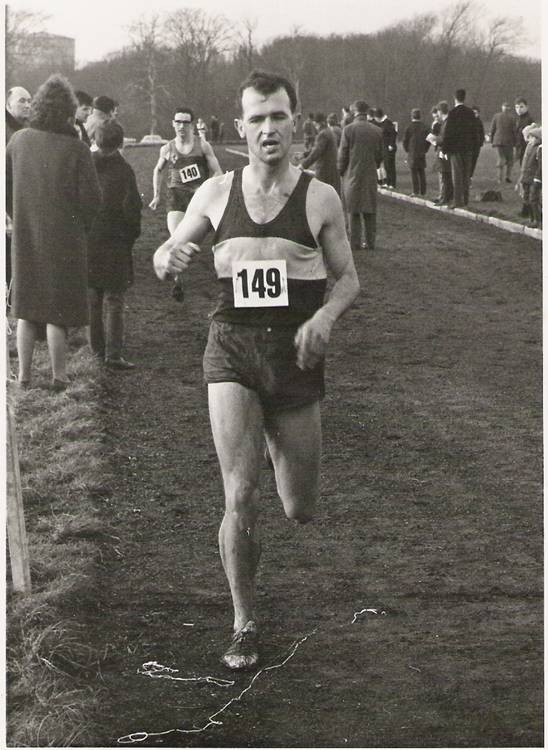 Allan Finishing in the Springburn Cup ahead of Mike Bradley
Allan Faulds was a really good endurance athlete – on the road, on the track and, perhaps especially, over the country. He even ran in the Ben Nevis race and enjoyed that as well. He was an inspirational athlete in whatever club colours he wore – it was not unusual to see him driving himself over the finishing line in a state of exhaustion and then a few minutes later making his way back down the trail shouting and driving on his team mates further down the field. Off the running course he was one of the quietest and most gregarious men you could wish to meet – but you wouldn't want to try to head him off at a narrow gap in a cross-country course. What follows is a slightly expanded version of an earlier pen portrait that I did and also has a lot of information from a very full account of his career written by Graham Bennison in Fife in 1992. Thanks to Graham for his permission to quote from it.
Allan's introduction to athletics came as a pupil at the McLaren High School in Callander while living in Aberfoyle. In June 1957 he was third in the 880 yards and a year later was first in the good time of 2:07.6 (which he bettered later that year to 2:07.4) and was second in the Perth County School Sports. A year on and he won the Perthshire Schools 880 yards in the excellent time of 2:02. Until then his main sport had been football where he had played a trial for Scotland's Youth team,been invited to trial for Rangers while at school and again to trial for Stirling Albion during his first year at University. When on a University placement in Newport he did some running for the local club, Newport Harriers, and did some running in a variety of track meetings.
Even when he started at Glasgow University, where his athletics career really took off, his main sporting interest was with football but when he was invited to run in the Hares & Hounds Christmas Handicap in 1961 he started running seriously. He won the race in the fourth fastest time of the day and soon became a fixture in the team. On 27th January, Glasgow University defeated Edinburgh University and Edinburgh Southern Harriers over 6 miles from the King's College in Edinburgh – 'their greatest victory for 20 years' – with Calum Laing first and Allan thirteenth in what was only his third cross country race. One month later and he made his first appearance in the British Universities championships where he was eighty ninth and only seven days afterwards was eighth in the Scot Unis and the Glasgow team won the team race. In March, running in the Scottish Championships, he was fourth in the Junior National in only his eighth race and led the GU team to the team title. In summer 1962 he was second in a three miles at Westerlands in 15:13 – a time improved to 14:44 in the Scottish University Championships. before the season was over.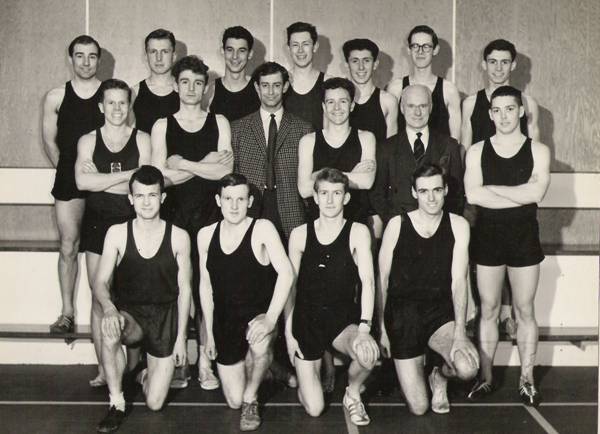 Allan with some of the excellent Glasgow University team
In the 1962-63 season Motherwell YMCA, who as a team were virtually undefeated, won the prestigious Edinburgh to Glasgow eight man relay followed by Edinburgh Southern Harriers and Glasgow University in third. Allan ran on the very difficult long Stage Six where traditionally many of the best distance men turned out. It was a dreadful day with snow underfoot for most of the race and snow drifts in some of the more exposed sections – Allan's time of 34:33 was the fourth quickest of the day and kept the team in third position. Also in November, his second place helped Glasgow to a win over Loughborough Colleges and just five days later defeated Don Macgregor in an Inter-University 6.75 mile race. The following month saw another battle between the two but this time Don won, Allan was fourth and St Andrew's won the team race. They were both in the Universities Select against the SCCU where Allan was sixteenth. Into the New Year and Fergus Murray (representing Edinburgh University Hare & Hounds won the traditional New Year opener, the Nigel Barge Road Race at Maryhill with Allan in eighth helping Glasgow University to fourth team place. He finished January with fifth in the Midland District Cross-Country Championships to start the cross-country championship season. Early in Februarythe Scottish Universities Championships were won by Calum Laing with Glasgow University first team: . Allan was eighth. Finally at the National Championship, Laing was eighth while Allan was eight places further back. In March 1963Allan made his debut for the Stirling club St Modan's AAC in the Springburn Cup relay where the club was second.
To quote Graham Bennison, "That March Allan, described as a "dour, tenacious runner of the Zatopek breed" was awarded a Glasgow University 'blue'. Calum Laing (15:06) beat Allan (15:26.7) in the Glasgow University AC Track & Field Championships that spring. … …That summer Allan returned to work placement in Newport, Wales and competing for Newport Harriers set times of 4:32.2 (Mile), 9:54 (3000m steeplechase) and 14:39.2 for three miles – a pb).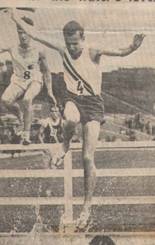 In the autumn of 1963, Allan was in great form. The Annual Glasgow University Road Race was won by Lachie Stewart (27:04) with Allan second in 27:17. A week later Mel Edwards won an inter-universities match with Laing second and Faulds third. In December, Allan won the annual match against St Andrew's University, held at St Andrew's. In February 1964 Allan again featured in the British Universities Championships where Fergus Murray dead-heated with the legendary Mike Turner. Allan finished twenty third, Calum Laing was thirty ninth and Glasgow were eighth in the team race. The Scottish National that year read like a "Who's Who" of Scottish Cross-Country – 1. F Murray 36:58; 2. J Alder (Morpeth) 37:37; 3. AJ Wood (Aberdeen) 37:59; 4. AH Brown (Motherwell) 38:03; 14. A Faulds 39:21. A week later Allan dead-heated with Fergus Murray at an inter-university cross-country held at Edinburgh. A full summer of track races followed and in the Autumn Allan was elected St Modan's cross-country captain. Allan's time for the McAndrew Relay course (then two miles 1595 yards) was 14:34: Hugh Barrow (Victoria Park) was fastest with 13:38. A tri-angular cross-country match between St Andrew's University, Strathclyde University and St Modan's saw St Andrew's win the team race but Allan was first over the six mile course in 32:09. Further success came when Allan broke Falkirk Victoria's four and a half mile course record (24:12), two minutes better than the previous record held by W Morrison. [The Falkirk Victoria Course (six miles 370 yards) was won by Allan in 31:56.4 on 16th November 1964. He also won the same race on 15th November 1965 in 30:52.8). Further inter-club wins came Allan's way before finishing thirtieth in the National at the end of February. That May Allan ran 9:35.4 for the 3000m steeplechase improving to 9:29.6 in August. In June at the West v East match, Allan ran as a non-counter finishing fourth in the track Three Mile race in 14:09.6. At the other end of the distance scale, Allan achieved third place in the Dunblane Highland Games fourteen and a half miles road race (79:43). That winter season, 1965-66, was an uneventful one for Allan having a number of wins in the autumn. In November Allan was a reserve for Scotland against the Army, he ran as a non-counter finishing sixteenth. In January Allan, now 24 journeyed south where he was third in the Essex Country Cross Country Championships, won by another 'legend' – Mel Batty. Back in Scotland Allan finished third in the Midlands Cross Country Championship behind Lachie Stewart and Eddie Knox. Meanwhile St Modan's changed its name to Stirling AAC. In the Springburn Cup, Eddie Knox was the winner while Allan was runner-up in 27:11, ahead of Hugh Barrow who was third.. That winter, Allan had his greatest run to date representing Scotland at the Hannut International in Belgium. Olympic Steeplechase gold medallist and World Cross-Country Champion Gaston Roelants of Belgium won the 10K race in 32:20, ahead of Tim Johnston (Portsmouth) in 32:28. England won the team race with Scotland third – Jim Alder 6th, AH Brown 7th and Allan Faulds 19th. Later in February, Allan finished thirteenth in the Scottish National won by Fergus Murray. Allan was disappointed not to make the Scottish team for the World Championships at Rabat in Morocco."
It was mentioned at the start that Allan had run in the Ben Nevis Race and it was in September 1966. For a non-specialist he ran very well indeed to finish twenty sixth. Many years later he said that he had enjoyed it and maybe should have raced in more hill-races. Clydesdale Harrier Bobby Shields was second in that race and they would both feature in Clydesdale medal winning teams in the early 1970's. Allan then turned out for Woodford Green AAC in the St Alban's 4 x 2 miles relay where his running earned him a place in the team for the Epernay – Rheims Road Relay helping the team into second place. On his return to Scotland, he beat Alastair Wood in the 5.5 miles Esk race and followed this with fourth in the Grangemouth 'Round the Houses' race behind Ian McCafferty. His form shaded a bit after this and he moved to Exeter in the summer of 1967.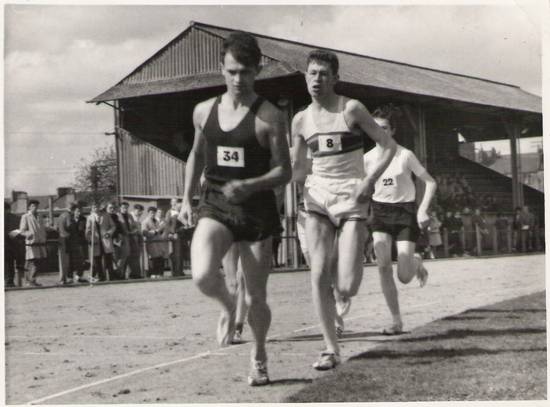 Allan leading at Westerlands
In his first winter with Exeter he started with a wonderful run of success. He was second in a 5.25 mile race at Paignton, fourth in his first Devon League Cross-Country race and helped the team to second place in the Exeter to Exmouth Relay. Possibly his best win was when he won the Ross Shield Race in a new course record of 30:33.1 ahead of Denis Crook and Danny McFadzean – the latter being a Scottish marathon internationalist and a regular member of Royal Navy teams. That was on 2nd December, on the ninth he won against Exeter University and St Luke's College, on the sixteenth he was forty third in the highly prestigious Hog's Back 9.25 miles race at Guildford and finally at New Year he raced in the Nos Galan four miles race at Mountain Ash in Wales which was a race supported by all the very best in the country at the time: he finished nineteenth and his team was eighth. He travelled back to Scotland to help his club, Stirling AAC, in the National Cross Country at Hamilton where he was twenty ninth. Returning to Devon, he ran a 52:31 for third place in a ten miler at Plymouth and in April he ran into sixth place in the Bampton to Tiverton Race. His first run on the track was in a steeplechase where he ran 9:45.4 to win . In May in Bournemouth he was clocked at 2:03 for the 800m. A week later he gained bronze in the Devon County Six Miles in 30:19.6 followed by fourth in the steeplechase in 10:25.4. In June it was 9:41.2 for the 'chase when he won in the Westward League. He was third in the County Three Miles in 14:35.8and a third in the Three Miles He continued to race well for Exeter with times of 9:37.2 for the steeplechase, 14:13.4 for the Three Miles and 30:19.6 for the Six Miles. Competitively he won medals at the County Championships and in Road Races. There were lots of good runs but his strangest time ever was 23:29 for the Two Miles. The explanation was that in a League Match his club had no walkers for the Two Miles walk, well the walkers were there but for some reason were not allowed to compete – so Allan and his friend just walked round to get the points!
In September he was elected captain for Exeter Harriers and performed up to his own high standards before moving back up to Scotland in September. After a few months with Stirling AAC he joined Clydesdale Harriers when he moved to Clydebank for business reasons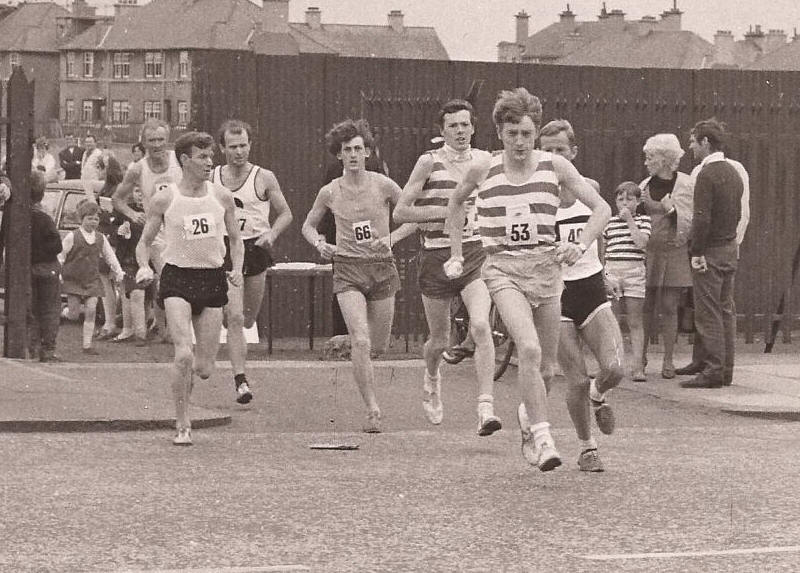 Allan (27) behind Ian Leggett (26) at Babcock's Sports, Renfrew, 1970: the runner behind Allan is Cyril O'Boyle, the third member of the Clydesdale Harriers team
Clydesdale Harriers gained a runner who had taken on the very best and not been disgraced, who had won team and individual medals with every club he had represented, who was a prolific racer and who was a good club man. Cross-country was his favourite followed by running on the roads with track third favourite – but he was excellent on all three. After joining the club formally in January 1970, his first race was the club cross-country championship which he won from Ian Leggett and Bobby Shields. This was followed by a twenty seventh place in the National Cross Country Championships at Ayr in February. With no national six-stage relays at the time, his first opportunity for a team race thereafter was in the Edinburgh 10 Miles Road Race over a hilly course from King's Buildings. This was a new venture for the club but it proved successful – they won. The race was won by Gareth Bryan-Jones in 49:48 from Andy McKean (50:37 and Pat Maclagan (50:57). Allan was sixth in 52:02 (sandwiched between Alex Wight and Jim Dingwall) with Doug Gemmell eighth and Ian Donald twelfth. They won by a single point from ESH. Other club positions were Brian McAusland twenty second, Bobby Shields twenty fourth, Frank Kielty thirty ninth and (not on the result sheet because as a Junior he was not allowed to run as far as ten miles) Phil Dolan was approximately twenty eighth. The following week was the Balloch to Clydebank 12 miles race where Allan was third with Ian Leggett second. The 10 Miles Tom Scott Race in Motherwell was on 4th April where Allan was fourth (49:33), Doug Gemmell eleventh and Ian Leggett thirteenth to win second team prizes. He then finished third in For the remainder of the season he took part in as many road races as possible including Airdrie (13 miles), Babcock's Sports in Renfrew (14 Miles), Carluke (12 Miles), Shotts (14.5) and Dunblane (14). On the track he contested the all the club championships, the inter-club fixtures, and the SAAA 10000m at Meadowbank . His last track 10000m that year was in September when he was third in the West District Championships at Scotstoun in 30:54.4. He was placed in the first three in almost every race he contested and the team, which had been good before but was better for his inclusion, picked up many awards with various permutations of the top six runners. Allan was an almost ever present in these teams.
Came the cross-country season and the McAndrew Relay at the start of October and he was the fastest club runner when he pulled the team from tenth to fourth on the third stage, a position held by Ian Leggett on the last leg. The club dominated the local Dunbartonshire scene with a victory in the County Relay the following week with Allan second fastest for the course. In the County Championships in January, Clydesdale Harriers won the team race with seven runners in the first ten, Allan winning from Ian Leggett and Phil Dolan. In between the two DAAA events, he ran well in the Midland Relays at Bellshill where the team was sixth. Then came his first Edinburgh to Glasgow race for the club. The team finished fifth with one of its best balanced squads ever, Allan ran the long sixth stage and took the club from sixth to fifth with the fourth fastest time of the day. For their efforts the team picked up the medals for the most meritorious performance. For their running in the season up to that point, Allan and Ian Leggett were selected for the Scottish team against Morpeth Harriers, a Northumberland and Durham select and a North of England Universities Select on 5th December at Durham. Allan was eighteenth and the team finished first.
In January 1971 he led the club home in the Midlands Championships at Stirling where he was thirteenth and the team took third place medals. On 30th January he was part of a DAAA team that finished third in the Inter Counties Cross-Country Championship at Cleland Estate with Allan ninth. At the start of February he won the Club Championships for the second time – this time from Douglas Gemmell. In the National Championships at Bellahouston in February, Doug was the first club counter in twenty seventh with Allan forty second. He regained his club superiority in the Sinclair Trophy 5 mile road race when he won from Doug Gemmell and Junior Phil Dolan. On 6th April a group of club runners travelled to Edinburgh for the University's two-lap, ten mile road race. The club was fourth and the key positions were Doug Gemmell 9th, A Faulds 14th, Ian Donald 12th, with Bobby Shields 24th. Summer followed the pattern of the previous year with a good run in the Tom Scott 10 (16th, 2nd team) before jumping up to 16 miles in the Clydebank to Helensburgh where he was 12th and then a mega-leap up to the marathon – 10 miles further still. There were three club runners in the race: Allan training about 45 miles per week was fifth in 2:41:28, Brian (about 65 a week) was seventh in 2:44:40 and Bobby Shields (putting in over 100 mpw in preparation for the Ben race in September) finished a further three places back. With a hiatus in the middle of the year, preparation for the winter season included the club 5000m championship, the Strathallan 3000m and the 14.5 miles at Dunblane. When the winter started, the team was seventh in the McAndrew Relay and a week later won the DAAA Relay with Allan moving from second to first on the final stage. Thereafter a team travelled up to the Kingsway Relays where they finished second. In the Allan Scally Relays at the start of November, Allan led the A team off and was second fastest club runner behind Douglas Gemmell and with two good club teams finishing well up, the prospect of a good race in the Edinburgh to Glasgow was good. Came the actual race, the team was good enough to finish sixth. The team consisted of Phil Dolan (12th on the first stage), Doug Gemmell (8th on the second stage), Ronnie Paton (6th), Ian Leggett (7th), Brian McAusland (6th), Allan Faulds (6th), Bobby Shields (6th) and Ian Donald (6th). The two men with the hardest stages were Doug Gemmell on Two who had one of his best ever E-G races with sixth fastest times (just one second slower than Jim Alder) and Allan on Six with the fifth fastest time of the day. At the DAAA Championships in December Allan won and the club had the first two teams. It should be noted that at this time, the Dumbarton squad was very good indeed with Colin Martin, Billy Cairns, Bobby Mills, and many other good quality athletes so the club performance was excellent.
Allan started 1972 with seventh place in the Nigel Barge, leading the team to second place and followed that up with sixth in the Midland Championships and then third in the Inter-Counties behind Eddie Knox and Jim Wright. He continued this vein of form by winning the club championships for the third consecutive year. When the National Championships came round in February the country was in the grip of a Miners' Strike and most factories could only provide four days work for their employees. Many were working on the day but Allan was available for club duty and was seventeenth. Four Clydesdale Harriers – Allan, Phil Dolan, Doug Gemmell and Ronnie Paton went to the English Championships at Sutton Coldfield. The weather – which had been fine before the race – turned really nasty and developed into a blizzard with quagmire conditions underfoot – one of the race marshals died and many of the athletes dropped out. Allan ran hard and finished 119th. February was also the time of a missed opportunity for Allan to capitalise on his good form. He was asked at the last minute to represent Scotland at Hannut in Belgium for the second time – but had to turn it down as his passport required renewal! Tough!
The inaugural Dunky Wright Road Race for a trophy put up by Dunky himself and to the great delight of the club, Allan won with Phil Dolan (4th) and Doug Gemmell (5th) making up the winning team. In March he was second (behind Jim Dingwall, in front of Colin Martin) in the Balloch to Clydebank Road Race (another team victory) and then two weeks after that was ninth (49:40) in the Tom Scott Road Race with a third place team award. He was third in the Clydebank to Helensburgh (the team was second) and then he was second in the Scottish Marathon Club 12 miles race at Springburn.
He ran the last leg in the McAndrew Relay for the first time at the start of winter 1972-73 and the club also finished fourth. The very good Victoria Park squad had now joined the DAAA and they won the County Relay with Clydesdale Harriers second.. Allan missed the District Relay that year but was available for the E-G but had missed time due to illness and work commitments and dropped to eighth on the fourth stage. The club picked up to sixth by the finish. Allan had run in three E-G's and the team had been fifth, sixth and sixth. The County Championships were strongly contested with Paul Martin winning from Colin Martin and Pat Maclagan. Allan finished seventh and with Doug Gemmell (4th), Phil Dolan (5th) and Ian Donald (9th) Clydesdale won the team race. In February 1973 he lost his club championship title when Phil Dolan won from Ian Donald with Allan third. At the end of July 1972, Allan moved to Perth but kept representing Clydesdale until the middle of 1974 when he joined Perth Strathtay Harriers.
In January 1975 he ran in his first ever East District Cross Country Championship after a bet that he would finish in the top thirty – he was twenty eighth. Later in May he moved to the Gauldry where he still lives. He remained a member of Perth Strathtay until early in 1976 he joined Fife AC. Let Graham Bennison continue the profile: "A problem with a knee cartilage resulted in an operation and Allan never really got going again although early in 1983 he did compete in the first Dundee Marathon finishing in 3:20. Allan made a real effort in 1984 to train for the second Dundee Marathon joining in the long training runs organised by the club in Tentsmuir Forest. Unfortunately he developed pneumonia and pleurisy – he never competed again. Allan organised the first Gauldry Gallop Cross-Country Meeting in 1978 (when Graham wrote this piece the upcoming race was the 15th consecutive running of this event which ceased in 2009) Allan and his wife Liz can also be seen helping at other Fife AC promotions – the Largo Law and Cupar Six. It was such good service to the club that saw Allan voted as a life member at the AGM in 1990.
This portrait reveals Allan as a top quality athlete at a time when 'the best' competed regularly against each other. Unlike today there was no choice of which race to attend on a certain Saturday. The athletes followed a traditional programme of inter-club fixtures and championship races, especially during the winter season. Consequently the top athletes were constantly in competition against each other and the standard 'at the sharp end' was so much higher. Scotland had Lachie Stewart, Ian McCafferty, Jim Brown, Andy Mckean, Fergus Murray, Dick Wedlock, Eddie Knox, etc. The North of England had Ron Hill, Mike Freary, Colin Robinson, Mike Turner, etc who helped England to win after win in the World Cross-Country Championships. That era ended with Hill's victory at the Commonwealth Games Marathon and who can ever forget the victory of Lachie Stewart in the 10000m and the sight of Ian Stewart and Ian McCafferty sprinting to the finish in the 5000m ahead of Kipchoge Keino – an age of brilliance. Allan Faulds was very much part of 'that age'.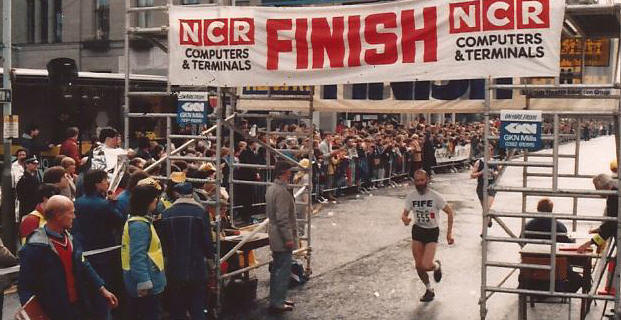 Allan's Last Race: The City of Dundee Marathon in 1983