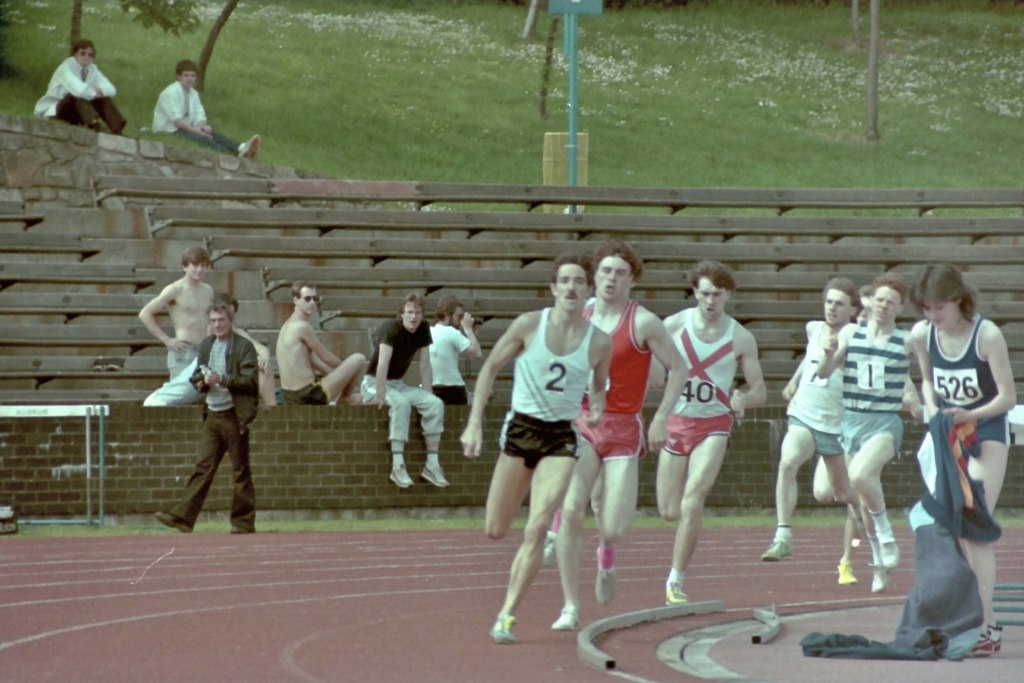 Paul Forbes, number 2, leading Tom McKean into the back straight at Meadowbank
Photo from Alastair Shaw
Paul Forbes is a name not well known among the young athletes and their coaches of the twenty first century – buit it really should be. Look at the Scottish all-time rankings for his best distance, the 800m:
1:43.88 Tom McKean

28 Jul 89

1:45.47 Brian Whittle

20 Jul 90

1:45.6

Graham Williamson

12 Jun 83

1:45.66 Paul Forbes

8 Jun 83

1:45.76 Frank Clement

10 Jul 76

1:45.81 David Strang

12 Jul 96

1:46.4

Paul Walker

22 Jul 97

1:46.63

Peter Hoffmann

11 Jun 78

1:46.65 Guy Learmonth

21 Jul 15

1:46.8

David McMeekin

6 Jun 74
There he is. Fourth behind McKean, Whittle and Williamson and in front of several better known names such as Clement and McMeekin with today's top Scot Guy Learmonth almost a full second behind him. He ran in two Commonwealth Games and won medals at Scottish and UK Championships and set records. His career should be better known than it is.
Paul, date of birth 20th November 1956, started off as a junior boy with Edinburgh AC being coached by Eric Fisher. Although Paul is best known as an outstanding track runner, at this point in his career he was a good cross-country runner and we should maybe look at his development through the ranks over the country. He was a successful cross-country runner right from the start, winning the East District Junior Boys Championship in 1969/70 and leading Edinburgh AC to team victory. The race was held at Grangemouth and having sprinted up the finishing straight to victory he kept on running till he reached Eric and said "We've done , we've done it!" That season he was also sixth in the National Championships in a field of 120 runners. In 1970/71 as a first year Senior Boy (Under 15) in the National Championships at Bellahouston Park in Glasgow, Paul was 58th finisher and fourth counter for the club team which finished third – at least he went home with a Scottish medal. He learned from this and the following year, '71/'72, he was eighth in the District Championships in the team which finished second. The national saw an improvement on the previous year – but only a slight one and he finished thirty eighth in a team which was fourth, well behind Monkland Harriers who were third. He went up another age group in '72/'73 but finished higher up the field in the District championship where he was sixth leading the Edinburgh AC team to first place. If he ran in the national at the end of the year, he finished well down the field, nor was the club team placed in the first three. As a second year youth in 1973/74, he moved up to fourth in the District championships, and the team won again: in his four years in these championships he had three team golds and one silver. In the national he finished eighteenth in a field that had many excellent athletes – Nat Muir, Graham Crawford, John Graham, Hammy Cox, Mark Watt and Graham Laing among them. At this point when he was due to move up to the Junior age group, he stopped running cross-country, although he did run in a few team events – the National Relays in November 1975 where he was in the EAC second team, and two good runs in the Edinburgh to Glasgow Relay (third stages in 1975 and 1976 – each time the team was second) he was destined to be almost entirely a track runner for the rest of his career. Eric Fisher had passed him to Bill Walker and it was with Bill that he trained from then on.
Summer 1974 was a very good one for first year Junior Paul. Running mainly 800m and 1500m and still at school, he was ranked top Junior in the 800m and won medals at both distances. His best 800m time was set right at the start of the year when at Bell's Indoor Arena in Perth he was timed at 1:54.8 to win the event on 3rd February. The East District Championships were held at Meadowbank on 25th May and Pal ran in the Senior/Junior 1500m and finished third in 4:10.5 behind Paul Kenney (3:56.0) and Graham Laing (4:10.5) – you will note the close finish for second and third. The championship trail then led on to Pitreavie on 15th June where Paul, running for Forrester Secondary, won the 800m at the Scottish Schools Championships in 1:58.0, half a second quicker than Alistair McLaughlin (Knightswood HS and Garscube Harriers). Only one year earlier Paul had won the Group B 1000m steeplechase at these same championships so it was his second gold medal in succession. In the Scottish Junior Championship at Meadowbank, Paul had another good run but had to settle for second place to John Fleming of Springburn who won in 1:55.9 to Paul's 1:56.5 with John Robson third in 1:57.9. At the end of the season his time from Perth away back in February led the junior rankings and placed him sixteenth among the country's best seniors.
*
By 1975 he had left school and there would be no three in a row for him there but he was nationally ranked in no fewer than five events – 400m, 800m, 2000m steeplechase and 3000m steeplechase. Quite a range. The 3000m time came in a British Athletics League Match at Sutton Coldfield on 17th May when he recorded 9:07.4. Then on 22nd June in the Scottish Junior Championships, he won the title in 1:54.5. The SAAA championships had Irishmen in the first two places so there was no way that a first year Junior would be among the medals that year but Paul went on to victory in the AAA's Junior 800m championships with a time of 1:50.7. The Athletics Weekly report on the race read: "In the 800m Chris Van Rees led at the bell in 55 seconds and stayed there until about 500m when Paul Forbes (a 9:07.4 steeplechaser) took over with Malcolm Edwards(W&B who headed the rankings with 1:50.1) on his tail. Paul stayed in the lead despite a challenge from Edwards for victory in 1:50.9 – a personal best." SAAA and AAA title holder Paul then headed for the European Juniors in Athens on August 24th, where "Paul Forbes battled into the final, recording 1:53.7 in his heat and 1:50.4 for fourth in his semi-final, but was "a shadow of himself" when finishing eighth and last in the final (1:57.9). He has endured three races in three days." .
There had been a proliferation of fixtures that year – championships (Euro Junior, British, Scottish, Scottish Junior, District, club), Leagues (Scottish and British), invitation and open races – but by the season's end it was clear that it had been a very good year indeed for Paul with best marks of
400:
50.2 (ranked 15th);
800:
1.50.0 (5th);
2000S:
5.56.8 (2nd);
3000S:
9.07.4 9
*
It was a hard year to follow but he was faster in 1976 and his range of events was narrower being mainly 400m and 800m races with steeplechasing nowhere to be seen. The first championships of the year were the Districts held at Meadowbank on 29th May and Paul was again the winner of the 800m in 1:52.5 as part of an EAC squad which won the 200m/400m/800m and 1500m to make a clean sweep of the middle distance events. Unplaced in the SAAA or the AAA championships, there followed another season of racing all over the country at a time when there was more in the way of track running available for runners than for some time before and certainly more than is available in the twenty first century. For example the SAAA 800m had heats on the Friday and a final on the Saturday, the AAA was a two day event, the District championships often had a first round of some events on the Wednesday and the final on the following Saturday and in addition to the two-day events there were other representative matches to be contested such as an inter-area match. Paul raced a lot and by the end of the season his best times were
49.8 seconds for the 400m (13th) and
1.48.8 for the 800m (3rd).
*
By 1977 Paul was 20 years old and already on the Scottish all-time top ten for 800m with his 1:48.8 making him ninth on the list – and his career there had not even properly started. That summer he was to have 8 times in the top 20 by Scots – more than any of the others who included Frank Clement, Terry Young and John Robson and, if that weren't enough, win two events in the International with Greece.
His first championship of the summer was on 28th May in the East Districts at Meadowbank where he won the 800m in 1:51.4 which equalled the championship record – it was a day for records with his team mates Peter Little (Youths 100m), Peter Hoffman (400m) and Ross Hepburn (Youth High Jump) all set new bests for their events. Three days later (31st May) he ran for the Scottish League against Scottish Colleges and Universities at Grangemouth in a 400m where was clocked across the line in 49.3. There was a men's international against Greece on 4th June at Meadowbank where the runners performed nobly but the team lost the match 112 to 89. Paul did his bit however by winning the 800m in 1:50.3 and the running in the 4 x 400m relay where the team won with a quartet of Hugh Kerr, Roger Jenkins, Paul, Peter Hoffman in 3:18.12. It is worth noting that three of the team were coached by Edinburgh AC's Bill Walker. In the UK Closed Championships at Cwmbran he was unplaced in the 800m but turned in times of 1:51.9 on 10th June and 1:51.6 on the following afternoon. Paul finished the season with 1:50.4 on 22nd July and 1:51.2 on the thirtieth of the month to round off another good season's racing.
His best times and ratings at the end of 1977 were
: 400
49.3 99th);
800
1.50.3 (3rd);
1000 m:
2.24.21.
*
A year later we had the remarkable feature of Paul having 7 of the best 19 times in the country and Paul and Peter Hoffman recording 16 of the best 19 times of the year between them. What was remarkable about that? Paul and Peter had grown up near each other as boys, they had played together, they were almost the same age and now they were members of the same club and Scottish international runners over the 400 and 800m distances and ran together in many record setting teams for club and country. Check out Peter's blog at 6oxgangsavenueedinburgh.blogspot.co.uk where you will see pictures of them together as schoolboys.
Paul started the season on 23rd April in an open graded meeting at Meadowbank, Hoffman and Forbes both ran 1:50.2, leading Ron Marshall in the 'Glasgow Herald' to say "In a case of Peter (Hoffman) robbing Paul (Forbes) even the electronic timing could not split them." The international with Greece came along on 14th May, in Athens this time and with Wales and Luxembourg added to the cast list and the final result was Greece 260, Scotland 218, Wales 163 and Luxemboourg 118. The friends and rivals were first and second in the eight man international field. Peter was first in 1:47.9 while Paul was an agonising tenth of a second behind in 1:48.0. In the East District Championship on 26th May he ran 1:49.6 for 800m and then on 28th May the 400m was covered in 48.3. The SAAA Championships resulted in a win for Terry Young (1:49.4) from Paul in second place in 1:51.4. In the UK Closed Championships at Meadowbank on 15th July Paul ran a very good 1:49.1 but was again behind Peter who ran 1:48.3. It was of course Commonwealth Games year and there were many meetings designed to help athletes get the times required. The report of a race on 31st July read: "Paul Forbes, one of two Scots restricted to village quarters won the 800 metres in a warm up meeting for the Commonwealth Games. The 21-year-old Edinburgh runner overcame a good field of United Kingdom runners to to win in 1 min 49.8 sec."
Forbes and Hoffman were both chosen for the Games which were held in Edmonton and they both ran in the heats and then took to the track in the second round on 8th August. Let Doug Gillon tell the story of the race. "Scotland's big let-down of the day came in the men's 800 metres. Peter Hoffman and Paul Forbes were both eliminated in the semi-final. It was the usual sorry tale from Hoffman. After seeming to have laid the bogy of his rear-running tactics with a comfortable third place in a sensible first round race he was back to his diabolical worst and was comprehensively cut out, finishing sixth in 1 min 50.1 sec. But the blackest spot was reserved for Forbes. He was lying second at the bell, which was reached in 55.4 sec by the leader Mike Boit (Kenya) but going up the back straight the pace hotted up. Forbes's head fell and he was dropped by the pack like a hot potato trailing in last and finishing in just over 1:57 – a time well within the capacity of an average runner of many Scottish clubs."
The ignominy did not end there. Several Scottish male athletes were reported in the Press for drinking in public, for being caught on the women's floor of the accommodation and sundry beaches of discipline. Paul was one of them and after the issues were investigated he was banned from international running for one year. It was a black mark which ended an otherwise good year which had end of season rankings of:
400
48.3 (5);
800
1.48.04 (2nd);
1500
3.59.5 (42);
*
The suspension was carried out to the letter and his next international was in January 1981. In the meantime life went on: Pau;l continued to race successfully, setting good times and winning races. He won the East District Championship 800m in 1:50.7 and on the same day won the 1500m in 3:47.2. It's a double not often won in any championship. The report in the "Glasgow Herald" was under the headline "BANNED FORBES HITS BACK WITH TITLE DOUBLE" and read
"Paul Forbes of Edinburgh AC, an athlete currently serving a one year ban from internetional competition following incidents at last year's Commonwealth Games, was the outstanding competitor at Saturday's East District Championships at Meadowbank. He recorded an excellent double in the 800m and 1500m – beating John Robson the Commonwealth bronze medallist who dropped out when leading 250 metres before the end of the latter event. Forbes's 800m time of 1:50.7 was a championship record and he set a personal best of 3 min 47.2 in the longer race."
Sticking with the longer distance, he ran for his club in the Guardian Royal Exchange British League match at Meadowbank on 9th June and won the 1500m in 3:44.6 – not only a personal best but the fastest in Scotland that year up to that point and a full two seconds ahead of Adrian Weatherhead. The SAAA Championships in 1979 were held on 16th June and he was again racing at his home track of Meadowbank. This time he wasn't as successful. The 800m was won by Chris McGeorge from Cockermouth from Graham Williamson with Paul in third place and the winning time was 1:48.7. With no international races to take part in and few big invitations, it was a quiet year by Paul's standards. Edinburgh AC had a very good year in their league competition and Paul played his part in that. However a
t the end of 1979 his best times for the two distances were
800
1.49.4 (2nd);
1500
3.44.6 (4th)
*
Paul started the summer season in 1980 with a run for a Scottish team at Meadowbank against Northern Ireland and Luxembourg on 10thMay. He won the 800m in 1:50.4 from fellow Scot and British internationalist Steve Laing. This was good but it led to even better things. The headline on 26th May in the 'Glasgow Herald' read "FORBES'S COMEBACK GIVES OVETT FRIGHT." It went on –
"Paul Forbes (Edinburgh AC), bouncing back from his year's suspension after the Edmonton Commonwealth Games, has just enjoyed the best weekend of his athletics career. At Grangemouth yesterday, in the Falkirk British Airways Games, he ran his fastest 800m for two years beating Graham Williamson in the run in, but afterwards Paul chose to bubble about his run in Belfast the previous evening in which as he put it, "Steve Ovett got the shock of his life." Running in an invitation 600 metres the Edinburgh man found himself two metres in front of Ovett with 60 metres to go. "I thought I had him. We were running into a wind and he still hadn't passed me with 30 metres to go. Then his strength finally told. He beat me by less than a stride and that's the closest he has come to defeat for a longtime."
Paul's time in Belfast had been 1:17.1 and his winning time at Grangemouth was 1:48.5. By the SAAA Championships on 21st June the top Scottish 800m men were Graham Williamson and Paul Forbes. Paul beat Graham, who was suffering from a cold, but both were upstaged by England's Dave Warren who was looking for a time in Olympic year and won in 1:48.54 with Paul second in 1:49.75. That was undoubtedly the high point of Paul's 1980 season and hisn times and rankings at the end of August were
1980 400
48.13 (2);
600
1.17.1;
800
1.47.32 (1);
1500
3.49.6 11.
*
In 1981 Paul seemed to run more 400's than he had been doing in the past – at the end of the season he was ranked at 400 and 800 where in the past he had been among the best in the land at 800m and 1500m. By the end of the year he had the top three 400m times in the land as well as the top two over 800m. As for the steeplechase, it was apparently gone for good. The year began for Paul with a win in the AAA's championships at Cosford in the 800m in 1:50.3. Then on 28th May at Grangemouth in the British Airways Games he ran 47.7 and according to the Glasgow Herald reporter commented that he could have knocked a second off that. Two days later in the East District Championships at Grangemouth he won the 400m in a personal best of 47.69 and the report remarked that on a better day he might have beaten the record of 47.5, set by his old training partner Peter Hoffman who was in the crowd that night. How times change – he was once described as Hoffman's training partner, now it was the other way about! On 21st June in the Dundee International Games at Caird Park, Paul won the 800m in 1:49.6. Into July and on 11th at Meadowbank in the British Athletic League match he was one of only two EAC winners when he took the 800m in 1:48.18. On 26th July Paul was in Gateshead for the the international against England, Hungary and Norway where he ran into third place in the 800m behind Steve Ovett (1:47.96)and Garry Cook (1:48.68) of England in 1:49.82. One week later, on 1st August,in the Scotland v Ireland international he won the 800m in 1:49.40 and ran the anchor leg for the winning Scots 4 x 400m relay team. Seven days later and he was taking on the big boys again on 8th August at Crystal Palace where he won his heat of the 800m in 1:49.02, then dropped down to 400m in 48.21 seconds on the 16th.
.
The Edinburgh Highland Games was always a classy meeting and on 22nd August Paul ran in the 800m where he was second to American M Enyeart (1:47.9) in 1:48.0. The last international of the season was held in Athens on 25th and 26th August. In what was once called the Small Nations International, Scotland took on Greece, Wales, Israel and Luxembourg. Paul ran in the 400 metres on the first day and the 800 metres on the second. He won them both – in 48.83 seconds and 1:51.6.
Another good season and by the end of August he had best times of 400
47.69 (1st) and
800
1.48.00 (1st). With the top three 400m times and the top two 800m times (5 of the top 7) he could justly claim to be the Scottish number one in the pre-Commonwealth Games year.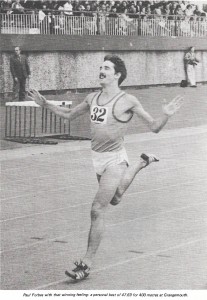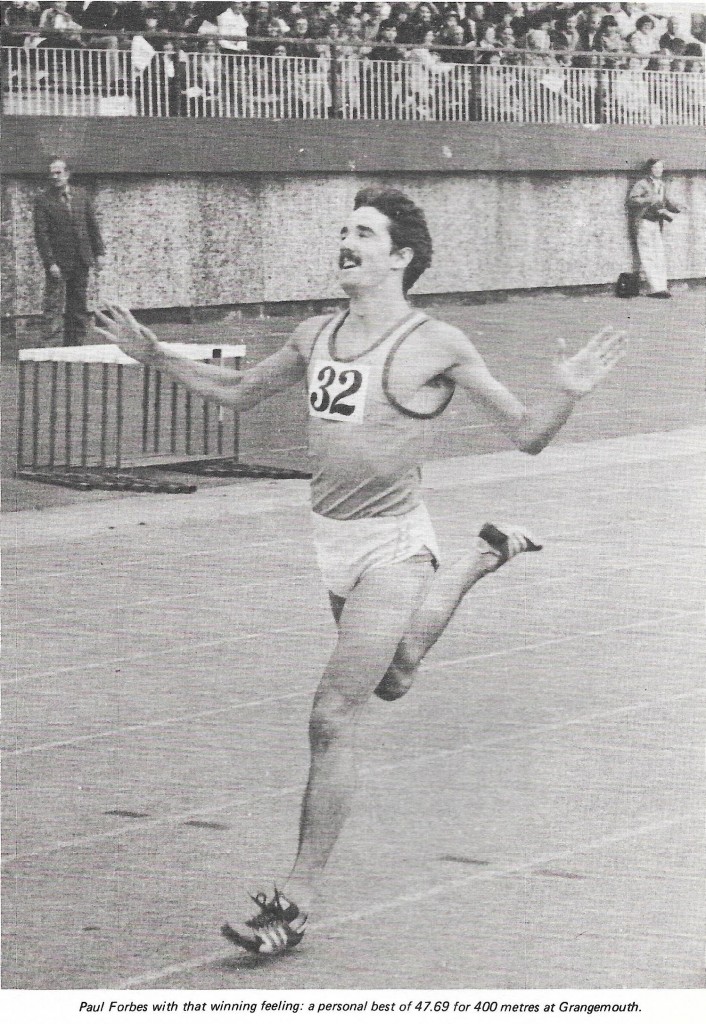 The Commonwealth Games were to held in Brisbane, Australia between 3rd and 9th October so there was a whole season ahead of him to get the qualifying times done and the important races won. It was maybe doubly important for Paul after the disappointments of the Edmonton Games. He started, as in 1981, with an indoor season. At Cosford on 30th January he was just squeezed out of second in the 800m to finish third in 1:51.3. The outdoor season started early for Paul, as for many contenders for places in the Games team, with a win over 800m at Meadowbank on 17th April in 1:48.81. The UK Closed Championships were held at Cwmbran in Wales on Sunday 30th and Monday 31st May and competition was serious. Paul won his 800m heat on the first day in 1:49.74, and in the final on the second day he was again first in 1:46.63. There were two Scottish champions that weekend and both were from Edinburgh and both were 800m runners – Paul was one and Ann Clarkson the other. I quote:
"The splendid weather brought a rash of records , none more impressive than Paul Forbes's victory in the 800 metres in 1 min 46.53 sec which removed Seb Coe's meeting best from the book. Forbes, for so long the 'bad boy' of the sport and suspect under pressure, led almost from the start in confident style and was still strong in the final straight where in the past he has been picked off. Now he not only hopes to redeem himself for past misdemeanours but also to win a Commonwealth Games medal and his other ambition is to make the British team for the European Championships.
Ann Clarkson, already a proven competitor, having won the WAAA title twice, chose the hard way to win the title, being badly boxed in for most of the race. But she kept cool and found a way through coming up the home straight and went on to win in 2 min 3.6 sec."
A 1:48.94 800m at Crystal Palace on 19th June kept him in the selectors' eye and in a poorly supported Scottish international at Stockholm Paul ran a 1:48.37 to finish second in the 800m. He stayed in Scandinavia long enough to run in Norway on 7th July. The position was maybe his lowest of the season in the international meeting in Oslo but the race was the fastest he had ever run in. It was won by England's Gary Cook in 1:44.71 with Paul fifth in 1:45.90. It had been a very good four days for him – with others supporting their clubs in the British League and turning down the Scottish selection, he had run and picked up valuable points for the country, and followed it up with a very good personal best in a quality race. The run was poorly reported – the reporters justly preferring to go big on Dave Moorcroft's world record for 5000m set at the same meeting – but it was hardly mentioned in the domestic Scottish press.
On 18th July at the Falkirk British Airways Games he preferred to go for the shorter 400m distance and finished behind Mark McMahon (ESH) with both recording 48.3 seconds. When the team for Australia was selected, Paul was there. His first round race was on 5th Aoctober and he was in the third heat where he went to the starting line knowing that Bourke of Australia had won the first heat in 1:50.8 and Crew of Australia had won the second in 1:54.28 (first five inside half a second with John Walker fourth!). Withe five to qualify Paul did enough to win in 1:51.64 with Cook of England fourth in 1:52.34. The second round was later the same day with first four and fastest loser to qualify. Paul made no mistakes and won the first semi in 1:50.87 and Cook did not finish. The second semi was won by Bourke in 1:50.56. After two days rest, the finalists were Bourke, Maina (Australia), Chris McGeorge (England), John Walker (NZ), Brett Crew (Aus), Spyros Spyrou (Cyprus), Juma Ndiwa (Kenya), Sammy Koskei (Kenya and Paul. In heat and semi he had already beaten Crew Maina, Walker, Spyrou and Ndiwa so he must have been fairly optimistic. Unfortunately it was not to be – although a vastly different story from the '78 Games, Paul could only finish seventh of the eight in 1:49.05. It looked as though he was not in form but the race story was vastly different. Doug Gillon reported: "Paul Forbes (Edinburgh Athletic Club) took the race by the scruff of the neck, leading at the bell in 52 seconds, but having been man-handled aside by ex-Olympic 1500m champion John Walker, Forbes blew up 200 metres from home and finished in 1 min 49.05 sec." Six foot plus Walker manhandles five foot and a smidgen Forbes at speed – that would seem to be the story here.
1982 was possibly Paul's best year – just look at the marks: 400 in
48.3 (4th);
600 in
1.17.60;
800 in 1
.45.90 (1st) and add in UK championship, the 600m in Belfast v Ovett and the Commonwealths.
*
1983 started as the last two with a successful indoor season. In the Phillips AAA Indoor Championships at Cosford, he too part in what reportedly described as "rollerball without the ball". Punched at the start and left stranded and still last at 200 metres, he got through to lead at the bell. Overhauled in the last 30 metres by Milovan Savic (1:50.92) the winner, and Thierry Tomelier of France. His own time was 1:51.32. He was then selected for an international against Germany on 19th February. In the match in Dortmund he was one of only three British winners in the men's and women's contests when he won the 800m in 1:47.55. Paul , the defending champion at the HFC UK Closed Championships on 28th May, was expected to have a battle with England's Peter Elliott but as the 'Glasgow Herald' reported, the race turned into a procession when Paul had to withdraw after sustaining a back injury in a car crash. A week later however, on 4th June, he was the outstanding Scottish athlete at the British League Second Division match at Colindale where he won the 800m in 1:49.4.
Then came the time of the season for Paul. On 8th June in Florence Paul ran 1:45.66 behind Rob Druppers of the Netherlands. Druppers was timed at 1:45.12, then came Forbes, then Nian of Senegal in 1:6.30. At the same meeting Graham Williamson was second to Said Aouita in the 1500m in 3:34.94. And then, just four days later, Graham Williamson ran 1:45.60 at Loughborough to snatch the top spot in the Scottish rankings and take Paul's record by 0.06 of a second! Statistician Arnold Black tells us that neither time (Paul's or Graham's 800m) was recognised as a national record by the SAAA as the handbook continued to show Paul's 1:45.76 in Oslo (7th July 1982) as the National Record until Tom McKean bettered it. It was a time of course when administrators required a properly completed record application form signed by the chief time keeper or track referee before the performance could be recognised. Frank Clement fell foul of the same regulation with his 1500m in Zurich in 1976 of 1:46.76. However, record or no record, Paul was in such form that it is hardly surprising that he followed this with victory in the SAAA Championships – in 1:49.114 from Tom McKean who ran 1:49.49 and Donald McMillan third in 1:51.04.
I had been organising races for the British Milers Club that year and had one lined up for an Open Graded Meeting at Meadowbank on 24th August at which Alistair Currie had agreed to take the pace through 400m in 52. There were several regulars that year who supported every race, they all wanted in that one and by the Monday of that week, two days before the race we had 12 runners. On Monday evening I had a call from Paul who said he wanted to run in the race, the pace was not fast enough, he could provide his own pace maker. I said I'd ask the runners because the field was already big and he had never run in a single race over that or the previous two years. They tentatively agreed and on the night Paul approached me, intorduced himself and said that Jim Learmonth would take the pace through 400m in 48! The others were up for it and, sure enough, Learmonth came through in 48 and kept the pace rolling to just over 500m. The field was pretty spread out by then but Paul never faltered. Kept it going all the way to the finish and ran 1:46.32 which would have been a Scottish Native Record. He came across and thanked me and went on his way. Seven of the 13 finishers set personal bests that night with Keith Cameron (EAC) second in 1:51.96, John McKay third in 1:52.10 and Alistair Currie fourth in 1:52.58. Paul did not get the record this time either because, as it was explained at the time, he was wearing neither a club vest nor a Scottish one, he wore a pink vest that night! That was the biggest 800m field I've ever seen but I figured at the start that a 48 second lap would sort out the field very quickly and the runners were a really fast runner and a less fast runner in each lane so that bumping would be down to a minimum. In addition Paul's confidence that night was extraordinary. Really up for it, no doubts that he would run a good time and just went out and did. It was an extraordinary evening.
'83 had been a very good year for him with a good indoor season, a Scottish record and his first SAAA Championship over 800m as a senior. Best marks for the year:
Above (and top): 1983 SAAA Championships. Paul (2) and McKean in red easily recognised.
There was little sign of Paul in 1984 before the AAA's Olympic Trials at Crystal Palace on 6th June. For the 800m, selection was for one place only: Seb Coe had been pre-selected and Steve Ovett pulled out through illness but he was still hopeful of being allowed to double up in the Games which left only one place up for selection. Peter Elliott was the favourite and he duly won the Final in 1:47.72 while Paul failed to qualify from his heat, recording only 1:48.4. By the year's end, that was Paul's only ranking time for any distance but it still placed him equal first with Tom McKean who was also on 1:48.4 while Graham Williamson could only manage 1:49.1 for 800m in 1984.
*
There were more medals and more good times for Paul in 1985 He won the East District title at Meadowbank on 25th May in 1:51.13. This was the fourth time he had won the event, the first win being in 1976. Two weeks later he should have been at the official opening of the new track at Crown Point in Glasgow but unfortunately was side lined by a sore throat. He was back in action on 22nd June for the SAAA Championships at Meadowbank for a race which Doug Gillon described thus: The men's 800m represented a victory for youth over the old head. Former UK and Scottish champion Paul Forbes played a waiting game, trailing through the bell in 59.18 seconds, but he was outkicked by newly crowned UK champion Tom McKean, a Lanarkshire labourer, who had to dig deep with a last lap of 54.21 for victory." Paul was timed at 1:54.28, with Don McMillan third in 1:55.03.
That was Paul's season finished as far as championships were concerned with one gold and one silver from two races. His best times for the summer were
400
48.9 (10th);
800
1.49.0 (2)
*
In 1986 he won the East District 800m yet again was of course another Commonwealth Games year, and one to be held on Forbes's home track at Meadowbank. Yet again he won the East District Championships on that very track on 24th May in 1:55.4. After this came a trip to Lloret de Mar in Spain for the international against Ireland and Catalonia on 9th June. He doubled up with Tom McKean in the 800m and they finished first and second: Tom won in 1:46.69 with Paul second in 1:48.11. The following Saturday in the SAAA championships, with McKean running in the 400m, Paul won the 800m from Tom Ritchie in 1:50.14. These performances and his competitive record over the previous few years saw Paul selected for the 800m in the Games which were to be held between 24th July and 2nd August.
Paul qualified for the 800m final at the Games but after the race the story was all about Tom McKean's second place in 1:44.8 behind Steve Cram but also behind them, and a bit down the field than he would have liked, came Paul Forbes – back in seventh in 1:51.29. He was not finished with international athletics just yet though – on 16th August he won the 800m in the match against Hollan and Northern Ireland in Leiden in 1:52.14 with Tom Ritchie second in 1:52.75. His season was basically finished by then and his best time for the year was the 1:48.11 behind McKean in Catalonia with no top times in 400m or 1500m.
*
1987 was the last year that he was to appear in the rankings or among the winners of championships. He won the East District Championships at the end of May with a time of 4:04.2, He stayed with the longer distance for the SAAA Championships, held on 19th June at Meadowbank, where he ran 3:49:94 in the Heats. On 4th July in a British League match at Leeds he won the 800m in 1:51.9 to help the club in their fight for promotion. His best 400m was also in a League appearance – on 25th July at Meadowbank he ran 50.18 to be fourth. That year he and his club mates did so well that by the end of the season Edinburgh AC won Division Three and was promoted to Division Two. In the last championships of the season, the AAA at Crystal Palace on 1st August, he ran 1:51.50 in the heats. Internationally, Scotland was now in the era of Tom McKean with other young aspirants such as Tom Ritchie contesting the 800m event. That year Paul ran, and ran well, but it was really his final season at the top. To recap, his best times for the summer were
400
50.18 (24);
800
1.51.50 (8th);
1500
3.49.94 (11th)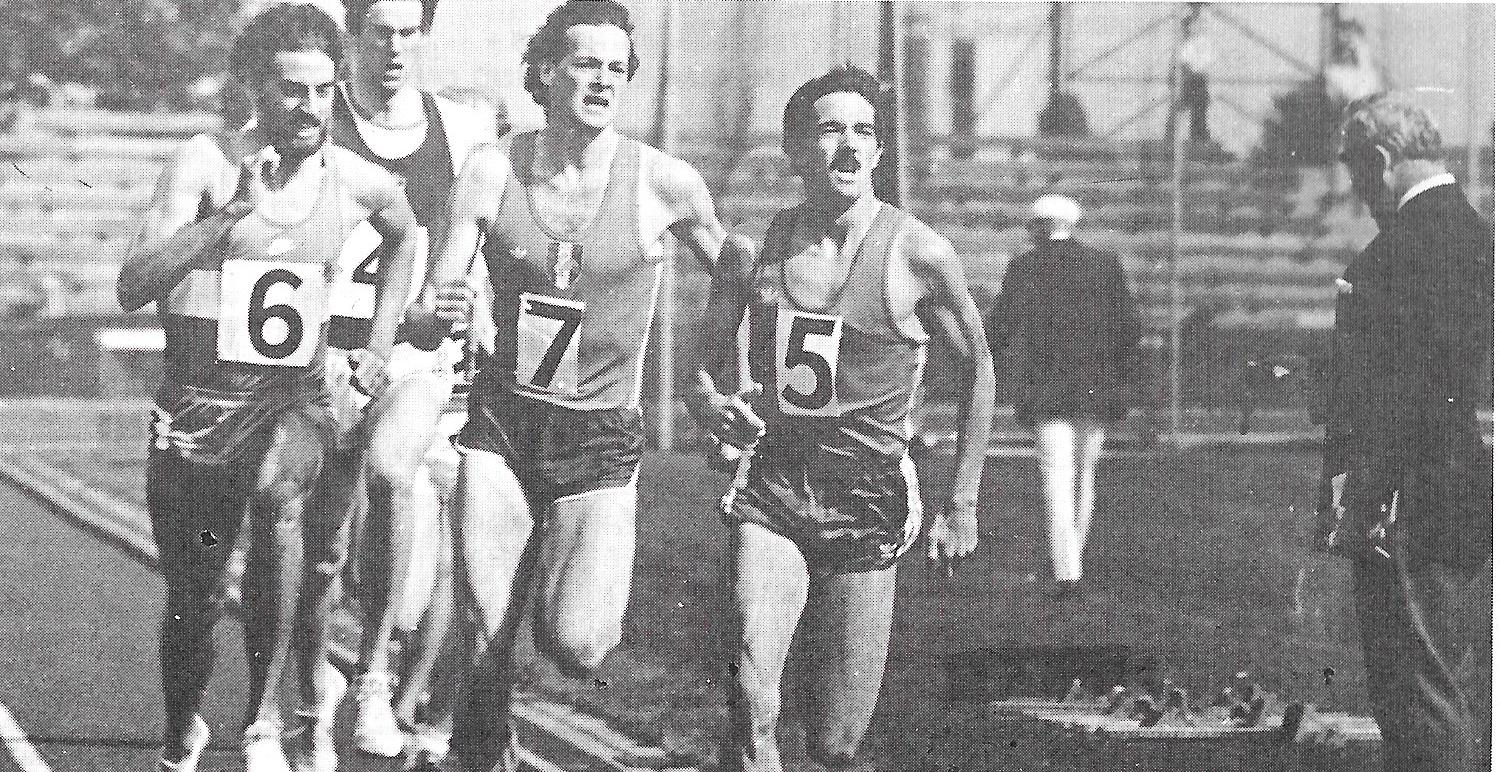 Paul at Meadowbank, 1982, Stan Devine on his shoulder
*
Paul became a veteran in November 1996 (you had to be 40 in those days) and had a short career as a vet. He had an excellent battle on 2nd February, 1997 against the previously unbeaten Alastair Dunlop and lost out by 0.01 seconds after a terrific battle in the finishing straight. Alastair retained his title by diving desperately over the finish line. One one-hundredth of a second is not a lot over 800 metres. Doug Gillon reported on the race in the 'Glasgow Herald' of 3rd February 1997.
FORBES DENIED AS DUNLOP TRIUMPHS IN DUEL OF THE DAY
FATHER TIME NOT IN THE RUNNING AS RIP-ROARING OVER 40'S TAKE TO THE TRACK
Pride of Place at the annual Scottish Veterans Championships must go to Alastair Dunlop and Paul Forbes whose 800m duel was the best race of the day the pair separated by just one hundredth of a second after four laps of the 200-metre track. The warmth of the Glasgow arena was a rare treat for Dunlop a physical education teacher who has no indoor facilities on Lewis where he is forced to train by the sea on the wind-swept machair. A late athletics starter in 1983 – just four years before Forbes quit after a lifetime's success including three Commonwealth Games (two finals) and UK and AAA's titles – Dinlop clocked 2:00.60 diving across the line sprawled on the track to deny Edinburgh's Forbes (2:00.61).
Dunlop won European veteran bronze last year and holds the Scottish record at 1:58.36 – first veteran Scot under two minutes – but Forbes who started training after ten years indolence just before his fortieth birthday in November showed he has surrendered little of his talentto the advancing years and spoke with some conviction of a world record.
National champion and record holder before the McKean era and still ranked fourth on the Scottish all-time list with 1:45.66 Forbes was ecstatic with his time. "I've been training for just three months and have entered the European and UK indoor championships " said Forbes. "I've discovered that you get lots of niggles as you get older – I've barely strung together three weeks without an injury but if I can run as fast as this on what I've done, I honestly believe I can get close to 1:51 – yes I know the world record for Over 40's in 1:55."
That was in the euphoria of the moment but for whatever reason – niggles becoming injuries probably – Paul's come back did not really materialise. It was a shame because the talent had clearly not gone away.
Nevertheless he had had an outstanding career with gold, silver and bronze in abundance at District, National and UK levels, he had also been in medal winning road and cross country teams and run in three Commonwealth Games. He is still – in May 2016 – number four on the Scottish all-time list for 800m.
In 2017, Paul Forbes (still EAC) made a surprise come-back in the M60 age-group, after running many Parkruns, with a 5k in 18.19 and 10k in 39.34. Then he raced cross-country. In 2019, he returned to the track, finishing a meritorious 6th (2.20.24) in the World Masters Indoor Championship 800m in Torun, Poland; as well as winning 800m events in the English Inter-Area Challenge and the Scottish Masters Championships, where he improved to 2.17.22. In 2020 Paul won Indoor M60 800m titles in both Scottish Masters and British Masters Championships.
Then he broke a World Record!
Athletics Weekly reported:
SCOTTISH VETERAN AND THREE-TIME COMMONWEALTH GAMES COMPETITOR SMASHES M65 INDOOR MARK WITH 2.15.30.
GLASGOW 12'S FUN DAY & GLASGOW AA YULETIDE OPEN GRADED MEETING, DECEMBER 18TH 2021.
Almost 40 years since he reached the 1982 Commonwealth Games 800m final (a feat he repeated in 1986), Paul Forbes broke the World M65 indoor 800m record with a 2:15.30 clocking.
The time is half a minute outside his lifetime best – 1:45.66 set in Florence in 1983 behind world silver medallist Rob Druppers' 1:45.12.
Forbes began as a cross-country runner and won the Scottish East District Junior Boys Championships in 1969 and he was sixth that season in the Scottish Championships. In 1973 he won the Scottish Schools 1000m steeplechase title and then won over two laps in 1974 in 1:58.0.
In the Scottish Under-20 Championships, he was second in 1:56.5 but ahead of future Commonwealth Games 1500m medallist John Robson and in 1975 he won the AAA Junior title in 1:50.1 and made the European Junior final that year in Athens where he placed eighth.
Forbes won the UK title in 1982 in a championship best 1:46.53 narrowly ahead of Steve Caldwell (1:46.65) and Peter Elliott (1:47.76) and he also ran for Scotland in the 1978 Commonwealth Games where he was a semi-finalist.
After his successful senior career – spanning three Commonwealth Games – he had a complete break in his 30s before later returning as a Master and he was involved in a stunning battle with Alastair Dunlop in the Scottish Championships in his first major race as a vet with Dunlop edging home in 2:00.60 to Forbes' 2:00.61.
After that 1997 race Forbes said he felt he was capable of a World Masters record if he could train seriously but the world record ultimately took nearly another 25 years with injury regularly scuppering his ambitions.
He competed in the European masters 10km as an M45 in 2005 and ran a few other Masters road championships before eventually re-focusing again on the track.
He made another comeback as a M60 – finishing sixth in the World Masters 800m at Toruń in 2019 and winning the Scottish and British Masters indoor titles in 2021 at the age of 64 – but it was turning 65 in November that gave him the opportunity to make a real mark in the Masters.
The previous best was held by Ireland's multiple world age-group champion Joe Gough with 2:16.65 in Dublin in 2018.
Forbes' 2:15.30 is his fastest in recent years, equalling his outdoor best of 2021 and is even faster than the outdoor UK M65 best.
The Scot's run took an astonishing nine seconds off Pete Molloy's UK indoor best of 2:24.48 set in 2014 and is even fractionally quicker than Dave Wilcock's M60 UK indoor record of 2:15.60.
Then, in mid-February 2022, Paul missed (by less than a second) breaking the 1500m M65 Indoor World Record but, a few days later in London, smashed the One Mile M65 Indoor World Record, which had been held since 2008 by American Frank Condon with a time of 5.11.43. Paul ran a tremendous 5.04.2! Shortly afterwards, in Braga, Portugal, Paul became the M65 European Masters Indoor 800m Champion (and also won a silver medal in the 1500m).
Paul commented in detail about this achievement and the training which led up to it.
"I am delighted with the record but I think the real achievement was in the preparation for having a crack at it.
Using a sub 2.16 800m as a target, I planned the training backwards from the race (late December) to the beginning of October. Having a great group to train with and staying injury-free meant that we could train consistently and progress to plan, which is both a psychological and physiological fillip. Like all the events in our sport, run, jump or throw, competing is far easier than the input required to get to the point of competition. A successful outcome is a culmination of planning, technical nous, support and hard work. Getting that right is the real achievement.
As for getting fit after a long lay-off, well, it wasn't easy! After an operation to put a broken ankle together, I decided to try using the parkruns as a way back into getting healthy. I was quite happy plodding along at 25mins and losing a wee bit weight. I then came across a couple of guys from back in the day – they were running 20/21. I wasn't having that! I started doing a couple or runs during the week and a parkrun at the weekend. As I dropped the weight, I gained momentum and the wee flame I carried in my memory started to burn.
After a year or two dabbling with the roads, I went to watch the World Masters in Spain. I ran a 40 min 10k out there but, watching the track races, I knew that that was where I should be putting my energy. I went back on the track in late September and by the early March I had run 2.20 indoors.
A lot of thought went into my track work. I couldn't run as many sessions as I used to, since injuries were frequent and taking a lot longer to heal. I moved to a ten-day cycle, rather than the traditional seven days – this gave me more time to rest between the three sessions that I needed to do.
These sessions were along the lines of a 5k tempo run, a miler type session and a 400m type of workout. ALL of these sessions were run at a moderate to hard pace but staying within the bounds of my aerobic capacity (I still train like this now). Each training session was now being run on relatively, fresh legs which helps to keep the tempo high. Generating speed was never a problem for me. I'm convinced that, like an aerobic or speed endurance base, it's possible to hold a speed base also. (At any one time of the year, I can turn out a 60-62 second 400 after a few days of speed work.) All the running I do is designed to get me to the next session. I never knock myself out in training (racing is a different matter) I don't believe there is anything to be gained by training to failure.
Coming back into the sport has been the best move I've made for a long time. I'm enjoying my life immensely at the moment. When I run against the youngsters, I feel I'm racing the future. I get a kick out of being asked my opinion on their training or advice on a particular discipline. My perspective on growing older has changed also. Not the part about growing old gracefully though, I have no intention of doing that!"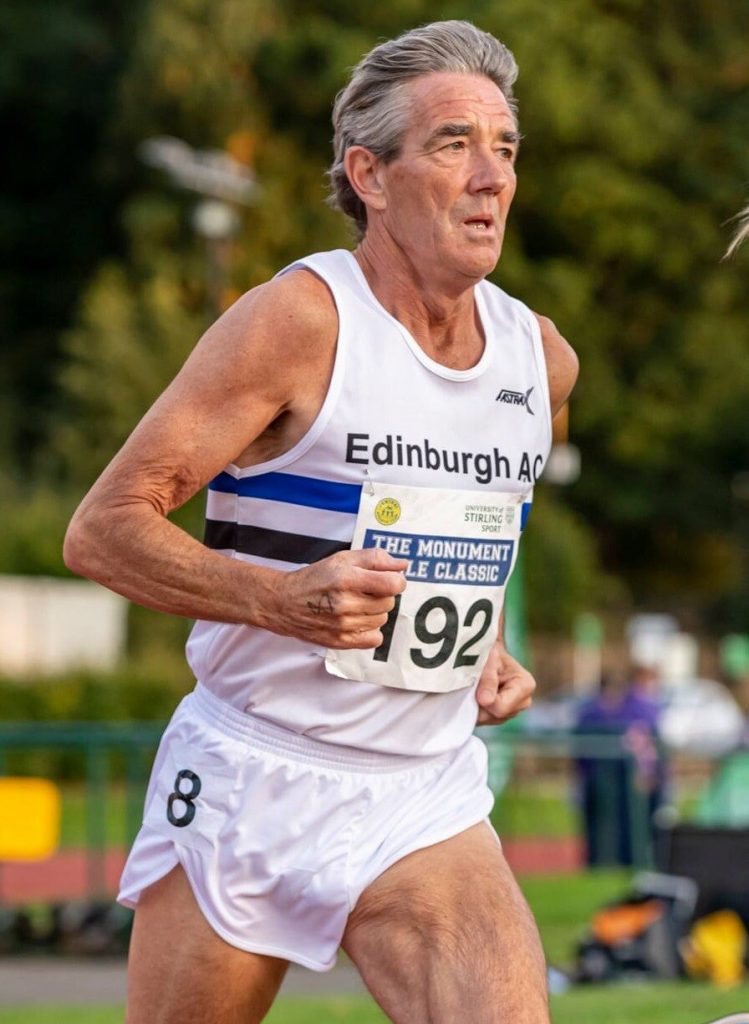 "Scottish veteran Paul Forbes smashes 800m World Masters record"
Those who were surprised at Paul's record had obviously not been paying attention to the previous season's track running. To run so fast and to train so hard as a 60+ veteran can only be done if you really love the sport. You need to train regularly over a long period and you need to race frequently. To see how hard Paul trains, have a look at this video which was made after he became the fastest man in history over 800m in his age group –
Paul Forbes – Track Session (Bonus *Masters* Episode) – YouTube
This all speaks of a man who loves the sport. Many leave the sport when they have stopped being competitive in open races. A runner knows when that time comes. Emmet Farrell said when he failed to make the British marathon team "I have shed my silk as a runner." But he loved the sport and kept running until he was in his late 80s and even into his 90s. That was a love of the sport. Paul has a similar love of the sport. It is wonderful to see, and the question now is, what does the future hold for Paul Forbes … and for World Vets 800m records?
..