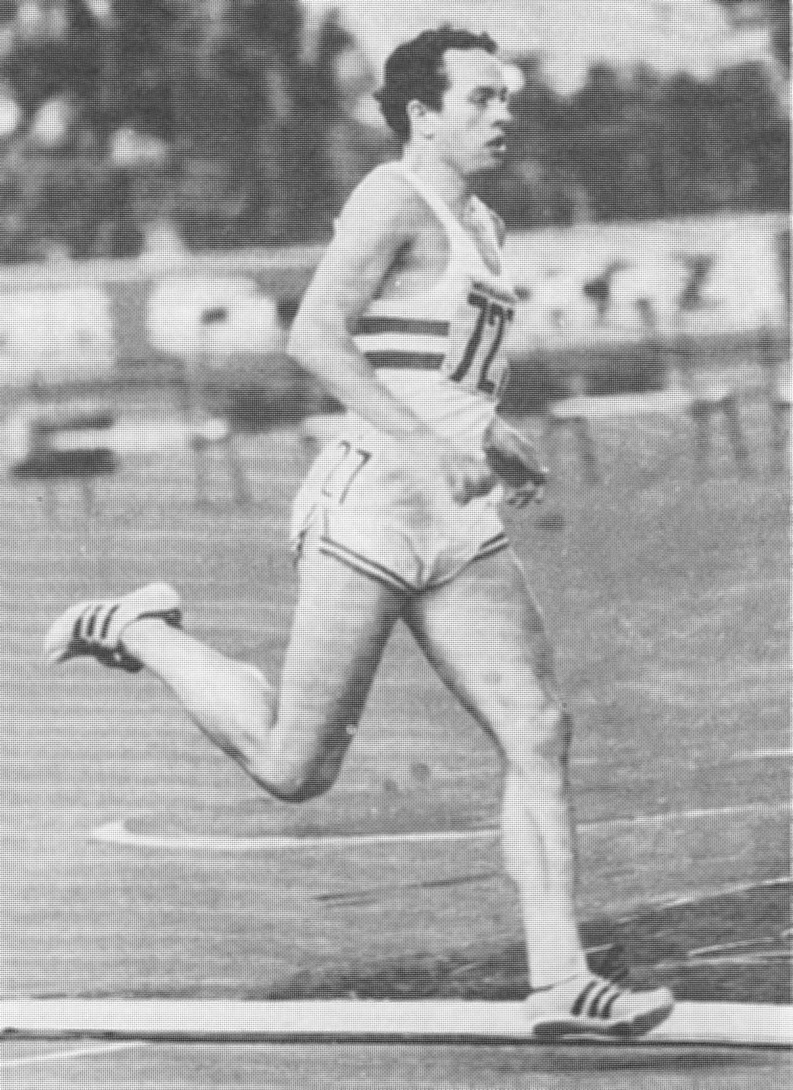 Peter Hoffman in 1978
Peter R.W. Hoffman (Date of Birth: 1.07.56) was one of the country's fastest ever 400m/800m runners who had a very short career at the top of the sport in Scotland. If we look at the bare statistics we see the following.
10 Scottish Championships (1973-1978) at Youth, Junior and Senior: 50 metres (Indoors x 2); 300 metres (Indoors x 2); 400 metres (x 5); and 600 metres (Indoors )
7 AAA medals (1974-1979): AAA Gold Junior 400 metres and Senior 800 metres (Indoors); AAA Silver Junior 200 metres (Indoors) and 400 metres; AAA bronze Junior 200 metres; 400 metres (Indoors) and Senior 800 metres (Indoors)
1978 UK Silver Medal 800 metres (1st Seb Coe)
1975 European Junior Silver Medal 400 metres;
1976 Olympic Games 4×400 metres
1978 Commonwealth Games 800 metres, 4×400 metres
1978 European Championships 800 metres
All very impressive figures but they have all been superseded by the present generations – after all it is now almost 40 years since the performances were recorded. However if we look at Scotland's all-time ranking lists for 2015 we see that he appears in two of them.
At 800m the top men and dates of their performances are: 1:43.88 Tom McKean 28 Jul 89; 1:45.47 Brian Whittle 20 Jul 90 1:45.6; Graham Williamson 12 Jun 83 1:45.66; Paul Forbes 8 Jun 83 1:45.76; Frank Clement 10 Jul 76 1:45.81; David Strang 12 Jul 96 1:46.4; Paul Walker 22 Jul 971:46.63; Peter Hoffmann 11 Jun 78 1:46.65; Guy Learmonth 21 Jul 15 1:46.8; David McMeekin 6 Jun 74 1:47.15. Peter is ranked eighth with the best of the current crop Guy Learmonth almost 0.2 sec behind him.
At 400: 44.93 David Jenkins 21 Jun 75 45.22; Brian Whittle 25 Sep 88 45.58; Ian Mackie 13 Jul 03 46.06; Jamie Bowie 27 Jul 13 46.37; Kris Robertson 1 Aug 09 46.49; Roger Jenkins 6 Sep 75 46.65; Grant Plenderleith 6 Jun 15 46.72; Allan Stuart 28 Jun 03 46.75; Patrick Swan 26 Jun 10 46.76; Peter Hoffmann 12 Jun 76 46.79; Brett Rund 10 Jul 05 46.89. Peter is still tenth all-time with the best of this generation Jamie Bowie 0.42 second ahead and Grant Plenderleith a mere 0.07 seconds faster
His times stand up well to modern standards. Whatever measure we use – competitive or statistical – Hoffman deserves to be ranked among the very best.

*
Peter Hoffman and the other top 800m runner of his generation Paul Forbes, were good firends and lived close together when they were youngsters. They both joined Edinburgh AC and were initially coached and brought along by Eric Fisher. Both ran cross-country until they were Under 17's and Eric asked Bill Walker to take over the coaching. Where Paul was basically a fast 800m man who also ran 400m and won titles at 1500m and the steeplechase Peter never seemed to run further than 800m and won titles and appeared in the rankings for 100m, 200m, 400m and 800m. His speciality initially was the 400m but when he moved up he was selected for Commonwealth Games and European Games sin the same season. His best distance? The 400m – or was the 800m his best event? Maybe had there been an international standard for 600m it would have been ideal for him.
Peter first appeared in the Scottish rankings and started to draw national attention in 1974. As a Junior (Under 20) he was in the top 6 in his age group in no fewer than three events (200m sixth, 400m second, 800m sixth) and sevententh in the 100m. Given that his was an age group rich in sprinting talent this was quite a feat. He was competing against Andrew Harler, Roger Jenkins, Andrew McMaster, Bryan Dickson and others when in the Junior ranks, and had Don Halliday, Les Piggott and David Jenkins to contend with in races which included senior men. The first championship of the season was the East District event at Meadowbank on 25th May and there Peter finished fourth in the 200m in 22.2 seconds. In the 100m in a meeting at Meadowbank the following Monday he was second in a windy 11.2 seconds. Edinburgh AC had a very strong track squad at this time and with several League meetings Peter was asked to do his share of the work in the shadow of some of his more illustrious colleagues but he had a busy enough season. The result was that he was quite sharp going in to the SAAA Senior Championships on 22nd June, again held at Meadowbank. Running in the 400m, Peter was third behind Roger Jenkins (47.7) and Brian Gordon (48.5) in 48.9 seconds. The Scottish age group championships took place on 29th June and Peter won the U20 400m in 49.3 and on the strength of the victory was selected for the senior Scottish team in their match against Norway in Oslo against Norway and Bulgaria on 9th and 10th July. It was his first senior international appearance and he finished sixth in 49.1 seconds with Roger Jenkins in third place in 48.1. A creditable first outing for young Hoffman. He also ran in the third placed 4 x 400m relay team with Norman Gregor, Stewart McCallum and Roger Jenkins.
In the AAA's Junior Championships at Crystal Palace on 4th August Peter was unlucky to be out of the medals when he finished fourth in the Final in 489 seconds, with Roger Jenkins winning in 47.3 seconds Then on the 14th of the month in the Northern Trophy Meeting between Edinburgh AC and Edinburgh Southern Harriers, he was second in the 800m in 1:57.4. Reports of the meeting however concentrated on the fact that rugby international Andy Irvine ran in the 400m for ESH where he finished second in 53.2, the winner was Keith Ridley of EAC in 51.3 seconds. Another fast 400m, 48.5 seconds, at Crystal Palace on 26th August and a 488 at the same venue on 21st September saw him end the season on a high note with best times for the season of
112 seconds for 100m; 22.2 for 200; 48.5 for 400; and 1:574 for 800 were excellent figures, add in his first place in the SAAA Junior 400m and his third place in the Senior 400m, and it is easy to see why the compilers of the Scottish Athletics Yearbook described him as "an outstanding junior" and called him "the most improved sprinter in the country with four performances under 49 seconds and a total of nine runs under 50 secs to compare with a personal best of 52 seconds in 1973″
*
In 1975 Hoffman had very good marks at shorter distances – 10.8 second for a wind assisted 100m, 21.8 for 200m and 34.7 for 300m – but he really proved himself as a 400m runner.
On 17th May he won a British League match 400m at Sutton Coldfield in 48.9 seconds. EAC won the match with other winners being Jim Dingwall in the 5000m in 14:05.6 and Paul Forbes, better known as an 800m athlete, in the steeplechase in 9:07.4. Two weeks later, 31st May, in the British Games at Crystal Palace in London he ran a 47.8 400m. Then on 28th June at his home track of Meadowbank, he won the SAAA title for the 400m when he won in 48.7.
Having run in the 100.200, 300, 400 and 800m, he ran a totally different event on 5th June in the British League match at Crystal Palace, winning the 400m hurdles in 54.2 which placed him third in the Scottish rankings at the time, a position that he still held at the end of the track season. The AAA Junior Championships wereheld on 26th July at Kirkby in Liverpool and he was second in the 400m in 47.8 – reports all indicated that heled until Brian James's strength carried him past Peter at the end of the race. Peter ran in al or most of the British League and Gold Cup matches, the Scottish Men's League tended to be missed but on 3rd August at Meadowbank he won the 400m in 48.4 seconds.
At the end of 1975 he had best times for the 100m of 10.8w; the 200 of 21.8/21.81w (6th in Scotland); 300m of 34.5; 400m of 47.27 (3rd in Scotland); 800m of 1.53.0i (10th); 400H of 54.2 (3rd)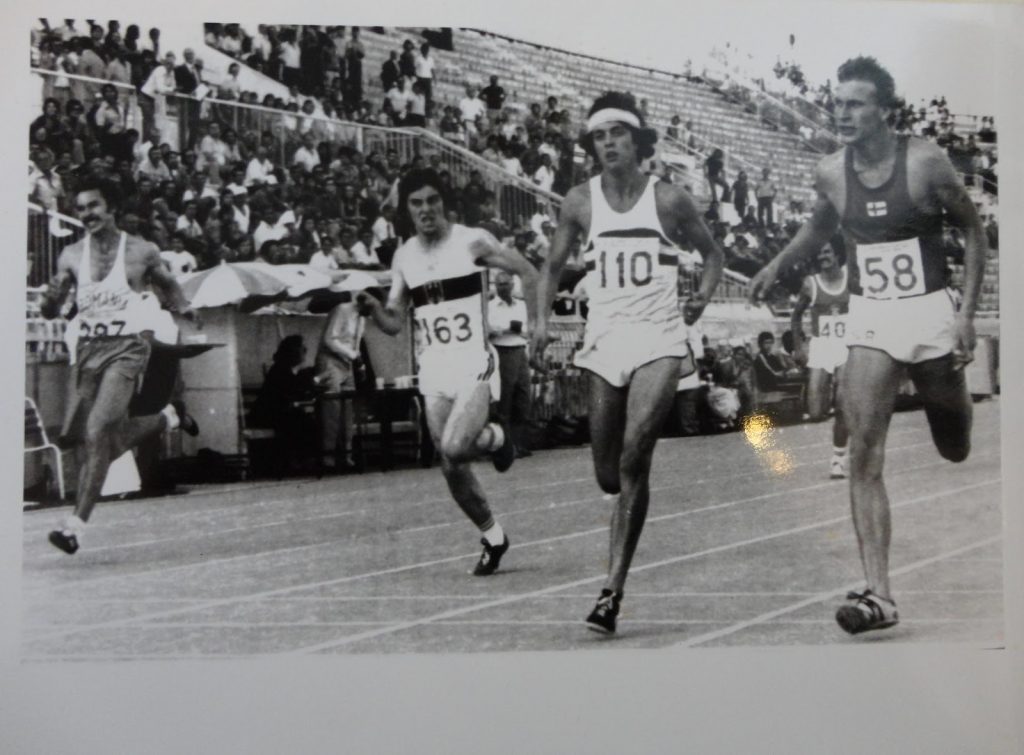 Peter finishing his Heat in Athens, 1975
The season started slowly for all who regraded themselves as contenders for places in the Olympic Games, to be held that year in Montreal. Peter ran in the SAAA Indoor Championships at the Bell's Arena in Perth over 600m and won in 1:20.5 from Ray Weatherburn who was second in 1:20.7.
Outdoors, when the District championships came along at the end of May, the entries were naturally a bit bereft of top class content and Ron Marshall, of the "Glasgow Herald', chose to go to Coatbridge for the West Championships rather than to Meadowbank because he thought the fields there might just be better. However in the paper on Monday, 31st May , he commented that "unhappily the Olympic preparations had turned the championships into an artisans' gathering." He should have been at Meadowbank that Saturday, the 29th May, where among several good performances, the 400m was won by Peter Hoffman in 49.0 seconds.
The two big meetings that year were on 5th and 12th June at Crystal Palace where the Kraft Games doubled as the Olympic Trials. The 400m trial was on the second weekend and Peter was fourth in his best ever time to that date of 46.76. Ron Marshall in the 'Glasgow Herald' commented "Into a 'Probable' category I would put 19-year-old Peter Hoffman the Edinburgh 400 metres runner who improved his fastest time to 46.76 seconds. A relay position must be his fervent hope."
He was duly selected as part of the relay team for the Games which started on 17th July and as a consequence did not run on June 26th in the SAAA Championships which were won by Roger Jenkins in 49.0 seconds. We have had nothing at all about his training so far, much less about the amount of dedication required of those aiming for the top.
Ronnie Browne of The Corries recently published his autobiography titled "That guy fae the Corries" (which I heartily recommend) and said therein: "Someone I knew who did have spirit and vision was my wife's nephew, Peter Hoffman Pat and I went to the Crystal Palace to support him when he won his place in the Great Britain over 400 metres to go to the Montreal Olympic Games of 1976. We had been proudly following his progress up the athletics rankings and I remember the day he explained to me that, in training, he was in the habit of running a few 400's at full speed, then running some more, until he was physically sick. He would spew his guts up, take a short break and a drink of water and run a few more 400's until he was sick again. You know what showed the pure spirit of the man? Sometimes he would put himself through this process without the presence of a coach or anybody else to force him on.
Two years after Montreal, he moved up a discipline and, on the starting line of the British Indoor 800m at RAF Cosford, an over-zealous official objected to the type of spikes he was wearing, although they were exactly the same shoes he had been wearing the day before in his qualifying heat, and banned him from wearing them. Peter simply took them off without argument and ran barefoot. Trailing at the back of the pack through the bell, he came with a rush to win the title in 1:51.4, his fastest time indoors or out. "My feet are in a right mess," he quietly told a reporter after the race, and hobbled off to get medical attention. What a man."
Although he did not actually run in the Games, Peter must have been at least partially satisfied that he had actually been selected for the team and been part of this wonderful occasion. His best times for 1976:
100: 10.7 (41st) 200: 21.8 (7th) 300: 34.74 (1st) 400: 46.76 (3rd) 600 1.19.7i 800 1.55.4 (19th) 400H 56.0 (10th)
*
By the end of 1977, Peter had brought his 400m time down even further with a 46.6 seconds for a season's best, was fourth on the all-time list at 400m, and brought his 800m down another two seconds to 1:53.2, had picked up another SAAA 400m gold and represented his country on his home track of Meadowbank.. There was an indoor 400m on 16th January in which he was third in 47.36 but he started the outdoor season as he had been doing with shorter, faster runs and turned in a windy 10.9 on 25th April.
His first serious 400m was on 28th May when he won the East District championships in ideal conditions in 47.5, just one tenth in front of Andrew Kerr of Central Region. A week later on 5th June, Peter represented Scotland in the International Match against Greece at Meadowbank and duly won the 400m in 48.01. Scotland also won the 4 x 400m relay with a team of Kerr, Roger Jenkins, Paul Forbes and Peter on the anchor leg. Time? 3:18.12. Another week later and on 12th June he ran 48.01 seconds followed by 47.87 on the same afternoon. After a week without competition he turned out in the SAAA Championships and won the 400m in 47.7 from Kerr (47.9) in another very close finish. Into July and on the 16th there was a 47.36 seconds followed by a midweek 200m in 22.2 seconds. A 48 seconds on the 22nd followed by a 47.62 on 23rd indicated the kind of form he was in the times kept on coming in race after race. A 48.08 at the Edinburgh Highland Games on 20th August was followed by a 1:53.2 800m on 21st August leading to the British international match against Russia – a major fixture for any athlete. Peter ran in the 400m and was third in 47.78 behind Laing of Britain (47.2) and Valutis of Russia (47.50).
1977 ended with season's bests of: 100 10.9w 200 22.2w 400 47.36 800 1.53.2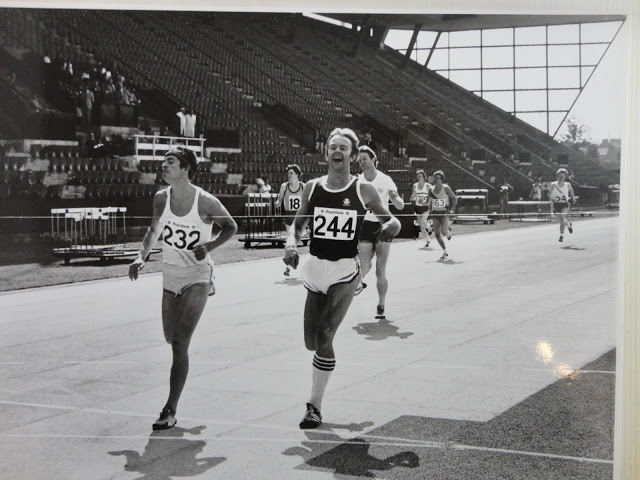 Peter beating David and Roger Jenkins in the SAAA 400m in 1978
1978 was the season when Peter really started to take the 800m distance seriously and began the year with a victory in the AAA's indoor 800m Outdoors, on 22nd April at the Edinburgh AC championships, he won a 'relaxed 400m' which was followed by an 800m in 1:50.2 on the 23rd in which he defeated team mate Paul Forbes with both men given the same time. Less than a month later (14th May) he ran in the 800m in an international match against Greece in Athens. He ran in and won the 800m. "Hoffman strolled past the bell in the 800 metres in sixth place, seemingly out of contention, and even with 200 metres to go he had only clawed back one place. Then an electrifying burst up the home straight zipped him past everybody including the leader, Paul Forbes, for the cheekiest win of the night. His time, 1 min 47.9 sec, was his fastest ever, and Forbes was a fraction outside his best a tenth of a second behind."
1978 was of course another Commonwealth Games year and with the Games being in Edmonton from 3rd – 12th August the athletes were trying to impress the selectors fairly early on. Peter was making a good job of that and his next outing was on 27th May when he added to the impressions so far created when he won both 400m and 800m in the District championships on the same day. He won the 400m in 48.7 seconds and 20 minutes later lined up for the 800m which he won from John Robson in a sprint finish in 1:49.2. The SAAA championships were also early that year and on 3rd June Peter won the 400m national title in 47.1 collecting two very good scalps in the process – Roger Jenkins was second in 47.2 and David Jenkins third in 48.1. This was his third national 400m title in four years, it was his fastest win and by defeating the Jenkins brothers he must surely have ensconced himself as the best 400m runner in the country at the time. The 800m was won by Terry Young of Grangemouth in 1:49.4 from Paul Forbes in 1:51.1. He had already beaten Paul over 800m and his times were better than Terry's, so he was probably already the best 800m runner as well.
Having run for Scotland earlier in the season, Peter was now chosen to represent Britain and the event was the match against East Germany at Crystal Palace on 11th June. He ran in the 800m and the report read: "In the 800m Peter Hoffman demonstrated that he could become a world class competitor, but his inexperience, having stepped up from the one lap event, was patently obvious. He elected to run from the back once again and was nearly 15 yards adrift of the East German pair at one stage. But he came through to snatch second place in 1 min 46.63 with his usual electrifying last 200 metres." Then in the Kraft UK national championships on 15th July he lost his national title to Sebastian Coe who had been disqualified for cutting in too early, and the re-instated on appeal: Hoffman's time was 1:48.3.
Selected for the Games after the Scottish Championships, Peter's next outings were in Edmonton on 8th August. Doug Gillon reported in the 'Glasgow Herald': "It was the usual sorry tale from Hoffman. After seeming to have laid the bogy of his usual rear running tactics with a comfortable third place in a sensible first round race, he was back to his diabolical worst and was comprehensively cut out, finishing sixth in 1 min 50.1." His heat time had been 1:49.1. A disappointing run but he had got through the first round and, bearing in mind that it was his first year of concentrating on 800m, maybe Doug was a wee bit hard on him. After all, unlike the 400m the 800m is a physical contact sport at speed. The actual results of the races were as follows.
Heat Two: 1. J Higham (Aus) 1:48.9; 2. C Szwed (England( 1:49.1; 3. P Hoffman 1:49.1; 4. G Grant (Wales) 1:49.3.
First Semi-Final: 1. S Newman (Ken) 1:48.83; 2. G Grant 1:9.25; 3. C Darval (Aus) 1:49.26; 4. P Lemashon (Ken) 1:49.93; 5. P Hoffman 1:50.10; 6. C Szwed 1:50.89; 7. D Wournell (Can) 1:1:51.23. J Maina (Ken) disq.
The Games season of 1978 was not yet over for Peter Hoffman. The European Games were held in Prague at the end of August and he was running in the 800m. The other British runners were Steve Ovett and Seb Coe so he was accompanying to legends who, in these Games, had their own problems to solve . He ran 1:49.3 in his heat and did not qualify for the semi-finals.
Still, it had been a very good season for him: he had six of the top 12 times by a Scotsman over 800m (including the top two), won national title, run for Scotland and for GB in separate internationals and run in Commonwealth Games as well as European Games. His best performances:
200m: 22.2 (18th) 400: 47.1 (3) 800: 1.46.63 (1st) 1000: 2.24.8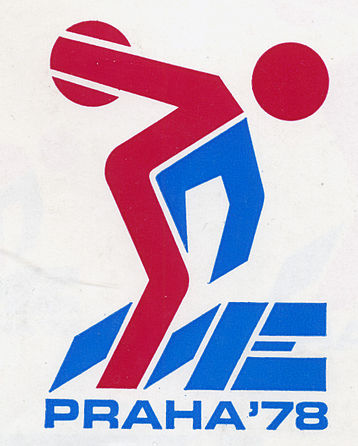 1979 was inevitably a much quieter one for Peter Hoffman after the excitements of 1978. With no Games to aim for and British, Scottish and District titles already under his belt there must have been a sense of anti-climax. He defended his British indoor championship unsuccessfully at the start of the year but did pick up a third place medal to add to his collection. He was an absentee at the District championships where he had had a double win the previous year, and you would search in vain for his name among the medallists at the SAAA Championships on 16th June. In fact, there would be no more medals at domestic championships of any sort after 1978. Nevertheless, by the end of the year he had best times of 50.3 for 400m which ranked him 16th among Scotland's one lap specialists, and 1.51.69 for the longer distance which kept him in the top ten at 7th place. In 1980 he was marginally quicker in the 400m with 49.97 seconds and his 800m was consistent with the previous year at 1:51.72. 1981 saw slower times yet: 50.4 for 400 ranking him 32nd among the one-lap men and he was out of the top ten 800m runners with a best of 1:52.25 which placed him 15th. By 1982 Peter was not ranked at all in the 400m for the first time ever and his 800m of 1:55.2 was his slowest since 1976 – remember he started to specialise in the 800m in 1978.
He was only 26 when he stopped competing and it was unfortunate for both the man himself and Scottish athletics that he had to retire when there was probably more to give. Whether it was through chronic injury or developments away from the track is unclear but the break was complete. He himself describes his athletics on social media as being 'in another life.' He has a blog at 6oxgangsavenueedinburgh.blogspot.co.uk which he describes as "the everyday life of eight families living in one of the post-war new council housing schemes" . It is an interesting rad and notes that among the neighbours is a chap called Paul Forbes. There is a number of interesting photographs of both of them as boys there too. What is he doing at present? I quote
"Married to Alison; Paw to 'Atticus' and 'd'Artagnan'. Author of 'The Stair' (Summer Has Gone). After graduate/post-graduate studies in Edinburgh worked for SCVS; Scottish Episcopal Church; private sector and then mainly in local government as a chief officer. In a previous life, Olympic, European and Commonwealth athlete. Artist; diarist; epeeist; tennis and footie player-not necessarily in that order!"
A short career but a brilliant one. You have read Ronnie Browne's comments on Peter's dedication as a competitor; I have also been told of the boys from that area being so keen that they would jog down to the track on club nights, do their training and make their way back home on foot afterwards. At the time he certainly had the attitude to go with the undoubted ability.
You will find a selection of Peter's own photographs here