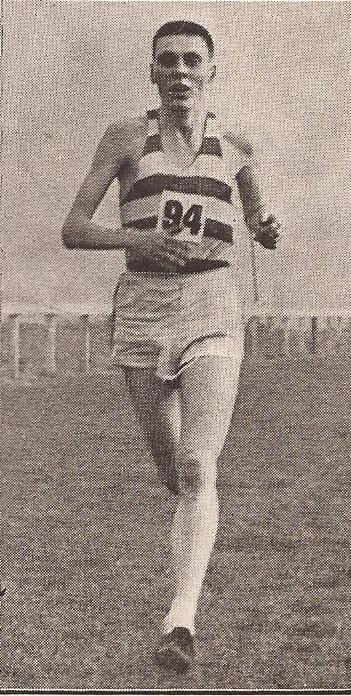 There have been several very good ex-pat Scots who have competed with distinction in the colours of another country – Mike Ryan in the Mexico Olympics, Paul Bannon in the Edmonton Commonwealth Games are the outstanding examples in modern times.   Early in the twentieth century   Jimmy Duffy ran for Canada after a good career in Scotland and ran in the Stockholm Olympics.
However there is another who is seldom spoken of – born in Buffalo, NY, he lived in Glasgow and ran for Victoria Park AC, setting Scottish records and winning titles.   Alex Breckenridge moved to the United States, had an equally distinguished career there and was selected for the 1960 Olympics in Romeo.   Then in the Tokyo race, Abebe Bikila won after a great duel with Moroccan Abdesselem Rhadi.   The 'Scots Athlete' was only a memory and there was no sports magazine in Scotland which could have covered it.   So Breckenridge in the Olympics did not feature very much at all on these shores.
The 1960 Games were a source of great disappointment for British distance runners – apart from the fact that there was only one "Scot" in any of the distance events, and he an Anglo who seldom set foot north of the Border – did not make the Scots feel any better.  Have a look at the men and their performances.
Marathon:   Denis O'Gorman   16th  2:24:16.2     Arthur Keily   25th   2:27:00   Brian Kilby   29th   2:28:55
10000m:   John Merriman   8th   Martin Hyman   9th   Gordon Pirie   10th
5000m:   Frank Salvat  7th Heat 1;   Gordon Pirie  8th Heat 3   Bruce Tulloh   4th Heat 4
Steeplechase:   Eric Shirley   10th Heat 1   Dave Chapman   6th Heat 2     Mike Palmer   8th Heat 3
1500m:   Laurie Reed  9th Heat 1    Brian Kent-Smith  4th Heat 2    Mike Wiggs   sixth Heat 3
800m:   Brian Hewson   4th Heat 1   Tom Farrell   1st Heat 2    J Wenk  3rd Heat 5
Out of these runners only one made the second round – Farrell in the 800m where he was eliminated in the second of four rounds.    The British (and Scottish) Press was so busy criticising them as a group and, in some cases, as individuals that there was no time left at all for commenting on Breckenridge's selection.   He had better Scottish credentials than either  of the two who had worn the dark blue – Bruce Tulloh was Scottish until England asked him to run for them, and John Wenk was an Anglo whose connection with Scotland was rather tenuous.
Alex's career has been dealt with on another page, see the link above, but a quick recap is maybe in order.   He was born in Buffalo, New York, on 17th April 1932, and christened Alexander Dalglish Neilson Breckenridge.   Brought up in Scotland he won national titles as a Junior and as a Senior and ran in the world cross-country championships for Scotland in 1953.    An excellent athlete he had personal bests of  4:13.8 for the Mile,  8:56.8i for Two Miles, 14:32.1 for 5000 metres, 30:47.0 for 10000 metres, and a Marathon best of 2:27:17 set in 1962.
The 1960 Games Marathon was a very dramatic race: run in the dark, from Capitoline Hill to the finish line at Arch of Constantine.   Bikila ran barefoot and ran almost all the way with rival Abdesselem Rhadi of Morocco, only escaping to victory with 500 yards to go.   It was a real sensation of a result and the world's press was caught on the hop – Bikila had only been added to the team at the last moment as a replacement for Wami Biratu, there was little information about him in print and reporting was all about the first two finishers.
The other major story of the Games was of the close-knit Arthur Lydiard group's successes: Peter Snell drew himself to the world's attention when he won the 800m from Roger Moens of Belgium, Murray Halberg (whose withered arm proved a source of wonder for the journalists present) won the 5000m from Grodotzki of Germany and Barry Magee was third in the marathon.   Stories about the athletes and their coach proliferated.
With two stories like these, and other events and other sports to cover, there was little room – in even the most Scottish of Scottish papers – for coverage of others in the 26.2 mile event.
The story of Breckenridge's selection is an interesting one.   I quote:
In the spring of 1960, the 19th April Boston Marathon provided the next great racing opportunity.   Finland's Paavo Kotila came over to race, took the lead near 11 miles, and no one could catch him (2:20:54).   "Johnny the Younger" Kelley was expected to give him a fight but was hobbled by a heel blister and dropped out at 20 miles.   Gordon McKenzie of the United States was runner-up in 2:22:18.   This caused a problem for the United States team selection as Kelley was of Olympic calibre but stated policy required that athletes desiring a team berth had to finish both the Boston race and the AAU championship at Yonkers on May 22.   Kelley went on to win at Yonkers for a record fifth time in a course record of 2:20:13.6 and McKenzie was runner-up.   A Marine, Alex Breckenridge, finished fourth at Boston and third at Yonkers.   McKenzie and Breckenridge were named for the United States team, and a recommendation was made that Kelley be the third man on the basis of previous excellence and his recent good performance.   This recommendation was approved."
The  course was described as a tour through Roman history and Bikila's winning time was world best performance by 0.8 seconds, and the first Olympic marathon sub 2:20.   There were four others under this barrier, it was the fastest marathon in Olympic history with 61 under 3 hours compared to 53 at Helsinki
Breckenridge finished thirtieth, one place behind Britain's Brian Kilby who won both European and Commonwealth marathons in 1962.   Behind him were Watanabe of Japan and four of the top eight were Africans.   Breckenridge's time of 2:29:38 would have placed him seventh in 1956 and ninth in 1952.   In Rome he was thirtieth.
He was one place behind Britain's marathon specialist Brian Kilby and among those behind him was the great Alain Mimoun.   Breckenrdge had had a good run in a very fast race obscured as far as the Scottish press was concerned by Bikila's win and the emergence of Arthur's boys.