We have a complete list , courtesy of Mich McGeoch, of Don Ricthie"s marathons (98 in total) and ultra marathons (134 in total) separately rather than in the middle of the profile. It's such an amazing list that it deserves to stand out on its own to be admired and wondered at. Amazine. Go here – Don Ritchies Marathon and Ultra Record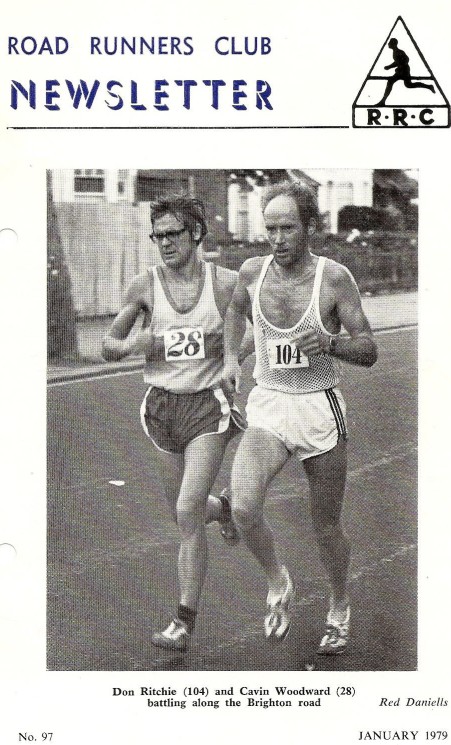 I have to thank Colin Youngson for this portrait of Don Ritchie – if we are talking of unsung heroes of Scottish Athletics then he has to be at or near the top of the list. For a Scot to set a world record is rare, for a Scot to set as many as Don has is totally unique. In fact for most of the population it is unheard of!
Donald A. Ritchie of Lossiemouth, Moray, Scotland, has undoubtedly been the greatest ultra distance runner the world has ever seen. This was the verdict in 1995 of Andy Milroy, a journalist who knows more about this branch of athletics than anyone. Milroy compared Don's achievements with those of past greats like Charles Rowell, George Littlewood and Wally Hayward; and with his contemporaries Yiannis Kouros and Bruce Fordyce. On the basis of the length of his world class ultra running career and his amazing accomplishments, Donald Ritchie is considered to have been the very best. Unconvinced? Look at these statistics.
WORLD BEST TRACK PERFORMANCES
Date Event Time Location
29/04/1977 50 km 2:51:38 Epsom
25/09/1977 150 km 10:37:47 Crystal Palace
25/09/1977 100 miles 11:30:51 Crystal Palace
30/06/1978 100 km miles 6:18:00 Hartola, Finland
28/10/1978 50 miles 4:53:28 Crystal Palace
28/10/1978 100 km 6:10:20 Crystal Palace
10/03/1979 50 km 2:50:30 Altrincham
16/06/1979 100 miles road 11:51:11 Flushing Meadow, N.Y.
16/10/1982 40 miles 3:48:35 Copthall, London
12/03/1983 50 miles 4:51:49 Copthall, London
30/10/1983 200 km 16:32:30 Coatbridge
04/02/1990 200 km indoors 16:31:08 Milton Keynes
3-4/02/1990 24 hours indoors Distance 166.243 miles 267.543 km I.A.U. World Championships, Milton Keynes
26/10/1991 200 km 16:19:16 Copthall
Consider also: scores of Veteran World Best Performances, several British vests (despite these not being available for ultra runners until 1990, when Don was 45 years old); U.K. Championships at 24 hours and 100 1cm; Scottish marathon vests; his part in the record-setting Aberdeen AAC John 0' Groats to Lands End relay in 1982 (77.26.18); his heroic solo record for the same 844 mile journey in 1989 (10 days 15 hours 25 minutes); and winning eleven marathons, three Two Bridges 36 miles races and two 53 miles London to Brighton races, not to mention many events abroad.
Donald's honours include being 'Runners World' ultra athlete of the year; the subject of a 'World of Sport' documentary; a guest at a Royal Garden Party; and the final accolade — his M.B.E. in 1995. Just a few of so many tributes can be included on this website.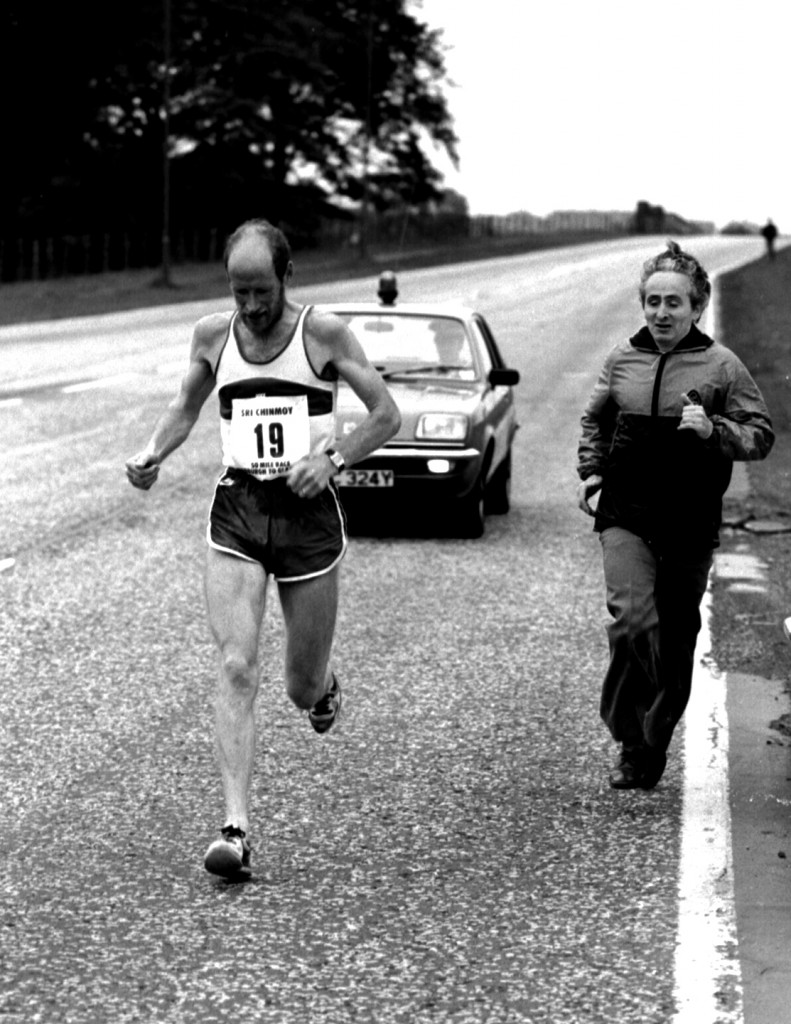 Donald in the Edinburgh to Glasgow Ultra
First in 1995 by Dave Cooper, a fine ultrarunner himself and past editor of the prestigious Road Runners Club Magazine.
"It gives me great pleasure to offer congratulations to the possessor of the cleanest pair of heels in the business, Don Ritchie, on behalf of the RRC Council and all our members, for receiving the Member of the British Empire Medal in the Queen's Birthday Honours List. The quiet man from Elgin has been a great ambassador for the sport for many years and his superb array of world record performances and steely determination on road and track is in sharp contrast to his modest self-effacing demeanour.
A side of his character that especially appeals is his sense of humour. The following vignette will serve as an example. In the introduction to his article on Training, in Andy Milroy's "Training for Ultras", Don writes "To run an ultramarathon, you require a good training background, and a suitable mental attitude, i.e. you must be a little crazy. A certain type of mentality seems to be advantageous. I think you require to be a calm, determined, patient person with a high toleration for prolonged discomfort and a high capacity for delayed gratification."
He has worn with distinction the Great Britain vest for the 24 hours and also the Blue Riband ultra, the 100 km, for as many years as they have been available to ultra-runners, and continues to do so at the age of over 50.
It only remains for me to wish Don, his wife Isobel and his children, the best of health, happiness and prosperity, and long may he continue to thrill us with record- breaking performances."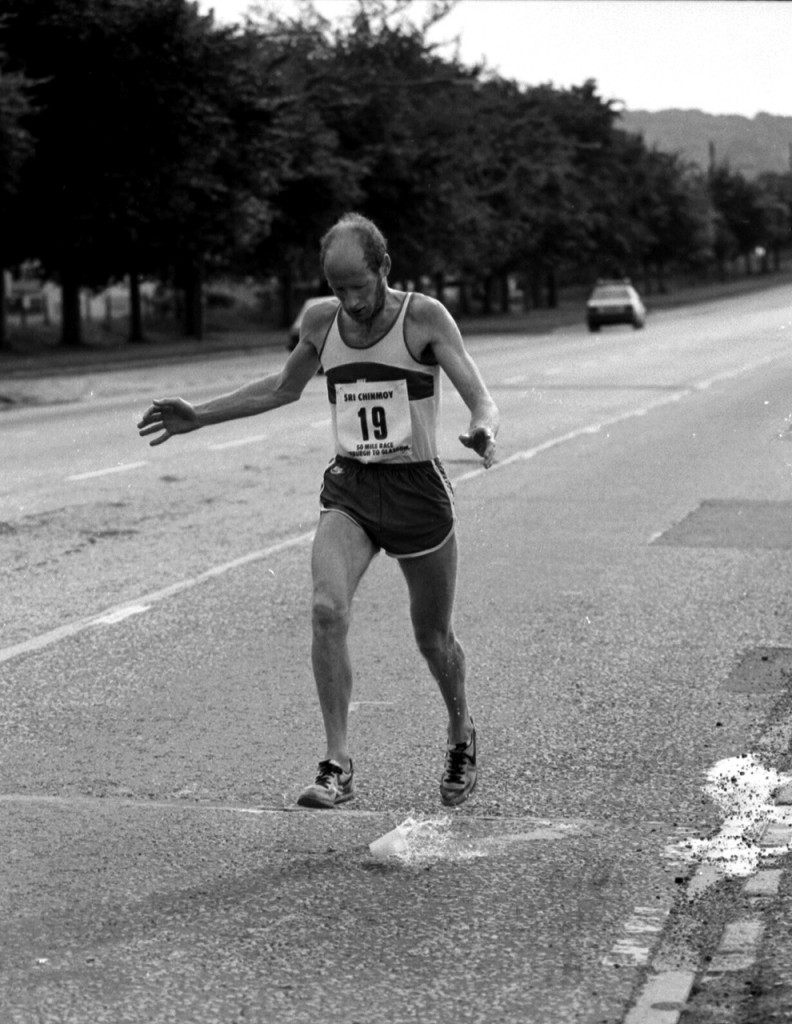 Don drops drink in the E-G Ultra 1984
Then from 1989 by Glen Elliot, the chairman of the still-flourishing Moray Marathons road races.
"RITCHIE, THE CHAMPION OF CHAMPIONS"
"The agony and the ecstasy of long-distance running". Don Ritchie, this quiet unassuming Moray athlete, never realised how true that description could be until a few years ago, when he set the first of his world records on the Epsom track.
Don, a member of Forres Harriers, now holds a string of world records set around the globe. He is an electronics lecturer at the Moray College of Further Education and is without doubt one of the greatest ultra-distance runners of all time. He regularly dips under 2 hours 30 minutes for the marathon (he set a personal best time of 2.19.34 in the London Marathon) but his forte is certainly his ability to keep up a relentless pace over greater distances.
It is difficult to pick out any specific record (he holds so many!) but his 100 miles race at Crystal Palace in the late 70s still staggers the ultra-distance fraternity — he covered the 100 miles in 11 hours 30 minutes 51 seconds, a phenomenal pace of under 7 minutes per mile — yes for every mile. Although this remarkable athlete still rates his other record achieved at the same venue of 100 kilometres in 6 hours 10 minutes 20 seconds (under 6 minutes per mile!) as one of his best performances.
Possibly his finest achievement came in the 100 miles road race at Flushing Meadow Park in New York. The humid conditions and intense competition looked like testing this irrepressible Moray man, but again with the single-mindedness of a true champion, he produced another world best performance to win. In recognition of another magnificent achievement, Don was presented with prestigious trophies by the famous New York Road Runners Club and the Sri Chinmoy Club.
Don has survived many bumps and scrapes in his illustrious running career and many close friends feared the worst when, in the summer of 1988, he was sent crashing to the ground at the start of the Lincolnshire 100 kin road race. The Moray man sustained a broken kneecap which would have finished most athletes, but typical of Don and his fighting spirit, he started all over again with a period of recovery and then back to pounding the roads around Moray. To prove to himself and his followers that he was back in business, Don entered the gruelling 24 hours race in Glasgow's Kelvin Hall Sports Arena — yes, he did it again and established wore records. Don was the only athlete to run/jog non-stop throughout the 24 hours, establishing new Scottish records for 40 miles, 50 miles, 100 miles, 200 km, 12 hours and of course 24 hours distance running.
The Iron Man of Scottish Athletics has blazed a path in ultra-distance running in America, Spain, Italy and many far-flung places, but he never forgets to support numerous local events. Don can be seen lining up with many 'lesser mortals' in the Moray Marathon, and he always has a sympathetic ear for his fellow athletes, novices, and fun runners alike. Don may be excused for being biased, but having run all over the world he still finds the Moray countryside an ideal setting for his arduous training schedule. He covers up to 160 miles a week through many forests, beaches and quiet country roads."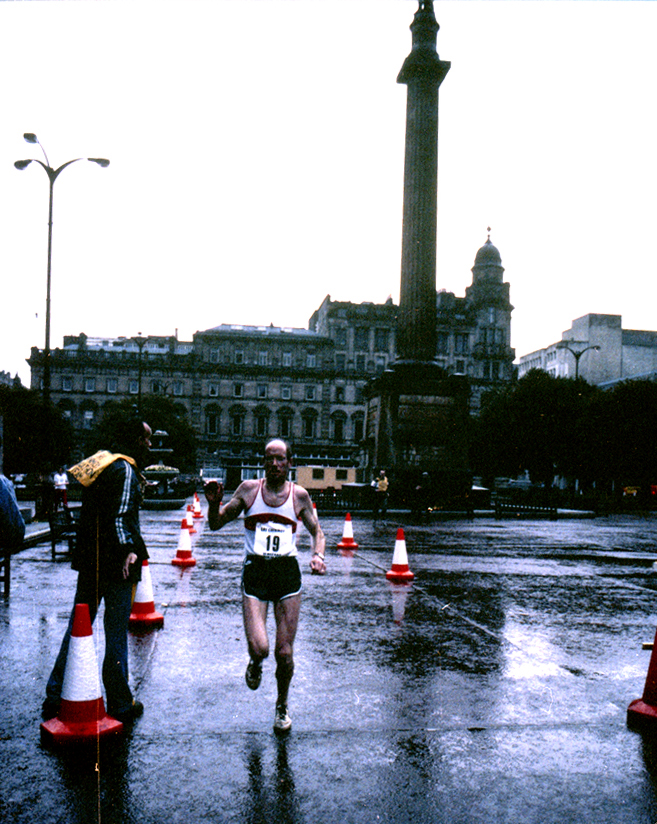 Donald winning the 1984 E-G
Next, two of Donald's friends write about their memories of him. Firstly, Donald Gunn.
"I have known Donald Ritchie for nine years now and have on a number of occasions joined him on Sunday morning runs — along with Mick Francis. Invariably Don's "just over 22 miles" usually turned out to be 25 to 28 miles. Mick and I always added an extra half hour to our estimated running time, before we set out. It was on these therapeutic runs that Don's character would reveal itself For two hours little was said — only comments regarding the weather or our present state of fitness, and then just as Mick and myself were starting to get tired and having to concentrate on keeping up with Don's pace, he would start telling jokes. We reckoned the idea was to encourage us to forget the extra miles still to come.
I found Don to be always calm and collected when things were not going his way. This was certainly the case in Santander, Northern Spain, October 87.
The event was a 100 km race. Mick Francis and I intended competing as part of a week's holiday. Although we were staying in the same hotel as Don, he was to arrive the evening before the race. 10 p.m. came and still no sight of him. A little later a tired Don appeared. Unfortunately there had been a mix-up with transportation from Bilbao airport to the hotel, with the result that poor Don had to find his own way, which involved a long train journey with standing room only. All this and the beginning of a sixty-two and a quarter mile race only a few hours away.
Most people would have been fuming at being let down by the organisers, especially before a big event, but not Don Ritchie. "Just one of these things" was his comment. We managed to find him some fruit to eat that night before he slumped into bed. Hours later he set off with the leaders and took the lead at times. The temperature was in the mid-eighties, quite a change from Lossiemouth in October. Eventually the Spanish champion Domingo Catalan finished a few minutes ahead of Don — but what a gallant try. To cap all this, only a fortnight later in a 250 km race in Italy, Don held the lead for 12 hours before finishing 5th. To race two such distances with little mental or physical recovery seemed remarkable to me.
In the following years I was again witness to ultra-distance feats. At Kelvin Hall Don ran non-stop for 24 hours to set a Scottish Indoor record of 144 miles and 1009 yards. The following year (1989) his JOG-LE triumph left Mick Francis and myself gasping. We accompanied him and attended to his needs during his record- breaking run. Inclement weather, which included gale force winds for one full day, a heavy cold and stomach pains didn't deter Don from cheerfully starting on his 70 to 90 mile-a-day stints, after only 4 hours sleep and sometimes less.
He never complained at any of the inconveniences that came his way — helping to push the support van out of a muddy caravan park one cold and dark morning, or once again in the early hours having to explain to the traffic police just outside Perth what we were doing.
There were other lighter moments during the run, such as one sunny morning during the latter stages, when I ran over to the side of the road Don was running on, to ask which drink or kind of food he wanted for one of his regular snacks, which were always done on the run. Due to a combination of the cold he had caught at the start of the venture and sheer fatigue, his voice had all but disappeared, so Don whispered something which was barely audible. Another few yards on I repeated the question. Ah! A butty! It sounded like. Off I trotted back to the van, avoiding the traffic. I spread a nice big home-made jam butty, sprinted down the road to catch him up again. No, he waved — he didn't want my offering and hoarsely whispered something. Sorry, Don, can't quite catch what you're saying. Again he shouted — which can only be described as a whisper. Yes! I caught it this time. So off I went again and returned with a peeled banana. Wrong again — he waved his arm. This time I was going to get it right. So running alongside as close as possible without tripping him, I heard the whisper above the noise of the traffic: IT S A LOVELY DAY.
Another amusing incident occurred during one of our massage and stretching sessions which I gave Don (at the end of each running session) in the back of our van. He was particularly tired and kept on falling asleep, which presented a problem. Some of the stretches required him to indicate precisely at which moment to stop the stretch so as to avoid injury. So I started to repeat the words "more, more", listening for the 'grunt', at which point I would hold his leg for around thirty seconds. Unknown to us, there was small bunch of local teenagers outside the van, which was parked in a corner of the village square. We then realised what the youngsters found so funny. Because Don was lying on his back, all they could see was his naked legs sticking up above window level and me stripped to the waist because of the heat in the van. The only conversation that could be heard was "more, more"!
Although Don is usually a very quiet character, Mick and I did once glimpse an emotional man.
This occurred during the final moments of his triumph. On finally reaching the Land's End finishing mark, he suddenly sprinted towards the cliff edge! My God! Mick and I thought, what on earth is he doing? Then he punched he air, like a footballer on scoring an all-important goal. The normally unmoved Don was cheering and had just run an extra 50 metres to make sure of his tremendous achievement."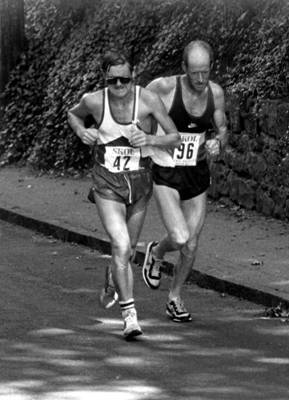 1983 Two Bridges: with Cavan Woodward on the Killer Hill at 22 Miles
And now, Colin Youngson.
"Saturday 25 June 1967 — a windy, warm and at times wet day for the Scottish Amateur Athletic Association Championships at Grangemouth Stadium. I was just finishing my first year at Aberdeen University, and trailed in 16th in the 3 miles event. Yet two memories from that occasion linger in my memory: Aberdeen's Bill Ewing just defeating Gareth Bryan-Jones in the Steeplechase (and almost giving me a heart attack by stopping suddenly at the 220 yard mark — in actual fact the race finished on the back straight); and my first realisation that quiet unassuming Donald Ritchie wasn't a bad long distance runner.
The photograph in my imagination shows Alastair Wood lounging against a wall beside the entrance to the track. He is sipping a cup of tea, having won the marathon several minutes ago (in 2.21.28) and has been sufficiently unruffled by his exertions to take an interest in the progress of a protégé. Before Wood strode into the stadium to record his fourth (of six) Scottish Marathon victory, spectators had been left in suspense. The last news that we had, at the ten mile point, was that Wood had set a fast pace and that his (fairly obscure) Aberdeen clubmate was hanging on, with the dangerous Wight brothers from Edinburgh AC following close behind. Alastair had won literally by a mile. Had the brave unknown paid the penalty for his boldness? We need not have worried. Red-faced, perspiring but resolute, Donald swung into view past a mildly congratulatory Wood, and claimed his silver medal. It had been tough, but he could take the strain.
A year afterwards Donald ('Don' came later) began to make a greater impact on my competitive nature. The inimitable, wittily grumpy but charismatic Wood (an Oxford University 'blue' to whom we both owe a debt of gratitude) had convinced Donald not only to train 120 miles per week, but also to go to Aberdeen University. Of course this meant that I had to race against him every week — and more often or not he beat me! We 'enjoyed' quite a rivalry. Occasionally on a fast surface or on the track I got revenge — but when it came to mud or distance he was much better. I couldn't understand how his body could soak up the miles; and he thought I was a lazy so-and-so.
What other memories of Don Ritchie come to mind?
His introduction to University 'social life'. The contrast between silent sober pre-race Don, strong determined racing Don, and extremely talkative if incoherent less-sober Don being restrained from jumping out of a train window! Luckily he calmed down after those early personality switches.
A University 10,000 metres championship, on a muddy gale-torn King's College grass track. I tried fartlek until half-distance in a vain attempt to shake off the sound of his relentless footfall and noisy regular puffing — before simply giving up and dropping out while still in front!
My first marathon (the Inverness to Forres on a hot day in July 1969) when I finished third in 2.41.13. Alastair Wood was first in 2.27 but when Donald tried to stick with him this time he blew up! I spotted him on the horizon at about 16 miles, passed him at 18 and he actually dropped out at 23! How often did Don ever break down? Must be human after all.
One summer Donald and I went hill-walking together for a few days near Glencoe. It was not a stroll — we positively zoomed up to the peaks before his hill- runner's legs cruised away from me downhill. It was good fun, but his nerve for the dangerous sections was far greater than mine. This phlegmatic courage has been vital in dealing with crazy events like 24 hour races or the solo End-to-End run.
In the summer of 1972 the two of us decided to have a holiday in Finland, visiting clubmate Charlie Greenlees, his wife-to-be Maria and their friends. Being poor, we decided to hitch-hike; and being patriotic, we thought innocently that we'd wear kilts to attract lifts. I borrowed my Dad's kilt, but Don had to buy one, for eight pounds, from an ex-army store. He chose a Black Watch kilt which was made of a cloth so coarse that it rubbed the red hair off his thighs! (Rare sensitivity in such a tough guy.) However we secured one lift from about Newcastle to Hull. After the ferry deposited us at Gothenburg, the same lift continued to the other side of Sweden. And after the second ferry, over to Turku in Finland, the same lift took us to the forest outside Helsinki, where we camped for the night! The lure of the kilt (or Don's legs?)
In Finland we took full advantage of the exotic foreign food, living off Baltic herring and local potatoes — in other words a cheap, wholesome, typical North-East Scotland diet. We finished 6th and 8th in the Finnish Olympic Marathon trial (Donald suffering a 'pit-stop'). And I remember one very hot day when, despite or because of the kilts, we failed to attract a lift in rural Finland and, carrying heavy backpacks, were forced to walk twenty miles along the road. To prevent heat exhaustion, we bought chilled milk from shops along the way, drinking at least ten pints each!
After I left university, Donald's form over 'short' distances reached its peak — he won the Scottish Universities' Cross-Country title and was an excellent 11th in the 'National'. How many people realise he was that fast? Previously, I remember him beating Wood, Ewing and Steve Taylor in a track three-miler, much to their disbelief.. Later on he seemed to lose his speed over ten kilometres (thank goodness), due of course to the strain of training for ultras.
But what a career he has had! Don's best marathon time is a speedy 2:19:34, but he was wise to specialise in ultra distance. His success has been breathtaking. It may be partly due to diet — energy drink, slabs of soda bread (which acts like radiator sealant to his system!) and secret recipe home-brew afterwards, merely to aid recovery. He seems to have a tremendous physical and mental resilience, treating pain only as inconvenience. Although at one stage I had the edge on him in marathons, when we lined up together before the 1984 Edinburgh to Glasgow 50 miles road race, and he suggested that I keep him company for a few miles, I had no hesitation in declining! Sure enough he won by more than half an hour and, despite cautious pacing, I struggled in a wrecked third placer. He is different class, an all-time world great. And it couldn't happen to a more deserving fellow. I like, admire and respect Donald and am proud to be a friend. Does he have any enemies? I doubt it.
In 1982 Aberdeen AAC made their third attempt on the ten-man relay record from John O'Groats to Land's End (the JOGLE). I was fortunate enough to be paired with Don in the fourth dormobile. We had an excellent couple of drivers and the trip was almost stress-free (apart from physical exhaustion, of course). As you can imagine, Donald was calm, relaxed — and a totally reliable running machine. We had a great time. In my 'Running Shorts' book is one story 'Shap Summit', which attempts to describe our shared experience as Jogle runners, engaged in an unusual ultra- distance event."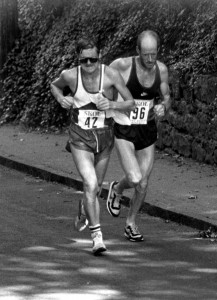 In the Two Bridges, 1984
The best article is this last long one! Unsurprisingly it was written by Donald himself, about a gruelling Italian ultra-marathon. Just imagine yourself trying (and failing) to emulate him!
" ITALIAN JOB
In March 1979 I received an invitation from Giors Oneto to participate in a 101.5 km race from Firenze (Florence) to Faenza. As I had not visited Italy before, I readily accepted the invitation to this race to be held on a Saturday near the end of May. To reach Faenza from Firenze the Appenines have to be crossed, and the race was named 'Del Passatorie' after a bandit who operated in those mountains. Passatorie from what I gather was a Robin Hood sort of character.
The arrangement for this race was that I should organise my own travel, and would be reimbursed in Faenza. Following some correspondence with Giors I established that there was no airport in Firenze, so I would have to fly to Milan then take the train.
Arrangements were made for travel and soon departure date arrived. From Elgin the train to Aberdeen was followed by a bus to the airport and then the flight to London. This part of the journey had already occupied some six hours. Next there was the flight to Linatie airport at Milan. From there I got a bus into the city and managed to locate the Central Station. By now it was 8 p.m. and I found that the next train to Firenze was at 9.30 p.m.
My next priority was to get some food, so I headed off to see what I could find. A restaurant provided spaghetti something de Mar which I deduced should be some seafood. It turned out to be spaghetti mixed with a sauce containing a sort of shellfish hotch-potch including the shells. There was quite a variety of shells, some of which, including the razor and mussel, I recognised. Some had edible bits inside, or at least remains, but mostly they were empty. I also found bits of chopped-up octopus tentacles in there. It was quite a change from Luigi's fish and chips at home. Once I had reduced this course to shells only, I finished off with some excellent ice cream and fresh strawberries.
Suitably refuelled, I returned to the station, purchased my ticket and carefully located the correct train. Although it was half an hour before departure time the train was packed and there were people in every corner. Train travel was inexpensive here so I expect this accounted for the popularity. I resigned myself to a long stand in the stifling heat.
We got underway exactly on time, and the draught through the open windows, caused by the train's motion, reduced the discomfort caused by the heat. Eventually after a tedious journey Firenze was reached. It was now half past midnight and I had to find my hotel. Clutching the letter from Giors with the name of the hotel on it, I sallied forth. There were several police in and around the station, but they did not seem the type you ask directions from: they were wearing bullet-proof waistcoats and carrying sub-machine guns. Later I found one with only a pistol so I asked him. He could not speak English and I could not speak Italian but despite this he was able to indicate the general direction to go in. Further directions were sought from one of several painted ladies I passed and I found the hotel or at least a door with the sign 'Melegano' above it. What a relief; I had been travelling since 6.30 a.m. and it was now 1 a.m.
After repeated bell ringing the door was unlocked and opened by a sad- looking man with a very pale complexion, who was wearing a striped nightshirt and spectacles with very thick lenses. I showed him the letter, he looked at it and then said, "No English", which I took to mean he could not understand or speak English. He did have a few words of English, such as 'Hotel full' and 'you tomorrow'. It was clear that he was not going to invite me in or suggest any alternatives. As he closed and locked the door, I thought to myself 'this is another fine mess I have got into'.
I decided the best thing to do was to return to the Railway Station and make use of the waiting room. The station is a very grand building with marble floors and many marble pillars supporting marble arches and the roof. Even the benches in the waiting room were marble. It was fairly crowded in there but I got a bit of bench. Some people were stretched out on the benches sleeping soundly and snoring profusely; others were in sleeping bags on the floor; while some played cards, smoked and drank wine.
During the remainder of the night, I managed to doze off a couple of times. At about 7 a.m. there was a stir as the cafeteria at one side of the room began to open up. It took me some time to establish the system for obtaining some food. You had to go to the cash desk and pay for the items you wished to have. You then get a receipt which you present to the assistant behind the service counter. She then hands over the required item without having to touch the unhygienic money. I managed to get the equivalent of a buttery roll and a cup of coffee.
I could now relax a little, knowing my kit was on the bus and that my support was organised, so I went off to find some shade from the blazing sun. The temperature was about 32 degrees centigrade.
There was quite a carnival atmosphere with a band playing traditional music, and a group performing with huge whips which they cracked loudly.
I found some shady steps and sat down and began sipping from my pre-race bottle. While packing for the trip at home, I found that I was short of a few drinks bottles so I took whatever was available, including an empty half-bottle labelled Smirnoff Vodka. This served as my pre-race container.
A reporter from one of the Italian Athletics magazines recognised me and began to ask for some information such as: how would I run in the race? How had I prepared? What did I think about Firenze? What did I think about Vito Mileto? Etc. As I had never heard of Mileto, he explained that this was the winner of the race last year and the year before that. Finally he asked what I was drinking on such a warm afternoon. Being in a rather flippant mood by now, I just pointed to the label on the half-bottle containing the colourless glucose polymer solution. He noted it down in his pad with a rather puzzled look on his face. Perhaps he thought it was a refinement of the carbohydrate loading diet.
Once he had exhausted his questions and gone, I made my way to find a toilet, for a final pre-race check. These were hard to come by, but I managed to use the facilities in a café off the Piazza. On emerging from the café, a reporter with a camera crew from a local TV station recognised me and wanted to interview me. I was reluctant as it was now only fifteen minutes before departure time, but agreed when it was pointed out it would only take a few minutes. About five minutes later, the interview completed, I made my way to the start line, and observed that there appeared to be a lot less runners in the Piazza now. I reached the front row with a couple of minutes to spare. Ahead was the lead car containing the starter, who was standing so that his torso was protruding through the sun roof. He was holding a stopwatch in one hand and a raised flag in the other. On either side of the car were police motor cyclists who kept revving the engines of their Moto Guzzis impatiently. As the 4 p.m. start time grew closer and closer, the tension heightened as a sixty second countdown was started and the revving became more vigorous and more frequent. Suddenly the tension was released as the flag dropped and we surged forward, after the speeding car and the motor cyclists.
After about 2 km I was joint leader with a tall thin Italian, and we continued to pull away from the rest. Just before the climb out of the city began at around 5 km, I was surprised to overtake some runners wearing race numbers. They were jogging and as we continued the 900 feet zigzag up to Fisole, we passed increasing numbers of these joggers. I could not understand how this had occurred. At first I thought that somehow we had gone off course and ended up doing a loop, and were now passing through the field. I abandoned this notion and decided that the less serious runners, who just wanted to complete the course before the cut-off time, midday tomorrow, had set off a little early. By the time I reached Fisole at 10 km, I must have passed about 1500 runners struggling on the stiff climb. My cyclist met me there and he gave me my first drink with an anxious look. "Prima fifteen minutes," he said. "No, I am Prima," I said. He repeated his information, and I suddenly realised that it was not only the joggers who had got underway prematurely.
I was furious, and immediately increased my pace. In my early days, I used to run handicap races: quarter, half and mile races at Highland Games, but I never dreamed that I would do a 101.5 km handicap race. The course now undulated and on sections I could see runners, not so many now, various distances ahead. As I caught these up one by one, it was obvious that they were not joggers. I began to think that my pace may be suicidal in the warm conditions, but these thoughts were ignored, and I continued my anger-driven charge.
After Vetta le Croci at 23 km, and a height of 1560 feet, the route descends into the next valley, and there was some shade. At about 30 km I caught and passed one of the French runners. "You have a problem?" he asked as I swept past. I did not attempt to explain and simply grunted yes.
In Borgo San Lorenzo at 35 km it seemed like the entire population had come out to cheer the runners on. The main street appeared to be completely full of people, but as one approached they moved apart, providing a metre-wide path to run along through theft cheering midst. What an inspiring atmosphere they created. I had never experienced anything like it before.
On leaving Borgo, the climbing began again, a short sharp incline and then a gradual rise into the Appenines where the real hill climbing started. I could see the road ahead zigzag up the mountainside, terrace upon terrace. Now the sun was much lower in the sky and often blocked by the surrounding hills. I caught the Gennari brothers running together, and they shouted some encouragement as I passed. My cycling second was pleased with my progress, and kept calling me Daniel. He pointed up to the road a couple of terraces above, and indicated that there was the Prima. Next I caught and passed the Canadian, Chovinard, as we neared the top of the pass, at Colla di Casaglia, which was at 3000 feet.
The top of the pass is at 52 km, and the remaining 49.5 km to the finish is almost entirely downhill, steep at first then gradual, until the flat plain is reached 5 km before Faenza. I let rip on the first downhill and soon caught the second, a Czechoslovakian, and gained on the leader, who was accompanied by a posse of cyclists, motor scooterists and others on mopeds.
I caught the leader, Vito Mileto, and swept past into the lead with about 45 km to run. I was running strongly, although my feet were very sore from the hot road and my quads were becoming very painful. Every 2 km there were marker boards indicating the distance to the finish, which I found quite comforting. As darkness fell at about 8 p.m., the entourage of bicycles, motor cycles, mopeds, scooters and cars, which I had acquired on assuming the lead, provided plenty of light, but too much company. The continual blowing of horns, general noise and exhaust fumes, especially from the two-stroke engines, became increasingly annoying, as I became more tired.
We came to a level crossing with the barriers down, but some of the cyclists rushed ahead and opened them bodily. I had enough sense to check that the train was not too close before running across the rails. I passed through more towns, and it seemed that all the inhabitants had turned out to cheer the brave runners. There were bonfires and bands playing, which all contributed towards producing a really stimulating atmosphere.
A car with a TV film crew would draw alongside me every now and again, to make some recordings with the aid of some powerful spotlights. I was longing to be finished, but I had to be patient and just keep working away. At last I reached the final five kilometres of the race with the lights of Faenza clearly visible. Crowds of people lined the route over the last couple of kilometres, all cheering loudly. I actually had to jog the last 100 metres, as the TV crew had difficulty making its way through the crowds. At the finish, one had to run up a ramp on to a stage, so that one could be presented to the huge crowd gathered in the floodlit square. It was a marvellous few moments, which I will always treasure.
My feet were very painful, and my quads were not much better, so I requested some medical assistance. I was helped to the room where the medics had set up their centre.
After some foot repair work, I requested some aspirin to dull the discomfort I was experiencing. A couple of minutes later, a doctor appeared, bearing a fairly large syringe. This did not look like any aspirin I had ever seen, so I informed him that I wanted aspirin, not an anaesthetic. He assured me that it was indeed aspirin. I decided that I wasn't feeling that bad after all and declined the medic
After a shower, I was taken to the Hotel Vittoria, and on passing through the square I could see that a whole ox had been roasted on a spit. People were queuing to purchase roast beef rolls with salad, along with cups of red wine. At the hotel I consumed a large quantity of strawberries and ice cream, plus a few beers before trying to sleep.
The prize presentation was scheduled for midday on Sunday. Before this I got a note of the results: my time was 6.52.23; Mileto was next in 7.7.05; and Chauvinard third in 7.10.41. The times were good despite the heat; even the Italians said it was warm.
I bought some newspapers to see if there were race reports. One paper had a full page report on the race and had the headline: 'Ad Uno Scozzese Amante delta Vodka Ia Centro Chilometri del Passatorie'. This and a further mention in the report referred to my pre-race bottle. I wondered how many Italian ultra runners would try this 'method' before their next 100 km.
Prize presentation took place in the square, on the finishing stage in front of a large crowd, which had gathered to show their appreciation of the runners' efforts. My award was a ceramic plaque, about one metre by three-quarters of a metre, portraying Passatorie in three dimensions. The other prize from the main sponsors, the wine company of the region, was one hundred bottles of wine: fifty each of Trebbiano and Sangiovese.
This was rather unexpected, and I began to ponder how these might be transported back, or, alternatively disposed of. With Giors Oneto's help, the latter option was more feasible. The method of disposal was not novel, but was satisfactorily accomplished.
'Del Passatorie' had been an unforgettable experience and a 'good adventure'. All I had to do now was get back to Lossiemouth for work at 9 a.m. on Tuesday."
Donald gave another very good interview to the RRC Magazine and he recently passed a copy to Colin Youngson who has sent it on for reproduction here. He also wrote about his solo JOGLE of 1989 and it's quite a story. What he went through! He's a good writer and it is a good article. The links are at the foot of the page.
Back to Front Page Don's Autobiography: The Stubborn Scotsman Don's RRC Interview The 1989 Solo Jogle
DON RITCHIE: VETERAN CHAMPION
After my dear friend Donald died suddenly in June 2018, many impressive tributes and obituaries were published on both sides of the Atlantic. He was rightly celebrated as a modest, friendly, incredibly tough Scotsman who had been the greatest 20th Century ultra-distance runner, certainly in track or road events between 50km and 24 hours indoors. Do check online to learn more about Donald's peak performances between 1977 and 1979 (when his age was 32-34).
For the SVHC Newsletter, I thought it would be appropriate to mention highlights of his 'Masters' running career.
In the M35 category he won important 100km titles, set Track World Records for 40 miles, 50 miles and 200km, ran two sub-2.20 marathons, represented Scotland (aged 39) at that distance and won the Two Bridges 36-mile road race.
Before his retirement from running in 2011, Donald secured another ten Scottish vests (four for marathon and six for 100km) and 17 British vests (eleven 100km and six 24 hours). His last Senior International appearance (aged 56) was in 2000.
His achievements, in Veteran age-groups from M40 to M55, were outstanding. Although he could do no better than 4th in the 1985 Scottish Masters cross-country and first M45 in the 1992 Lochaber/SVHC marathon, as an ultra-runner, Donald reigned supreme.
In the M40 category, he ran the 1985 London Marathon in 2.21.26; won 100km races in Lincolnshire and Turin; triumphed in the 1986 Two Bridges; won overall silver (and M40 gold) in the very first (1987) IAU World Championships 100km in Belgium; and was victorious in the Italian Del Passatorie classic (101.5 km) and the Moray Marathon. In 1988, Donald set 7 Scottish Indoor Track Records (from 40 miles to 144 miles 1009 yards) in the Kelvin Hall 24 hours race. In April 1989, he set a new record for the gruelling John o'Groats to Land's End solo run: 846.4 miles in 10 days 15 hours 27 minutes.
As an M45, he had a marvellous race in the 1990 Road Runners Club 24 hours indoor event in Milton Keynes, winning the AAA, GB and International titles with a new World Record of 166 miles 425 yards (setting other new marks en route at 100 miles and 200km). Then Donald finished first in several other races: Lochaber Marathon, John Tarrant Memorial 50 miles, Lincolnshire 100km, Two Bridges 36 miles and Santander (Spain) 100km. Unsurprisingly, also in 1990, Donald had no difficulty in becoming the inaugural Scottish 100km track champion, establishing World M45 records. Aged 46, he secured his first GB vest in the IAU World Cup 100km in Duluth, USA.
More M45 achievements followed. Donald was first Veteran in the 1991 Madrid 100km; second GB team counter, contributing to bronze medals, in the Del Passatorie 100km World Cup; finished outright victor in the West Highland Way Race and the Tarrant 50 miles; and first Veteran in the Santander 100km. He became British 24 Hours outdoor track champion with a personal best of 166 miles 1203 yards, which was also an M45 World Best (at 100 miles, 200km and 24 hours).
By 1992, Donald had been awarded all the major Scottish Athletics trophies including the 1991 Donald McNab Robertson Trophy; and the 1992 George Dallas Memorial Trophy. That year he won the British 100km championship and retained his AAA 24 hours title. Then he finished first Veteran in the European 100km championships; and won the first Scottish 100km road championships at Riccarton, near Edinburgh. In 1993 he was second in the UK National 100km and also the AAA 100km. 1994 included 3rd place (and first M45) in the West Highland Way.
At M50, Donald continued to run well most of the time. In the 1994 Commonwealth Games demonstration 100km, which took place in Victoria, Canada, he was individual bronze medallist and first M50, contributing to Scottish team silver behind the host nation. In 1995, he set an M50 record in the Barry 40 miles track race; became European M50 champion over 100km; secured Scottish 100km M50 gold; for GB was first M50 in the IAU World Cup 100km in Holland; and set M50 World Track Records (for 50 miles and 100km) in a 24 Hours race in England.
Then on 5th December 1995, Queen Elizabeth presented Donald Alexander Ferguson Ritchie with the M.B.E. (Member of the British Empire) for services to Running and Charity.
In 1996, Donald was Scottish Captain for the 100km Anglo-Celtic Plate and won individual and team silver medals. Then diabetes was diagnosed and his running suffered. Nevertheless, he was second M50 in the European 100km.
In 1998, Donald was third M50 in the European 100km; and first GB counter in the IAU European 24 hours. In 1999 he was first M50 in the Speyside Way 50km; and the Scottish 50km championships; as well as running well for Scotland (5th overall) in the Dublin 100km Anglo-Celtic Plate.
In 2000, Donald set an M55 record in the Speyside Way 50km; and was second Veteran in the Scottish 50km. He was first M55 in the Flanders 100km and the Moray Marathon. He became M55 champion in the World Veterans 100km in Holland; and won his age group in the London to Brighton 55 miles road race. Then he was second GB finisher in the European 24 Hours in Holland and contributed to team bronze medals.
In 2001, Donald won his age group in the Barry 40 miles track. In 2002, he was first M55 in the London to Brighton. By the end of that year he was still averaging more than 100 miles training per week. His final win took place in 2003, when he won the Sri Chinmoy Track 24 Hours race in England.
Despite enduring several worsening health problems, Donald kept trying to run until 2011; and then during the last seven years travelled world-wide with his wife Isobel.
Donald Ritchie's whole career training diaries (1962-2011) cover a thousand pages and note every mile run: an amazing total of 208 thousand 100.8 miles. Truly phenomenal!
Inevitably, this great athlete has been inducted into the Scottish Athletics Hall of Fame.
by Colin Youngson
Don Ritchie – Marathon Career Record
| | | | | | |
| --- | --- | --- | --- | --- | --- |
| No | Date | Venue | Position | Time | Winner (Club) Time |
| 1 | 23 April 1966 | Shettleston | 5 | 2:43:25 | Alastair Wood (Aberdeen) 2:24:00 |
| 2 | 28 May 1966 | Glasgow (SAAA) | 5 | 2:45:58 | Charlie McAlinden (Babcock & Wilcox) 2:26:31 |
| 3 | 09 July 1966 | Inverness-Forres | 3 | 2:29:08 | Alastair Wood (Aberdeen) 2:13:45 |
| 4 | 13 May 1967 | Shettleston | 3 | 2:29:59 | Alastair Wood (Aberdeen) 2:23:02 |
| 5 | 24 June 1967 | Grangemouth (SAAA) | 2 | 2:27:48 | Alastair Wood (Aberdeen) 2:21:26 |
| 6 | 08 July 1967 | Inverness-Forres | 2 | 2:35:00 | Alastair Wood (Aberdeen) 2:16:16 |
| 7 | 11 May 1968 | Shettleston | 3 | 2:34:13 | Alastair Wood (Aberdeen) 2:25:27 |
| 8 | 22 June 1968 | Grangemouth (SAAA) | 2 | 2:32:25 | Alastair Wood (Aberdeen) 2:21:18 |
| 9 | 27 July 1968 | Cwmbran (AAA) | 33 | 2:44:23 | Tim Johnston (Portsmouth) 2:15:26 |
| 10 | 22 June 1969 | Edinburgh (SAAA) | DNF | | Bill Stoddart (Greenock Wellpark) 2:27:25 |
| 11 | 12 July 1969 | Inverness-Forres | DNF | | Alastair Wood (Aberdeen) 2:27:44 |
| 12 | 25 October 1969 | Harlow | 9 | 2:24:38 | Alastair Wood (Aberdeen) 2:19:15 |
| 13 | 11 April 1970 | Shettleston | 2 | 2:25:44 | Pat Maclagan (Victoria Park) 2:22:03 |
| 14 | 16 May 1970 | Edinburgh (SAAA) | 11 | 2:26:28 | Jim Alder (Morpeth) 2:17:11 |
| 15 | 24 October 1970 | Harlow | 16 | 2:30:52 | Alastair Wood (Aberdeen) 2:17:59 |
| 16 | 08 May 1971 | Shettleston | 2 | 2:23:31 | Steve Taylor (Aberdeen) 2:23:25 |
| 17 | 26 June 1971 | Edinburgh (SAAA) | 4 | 2:28:39 | Pat Maclagan (Victoria Park) 2:21:17 |
| 18 | 04 September 1971 | Enschede (NED) | 13 | 2:28:54 | Bernie Allen (Windsor) 2:16:54 |
| 19 | 23 October 1971 | Harlow | 6 | 2:29:13 | Dave Holt (Hercules Wimbledon) 2:18:22 |
| 20 | 13 May 1972 | Edinburgh-North Berwick | 1 | 2:24:26 | |
| 21 | 08 July 1972 | Inverness-Forres | 1 | 2:33:00 | |
| 22 | 25 July 1972 | Helsinki (Finnish Champs) | 8 | 2:33:37 | Reino Paukkonen (Finland) 2:18:49 |
| 23 | 07 July 1973 | Inverness-Forres | 2 | 2:27:10 | Alastair Wood (Aberdeen) 2:22:29 |
| 24 | 01 September 1973 | Enschede (NED) | 9 | 2:25:37 | Ron Hill (Bolton) 2:18:06 |
| 25 | 27 October 1973 | Harlow (AAA) | DNF | | Ian Thompson (Luton) 2:12:40 |
| 26 | 04 May 1974 | Rugby (AAA) | 6 | 2:28:27 | Jeff Norman (Altrincham) 2:19:37 |
| 27 | 22 June 1974 | Edinburgh (SAAA) | DNF | | Don MacGregor (Fife) 2:18:08 |
| 28 | 01 December 1974 | Barnsley | DNF | | John Newsome (Wakefield) 2:24:25 |
| 29 | 30 August 1975 | Enschede (NED) | 73 | 2:54:38 | Ron Hill (Bolton) 2:15:59 |
| 30 | 08 May 1976 | Rotherham (AAA) | 45 | 2:29:30 | Barry Watson (Cambridge) 2:15:08 |
| 31 | 22 July 1978 | Pietarsaari (FIN) | 9 | 2:29:39 | Jorma Sippola (Finland) 2:20:57 |
| 32 | 13 May 1979 | Coventry (AAA) | 31 | 2:35:10 | Greg Hannon (Northern Ireland) 2:13:06 |
| 33 | 21 October 1979 | New York (USA) | 154 | 2:36:43 | Bill Rodgers (USA) 2:11:42 |
| 34 | 28 September 1980 | Aberdeen | 20 | 2:42:53 | Graham Laing (Aberdeen) 2:19:33 |
| 35 | 27 September 1981 | Aberdeen | 15 | 2:30:33 | Max Coleby (England) 2:21:29 |
| 36 | 24 October 1981 | Black Isle | 2 | 2:33:38 | Dave Geddes (Garscube) 2:29:58 |
| 37 | 18 July 1982 | Thurso | 1 | 2:30:53 | |
| 38 | 15 August 1982 | Elgin | 1 | 2:29:36 | |
| 39 | 19 September 1982 | Aberdeen | 7 | 2:24:00 | Gerry Helme (England) 2:15:16 |
| 40 | 23 October 1982 | Black Isle | 1 | 2:24:28 | |
| 41 | 17 April 1983 | London (AAA) | 90 | 2:19:35 | Mike Gratton (invicta) 2:09:43 |
| 42 | 26 June 1983 | Loch Rannoch | 5 | 2:28 | George Reynolds (Aberdeen) 2:24:09 |
| 43 | 17 July 1983 | Thurso | 4 | 2:37:04 | Dave Clark (Verlea) 2:20:34 |
| 44 | 14 August 1983 | Elgin | 1 | 2:36:11 | |
| 45 | 18 September 1983 | Aberdeen | 9 | 2:25:20 | Kevin Johnson (England) 2:19:01 |
| 46 | 22 October 1983 | Black Isle | 1 | 2:26:07 | |
| 47 | 29 April 1984 | Dundee | 5 | 2:19:58 | Don MacGregor (Fife) 2:18:16 |
| 48 | 13 May 1984 | London (AAA) | 73 | 2:21:33 | Charlie Spedding (Gateshead) 2:09:57 |
| 49 | 15 July 1984 | Thurso | 1 | 2:31:25 | |
| 50 | 12 August 1984 | Elgin | 1 | 2:29:19 | Don Ritchie (Forres) 2:29:17 |
| 51 | 16 September 1984 | Aberdeen | 9 | 2:26:35 | Mark Burnhope (England) 2:19:36 |
| 52 | 21 April 1985 | London (AAA) | 77 | 2:21:26 | Steve Jones (RAF) 2:08:16 |
| 53 | 28 April 1985 | Dundee | 7 | 2:26:35 | Murray McNaught (Fife) 2:20:25 |
| 54 | 19 May 1985 | Motherwell | 4 | 2:28:04 | Charlie MacDougall (East Kilbride) 2:26:53 |
| 55 | 11 August 1985 | Elgin | DNF | | Graham Flatters (Dundee Hawkhill) 2:41:15 |
| 56 | 15 September 1985 | Aberdeen | 38 | 2:57:43 | Dave Catlow (England) 2:22:54 |
| 57 | 20 April 1986 | London (AAA) | 211 | 2:30:43 | Toshihiko Seko (Japan) 2:10:02 |
| 58 | 25 May 1986 | Aberdeen | 9 | 2:36:53 | Ray Maule (England) 2:22:56 |
| 59 | 10 August 1986 | Elgin | 1 | 2:36:45 | |
| 60 | 21 September 1986 | Glasgow | 25 | 2:26:50 | Kenny Stuart (England) 2:14:04 |
| 61 | 01 November 1986 | Black Isle | 1 | 2:28:38 | |
| 62 | 24 May 1987 | Aberdeen | 11 | 2:34:27 | Ian Corrin (England) 2:27:42 |
| 63 | 09 August 1987 | Elgin | 1 | 2:31:50 | |
| 64 | 31 October 1987 | Black Isle | 4 | 2:42:31 | Rod Bell (Dundee Hawkhill) 2:35:18 |
| 65 | 24 April 1988 | Lochaber (SAAA) | 2 | 2:30:26 | Colin Martin (Dumbarton) 2:30:09 |
| 66 | 22 May 1988 | Aberdeen | 11 | 2:29:50 | Hammy Cox (Scotland) 2:21:15 |
| 67 | 29 October 1988 | Black Isle | 2 | 2:34:56 | Mike Ryan (Dundee Hawkhill) 2:34:30 |
| 68 | 28 May 1989 | Aberdeen | 11 | 2:41:42 | Ian Bloomfield (England) 2:22:30 |
| 69 | 06 August 1989 | Elgin | 4 | 2:44:54 | Charlie McIntyre (Fraserburgh) 2:31:58 |
| 70 | 22 April 1990 | Lochaber | 1 | 2:34:01 | |
| 71 | 27 May 1990 | Aberdeen (SAAA) | 7 | 2:31:00 | Chris Tall (England) 2:23:32 |
| 72 | 05 August 1990 | Elgin | 5 | 2:35:47 | Erik Seedhouse (City of Hull) 2:28:29 |
| 73 | 03 November 1990 | Black Isle | 2 | 2:37:55 | John Duffy (Shettleston) 2:31:16 |
| 74 | 21 April 1991 | Lochaber | 3 | 2:30:40 | Jim Cooper (Springburn) 2:28:34 |
| 75 | 12 May 1991 | Dundee | 6 | 2:32:03 | Hugh Mackay (Fife) 2:26:03 |
| 76 | 04 August 1991 | Elgin | 2 | 2:46:13 | Ron Kirkton (Milburn) 2:38:18 |
| 77 | 02 November 1991 | Black Isle | 4 | 2:45:45 | Fraser Clyne (Aberdeen) 2:27:18 |
| 78 | 26 April 1992 | Lochaber | 3 | 2:38:42 | Colin Youngson (Aberdeen) 2:36:23 |
| 79 | 02 August 1992 | Elgin (SAAA) | 15 | 2:54:45 | Fraser Clyne (Metro Aberdeen) 2:25:38 |
| 80 | 31 October 1992 | Black Isle | 2 | 2:42:08 | Andy Stirling (Bo'ness) 2:36:15 |
| 81 | 02 April 1995 | London (AAA) | 551 | 2:46:45 | Dionicio Ceron (Mexico) 2:08:30 |
| 82 | 23 April 1995 | Lochaber | 9 | 2:42:47 | John Duffy (Shettleston) 2:31:19 |
| 83 | 03 September 1995 | Elgin | 8 | 2:43:51 | Alan Reid (Fraserburgh) 2:34:43 |
| 84 | 01 September 1996 | Elgin | DNF | | Allan Stewart (Moray RR) 2:37:15 |
| 85 | 07 September 1997 | Elgin | DNF | | Fraser Clyne (Metro Aberdeen) 2:29:37 |
| 86 | 06 September 1998 | Elgin | 16 | 3:08:54 | Simon Pride (Keith & District) 2:29:04 |
| 87 | 25 April 1999 | Lochaber | 15 | 2:55:17 | Simon Pride (Keith & District) 2:24:24 |
| 88 | 08 August 1999 | Gateshead (World Vets) | 90 | 2:59:24 | Tony Duffy (Bolton) 2:23:25 |
| 89 | 05 September 1999 | Elgin | 7 | 3:04:30 | David Lancaster (Rowntrees York)2:46:37 |
| 90 | 30 April 2000 | Lochaber | 10 | 2:53:43 | David Rodgers (Lochaber) 2:28:53 |
| 91 | 20 August 2000 | Glasgow | 61 | 2:58:25 | Wilson Cheruiyot (Kenya) 2:22:45 |
| 92 | 03 September 2000 | Elgin (SAAA) | 11 | 2:57:18 | Simon Pride (Keith & District) 2:21:17 |
| 93 | 28 April 2002 | Lochaber (SAAA) | | 3:31:08 | Jamie Reid (Cambuslang) 2:21:46 |
| 94 | 27 April 2003 | Lochaber | | 3:15:41 | John Duffy (Shettleston) 2:41:22 |
| 95 | 06 July 2003 | Perth (AUS) | 62 | 3:26:21 | Sandy Burt (Australia) 2:42:21 |
| 96 | 31 August 2003 | Elgin (SAAA) | 52 | 3:32:27 | Jamie Reid (Cambuslang) 2:34:08 |
| 97 | 29 August 2004 | Elgin | 53 | 3:35:30 | Simon Pride (Metro Aberdeen) 2:36:49 |
| 98 | 24 April 2005 | Lochaber | 241 | 4:06:32 | John Duffy (Shettleston) 2:42:15 |
DON RITCHIE – ULTRA CAREER RECORD
No
Date
Venue
Pos
Time
Winner (Club) Time
1
22 August 1970
Two Bridges 36.2m
7
3:50:50
Phil Hampton (Royal Navy) 3:41:18
2
24 August 1974
Two Bridges 36.2m
5
3:36:58
Jim Wight (Edinburgh AC) 3:26:31
3
29 September 1974
London – Brighton 52.7m
3
5:24:54
John Newsome (Wakefield) 5:16:07
4
02 November 1974
Walton-on-Thames track 30 m
2
2:49:33
Mick Molloy (Ireland) 2:44:47 WR
5
19 June 1976
Lairig Ghru 28 trail
DNF
Andy Pratt (RAF) 3:12:40
6
30 April 1977
Epsom 50 km track
1
2:51:38
World Best
7
25 June 1977
Hillingdon 50 km track
1
2:51:42
8
27 August 1977
Two Bridges 36.2m
2
3:28:34
Cavin Woodward (Leamington) 3:27:10
9
25 September 1977
London – Brighton 52.9m
1
5:16:05
10
15 October 1977
Crystal Palace Track 24 hours
DNF
Tom Roden (SLH) 156m 439y

Don Ritchie 100 miles 11:30:51 WR

11
30 June 1978
Hartola (FIN) 100 km
1
6:18:00
12
29 July 1978
Woodford-Southend 40 miles
2
3:59:35
Cavin Woodward (Leamington) 3:50:14
13
26 August 1978
Two Bridges 36.2m
5
3:32:49
Cavin Woodward (Leamington) 3:24:45
14
01 October 1978
London – Brighton 53.5m
1
5:13:02
15
28 October 1978
Crystal Palace Track 100km
1
6:10:20
WR
16
10 March 1979
Altrincham Track 50 km
1
2:50:30
WR
17
28 April 1979
Ewell Track 40 Miles
1
3:54:07
18
26 May 1979
Del Passatore (ITA) 101.5 km
1
6:52:33
19
15 June 1979
Flushing Meadows (USA) 100 ml
1
11:51:11
20
30 September 1979
London – Brighton 54.3m
DNF
Allan Kirik (USA) 5:32:37
21
27 October 1979
Crystal Palace Track 24 hours
DNF
Dave Jones (Blackburn) 153m1143y
22
06 April 1980
Niort (FRA) 50 km
3
3:05:44
Martin Daykin (Gloucester) 2:58:47
23
04 May 1980
Torino-St Vincent (ITA) 100 km
1
6:35:00
24
24 May 1980
Del Passatore (ITA) 101.5 km
1
6:54:14
25
07 June 1980
Oulu (FIN) 50 miles
DNF
Risto Laitinen (Finland) 5:03:16
26
04 April 1981
Niort (FRA) 50 km
2
2:55:29
Pattrjk Macke (Grantham) 2:53:05
27
30 May 1981
Del Passatore (ITA) 101.5 km
DNF
Vito Mileto (Italy) 6:53:15
28
10 October 1981
Copthall / RRC Track 24 hours
DNF
Mark Pickard (Epsom & E) 163m 1249y
29
29 May 1982
Del Passatore (ITA) 101.5 km
DNF
Luciano Ceni (Italy) 7:29:53
30
19 June 1982
Altrincham Track 24 hours
DNF
Dave Cooper (Cambridge) 147m 1083y
31
11 July 1982
Pistoia-Abetone 53 km
11
4:05:15
Sergio Pozzi (Italy) 3:30:58
32
25 September 1982
Santander (ESP) 100 km
1
6:28:11
33
16 October 1982
Copthall / RRC Track 100 km
DNF
Peter Sugden (Reading) 7:07:22

Don Ritchie 40 miles 3:48:35 WR

34
12 March 1983
Copthall / RRC Track 50 miles
1
4:51:49
WR
35
28 May 1983
Del Passatore (ITA) 101.5 km
DNF
Mauro Cillia (Italy) 6:57:08
36
27 August 1983
Two Bridges 36.2m
1
3:34:39
37
25 September 1983
London – Brighton 53.6m
3
5:24:23
Bruce Fordyce (South Africa) 5:12:32
38
29 October 1983
Coatbridge Track 24 hours
DNF
Dave Cooper (Cambridge) 151m 1098y

Don Ritchie 200km 16:32:30 WR

39
25 February 1984
Manx Airlines 40 miles road
1
3:53:14
40
03 June 1984
Edinburgh-Glasgow 50 miles
1
5:03:44
41
24 June 1984
Lincolnshire 100 km
1
6:48:15
42
25 August 1984
Two Bridges 36.2m
2
3:34:47
Barry Heath (Royal Marines) 3:31:46
43
07 October 1984
London – Brighton 53.5m
2
5:28:27
Barry Heath (Royal Marines) 5:24:15
44
24 November 1984
Coatbridge Track 24 hours
3
136m1390y
Dave Cooper (Cambridge) 148m 247y

45
23 February 1985
Manx Airlines 50 kms road
3
2:56:39
Jeff Norman (Altrincham) 2:53:21
46
23 June 1985
Lincolnshire 100 km
1
6:47:40
47
13 July 1985
Solihull Track 24 hrs
12
116m 528y
Martin Daykin (Gloucester) 152m 713y
48
03 November 1985
Geneva (SUI) 100 km
DNF
Vaclav Kamenik (Czech) 6:23:49
49
01 March 1986
Manx Airlines 50 kms road
3
3:06:48
Jeff Norman (Altrincham) 2:53:26
50
04 May 1986
Turin-St Vincent (ITA) 100 km
1
6:36:02
51
22 June 1986
Lincolnshire 100 km
1
7:02:46
52
23 August 1986
Two Bridges 36.2m
1
3:36:37
53
04 October 1986
Santander (ESP) 100 km
2
6:47:49
Domingo Catalan (Spain) 6:32:09
54
28 February 1987
Manx Airlines 50 kms road
2
2:57:00
Jeff Norman (Altrincham) 2:55:15
55
30 May 1987
Del Passatore (ITA) 101.5 km
8
7:47:08
Jean Marc Bellocq (France) 6:52:42
56
20 June 1987
Tourhout (BEL) 100 km (World)
2
6:40:51
Domingo Catalan (Spain) 6:19:35
57
29 August 1987
Two Bridges 36.2m
3
3:41:19
Charlie Trayer (USA) 3:36:27
58
03 October 1987
Santander (ESP) 100 km
2
6:43:58
Domingo Catalan (Spain) 6:36:32
59
16 October 1987
Cagliari-Sassari (ITA) 254 km
5
25:28:51
Milan Furin (Czech) 23:59:11
60
27 February 1988
Manx Airlines 50 kms road
2
3:02:47
Jeff Norman (Altrincham) 2:58:27
61
28 May 1988
Del Passatore (ITA) 101.5 km
4
6:56:03
Normano Di Gennaro (Italy) 6:37:10
62
19 June 1988
Lincolnshire 100 km
DNF
Paul Taylor (Woodstock) 7:41:45
63
19 November 1988
Kelvin Hall Indoor Track 24 hrs
1
144m 1009y
64
25 June 1989
Paris (FRA) 100 km (World)
13
7:21:32
Bruno Scelsi (France) 6:47:06
65
16 July 1989
Hereford 50 miles
3
5:43:14
Martin Daykin (Hereford C) 5:27:55
66
26 August 1989
Two Bridges 36.2m
9
3:55:07
Mick McGeoch (Les Croups) 3:36:02
67
07 October 1989
Santander (ESP) 100 km
2
6:51:14
Luis Saraiva (Portugal) 6:46:10
68
03 February 1990
Milton Keynes Indoor Track 24 hrs
1
166m 425y
World Indoor Best: 100ml, 200km, 24hr
69
01 April 1990
Madrid (ESP) 100 km
5
7:11:49
Luis Saraiva (Portugal) 6:48:34
70
03 June 1990
Holme Pierrepoint 100km (AAA)
1
6:46:29
71
24 June 1990
Livingston Track 100km (SAAA)
1
6:46:10
72
15 July 1990
Hereford 50 miles
1
5:29:50
73
22 July 1990
Lincolnshire 100 km
1
7:12:17
74
25 August 1990
Two Bridges 36.2m
1
3:38:00
75
06 October 1990
Santander (ESP) 100 km
1
6:40:23
76
27 October 1990
Duluth (USA) 100 km (World)
10
7:11:14
Roland Vuillemenot (France) 6:34:02
77
07 April 1991
Madrid (ESP) 100 km
4
6:54:10
Valmir Nunes (Brazil) 6:35:41
78
25 May 1991
Del Passatore (ITA) 100 km (World)
8
7:13:26
Valmir Nunes (Brazil) 6:35:36
79
02 June 1991
Holme Pierrepoint 100km (AAA)
3
6:56:55
Erik Seedhouse (City of Hull) 6:42:02
80
21 June 1991
Tourhout (BEL) 100 km
5
6:52:09
John Paul Praet (Belgium) 6:33:51
81
30 June 1991
Lairig Ghru 28 miles trial
10
4:06:32
Ben Preece (Aberdeen) 3:27:45
82
06 July 1991
West Highland Way 95 miles trial
1
19:44:11
83
21 July 1991
Hereford 50 miles
1
5:40:15
84
24 August 1991
Two Bridges 36.2m
2
3:41:28
Andy Stirling (Bo'ness) 3:41:04
85
05 October 1991
Santander (ESP) 100 km
5
6:49:13
Valmir Nunes (Brazil) 6:36:53
86
26 October 1991
Copthall Track 24 hrs (AAA)
1
166m 1203y
87
16 February 1992
Palamos (ESP) 100 km (World)
39
7:34:21
Konstantin Santalov (Russia) 6:23:35
88
05 April 1992
Madrid (ESP) 100 km
14
7:44:49
Konstantin Santalov (Russia) 6:42:22
89
03 May 1992
Barcelona (ESP) 100 km
9
6:57:31
Konstantin Santalov (Russia) 6:22:28
90
31 May 1992
Holme Pierrepoint 100km (AAA)
1
6:51:54
91
19 June 1992
Tourhout (BEL) 100 km
15
7:12:33
John Paul Praet (Belgium) 6:24:46
92
12 July 1992
Hereford 50 miles
2
5:56:15
Tony Lenagan (Wigan Phoenix) 5:45:26
93
08 August 1992
Birmingham 24 hrs track (AAA)
1
161m 1521y
94
29 August 1992
Two Bridges 36.2m
11
4:00:52
Peter Baxter (Pitreavie) 3:47:48
95
12 September 1992
Winschoten (NED) 100km (Euro)
7
6:52:20
John Paul Praet (Belgium) 6:16:41 WR
96
27 September 1992
Edinburgh 100 km (SAAA)
1
7:01:27
97
03 October 1992
Barcelona-Madrid Stage Race
DNF
Konstantin Santalov (Russia) 40:39:29
98
27 February 1993
New York 100 km (US Champ)
9
7:53:23
Valmir Nunes (Brazil) 6:45:35
99
01 May 1993
Basel (SUI) 24 hr (European)
DNF
Nikolai Safin (Russia) 164m
100
22 May 1993
Holme Pierrepoint 100km (AAA)
2
7:09:40
Greg Dell (Vale of Aylesbury) 6:58:50
101
29 May 1993
Feltham 24 hours (AAA)
2
129m 932y
Mike Aris (Ealing & S) 142m1205y
102
27 June 1993
Lake Saroma (JAP) 100 km
14
8:02:38
Toshiro Kashihara (Japan) 6:43:14
103
08 August 1993
Torhout (BEL) 100 km (World)
DNF
Konstantin Santalov (Russia) 6:26:26
104
03 April 1994
Speyside Way 50 km trail
6
3:31:06
Fraser Clyne (Metro Aberdeen) 3:02:07
105
21 May 1994
Szeged (HUN) 24 hour (Euro)
9
138m 340y
Janos Bogar (Hungary) 162m 508y
106
18 June 1994
West Highland Way (short)
3
14 hr 46min
Brian Davidson (Citadel) 13 hr 41 min
107
31 August 1994
Victoria (CAN) 100 km
3
7:29:46
Stefan Feckner (Canada) 6:54:31
108
22 October 1994
Tooting Bec 24 hours track
1
147m 314y
109
05 March 1995
Barry 40 miles track
2
4:21:34
Robin Gardner (Woodstock) 4:17:46
110
16 April 1995
Speyside Way 50 km trail
3
3:26:25
Peter Baxter (Pitreavie) 3:23:11
111
27 May 1995
Chavanges (FRA) 100km (Euro)
18
7:16:17
Jaraslov Janicki (Poland) 6:28:36
112
17 June 1995
West Highland Way 95 miles trail
3
20:46:43
Dave Wallace (Harmeny) 17:43:30
113
30 July 1995
Edinburgh 100 km (SAAA)
3
7:34:30
Stephen Moore (Hertford &W) 7:17:47
114
16 September 1995
Winschoten (NED) 100 km (World)
37
7:09:49
Valmir Nunes (Brazil) 6:18:09
115
14 October 1995
Tooting Bec 24 hours track
21
62m 1116y
Mike Aris (100 km Assoc) 132m 765y

Don Ritchie: 50mile 5:37:17 and 100km 7:07:29 World M50 bests

116
22 June 1996
West Highland Way 95 miles trail
7
22:11:24
Dave Wallace (Harmeny) 18:36:22
117
21 July 1996
Edinburgh 100 km (Anglo CP)
2
7:38:15
Stephen Moore (England) 7:17:16
118
25 August 1996
Cleder (FRA) 100 km (Euro)
64
8:11:20
Jaraslav Janicki (Poland) 6:33:39
119
02 March 1997
Barry 40 miles track
5
4:23:28
Simon Pride (Keith & District) 3:54:24
120
20 July 1997
Edinburgh 100 km (SAAA)
DNF
Stephen Moore (Hertford &W) 7:04:22
121
11 October 1997
Tooting Bec 24 hours track
9
112m 1489y
Jaroslav Kocourek (CZE)150m 1727y
122
12 April 1998
Speyside Way 50 km trail
10
3:58:32
Simon Pride (Keith & District) 3:19:59
123
10 May 1998
Greenwich 100 km (Anglo CP)
3
7:41:28
Stephen Moore (England) 6:57:33
124
19 June 1998
Torhout (BEL) 100 km (Euro)
50
7:59:38
Grigoriy Murzin (Russia) 6:23:29
125
19 July 1998
Edinburgh 100 km (SAAA)
DNF
Mark Guichard (100 km Assoc) 7:50:35
126
29 August 1998
Lille (FRA) 24 hour (Euro)
11
145m 804y
Lucien Taelman (Belgium) 166m 583y
127
12 September 1998
Winschoten (NED) 100 km(World Vets)
37
8:53:10
Andrzej Magier (Poland) 6:59:50
128
18 October 1998
Nakamura (JAP) 100 km (World)
48
10:43:42
Grigoriy Murzin (Russia) 6:30:06
129
07 March 1999
Barry 40 miles track
23
5:19:56
Simon Pride (Keith & District) 3:53:55
130
11 April 1999
Speyside Way 50 km trail
13
3:44:44
Simon Pride (Keith & District) 3:02:20
131
09 May 1999
Glenrothes 50 km (SAAA)
11
3:34:48
Alan Reid (Peterhead) 3:12:48
132
19 June 1999
Dublin 100 km (Anglo Celtic P)
5
7:35:29
Stephen Moore (England) 6:56:27
133
18 July 1999
Edinburgh 100 km (SAAA)
DNF
William Sichel (Moray RR) 7:32:19
134
25 September 1999
Verona (ITA) 24 hour track (Euro)
5
138m 399y
Yiannis Kouros (Guest) 163m 1y
135
05 March 2000
Barry 40 miles track
6
4:44:09
Chris Finill (Harrow) 4:21:57
136
16 April 2000
Speyside Way 50 km trail
10
3:43:32
Alan Reid (Peterhead) 3:12:20
137
14 May 2000
Glenrothes 50 km (SAAA)
7
3:33:04
Alan Reid (Peterhead) 3:07:42
138
16 June 2000
Torhout (BEL) 100 km
18
8:05:10
Farid Ganiev (Russia) 6:33:19
139
09 September 2000
Winschoten (NED) 100 km (World)
61
7:54:45
Pascal Fetizon (France) 6:23:15
140
01 October 2000
London-Brighton 55.0m
8
7:07:03
Sarel Ackermann (RSA) 5:56:50
141
21 October 2000
Uden (NED) 24 hour track (Euro)
17
136m 1476y
Lubomir Hrmo (Slovakia) 161m 185y
142
04 March 2001
Barry 40 miles track
9
4:53:07
Alan Reid (Peterhead) 4:11:45
143
03 March 2002
Barry 40 miles track
16
5:31:50
Mikk Bradley (Watford) 4:20:03
144
07 April 2002
Moreton-in-Marsh 100 km (AAA)
18
11:12:15
Dennis Walmsley (Bourton) 7:07:39
145
12 May 2002
Glenrothes 50 km (SAAA)
11
4:05:49
Terry Mitchell (Fife) 3:16:18
146
06 October 2002
London-Brighton 54.1m
23
8:12:20
Brian Hennessey (Crawley) 6:00:57
147
20 October 2002
Crystal Palace Track 100 miles
DNF
Oleg Kharitonov (Russia) 11:28:03
148
02 March 2003
Barry 40 miles track
20
5:38:03
Brian Hennessey (Crawley) 4:13:10
149
11 May 2003
Glenrothes 50 km (SAAA)
14
4:09:02
Dennis Walmsley (Bourton) 3:08:37
150
31 May 2003
Apeldoorn (NED) 24 hour
81m 630y
Etienne Van Acker (Belgium) 157m 446y
151
27 September 2003
Verona (ITA) 50 km
4:17:44
Mario Fattore (Italy) 3:06:00
152
11 October 2003
Tooting Bec 24 hours track
1
117m 951y
153
07 March 2004
Barry 40 miles track
17
6:05:29
Brian Cole (Royal Marines) 4:08:16
154
09 October 2004
Tooting Bec 24 hours track
19
84m 1504y
Ken Fancett (Beckenham) 133m 801y