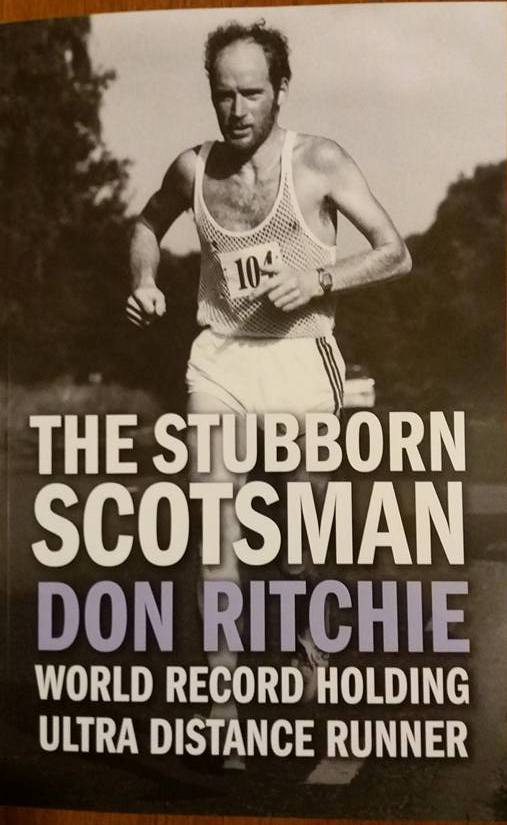 Don Ritchie has had a long and illustrious career as a top class road runner, a member of a quite outstanding generation of endurance men from Aberdeen but mainly as an ultra distance runner setting records all over the world and winning most of the globe's best known very long distance races.   He has been persuaded to write his autobiography which is now available from Amazon for £19:99.   A fellow Aberdonian, and a top class road runner in his own right, Colin Youngson has written the following review of the book.
DONALD RITCHIE: PER ARDUA AD ASTRA
If his 1970 interview with the RAF had gone better, Donald Ritchie might well have been a fighter pilot. He had a licence to fly small planes and indeed practised aerobatics! As a runner, it was clear that he was brave and tactically bold. However he might have been (physically) better suited to long-haul flights or indeed solo round-the-world record attempts.
I have known Don Ritchie since 1968, as a good friend and sometime rival (but only up to the 'mere sprint' marathon distance). Although I was well aware that, even in his mid-twenties, he trained hard and ran what seemed to me a ridiculous number of weekly miles, when he suddenly became a world-class ultra-distance athlete, I wasn't sure exactly how he had become so good.
Now that I have read through the first draft of his autobiography, soon to be published as 'THE STUBBORN SCOTSMAN'', the reasons for his success have become crystal-clear.
Recently, on a train journey, I spent ten minutes writing down a series of words I associated with Donald's personality and running career. Quiet, modest, calm, charitable, friendly but private. Self-motivated, determined, dedicated, ambitious. Stoical, masochistic, amazingly tolerant of pain, resilient. Obsessed, addicted to training and racing. Seldom allowing time for rest or recovery. Secretly passionate, foolishly optimistic, occasionally crazy. (I did wonder whether a title for this article might be 'Hero or Madman?'!)
Having started running (as a 440 yard man!) in 1962, Donald served a long 'apprenticeship' on track, road and cross-country, became a decent marathoner and finally, in 1977 at the age of 33, realised that his true strength lay in the ultra-distances. Yet despite producing many wonderful performances, he endured a process of trial and error for years, not infrequently making serious mistakes connected with over-racing, lack of recuperation, inappropriate diet, injuries and illnesses. By the mid-1980s, he had developed a greater ability to analyse reasons for disappointing races; and thereafter made fewer errors in preparation, nutrition and recovery.
Yet the very nature of ultra training and especially racing is essentially gruelling. The champions have learned to suffer greatly and to push on regardless. Agonies, injuries and infections are part of the game. To fight through these extreme difficulties and win must be tremendously satisfying. Donald Ritchie M.B.E. broke world records for distances including: 50 km, 40 miles, 50 miles, 100 km, 150 km, 100 miles, 200 km and 24 Hours Indoor, and also set many new age-group standards. He won most of the classic ultra races in Britain and Europe. Lesser mortals talk about striving to achieve their potential. Despite starting off with reasonable talent, speed and natural stamina, Don must be the most over-achieving runner ever!
'Per Ardua' translates as 'through hard work or struggle or adversity'. During his running career, and indeed most of his life, as so many admirers would agree, Don Ritchie has been the ultimate trier, and has undoubtedly succeeded in adding his own bright star to the athletics universe.
Donald's autobiography covers, in considerable detail, his early life, running apprenticeship, peak performances and veteran highlights (he was still racing for Great Britain senior teams until over 50 years of age). Blood, sweat, pain and triumph, but no tears from this most uncomplaining of Scotsmen. Buy a copy now – and marvel!