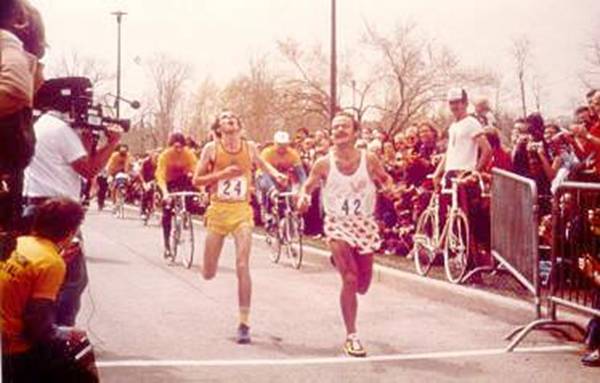 Paul Bannon (24) finishing second to Brian Maxwell in the National Capital Marathon in 1978
Paul Bannon was a considerably good athlete in his own right but will always be known to Scotsmen of a certain age as "Eddie Bannon's boy".  Just as his Dad had done, Paul started out with Shettleston Harriers and won many athletics honours in Scotland but he did what his father never did when he won a medal in a major Games.    This profile is of Paul and will concentrate on his own career in the sport.
Paul is first in the record books in 1969 as a Senior Boy (ie Under 15) athlete.   In that year he was sixth in the Senior Boys District Cross-Country Championships and then seventh in the National Championships as a member of the Shettleston Harriers team.   It is interesting to note that as he goes up the age groups he tends to finish further up the fields whereas some of his rivals followed the reverse path and 'progressed backwards'.
In 1970 and 1971 he was in the Youths (Under 17) age group and won the club championship in both years.   In 1970 he was sixth in the District Championships and sixth again in the Nationals.   As a second year youth he he did not run in the District Championships and was third in the National Championship  1971 was also the year when he first ran in the Edinburgh to Glasgow Relay and running the fourth stage in the equal third fastest time of the day, brought the club from second to first – a position they held all the way to the tape.     At the end of 1971 he ran the second stage of the Midland relay and helped the club to second place, and ran third in the team that was third in the County relay.   he was also third stage runner in the club's own Allan Scally Relays that finished third.
As a Junior in 1972 he was fifth in the combined Junior and Senior District Championships and second in the Junior National – needless to say, he also won the club champonship!    1972 was in fact a quite spectacular year for the young Bannon: as well as the championships noted above he was second in the European CCU Youths Championships, eleventh in the European Club Championships and thirteenth in the ICCU International Championships.    Domestically he also ran again in the Edinburgh – Glasgow relay but not in the blue and gold of Shettleston – he was to run that year for Glasgow University.   Good club man that he was, he confessed to feeling confused about who he was supposed to be shouting for!   He brought the University from seventeenth to eleventh – a brilliant run on that most difficult of stages – in the fifth fastest time behind Norman Morrison, Ian Stewart, Fergus Murray and Jim Dingwall.   In summer 1972 he showed what he could do on the track when he won gold at the AAA's Junior Track Championships in the 3000m.
In 1973 he took up an athletics scholarship at Memphis State University in Tennessee.   It didn't take too long for him to establish his credentials either.   A 3000m in 8:08.8 at Bloomington, NY in February 1974 was good and his best times in the States were to be 13:49.2 for 5000m in Knoxville, Tennessee, and 28:36.8 for 10000m in Des Moines, Iowa.   If you look up the athletics section of the Memphis University website, you will find that Paul Bannon is an all-time letterman from the 1973 – 1976 period, and the times quoted are still University records.   Furthermore, in the 'Events No Longer Run' list he is noted three times – for the Two Miles (9:00.0 in 1973), Three Miles (13:27.5 in 1974) and Six Miles (27:44.6 in 1975).   Having made his mark in Scotland, he now made a similar impact in Tennessee.
He came home in 1976 and was third in the SAAA 10000m.    His family moved to Toronto in 1976 and that was to be the start of another, even better athletics career for Paul Bannon.
Summer 1977 had been a good one for Bannon with victories in not one but two Canadian Track Championships:   He won the 5000m in 14:00.4 and the 10000m in 28:58.4   In the 'Winnipeg Free Press' of 10th September 1977 under the heading of "Scot Wins Road Race", there was the story of how, running for the Toronto Olympic Club, he won the 20K Race at the Ontario Provincial Road Race Championships in a time of 62:41 which was 15 seconds clear of the second placer.   Two months later the headline in the same paper was "Winnipegger Wins Open Title" only this time the Scot was not the one in the headline – he finished sixth in the National Cross-Country Championships but as the paper said, "Scotsman Paul Bannon of Toronto actually finished sixth but is unable to compete for Canada internationally since he hasn't been a resident long enough to qualify."    The irony is that the International Championships that season (1977/78) were to be held in Bellahouston Park in Glasgow!
In May 1978 however he did have the requisite residential qualifications for selection to the Canadian team for the Commonwealth Games and ran in the marathon in Ottawa.   It was his first time in the event but he led for most of the way and it was only with three miles to go that Brian Maxwell (a Canadian living in California and third in the world in 1977) caught him and it was down to the last 75 yard sprint for the line before he got in front.   The winning time of 2:16:02 was a record – the picture at the top of the page shows how close it was.   He was selected with Maxwell and Jerome Drayton for the Commonwealth Games which were to be held in Edmonton.   How about that?   A Scot emigrates to Canada and misses out on selection for a World Championships in Glasgow but gets picked for a major Games in Canada!       Later that year, in July 1978 'The Lethbridge Herald'  reported on a 20K road race in Chicago where he finished second to Gary Bjorklund of America in 1:01:06.
In the race itself which was only his second marathon,  was held in a temperature of 21 degrees C with a humidity of 57%.   The race was won by Gidemas Shahanga of Tanzania in 2:15:39.8 with Canadian Jerome Drayton second in 2:16:13.5 and Paul Bannon third in 2:16:51.6.   Behind him were Kevin Ryan (NZ) in 2:17:15.3, Greg Hannon (Ire) in 2:17:25, Paul Ballinger (NZ) in 2:17:15.3.   Further down were Trevor Wright (England) 2:20:14.6, Stan Curran (England) 2:21:17.6 and Brian Maxwell (Canada) 2:21:46.3.    There were 30 finishers.   At 5km Jim Dingwall was equal with two others in 16:02 while the second group including Bannon and Ryan were timed at 16:03.    By 10K the leading group had all the main contenders and some others as well when it came through in 31:52.   The group stayed more or less together through 15 km (47:50), 20 km (63:49), 25 km (79:59 (Bannon and Ryan) with Singh, Drayton, Shahanga, Ruto and others very close up.   The first important break came in the 5km leading up to 30 km when Bannon covered that 5k in 15:43 which opened up a gap of 28 seconds on Kevin Ryan and Jerome Drayton with Shahanga fifth almost 75 seconds down.   By 35 km, Bannon's lead was down to 19 seconds and Drayton was the man in second.   Times at 35 km: Bannon 1:52:05, Drayton 1:52:24, Ryan 1:52:47, Shahanga 1:52:55, Hannon 1:53:41.   Drayton went into the lead at 38km after 2:02 running time, Bannon offered no resistance and it looked as though Drayton would win.   he was however notorious for dropping out of races where he was very confident of winning such as the 1977 Boston Marathon.   After Drayton, Shahanga passed Bannon just after 39km and at 40km he was just 19 seconds down on Drayton.   40km splits:   Drayton 2:08:53, Shahanga 2:09:06, Bannon 2:09:22, Ryan 2:09:54, Hannon 2:10:15.   Drayton looked back at 41 km and saw Shahanga coming up fast and a minute or so later, just outside the stadium, the African passed him.   Shahanga was timed at 33 seconds for the final 200 metres.   He had done the distance from the 40km mark in 6:33.8 which works out at 4:50 miling pace.   The table below has the 5km splits for the first three
| | | | |
| --- | --- | --- | --- |
| Distance | Shahanga | Drayton | Bannon |
| 5km | 16:04 | 16:03 | 16:03 |
| 10km | 16:12 | 15:49 | 15:49 |
| 15km | 16:29 | 15:58 | 15:58 |
| 20km | 15:46 | 15:59 | 15:59 |
| 25km | 16:03 | 16:17 | 16:10 |
| 30km | 16:22 | 16:17 | 15:43 |
| 35km | 15:59 | 16:01 | 16:23 |
| 40km | 16:11 | 16:29 | 17:17 |
| + | 6:33.8 | 7:20.5 | 7:10.0 |
The Press described it as a 'Race of Unknowns'.   Nobody knew anything about Shahanga – after the obligatory conference he was maybe 19 or 21 years old, he was one of 12 children, he was still at school, he always wanted to run  a marathon and might have run one in 1974 when he might only have been 15; in 1976 he did run one in 2:22:41 and also did a 10000m in 29:54.   And so on they went.   Of course Paul Bannon confused them as did Greg Hannon.   After all the confusion, very little press ink as spilled on the English runners!   The coverage in 'The Lethbridge Herald' in Canada was "Brill and Drayton miss gold medal chances."    The Press never changes.   The 'Athletics Weekly report however draws attention to another aspect of his selection.   I quote: "Paul Bannon, son of former Scottish cross-country star Eddie Bannon, could have represented his native land but opted for Canada as he did not expect the Scottish authorities to pay for his fare over in order to qualify.   He is eligible only for Britain at the 1980 Olympics as he will not have been resident in Canada long enough but says he will not be racing that year in order to concentrate on his accountancy exams.   A former AAA junior 3000m champion, his one previous marathon outing was in the Canadian trial race in May where he was beaten by Brian Maxwell in one of the closest finishes in marathoning history – 2:16:02.6 to 2:16:02.8."   The picture below is of Paul being helped from the track after the race.
Bannon of course went on running although very little information filtered back to Scotland about it.    We do know that his next big marathon was in Vancouver.  On 1st May 1983 he took to the streets of Vancouver for the annual marathon and, described in the 'Winnipeg Free Press' as 'Paul Bannon of Mississauga, Ont.' he won from a field of 8000 runners in a time of 2:19:40.    It was his first marathon for three years and it is remembered as 'the long marathon' after a spotter at Brockton Point in Stanley Park  misdirected the runners for an extra 561 yards.   Nevertheless, Paul won!    In 1984 he ran in the Canadian Olympic Marathon Trials – the picture and comments quoted, received from Joe Small, tell the story.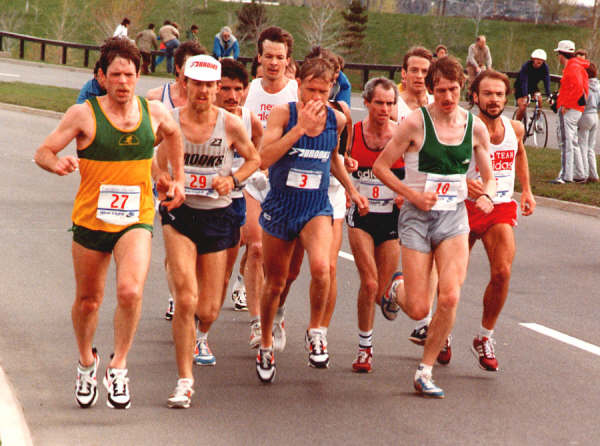 MEN: 1.   David Edge, Burlington, Ont.   2:13:19          2.   Alain Bordeleau, Montreal   2:14:19          3.   Art Boileau, Eugene, Ore.   2:14:36         4.   Robert Englehutt, Dartmouth, N.S.  2:16:50          5.   Jeff Martin, Jordan Station, Ont.   2:17:39
Tom Howard, Surrey, B.C.   2:18:18             7.  Muya Wachira, Ottawa   2:18:41               8.   Paul Bannon, Missisauga, Ont   2:18:51    9.   Rheal Desjardins, Montreal   2:19:25                   10. Stephen Pomeroy, West Vancouver   2:19:48
27 – Howard who hero mentioned 2:13 guy, a bit past his prime at that race.   29 – Martindill: big talent in everything up to the marathon but had some kind of breathing issues or something that would hamper him in the marathon – maybe oldster remembers 64-half marathon guy – 1:34 30km guy – did two sub-30 minute 10km road races in one day, didn't finish that race.   No number – Dave Edge (made team), behind 29 needs no introduction – one claim to fame was practically coming to blows with Joe Sax for drafting off him the whole way at ATB.    No Number – Butler, tall guy next to Edge, needs no introduction – 2:10 guy who didn't make the team.    3 – Dyon – owns Brooks, 2:14 guy – tough as nails – didn't make the team.   8.   Bannon – 2:16 guy – became a priest later I think – I went by him at 20 miles in NY in 83 – he went out at some ridiculous pace there.   No number behind Bannon – Hughson – 2:13 guy a bit past his prime at that race.   10 – Don't know – Pomeroy wild ass guess.   Team Adidas guy next to 10 – Maxwell – now deceased founder of Power Bar – 2:14 guy, didn't make team
He is also listed at number seven with that Ottawa time in the Toronto Olympic Club's list of their all-time marathon runners.   No small feat with guys like Drayton, Maxwell, Fonseca and Boychuk as club members.   The last we heard of Paul was that he had indeed become a priest in the Catholic Church.    We would welcome any new information about  him