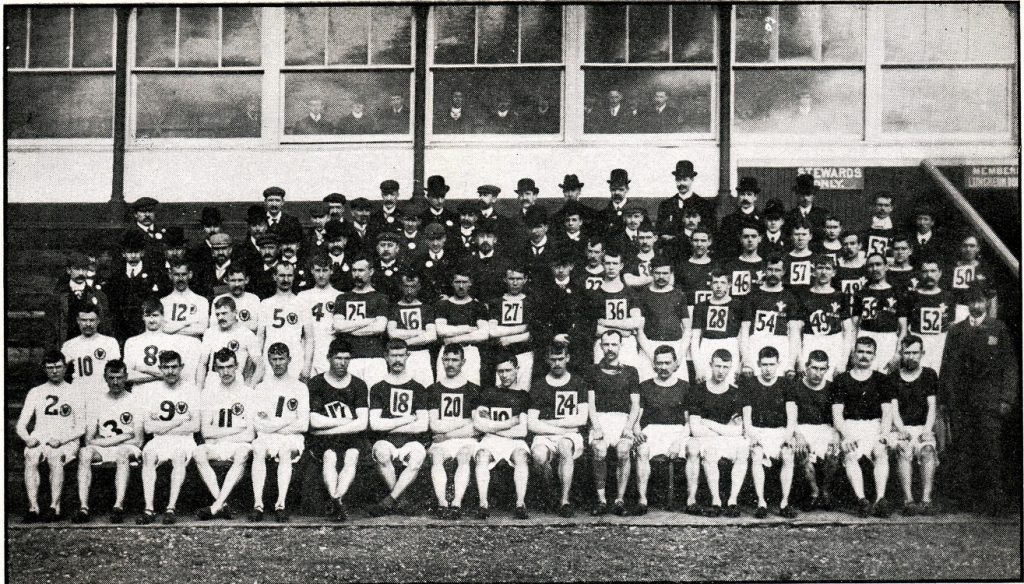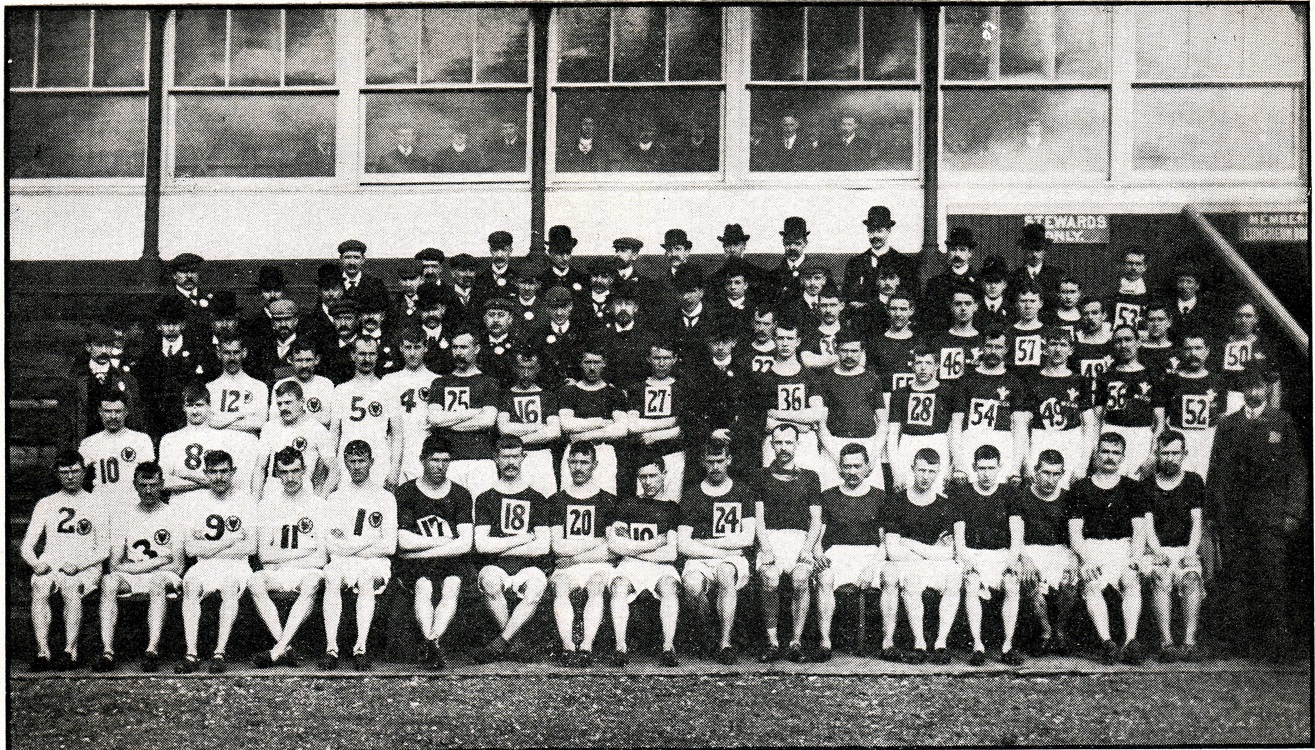 The Competitors in the first official international in 1903 at Hamilton Racecourse
The first official international cross-country international in the world was held in Scotland om 23rd March, 1903, at Hamilton Racecourse. There had been an unofficial race in Paris on 28th March 1898 but the race at Hamilton is the officially recognised start to the series. There have been twelve more held here since then.
1907 at Scotstoun; 1912 at Saughton; 1922 at Hampden; 1934 at Ayr; 1946 at Ayr; 1952 at Hamilton; 1955 at Scotstoun; 1957 at Musselburgh; 1960 at Hamilton; 1969 at Clydebank; 1978 at Bellahouston and 2008 in Edinburgh.
Originally the race was organised by the International Cross-Country Union from 1903 through to 1974 before it was taken over by the International Amateur Athletics Federation. Scotland was one of the founder members of the international championships but in 1987, it was decreed by the International Federation that all four home countries would be entered as one team: Great Britain took the place of Scotland, Wales, Northern Ireland and England.
You may see references to Colin Shields in these reports and this refers of course to his official history of the SCCU "Whatever the Weather" – a real treasure trove of information. If there are any available, get yourself one. It is really the 'go to' book on cross-country history. Other resources used have been wikipedia which has all the detailed information that you could possibly want on the subject including complete results of every race. Local newspapers have been also used – mainly the Glasgow Herald, but also the Scotsman, the Dundee Courier, the Press & Journal and the Scottish referee.
The accounts of the various races will be posted and the links below activated as they are completed. The races after 1945 will be tackled first.
21sr March, 1903 at Hamilton 23rd March 1907 at Scotstoun 30th March 1912 at Saughton,
1st April 1922 at Hampden Park; 24th March 1934 at Ayr; 30th March 1946 at Ayr;
22nd March 1952 at Hamilton; 19th March 1955 at Scotstoun [Men only – women at Ayr ]
30th March 1957 at Musselburgh [Women only, men at Waregem, Belgium, on 23rd March]'
26th March 1960 at Hamilton; 22nd March 1969 at Clydebank; 25th March 1978, Bellahouston Park, Glasgow;
Although organisation in Scotland has always been immaculate, there were some awkward moments before the event held in 1978 when Coatbridge seemed to have a better claim to host the event than Glasgow but the race went to Bellahouston. Click on the link for that story.