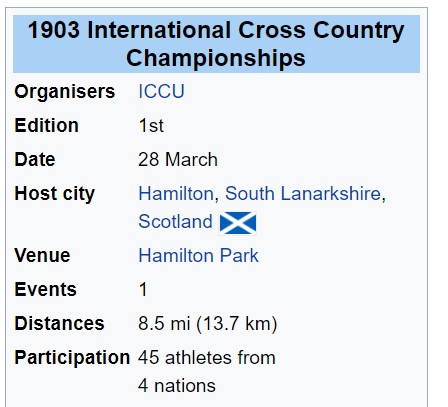 Apparently, in early 1903, the Welsh, Irish and Scottish Cross-Country Associations were enthusiastic about organising an International race; but England was not keen. Eventually, however, England was persuaded to "send twelve competitors plus the three Area Presidents and the Hon Secretary of the Union to Hamilton Racecourse, Glasgow."
The Glasgow Herald noted:
"An interesting departure in international sport will be witnessed at Hamilton Palace Grounds on Saturday, when the first of what we hope will be a long and brilliant series of contests between the cross-country elect of England, Scotland, Ireland, and Wales takes place".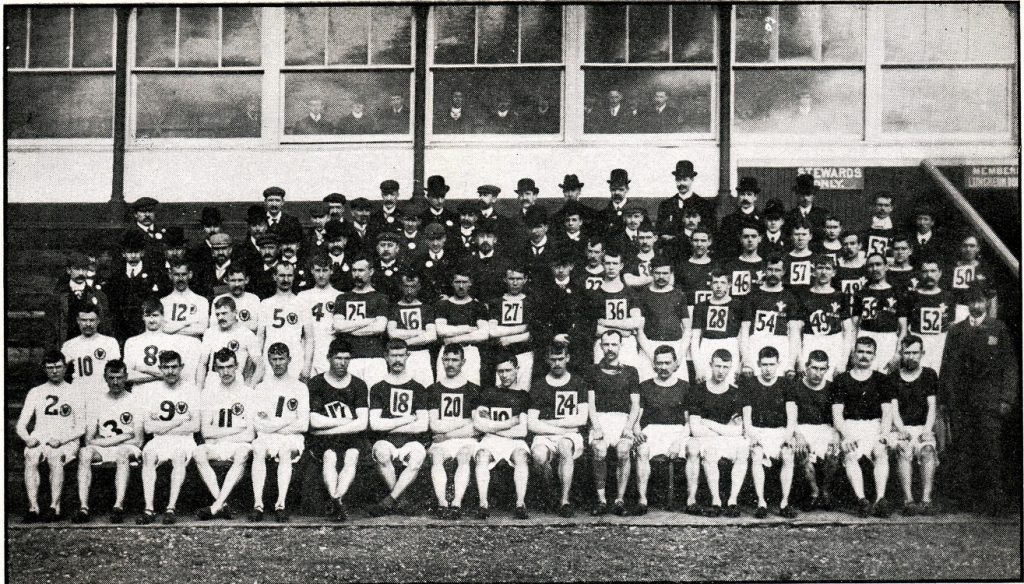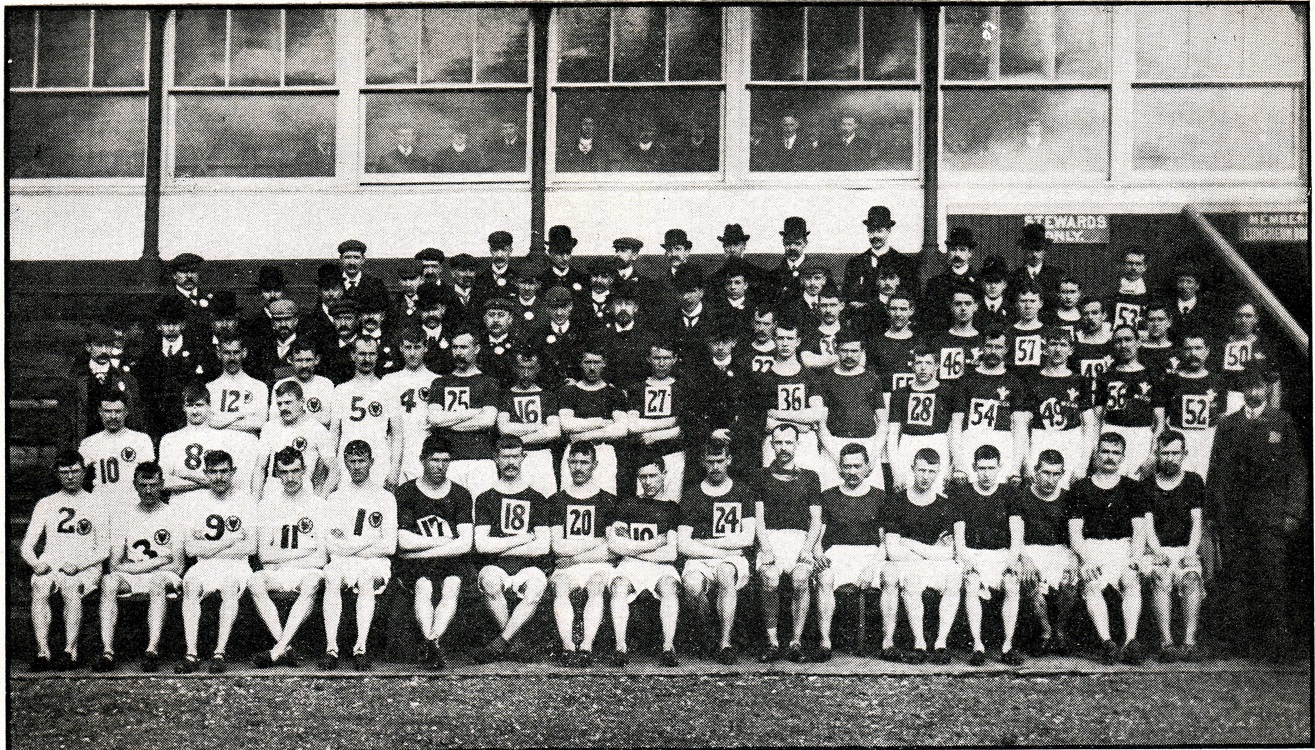 Runners and officials at the first international in 1903
The subsequent report about the race, which took place on 28th March 1903 (over a distance of 8 and a half miles) was as follows:
"Describing the first International cross-country championship, decided at Hamilton Park on Saturday, is an easy task indeed. It was simply a case of Alfred Shrubb, the Londoner and national champion of England for the last three seasons, being first and the rest nowhere. Equally so might the quest for country championship honours be described, for England furnished six men in the first seven home, and the "predominant partner" finished many points ahead of Ireland, who provided the second-best team; while Scotland came third and Wales were the whippers in. But regarding the race, run, by the way, in the most miserable weather (heavy rain), it was as good as over after the first two miles had been run. The disappointment of the race, from a Scottish point of view, was the poor running of the Anglo-Scot, Tom Johnston, of the Highgate Harriers. He could only finish 34th, and the medal to the first Scot home was deservedly won by James Crosbie (10th). A word of praise is due, however, to John Ranken (14th), who did not disgrace his dark blue jersey. But it was Shrubb's race, and his alone. The present was his first visit to Scotland as a harrier – a competitor over the country. He has been seen here in flat-racing events, but on Saturday he showed us his wonderful pace at cross-country work. He is not the best of fencers, indeed, compared to John Daly (Ireland, who finished third), he was a poor hurdler; but he is a marvellous stayer. This has been a wonderful season for him. As well as winning the Southern Championship, he has carried off the Sussex Championship, the English National race, and a French international event, decided on the outskirts of Paris a week back." (41 finished the arduous course; four did not.)
Glasgow Herald reports were often expressed in such tones: in this case, effusive and complimentary about Alf Shrubb; unsympathetically critical about most of the Scottish competitors!
James Crosbie ran for Larkhall John Ranken (Watsonians CCC) became Scottish cross-country champion in 1904 and 1905.
In his Centenary History of the SCCU (1890-1990), Colin Shields noted that the race took place, not on Hamilton Racecourse, "but in the adjacent grounds of the Duke of Hamilton's Palace. The race started and finished in front of the grandstand and, after 300 yards of running over the racecourse turf, the runners exited to the ducal grounds, where they covered four 2-mile laps before returning to complete the course in the racecourse finishing straight."
"There was much praise for Shrubb, who was described as 'a running machine who trained as hard in winter as he did in summer'; and critics went on to say that 'until Scots runners started training as systematically as their English rivals and became more devoted to the drudgery of winter training, they would meet with little success in international competition.'
"The race was so successful that discussions on the train journey back from Hamilton to Glasgow afterwards led to an understanding that a similar race would be held the following year at Haydock Park, Lancashire, where the International Cross Country Union (ICCU) was established."