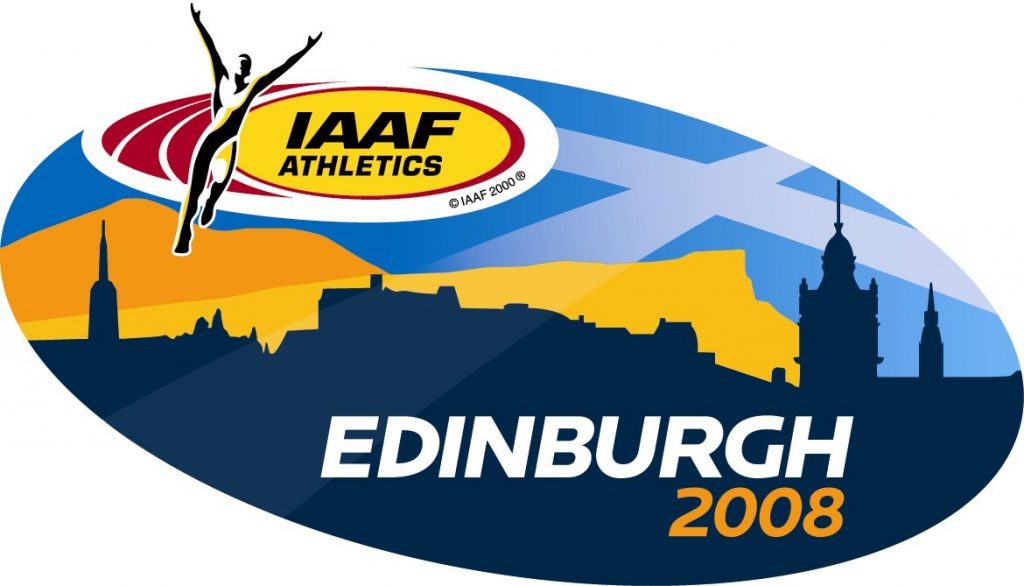 For the IAAF, Doug Gillon of 'The Herald' wrote:
"Scottish Cross-Country championships first held 122-years-ago
In Lanarkshire the "Red-hose" (red stockings) cross-country race, had begun more than 20 years earlier. The county in the West of Scotland has a long and proud sports tradition. King William the Lion of Scotland presented the Lanark Silver Bell for a horse race there in the twelfth century. It's Britain's oldest sports trophy, and the race course on which it was staged (the Silver Bell is still contested) was where the very first Scottish cross-country championship was held, 122 years ago this week. The 10-mile (16,000 metres) race, over heavy grassland, was won by a stonemason.
Also in Lanarkshire, the very first cross-country international was staged in 1903. It was held on Hamilton racecourse, and the adjacent grounds of the palace of the Duke of Hamilton. It was contested by Scotland, England, Ireland and Wales, and was won by England's Alf Shrubb. France entered in 1907, and it was from these beginnings that the IAAF event first emerged in 1973.
World Cross-Country returns to Scotland
This is the twelfth time the international championship has been held in Scotland, but only the second in the IAAF era. This is the 30th anniversary of the last IAAF World Cross in Scotland (in Glasgow) where Ireland's John Treacy won. It is returning to Edinburgh 96 years to the day since Frenchman Jean Bouin won there.
Bouin was the first non-English winner of the championships, and first to win three in succession (1911-1913). He and the Finn, Johannes Kolehmainen, were respectively Olympic 5000m silver and gold medallists in Stockholm, first time the distance had been run under 15 minutes. The Frenchman also took the World 6-mile and 10,000m records from Shrubb. Sadly, Jean Bouin, the sport's first great multiple international champion was killed in World War I.
The first cross-country handicap ever staged in Scotland, was in December 1885, over four miles from the Sheepshead tavern in Duddingston. It lies on the banks of one of three lochs within the royal park.
Ethiopian legend Kenenisa Bekele has already won three times over Sunday's course, for it has hosted the Great Edinburgh International in recent years, so the course is tried and tested. It includes Haggis Knowe (or Haggis Hill, so named because it's shaped like the traditional Scottish dish) which also featured in the 2003 European Cross-Country Championship and World Mountain Running Trophy in 1995.
But this remains a sport for everyone. A 'Welcome the World' 5km race round the park is open to everyone. Afterwards they can watch the toughest race on earth for free."
The 2008 IAAF World Cross Country Championships took place on March 30, 2008. The races were held at the Holyrood Park in Edinburgh, Scotland. Four races took place, one for men, women, junior men and junior women respectively. All races encompassed both individual and team competition. This was the year in which Kenenisa Bekele became the first athlete in World Cross history to win six individual long course titles, breaking his tie with John Ngugi and Paul Tergat who had each won five.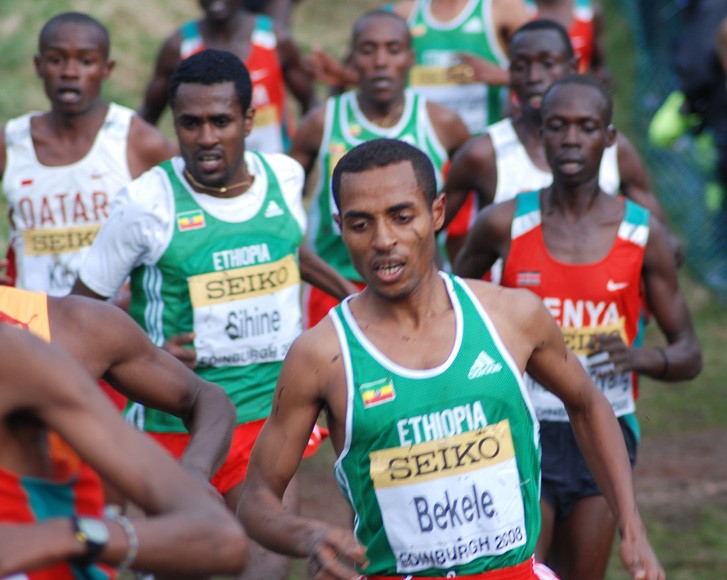 The winner, Kenenisa Bekele
For the IAAF, David Powell wrote:
"In a remarkable triumph over adversity and the spirited endeavours of defending champion Zersenay Tadese, Kenenisa Bekele cleared a series of obstacles to win a record sixth Senior Men's classic distance title – and US$30,000 – at the 36th IAAF World Cross Country Championships, at Holyrood Park, today. (Although Kenya won the team title).
Bekele overcame, in turn, a missed flight, overnight stomach troubles, a dislodged shoe early in the 12km race, and Tadese's determined mid-race surges, to regain the crown he had won in five successive years from 2002 to 2006. Today's victory takes his record number of individual World Cross Country titles to 12 (6 Long Course, 5 five Short Course, 1 Junior).
After increasing his total number of World Cross Country gold medals to 16 (including 4 team golds) and his record total count to 27 (16 gold, 9 silver, 2 bronze), Bekele acknowledged that his six classic victories might be the statistic that stands above all the others. Until today, the 25-year-old Bekele had shared a record five classic distance triumphs with Kenyans John Ngugi and Paul Tergat.
Having failed to finish in Mombasa last year, suffering stomach problems in the heat and humidity, Bekele fought back from the troubles thrown at him here to pull clear in the eleventh kilometre. In the end, it proved a comfortable victory over runner-up Leonard Patrick Komon, from Kenya, and Tadese, whose valiant title defence was rewarded with the bronze medal.
"As far as the sixth Long Course win is concerned, I tried to accomplish it last year but, because of the weather, I was not able to do it," Bekele said. "This has a very high honour in my life. I have won the double five times but I think this compares to that. However, I leave the judging to those of you in the media."
It was in the third kilometre that Bekele's shoe was caught from behind, and worked loose, as the field bunched taking a bend. From his place near the front, he dropped way down the field as he stopped to secure it. "My shoe did not fall completely off but I had to stop to undo it and put it back on, so it was as if it fell off because of the effort needed to put it back on," he said It was the first time, he added, such a misfortune had befallen him.
Having secured his shoe, Bekele worked his way back up the field and, before long, was in the leading group. When Tadese picked up the pace in the seventh kilometre, Bekele was well placed to respond. Dictating from the front, Tadese threw in several bursts, by the end of which he and Bekele had opened a small gap on the last challenging Kenyans, Komon and Joseph Ebuya.
A brief relaxation of pace allowed Komon and Ebuya to close up but, with four kilometres to run, the front four were well clear. With Tadese at the head, and the Kenyan pair side-by-side behind him, Bekele sat at the back before seizing his moment. Of his recovery from his near shoe disaster, he said: "It was near the beginning and I knew it would make the competition difficult because it is not easy to catch up after losing your shoe.
"I knew it would make the rest of the race tough. After the shoe came off I began to think a great deal about what I had to overcome and I had to focus a great deal on my race. If I had tried immediately to catch up it may have affected the rest of my race but instead I controlled my pace."
Bekele had arrived later than planned in Edinburgh the day before the race. He missed his flight connection at London Heathrow after a delay to his original Ethiopian Airlines flight from Addis Ababa left him with only 30 minutes to connect in London. His delay was unrelated to the widely-publicised teething problems at Heathrow's new Terminal 5.
Explaining how stomach trouble almost cost him dearly again, as it had last year, Bekele said: "The day before yesterday, as I was flying in from Ethiopia, there was a delay and I spent the night in London and arrived here yesterday about midday. I had eaten breakfast there before I left and, after it, I didn't feel well. I then had lunch and dinner here and at night I didn't feel well. I had to get up three or four times in the night to go to the bathroom and I wasn't feeling good."
Tadese said that he was happy with his run – "a bronze medal for my country is still important to me" – while Komon made a big impression in his first year out of the junior ranks. Aged 20, he led Kenya to a third successive team triumph (39 points) with Ethiopia second (105) and Qatar third (144)."
For the IAAF, Matthew Brown wrote:
"Tirunesh Dibaba completed part three of what was not only a great day for Ethiopia but a great day for the Dibaba family this afternoon as she reclaimed her World Cross Country crown, which comes with a US$30,000 prize, in thrilling style. (Ethiopia won the team title.)
Dibaba's victory over the 8km race means she joins USA's Lynn Jennings and her cousin, Derartu Tulu, as a winner of three long course titles following her previous victories in 2005 and 2006. With her short course win in 2005 and the junior title in 2004, she now joins Grete Waitz of Norway with five individual golds from these championships, and Worknesh Kidane as a winner of eight individual medals.
Together with all her team titles, Dibaba has now won 14 World Cross Country golds altogether, more than any other athlete. And she's still only 22.
Taking inspiration from her younger sister Genzebe, the 17-year-old who won the junior race just an hour earlier, Dibaba shrugged off any doubts about her fitness in the final 400m of a gruelling race to leap from fourth to first on the craggy hillside of Haggis Knowe, before unleashing her trademark finishing kick that brought her home over the soggy mud in 25:10, five seconds ahead of her teammate Mestawet Tufa.
Linet Masai, the 2007 junior champion from Kenya, claimed the bronze in 25:18 but with Ethiopians in sixth (Gelete Burka) and ninth (Meselech Melkamu), it was the women in green and yellow who claimed the senior women's team title for the seventh consecutive time and the ninth time in the last 10 years. The Kenyan team won silver (22pts) and Australia (84pts) secured team bronze.
For Dibaba it was not only the team victory which mattered, however, not even the personal triumph, but her part in a family affair that goes back to 1995 when Tulu won the first of her World Cross crowns.
"I'm aware that my aunt has won this race three times so I am very happy to have done the same thing," said a smiling, if mud-splattered, Dibaba afterwards. "And my younger sister was first earlier today so it was partly to match her that I dug in and put everything I had into the win."
Indeed, the manner of Dibaba's victory was little short of remarkable. With less than half a lap to go she looked, not only to have lost the race, but to be out of the medals, her much publicised stomach problems seemingly afflicting her again.
But summoning some unknown reserves of strength she clawed past Masai and pulled herself back into touch with Tufa and Gelete Burka before striking for gold.
"I felt a stitch in the middle of the race and that's when I fell back," she admitted afterwards. "But I recovered from that and was able to move to the front."
It was the first time in the entire race that she had been so prominent as in the early stages she was content to stalk the leaders. Surprisingly, the first to show were from the host nation as Liz and Hayley Yelling moved swiftly to the front in the first lap, apparently keen to take what little chance they had to fly the flag for Britain.
Amy Hastings of the USA was also in evidence early on but large clutches of Kenyans and Ethiopians were never far away. Burka, in a grey hat and long black sleaves, looked comfortable just behind the leaders, as did Kenya's Priscah Cherono (formerly Jeleting), the 2006 silver medallist.
By the end of the second lap it was these two plus Tufa who led a long line of athletes past the rain-drenched crowd as the Britons and Americans began to struggle. But it was on the next circuit, the third, and the first to include the course's one testing incline that the race really began.
Burka, a winner of the Edinburgh IAAF Permit race on this course for the last years, moved to the front. "On Sunday, I will use the experience I have on this course," she said a few days ago. And that's what she appeared to be doing as she led a group of nine or 10 plus Australia's Benita Johnson, a former champion, who was hanging on the back.
It was at this stage that Masai first began to show and she, Tufa and Burka moved away at the end of the penultimate lap with Dibaba, clearly visible in her long white sleeves, chasing hard about five metres behind.
From then on it was all about these four as they battled out a stirring last lap in which the medals were in doubt until the very last bend of the twisting course.
First Burka made her move, pulling Tufa with her as Masai dropped back allowing Dibaba to catch up. These two appeared be set for a battle for bronze as Burka stretched her lead, opening a 20 metre gap on Tufa that looked decisive.
But Tufa wasn't finished and as the runners negotiated the penultimate tight bend in front of the grandstand she began to make up the ground. Behind her, Dibaba was dragging Masai back into the reckoning and by the time they hit the base of the hill for the last time there were only 10 metres separating the four.
Burka had clearly pushed too hard too early as she blew up on the foothills of the Haggis Knowe, destined to finish sixth, 25 seconds behind Dibaba. In contrast, Dibaba was suddenly revived and the World 10,000m champion skipped past her teammate, drove beyond Tufa, crested the top of the hill and unleashed her finishing spurt.
"Tirunesh has better finishing speed than me, but I am happy with my second place," said the resigned Tufa afterwards.
"Our victory brings us great joy today," said Dibaba. "We've been preparing for this for a long time. Cross country is very important to us. We wanted to bring a strong team and do very well here."
She was talking about her country. But it equally applies to the family clan."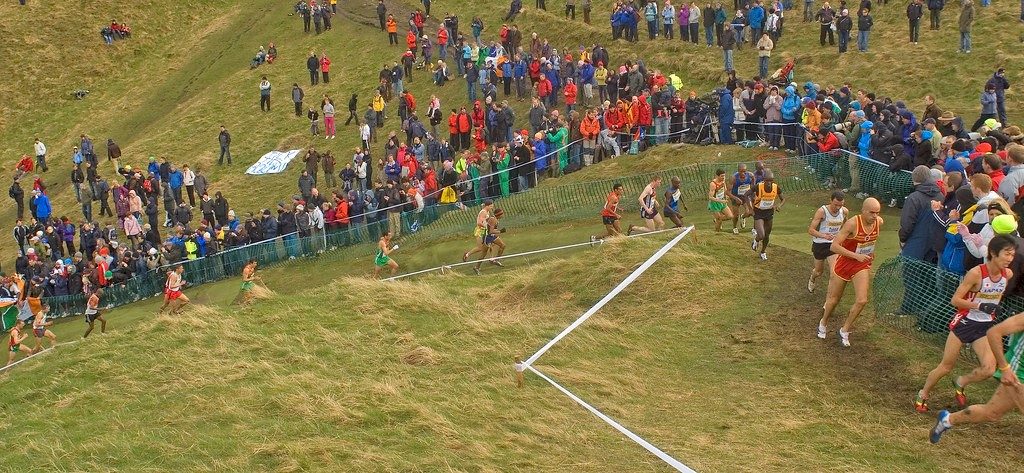 The ascent of Haggis Knowe
Colin Youngson added: "Since (after 1987) Scotland was no longer allowed to compete as a separate country, only two Scots seem to have represented GB in this World Cross. Andrew Lemoncello was in the Senior Men's event, racing over 12 km, and finished fourth counter in 78th place and his team finished tenth. (165 finished; and 12 dropped out).
In the Senior Women's race, racing over 8 km, Laura Kenney was third counter in 38th place and her team finished sixth. (90 finished and one dropped out).
On a personal note, spectating was wonderful. The weather was kind and the atmosphere exciting. Holyrood Park was a superbly scenic venue, and the course a testing mixture of flat, grassy going, twists and turns, and a really tough uphill and downhill section towards the end of the lap. Sadists enjoyed watching even champion runners struggling up Haggis Knowe, then flailing down the treacherous descent.
We all scrambled to the finishing straight and were privileged to see Kenenisa Bekele (a real crowd favourite) sprinting elegantly to victory. Tirunesh Dibaba was equally impressive.
The most enthusiastic (noisiest) section of the crowd was the Ethiopian contingent. I noted that the legendary Olympic gold medallist (for the 5000m/10,000m double at the 1980 Moscow Games), Miruts Yifter (The Shifter) was there, and his minders kindly permitted me to obtain his autograph."