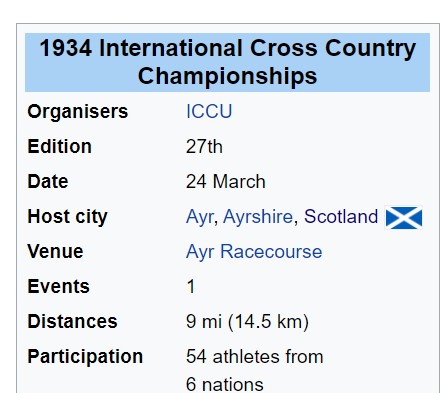 Organised by the ICCU, the 27th International Championships took place on 24th March 1934 at Ayr Raccourse, Scotland. The course was nine miles long; and 54 athletes (from six nations) all completed the distance.
Colin Shields in his centenary history of the Scottish Cross-Country Union wrote the following: "With the memory of the secure second place at Wales (in the 1933 International) together with the advantage of running before a home crowd over a known course at Ayr, the Scots were hoping to challenge England again for the team title and place four runners inside the first ten to finish. But it was not to be. The Scots were run off their feet in a fast-run race, where the rapid start caught them unawares; and found wanting in strength and stamina at the end of the race. James Flockhart (Scottish Champion from Shettleston Harriers) worked his way through to sixth position, with Robert Sutherland (Garscube Harriers, 11th) and Alex Dow (Kirkcaldy, 12th), for Scotland to finish third with 105 points, just 3 points behind runners-up France." (Fourth team was Belgium, followed by Wales and Northern Ireland.)
(Five times Scottish Champion, John Suttie Smith (Dundee) was fourth Scot in 23rd place. Walter Hinde (26th) and Jackie Laidlaw (27th) were the other team counters for Scotland.)
The Glasgow Herald reported: "Cross-Country – England's victory in International – J.T. Holden wins individual honour. The twenty-seventh cross-country International, decided at Ayr Racecourse on Saturday afternoon under excellent ground and weather conditions, resulted in a sweeping victory for the English team, France being second and Scotland third."
(English athletes were first, second, third and fourth: Jack Holden won by almost a minute; and he was followed by Alex Burns and Arthur Penny. Jack Holden won individual gold in the International Cross-Country Championships four times [1933, 1934, 1935 and 1939]. In 1950, Jack won not only the European Marathon Championship in Brussels but also the Commonwealth Marathon title in Auckland.) The Dundee Courier was quite direct abiout this English dominance in its report which read as follows.