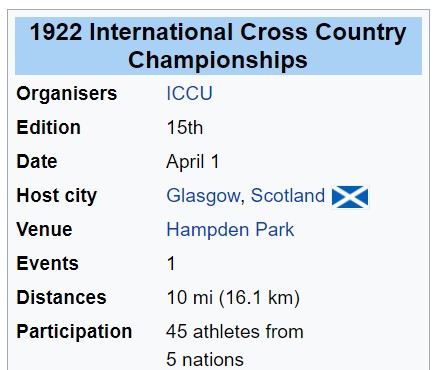 The 1922 International Cross-Country Championship was the 15th running of the event and Scotland was again among the medals. The race was unusual in several ways, the main one being that it was started at half-time in a football match in one of the best known stadiums in the world. There is also a story about the race winner. But first the race start.
Far and away the best account was this from Colin Shields in 'Whatever the Weather'. "Admission tickets priced 1/- each were distributed for sale among athletic clubs for entry to Hampden Park where the international match was starting at half-time in a Scottish League match between Queen's Park and Celtic FC, who stayed top of the First Division by winning the match by 3 goals to 1. Ten thousand programmes giving details of the international runners were sold at 3d each to spectators who watched the international race start with four laps of the cinder track. The runners then headed out to open countryside in the south of Glasgow , covering 9 miles of hilly, ploughed and grass meadow land with very little road to be traversed. "
The Glasgow Herald report of the race reads as follows:

The French team management had protested that the course had been too rough and too hilly but withdrew the protest after their team victory. We could say a few words about the race winner – Robert Guillemot – and maybe we should! He took up running when in the Army in the 1914-18 war where he won the French Military Championships. During the war his right lung was permanently damaged by an attack of mustard gas and his heart was thereafter on the right side of his chest. Nevertheless he had a very successful career in athletics. In the 1920 Olympic Games he won the 5000m from Nurmi whom he passed on the last bend, then, wearing shoes that were too big for him, and suffering stomach cramps, he was second to Nurmi in the 10,000m. You should find his story an interesting one should you consult Wikipedia.
What of the Scots? Runners and places were 4th GCL Wallach; 10th Archie Craig Snr ; 11th Dunky Wright ; 18th Walter Calderwood ; 21st John Cuthbert ; 26th James Riach; 27th Alex Barrie; 29th Alex Whitelaw. D McMillan did not run.
It was a creditable performance by the Scots – just look at the relative points scored – and one of the better ones in a championship run at home.