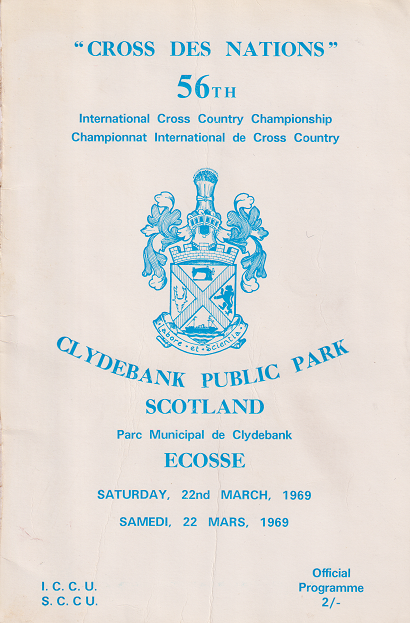 In his Centenary History of the SCCU, Colin Shields wrote:
"The International Cross Country Union Championships, for the first time since 1960, were staged in Scotland, and the Scottish Cross Country Union, in conjunction with Clydebank Town Council, staged them at Clydebank. A hilly, picturesque trail was laid out around Dalmuir Park and the adjacent golf course, that was acclaimed as the most testing course over which the championship had been held for a good number of years. Without any of the bad luck that had affected his performance in previous Senior international appearances, Ian McCafferty finished third for the best individual performance by a Scot since Jim Flockhart's 1937 victory in Brussels. Always up with the leaders, he surprised everyone with his lion-hearted approach to the event, refusing to give way to anyone throughout the race, resisting every challenge to his forward position and finishing strongly to take the bronze medal ahead of England's Mike Tagg, a future International champion. England won the team championship from France and Belgium, with New Zealand fourth ahead of Scotland in the field of 13 countries. Lachie Stewart (20th) was closely followed home by Fergus Murray (23rd) who made a remarkable comeback as third Scottish counter in a race where he had previously disappointed."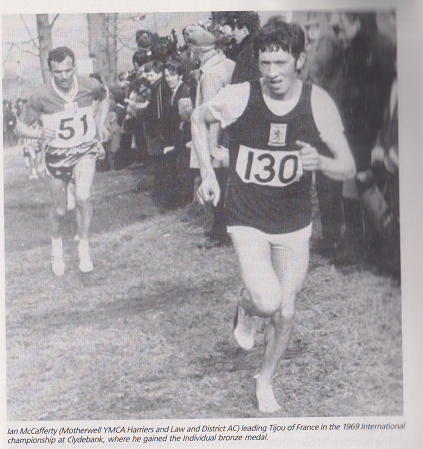 In 'The Scotsman', Sandy Sutherland wrote an article with the headline "Roelants' Wonderful Record": "About 20 minutes before the start of the senior race at the International cross-country championships at Clydebank, I asked Tim Johnston of England who he thought was going to win. 'Oh,' he said, as though it was a foregone conclusion, 'Roelants' – and so it proved.
Only for one brief spell midway through the gruelling but amazingly dry 7 and a half miles was his supremacy threatened. Then Dick Taylor (England) took the lead. But Roelants, a superb judge of pace, soon overhauled him and strode confidently to his third win in this event – a wonderful record. (He won a fourth title in 1972.)
Saturday, if never before, served to prove what Ian McCafferty could achieve with the right guidance. With barely a major race behind him this season except on the boards, McCafferty handed out a lesson to some of the world's finest runners, including Mike Tagg, the English National champion, whom he pipped in a thrilling finish.
His third place was the best by a Scot for a long time and I feel sure that had he challenged early, he could have pushed Taylor for second. Yet it is a pity that the main talking point among the spectators beforehand was whether he would turn up to run.
On the fine going, basic speed mattered more than usual and in the circumstances the home team did exceptionally well. Fergus Murray, only recently out of retirement, was well pleased with his 23rd, three behind Lachie Stewart, who is still not quite at his best by his own high standards.
Gareth Bryan-Jones, who came into the team as a reserve, was the fifth counter in 43rd position, seven behind Dick Wedlock, the Scottish champion, who was almost 'out' at the finish. Bill Mullet (54th) was sixth counter.
Surprisingly, flu victim Jim Alder, the Scots captain, started – only to have the bitter disappointment of being forced to retire. "Ah kidded masel' that I was fit," he said disgustedly afterwards. But even without him, the Scottish packing was sound enough to secure fifth place in the team ratings. Here, England were magnificent winners, with their sixth-counting runner as high as 17th."
(The finishing order was: England, France, Belgium, New Zealand and Scotland – thirteen countries took part, so Scotland were in front of Spain, Morocco, United States, Wales, Ireland, Tunisia, Northern Ireland and Canada.)
Colin Youngson remembers spectating:
"Along with Aberdeen University Hare & Hounds team-mates, I travelled by mini-bus to Clydebank, relishing my first opportunity to watch this famous event. The programme was detailed and well-designed (featuring a photo of the SCCU President, Willie Diverty) and the pre-race atmosphere tense.
What do I remember from more than 50 years ago? How impressive the first two Senior Men were, racing (over 12 km) tactically, with powerful surges. After one lap, former Olympic Steeplechase gold medallist Gaston Roelants of Belgium, was fifty yards clear of Dick Taylor (England); after the second lap, Taylor was fifty yards clear of the Belgian! Third lap, Roelants had retaken the lead and was on the way to victory, eventually winning by 19 seconds, with Ian McCafferty third, a further 13 seconds back. The Scot was very impressive too, zooming up steep hills without apparent effort, and 'easily' outkicking Mike Tagg (by two seconds).
The Junior Men's Championships (over 7 km)? Although 1968 winner John Bednarski (England – the silver medallist this time) fought hard, a tall slim dour figure ground him down impressively – future great, Dave Bedford, who went on to break the world record for 10,000m; and to become ICCU Senior Cross-Country Champion in 1971. David Gillanders of Scotland did well to finish ninth.
The Women's race (over 4km) was a battle between USA and New Zealand, with the Americans having the edge. Doris Brown (USA) won the third of her five titles."
(The International Cross Country Championships have a fully detailed Wikipedia section, including complete results for every race from 1903 to 1972.)