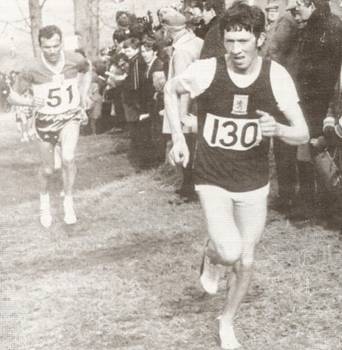 Ian McCafferty in the International Cross Country in Clydebank, 1969
The 1970's were a Golden Age for Scottish Endurance running and the Commonwealth Games of 1970 in Edinburgh was surely the best single showcase for the athletes of the period. Ian McCafferty was one of the very best of the runners, known across the world for his immense talent, and was involved in one of the best 5000 metres races of all time in the Games. His talent on the track as matched by his ability on the road and over the country where he finished third in the International Cross Country Championships in 1969 and was a winner of the Junior International Cross Country in 1964 in his only appearance in that age group in the event. Although he stopped racing almost 40 years ago he is still ranked highly in the all-time lists – see the table below.
| | | | |
| --- | --- | --- | --- |
| Event | Time | Date | Ranking |
| 1 Mile | 3:56.8 | 11 June 1969 | 6th |
| 2 Miles | 8:31.8 | 3 June 1968 | 4th |
| 3000 metres | 7:56.2i | 25 February 1967 | 12th |
| 5000 metres | 13:19.66 | 14 July 1972 | 3rd |
Ian John McCafferty was born on 24th November, 1944, only eighteen months after his great domestic rival, Lachie Stewart.. There were many very good athletes across the board at that time but on the track and over the country the top three were Lachie Stewart Ian Stewart and I McCafferty. They won races for Scotland and for Britain across Europe and even further afield. There were many invitation only races at that time and promoters would ask for one or other of the 'Big Three' and they usually got one or other of the 'Big Three' if they invited some other less well known Scots. It was through their efforts that many another Scot had his first taste of big time running on the Continent.
Ian McCafferty first makes his appearance in the records in 1963 when as a member of Motherwell YMCA he won the Midland District Youths Championship. In 1963-64 he became even better known to athletics aficionados when he won his first Midland District Championship proper ahead of team-mate Andy Brown and Lachie Stewart. Motherwell won the Championships with one of the lowest ever winning totals of 30 points – six runners in the first nine. Colin Shields in his book "Whatever the Weather" says of the young McCafferty: "Even at this early stage McCafferty combined speed training and distance racing throughout the cross-country season. The week after the National he took part in a 2 mile race at half time in a football match at Ibrox Stadium. He had to swerve to avoid a policeman in the home straight and losing ground, finishing second to Lachie Stewart, both timed at 9:02." He finished second to Mel Edwards (Aberdeen) in one of the most hotly contested cross-country races that I or anyone else witnessing it had seen. Going on to the International Championship at Leopardstown Racecourse, Dublin, he created something of a stir as well as serving notice that he had arrived by winning the race. Colin Shields again: "In the International Championships at Leopardstown, McCafferty displayed his sharpness when winning the Junior title. He went into the lead at the start and dictated the pace throughout the race to win by 25 seconds – the largest winning margin in the history of the race" He led Scotland to second in the team race, one point behind England.
That summer he showed that it was no fluke when he set a new UK Junior record for 2 Miles of 9:00.2. In 1964-65, he won the Nigel Barge in January 1965 easily in a new course record, he won the Midland District Championship easily and won the National Junior from Roger Young of Edinburgh University. In a trip to a cross-country invitational in Spain he was eleventh in the three man team (Jim Alder 4th and Andy Brown 8th) that finished second. It was up an age group for the International but he was equal to it and led the Scottish team in when he was seventy first finisher. Came the summer and he set a Scottish record for the 2 Miles of 8:42.2 and also won the SAAA Mile Championship with 4:12.0. In 1965-66, he ran in an International race in Madrid which he won before winning the Junior Cross-Country title for the second successive year and in the International Cross Country championship he was much higher up than before (14th) and again led the Scottish team home. The race was described thus by Colin Shields: "It was the breath-taking confidence and ability that McCafferty displayed during the race that marked him out as a potential world-beater. From the start McCafferty was in the leading group, and running strongly and confidently, the self-assured young Scot went into the lead at two and a half miles. Still in the lead at 4 miles misfortune struck and he had to stop to take a stone out of his shoe. The stop cost him over 20 places and he carried on in bare feet catching up six places in the remainder of the race to finish two places behind Stewart and two in front of Alder.
In summer 1966 he won the SAAA Mile for the second successive year with a time of 4:07.5. Selected for the Empire and Commonwealth Games in Jamaica that year, he went with the pace set by Ron Clarke (Australia) and Kipchoge Keino (Kenya) before dropping back but nevertheless ran an excellent race to be fifth in 13:12.2 for the 3 Miles. The result of all this fine racing was his first GB international vest – against Sweden in Stockholm where he won in 13:47.2 for the 5000m. His record in these two country internationals was impressive from then until 1972.
He started 1967 with three wins in three weeks: On New Yaer's Day he won at Beith from Andy and Alex Brown and Lachie Stewart in a new record time, the next Saturday he won the Nigel Barge Road Race at Maryhill becoming the first man to break 22 minutes for the two and a half mile trail and then the following Saturday he won the Springburn Cup race at Bishopbriggs by half a minute from Eddie Knox. He then won the Midland District championship at Bellahouston Park by 68 seconds from Lachie Stewart. Colin Shields observed: "McCafferty, who regarded the winter season purely as a time to prepare for the summer track season when the meaningful and important races in international matches and major championships would be held, devised a varied yet interlocking system of races. He competed on road and cross-country to develop strength and took part in shorter indoor track races to retain and sharpen his speed. This arduous and testing schedule was copied by few athletes with any success and only Ian Stewart who carried out the same formula of race preparation a few years later was able to equal McCafferty's success at indoor and outdoor competition."
He won the Midland District Championship for the third time in four years. He had a busy and successful weekend at the beginning of February when he won the AAA's 2 Miles Championship at Cosford in 8:36.4, running the last half mile in 2:04 which was not only a UK, but also a European best for the distance. 24 hours later at Hannut in Belgium he was second, only 5 seconds behind Gaston Roelants (Belgium) in a team with Lachie Stewart (4th) and Jim Alder (15th). He missed the National after being picked for the GB v France International in Lyons where he won the 3000m in a GB record of 7:56.6. However the next race was the European Indoor Championships in Prague where he was disappointed to finish fifth in a time of 8:10.
On the 29th May, he added the outdoor 2 Miles record when he won an invitation event at the White City in 8:32.2. The SAAA's championship was won for the third time in 4:05.7. In the AAA Championships at the White City he was third behind Ron Clarke and Lajos Mecsar (Hungary) in a Furth of Scotland record of 13:09.8 for the 3 Miles. Only two days later he was in Santry Stadium in Dublin (where Billy Morton was in the habit of putting on very fast races with very good runners) and finished second to Ron Clarke in 13:06.4. The following month it was back at the White City where he won the 5000m in 13:45.8. 1968 saw him lead the Scottish team home in the International fixture when he crossed the line in tenth place to end a successful cross-country season. That summer, on 8th June, he won the 3 Miles at the British Isles Cup at Grangemouth in 13:25.8 ahead of Ian Stewart who ran 13:28.4.
He missed the Mid;and District Championships in 1968 as well when he was winning an International 8000 metres race in Minove, Holland. He had arranged his wedding for the day of the National so he missed that one as well but when it came to the international in Tunis he did run well. The Scottish team had prepared well for the race with monthly training sessions at Cleland Estate, Motherwell, and on the day they were fourth of the thirteen teams to finish. The whole team started off steadily but then moved through in the second half: McCafferty who had won two races in Belgium against the best runners on the continent, "showed his great ability when he charged through the field to gain seven places in the second half and finish tenth." Again he was first Scot.
He had an excellent cross country season in 1968-69 culminating an a wonderful third place in the International Cross-Country Championship at the hilly Dalmuir Park Course in Clydebank. As had become a habit he had done some indoor racing in the lead up to the major cross-country races and in January he had won the AAA Indoor 3000 metres in 8:08.4. It clearly paid off. Colin reported on the International Cross as follows: " The international championships for the first time since 1960 were staged in Scotland and the Union, in conjunction with Clydebank Town Council, staged them in Clydebank. A hilly picturesque course was laid out around Dalmuir Park and the adjacent golf course that was acclaimed the most testing course over which the championships had been held for a good number of years. Without any of the bad luck that had affected his performance in previous international championships, Ian McCafferty finished third for the best individual performance by a Scot since Flockhart's 1937 victory in Brussels. Always up with the leaders he surprised everyone with his lion-hearted approach to the event, refusing to give way to anyone throughout the race, resisting every challenge to his forward position and finishing strongly to take the bronze medal ahead of England's Mike Tagg." It was a real star-studded field that year and not all enjoyed it – Mohammed Gammoudi, double medallist at the Olympics the year before, of Morocco dropped out complaining of the hills.
He then lost a lot of the summer through injury. In the same month as McCafferty was running the International Cross, Ian Stewart set a new UK record of 7:55.4 which removed McCafferty's 7:56.2. Stewart of course won the European 5000 metres championship that year. On 11th June both Stewart brothers (Ian and Peter) took on McCafferty in the Reading Chronicle Gala Night of Sport. There had only been one Scot sub-four for the Mile up to then (Mike Berisford) but there were three afterwards. The pre-arranged pace-maker (M Duff) took the field through 440 yards in 58.1 and 880 in 1L58.9 before McCafferty took over. Ian Stewart passed him after only 220 yards and carried the pace until the last furlong when McCafferty made his big break and although Ian Stewart was closing all the way, managed to win in 3:56.8 (which was over five second faster than his personal best) with Stewart second in 3:57.3 and brother Peter third in 3:58.7. The Stewart parents had come from Musselburgh outside Edinburgh and although Ian was born in Birmingham, Peter was born in Musselburgh. So there were three new Scottish 4-minute milers faster than Berrisford's 3:59.2 after the one race. The times for the two Ians were to be lifetime bests for the distance. McCafferty's best for 1500 metres was to come in the next year's Commonwealth Games in Edinburgh when he ran 3:44.2 to be seventh.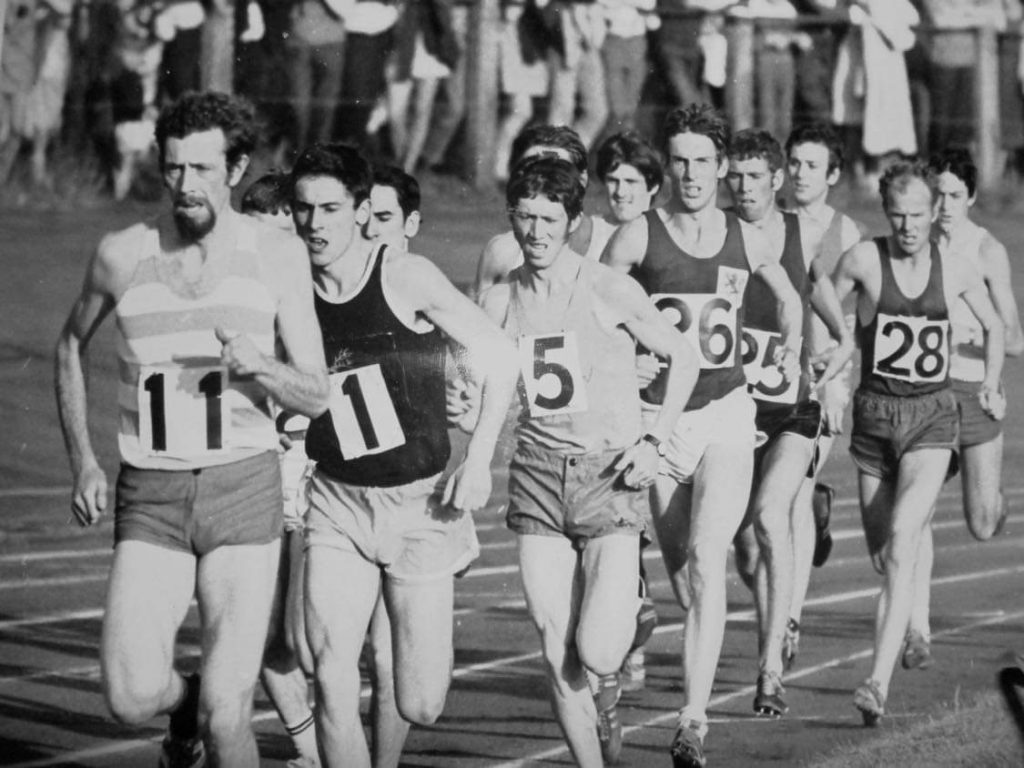 The famous Sub-4 Mile at Reading in 1968: Ian Stewart (1), Ian McCafferty (5), Hugh Barrow (26)
In winter 1969-70 Ian was only eight in the Nigel Barge race a minute behind winner Lachie Stewart but when it came to the District Championships in Lenzie the rolling countryside suited him and he won in fine style. When it came to the International in Vichy, France, there were lots of travel problems and the re was a bug travelling around the team. When it came to the race, the expected high position from McCafferty failed to materialise and he actually dropped out.
1970 was Commonwealth Games year in Edinburgh and it was the year that Ian and Peter Stewart finally opted for Scotland. The Games started in fine style when on the very first night Lachie Stewart won the 10000 metres from Ron Clarke and Dick Taylor of England. McCafferty's 1500 metres final was listless and lack lustre. I was sitting down at the water-jump end of Meadowbank and when the runners came up out of the tunnel he just looked totally enervated – his last few strides on the track were not encouraging at all. Peter Stewart was fourth but Ian was 'way back in seventh. When they came out for the 5000 metres final on the last day, it was a totally different McCafferty on display. All three Scots (Ian McCafferty, Ian Stewart and 10000 metres victor Lachie Stewart) had qualified for the final and as McCafferty came out of the tunnel there was a spring in his step and a real desire that you could almost feel as he completed his preparations and removed his tracksuit. The opposition? Well, everyone who mattered was there. Clarke, Taylor, Kip Keino, Allan Rushmer and seven more made up the fourteen man field. No pace-makers, just a real race. The first lap was only 70.8 but then Englishman Taylor took up the running and really made a race of it. The field started to string out and then when McCafferty took up the running with a full 800 metres to go he increased the pace yet further and then there were three men left in with a chance: McCafferty, Stewart and Keino. 500 to go and Stewart went into the lead and kept it up, with 200 to go McCafferty moved up to Stewart's shoulder and really looked as though he might pass him. Many still believe he settled for second but I'm not so sure, although every time I see the film or video of the race I think, "I don't care about last time, this time he's going to do it!" The truth is probably that Ian Stewart's will-power was probably indestructible that day and no matter what anyone did, he would have beaten them. Two Scots fighting it out up the finishing straight! Stewart won in 13:22.8 which was a new European, UK and Scottish National record and McCafferty was rewarded with a new Scottish Native record of 13:23.4 erasing his own record of 13:29.6 set earlier that year.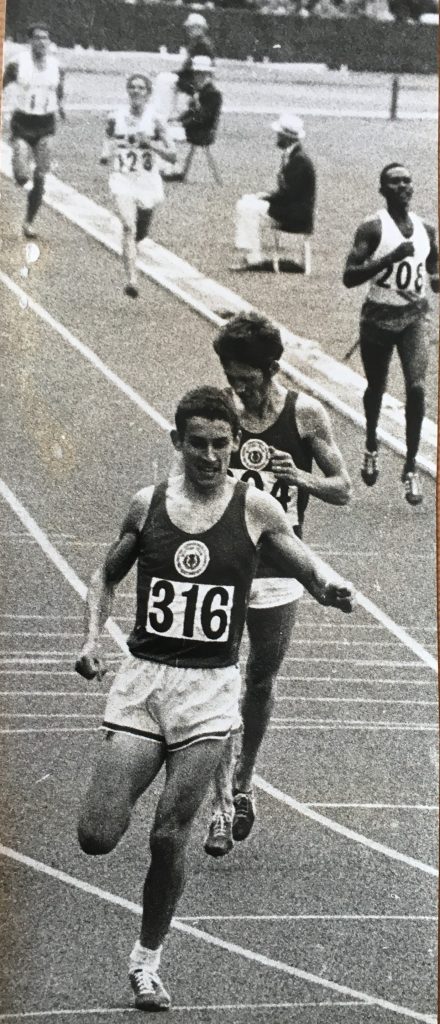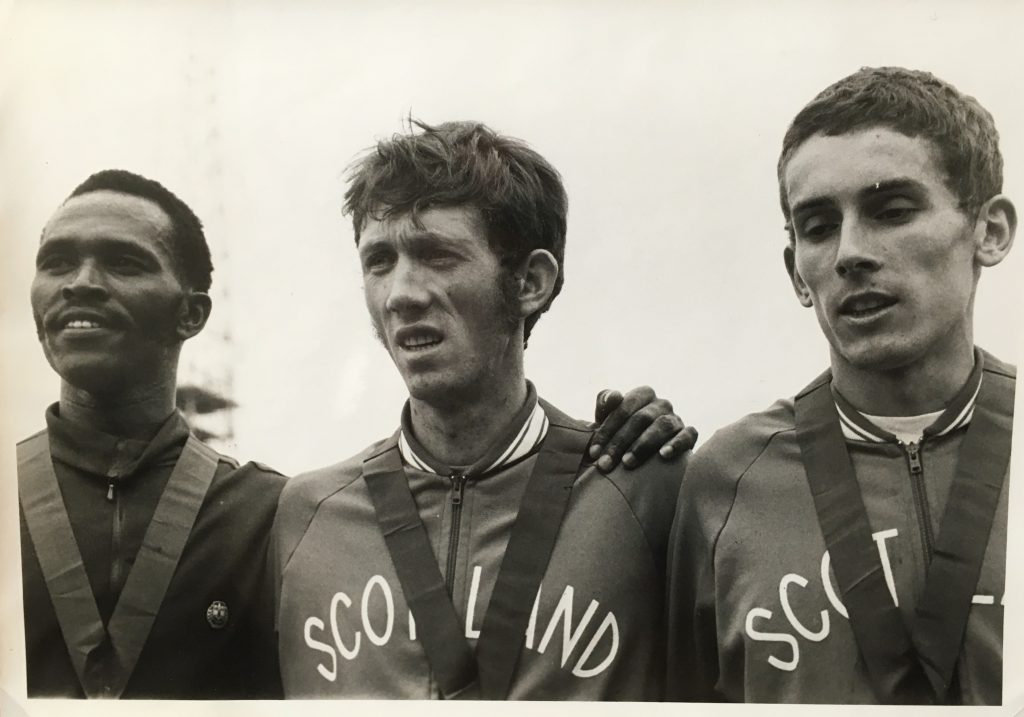 1971 was not as good a season but McCafferty won the SAAA 5000m title for the only time in 13:52. He ended the 1971-72 cross-country season as Scottish Champion when the race was held at Currie, Midlothian and finished eighty first in the International. These were to be his final Scottish and international cross country races.
1972 was Olympic year and naturally they were all trying to qualify for the event. The AAA 5000 metres championship at Crystal Palace on 15th July was the big test. David Bedford (Shaftesbury) just ran away from the field but with just under three laps to go McCafferty pulled himself through to second (13:19.8, a new Scottish National record) with Ian Stewart third (13:24.2). They were in the team. They both seemed to be in good shape when the Games started in Munich. McCafferty ran a scorching last lap in 54.7 to win in 13:38.2 while Stewart was second in his Heat in a time of 13:33.0. Not one of the three British men ran well in the final. The pace was not hard – 3000m in 8:20.2 before Lasse Viren (Finland) made a long (2000m!) run for home and was never caught. John Keddie in his Centenary History of Scottish Athletics thinks that McCafferty was probably suffering from anxiety and sleeplessness over a race he knew he could win and just went through the motions. Maybe so.
Whatever the truth, Ian McCafferty was so disappointed that he never raced again as an amateur – indeed he barely ever raced at all. The sport world-wide and the Scottish scene was the poorer when he hung up the racing spikes.
In January 1973, Ian McCafferty became a professional, a decision he came to regret, and in May 1976 his application to the SAAA for reinstatement was approved.