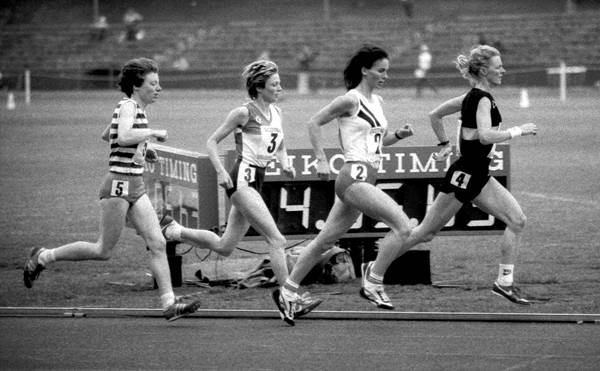 A year ago Karen MacLeod could only reflect on the talent and fitness that once saw her selected for the Olympic marathon.   One of Britain's best female marathon runners of the 90's, Skye born Macleod was in need of a kidney transplant after a long-standing illness became acute.   Her younger sister Deborah was the donor in an operation that took place last May at the Royal Infirmary of Edinburgh.   Now, restored to health, she will be one of the thousands of walkers taking part in the Full Moon Walk – the marathon distance of 26 miles 385 yards – this June.
Raising money for cancer charities is close to her heart.   Her father died of the disease when she was young and her first event – a half-marathon at the age of 22 – was to raise funds for the cause.   It was that race that convinced her that she could run at a higher level and eventually led on to a place in the GB Olympic Games team in 1996 in Atlanta.    Now, at the age of 50, the wheel has turned full circle with her return to fund-raising alongside three friends from the island.   "I started out running charity fund-raisers but that stopped when I got serious about athletics."   In Georgia in 1996, Macleod – who was running times of around 2 hours 30 minutes – was a team mate of Liz McColgan after selectors placed their faith in her to handle the heat of Atlanta.   She had also run for Britain in World Championships and for Scotland in the 1994 Commonwealth Games.
It was about two years after Atlanta that an alarming dip in running form led her to seek medical help and her kidney problem was diagnosed.   I don't really know what caused it.   It could have been something to do with training really hard when I had a virus that might have damaged my immune system," she said.   She gave up athletics at the top level and only continued her running to keep fit while developing her career with the NHS.      She is currently a health-at-work adviser with NHS Highlands in the Ross-shire area.    She gave up running in 2005, but it wasn't until last year that her kidney problems deteriorated to such an extent that she had to undergo emergency dialysis.   A month later she had the transplant.
I didn't really acknowledge to myself how bad it was and I got to the stage where I was really poorly and had to have emergency dialysis.   Luckily my sister was already prepared to give me her kidney.   She was adamant that if it had to happen, I should have one of hers.   She would say 'it's just plumbing, all they do is take it out and plumb another one in."    My partner, Angus, really inspired me to have the operation as well."  
MacLeod says she and her sister, a keen fell-runner, probably broke records in leaving the transplant ward in seven days and four days later respectively.   Five days later they were walking side-by-side in the Skye Half Marathon.   "You are told to get active as soon as possible but a marathon runner probably has a different idea of what getting active means,"  she joked.
Almost a year on and the transplant appears to have gone well.   "So far it's been great and compared to what I was feeling like, I have a whole new lease of life."   She is now looking forward to the Full Moon in nine weeks.   "Well I did the half marathon last year so I thought this year I might go the whole hog.   After all the full length marathons, it will be a novelty for me to walk one!"
The above was written and appeared in 'The Scotsman' in 2009 and Deborah adds (July 2012), "We're now four years down the line and life is truly wonderful for both Karen and myself – I'm heading to Skye Torr to do the Glamaig Hill Race with her.   Karen is now coaching a young hill-runner called Hugh Campbell from Skye who  is not a bad marathon runner."