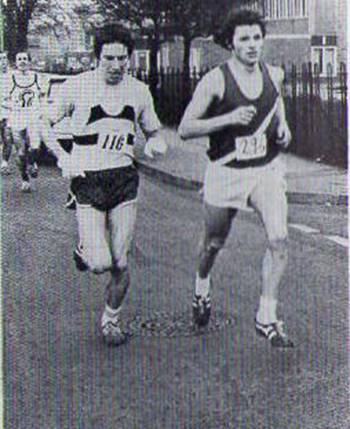 Bill Mullett (right) with Don Faircloth
For all that Bill Mullett ran in three ICCU Championships for Scotland and raced in the Edinburgh to Glasgow and in the National cross-country championships he is a bit of an unknown quantity in Scottish athletics.   His name is not known to many current practitioners of the sport.   In an effort to put this right, Colin Youngson has penned this profile of a Scottish steeplechase gold medallist and record holder.    The search for information goes and and it is hoped to add to the profile.
Bill Mullett was a British international steeplechaser and a Scottish International cross-country runner.   Although he lived mainly in the south of England, William Arthur Mullett was born in Tarbert, Argyll on 13th November, 1947.   Bill's main club was Brighton & Hove AC, but in Scotland he represented the outstanding Shettleston Harriers.   In 1967 having only just turned 20 years of age, he ran for the Glasgow club in the Edinburgh to Glasgow Relay, recording the second fastest time on the Seventh Stage.   After a thrilling final-stage sprint between his team-mate Henry Summerhill and Aberdeen's Terry Baker, Shettleston shared silver medals in second place.   However travel difficulties prevented Bill in sharing in his Scottish club's frequent gold medal successes in this prestigious event over the next six years.
He participated successfully in three successive Scottish National cross-country championships.  In 1968 at Hamilton, Bill finished third in the Junior event leading Shettleston to team gold medals.   Then at Duddingston in 1969, he raced to third in the Senior event behind Dick Wedlock and Fergus Murray.   Shettleston finished second team.   Finally in 1970 at Ayr Bill won his third and fourth National bronze medals whene he ended up just behind Jim Alder and Dick Wedlock and his team also finished third.
Bill Mullett represented Scotland in the ICCU Championships three times.   In 1969 at Clydebank, Scotland finished fifth with Bill a team counter in fifty fourth position.   At Vichy in 1970, Scotland was fifth again but Bill improved to a fine twenty fifth and second counter behind Lachie Stewart.   However he had a less successful run in terribly muddy and windy conditions at San Sebastian in 1971 and did not score for the team in 114th position.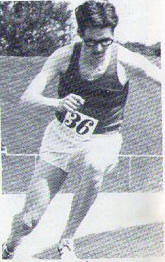 As a steeplechaser, Bill Mullett's best season was 1969.   After early season performances of 14:23 (5000m) and 29:42 (10000m), he improved his 3000m steeplechase best by 18.8 seconds to become Scottish National record holder with 8:40.8 achieved on 1st September at the White City, London, breaking the previous record of 8:41.2 set by Alistair Blamire at the same venue on 2nd August.   Bill ended up on top of the Scottish ranking list a mere 0.2 seconds ahead of Gareth-Bryan Jones.   On six occasions Bill ran 8:55 or better and he also made his British international debut.   Commonwealth Games Year, 1970, was a disappointment.   Bill Mullett was unable to reproduce his form of the previous season running only 8:56.8 and failed to gain selection for Edinburgh.   In 1971 he did not break nine minutes and he seems to have been injured in 1972.  He did have a very good season, however, in 1973 when his times included 3:52.9 for 1500m, 8:08.0 for 3000m, 1:43:45 for 20 miles and 8:48.2 for 3000m steeplechase.   In a closely contested SAAA steeplechase final in June, he defeated Alistair Blamire to win gold at last.   Bill's best was a winning performance at Crystal Palace in August and he ran 8:51.5 or better four times that year.   In 1974 he concentrated on the flat and improved his 5000m personal best first to 14:07.8 (a win at Brighton in August) and then to 14:06.2 (another win at Crystal Palace in September).
Bill Mullett's final steeplechase performance (8:53.4) was a victory at Warley in August, 1975.   The Scottish yearbook comments that despite being considered a 'veteran chaser' (at only 27!) he still displayed 'masterly technique' to finish third in that season's rankings.   After that Bill continued competing.   He recorded at 5000m time of 14:19.4 in 1977, made his marathon debut (2:31:49) at Harlow in 1979 and improved this time considerably to 2:22.35 when he finished fifth in the 1981 Essonne marathon in France.
Bill Mullett peaked early and very impressively achieving a great deal in the late 1960's.   Then despite injuries, he continued to produce good times over a variety of distances for several years.   Rival Alistair Blamire remembers him as a pleasant, modest and, friendly bloke.   When he (Bill) ran his National record Alistair was behind him in sixth place in 8:44.   Alistair points put that they both 'arrived' in the same year and 'disappeared' the next.
That is where Colin's review of Bill's career concludes and it can be seen that with cross-country championship medals, Edinburgh-Glasgow medals, ICCU runs of quality, a steeplechase record and several top class performances to his credit, Bill Mullett should be better known in the country than he is.