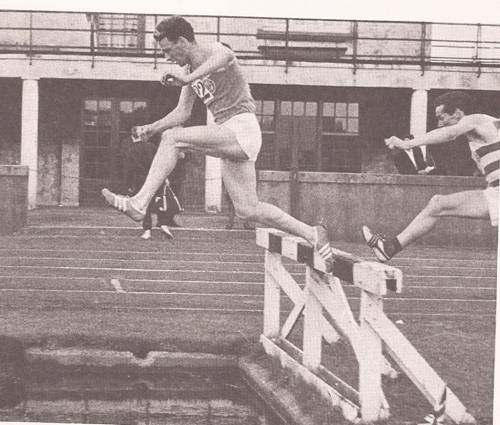 John Linaker leading Lachie Stewart in the SAA Championship, 1966
John Linaker was a grand all round athlete who ran well on all surfaces – road, cross-country and track (both indoors and out).    Colin Youngson has covered his career below in some detail but it might be appropriate to say a word or two about his predecessor as Scottish steeplechase record holder, T.P. O'Reilly of Springburn Harriers.   Tommy was a fine athlete who trained hard and raced hard – and raced a lot!    He loved the Highlands of Scotland, particularly those of the West Coast and raced all over the highlands: Kinlochleven, Spean Bridge, Fort William and many more.   A keen gardener he collected specimens of heather from wherever he was racing and transplanted them to his own garden at home in East Kilbride.   He sang in the Gaelic (he had a fine singing voice) and many a bus trip home was enlivened and enriched by Tom singing at the back of the bus while all those who had just run in the Mamore Hill race slumbered their way home.   But he loved to run and had a whole string of race successes to his name.   One of the first sports meetings I attended on demob after National Service was at Ibrox Park where Tom won the steeplechase – in those days it was the done thing to place hedges in front of the water-jump barrier (see the picture on Bill Ewing's page) and just ran away from all the other entries.   It was no surprise to find that he  had just broken the National Record for the steeplechase – in fact it was the first ever recorded record for the 3000m steeplechase.   He ran in many Edinburgh to Glasgow races for his club, ran in many National Championships and turned out in all the wee Tuesday night inter-club fixtures that helped fill up the programme in the 1950's and 60's.    Remember too when you look at his times, not only was he leaping the hedge as well as the barrier and water, he was running on cinder tracks as well.   He was a remarkable athlete and still turns out in SVHC races from time to time as an M70.   Although Tommy was a talented athlete who ran well in the steeplechase, he was not a true specialist.    John was.    I agree totally with Colin's 'take' on the situation – John Linaker was the man, above all others, who turned the  event from a refuge for those who had not quite made it, to one for genuinely fast men who had the technical ability to deal with the barriers at speed.   What follows is Colin Youngson's profile of John Linaker.
In "Scottish Athletics" (the centenary publication of the SAAA), John Keddie wrote very well about Scottish steeplechasing in the late 1950's and 1960's.   "It was rare for runners to specialise in the event.   Some cynics considered it an event for distance runners who had not quite made the grade on the flat.   On the other hand technical ability and a high degree of application were certainly required to negotiate successfully the 28 hurdles and seven water jumps!   Not an event for the faint hearted!   However in the 1960's there was one Scottish based runner who concentrated on steeplechasing."
"Although John H Linaker was born in England of English parents on 16th November 1939, his family came to Rosyth in Fife when John was still a baby.   His father worked in the dockyards.   In 1956 John joined his first athletics club, Pitreavie AAC.   At that time Pitreavie was only registered for track and field, so John and the other distance lads ran for Kirkcaldy YMCA over the country.   By 1958-59 Pitreavie was also registered for cross-country so John could represent his club in the winter too.   Even when he ran for Motherwell YMCA between 1961 and 1964, since he went to work in that area, he always remained a member of Pitreavie.   He returned to live in Rosyth and represent his main club in 1964.    In addition to his Scottish domicile, he married a Scottish wife who in her own right was a prominent figure in Scottish athletics (as Esther Watt she won the SWAAA 100 yards in 1960 and 1961 and the 220 yards in 1960 and 1962, and was 100 yards record holder at 11.2 seconds.)"
John Linaker had things very much his own way in the Scottish 3000m steeplechase championships after finishing third to Tom O'Reilly (Springburn Harriers) in the 1959 event.   Four wins in succession from 1960 included, in 1962 a Championship Best and All-Comers record of 9:02.2.   Subsequent wins in 1965 and 1966 took his total of championship wins to six making him the most successful competitor in the history of the event up to 1982.   Small in stature he may have been, and by no means a stylish runner, but he always showed tremendous grit and became a sound hurdler."
"The 1966 Scottish championship steeplechase was a classic.   There were two principal actors: defending champion John Linaker and leading challenger Lachie Stewart" (who later became a true Scottish great with his unforgettable victory in the 10000m at the Edinburgh Commonwealth Games in 1970).   In 1965 Lachie had broken Tom O'Reilly's Scottish Native Record with 9:07.8 and on 28th May, 1966, had become "the first man in Scotland to break the nine-minute barrier with 8:59.0."   (Although Linaker had run 8:56.2 in June 1965 when running for Scotland in Birmingham.)   "On 30th May 1966 at the White City, John Linaker ran in the English Inter-Counties Championships for his native Lancashire and gained a magnificent fourth place in a high-quality race with 8:50.2.   A classic duel was therefore anticipated at the SAAA Championships, and so it turned out to be.   Linaker was the better hurdler but Stewart as expected showed his paces between the hurdles only to be pulled back by Linaker's superior hurdling.    There was nothing in it right up to the last water-jump when Linaker with a fine clearance put daylight between himself and Stewart, which he maintained down the finishing straight and over the final barrier, amidst great excitement.   Both athletes were suitably rewarded: Linaker with an All-Comers Record of 8:48.8 and Stewart with a new Native record of 8:49.4.   Neither was to run faster in Scotland."
"Two weeks later it was Lachie Stewart's turn to shine, this time at the AAA Championships where he finished third behind two very good GB steeplechasers, Maurice Herriott (seven AAA steeplechase gold medals and one bronze and Ernie Pomfret (five silvers and one bronze).   Lachie's time was a Scottish National Record of 8:44.8, the fastest time he ever ran.   Lachie did have the satisfaction that season of representing Scotland at the Empire and Commonwealth Games in Kingston, Jamaica, and Great Britain at the European Championships in Budapest, although he didn't really run up to form in either of these events.   John Linaker, however, running for Scotland produced a great run at Kingston, where he finished seventh with a brilliant 8:41.6.   After that he competed for another season or two but never regained his 1966 heights."   However John's 10000m best – a very good 29:17.2 – was set in 1968.
As has been mentioned, John Linaker was also an outstanding cross-country runner.   Running for Kirkcaldy YMCA, he won the East District Youth Cross-Country Championship in 1958 and was second in the National Cross-Country Youths (Under 17) race.   The next year he represented Pitreavie AAC and moved up to first in the East Junior and second in the Scottish Junior.   Then in 1960 John Linaker won the Scottish Junior Cross-Country Championship, 51 seconds clear of Jim Alder!   Previously he had triumphed in the East District SENIOR CC!   He also beat Andy Brown to win the Scottish YMCA Championships.
In 1962 he was eighth in the Senior National for Motherwell YMCA.   His greatest cross country triumph was in 1963 when he won the Senior Scottish title and led his team to gold.   Colin Shields wrote in the SCCU centenary book: "The Motherwell pair, Andy Brown and John Linaker, together with Alastair Wood (Aberdeen) went into an early lead, drawing well clear of the field.   Running together as a group they were out on their own with just a mile to the finish when Brown, hoping to retain his title, broke clear with a strong burst.  But his rivals were faster finishers than him, Linaker being SAAA Steeplechase champion and Wood Three Mile champion, and they overtook him with half a mile to go.   Linaker timed his finishing sprint to perfection winning by ten yards from Wood with Brown a further ten yards behind.   Motherwell won the team race by just nine points from Edinburgh Southern Harriers."   John Linaker was selected for the Scottish team for the International Cross-Country race at Hippodrome de Lasarte in San Sebastian.   Andy Brown finished first Scot home in eleventh position with Alastair Wood31st, John Linaker 36th and Scotland finishing eighth team.
By 1966 he was running for Pitreavie AAC once more and finished fourth in the Senior National behind Fergus Murray, Lachie Stewart and Jim Alder.   In the International CC Race at Rabat, Morocco, John Linaker was 34th.   Lachie Stewart was 12th, Ian McCafferty 14th and Jim Alder 16th.   With Andy Brown 48th and Jim Johnstone 78th, the Scots were sixth and chagrined to miss a bronze medal by only 18 points.
This was followed by a poor National for Linaker in 1967 – 21st but many in front were from the New Zealand team.   However he finished fourth in 1968.   Athletics Weekly reported: "After about two miles, Lachie Stewart (Vale of Leven), Alistair Blamire (Edinburgh University), John Linaker, and Jim Wright (Edinburgh Athletic Club) were out in front with a yard covering the four of them.   The next two miles saw no further change.   Reaching six miles in 30:00, Blamire led Linaker by four yards with Stewart and Wright close behind.   With a mile to go, Blamire still headed the field with Stewart now fighting back.   With half a mile to go, Stewart took a narrow lead, and although Blamire fought hard, the reigning champion retained his title by a five yard margin.
JL Stewart   37:09;   2.   A Blamire   37:10;   3.   J Wright   37:20;   4.   J Linaker   37:23."    Linaker was selected for the International CC in Tunis but did not count for the team in 57th place.   John Linaker's last success in the National was eighth place in 1969.
Although Pitreavie AAC did not take part in the Edinburgh to Glasgow Relay, John Linaker became a member of Motherwell YMCA during 1961 to 1963 and his new club had considerable success in the premier winter road race.   In 1961 Motherwell ended up with a bronze medal but Linaker's impact on the event was explosive.   Running the Second Stage he siurged from thirteenth to second, creating a new stage record of 28:54, 56 seconds better than the second fastest man – future international Calum Laing of Glasgow University – could manage.
Motherwell YMCA won the race in 1962 and 1963.   In the former, John moved his club into the lead with the fastest time on Stage Six,1:32 better than his rivals; and in the latter he repeated the feat with 32:20, only five seconds off the record, overtaking the well-known international Alastair Wood of Aberdeen AAC and finishing 27 seconds faster than him.   Having obtained two gold medals and three fastest times, he did not run in this race again, having moved back to Pitreavie AAC.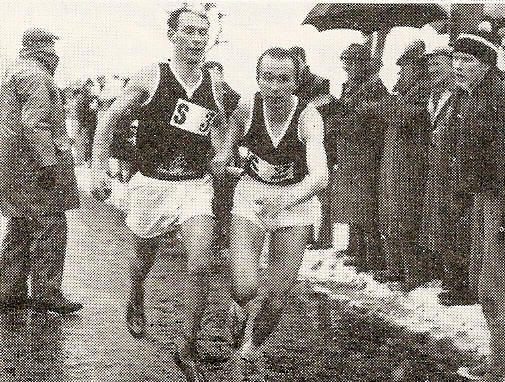 John Linaker to Bert McKay in the Edinburgh to Glasgow
Nowadays in 2011, John is still very active indeed: getting great satisfaction from planting thousands of trees on estates; recording programmes about walking routes and music for Hospital Radio; cycling and acting as volunteer Manager at Scottish Youth Hostels.   Looking back at his career he tells a tale of outpacing his girlfriend round his five mile loop when she was on a bike – so she didn't speak to him for a week!   On another occasion, he was left lying spread-eagled on the pavement after failing to jump an 18inch garden fence, and then had to explain to his girlfriend's mum why the fence was in two pieces: a difficult task when he was supposed to be the Scottish steeplechase champion!
John reflects that at times he used to train too hard but this was because he loved running longish distances.   The results he achieved were not because of a deliberate aim of clobbering everyone in sight, but just the result of training hard.   He feels that distance runners get tremendous pleasure from running up and down hills through the countryside in every season and all sorts of weather.   He is not sure that some modern athletes – perhaps training on a track with a stopwatch and pulse monitor – gain similar pleasure.   The race itself may be the end result but it is not the only thing that matters.
John is not uninterested in athletics history but suggests that it is nearly impossible to transmit some feelings that linger in the memory: that last hurdle, that last charge for the line, with the mind saying go on, go on, while the body pleads for release.   Still articles such as this may let future generations know that we were not always a bunch of geriatrics!
I have two main memories of John Linaker – one from 1966 and one from 1999!   My first Senior race was in early October 1966 at the Kingsway Relays in Dundee.   I was warming up with mu Aberdeen University team mates, jogging round the course in reverse.   We reached the top of the finish hill and gazed down the path which ran between Caird Park and the Kingsway itself, in order to watch the first stage runners approaching.   To my awe, a lone runner appeared and rapidly came nearer, an incredible distance in front of his unfortunate pursuers.    The champion, running  with power and total control, turned out to be John Linaker of Pitreavie, an athlete who had not long returned from the Commonwealth Games in Jamaica where he had run faster than anyone previously representing Scotland with a steeplechase time of 8:41.6.   Over 2.9 miles he was more than two minutes faster than I managed and at the time I could only dream of being anything like as fast as him.   From 1986 onwards, in the M45, M50 and M55 age groups, John Linaker made a comeback to veteran athletics, setting an impressive range of Pitreavie AAC records for 800m, 1500m, 3000m, 5000, and 10000m and the London Marathon in 1997 in a fantastic M55 time of 2:40:46.   In 1990 he won the M50 title in the Scottish Veterans Cross-Country Championships.   He won three M55 Scottish Veterans titles in succession from 1995 – 1997.   In addition in 1992 he won the M50 800m and 1500m in the Scottish Veterans Indoor Championships.   he coached his daughter Isobel who broke the Scottish Under 15 records for 800m and 1500m in the early 90's and was selected for the European and World Schools Championships.
I had been delighted to get to know this cheerful enthusiastic man who was very modest about his past achievements.   My second main anecdote about John Linaker dates from late September 1999.   I was 51 and cautiously plodding round what has turned out to be out to be my last completed marathon.   He was less than two months from his sixtieth birthday and we were both taking part in the Puma Edinburgh Marathon on an imaginative course from Dunfermline, over the Forth Road Bridge and all the way to Meadowbank Stadium, Edinburgh.   Around the 17 mile mark I was tracking an Aberdeen team-mate when a voice exclaimed, "What are you doing back here?"   It was John Linaker who was thoroughly enjoying himself, and rapidly moving up the 5000 strong field.   I explained that I was no longer properly trained for the event and had dropped out of the Lochaber Marathon the previous year.   We chatted for a few moments and then he said, "Right, see you later, I'd better stick to my pace."   Off he went and, although he had a little trouble in the last few miles and let me overtake him, he finished 209th in a thoroughly respectable 3:01:04.  He can also boast of outsprinting Lachie Stewart at the end of a race and not many can say that – but then points out that "of course, there was a water-jump and another barrier before the finish!"    His parting, wise words linger in my memory:
"You have to run to your own rhythm."