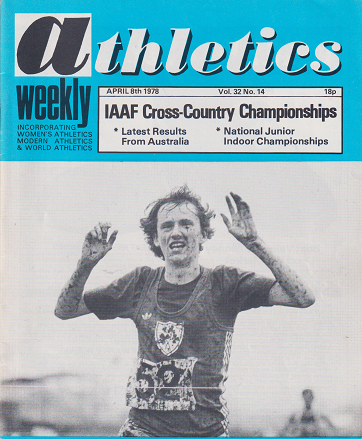 Colin Shields wrote: "Scotland's team was depleted when Ian Stewart, who had finished second in the English National, caught 'flu and had to drop out, joining Rees Ward, who had earlier withdrawn due to injury. On race day, the weather deteriorated badly and appalling conditions of rain, hail and sleet were blown by strong winds horizontally into the faces of runners and spectators. Nat Muir (in seventh place) received the Walter Lawn Memorial Trophy as the first Scot to finish."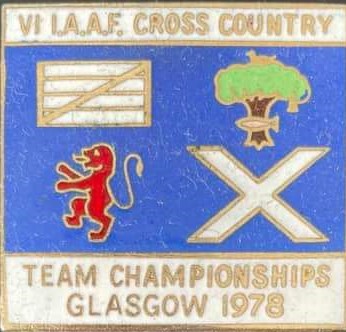 In 'The Scotsman', Sandy Sutherland wrote an article with the headline TREACY 'SHELTERS' FOR TITLE. "Perhaps competitors in the World Cross-Country championships could be thankful that the snow held off until three hours after the finish, for the elements hurled just about everything else at them in Glasgow, on Saturday 25th of March 1978.
The mud in Bellahouston Park was knee-deep in places and, as there were no hippotomi around, few, if any of the field, enjoyed it. But the winners were worthy of the name and never deserved their accolades more.
In these conditions it was all the more surprising to see France taking the senior men's team title, with the United States second and England only third. (The distance raced was 12.3 km.)
Scotland, with little back-up for their first three, were ninth (out of 20 nations), although reserve Frank Clement did well to be fourth finisher.
John Treacy, from Waterford, added lustre to the Irish distance running tradition by giving them their first success since Tim Smythe at Baldoyle in 1931. Treacy, the man the Americans tipped on Friday, is only 20 and is a student at Providence College, Rhode Island.
The young Irishman had hardly raced over the country at all after finishing second to the Kenyan, Henry Rono, in the American National Collegiate championship in November.
Since then, Treacy has been running indoors on the boards – he recorded 13 minutes 10 seconds for three miles only a fortnight ago – and how well he made the transition. He made shrewd use of his rivals, Alexander Antipov (USSR) and Karel Lismont (Belgium), for shelter after the trio had dropped the field at the end of two laps.
"I didn't mind the rain," said Treacy, "but I hated the wind."
Behind him, reputations were being made and broken. Guy Arbogast (aged 21), an 'unknown' American, was fifth just behind England's Tony Simmons and Scotland's Nat Muir (aged 20), after a mid-race sag, came back strongly for seventh.
Andy McKean had his best world championship, finishing 19th and ahead of Scottish champion Allister Hutton, who is never happy in mud. Hutton could still be satisfied with 24th, for English champion Bernie Ford was 62nd and Carlos Lopez (Portugal) and Jos Hermens (Netherlands) failed to finish. (Other Scottish counters were: Frank Clement 67th, Ian Gilmour 84th and John Graham 90th.159 finished.)
Grete Waitz gave Norway her first success (over 4.728 km) when she won the women's race by a record margin of nearly 200 metres. (By 1983, she had won the event five times.) The slight blonde flitted up the two steep inclines as if they hardly mattered, to finish exactly half a minute ahead of world indoor 1500m record holder Natalia Marasescu, who led home Romania to the team prize.
They were just ahead of America, for whom Julie Shea (aged 17) had a remarkable race to finish fourth. Joyce Smith (aged 40) was first British runner in ninth place and Judith Shepherd, the first Scot in 22nd, was only three places behind the Russian double Olympic champion, Tatyana Kazankina.
Fiona McQueen, the Scottish Intermediate champion, justified her selection as third Scottish finisher in 79th place (97 finished). [Second Scot (69th) was Margaret Coomber (nee MacSherry) who had been first Scot back in 1969 at Clydebank.]
Mick Morton, from Blackburn, upheld the English cross-country tradition by winning the Junior event (over 7.036 km), and led his team to the closest of wins, on the count-back from Canada. Ian Brown, from Falkirk, was first Scot in 17th place (4th Briton). 90 finished."
In 'The Glasgow Herald', Ron Marshall was even more complimentary about the first Scot in the senior race: "Nat Muir, in his first world championship as a senior, was the day's outstanding Scot in any of the three races. For a spell, he steered himself into fourth place after working his way from about 20th place in the early stages. But the 20-year-old from Salsburgh, Lanarkshire, was unable to sustain the challenge and slipped to seventh place by the finish, a tremendous performance in such company and one likely to be improved in the next couple of years."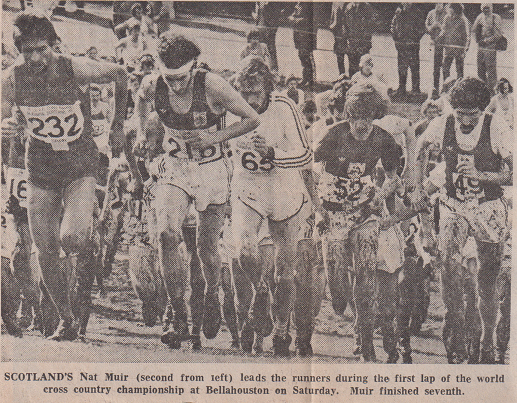 Colin Youngson recalls: "On the 4th of March 1978, the course for the World Cross was tried out during the Scottish National Cross-Country Championships. The weather was good and the route included just a few muddy patches and a couple of hills on each lap. My Edinburgh Southern Harriers clubmate, Allister Hutton, won; and I was second ESH counter, moving through from 20th to 13th, the highest placing I ever got in this classic. On the 25th of March, I was a fascinated spectator when the World Cross was held on the same course, which by now was horribly muddy. John Treacy of Eire, a well-respected 'mudlark', won (by three seconds) in a sprint finish through slippery mire against a Russian. (He retained his title in 1979 at Limerick, Ireland.)
Even onlookers were drenched and I felt really sorry for the competitors, battling against top-class opponents and ghastly weather. We were all pleased that Treacy won and that Nat ran so well. What I remember clearly is just how immensely hard Andy McKean was obviously trying; his was a truly heroic effort. Grete Waitz just eased away from her rivals and, in retrospect, I am very pleased that I had the opportunity to watch this superb, well-loved athlete at her cross-country best."
(The World Cross Country Championships have a very detailed Wikipedia section, with complete results from 1978)