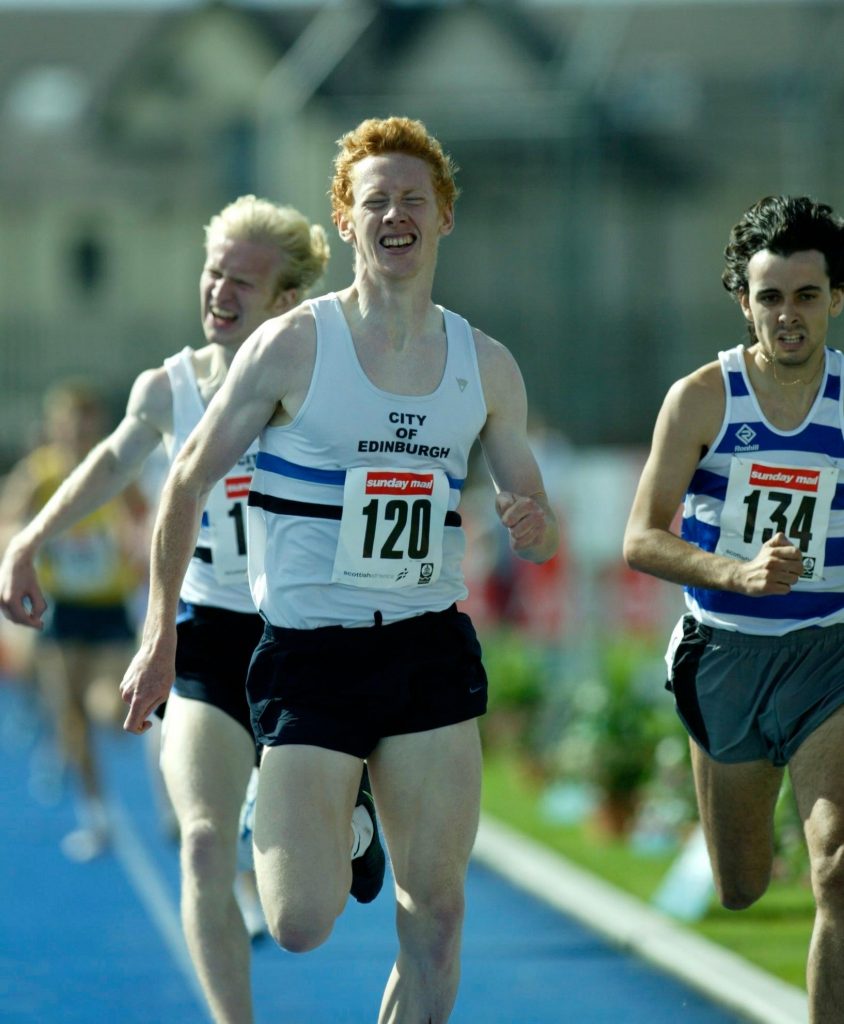 Mark Pollard finishing third behind Darren Gauson (120) and Derek Watson (134) in the 2004 Scottish Championships 1500m
Mark POLLARD (born 25.02.82) Inverclyde AC, City of Edinburgh, Belgrave Harriers
Appears in Scottish Athletics lists 1999-2017
Championship Record:
Scottish Championships: 3rd 1500 2004, 3rd 1500 2005; 2nd Indoor 800 2000, 2nd Indoor 1500 2003.
Personal Bests: 800 – 1.54.02; 1500 – 3.45.0; 3000 – 8.20.89; 5000 – 14.38.61; Marathon 2.27.08.
On 14th March, 2005, Mark won the 1500m (3.51.05) in the East District v West District match.
As an Under-20, on 4th March 2000, at Neubrandenburg, Germany, Mark Pollard ran for Scotland v Germany and France. In an Indoors 1500m, he finished fifth in 4.03.08.
In 2008, Mark Pollard ran for Scotland in the Home Countries International Cross-Country at Edinburgh. He finished 11th (third Scot) and his team was second to England but defeated Wales and Northern Ireland.
Scottish National Cross-Country Championships
Mark Pollard (Inverclyde AC) became Senior National Scottish Champion in 2007 and 2008. In 2007, John Newsom was second and Alastair Hay third. In 2008, at Falkirk, Mark retained his title by one second from Tom Russell, with John Newsom third.
Inverclyde AC secured team bronze in 2008; and (by one point from Shettleston) won team title gold medals in 2010, when Mark was fifth counter in 19th position.
Scottish Short Course Cross-Country Championship
Mark won individual silver in 2007.
Scottish Cross-Country Relay Championships
Inverclyde AC (including Mark Pollard) obtained team bronze in 2002, 2006 and 2016; silver in 2008; and won the Scottish title in 2007, 2011 and 2012.
West District Cross-Country Championships
Mark finished third individual in 2011; second in 2005 and 2006; and won the title in 2007.
West District Cross Country Relay Championships
Inverclyde AC (with Mark) won the team title in 2002, 2006, 2007, 2010.
Scottish Six-Stage Road Relay Championships
Inverclyde AC (with Mark) secured bronze in 2007, 2009 and 2010 and 2016; in 2019 the team won silver medals.
While a member of Belgrade Harriers (as well as Inverclyde AC) from 2008, Mark took part in: the English Inter-Counties XC, the Southern and National 12 Stage Road Relays, the Edinburgh International 4k Cross-Country and 8k, the British Athletics League Premiership/National League 1 and many other good class events. He raced in Germany, Belgium, Northern Ireland and The Netherlands.
In 2021, Mark Pollard is Interim Head of Performance at Scottish Athletics.
Mark Pollard will turn 40 in February 2022. Surely a good Masters career beckons!