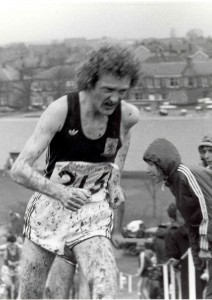 Scotland really is two countries when it comes to athletics – east is east and west is west and seldom the two will meet.    The number of athletes from the east who suddenly burst upon the consciousness of the runners and hangers-on in the west is high, and I assume the same is true in the other direction.   However that may be, there is no doubt that Andy McKean was unknown to most of us in the west when he burst upon the scene with a series of superb performances in the 70's.   And his running in the National Championships at Coatbridge was outstanding.    His career is outlined here by his friend Colin Youngson.  
Andrew McKean was a formidable international cross-country runner who also starred in the Edinburgh to Glasgow Relay.   He won the Senior National Cross-Country title four times and led Edinburgh AC to many team championships, with ferocious displays of determined front-running. No one could push himself harder than tall, red-headed Andy.
Although he was born in London in 1948, Andy first appears in the record books as a first-year student at Edinburgh University in season 1967-1968.    I was starting my second year at Aberdeen University at the time, and there is no doubt that Andy was occasionally beatable for a few years, but very seldom in serious cross-country contests. Andy made an immediate impression by running the third stage in the 1967 E to G, for the winning EU team. He went on to finish a good seventh in the National Junior CC in 1968, with EU picking up the third team award. Although he represented Scottish Universities frequently during the next few years, it was apparent that Andy 'trained through' several minor races, such as team trials, Glasgow University Road Races, and shorter track events.
In 1969, EU was third in the E to G, with Andy promoted to the very difficult Stage Two where he ran a very good seventh fastest of the day.
In 1970, Andy made significant progress.   Having learned to cope with hard consistent training, he was narrowly beaten by Northern Irishman Dave Logue in the Scottish Universities CC Championship, nevertheless defeating another current international runner John Myatt; and followed that with a meritorious 11th in his first attempt at the Senior National CC. Once again, Andy finished just behind Dave Logue, who was to be a major rival on the long sixth leg of the E to G!   Dave reckons that "Andy was not a big mileage man. However he seemed to be able to absorb hard training, without many injuries; and that helped in his success. Yet there was more to it than that – he was rightly nicknamed 'Andy Machine' – he just went to the front and kept going!"    That summer, representing Hillingdon AC as well as EU, Andy improved his 5000m PB to 14.23.4; and in the Glasgow University Road Race, he was third behind Fergus Murray and the precocious Jim Brown.  Then he ran well in a poor EU team in the E to G, being third fastest on Stage Six.
 Andy writes: "In the early years at EU, I often trained with Dave Logue (and Alex Wight) and it was certainly very hard! At that stage I was doing 'only' around 60 miles per week – so I guess what Dave said was true for that period anyway. Dave was right also that I suffered very few injuries during my career, although my absences from track racing in 1968 and 1969 were actually caused partly by injuries sustained towards the end of the country seasons in those years. However in the summer of 1970 I did a bit more track running (partly inspired by the Commonwealth Games in Edinburgh). I substantially upped the mileage to over 100 mpw for several months, leading to the significant breakthrough in cross-country and road races in the subsequent season. In the later years at EU, Jim Dingwall was my most frequent training partner, so it remained pretty hard, as you can imagine, but after graduating in 1973, I did most of my training alone (most of it at night after work, and the mileage settled down to around 80 mpw for the remainder of my career. In fact I remember calculating that from 1970-77 I had averaged well over 4000 miles per year, only tailing off a little in 1978 before retiring. So I suspect that it was not so much the quality as the consistency of my training which really paid dividends in the end."
 Andy McKean improved to sixth in the 1971 Senior National CC and was selected to represent Scotland in the ICCU Championships in San Sebastian, where he finished 69th, not far behind Alistair Blamire and Lachie Stewart. In March, Andy broke the record (49.06) in the very hilly EU ten mile road race. Having strolled to the East District 5000m title, he improved his 5000m best to 14.19.6 for third in the British Universities 5000m at Birmingham, behind Frank Briscoe and Andy Holden (but in front of future marathon star Ian Thompson). Then he was fastest on Stage Six of the E to G, recording 31.36, 21 seconds faster than ex-National CC Champion Dick Wedlock.
The National CC in 1972 featured a dour battle for third place between Andy McKean and Alistair Blamire, the latter 'sitting' on Andy before sprinting away near the end. In the very last ICCU Championships at Cambridge, Andy finished fifth Scot in 44th position. His track season was successful. For a start, he easily won the SU Championship 5000m and the SAAA 10 miles track event (49.25.8). Then he improved his bests for 5000m (14.12.8) and 10,000m (29.40.2 for third in the SAAA). Then Andy McKean was even faster (31.13) on the E to G long leg, more than a minute better than Jim Wight.
From 1973 until his retirement in 1978, Andy seldom raced on the track, although he did regain the East District 5000m title in 1977 and also improved his best time to 14.12.5 in that season. Although Andy did produce some fine performances in the prestigious Tom Scott 10 miles race, he tended to devote the summer to 'active rest' before getting fit again for the E to G and cross-country championships.
In 1973, Andy finished his university running career in excellent style. Colin Shields takes up the story: "Over a snow-covered course at Drumpellier Park in Coatbridge, 1200 runners competed in the National Championships. Pre-race favourite Andy McKean, with a big build up of Eastern District title, Scottish and British Universities wins and impressive runs in International races throughout the Continent, was in fine form over the open, rolling course broken only by a short, steep hill at the end of each lap. McKean took the lead on the third of the five laps, with only the surprising Adrian Weatherhead challenging him. He eventually won the first of his four National titles by 100 yards from Weatherhead." Later, in the inaugural World Cross Country Championships, under the control of the IAAF, at Waregem Racecourse outside Ghent, Belgium, Andy improved to 30th and second Scot behind Norman Morrison. In November, Andy McKean finally broke Fergus Murray's 1965 record (31.07) for the long sixth stage of the E to G, recording 31 minutes precisely, sixteen seconds faster than Dave Logue (Glasgow University) and 21 seconds faster than the great Ian Stewart (Aberdeen AAC). However Edinburgh Athletic Club, Andy's new team, was never destined to finish better than second place, which, with Andy's invaluable assistance, they managed five years in a row (1973-77).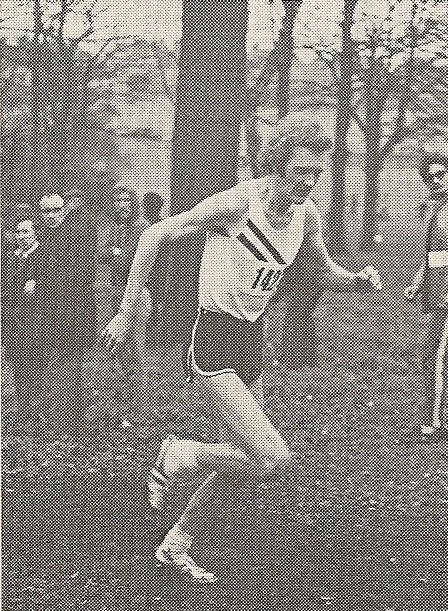 Andy winning at Coatbridge in 1975
In 1974, however, EAC won the National CC team title, with East District champion Andy McKean second individual after a fierce battle with front-running Jim Brown, who was in the form of his life. Subsequently in the English National CC, Andy gained revenge on Jim over nine muddy miles. Andy was third, only eight seconds behind future Olympians David Black and Bernie Ford, and in front of Tony Simmons, with Jim Brown ninth. However in the IAAF World Championships at Monza, Jim Brown ran brilliantly to finish a close fourth, while Ronnie MacDonald was second Scot in 31st, with Andy McKean 46th and Colin Falconer 47th. Scotland finished seventh country from fifteen. In the E to G, Andy McKean was once again fastest on Stage Six, 20 seconds faster than Jim Brown.
 Andy writes about the 1974 English National CC. "It was nine miles of deep snow and mud at the aptly-named Graves Park in Sheffield, and it suited my running style perfectly (slight build, long stride) and I consider it to have been one of my best ever races. I ran in the English National CC also in 1975 (at Luton) and 1976 (at Leicester), finishing 7th and 5th respectively, and I remember Alistair Blamire (who had also run well in the English on previous occasions) remarking that it felt good to know that, if we had been running for English clubs, we would have been picked for the English Team, which still dominated the international cross-country scene at the time."
 1975 saw Andy McKean regain his National Senior CC title, which he went on to win three times in a row. Previously, he had show good form when, wearing a Great Britain vest for the first time, he was only narrowly outsprinted by European Steeplechase Champion Bronislaw Malinowski (Poland) in a major international road race in Barcelona.   (Malinowski was rumoured to be part-Scottish!)   Andy remembers this as a real highlight in his career. At the Scottish National at Coatbridge, Andy finished 46 seconds in front of EAC clubmate Adrian Weatherhead. The team's total was a record-low 37 points, which easily won the team title from ESH (101 points). EAC's other scorers were Jim Alder (5th), Alex Wight (8th), Doug Gunstone (10th) and Jim Wight (11th). Jim Dingwall was an unlucky non-counter in 13th, which was one of the reasons that caused him to switch to Falkirk Victoria. The World CC Championships were in Rabat, Morocco. Gloriously, Ian Stewart won the race. Andy was fourth Scot in 53rd place, with Scotland 6th team from 23. In the E to G, Andy McKean was fastest on Stage Two (for a change) in an outstanding 27.37, 18 seconds faster than Jim Brown.
In 1976, Andy McKean and EAC repeated their victories in the National CC. Colin Shields wrote: "McKean and Weatherhead went into the lead early in the race and stayed together until the final lap, where McKean established a winning lead 80 yard lead from his clubmate, with Allister Hutton third." At Chepstow Racecourse, Wales, in the IAAF World Championships, Jim Brown (24th) was first Scot, with Allister Hutton 34th and Andy McKean 41st. In the E to G, Andy was second fastest on Stage Two, just six seconds slower than the flying Jim Dingwall, after a tremendous head-to-head battle. Third fastest was 48 seconds further behind.
In 1977, Andy McKean won a record twelfth Eastern District League Race and followed this with his third East District CC title; and then his fourth and final National Senior CC. Colin Shields writes: "Andy McKean became the sixth athlete to win the National title three times in a row when he defeated over 400 entrants at Glenrothes Golf Course. Running in six inches of snow, McKean won by 21 seconds from Allister Hutton with a superb display of front running." However EAC were narrowly squeezed into third team place by Shettleston and ESH. In the IAAF World Championships in Dusseldorf, Allister Hutton was first Scot in 14th, ahead of Jim Brown 36th, Laurie Reilly 41st and Andy McKean 49th. Later that year, Andy was fourth in a high class race at El Goibar, Spain, proving once more that he was always to be reckoned with in both National and International races. In November, Andy ran his final Edinburgh to Glasgow Relay, with second fastest on Stage Two, 9 seconds quicker than Jim Brown but 15 seconds slower than rising star Nat Muir.
The 1978 cross-country season was to be Andy McKean's swansong. He won a fourth East District CC title, overcoming treacherous mud over a hard ice base to lead EAC to a team victory over Falkirk Victoria. The National Championships, held at Bellahouston Park, Glasgow, used the five-lap trail for the World Championships a month later. On a dry day, Allister Hutton finished well in front of Rees Ward and Andy McKean. In the World Championships, however, "the weather deteriorated badly, and appalling conditions of rain, hail and sleet were blown by strong winds horizontally into the faces of runners and spectators." Young Nat Muir ran brilliantly to finish seventh, "and was backed by Andy McKean (19th) and Allister Hutton (24th) for the senior Scottish team to finish ninth from 20 countries." I was spectating that day, and admired greatly the tremendous effort that Andy exerted to produce an excellent run – the highest placing he ever achieved in this World Championship – on a horrible day.
 Thereafter, Andy McKean retired from racing to concentrate on his successful career as an Edinburgh architect. His contemporaries breathed sighs of relief. Rivals in ESH tended to assume that, if Andy turned up at a race, the only question was who would be second. In the E to G, the problem was to have enough good runners to make up for Andy's predictably superior performance. Overall, he had a wonderful career and must be remembered as an outstanding British and Scottish International runner who, on country and road, consistently achieved his full potential.
In the 1990s he took part in several 10k races and in 2007, after 40 years in Edinburgh, moved to Gatehouse of Fleet, Galloway, to start a self-employed business as an artist. Check his impressive website at Andrew McKean Arts. He keeps fit by regular exercises and walks, with a weekly run and a swim.