G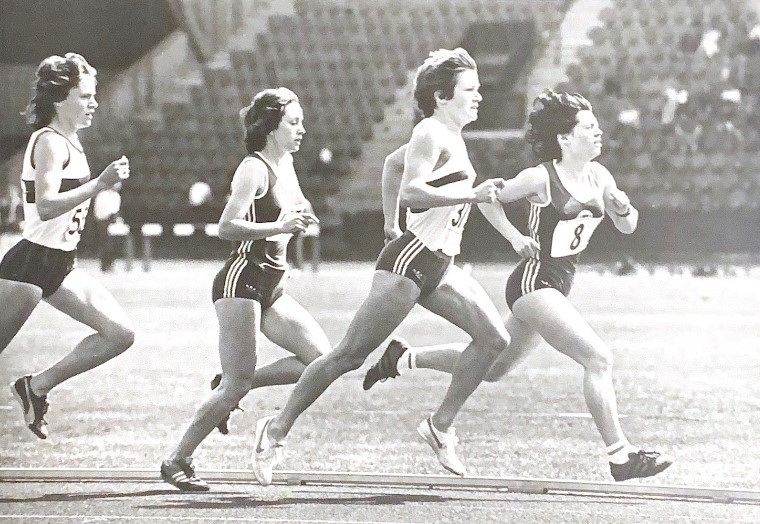 Fiona (8) leading Violet Blair.
Fiona McQueen was born on 10th February, 1961 and was a pupil at Hyndland Secondary School in Glasgow when she started running. She joined Victoria Park AAC where she was coached by Ronnie Kane as part of a very good group which included Judith Shepherd and Lynne MacDougall. Which one was Fiona? She was the one asking all the questions – "Why are doing this session?" " What is this supposed to do?" How will it help us?" But Ronnie was a good coach and he always knew what he was doing.
At school her first Scottish Schools Championship medal was in 1976 when she won the Group A 1500m in 4:43.5 and this was followed a year later with a victory in the same event in Group B. An out-and -out distance runner, she specialised in 1500m and 3000m on the track with some very good performances. Her competitive record highlights on the track include the following SWAAA Championship performances –
* 1st 3000m, 1981;
*2nd 1500 '79; 2nd 3000m '78;
* 3rd 1500m '83; 3rd 3000 '80.
She was nationally ranked on the track 25 times between 1975 and 1984 at distances between 800m and 3000m, and was in the top three six times. Competitively she was good enough to represent Scotland every year from 1977 to 1984 inclusive. Usually in the 3000m, very often with clubmate Judith Shepherd as her companion, Fiona lined up for Scotland duty on the start line with Yvonne Murray, Andrea Everett and Barbara Harvie against Norway, Sweden, Greece, Hungary, the Netherlands and Belgium.
Her personal best times: 800m – 2:11.9, 1500m – 4:18.74, Mile – 4:51.99, 3000m – 9:23.95.
*
Good as she was on the track, Fiona was possibly better on the country where she also won titles and ran internationally for Scotland. Starting early, she won the national Under 15 title in 1976 after being second in 1975 , and followed this by winning the Under 17 title twice (1977 and 1978). '77 was a good victory but '78 was a superb run described by Colin Shields in the Athletics Weekly as follows:

This was her first run for the Scottish Senior team – and she was only 17 at the time. Her more experienced Glasgow team mate Judith Shepherd led the team home in 22nd place with Margaret Coomber second Scot in 69th and Fiona was 79th, Janet Higgins 87th, Kerry Robinson 89th and Violet Hope 91st. A promising debut, even if the match was held in Bellahouston Park.
In 1979 she was up an age group and was a good third behind Judith and Kerry to be selected for the international on Greenpark Racecourse in Limerick, Ireland. This time she was second Scot to finish with Judith 44th, Fiona was 57th. The rivalry with Judith was probably a help to both of them – they ran together for Glasgow AC, they teamed up for the Scottish team over 3000m on the track and they both competed for Scotland over the country. Judith usually won – but not always and Scotland was lucky to have that double act. In 1980 she went up from third to second in the National – Christine McMeekin won that year, and Fiona was followed by Barbara Harvie. (Fiona and Barbara would run together for Scotland at 3000m on the track). The international that year was at Longchamps in Paris. Christine was first Scot this time in 19th, one stride ahead of England's Ruth Smeeth, with Fiona second of our team in 73rd.
There was a very strong field in the National Championships in 1972 with Christine Haskett, Liz Lynch, Jean Lorden, Barbara Harvie, Andrea Everett and more women running and Fiona finished in 10th and there was no international for her that year. She made up for it the following year winning by 16 seconds. Have a look at the quality of the top ten:
1st: F McQueen; 2nd K Mearns (Aberdeen); 3rd J Lorden (ESH); 4th. L McDougall (Glasgow); 5th A Ridley (Glasgow); 6. V Blair (ESH); 7th. S Crawford (Kilbarchan); 8th. C Clark (Coventry); 9. B Murray (B&H); 10. J McColl. Every one a high class runner. There was no doubt about selection for the 1983 international selection. It involved only a short trip down to Gateshead this year and this time she led the team home – albeit in 51st place, two places and one second up on Kathy Mearns. Anglo-Scot Elise Lyon was third Scot in 67th and Jean Lorden the last team scorer in 77th. Despite missing the National having won the District title quite comfortably,, Fiona was picked for the team and rewarded the faith of the selectors by finishing first Scot in 41st place, well clear of National champion Elise Lyon who was 77th. There was a time difference there of 35 seconds.
She competed in the summer of 1984, indeed she ran for Scotland against Hungary in Budapest in May that year, but her racing career was effectively over in that did not run in the National or in the SWAAA track championships again but it had been a wonderful career with success at all levels from Schools, through the age groups to senior with titles on all surfaces and Scottish selection all the way through. And she was only 23 when she retired. One of her friends from those days tells us that Fiona was a very clever girl and, although she did not take up a scholarship like Judith Shepherd did to the USA, she was heading for academic success at University.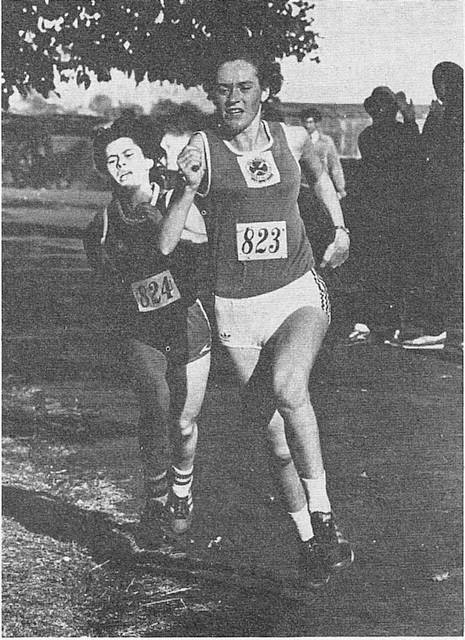 Fiona in second behind team mate Judith Shepherd