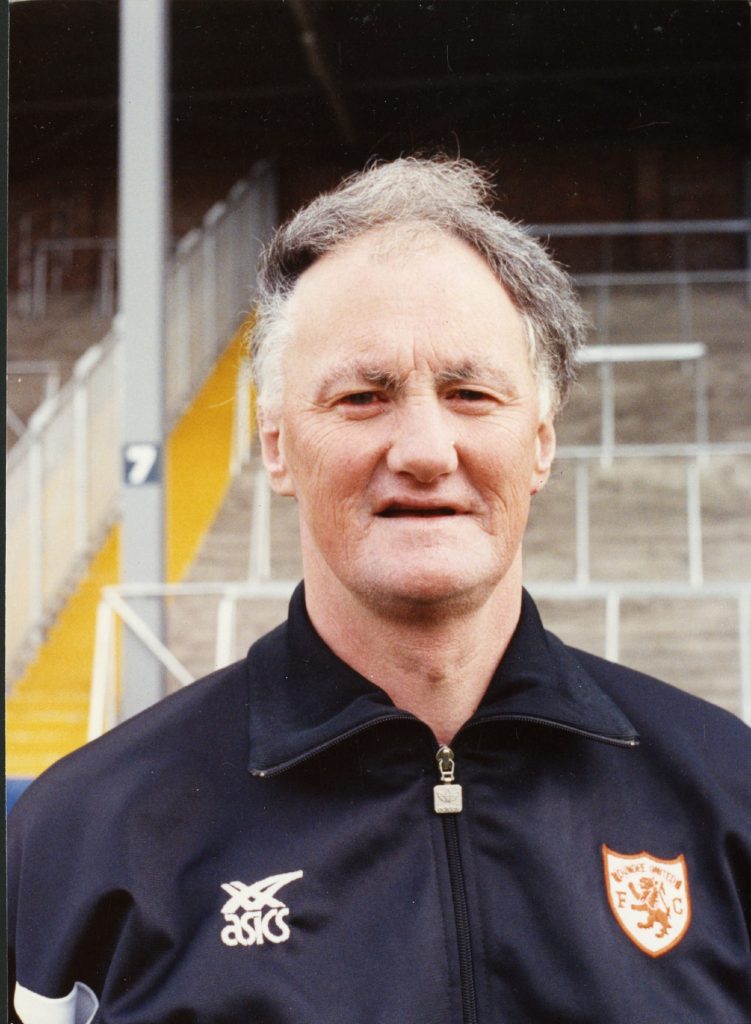 Stuart during his time with Dundee United
We did Stuart's athletics profile and pedigree two years ago but there was a gap in his profile. That was his really serious involvement in football. It was something that we always thought we'd return to – after all we covered John Freebairn's time with Partick Thistle – but there was an excellent feature in the Aberdeen Evening Express in June 2021 which did just that. The article can be found at
//www.eveningexpress.co.uk/fp/sport/football/aberdeen-fc/donsnews/yvonne-murrays-medal-haul-to-impressing-jim-mclean-peterhead-fitness-coach-stuart-hogg-81-and-his-remarkable-career. Written by Callum Law, we recommend you to read it.
Athletics coaches have worked with other sports, we know that Allan Wells helped rugby clubs in England, Derek Ibbotson did some conditioning with football clubs and so on but Stuart was one of the first. He did something different with top clubs at the peak of their success and who was subsequently wooed by some of the best Scottish club managers to assist their teams to success. The involvement has so far spanned 43 years with only a slight hiatus:
1978-83 Rangers FC; 1983- 93 Dundee United FC; 1993- 2002 Aberdeen FC; 2016 to now Peterhead FC
What follows is based on the article mentioned above where there are also several very good photographs too.
We quote from Law's article: "Although he had worked with individual footballers earlier – such as Dunfermline's Bert Paton – it was through his day job as an architect that Hogg first started working for a football club. He was part of John Greig's coaching staff at Rangers between 1978 and 1983. Hogg explained: "I was friendly with Willie Mathieson and Willie Johnston (who were both from Fife), who played for Rangers. "Willie Mathieson introduced me to John Greig, because I was working as an architect at that time. John Greig was wanting an extension put on his kitchen and I became friendly with John through that and he was the one that started me at a club when he was Rangers manager. He got the job and about two days after he phoned me and asked me to go to Rangers. I went there part-time and was there for just over five years."
Coming from an athletics background, Hogg says he had to pick up what was best for footballers as he went along. In those days, he was the first specialist fitness coach within Scottish football who hadn't come from a football background. He added: "It was slightly out of my comfort zone, although I had worked with a few of the players already. "I went there because of my sprint background, but going to Rangers I learned a lot about football. "I had to learn about the fitness levels required to play for 90 minutes, but I learned in that time.
"Back then there was nobody to turn to, I had to learn it myself, because I was the first coach in Scottish football to do what I did."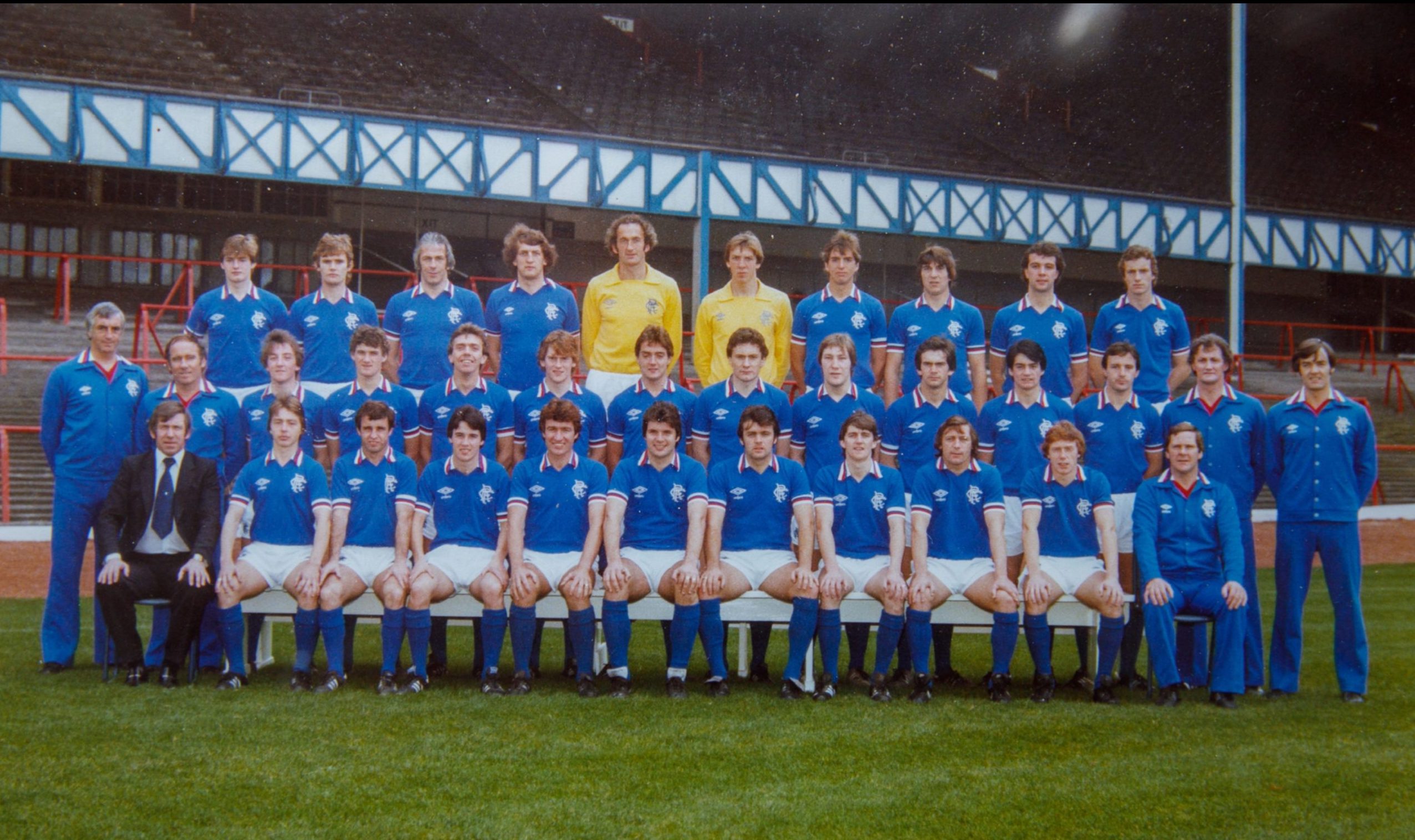 Stuart, second right, middle row
What Stuart says above about not knowing the football scene strikes several chords with me. For instance I remember driving home from an athletics meeting and listening to a football programme on Radio Clyde when Tommy Murray phoned in, clearly exasperated by the discussion about the strain of footballers having a long season and sometimes having to play twice a week. Asked by one of the pundits what his experience was Tommy spoke about his training, and how often he competed. He was cut short, told he knew nothing about football and the discussion moved on. Football always lived in its own bubble and never seemed to look outside its boundaries for inspiration or education. Jock Stein and Willie Waddell were looked at with amazement when they went abroad to learn from Hellenio Herrera at Inter Milan. Stuart really had to work hard in an alien environment. He says as much when the article quoted turns to his involvement with Dundee United and he talks about 'proving himself' to Jim McLean, which he did with a sprint session with Mixu Pattalainen watched by Jim McLean. The article quoted says:
One of Hogg's innovations during his time with Dundee United, which has stuck, was a properly organised warm-up before games and a warm-down after matches. He added: "I started getting players to do a warm down after the game and we got laughed at. "We also started doing a proper organised warm-up before the game as well and again we were laughed at. "I remember being at Parkhead or Ibrox and the people that were in the stadium would be shouting 'what the f*** is that?' But we did it and now everyone does warm-ups like that. We were at Tynecastle one day doing the warm-down after the game and there was a bit of animosity between Hearts and Dundee United at the time and we got thrown off the pitch during our warm-down. It caused a kerfuffle and then Jim McLean got me in front of press the next week to explain why we were doing it. Nobody did it at that time and nowadays kids playing in public parks for boys clubs do a proper warm-up and warm-down."
"We were the first to do it. The first time we did there were four Dundee United players who came out to volunteer to do it. Jim McLean saw in the training it was beneficial and then made it compulsory and all the players came out after the game for a warm down."
The learning was not all in one direction though Stuart comments "There was a lot of stuff he did that I've not forgotten and I learned from, both good and bad. I find it difficult to be confrontational – but sometimes you have to be confrontational to get the best out of somebody. I never forgot that. I don't like being confrontational and I had to work at it, but I learned that sometimes you had to confront people."
Stuart left when McLean lef6, But he wasn't out of football for long when Aberdeen manager Willie Miller came calling following a recommendation from Craig Robertson. It was at Pittodrie that he got the chance to work at a club full-time as opposed to balancing his coaching alongside architecture. Miller's successor as manager Roy Aitken offered him a full-time position and he served under Aitken, Alex Miller, Paul Hegarty and Ebbe Skovdahl.
At Aberdeen, he organised talks on nutrition and got the players' blood and body fats taken to try to ensure that they were in the best possible condition to perform. Hogg said: "I've got to be open-minded, but I've also got to prove that the results are there to back up the thinking.
(a) I had a lot of contacts. I got a professor called Ron Maughan to come in to do talks about nutrition. "One time at Aberdeen I got all the landladies, wives, girlfriends and anybody else that wanted to come and Ron organised a demonstration with people from Sainsbury's he knew. We'd 85 people there in the Richard Donald stand.
"(b) At Aberdeen, I got blood taken by Mike Greaves, who was professor in Haematology at Aberdeen Royal Infirmary, and became dean of the medical school in Aberdeen.
"He's a brilliant guy and I got him to take blood and we discovered there were two players whose iron levels were low and we got them to take extra iron.
"It's those sort of wee things which are all part of the learning process for me and make a difference to the athletes."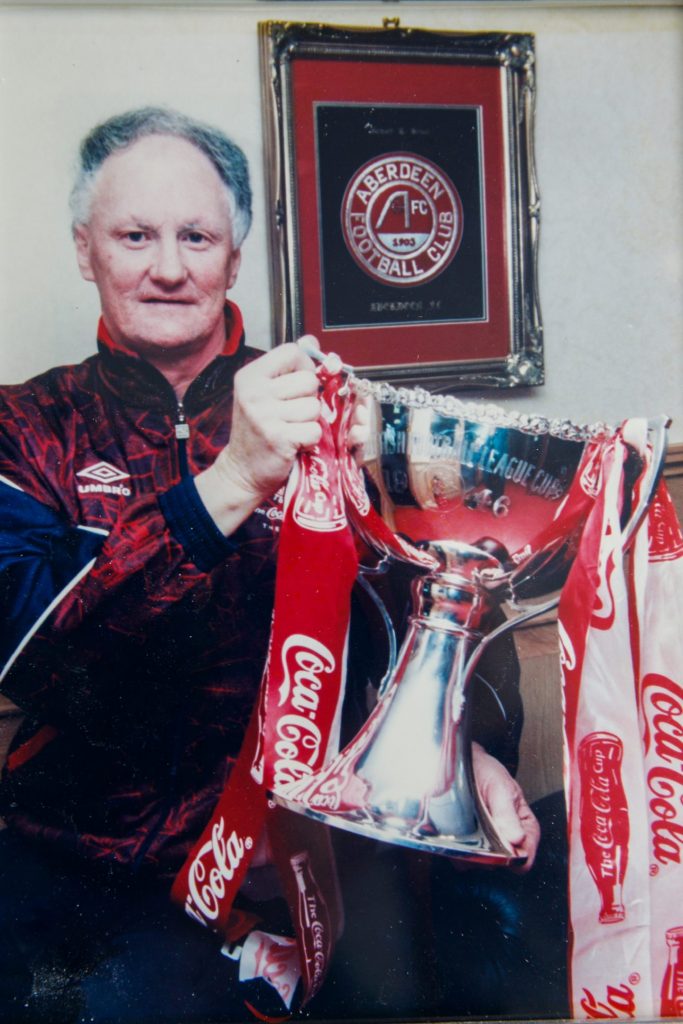 Hogg has particularly fond memories of working under the late Skovdahl at Pittodrie. When the Dane arrived in the Granite City, Hogg thought his time with the Dons was up. That wasn't the case and he added: "Once we proved that we were honest and honest with him it was great working with Ebbe.
When Skovdahl left Aberdeen in December 2002, Hogg was also moved on as the Dons tried to cut costs.
He continued in athletics, but was out of football until midway through the 2016-17 when an old friend from his time with Dundee United called. Peterhead manager Jim McInally was looking for a fitness coach and Hogg was tempted back into football. He said: "Jim phoned me up and said he was looking for somebody who could do what I'd done at Dundee United. He asked if I could recommend someone and I said: 'are you angling for me to come back? "And he said: 'I'd bite your hand off if you came.' The reason I went was because it was Jim. "But I like the club, it's a great wee club to work for."
Even after a lifetime in sport, Hogg is still passionate about his work and still determined to try to help people.
"I can't jog round with the boys in the warm-up any more, but as long as I've got a whistle and a tongue I'm OK," he said. "I tell them I don't get lactic in my legs any more – I get it in my tongue. "I'm still able to shout, my brain is still active and I still know what sessions to put on and Jim doesn't interfere with it at all.