Rosie Smith was born on 28/6/1985 and ran for Durham City, Edinburgh University and Hunters Bog Trotters. She started racing (very young, in the Durham area) before 2000. Rosie features in the top 6 Scottish ranking lists for 3000m, 5000m and 10,000m. Personal Bests: 5000m 17.22; 10,000m 37.22; 5k 16.57; 10k 33.28 (Leeds Abbey Dash 2014).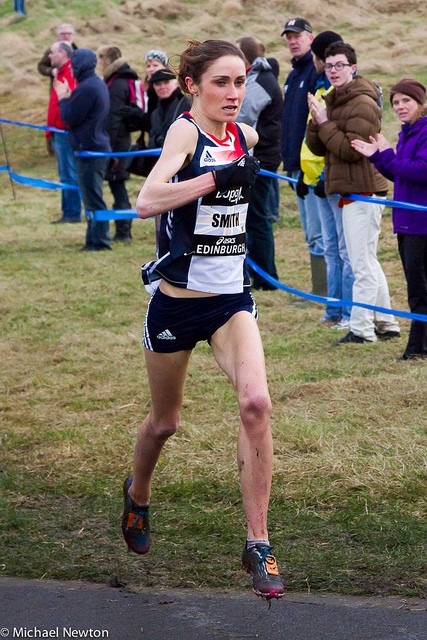 In 2006, Rosie won the Scottish Universities 1500m and 3000m titles.
Rosie Smith raced for GB in the 2004 IAAF World Junior Cross-Country Championships, and finished second Briton. In 2012, she represented GB in the European Cross-Country at Budapest, Hungary; and finished 16th (third Briton).
As a Senior, Rosie Smith ran International Cross-Country for Scotland five times and had a marvellously consistent record: 2006 in Ireland, first Scot, team lost to USA but beat Ireland; 2011, Antrim, Home Countries, first Scot, lost to England, beat Ulster, Ireland, Wales; 2012 at Giffnock, Home Countries, first Scot, team lost to England, beat Wales and Norway; 2013 in Wales, Home Countries, first Scot, lost to England, beat two other teams; 2017, Wales, first Scot, lost to England, beat Wales, Northern Ireland.
In the Scottish Senior National Cross-Country Championships, between 2010 and 2016, Rosie Smith won three individual bronze and three silver medals; Hunters Bog Trotters won the team title in 2010 and 2016, and Rosie contributed to two silver and two bronze team medals as well.
Rosie was third in the 2010 Scottish Short Course Cross-Country; and second in 2011 and 2017.
In 2011, she became East District Cross-Country Champion.
Between 2005 and 2011, Rosie contributed to 3 team bronze medals for Edinburgh University Hare & Hounds or HBT in the Scottish Cross-Country Relay.
In 2006, racing for Scottish Students, Rosie was second in the Inter-District Cross-Country Championships.
In 2008, she was second in the Scottish 10k Road Championships.
After a distinguished career, especially as a cross-country specialist, Rosie Smith seems to have stopped racing after 2017.