Eleanor 'Lennie' Waite was born on 4/2/1986 (in Paisley, Scotland) and ran for Rice University (USA), Aldershot, Farnham and District, East Kilbride AAC.
Personal Bests: 1500m 4.15.33; One Mile 4.35.42; Indoors 3000m 9.15.20; 5000m 16.12.54; 3000m Steeplechase 9.35.91.
Lennie left Rice University in 2008 as a two-time All-American (at One Mile and Steeplechase).
Lennie Waite raced the 3000m Steeplechase for Scotland in three Commonwealth Games, finishing 6th in 2010 and tenth in both 2014 and 2018. She ran for GB in the 2016 Olympics, 2016 European Championships and 2017 World Championships.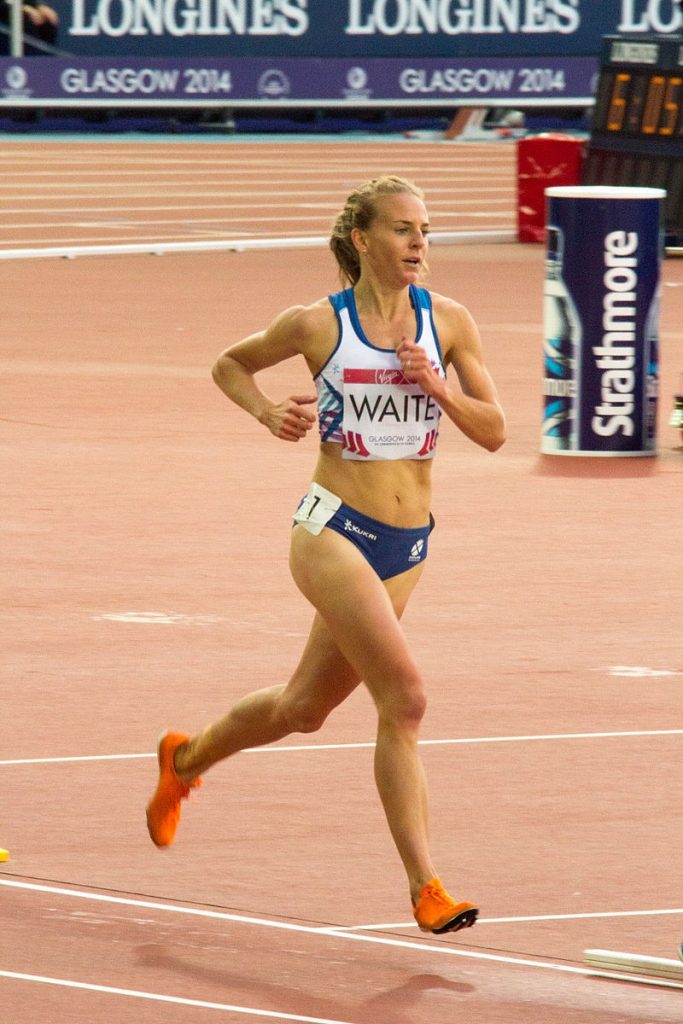 Lennie Waite running for Scotland in the 2014 Glasgow Commonwealth Games Steeplechase
Lennie finished 7th in the 2011 World University Games Steeplechase in China. In 2013, for GB, she was 5th in the European Team Championships Steeplechase (in 2015, she finished second in this event).
At GB level, Lennie won the Steeplechase title in 2011 and 2015; as well as securing silver medals in 2009, 2014 and 2016.
In the Scottish Athletics Championships, she won the Steeplechase in 2009 (and was second in 2010). In 2014, she won the Indoor 1500m title.
Apart from her Commonwealth Games appearances, Lennie Waite ran 3000m Steeplechase for Scotland in 2013 at Loughborough, when she finished second in a match against England, Wales and three other teams.
Lennie also ran cross-country for Scotland in 2013, in a Home Countries International at Llandeilo, Wales. She finished 6th (second Scot) and the team lost to England but beat two English district teams.
Although Lennie Waite has been based in the USA, she has raced all over the world, including many events in Europe. She joined East Kilbride AAC in 2017 but does not seem to have raced in Scotland since 2014.