Megan Crawford was born on 17/4/1989 and ran for Fife AC. She was Scottish Marathon Champion in 2013 and 2015 (and secured silver in 2014); and won the Scottish 10 miles road title in 2015 (after silver in 2011). On the track, Megan won a bronze medal in the 2011 Scottish 10,000m Championship. Her marathon personal best is 2.40.26 (2015); and 10,000m 36.24.61 (2011).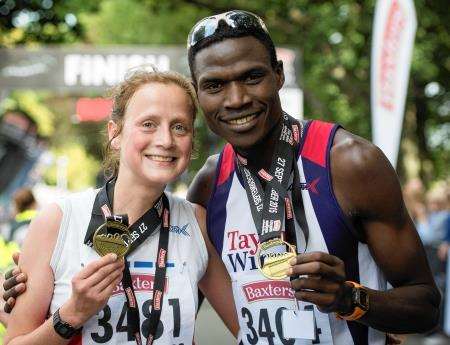 Megan Crawford and Tarus Elly at the 2015 Scottish Marathon Championship near Inverness
In the annual Scottish Athletics ranking lists, Megan Crawford has been top five for: 10,000m, marathon and 2000m Steeplechase. In the Scottish Mid Trail Running Championships, Megan finished third in 2014 and 2015. As a Senior, in 2014, after finishing 8th in the Senior National, Megan ran cross-country for Scotland in at the Nottingham Home Countries International; she finished 9th (and first Scot).
For many years, Megan Crawford has been coached by Ron Morrison of Fife AC. The club has gained a lot from Megan's determined contribution to team success. In the Scottish Senior National XC Championships, Fife AC (with Megan Crawford) won team gold in 2019 and 2020, after bronze in 2018. The team also won the Scottish XC Relay in 2019 and 2020. In the Scottish Road Relay, it was silver in 2015 and gold in 2018. The Scottish Short Course team gold was won in 2014 (when Megan was fourth).
Fife AC won the team title in the 2011 Scottish 10k Road Championship; and added silver in 2014 (when Megan won individual silver). In the Scottish Half Marathon, Megan Crawford was third in 2011 and 2013, leading Fife AC to the team title on each occasion; and when Megan finished fourth in 2014, Fife won again. Even the Scottish Marathon team award belonged to Fife in 2013 (when Megan Crawford won the race).
Apart from Fife AC v Central AC rivalry, Megan Crawford and Jennifer Emsley have had some close battles. In 2013, Jennifer secured Scottish Half Marathon silver and Megan bronze. In 2014, Jennifer won Scottish 10k gold and Megan silver. The most memorable battle must have been in the 2014 Scottish Marathon at Inverness, where Megan (the title holder 2.46.25) was outkicked by Jennifer (2.46.10). However, Megan won even faster (2.44.50) on the same course in 2015. In 2019, Jennifer Wetton regained the Scottish Marathon title at Stirling.
After her Scottish Marathon victory at Inverness in 2013, Fraser Clyne's report commented: Megan Crawford (Fife AC) enjoyed a marathon debut to savour by setting a new course record of 2hr 46min 37secs to win the Baxters Loch Ness marathon women's title and the Scottish championship gold medal. The Edinburgh-based runner shaved two secs off the previous leading mark for the course set by Ethiopia's Dinknnesh Mekash Tefara in 2010. Crawford pulled away from Romanian favourite Alina Nituleasa after the halfway mark and went on to win by more than three minutes.
She was ecstatic about winning the race and collecting her first national title. She said: "I had absolutely no expectations as it was my first marathon but it's a nice feeling to win. I knew I was running well in the lead up to the race as I finished third in the Moray half marathon recently. After that I felt I could run a decent marathon time but I had no idea how it might go. I ran with the Romanian runner until around the halfway point when I began to get away and from there on I just kept going."
In 2014, Fraser Clyne wrote: There was a dramatic finish to the women's race in which Jenn Emsley (Central AC) held off a late challenge from title-holder Megan Crawford (Fife C) to take the top prize in a new course record time of 2:46:10, knocking 27secs off the previous standard. Crawford was also inside the old record, which she set twelve months earlier, when finishing just 15 secs behind, while Shona McIntosh took the bronze in 2:53:15.
Emsley was delighted with her day's work which, in addition to the record, yielded a Scottish title, a personal best time and a winner's cheque for £1500. She said: "I am very happy but surprised to have run a quicker time than I did at the London marathon, as I think Loch Ness is a harder course. But my training had been going well and I feel I've finally justified the hard work I've been doing."
"There were four of us for the first 10 miles then the Romanian runner, Alina Nituleasa, dropped back. Megan then seemed to drop back and I eventually pulled away from Shona. Then, near the end, I could see that Megan was beginning to close up on me again so it was just a case of keeping going and not getting caught."
Crawford had mixed feelings about her performance which was admirable given that she suffered from stomach problems throughout the race. She said: "I'm a bit annoyed but at the same time I'm really happy for Jenn. I had to stop so many times during the race because of my dodgy tummy and every time I got going I was trying to make up ground. I eventually got past Shona and then began to close on Jenn. I am convinced that if there was another mile I might have caught her."
In 2015, Megan Crawford was considerably happier!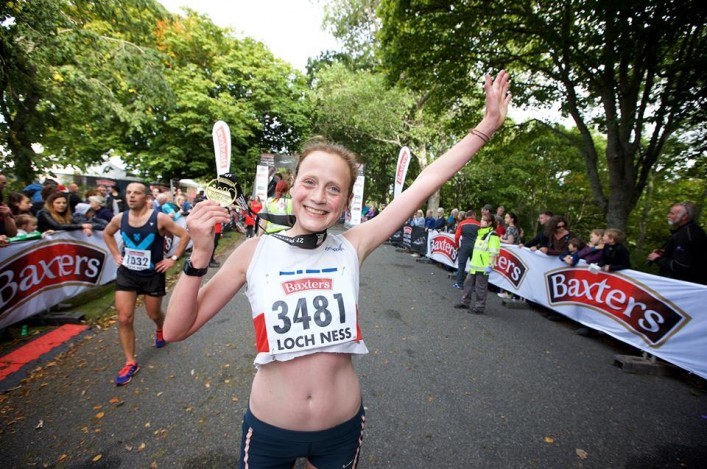 Megan Crawford celebrates her 2015 victory
Record-breaker Megan Crawford was in exuberant mood after winning the women's title in today's Baxters Loch Ness marathon. The Fife AC runner completed the scenic Highland course in a time of 2hrs 44min 50secs to obliterate the previous women's record of 2:46:10 set by Central AC's Jenn Wetton last year when Crawford finished 15secs behind in second position.
Belgrave's Gatenesh Tamirat, the 2014 Jersey marathon champion, finished second in 2:57:44 with Shona McManus (Kelvin Runners – Scottish silver medal) pipping Gillian Sangster (Dundee Road Runners – Scottish bronze medal) by 41secs to take third spot in 3:02:06.
Crawford, who improved her fastest marathon time to 2.40.26 in London this April, pocketed the Scottish title for the second time in three years and was ecstatic with this result. She said: "I love this marathon. It's definitely one of my favourites and I was actually having fun out there. One of my main motivations for doing it was to try to win the Scottish title again and I've done that so I'm very happy.
"I ran with Gatenesh for the first 17 miles. I was reluctant to go in front before then so I just stayed with her. I'd thought about making my move on the hills after about 19 miles, but then decided to push on a bit earlier than that. When I made my move she didn't stay with me for too long so I kept pushing and decided that if I fell apart it would just be my own fault. But I was fine and I knew I was on track for a good time so I kept it going. I'm hoping to do the half marathon in Glasgow next week so I hope I recover quickly."
(In 2014 and 2015, as a Senior Woman, Megan Crawford raced for Scotland in the Home Countries Hill Running International. On both occasions, Scotland won team silver medals, and in 2014 Megan finished fourth – and first Scot. In 2015, she won the Seven Hills of Edinburgh race.)