Jennifer Emsley (Wetton from 2015) was born on 28/11/1986 and ran for City of Glasgow and Central AC. On the track, Jennifer won the Scottish Athletics 10,000m title in 2012, 2013 and 2016. In 2014, she became Scottish 10k Road champion; and then won the Scottish Marathon title (which, as Jennifer Wetton, she regained in 2019, when she led Central AC to team victory). Her personal best marathon time is 2.46.10 (2014); and 10,000m 35.07.44 (2016).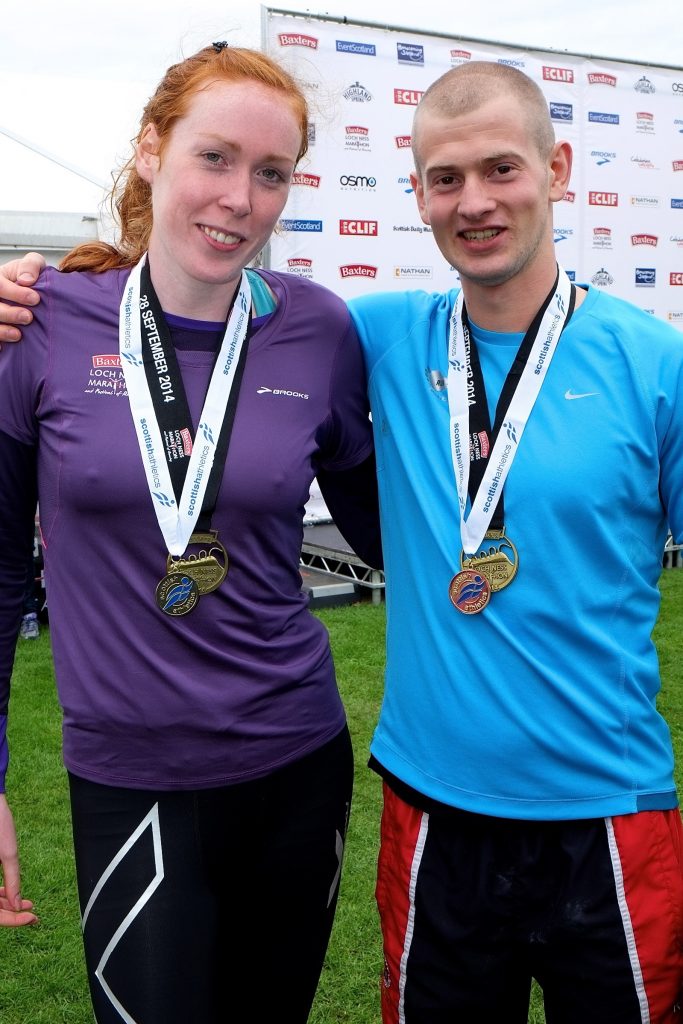 Jenn Emsley and Patryk Gierajatowicz: 2014 Scottish Marathon Champions
Jennifer was a talented young cross-country runner. She won the Scottish National under-17 Championship in 2004. City of Glasgow (including Jennifer) won that team title in 2003. Jennifer Emsley raced four Junior Celtic Nations Cross-Country Internationals for Scotland: 2003-8. Belfast 2003 (second under-20 Scot); Dublin 2006 (second under-23 Scot); Belfast 2007 (third under-23 Scot); and Edinburgh 2008 (fourth under-23 Scot).
In the Senior National, Jennifer Emsley featured in winning Central AC teams in 2014 and 2015; and Jennifer Wetton added another team gold in 2017. In the Scottish Short Course XC, Central won the team title in 2015 and 2017. Central won the Scottish Road Relay Championship in 2013, 2014 and 2015; and also triumphed in the Scottish XC Relay during these three years.
Jennifer Emsley raced four Junior Celtic Nations Cross-Country Internationals for Scotland: 2003-8. Belfast 2003 (second under-20 Scot); Dublin 2006 (second under-23 Scot); Belfast 2007 (third under-23 Scot); and Edinburgh 2008 (fourth under-23 Scot).
On the road, Central (and Jennifer) won the Scottish 10k team title in 2013 and 2014.
Apart from Central AC v Fife AC rivalry, Jennifer Emsley and Megan Crawford have had some close battles. In 2013, Jennifer secured Scottish Half Marathon silver and Megan bronze. In 2014, Jennifer won Scottish 10k gold and Megan silver. The most memorable battle must have been in the 2014 Scottish Marathon at Inverness, where Megan (the title holder 2.46.25) was outkicked by Jennifer (2.46.10). However, Megan won even faster (2.44.50) on the same course in 2015. In 2019, Jennifer Wetton regained the Scottish Marathon title at Stirling.
In 2014, Fraser Clyne wrote: There was a dramatic finish to the women's race in which Jenn Emsley (Central AC) held off a late challenge from title-holder Megan Crawford (Fife C) to take the top prize in a new course record time of 2:46:10, knocking 27secs off the previous standard. Crawford was also inside the old record, which she set twelve months earlier, when finishing just 15 secs behind, while Shona McIntosh took the bronze in 2:53:15.
Emsley was delighted with her day's work which, in addition to the record, yielded a Scottish title, a personal best time and a winner's cheque for £1500. She said: "I am very happy but surprised to have run a quicker time than I did at the London marathon, as I think Loch Ness is a harder course. But my training had been going well and I feel I've finally justified the hard work I've been doing."
"There were four of us for the first 10 miles then the Romanian runner, Alina Nituleasa, dropped back. Megan then seemed to drop back and I eventually pulled away from Shona. Then, near the end, I could see that Megan was beginning to close up on me again so it was just a case of keeping going and not getting caught."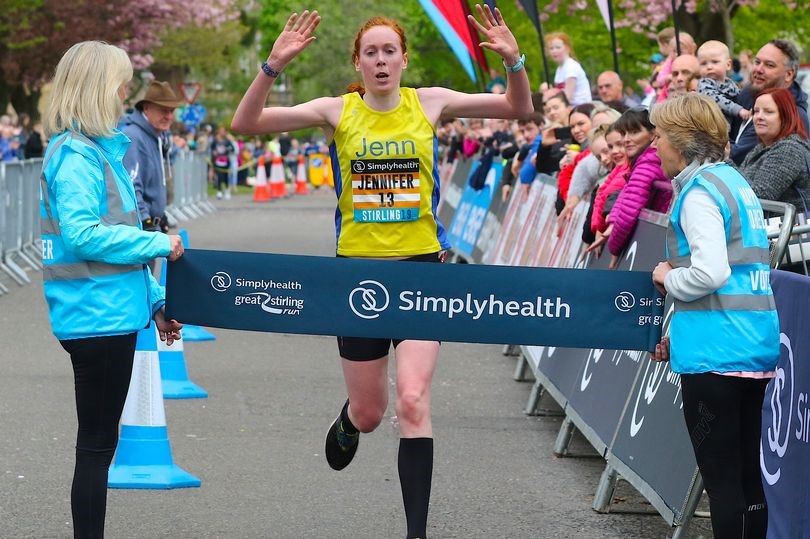 Jennifer Wetton winning the 2019 Scottish Marathon Championship at Stirling
QUESTIONNAIRE
NAME Jennifer Wetton (née Emsley – married 29.11.14)
CLUBs Arran Runners (from 1999 until they ceased to exist, no longer SA affiliated), City of Glasgow AC (2000-2004), Central AC (2004-present)
DATE OF BIRTH 28.11.86
OCCUPATION Sales Admin
HOW DID YOU GET INVOLVED IN THE SPORT?
I started running at the end of 1997 (when I was 11) to train for the Island (Arran) Schools' Sports Day 800m the following year. I'd watched the race in 97 and been inspired by seeing a girl win it by a huge margin – I then beat her by a similar margin in 98. Ran XC for the high school and won the Ayrshire Schools Champs in 99. After that I joined Arran Runners and got involved in more mainland competitions. After finishing 3rd Under-13 in the Scottish XC Champs in 2000 (outsprinted for 2nd by Eilidh Child), my dad was approached by a few clubs who wanted me to run for them and we chose City of Glasgow. That opened up more team and track racing opportunities for me. When I started university in Stirling in 2004, I began training with Derek Easton's group at Central and changed clubs.
My first Scottish title was the Under-15 1500m in 2001 and a few weeks later I made my first Scotland team for the World Mountain Running Trophy.
I moved up the distances gradually over the years. I started 10k running when I was 15, half marathon when I was 22 and then ran my first marathon at 26.
HAS ANY INDIVIDUAL OR GROUP HAD A MARKED INFLUENCE ON YOUR ATTITUDE OR INDIVIDUAL PERFORMANCE?
The people who have had the most influence on my running over the years would have to be Jim Young (Ayrshire Harriers), Martin Hyman, Derek Easton and my dad, Paul Emsley. My training group at Central have helped me a lot especially Morag Millar and Lyndsay Morrison who remain close friends.
WHAT EXACTLY DO YOU GET OUT OF THE SPORT?
Everything: Enjoyment, Health, Fitness, Competition. Travel. Adventure. Friendship. Satisfaction. The joy of sharing my sport with my children.
WHAT DO YOU CONSIDER TO BE YOUR BEST EVER PERFORMANCE OR PERFORMANCES?
Best performances would probably be the Stirling 10k (Scottish Champs) and Loch Ness Marathon (also Scottish Champs) in 2014. Both races were battles with my friend and rival Megan Crawford – we had many races together over a couple of years and I always enjoyed the competition.
YOUR WORST?
I've had too many bad races over the years to pick out a worst performance.
WHAT UNFULFILLED AMBITIONS DO YOU HAVE?
Always wanted to run under 2:45 for the marathon but the stars never aligned on the day when I was in shape to do so. Now that I'm a mum of two, I doubt that I'll have the time (or the motivation) to do the required training to have another shot at that sort of time.
OTHER LEISURE ACTIVITIES?
Having two young children doesn't leave me with too much time for leisure activities. I enjoy running with the kids in the buggy and going on adventures with them – usually finishing a run in a park or a coffee shop.
WHAT DOES RUNNING BRING YOU THAT YOU WOULD NOT HAVE WANTED TO MISS?
It has brought me a great deal of personal satisfaction over the years – I feel that I have come close to achieving my full potential at most distances. In recent years I have enjoyed running with my kids – seeing them enjoy it too has probably been the best part of my running life.
CAN YOU GIVE SOME DETAILS OF YOUR TRAINING?
At my peak:
Monday – AM 10 miles, PM 4-8 miles.
Tuesday – AM 4 miles, PM Central intervals session
Wednesday – AM 10 miles, PM 4-8 miles
Thursday – AM 4 miles, PM Central intervals session
Friday – AM 4 miles, PM rest (this was my "rest" day)
Saturday – AM Interval session/Parkrun/Race, PM 4 miles
Sunday – long run (15-23 miles)
Now (currently 4 months postpartum after 2nd child):
Monday – 10 miles
Tuesday – Intervals (usually totalling 10 miles including WU & CD)
Wednesday – 10 miles
Thursday – Intervals (usually totalling 10 miles including WU & CD)
Friday – 5 miles
Saturday – Parkrun
Sunday – long run (12-15 miles)
Most of my runs at the moment are with a buggy and on Friday & Saturday are with the double buggy.
(Jenn has won Scottish titles on the road, cross-country, hills, indoor track and outdoor track!)
She enjoyed a long sequence of Scottish Championship wins, starting with under-15 1500m in 2001; other track victories included under-23 1500m and 5000m; three Senior 10,000m titles; and under-20 Indoor 1500m (plus Scottish Schools under-16 Indoor 1500m). Hill running titles were achieved in under-16 and under-19 age groups. Road wins included: under-15; under-20; and Senior (one 10k and two Marathon titles). Her 2004 cross-country victory was at under-17 level.
Jennifer Emsley Wetton ran for Scotland in: a Scottish Schools XC International; ten Hill Internationals (including two under-20 World Mountain Trophy selections); two under-23 Cross-Country events; at Senior level, one Trail race; and, on the road, one 10k, two 10 miles and one Half Marathon.
Jenn wrote:
My versatility is down to my dad, Paul – he was keen for me and my brother, Nick, to try out as many types of running as possible when we were young so took us to all sorts of events. Dad was club secretary of Arran Runners for a decade so was sent all the adverts for races and took us to a lot of them. I can remember being dragged off to the Kelvin Hall between Christmas and New Year for a 600m at an open graded meeting because Dad thought it would be fun. It was the same with my introduction to hill running – Dad got a leaflet in the post about it and we were off to Glentress Forest to run – I ended up getting selected for the Scottish team and soon found myself running up a hill in Italy!
Growing up on Arran meant that I had plenty of hills to train on but most of my running was done on the flat road along the front of my village, Whiting Bay. In the summer we (my dad and I) would train on the grass at the local park/football pitch when preparing for shorter distances.
Not surprisingly, as she approached 35 years of age, Jenn Wetton looked forward to exploring the varied possibilities of competing in Masters Athletics!