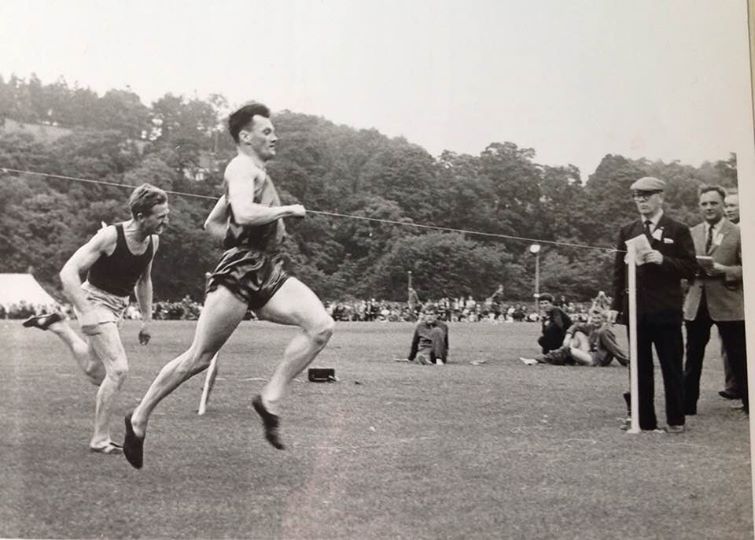 Stuart Hogg
Stuart Hogg is maybe better known in the twenty first century as a very good athletics coach who has also worked with several of the very best football clubs in Scotland. He has worked successfully with athletes representing their country in all the major championships in the world: Olympic, European and Commonwealth Games, World and European Championships, indoors and out. There are not so many however who realise that he was a successful athlete on the professional running circuit in Scotland. Many of these men have gone on to be coaches in the amateur ranks, such as John Freebairn, Keith Redpath, John Wands and others, but none have do so as successfully over such a long period. He learned a lot while a professional athlete and it is appropriate to look at Stuart Hogg, the Runner, first.
Why did he become a professional athlete and not join a club and go straight into the amateur ranks? "There was no amateur club near me if I wished to join one it was three bus journeys there and three back. Cars in those days were for the very few people who could afford them and my folks were not one of them."
He wanted to run as an amateur so that he could run in the international meetings but the rules were the rules – even for twelve year olds:
"I won my first prize in the second year of competing when finishing second in one of these boys races winning a prize of 10 shillings (50p) which I refused, wishing to retain my amateur status. Upon which I was duly informed that once I had competed against a professional I automatically became one, no matter what age I was. It was pointed out to me that I could be reinstated for a small fee but I could never compete for my country. Therefore I thought what was the point of being reinstated? Surely it is everyone's dream and ambition to run for their country?
Asked about training, Stuart says "I was coached by my father in my formative years. He really had no idea of what was needed but gave me his time and his encouragement. I was really doing it all myself by what I was picking up.
In an article in the Glasgow Herald, Stuart elaborated a bit and the report read:
The son of a Cardenden miner, Hogg was beaten by a yard for the Big Sprint title in 1964. "My dad was a butcher, but went down the pit because it paid better. One of his best pals died in a roof collapse, and eventually he went back to the butcher's shop. But I remember dad taking me down the pit on a Saturday when they fired the shot to strip out the coal." It was a vision of Hades. Hogg confesses a suspicion that father may have taken him down to put him off the pit. And so it did. Hogg went to university and did a degree in building technology. He's spent much of his subsequent career building sprinters and footballers.
But the Hogg family was steeped in another Fife pit tradition: "I remember he took me to Powderhall, in 1954." It was the last great betting coup. Finlay Scott had trained wearing a balaclava and ginger wig, so nobody would know who he was. "I remember this guy, Scott, winning his heat," recalls Hogg. "He wore black football pants, a white simmit, and trudged back up the track as if he was walking behind the plough. But my dad's pal went down to the long-odds bookies, and he was 25-1. He stuck a fiver on – half a week's wages then. "Next day Scott comes out, immaculate, in the blue silks of Marshall Braidwood , an iconic coach of the era. He's been backed down to 6-4, and he wins."
The school collected £54,000.
A decade later the race had moved to Newtongrange. Hogg was beaten for the sprint title by Bill McLellan. "But I won the British championship and that meant more to me, because it was a scratch race. I wasn't into holding back."
Stuart confesses that he never had a proper coach until he was 23 as he was keen – he had done it all himself up until then. The group, or 'school', that he joined was that of the famous Jim Bradley. He says: " I joined Jim Bradley's squad and was there for 6 years. I can honestly say that the only thing he taught me was how to hit the speed ball. He never once coached me on my technique or to come out the blocks. His squad was made up of lads that wanted to run, good trainers and because of this it made for a great competitive training environment.
You peaked for one race in the season as well as the New Year Sprint. This was not my idea of being an athlete. Interestingly many years after I had this same conversation with Ricky Dunbar who shared my view. I guess I was a thinking athlete always inquiring why we would do certain things which now looking back I was already preparing myself for coaching. This is the reason I left Jim Bradley as he did not like the fact I asked questions."
Stuart says: My favourite running meeting was Jedburgh Border Games. When I competed, there were 25 heats of the 120 yds handicap, the venue was full of spectators and the events were very competitive. I ran second there once behind one of my training mates and was awarded a gold medal for the best performance of the day. This was the same year (1967) that I won the 120 yards British Professional Sprint Championship which is a scratch race (ie. no handicapping).
What does he think was his best race? My best race is very difficult to quantify as I think there are a few = but probably the race I won at Lanark Lanimer Day Games was the most satisfying as I completely changed my training ideas and introduced weights. I tested them on myself and I proved to myself it worked. This when I was 34 years of age!! My best year was 1969 which coincided at being my most consistent – that year I won the SGA athlete of the year.
The old saying is that sprinters are born – then made. Stuart's response to that is that "No one made me. I guess it was just natural ability I have recently seen videos of myself running and if, as a coach, I had seen that young athlete, would have made changes. I guess I was a training regime inquisitive athlete, as I didn't really realise that I was on my way to being a coach."
Why did he turn to coaching? I coach as I like the challenge and with like-minded athletes as I am as a person I get great satisfaction in seeing them improve.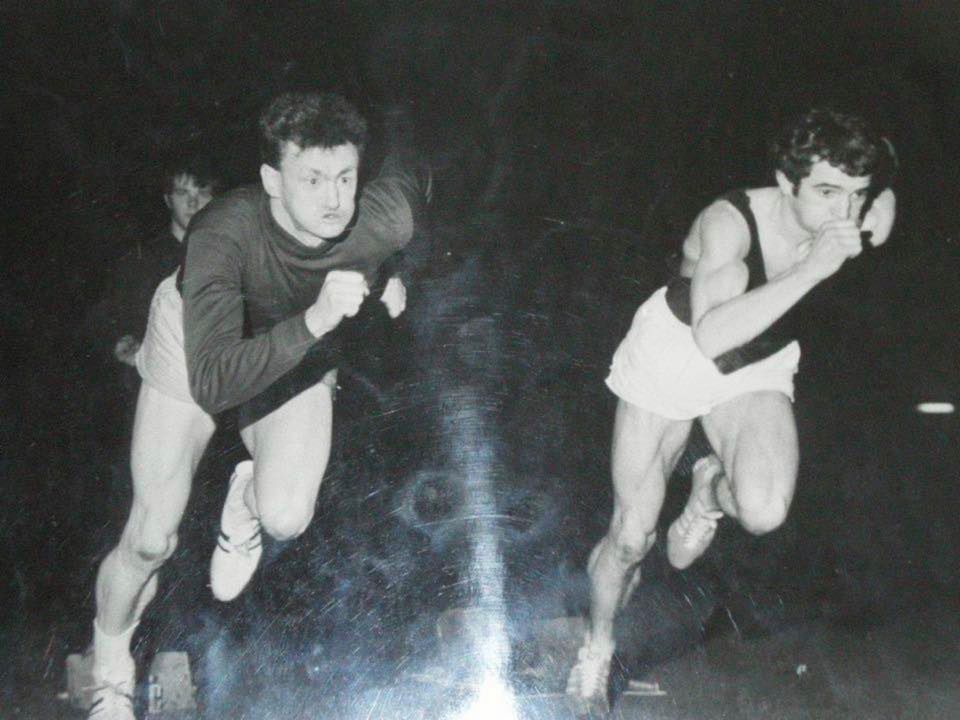 It would be difficult to cover a career in the sport that has lasted as long and was as successful as his but we can see the quality of his sprinting by looking at various aspects of his time as an athlete. First of all his early years at Powderhall, starting in 1962.
In 1962 Stuart, unplaced in the big sprint race, appears in the results of the 80 yards with a win in his Heat in the fastest time of the round (8.34 sec) from a handicap of five yards, and he was second in the final, losing by inches to J Sharp of Dunfermline (off seven and a half yards).
A year later and the Glasgow Herald of January 3rd 1963 reported: "RF Dunbar (Edinburgh) yesterday won the 120 yards handicap at Newtongrange. ….. In a cross-tie Dunbar beat S Hogg (Cardenden) who had returned the best time in the Heats … Hogg gained consolation for his defeat when he won the 80 yards handicap." The dismissal of the 80 yards races was unfortunate – Stuart had won Heat 7 of the 16 Heats in the fastest Heat time, he won the second of four cross-ties in the fastest time of the four, and then won the final.
In the 1964 New Year Sprint held at Newtongrange. "There will be plenty of speculation today when the cross-ties of the 120 yards handicap are run. R Dunbar (Edinburgh) who was off scratch in the fifteenth heat yesterday was beaten on the line by S Hogg (Cardenden), off six. Dunbar would certainly have passed Hogg in another five yards." But someone could maybe have told the reporter that the race was over 120 yards, and not 125. The report on the final on the following day read: "W McLellan (East Wemyss), a student at Jordanhill Training College, won the New Year Sprint at Newtongrange yesterday. He was trained at Crosshill, Fife, by Mr A Mitchell (Kelty). McLellan ran at some summer Games meetings, but his £150 prize yesterday was his first major success. The Jordanhill student was off 7 yards and he held from start to finish his yard advantage over S Hogg (Cardenden.
So from nowhere in 1961 to second in the final by 1965, having won the 80 yards in between. That was in the biggest meeting, with the biggest number of competitors as well as the best competitors from all over the UK.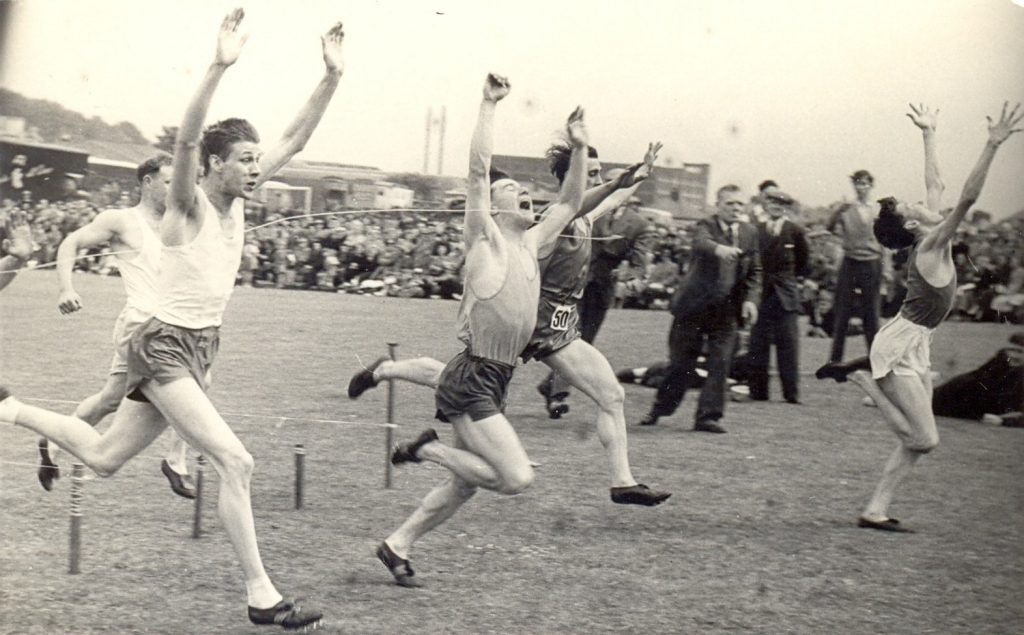 15 year old Stuart winning at Markinch
If we jump a bit and look at his record over the summer seasons leading up to what he considers his best season in 1969 we see the following picture. As a boy he began running two mile 'marathons' and his first ever race was at Falkland where the sheep dog trials had a few races on the programme. Never a distance runner, Stuart ran his first sprint race at the Games at Markinch in 1955 – and won. Not only that, but he was the youngest person ever to win an open 100 yards at any Scottish Games Association meeting. He was just 15 years 26 days old, and it was to be the start of a great career on the Games circuit that would bring a British championship and a Scottish Athlete of the Year award. We can look at the British championship first.
The Lauder Common Riding Games are held on the first Saturday in August include the British Professional Sprint Championships over 120 yards. Being a championship, it is a scratch race and usually a very good field. Going head-to-head with the best on the circuit, Stuart won the race into a 'stiff, unfavourable breeze' in 12.24 seconds. That was a good run by any standards and there was a dead heat for second place between JI McAnany (Blyth) and M Murray (Barrow). McAnany was the SGA Athlete of the Year for 1967 and Murray was a winner at Powderhall. The Report read:
"The red flash from the gun, a puff of white smoke, the click of many 100th second stop watches and the roar of the crowd, added to the excitement of a race that had been talked about for weeks. Hogg and Murray appeared to be best away, but at the 60 yards mark all three were in a line. Murray was a foot behind at the 100 yards mark, where Hogg gained the lead. Then McAnany came to Hogg's shoulder to draw level. In what proved to be a great finish, Hogg threw himself at the tape to dip his chest in his very last stride to become the new champion.
"I never saw Hogg the whole race," said McAnany a few minutes later. "I was sure I'd won."
But the judges did not agree – the verdict and the title were Stuart's to enjoy.
Progress was not without its problems however: at Kirkconnell in 1959 where the sports were held on a football field, he broke his leg. Just 19 at the time, he had had a fall but the physio thought it was OK to run but in the finishing straight he went over on his ankle and broke his leg. The result was a plaster cast for 12 weeks. It might have terminated his career but it turned out to be merely a hiccup.
In addition to the British title, in 1967 he won the Jedburgh Games 120 yards in July off three and a half yards where he was second to W Rutherford, Ballingry (8). This was rated as a two star performance by the SGA. The Games Association rated notable races on a one to four star scale and they clearly thought highly of this effort by Stuart. He was given one star for his win later in the year at Crieff where he won the 100 yards off a mark of 3 yards. Another race in 1967 which indicates the intensity of the competition that there was week in, week out was at the St Ronan's Games in Innerleithen in the Borders. The 100 yards sprint was won by McAnany from McGibbon and Davies with Hogg fourth – the race was won on the tape with one foot separating second and third.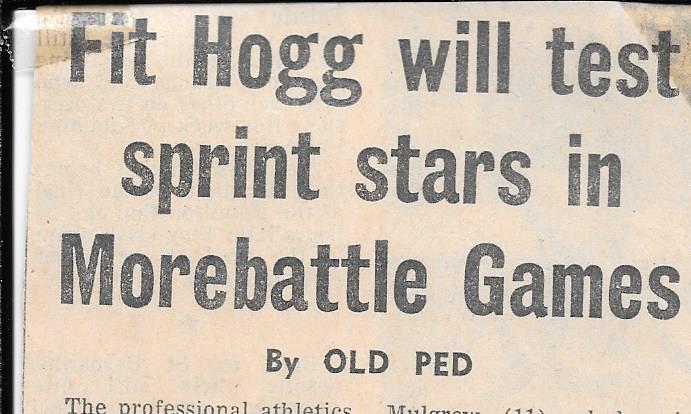 Into 1968 and at Jedburgh, Stuart was second in the invitation Short Limit 120 yards Handicap to former amateur internationalist Alf Meakin (European and Empire Games in 1962, Olympics in 1964) who won in 11.66 seconds but one of the interesting features of the meeting was a relay race between Scotland and England for the British Professional Relay title. The Scottish team (Stuart Hogg, Kirkcaldy, Dave Deas, Buckhaven, Willie Rutherford, Ballingry, and K Heggie, East Calder) narrowly defeated the English squad of Mike Murray, Barrow, Alf Meakin, Blackpool, David Bell, Dalston, and Ronnie Anderson, Ashington. When it came to the British Championship at Lauder, Stuart as reigning champion turned out again. This year it was won by 19 year old Bert Hutchison from Tullibody from McAnany and Cain of Carlisle with Stuart fourth. The preview in the Kelso newspaper for the Morebattle Games the next week commented that there would be fifteen Heats of the sprint with McAnany, Bob Swann of Kirkcaldy (3), Bob Rutherford (Ballingry) were all running, Then it said "Stuart Hogg, Kirkcaldy, 2, who lost his professional sprint title on Saturday to Bob Hutchison goes to his mark in the fifth Heat. Because of a cold he ran slightly below his usual form last Saturday.
In the Hawick 120 yards he finished second to R Clayton, Carlisle, (9), in race for which he was awarded a star by the SGA. After his defeat in the Championship, Murray (scr) came back at Stuart (1) at the Selkirk invitation 100 yards where they dead-heated for first. At Aboyne on 3rd September, Stuart won both 100 and 220.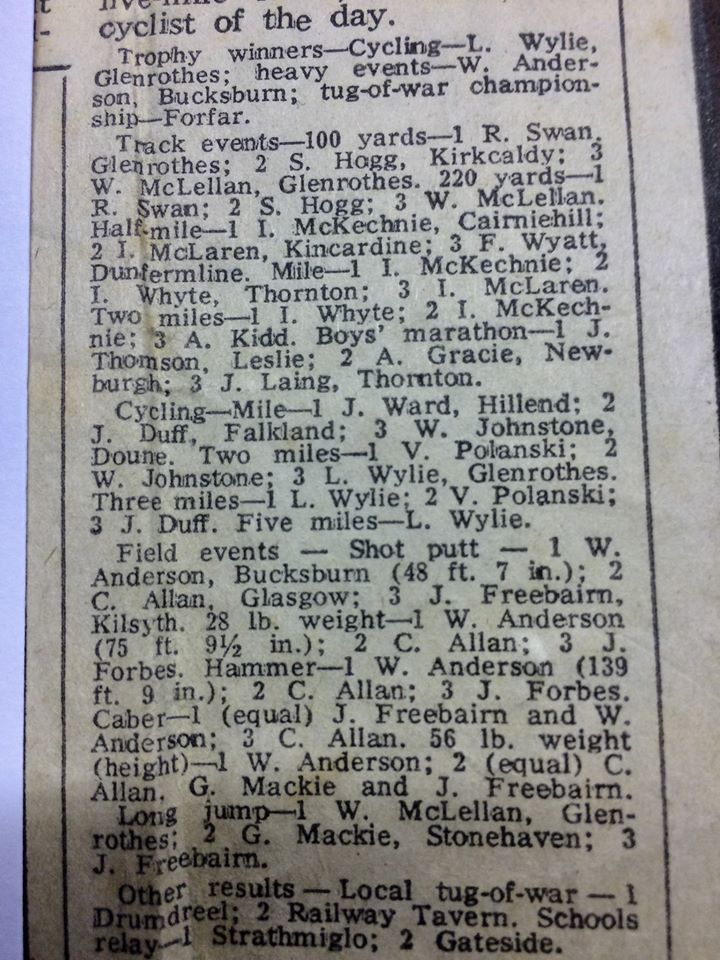 Results from Strathmiglo, 1973
1969 was another good year :
at Oxton in the 120 yards he was second (off three and a half) to J McAnany, Blyth (off two and a half) in a race where McAnany was awarded two stars to Stuart's one star.
at Jedburgh in July, in the invitation 120 he was first (2 yards).
at St Ronans Invitation 100 in Innerleithen, also in July, he was first (1 yard) by 4 feet
at Morebattle on 9th August he was second in the 12o yards off one yard to JI McAnany . McAnany had two stars to Stuart's one.
At Crieff on 16th August he won the 220.
As a result of these and other performances over the summer, he was awarded the SGA Athlete of the Year Trophy. The presentation of the trophy was made at a Dinner in Dunfermline 'in recognition of consistent, meritorious track performances throughout the season'.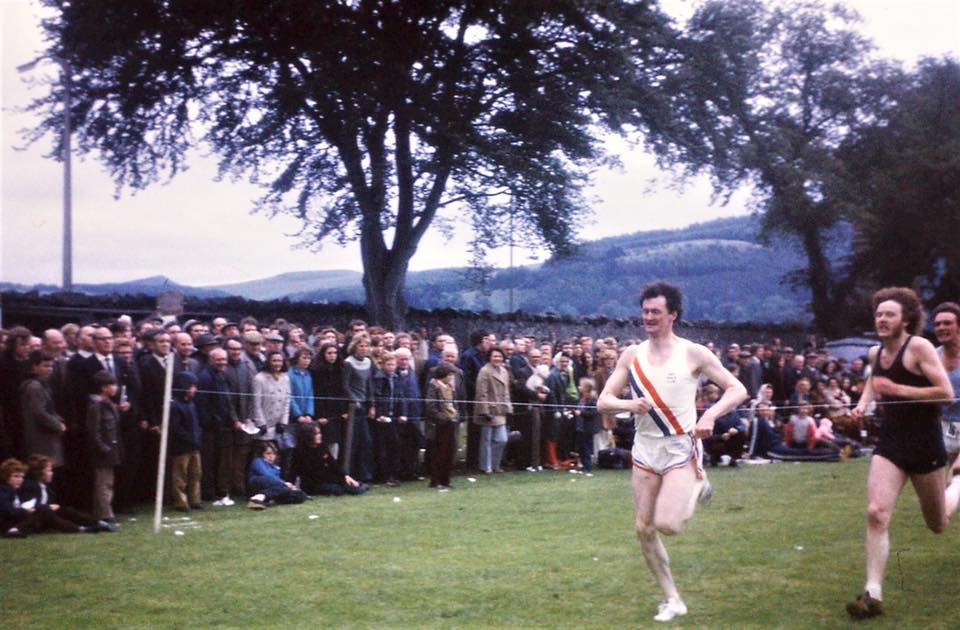 Stuart winning a 200 in Peebles.
It is clear that Stuart Hogg was a very talented runner and a good racer. He beat all the top names in competition at one time or another, he won race finals after a Heat and a cross-tie and was highly respected by his peers. So what were his strengths as a runner? Stuart himself thinks that he was a very good starter – certainly the number of races over 100 yards supports that, but the fact that his only win at the New Year's Sprint was in the 80 yards would seem to prove it. On the other hand, he reckoned that his best distance was 220 yards. A fast start and the strength to do a good 220 would account for most 100/120 yard race successes.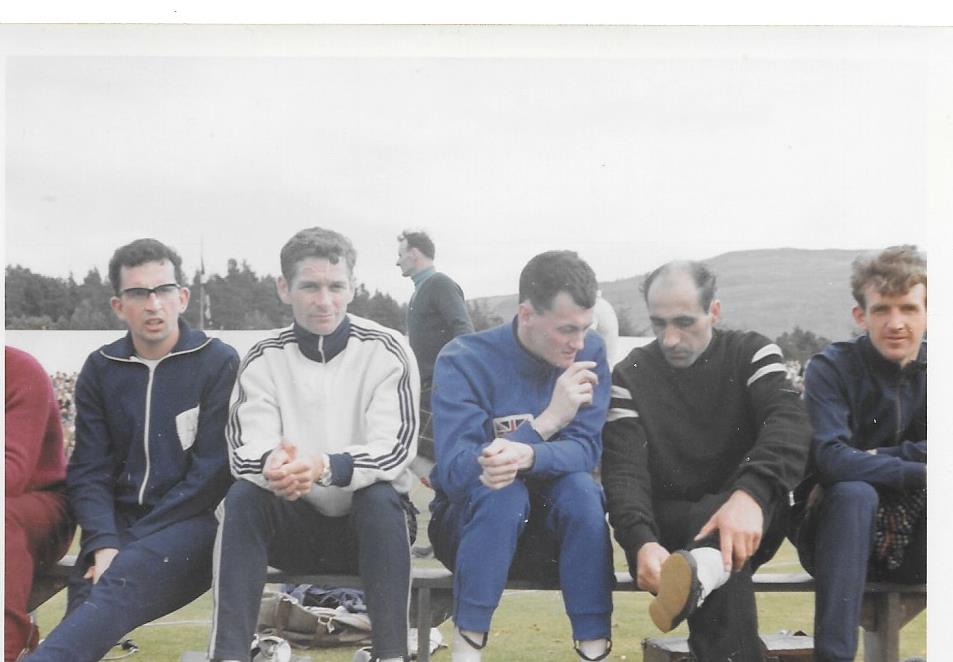 Stuart in blue in the centre of the picture
For several years Stuart wore the red silk outfit of the Jim Bradley school. He had started training with Bradley in 1964 and, apart from one year stayed with him until 1972. Not many of the pro sprint schools had their own 'uniform': Bradley's runners had red silk, Marshall Braidwood's had blue silk and Norman Atkinson's runners wore gold coloured outfits. He trained with Bradley until about 1974 when he started training on his own theories. Two questions pop up immediately – What was it that Jim Bradley did in training that prompted athletes to seek him out, and why did Stuart leave and start coaching on his own?
In response to the first issue, Stuart says that Bradley's training was boring. He trained five days a week during the season – Monday through to Friday. There were six days of training in the off season with Saturday being the sixth day. Stuart describes it: "We did the same track session every day in any particular week, our winter sessions consisted of press ups, abs. of sit ups and single leg squats after which we would do speed ball sessions five days of the week with weekends off. We never went on to the track full time until the beginning of April I must say I found it the training boring and that was from someone who enjoyed training. It allowed you to peak for a very short time, as the season progressed your form would rapidly go downhill. We would run training races on a Wednesday every week from four weeks before the session begun until the session ended you got fed up racing you ran out of condition as a result."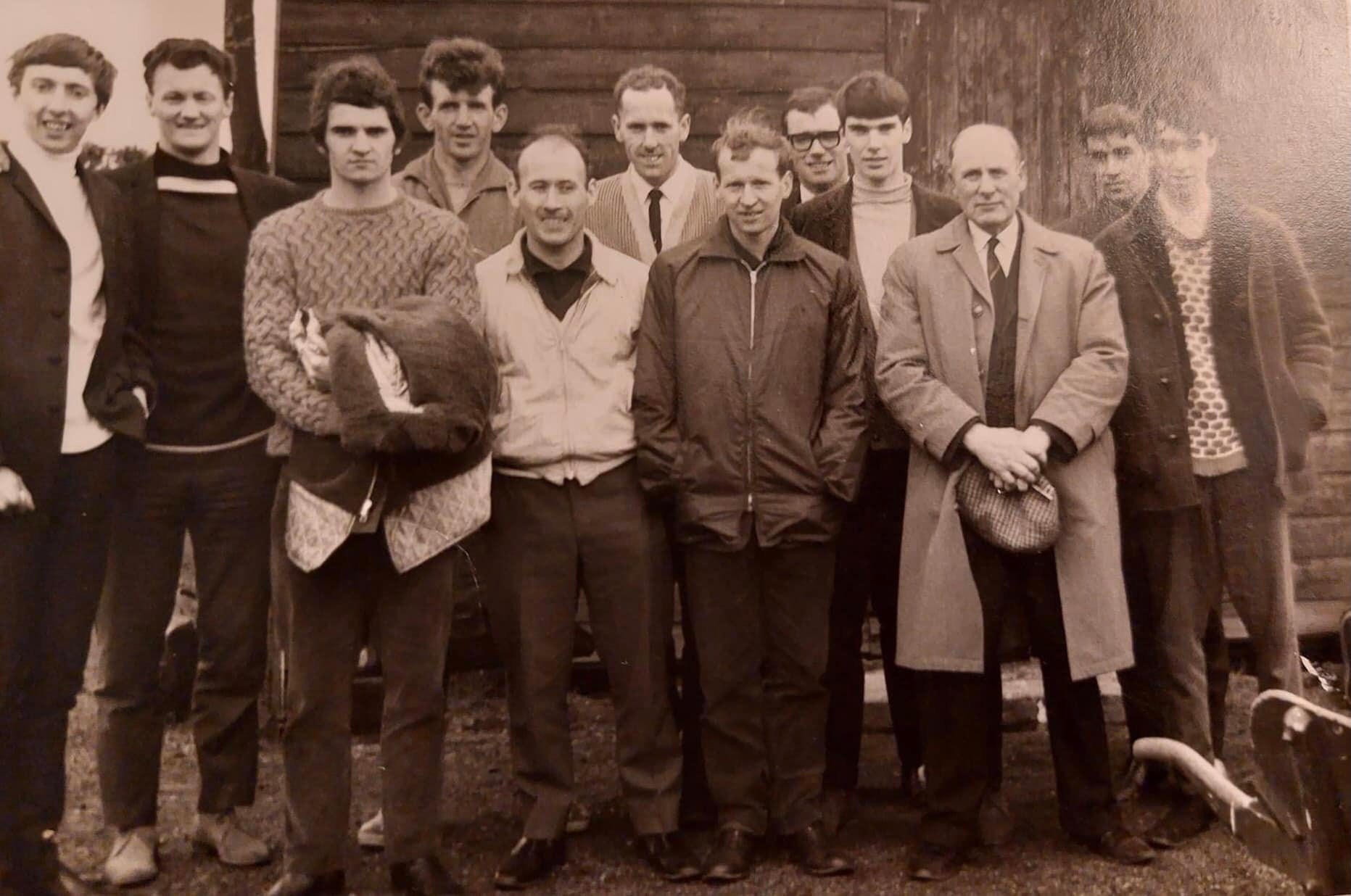 The Bradley Training Group, Stuart second left. John Stark on memiours of Pro Athletics, identified them as "Davie Deas next to Stuart, Bert Hutcheson, Bob Swann, Martin, Dobbie, Whyte,John McLaren, Bob Pringle, Wyatt? Neil McLaren. Not sure of the chap with the specs."
As to why he left to do his own training, he says, "We did compete at the New Year Sprint a two day meeting which most of us peaked for (my best result was second. place) I did win one of the supporting (80 yards) one year. All this when I look back gave me a good grounding for the future on how precise they were at peaking for one race, however the season is long and you have to ready for that I know you cannot hold a top peak for much more than six weeks but only for one race?? This is not why I wanted to be in athletics. I found that the coaches I encountered had a closed mind and most certainly not open to change."
And this where the next chapter in Stuart's athletic life begins – Stuart Hogg, Coach.
[ Stuart Hogg: Coach ] [Stuart Hogg: To the Top ] [Stuart's Athletes ] [ Stuart's Career Achievements ] [Stuart and Football ] [Talking about Stuart..]