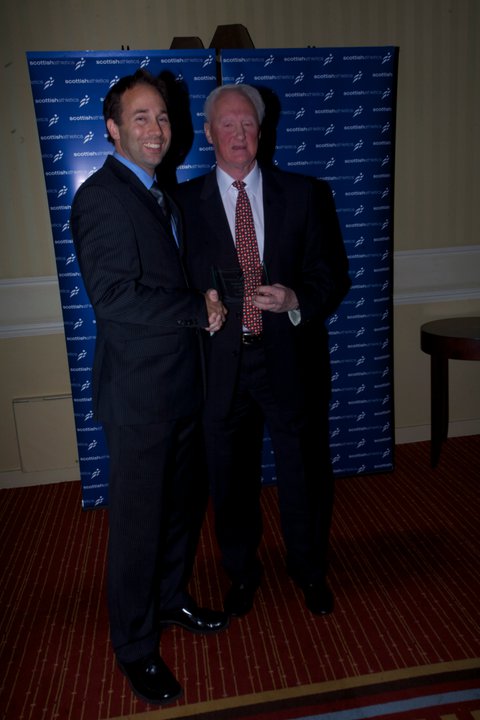 We learn more about a person by listening to what his friends say and what follows are just some of the comments about Stuart as a friend and coach by some of those who know him. First of all there are some words by Aileen McGillivary:
It's funny thinking back on my relationship with Stuart Hogg which is now approaching its 32nd year! Our journey as coach – athlete lasted approx. 14 years; following that we had 10 years as joint coaching partnership and through the latter years have remained in touch regularly. I find it difficult just capturing what he did for me as an athlete and try to reflect more on what he did for me as a person. The great Philosopher Coach Vince Lombardi has an expression that 'Coaches coach sport; Great coaches coach people' and I would summarise that this was his driving principle to try to help those he coaches to get the best out of themselves. It would be fair to say that he has had a huge influence on shaping some of my values, standards and beliefs and my unashamedly elitist approach to performance sport which has now transferred into my career.
He was a hard task master whilst also caring at the same time, his attention to detail was second to none and in the initial years I was on a fast-track to really understand what it took to succeed. Fair to say that we had quite a few run-ins and differences of opinion whilst I was going through my latter teenage years!
My career was by no means a roll of honour but I take great pride in the fact that Stuart's influence, alongside support from my family and others, allowed me to get the most I could out of the ability that I had been given – 'you cant put in what God left out' I guess and it was important for me always to be realistic about that! The unfortunate thing is that we can never measure these things and it's not how careers or success are defined. Having said that, the most important thing is that I know that and will be forever thankful for the applied teaching that I received from someone who I still consider as my best friend after all of these years.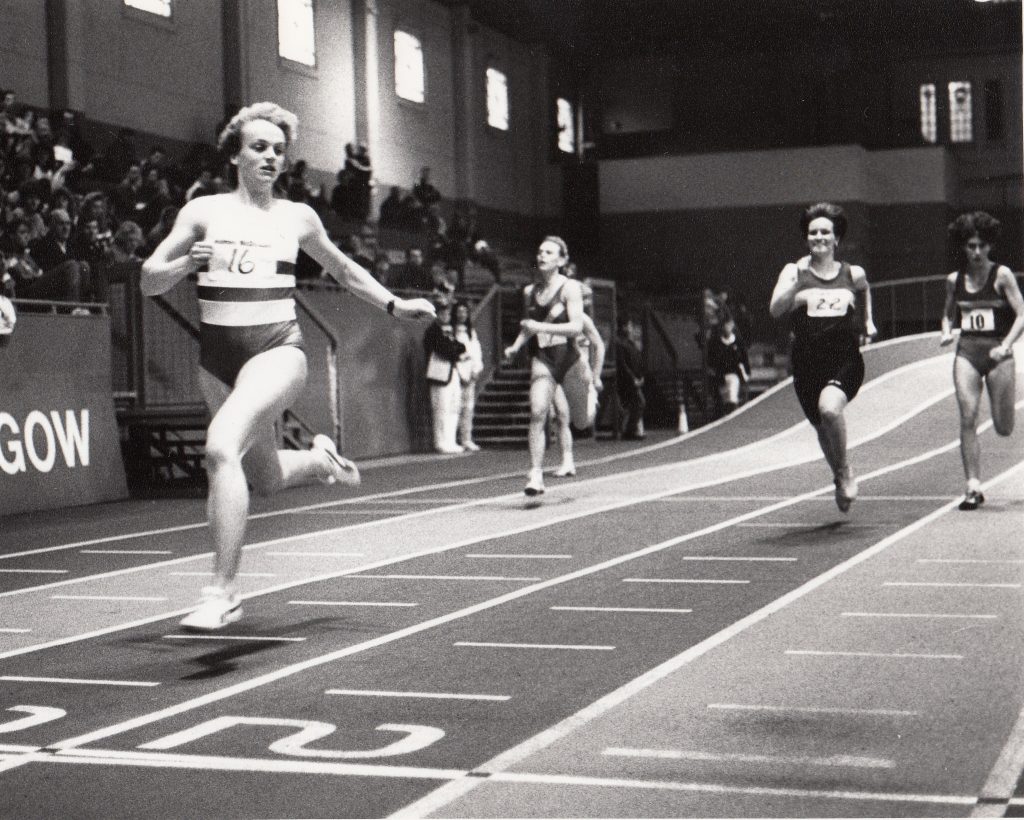 ….Aileen winning the indoors 200m in the Kelvin Hall
Paul Hession was an Irish athlete who moved to Scotland to train with Stuart and lived with him and his family. The bond that developed was more than coach/athlete and has a permanence shared by few. He says:
"I first met Stuart in 2005. I was coached previously by an Irish coach, Jim Kilty, who was very successful. However, I knew that I needed to change to get the best out of myself. Stuart had coached Nick Smith, whom I knew from doing some races with Shaftsbury Barnet, and I had heard good things. I met with Stuart at a hotel near Dublin Airport and I immediately knew this was a coach that I wanted to work with.
Stuart has many attributes that only the best coaches have. He's dedicated and passionate. He has an incredible attention to detail. He commands a room…you could never be in room with Stuart Hogg and not know he is there. He is very loyal, and expects the same loyalty and dedication in return. As Stuart often says…'I coach people, not just athletes'. He recognises that athletes have lives outside the track and that these can impact on their performance in training. Therefore, he takes an active involvement in all aspects of his athletes' day-to-day lives. This breeds a tight coach-athlete relationship that remains to this day, long after I have retired from athletics. He always looked out for me, and still does.
We had great success together. We built a great team around us, pretty much from scratch. I think the consistency I had throughout my career and staying, for the most part, injury-free is a testament to the way Stuart operated his schedule. He has a sixth sense. He knew when to attack and when to back-off in training, even if you didn't yourself. He planned everything and stuck with it.
With Stuart guiding me I had my best success. I ran Irish records at 60m, 100m, 200m and 300m that still stand 12 years later. I was consistently one of the best 200m runners in Europe over a 4-5 year period. During my best years (2007, 2008, 2009) I was top 10 in World Championships and Olympic Games. However, almost better was Stuart's ability to get me competitive right through the European season. I never won a Diamond League race, but I also don't know if I ever came last. I was always knocking on the door, in the top 5 or 6 in some of the biggest races in the calendar. This is still something that gives me pride to this day.
You needed to buy in to Stuart's way of doing things to get success from it. I guess this is the same with all coaches but even more so with Stuart. Part of the strength of the way he coaches comes from that coach-athlete bond. The sum of the whole machine was always greater than its parts. This is the art of coaching that can't be taught, that only some people are lucky to have. Stuart had it in spades.
I look back to my 7 seasons with Stuart as the best of times. I have many happy memories of hard training sessions in Pitreavie, especially as the summer season approached and the excitement of racing began to hit. Perhaps my best memories, and where Stuart really came into his own, were away on training camps in Portugal, South Africa etc along with other top athletes from Europe. Both myself and Stuart kept to ourselves in many ways, not very showy about our success. We let our performances do the talking and it was a lot of fun! I am still in regular contact with Stuart and he takes a big interest in my personal and professional life. The coach-athlete bond remains strong to this day!"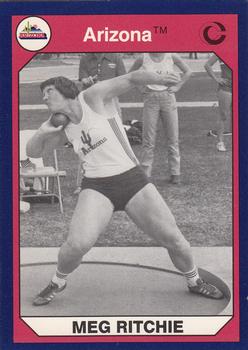 I feel like I have known Stuart all my life, but, I really only got to know him a little later in my athletic career. I had first heard off him as a coach to a young talented sprinter called Drew Harley in the late 1970's. At that time, I had no idea as to the massive impact Stuart would have on my athletic and professional life.
In 1980 I took an athletic scholarship to the University of Arizona in the USA, an opportunity, which for me was, literally, life changing. I returned from Arizona after my first semester, having broken the British record in the Discus 5 times in 3 months. I came home and was preparing for the Moscow Olympics at Glenrothes Sports Center, where Stuart had his squad training base. One Tuesday, he questioned me about going back, because of the success I had experienced. I remember telling him of the financial difficulties that would involve, I was broke, but had strong desire to return to the States and the positive atmosphere I had encountered over there both in training and in competition. I was about to start fund raising to see if it was possible to return to Arizona. Bear in mind, I did not know Stuart well, I think this was the second or third time I had ever talked with him. On Thursday, at the track, after my throwing session, he came over to me and told me he had my money to return, two days later, I nearly fell over!!!! That one helping hand was the catalyst to everything I have accomplished in the states and none of it would have happen without that initial help from Stuart.
But, people who know Stuart would understand his willingness to help and his contacts, I did not know that at the time, but his big hearted generosity and his ability to go straight to the heart of a matter, no BS, straight to the action, that is Stuart. So, Stuart had put together a pool of businessmen from Fife they clubbed together and I was off to the States. Just like Stuart, none of these men wanted any publicity, all they wanted was a dinner and a couple of post cards from the US. I was most pleased to repay them by bring back a gold medal from the Brisbane Commonwealth Games and we all celebrated the event. If it had not been for Stuart, I am not sure where my throwing career would have gone.
I remember most, the evenings I spent talking athletics at Stuart's home in Glenrothes munching on chocolate biscuits, Penguins were the preferred, setting the world of Scottish Athletic straight, and Magge running with cups of tea. When I considered returning to Scotland to take the post of National Coach, Stuart once again cut to the chase, again in his forth right manner told me exactly what he thought, and his thoughts turned out to be absolutely accurate.
Again, when it came time to selecting a sprints coach for the Manchester Commonwealth Games the obvious choice with all the experience in the World, literally, Olympic, European, Commonwealth Championship experience Stuart was the natural choice. Besides the experience, in a position such as National Coach, you need blind, straight forward honesty, and that is what I you got from Stuart, and 20 years on nothing has changed. How would I summarize my friend Stuart Hogg? Does not suffer fools gladly, honest, straightforward, blunt, sometime he will tell you things you may not want to hear, but need to hear. Always a gentleman, loves his family, highly committed to the sport, a true valued friend, but more like a brother. When Mike and I come over to Scotland each year Stuart is the first person we call. Scotland is lucky to have him, the most undervalued, underappreciated coach in Scottish Athletics.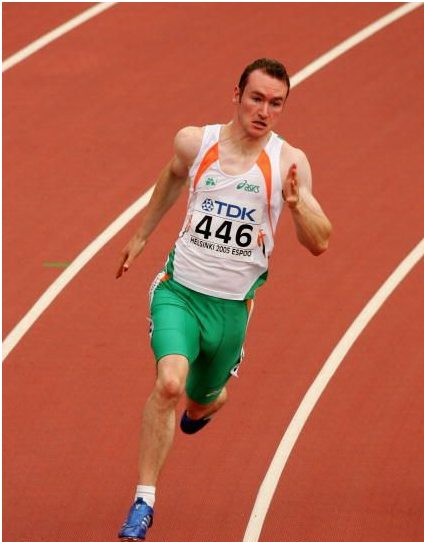 Neil Turnbull was a very good professional runner who, with Stuart's help, won the famous New Year Sprint, the top professional race in Britain, was reinstated as an amateur in the amnesty of the mid 80's and had a successful career there too, winning the SAAA 200 metres championship. He says –
"I first got to know Stuart through my running coach in Peebles ( Tom Beaumont) as Stuart had a tie to Peebles as he used to train here as a young man in the sixties with a runner called Tommy Allan from Peebles . We would travel to Glenrothes on a Sunday to train with Stuart's running squad and under his supervision i developed my speed.
It had been Stuarts goal to win the New Year Sprint and in 1983 he achieved this. Our next goal after winning the New Year was to win the equivalent Stawell Gift in Australia. Having run there in 1985, the plan was to go back in 1986 and win it – only George McNeill had done it before. But in 1985 the IAAF granted reinstatement to former professional athletes so that they could compete on the amateur circuit and I got reinstated in 1986.
In 1987 I won the Scottish 200m championship at Meadowbank and numerous Scottish international appearances. I owe a great deal to Stuart Hogg who was not just a trainer but a friend as he still is to this day. As you get older you get wiser and I can now see looking back how much time Stuart devoted to athletics and in developing training schedules for his athletes ."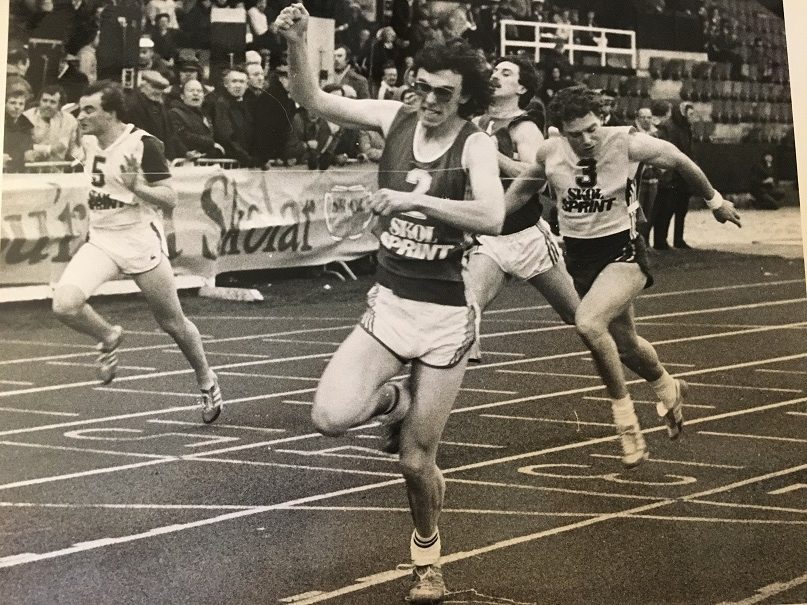 Tommy Boyle has sent his comments – and given the relationship between the two men, they relly have to be included here and read in their entirety. It shows an additional side to his character and coaching – the ability to work as part of a team. Not all coaches can do this but it ties in with his thoughts as a new coach that the pro world was too secretive in their training and there was little or no collaboration between coaches. Tommy says:
"Stuart was a very successful athlete on the pro-circuit for many years, a fierce competitor over 200 metres; my old coach, Bob Henshaw, who had a wee pro school in Bellshill, described him as a "big, strong lad with a good pair of glutes (a big behind) and a very relaxed and rangy stride."
I guess I did not really realise how good he was until we became friends, before asking him to help with a few of the athletes at Bellshill YMCA athletics club. I did a wee bit of due-diligence and was really impressed with his achievements as an athlete. Over his competitive career Stuart learned a great deal from the varius pro coaches he met or observed. However as he moved over to coaching and focused more on the amateur side of the sport, he like many recognised the differing objectives regarding the competition season, length, intensity and conditioning to compete at a high level over a longer period. Stuart has always had his own views on the strengths and weaknesses of the various coaching processes and regimes. He was however ingrained with the culture of attention to detail which underpins the pro sport in preparing an athlete to peak for the big one, a knowledge that few amateur coaches really grasped.
I was coaching a young sprinter, Ian Callendar from Bellshill who won the Scottish Schools, and I guess it was about that time I noted Drew Harley's performances and what a fine job Stuart was doing with him. It was clear to me, even in those early days, that it takes real knowledge and experience to develop pure speed and it was also clear to me that many of the pro coaches were good at this aspect back in those days. Indeed it could be argued that many of the great sprint performances in Scottish Amateur Athletics in the 70's and early 80's had their roots in the professional game where Stuart had well and truly served his time.
Fast forward to the mid 80s and I was coaching a young athlete, Tom McKean, a prodigious talent, even then I recognised the critical importance of speed and speed endurance in world class endurance running, and did my coaching exam in sprints. However it was also clear that despite the qualification my effective experience in speed development was limited, so I sought out coaches who knew the game, were strong minded, spoke their opinions and were trustworthy – Jimmy Campbell, Frank Dick, Sandy Robertson and of course Stuart Hogg. Gradually I confided more and more in these guys, all with different skill sets. Stuart was a great bouncing board for ideas, my early impression were that he had a Growth Mindset, open to learning different ways of improving performance and when Tom qualified for the Commonwealth Games in Edinburgh, Stuart took him up to Glenrothes and did a mini-rehearsal for the big day, including call-room and paced time trial. He also facilitated the use of his friend's flat at the back of Meadowbank Stadium, as a place to escape to between the rounds on the competition day and of course a bowl of pasta – it's that old attention to detail again! Tom won a magnificent silver medal in the final.
However it was in 1987 when Stuart volunteered to come along to the World Championships with Tommy and I that we grew closer as friends. It was amassive learning experience for all of us. There was ridiculous expectation on Tom (then ranked world 50th) especially from the Scottish Press. It was all a big new learning experience and we learned the hard way when Tom was held in on lap one and at that level did not know how to deal with it. He was then tripped by Peter Elliott (an accident). However the race was gone, and we all had a bad day at the office. It's at times like that when you need a friend in your corner and Stuart was great – even telling a preacher who tried to comfort Tom where to go!
In September 1987 I was asked to coach Yvonne Murray. Early analysis of her armoury combined with physiological testing by Professor Myra Nimmo indicated a few areas of opportunity for improvement, one of which was her speed. I discussed with Stuart and he agreed to take some sessions on a Saturday at Glenrothes, and gradually work on the technique and speed aspects. Stuart gave it 100%. Having two girls of his own, he was like a father to Yvonne and sometimes we even managed to get her extensive intervals and circuits squeezed into the week ends at Glenrothes. Stuart was on a steep learning curve leveraging on the professional support team I had established to take Tom McKean to world level. There was no Institute in those days just old fashioned professional business approach to the development of excellence. Stuart maintained the support to Yvonne throughout the winter months. It was open book stuff, I shared the training schedules and Stuart focused on the technique and speed aspects improvement. It was a tough winter for Yvonne, massive changes, but with all those tough sessions with the squad at Bellshill, the weekends at Glenrothes and a great professional support team around her, confidence and performances grew. She qualified for the Olympics in Seoul, and again Stuart volunteered to come along to the prep camp in Japan and the Games in Southe Korea too.
The GB and US teams were held in a secure camp in Nihon, a high class private country club with awesome facilities and food. Highlights I remember were Yvonne doing OBLA 3 mile runs through the village. She was flying, Stuart on a bicycle taking point and me on a bicycle protecting the rear – everyone thought were were mad? We slept in cabins and Stuart always made a big thing of putting my shoes outside at night. He also raved about his great dry toast and we had many long talks about everything in life.
The press were in the village, which was unusual. Stuart made friends with Jim Rosenthal, ITV Sports Commentator, they then proceeded to talk endlessly about football, as Stuart had good insight having done sprints with Rangers, Aberdeen and Dundee United. Tom McKean was on fire in the camp- he ran 73 for 600m and I thought OMG. However he had family personal issues which were uppermost in his mind and were to become the dominant factor in his Olympic failure. Yvonne was going great guns.
There were also issues with the opposition: old friend Derek Ibbotson was with us as the Puma Marketing Manager, a wily old fox, he said, "Did you see that athlete go into the loo with her bag?" He timed her and it took 14 minutes before she re-appeared, just before the final. The athlete medalled and we were later informed via an anonymous letter under the door how she cheated. However the great news was that Yvonne was switched on, fitter, stronger more confident and she ran a massive PB, won a bronze medal – a fantastic example of a professional team in action supporting an athlete to become the very best she could be – on the hour, on the day, one the minute, just like Powderhall!!!
It was not until 1990 that we truly witnessed the benefits of her improved speed and ability to change pace. We knew after the Olympics that she would be targeted, and also that the athletics world was saturated with drug cheats and especially so in the female events. Many long phone calls and meetings throughout 1989 with the support team: Stuart continued to refine her speed in preparation to change pace, combined with specific sessions with her training partners at Wishaw track. These sessions were in parallel with all of the other physical and mental improvements we incorporated into her training and racing: experimenting with going from different distances in the European circuit from 200m through to 1000m out. The plan was to send confusing messages about where she would go from in the Europeans.
Stuart again travelled to the Europeans in Split, Yugoslavia, this time with wife Madge, which was great. I was with my wfe Julie. I remember we had a very relaxed pasta lunch with Tom and Yvonne on the day of the European finals. Stuart had 'great crack' and it helped the athletes relax and was indeed the start of a historic day in Scottish and UK athletics. Tom ran first and we decided that he would front run and he executed a magnificent race dominating the race and winning the gold. Yvonne heard the news in the warm up area. Now much more mature and experienced at this level she kept control, executed the plan precisely and took 10m off Romanova, going at 500m, on the crown of the bend. A second gold medal and the culmination of years of hard work by the whole team that supported the athletes.
Yes, Stuart, it is fantastic when a plan comes together especially given the massive effort and contribution you made over those years of improvement. A big well done.
In summary: Stuart Hogg, long time friend, has a fantastic family, and Madge was a special person – sincere and true lady. Stuart is a "one off". Like many effective Scottish coaches he was not part of a club, he said what he thought which many did not like, and yes, to be truthful, he was outspoken when he felt he needed to be. However, he is one of a dying breed which I fear we may never see again and sadly all that hard earned knowledge is being lost to the sport as our coaching knowledge and experience is gradually eroding.
I personally believe that Stuart gave Scottish Athletics and the Sport a great deal more than they realised or ever appreciated – or indeed than he got in return.
"HE DID IT HIS WAY"
Achieving great results with Drew, Aileen, Neil, Paul and many, many more
YES, A GREAT SPRINTS COACH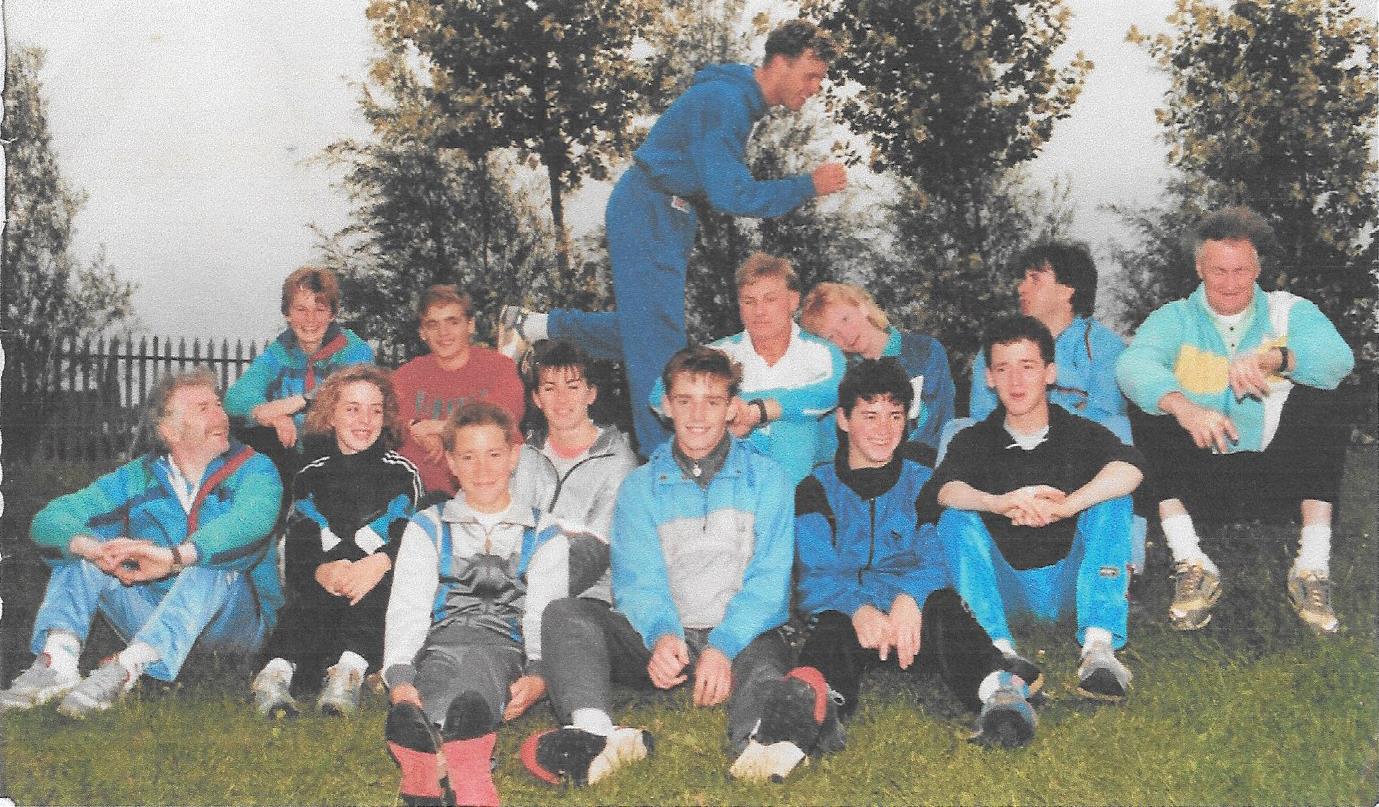 Yvonne Murray's name has appeared several times in the course of his profile and it is clear that Stuart has a lot of respect, admiration and affection for Yvonne and her abilities. She clearly feels the same about who he is and what he has to offer.
I've always said, over the years, that Stuart never received the recognition he deserved for all his hard work with me. I have some amazing memories, not only with Stuart but also with his family – Madge, Tracy, Graeme and Kim.
Stuart and I worked extremely hard the first season I was with him. I spent the first four years predominantly with Stuart at Glenrothes, Pitreavie and Wishaw. Tommy spent his time with Tom McKean. Changing coach one year before the Olympic Games was always going to be a challenge. I had a superb back up team with Myra Nimmo (physiologist) and Dave McLean (Physio) along with Stuart and Tom. Everything changed – for the better. I lost my markers and pointers from previous years (a guide to how I was getting on) but I knew that if I wasn't successful it certainly wasn't down to the team. It was a leap of faith but Stuart was so professional, calm, supportive, encouraging and caring that gave me confidence and determination. I started to believe in myself again.
Stuart was instrumental in my success at the 88 Olympics, World Cup, European Championships and Commonwealth Games. Having a devastating kick, which I never had before, was a new tactic in my armoury. I remember my first sprint session with Stuart at Glenrothes. I thought I was ok at sprinting but after the first couple of runs Stuart asked me if that was my strides – I had a lot to learn. He brought humour into the sessions which I needed at times.
Stuart's professional attention to detail was very impressive – on and off the track. No less than 100%. I believe that our successful athlete/coach relationship was down to the fact that he "coached the person". He was interested in what was happening in my life because ultimately this would affect my training/racing programme on the track. It was 100% input or nothing, but I understood that was required in order to become a top athlete. Stuart understood me so well. He knew when to step in to lift my mood, if down and also when to give me some space.
One side of Stuart's character was his sense of humour. I remember when we were at the Nihon Centre in Japan. I had to do a three mile obla run with Stuart and Tommy on bikes (to give me some protection as the road was particularly busy). If there is a time in an athletes life when they can get their own back on the coaches – in a nice way of course – this Was it. I took off and and enjoyed passing both of them trying to keep up.
One other incident at the Nihon Centre was when I was doing some 100m sprints on the track when out of the blue Mary Decker (who was also competing in the 3000m); came over and dumped her bag in the lane next to me. There was no one else on the track at the time so she could have used the other straight. Anyway, Stuart and Tommy clocked what she was doing. I started the session and Stuart started to call out my times rather loudly. My times were incredible – I've never run that fast in my life!!!!!!!! A few minutes later Mary Decker picked up her bag and left. A lesson learned in the power of psychology.
I know that Stuart has talked about the World Cup in Barcelona but when the event was stopped initially due to heavy rain no one knew when it would resume so it was pointless warming up, so I sat down and listened to my music and Stuarts voice came into my head saying keep calm, relax, save your energy…….it worked.
There's more to coaching than writing a schedule for the athlete to follow, especially at the top level. Knowing the person, their strengths and weaknesses. When to give assistance and when to stand back. Good communication is essential.
One event that sticks in my mind is the Europa Cup 91, when we were trying a new tactic (suggested by Tommy). Running from the front from 200m out. Running laps at a different pace. I have to be honest and say that I had my doubts which unfortunately came true in spectacular fashion. I was gutted because I could have won it quite easily using my normal tactics. I was really upset afterwards and Stuart was the first person to come to my aid – the only one to come to my aid.
I feel so lucky Stuart, to have met you, to have you as a coach. I have benefitted so much from your expertise but most of all to have your friendship which means so much.
I promised Stuart I wouldn't mention the dog mince story (pet food), from the 1990 Commonwealth Games. It's a cracker of a story but one I am saving for my book which I am currently writing with my ghost writer which is called "Setting the record straight". Stuart, you have nothing to fear. In fact, quite the opposite.
I've included a paragraph below because I know that Stuart is worried about this, he needn't be. Tommy Boyle has commented on his profile and that of Stuart's here on what happened at the Olympic Games 1988 at the training track in front of athletes and coaches of the British Team. This was not the first time!
There are many ways to coach an athlete, but one way that doesn't work is grabbing your athlete's tracksuit lapels, lifting them off the ground and shouting expletives in their face. Not only does it destroy the coach/athlete relationship but can end up with the coach being arrested for abuse. Its totally irresponsible for a coach to put this information on the internet and to brag about it as if it is okay, IT'S NOT. Hardly a Positive Coaching method.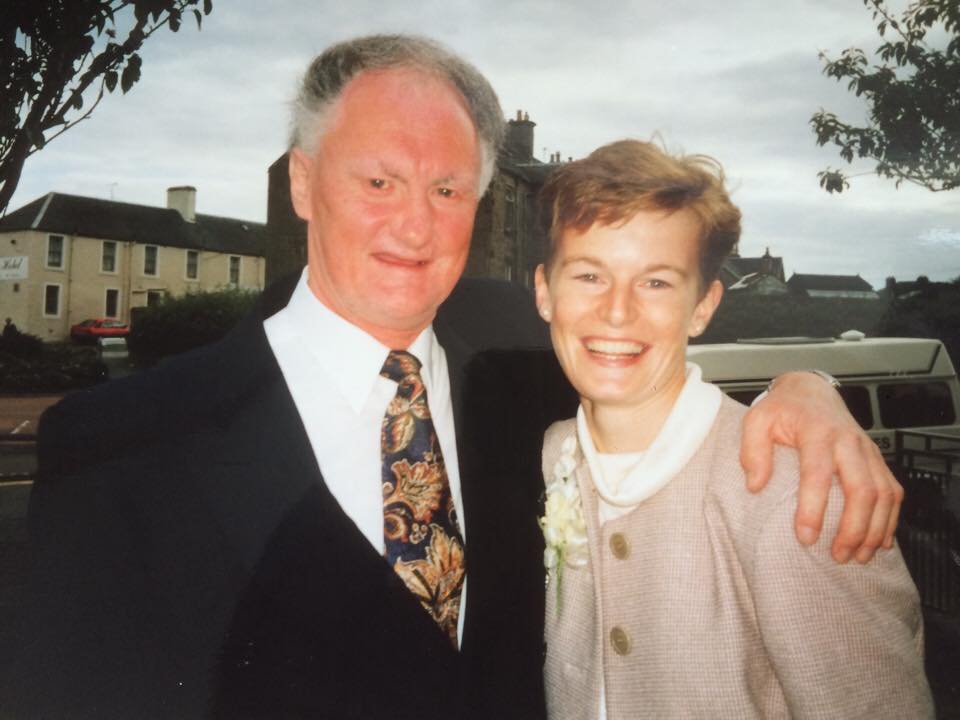 An excellent photograph of Yvonne and Stuart
Finally, you can often gauge a lot about a person by the remarks that are made about them when they don't think their remarks are being recorded.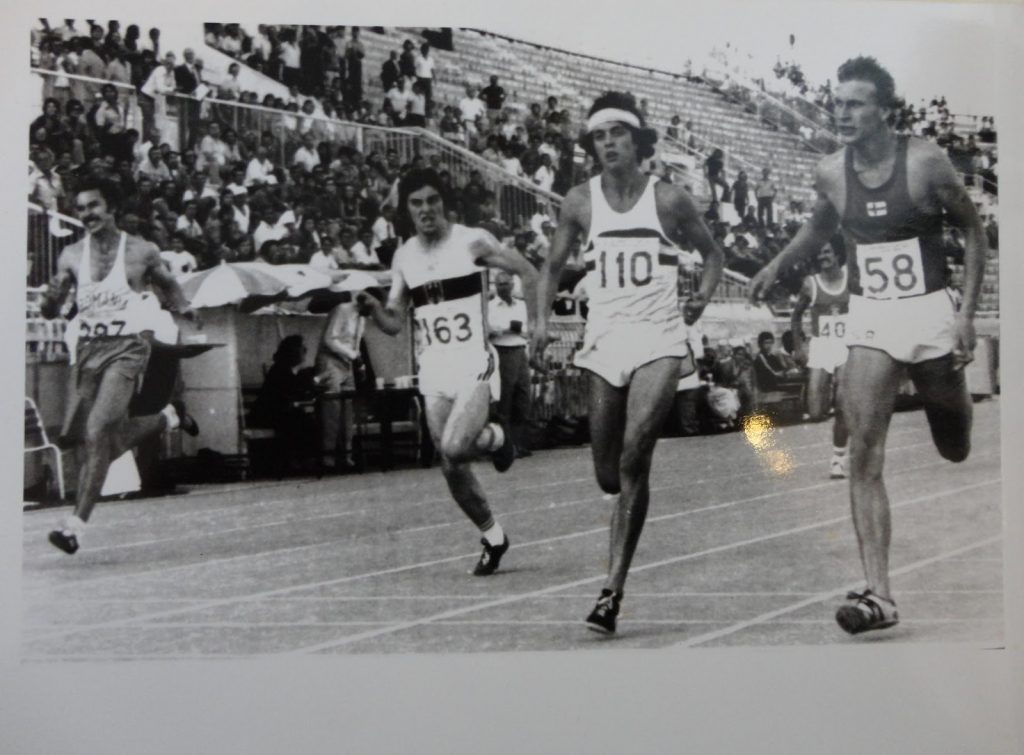 For instance, British internationalist Peter Hoffmann commented on one website
"Stuart was one of the good guys – when he'd moved into coaching and I was racing he was often very supportive either at competitions or training."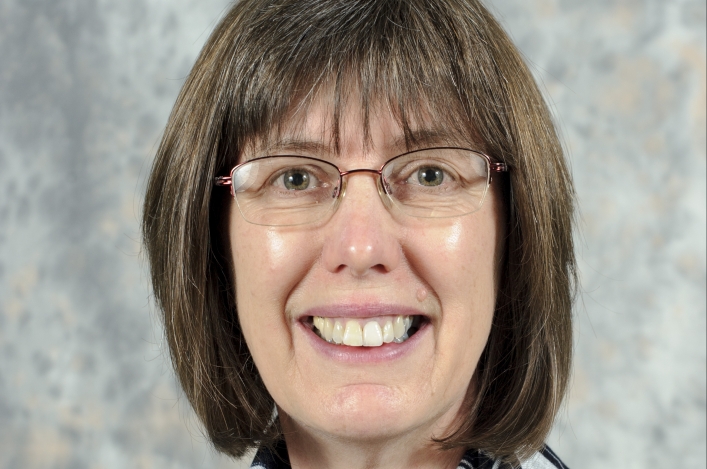 Leslie Roy is one of the best team managers and administrators that the sport in Scotland has ever had, and after listing Stuart's achievements, her comment was :
"When I worked on teams with Stuart he was meticulous in everything he did. He always wanted the best from and for the athlete and his preparation was second to none which led to the athletes he coached winning many Scottish Championships over many years.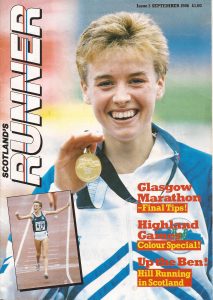 ….there was a Facebook message on "I was or am a runner" where there was a quote from top Scottish distance runner Liz McColgan which read "Stuart Hogg is indeed an unsung hero and never received the true accolade as yet from Scottish athletics for his coaching of Scotland top athletes in his day. A very quiet unassuming man who just got on with it behind the scenes, lovely man and even now still enthusiastic and will chat forever regarding athletics coaching"
It was unsolicited and all the more welcome for that.