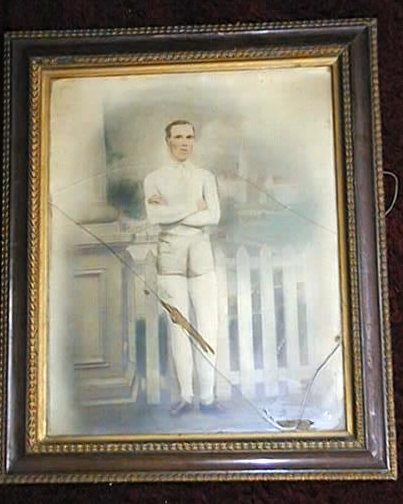 Maybole is a very attractive village in Ayrshire, south of Ayr, four miles inland from Culzean Castle and with the ruins of Crossraguel Abbey two miles to the South. Like the people of Ayrshire generally, the people always had a keen interest in sport but at the end of the nineteenth century and into the twentieth, it was well known for long distance running with many very famous 'peds' coming from the area. Robert McKinstray and William Rodger were among the best. The local website comments on this and actually has a page on McKinstray at :https://www.maybole.org/notables/robert_mckinstray.htm It says:
"In the last part of the 19th century and for the first decade of the present century the great interest for Maybole men was foot running and cycling. The milestones on the Cross Roads from West Enoch to Cargilstone were carefully set exactly one mile apart and this became known as "The Measured Mile" where all the local athletes trained. An up to date sports track with cambered bends was formed at Gardenrose Farm and many sports meetings were held there and famous runners and cyclists from all over Britain came to compete at them. After the great exodus from the town about 1909 the interest in athletics fell away through lack of young men (it was nearly all young men who emigrated, leaving a population of older men and young children) and the sports ground fell into disuse although the raised camber at one end of the track could, for years, be seen behind the farmhouse at Gardenrose."
When amateur sport became prevalent in the 1880's the performances of the peds, or professional runners, were either quietly forgotten about or diminished. That did not take away from the exploits of the men who took part in them or from the quality of some of the running. This well seen though when the individual runners and their careers are inspected. McKinstray was probably the best so it is McKinstray that we will look at fairly closely.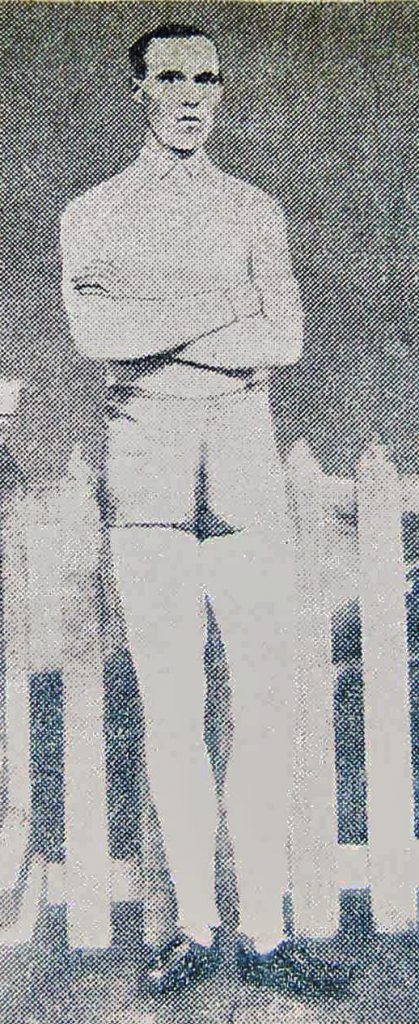 Robert McKinstray was born in Welltrees Street, Mybole in April, 1837, and became the greatest runner in Britain in his day, over all distances from 160 yards to 5 miles. Nowadays that would include sprints and what we would call middle distance racing.
He was not a big man, he stood only 5′ 6″ in height, but many of top distance runners are of a slight build. It certainly did not impede his progress. . Bob first came to the attention of athletics supporters when he made his debut as a pedestrian as a 15 year old at the Culzean sports, where he won half of the races on the card. Away from the sports field, the young McKinstray was apprenticed to a local butcher and served his time faithfully. He was lucky with his employer who indulged him in his running and every summer he toured the Games circuit and defeated nearly all comers on sprints, long distances and hurdle races. He had a wider range of events than most going from short sprints to what we would now call middle distance races. He was "King of the Red Hose" at Carnwath for many years: the red hose race is reported and generally accepted as the oldest foot race in the world and is held annually at the end of July.
*
McKinstray learned his trade as a runner by racing at all the local Sports and Games. There were many held in Ayrshire at the time, some were full scale athletics meetings, some races were add-ons to local gala days. For instance he ran in
"The annual Trades Races and Sports came off on Thursday last, on the Town Green, Newmilns, when a large concourse of spectators assembled to witness the proceedings. The day was fine and the different races were, on the whole, well conducted. The Newmilns Instrumental Band was present, equipped in all ts splendid new uniform; and the variety of airs performed by it during the day contributed in no small degree to the pleasures of the meeting. The following is the result of the running:- First Race, 2 Miles – 1st Robert McKinstray, Maybole, 2nd Matthew Brown, do, 3rd Cock of the North, Strathaven. "
Ardrossan and Saltcoats Herald, 25 July, 1857.
When you are starting out on your road as an athlete, you run at all sorts of meetings, this one was a particularly small one – there were three races and a running high jump.
*
1863 was a good year for him – he won the Three Mile Champion Belt at West Calder on 29th July and on October 3rd won the Two Miles championship and £50 in cash at the Stonefield Grounds in Glasgow, defeating the well known J Murdoch of Stonehouse to whom he was conceding 150 yards. Alex Wilson had a look into the Stonefield Grounds, which is a name unknown today to any of our acquaintances, and says, "The Stonefield Recreation Grounds, were first mentioned in Bell's Life in London and Sporting Chronicle in 1861, making them Scotland's oldest enclosure. The Royal Patent Gymnasium opened in Edinburgh in 1865. The Powderhall Grounds didn't opened its gates for business until 1870. I was unable to find a map showing the exact venue as a running ground but did narrow down the location to a plot of land across the Clyde from the Glasgow Green, and this was leased out in late 1860." He later pinned it down to "The site of the former Stonefield Recreation Grounds is today located between the Adelphi Conference Centre and the Strathclyde Distillery. Shawfield is however nearby. And the district was the Gorbals"
The following year, 1864, started with a defeat by Dan Shannon of Glasgow, on February 6th in a 400 yards race for £50 at the Stonefield Grounds venue. Then on 12th March, he beat W. Park for the 2 mile championship and £50 at Stonefield,. This was followed by a win over Charlie Mower of Norwich for the 2 mile championship and £50 at Glasgow on June 11th. He then won the 5 mile championship at West Calder, on July 27th. 26th Nov 1864, at Manchester Royal Oak Park grounds, where the track was 651 yards, he was fourth in a race for sweepstakes over three laps (1 mile 193 yards).
In 1865, his first victory was over Dan Shannon on April 22nd, in a 600 yards race for £30 and then he headed for the Manchester Royal Oak Grounds, where on May 20th, McKinstray won the half mile sweepstake, £75, beating W. Richards of London and J. Heyward of Rochdale/ He ran the half mile in 1 minute 56 seconds, a world record. The report is from Bell's Life in London and is given almost in its entirety, partly because of what it tells us about McKinstray himself.
"This was another red letter day in the annals of pedestrianism. A few weeks ago Robert McKinstray of Glasgow, William Richards (the Welshman) and John Haywood of Rochdale, entered into a sweepstake of £26 to run half a mile, the winner to take the £75. Ever since the articles were signed, the affair has created more than the usual amount of interest, not only from the fact of their being tried public performers, but also on account of the men representing Scotland, England and Wales. Before entering on the proceedings of the day, a few particulars relative to the men engaged may not be uninteresting to our readers.
McKinstray was born at Maybole where he resided until about twelve months ago when he migrated to Glasgow. He is 28 years of age, stands 5 foot 6 1/2 in and when in condition weighs 9 st 11 lbs. For a long time he has been accustomed to attend the various Caledonian athletic gatherings where he has carried off nearly all the pedestrian honours of note. He has also contested against the cream of the fleet of foot over the Border with great success, and from one to five miles McKinstray is champion of Scotland. For the present contest he was trained by Mr William Straker of Newcastle-on-Tyne, and arrived last Monday at his final quarters, Mr John Booth's King's Arms, Newton Heath. There followed brief notes on the other two runners but not as much as there was on the Scot, the odds were quoted (5 to 4 on Heywood, 7 to 4 against for McKinstray and 3 to 1 against Richards. Shortly after 5 o'clock the stake holder and referee My John Brittain got them under way'by report of pistol'..
"Intense excitement prevailed as the men came bounding along the straight which is 400 yards long and rather uphill, and on passing the stand McKinstray led the way closely followed by Heywood and Richards in the order named. As they came sweeping round into the circular course the same order prevailed, the pace being terrific. No change took place in the relative positions until coming along the back stretch, about 250 yards from home. The Scotch representative now held a commanding lead of half a dozen yards, Heywood second and the Welshman close up. Richards now buckled himself together, and putting forth a most determined effort breasted Heywood when the pair joined issue for second place which was obtained, after a gallant struggle, by Richards. For a few strides the Welshman gained slightly on the leader, but as they neared the goal, the race became a certainty for the Glasgow man who was running well within himself and going in splendid style. Richards and Heywood soon showed symptoms of distress, but the former in the most game and resolute manner struggled, though unsuccessfully, to overhaul McKinstray who turned his head to take a parting look at his men, and breasted the tape in easy style five yards in advance of Richards, who was two yards in front of Hayman. The Scotchman had a large number of friends on the ground who were in ecstasies at the success of their man, and they may indeed feel proud of him as he has eclipsed all previous performances of half a mile, the stipulated distance being covered on the present occasion by the winner in 1 min 56 1/2 sec, the fastest time on record. That time is 1 1/2 sec less than the great race between HA Read and Tom Horspool which took place several years ago at West Hill Park, Halifax, for £100 which the former won, having completed the distance in 1 min 58 sec which was then, and continued to be until the present day the quickest half mile race ever run. We may add that the Scotch division won about 300£ in bets."
This of interest for several reasons, one of which is that the Scottish amateur record only dipped below two minutes for the half mile in 1895 and that time was 1:59.5. It was run on a standard two laps of 440 yards cinder track after three or four men had been inching it down over several years. It came from 2:00.4, to 2:00.2 and then 1:59.5. The runners involved (Mitchell of St Mirren, Malcolm of Morton and Langlands of Clydesdale, urged on by such as William Rodger, another Maybole runner) were all good men. McKinstray is recorded as having run sub 1:57 on a track with a 400 yard straight, a bend and a circular track.
He then beat W. Bell at Newcastle over 2 miles for £40, on June 4th; defeated E. Ashworth of Bury in the short distance of 160 yards winning £20, on July 14th; came back to Scotland and won the gold medal at Johnstone on July 15th, for a 3 mile handicap race; went on to defeat W. Richards in a 1 mile race, in which Richards received a 15 yards start and staked £30 to Bob's £25 on July 29th, 1865. Then came another major event, again held in Manchester where he ran third from scratch on August 19th, in George Martin's championship one mile handicap. The race was held at the Royal Oak Grounds and there was quite a big field of 10 runners for this important race. S Albison, W Richards (alias The Welshman), C Mower, R McInstra, J Sanderson, P Stapleton, W Lang, alias The Crowcatcher, J Nuttall, J Neary and E Millis, alias Young England. The report gave a lot of detail on the competitors and it told us that McInstra (their spelling) was the oldest in the race – now being 30 years of age, having aged two years since the half mile record run.. He was reported to be only 5′ 6 1/2″ in height and weighing 9 stone, He had again been trained by Mr W Straker of Newcastle on Tyne.
Mr Martin himself held the positions of stake holder, timekeeper and referee and started the race at 5:22 pm. The report in Bell's Life on the race itself read: "[at the half mile ..] Nuttall led the way, Neary and Sanderson, almost side by side, lying next, these being followed by the Scottish hero, the Welshman being alone in his track, and Lang, who being the outsider at the start, soon made up leeway, and with determined action, he proceeded. Stapleton lying near, followed by Albison – Mower having no chance and toiling in the rear. The distance of one mile required two laps and 458 yards to be covered, and on passing the first time Nuttall was still in front, he being attended by Neary, Richards, Lang, McInstra and Sanderson. Stapleton was then seventh, Albison eighth and Mower last of the lot. Shortly afterwards, McInstra headed the field, but on going along the back stretch, Sanderson wrested the honour from the Scotchman and at the same time increased the pace which even up to this point had been fast. The "son of the heather country" once more, prior to arriving at the stand, gained the supremacy, and before passing the referee, Neary, Mower and Nuttall gave up. However, on went the residue, McInstra just in front, Richards next, Lang, third, Sanderson fourth, Stapleton fifth, Albison sixth; and in this order they entered the last revolution of the course. Then came the "tug of war" when Sanderson and Stapleton, not possessing sufficient speed, the race was reduced to a trio; the performers nearing the final turn being Richards, Lang and McKinstra, the three lying well together, the latter holding the lead, Richards second, Lang third , Sanderson fourth, Stapleton fifth and Albison then last. Just before arriving at the final turn, Lang and Richards gave McInstra the go- by, and between the last named pair a brilliant struggle ensued. The concluding 150 yards were warmly contested – Richards and Lang being nearly breast and breast – and they came along at high pressure speed, their wonderful efforts resulting in a dead-heat; five yards behind them came McInstra and then followed Sanderson at a distance of 20 yards, Stapleton came in next and Albiston brought up in the rear.
It is almost needless to say that the race was of an interesting description, when we add that it proved to be the quickest on record – 4 min 17 1/4 sec, the time of Mills, Lang, Albison, Hospool and other renowned pedestrians being thus far excelled. The dead-heaters received an ovation, many, however, maintaining that Lang had won by a few inches. Mr Martin's decision was, so far as we could perceive, a just one, not withstanding the hubbub occasioned thereby."
After this excellent performance, McKinstray finished his year's efforts with a race on Boxing Day against James Sanderson (Treacle) at Hackney Wick, just outside London, in a 10 miles sweepstakes. He retired in the fifth mile but led at 4 miles in 20:45.0.
The rivalry with Treacle continued on 31st March 1866, again at the Manchester Royal Park Grounds. It was a two miles race which he won in 9:57 , after coming through the Mile in 4:50. Back there again on 30th June, it was a three quarter mile sweepstakes, where he was 4th: he came through 880 yards in 2:02 leading the field. Race result: W Richards 3:07 .5e; 2nd James Nuttall (3 yards) 3rd Siah Albison (15y) 3:10e, 4th McKinstray 3:11e
: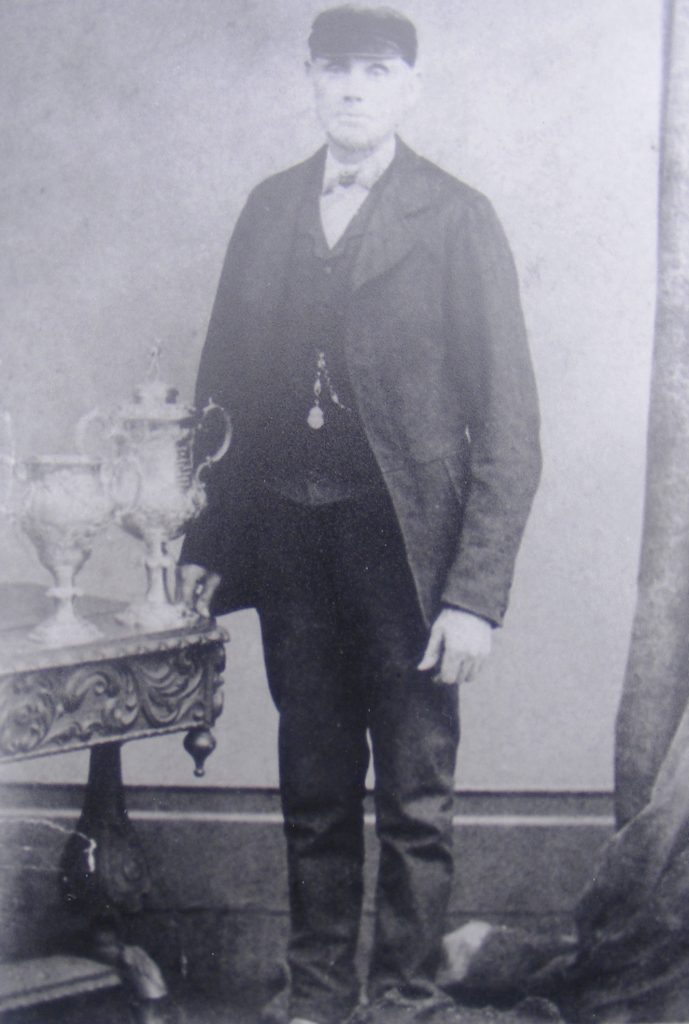 According to the Maybole historian, McKinstray then took up his quarters in England where trained at Newcastle, and on February 23rd, 1867, gained the mile and a half challenge cup, value £80, won three times in succession, but this time was third behind Richards and Bill Lang.
1st June, Manchester: 1 Mile, 1st 4:31
22nd July, Manchester, 1 mile against John Fleet,dnf but 4:26.6e (off 9y, 68, 2:14, 3:20)
3rd August, Manchester, one and a half miles against J Sanderson and J Fleet, 1st 7:02.5 (64, 2:11.5, 3:15.5, Mile in 4:30.0, 5:39
"PEDESTRIANISM. A foot race for a sweepstakes of £25 eachtook place on Saturday at the Royal Oak Park Grounds, Newton Heath, Manchester. The pedestrians who took part in the contest were J Sanderson of Whitworth, near Rochdale, J Fleet of Manchester, and R McKinstray of Glasgow. The betting at the start was evens on Sanderson, 5 to 4 against Fleet, and 3 to 1 against McKinstray. On the pistol being fired, Sanderson shot to the front, immediately followed by Fleet, McKinstray bringing up in the rear. In this order they ran for nearly half a mile, when McKinstray took the lead, was not afterwards headed, and won easily. Fleet and Sanderson gave up before entering the straight. Time, 7 min 2 1/2 sec."
On 19th August, at Coatbridge, in the 5 miles championship of Scotland, he was first:
"COATBRIDGE ATHLETIC GAMES. These annual Games and Sports were held on Monday in a field near Coatdyke. A drizzling ran fell all the morning and the the spectators at the commencement were few, but during the afternoon and the evening the rain held off and a large crowd gathered. … The Coatdyke Sports got up in opposition were held in an adjoining field. Captain Clark and a posse of constables kept excellent order. There were the usual number of thimble-riggers and card-sharpers on the ground, along with a sprinkling of the "fancy"and members of the PR."
One of the bigger meetings on the circuit, there were 18 events on the programme including the 5 Miles Race. It may seem strange in the twenty first century but the race for the Five Miles Championship of Scotland was a handicap race. That made no difference to McKinstray – he won from J Steel of Glasgow and William Parks, also of Glasgow, with Newcastle's W Bell dropping out. No time given but the report said that he 'won easily'. He also won on 8th October at Crystal Palace over 4 miles. and on 2nd November, back in Manchester, in a one and a half miles race against J Fleet He was first after quarter mile splits of 60 sec for quarter mile, 2:05 for half mile, 3:19 for three quarters – finished at leisure but no time given.
"PEDESTRIANISM: Important Foot Race in Manchester. A foot race for £50 and a champion cup of the value of £80 came off at the Royal Oak Park Grounds, Manchester, on Saturday between Robert McKinstray of Glasgow, and John Fleet of this city, the stipulated distance being one mile and a half. The cup, which is a challenge one, had been previously won by McKinstray, and a few weeks ago Fleet challenged him for its possession. The betting opened at evens on Fleet, and shortly afterwards 6 to 4 was laid on him, but at the start 5 to 4 was freely offered on McKinstray. The pedestrians went away on the first attempt, McKinstray leading by about 2 yards at a quick pace and the first quarter mile was gone over in one minute. In this order the men proceeded and they ran half a mile in 2 min 5 3/4 sec. Fleet gradually fell further behind his opponent and when three quarters of a mile had been passed, 3 min 19 sec had elapsed. Before a mile had been run Fleet, finding that he had no chance of success, resigned the contest, and McKinstray went over the remaining portion of the distance at his leisure."
1867 had been a good year for him and he started 1868 on 7th March with a one and a half miles race against J Sanderson, where he was first in 7:04.5. The report in the Dundee Courier read:
"GREAT FOOT RACE AT MANCHESTER. Victory of the Scottish Champion. The Manchester Examiner gives the following account of a foot race in that city, in which McKinstray, the Glasgow "ped". proved an easy victor:- On Saturday at the Royal Oak Park Grounds, a contest: distance one mile and a half took place between Robert McKinstray of Glasgow, and James Sanderson, alias Treacle, of Whitworth, for a champion gold cup and £50, the parties engaged having staked £25 each. The cup, which is of the value of 80 guineas, and is given by the proprietor of the above grounds, was originally contested for on the 23rd of February, 1867, when it was won by John Fleet of this city. The principal condition on which this cup was given was that the winner shoud successfully defend it, against all comers, on receiving six weeks notice, for twelve months, before it became his absolute property. Not being satisfied with his defeat, McKinstray subsequently challenged Fleet, and Sanderson having also entered, it became a sweepstakes of £25 each and the cup, and the contest came off on 3d of August last when McKinstray won easily. Fleet, the original holder afterwards challenged the Scotsman and they met on the 2d of November when McKinstray again defeated Fleet, the latter having resigned the contest when about a mile had been covered. Sanderson, being also dissatisfied with his previous defeat, again challenged McKinstray and hence the match on Saturday. The attendance of spectators was meagre in consequence of the weather, not more than 600 persons being present. The betting commenced at evens on McKinstray, but when the start took place as much as 2 to 1 was laid. To complete the distance the course had to be traversed four times and 36 yards. As soon as the men left the crease, Sanderson took the lead by a yard, and held it on sufferance until three laps of the course had been traversed, when the Scotchman passed him and gradually left him further in the rear, and when reaching the turn for the straight in to the finish had a lead of 30 yards. From this point he slackened his speed but passed the tape an easy winner by a dozen yards. The time occupied was : quarter mile, 1 min 3 sec; half mile, 2 min 11 sec; three quarter mile, 3 min 25 sec; mile, 4 min 34 1/2 sec; one and a quarter mile, 5 min 46 1/2 sec; 1 1/2 mile, 7 min 41 sec,"
Then on 10th April,, back in Manchester over 1 Mile,he finished second in an estimated 4:27.0 20 yards behind the winner's 4:23.5.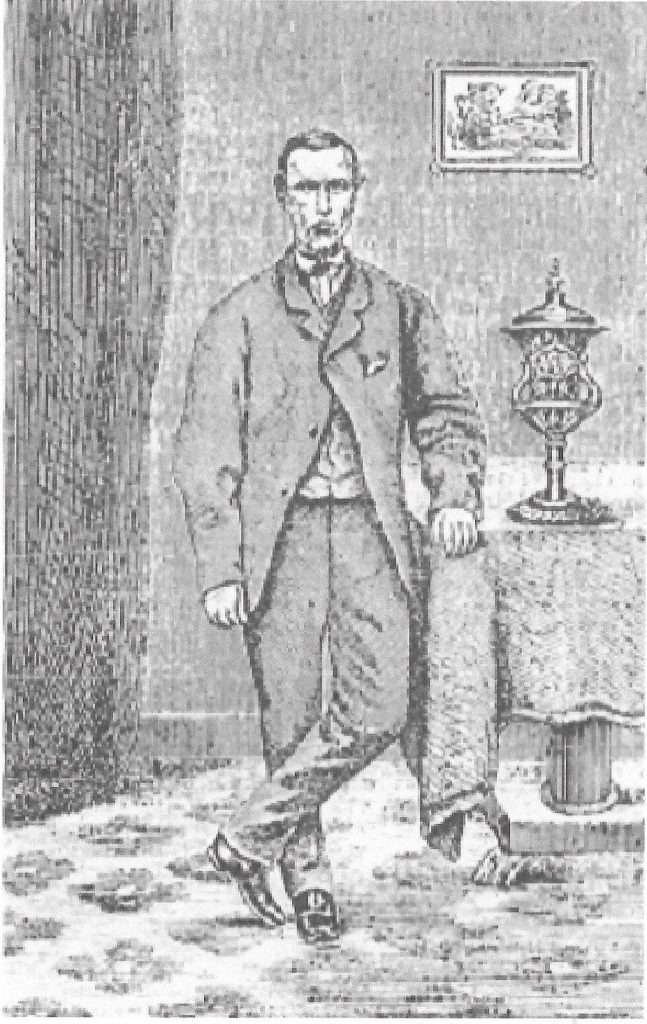 McKinstray:
1869. 8th November at Hackney Wick, McKinstray was pushing the limits of his rane when he ran 10 miles. He finished 3rd after leading through 2 miles in 10:07.8. Shortly thereafter, still at Hampton Wick, 0n 27th December, he ran in a 5 miles sweepstakes. He retired after running well for most of the race – 1 mile 5:03.0, 2 miles 10:17.4, 3 miles 15:36.2, 4 miles 20:28.4. George Hazael won in 26:05.0.
His last appearance before the public was at Edinburgh, December 31st, 1870, when he ran a match against an Iroquois Indian named Debeaux Daillebour, alias Redhead, especially brought over from America to race him, 3 miles level, for £30 a side, on. which occasion our friend Bob made short work of the Redskin, leaving him so far behind that he gave up the race, leaving McKinstray to walk in at his leisure in a little over 15 minutes. The report this time read:
POWDER HALL GROUNDS
Saturday, December 31st – DAILLEBOUR (THE INDIAN) AND R McKINSTRAY FOR £30 A SIDE. The interest attached to the Three Miles match between the now celebrated Indian runner Daillebour and R McKinstray (the Scottish champion was very considerable. McKinstray may now be termed a veteran, having figured in various matches, handicaps and sweepstakes during the last 20 years. His greatest achievements were twice carrying off the one nd a half Champions Gold Cup given by Mr T Cooper of Manchester, when he beat Fleet and Sanderson. The weather being most favourable for this season, there was a large number of spectators from 1,200 to 1,500. On the appearance of the men the Indian was scanned with eager eyes and the general impression was that he would be proved the winner. but he appeared somewhat careworn and stale, either from over training or the fatigue of travelling. Mr T Callaghan having been appointed pistol-firer and referee the men toed the scratch at 3:30 and away they flashed at fine speed, the Indian with the lead. He covered the first half mile in 2 min 20 sec, the mile in 4 min 52 sec. Here McKinstray took the lead, passing the Indian on the outside. McKinstray's style of running looked far easier than the Indian who, like all his tribe, has a rolling gait, which does not look as graceful as our local peds. Co,ming up for the eighth lap – two miles – the Indian came up to McKinstray's shoulder and looked like passing him but Bob was equal to the occasion and on passing the two mile crease in 10 min 6 sec was still leading by two yards; and here the Indian's jolly condition began to tell on him and he was in difficulties, McKinstray leaving him further in the rear gradually and surely every lap until at two miles and a half he was fully 60 yards behind. Here Mac put in a spurt, amidst the plaudits of the spectators; the Indian tried manfully to do so but his condition told its tale, and his backer beckoned him to stop just before he had completed two miles and three quarters. McKinstray ran a bit further before he too stopped. Any odds could have been had on the Indian before the start but no one offered to back McKinstray until they saw that he had the race in hand, when it was too late of course. McKinstray received quite an ovation and was warmly congratulated on his victory over the hitherto invincible Indian."
As was often the case, there was a rematch on January 7th, 1871, which was reported as follows. "Debeaux (The Indian), R Hindle and R McKinstray a short time back were matched in a sweepstakes of 2,000 yards, each man staking £25, the winner taking the whole. Today was the day appointed for the contest but the weather was of the most cheerless disposition. Snow fell from an early hour, with but a brief interval, till shortly before the hour fixed for the decision of the event. This no doubt had a most material effect on the attendance which was very small. The race resolved itself into a match between Hindle and Redhead, as McKinstray failed to put in an appearance. Hindle looked in far the best condition, as it was apparent that the Indian had not recovered from the effects of his recent labours. Shortly before the men went to the mark, snow again began to fall, rendering the competitors and spectators alike uncomfortable. The race itself requires but little description. On the signal being give, both went off together, but Redhead took the lead shortly after, Hindle being about a couple of yards behind. The positions of the men underwent no change until they were about 100 yards from home when Hindle passed Debeaux, and coming up the straight in front won easily by six yards. The time for the first quarter mile was 1 min 5 sec; second quarter 1 min 12 1/4 sec; third quarter 1 min 19 1/2 sec; fourth quarter 1 min 19 1/2 sec; the entire distance ( 1 mile and 240 yards); occupying 5 min 42 sec."
McKinstray's last race then was on 31st December. When he retired from running he returned to his home town of Maybole, respected by all and honoured as the greatest British runner of his day." The following tribute was written by Kenneth Whitton who was an amateur athletics enthusiast, president of the SAAA in 1902-03, and a man who wrote two chapters in the official SAAA history of the association's first fifty years. One was on DS Duncan and the other was on the early years of the amateur era. Whitton was not just an administrator and official but also a very good competitor who won four SAAA shot titles (1883, '84, '85 and '89) as well as four hammer throwing championships (1884, '85, '89 and '90). His opinions as a respected and experienced lover of the sport are to be respected.
On May 9th, 1931 he wrote: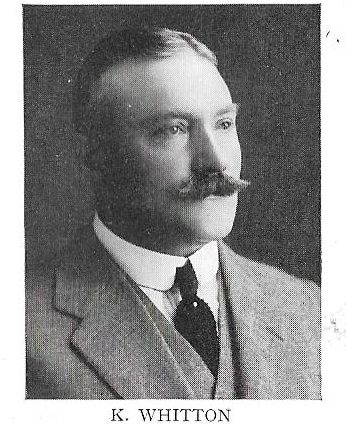 "While many wonderful runners such as T Carruthers, Yetholm, who was in business in Edinburgh for many years; D Wright, Jedburgh; A McLearey, Alexandria; W Cummings, Paisley; D Livingston, Tranent; and a field of others almost equally good did fine performances, it is of an Ayrshire runner who in his time, the 'sixties and early 'seventies, was the finest mile runner in the country, that the present article deals. "Bob" McKinstray was brought up in Maybole in the late 'thirties and very early came to the front. At this time Maybole was a great sporting centre, and the Garden Rose Park housed for many years a great athletics festival of which many old cyclists and 'peds' have pleasant memories. Bob was 5′ 6 1/2″ in height and was beautifully proportioned . He was a butcher's apprentice and his master gave him every facility for training and for competing. After his running days were over he carried on his business in his native town and gave every assistance to prospective speedy men. Bright and cheerful and of a genial disposition he was esteemed by his fellow peds.
One of McKinstry's first races was against a pony! His butcher confreres, then as now, were great sporting men and keen on horse- and dog-racing. They matched him against a speedy pony over a distance of 100 yards on Ayr racecourse. Bob won by a very little, only because he got up speed quicker than his fleet opponent. Culzean Sports, now defunct, saw his first real outing when he won more than half of the races. Later he became "King of the Red Hose" at Carnwath, and this title he retained for many years. 1st July, '63, he won at West Calder over a distance of three miles, a championship belt, which along with an £80 Cup won in England over a distance of a mile and a half is I understand in the possession of a grand-nephew.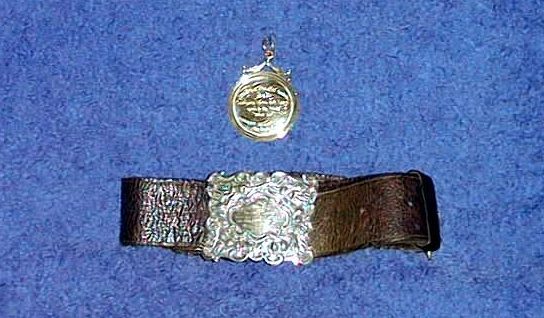 .McKinstray's prize belt
In October '63 Bob won at Stonefield Grounds the two miles championship and £50, and in October of the same year, conceding 150 yards he beat Murdoch of Stonehouse over the same distance.Next year he met and defeated W Park in a two miles championship for £50 and in June of the same year, over the same distance and for the same sum, ???
In England he was well known and feared. Appearing in Manchester in May '85, he won the half mile sweep which brought him £35. In doing this he easily outran W Richards London and J Heywood, Rochdale, finishing full of running in 1 min 56 1/2 sec; a performance which stamped him as the greatest runner of the day. After an all-conquering career, he took up residence in England, a move that did not commend itself to his friends, for it was thought he had got into the hands of the "pencilling" fraternity. This is indicated in a great mile race that took place against Lang and Richards of England. The first quarter was run in 60 sec; the half mile in 2 min 5 1/4 sec; third in 3 min 14 sec and the mile in 4 min 17 1/4 sec. McInstray was beaten by a yard, but finished quite fresh, though his opponents were "all out", and the impression was general that McInstray was running to "instructions." Robert P Watson, the famous referee, who judged the great race between George and Cummings, was of the opinion that up to that time no mile runner the equal of McInstray had appeared on the track. Further, that though WG George had run the mile on 4 min 12 1/4 sec, he was convinced that McInstray was the superior of George.
It may be interesting to know what the great Bob Hindle thought. Last June at the SAAA Championships, I discussed with J Rodger, a fellow townsman of McInstray, the doings of the old "ped". Rodger himself was the amateur half mile champion and one of the best we have had. And his opinion should carry weight. He told me that it was the definite and well considered opinion of Hindle that McInstray at the top of his form could run the mile in 4 min 10 sec, and that frequently in practice he was round about this time.
As to timings, Watson, who timed the George v Cummings match, says that the timekeepers were sound and solid, and were known as "show watch holders" who depended on their accuracy for their bread and butter. They could, he says, split hairs in their division of a quarter of a second."
During his career over the Border, Sanderson of Whitworth, Lang of Middlesborough, Leet of Manchester and Millis of London. and many other notable runners had all to yield to the Scotsman. His last public appearance was in Edinburgh on December 31st, 1869, when he ran a match level over a three mile course for a £30 a side with an Iroquois Indian named Debeaux Daillebout, alias Redhead. On this occasion he made short work of Redhead, leaving him so far behind that the Indian gave in, leaving Bob to walk in, in a little over 15 minutes.
A well-known Edinburgh sportsman, Mr Clark, lately in business in Gorgie Road, has told me of this race, which he saw when a lad. For McInstray, McLeavey, and Cummings, Mr Clark had a great admiration, and saw them all run at the Gymnasium, the making of which, with the Pitt Street Baths and Craiglockhart Pond, was due to Mr John Cox of the Gorgie, who was an early pioneer in creating recreation grounds for the toilers of his day."
Kenneth Whitton
McKinstray was undoubtedly a super performer over a wide range of events. In the twenty first century we are debating whether a runner should specialise in either the 100 metres or 200 metres rather than be a sprinter; 400m runners are a breed apart and some may run the 200m and others the 800m but their true event is 400m; there is even a split between the 800 and 1500m specialists with the 5000m, formerly a long distance event, now a middle distance event. If we say that 10 miles was stretching his distance running a bit and the under 440 yards races a bit short we see him as an 880, Mile, three miles runner and finally settling on him, ideally, as a miler. Comparing his times with those of the best amateurs after 1883, we note that it was not until 1935 that the record reached 4:12 (Bobby Graham of Maryhill Harriers), and if we believe Hindle's statement that he could have run 4:10, the SAAA record in 1953 was 4:11.2 (Breckenridge of Victoria Park). He must have been a remarkable talent and doubts have been cast on these times on the grounds that (a) the timekeepers were incapable; or (b) the distances were wrongly measured. Whitton was as staunch an amateur official/administrator/historian as it is possible to get and he seems to have been sure that the timekeepers were were good men and true. As for the measurement of distance, most of his best races were at the Manchester Royal Oak Park Grounds which had been used for decades, which were universally acknowledged to be well maintained and used weekly, often more than once a week, and it can probably be taken that the distances were also accurate. AlexWilson has this to say on the topic of course measurement: "The Royal Oak Park Grounds housed a 651 Yards circular track. I`m not sure how long the "straight" was. The ground had a 400 yard straight but that must have been tangential. There were no rules then as how a track should be configured and the size of the ground really dictated what shape it took. Tracks such as the one at Lillie Bridge and Manchester were probably more accurate than some might be inclined to think. They would have used chains to measure them."
The most damning charge against McKinstray was made by Whitton – ie that the race against Lang and Richards he deliberately lost the race. One of the reasons for the popularity and tremendous growth of amateurism was that the professional game was corrupt. Roping and personisation were frequent – and often substantiated – charges against athletes at the time. However this is only a hint by Whitton and only refers to one race. There is no reason to think that it was a common practice for McKinstray or his backers.
By all the judges at the time, he was a remarkable runner who was the best in Britain and certainly a credit to Scotland.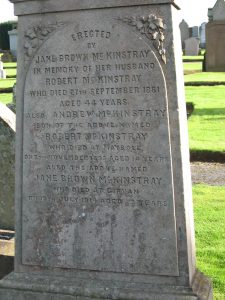 Many thanks to Alex Wilson for all help with this article and for most of the photographs.