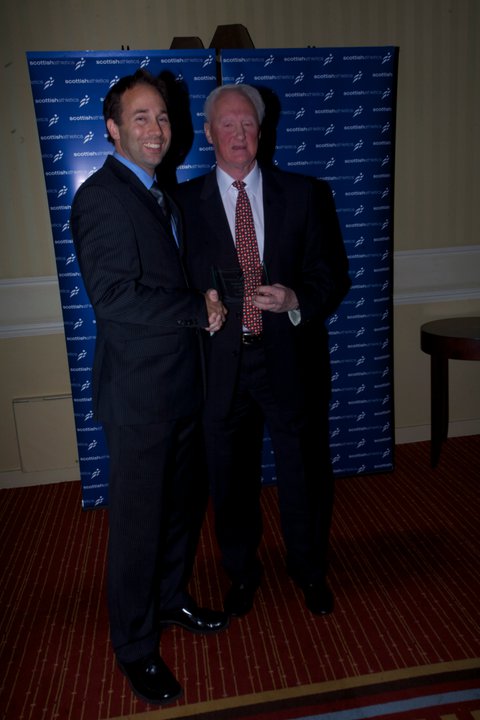 Stuart receiving Coach of the Year Award from Laurent Primeau
It is possible for a coach to have a reputation based on success with only one athlete: one famous coach that I knew was world renowned and gave talks all over the place, because he had one very good athlete a multi medallist at Olympic level – who said he wanted a different athlete to work with since he didn't want to be known as a one-athlete coach. He did take on another athlete subsequently – but this one was already a GB record holder and an Olympic silver medallist. Stuart is not a one athlete coach, nor did he have five or even ten years of success with a single group of athletes. From the 1970's right through to the twenty first century, he worked with a range of athletes and we look at just four of them below: Yvonne Murray and Aileen McGillivary from the 80's to Paul Hession and Allan Scott in the twenty first century.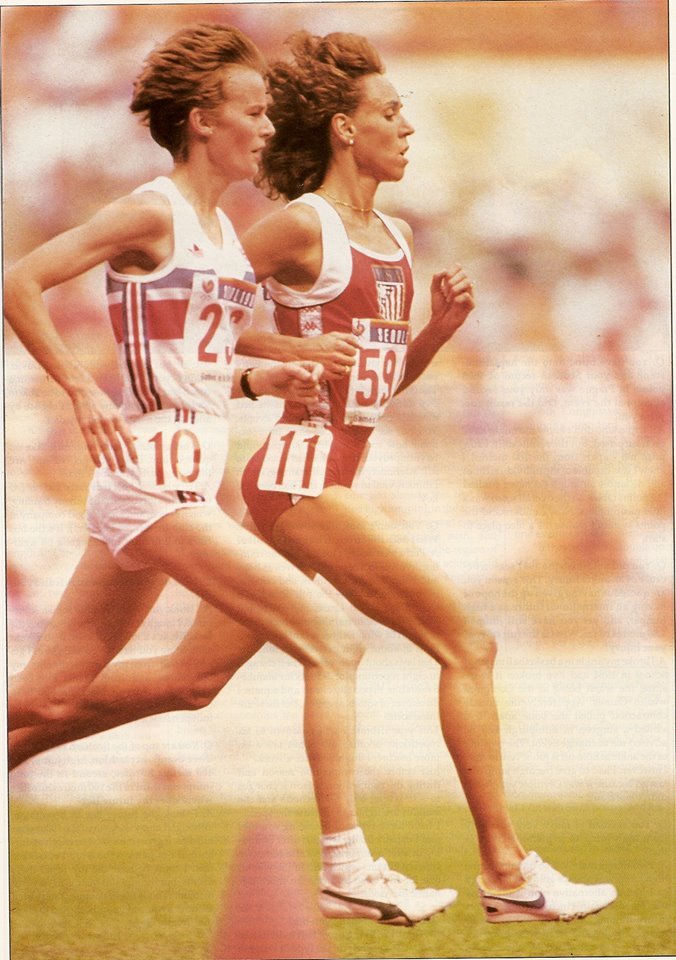 YVONNE MURRAY
Yvonne is one of Scottish athletics' best known and best loved athletes – known and respected the world over her rivalry domestically with Liz McColgan in Scotland and Paula Radcliffe in England which helped develop all three athletes and attract others to the sport. She was a wonderful ambassador for the sport. Starting out with Bill Gentleman in Edinburgh her principal coach in the 1980's was Tommy Boyle from Bellshill. Stuart takes up the tale of his involvement from here.
"Although Tommy Boyle was her main coach I was a part of the team from 1987 until 1991, I had a great deal of contact time with her especially in the first three years this involvement certainly had a great bearing on my learning of performance athletics.
There were many great days with Yvonne there were the down times as well, all athletes will go through this that is when they need the coach most. This was a learning experience of a real world class female athlete, how she applied herself to training, lifestyle, diet, determination both in training and competition. At the major championships how she went about her business focusing on the business at hand and able to shut everything out that had nothing to do with her race at the same time the ability to shut that out when needing to relax.
The emotions she went through in the days leading up to the Olympics of 1988 were amazing to witness – up one day, down the next. However when it came to the crunch she performed, as history tells us she won a bronze medal against what can only be described as "some dodgy athletes".
A few of those "dodgy athletes" were there in Split at the European Championships in 1990 they followed her home as again she ran a brilliant race this time winning.
One other story that bears telling is that in 1989 competing for Europe in the World Cup in Barcelona second race on the track when it absolutely poured with rain delaying the meeting two hours. Neither Tommy nor I were there but she had the presence of mind to stay calm put her music on, stayed relaxed until the event was reprogrammed, warmed up to the new timetable and proceeded to win the 3000m with a great run and testimony to her mind set in adversity.
I worked on her technique, speed and change of pace it took a great deal of time to fix this but her learning curve and application was first class.
She was a good pupil took everything in, applied it and it worked.
She was a very emotional person as a result her highs could be very high and her lows very low, it was the job of the coach to work on these once you got to know her it could be done.
She was a dream to work with and I am pleased to say we are still very good friends."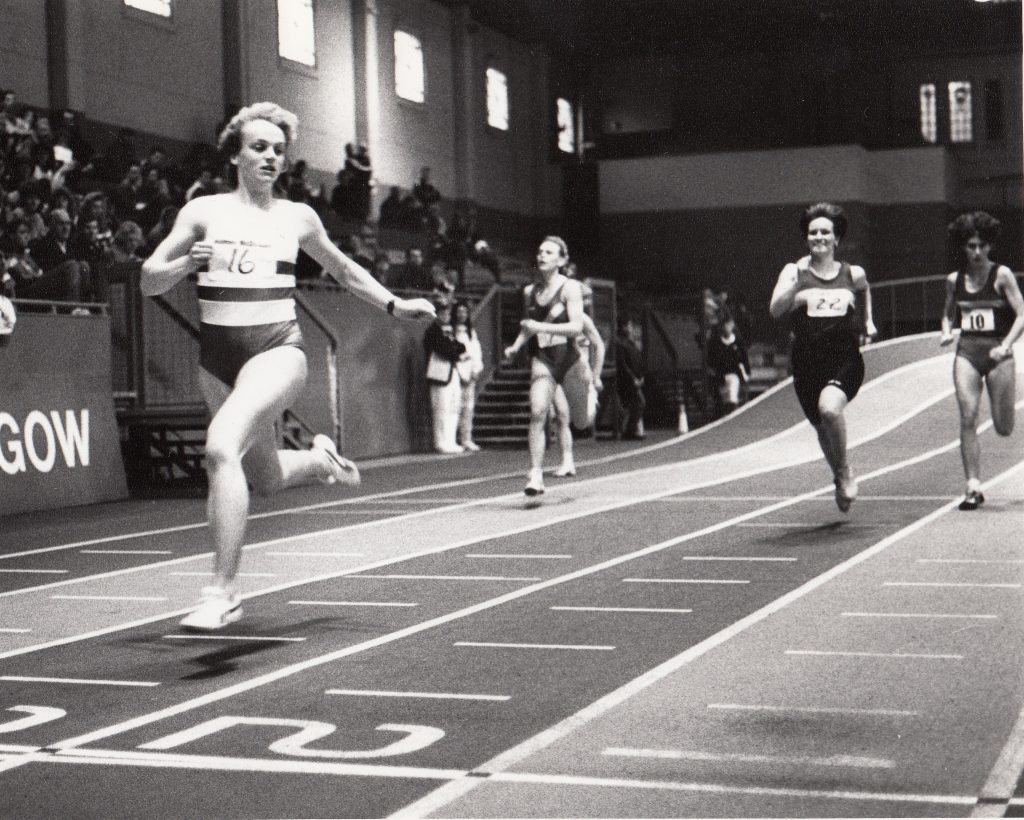 Aileen McGillivary
Aileen was Stuart's first British senior international runner and he had started coaching her when she was 17. When she started as a Senior in Scotland she had to contend with Sandra Whittaker, Wendy Addison and other very good, experienced athletes. In the Scottish championships she won the 100m in 1989 after finishing second the year before and third in 1987. That was to be the first of seven 100m victories in nine years at national level, and there was a 200m victory in 1991, She completely dominated the Scottish rankings for many years – the cutting below is from 1992. [NB Stuart was also coaching Morag Baxter!]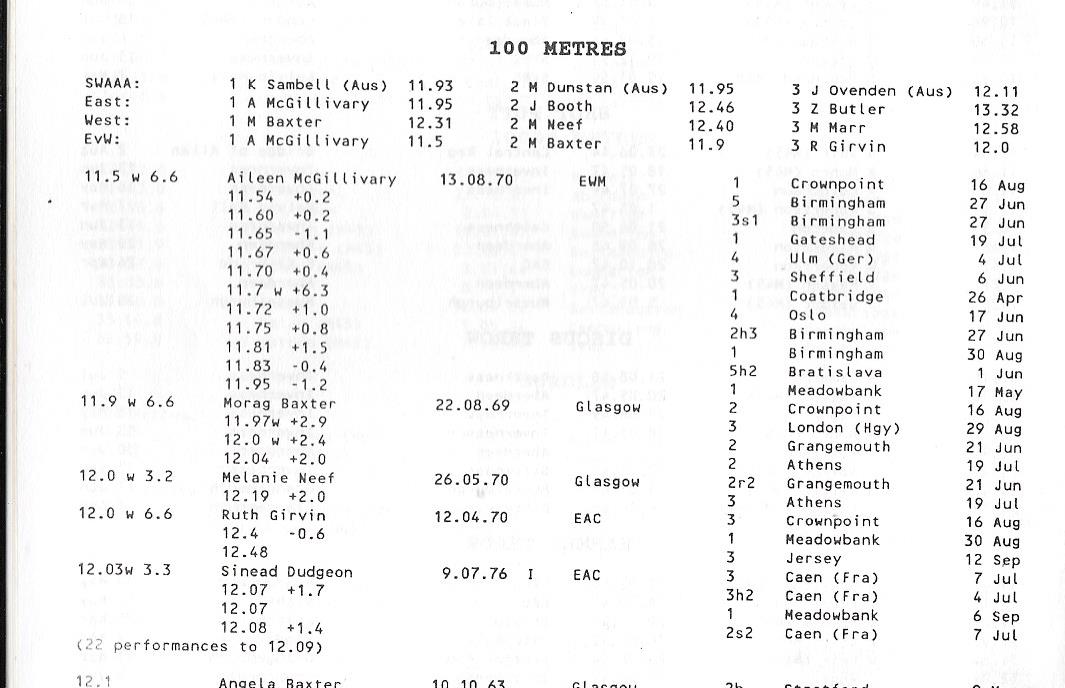 Her complete championship medal record reads:
UK, 1992, 100m, 3rd; AAAi, 1995, 60m, 2nd;
Scottish: 100m 1st 1989, '90, '91, '93, '94, '96, '97. 200m 1st 1991. 2nd: 100m '88, 100m, '98, 100m, 1991; 200m, 3rd 1987
Indoors: 1st 60 m, 1989, '91, '98; 200m 1st 1991, 2nd '95.
In terms of championships contested we have these:
European Junior championships 100m;
Europa u/23 cup winning the 100m this was held twice before becoming the European u/23 Championships;
On two other occasions for the G.B. U/23 team 200 and 4×100;
World indoors 60m;
Senior Europa cup 4×100;
Four other occasions for the G.B. senior team;
Commonwealth Games 200m.
Her career was managed astutely by Stuart – witness the following at the beginning of her career: "The first chance that she had to achieving her ambition of a GB senior vest was when 20 years of age she ran the indoors season breaking Scottish senior records in the 60m and 200m. Though her time showed that the 60m was better there was a 4×200 in a GB v Italy international in Milan it was the latter that would be her best chance of making the team therefore she ran in the 200 at the indoor AAA championships (there were people surprised at me suggesting this) and was chosen in that event in the international. She would not have been chosen for the 60m.
The reason for choosing the relay was as she had never at that point gained a British senior vest this would be her best opportunity to do so which I considered would boost her confidence as well as gaining valuable experience. Traveling to another country (Italy) competing then traveling home all in three days, the opportunities to do this were limited then not like now when it is fairly normal to do so, it worked all that I was looking for in doing this was gained."
That and other such smart decisions, added to her undoubted ability, had the result that he could say at the end of her running career that " She achieved her ambition, she adapted, became a really good professional and in my opinion got out of herself what was available to her, this is an impossible to quantify this with any athlete but it was my unbiased opinion she did and that is something to be proud of. Her athletics career gave her confidence in life working in high performance for Scottish Institute of Sport and to this day we are really good friends."
The two cuttings reproduced here were taken at random from the SATS Yearbooks covering her career – this one is from 1997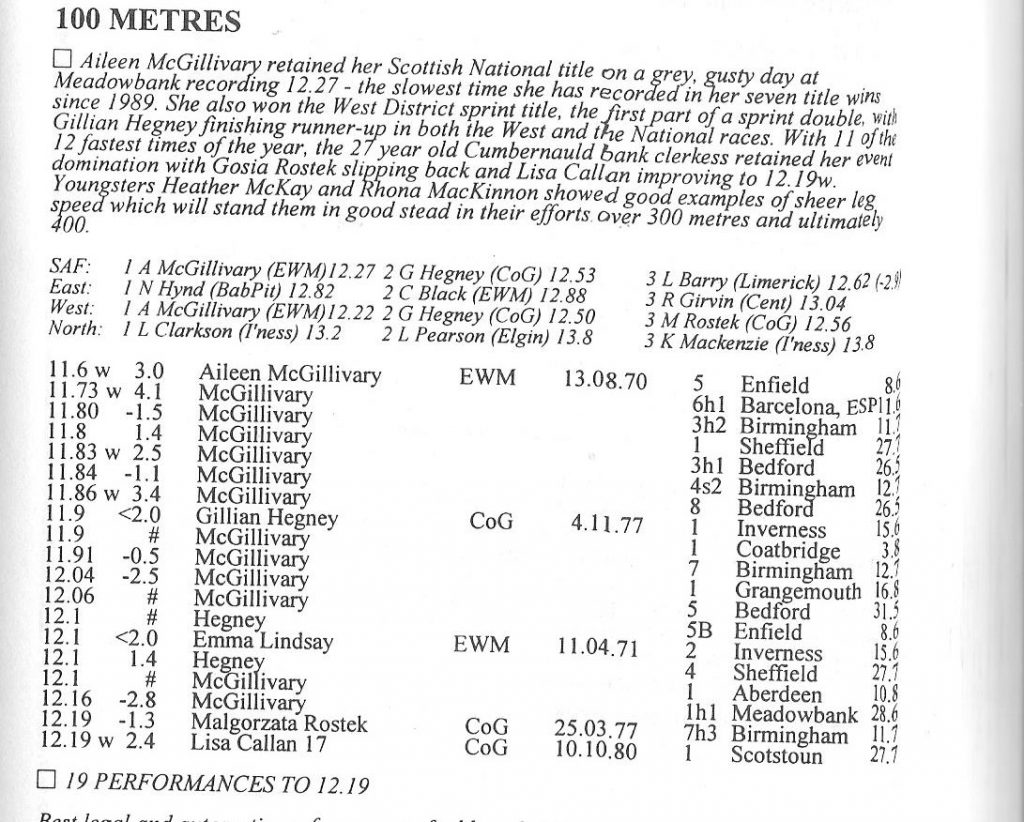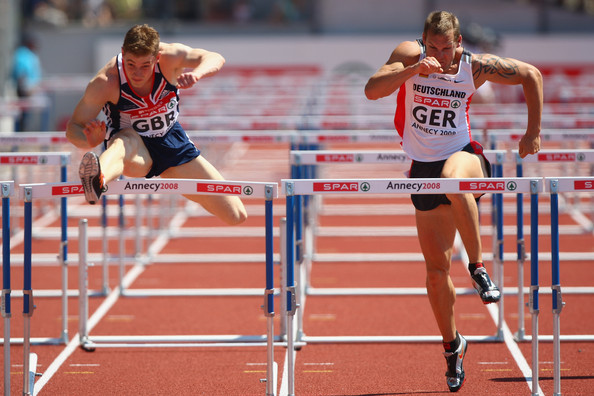 Allan Scott
Allan was already a very good athlete when Stuart was asked to help him. He was coached by Bob Somerville in Glasgow who was a well liked, highly respected, hard working hurdles coach with a string of medal winners and GB internationalists to his credit. Where did Stuart fit into all this?
"Allan was a good athlete before we got together having competed at European Indoors, World Championships and Commonwealth Games however there was some fine tuning that needed to be done which was stopping him from making a difference to his performance.
Allan had really structured his training himself before I got involved with him and although he was a fit lad the programme was not right for what he was trying to achieve. He is a very intelligent lad who had got away with too much as his previous coach was too nice, he needed someone that was stronger to tell him – I must admit I was that guy. Don't get me wrong I did do it in a slow and I think clever way and we had a good relationship.
His daily structure was not the best, his speed endurance was not the best, as a great number of his sessions were strength endurance based and his pure speed could be better. I knew Allan had a good application to training therefore I knew this was a great starting point and one that was essential if he were to make that small improvement to get him that Olympic vest.
Working with two other athletes that had PBs of 10.18 and 10.28, as well as more speed endurance based sessions, helped him greatly. Off this he ran 6th. In the world indoors and broke the Scottish Record for 60m hurdles (3rd. all time in the UK) during that summer qualified for the Beijing Olympics. At the Olympics he ran to within 3 hundredths of his PB, made the quarter finals which was a satisfactory result. During the time we were together he also ran in the final of the European indoors and was 3rd. for GB in the Premier division of the Europa Cup. I only wish we could have met each other a few years sooner.
Very interesting at the World indoors, the heats were in the morning with the semi-finals and final at night. They took the athletes out into the arena a bit earlier for the final than in the preceding rounds for tv purposes. Because of the extended period on the track Allan, who done his normal track warm up, had five minutes longer to wait for the race and as a consequence slightly lost his concentration. He was in a position to gain a bronze medal started the actual race with his hips slightly down nicked hurdle 4 and finished 6th. A great but hard lesson. We should have prepared for this situation but didn't . That is how fine a line it can be at this level He did learn from this as the Olympics had the same situation for all the races we knew that beforehand therefore he had the experience to cope and we prepared for it beforehand."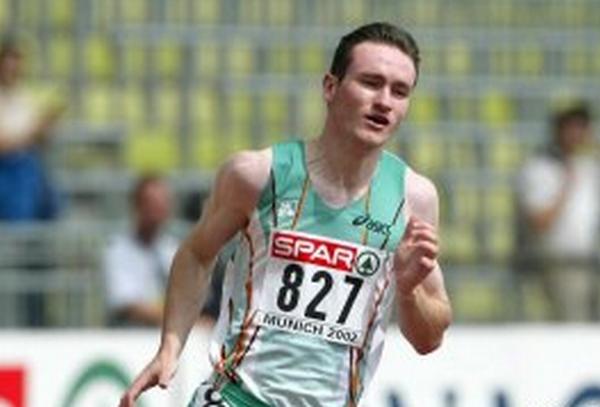 Paul Hession
If you look at the Athletics Ireland website for Paul Hession, then you see this:
Date of Birth:
27-01-1983
Club:
Athenry A.C
Coach:
Stuart Hogg, Scotland
Place of Birth:
Athenry, Galway
Height:
184cm
Weight:

76kg

Career Highlights:
World Track and Field Championships, semi-finalist Berlin 2009
Olympics Games semi-finalist 2008
World Track and Field Championships, Osaka 2007: semi-final (6th)
World University Games 2nd 2003, 3rd 2005
European Indoor 60m 7th 2007
National Record holder for 100m and 200m
It also tells us that his personal best times are 6.61 sec for 60m indoors (Mar 2007); 10.18 for 100m (Jun 2007); 10.36 for 100m indoors (Feb 2008); 20.30 for 200m (Jul 2007); 20.82 for 200m indoors (Mar 2005) and 32.47 for 300m (Jun 2008).
That just about tells you all you need to know about the quality of Paul Hession as an athlete. I mentioned him to another coach of international runners who remarked on the fact that Paul actually lived with Stuart and his family for several years. Stuart says of Paul: "What a professional. A coach's dream." The two of them got together in March 2005 while Paul was studying medicine and Paul did stay in Stuart's home for several years while applying himself to training. Stuart had put it to Paul in 2005 that he had a serious decision to make – there was no way that he could run world class times and do the 5th and 6th years of medicine simultaneously. The decision taken was that the medical career would be put on hold for several years while he became a full-time athlete. This was not Stuart's decision but that of Paul's family after the coach had told them straight what the demands of training for international competition would be. It can be seen from the notes above that it took from 2005 when they met up to 2007 before his track times for 60 and 100 metres right down. Work was done on his starting, his pickup; the weights were carried on right through the summer racing season. Everything came together to the satisfaction of both coach and athlete (not always the case) and Stuart says:
"Paul finished his career being the Irish Record holder for 60, 100, 200 and 300 unless I am much mistaken it will be a long time before they are broken. Paul is a very highly intelligent human being while he was a full time athlete he done an Open University degree in history and gained a first class honours degree!! He is now a fully qualified anaesthetist in Ireland we are still good friends."
If a coach's ability and character can be seen in the athletes he works with, then Stuart had it all.
[Stuart Hogg: Sprinter ] [Stuart Hogg: Coach] [ To The Top] [Achievements ] [ Talking about Stuart …}