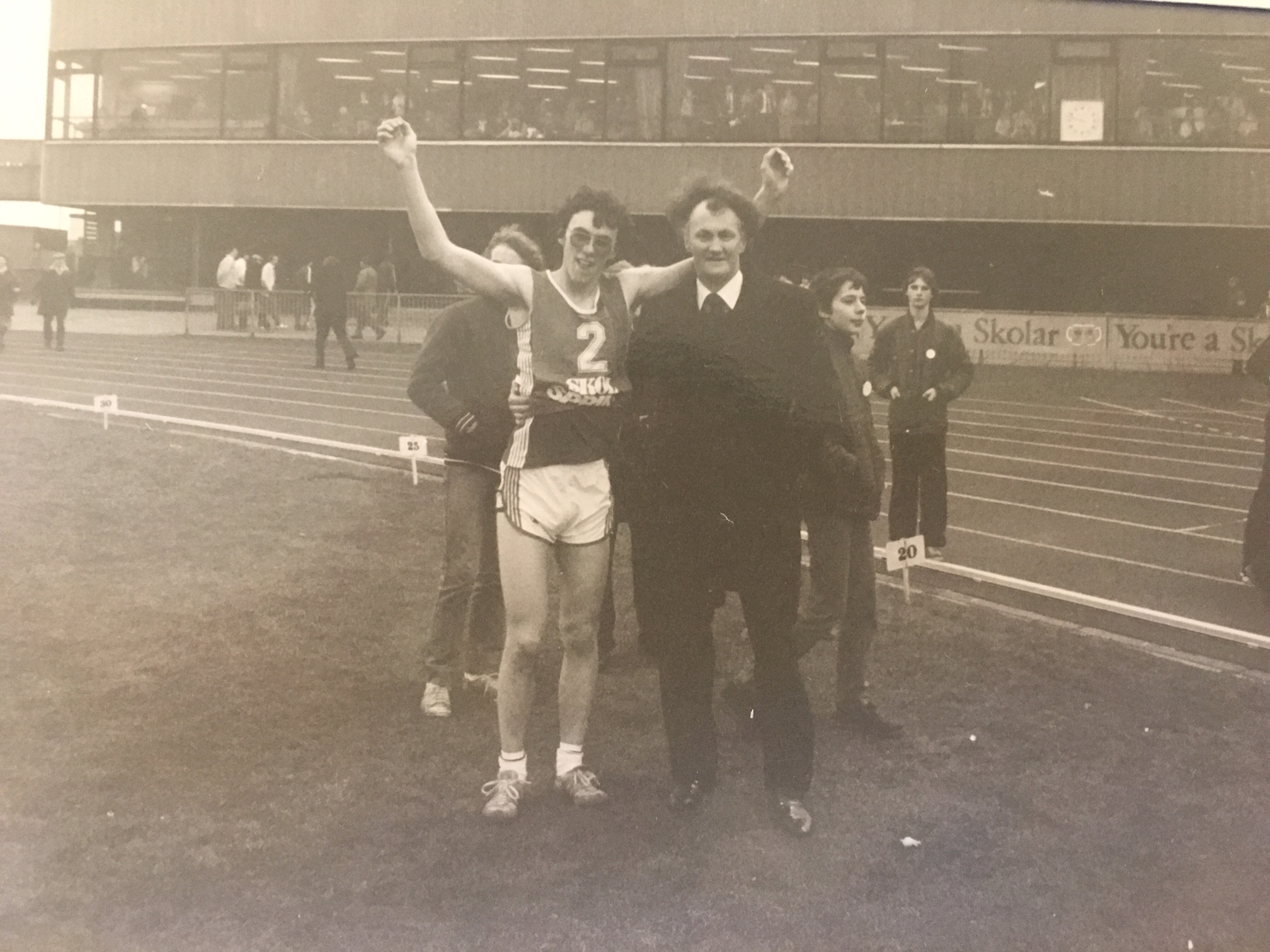 Stuart with Neil after winning the New Year Sprint in 1983
During his career, Hogg has been named Scottish Athletics coach of the year on three occasions, as well as receiving the lifetime achievement award from the association. Where did it all start and how did he progress? Were there any basic principles that he followed and helped him develop to that peak? We should start at the beginning.
Stuart had left the Bradley school in 1972 and started training his own way when he was about 32 – 33 years old and kept on competing until he was 34, winning the Lanark Lanimer Day Sports, for example. There were several aspects of training that he felt should be addressed:
It should not be boring. The same session night after night was dull and uninteresting.
There had been something missing in his training and he had to find it and correct it.
He felt that using weights was the way forward.
The pro scene was very secretive, no talk around training programmes, pockets of training which kept themselves to themselves and Stuart could not see how this would help his development as a coach.
As far as weight training was concerned he had his first exposure to weight training at the body building club in Kirkcaldy leisure. There were body building clubs all over the country and there was the National Association of Body Builders which they were encouraged to join. Stuart immediately recognised from the shape and size of these trainers that this was not for sprinters. They were good at what they did but he had to find a middle way between their regime and the 'no weights at all' training that he had been used to.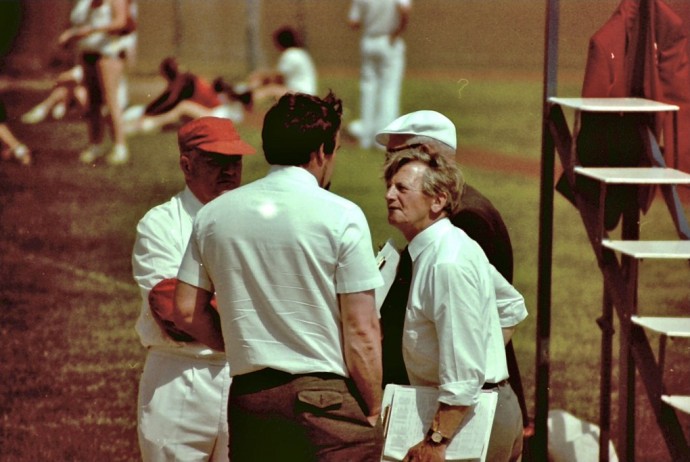 Jimmy Campbell, on right holding the clip board
At this point, in 1976, he went on the SAAA Club Coach Course with Bill Walker in charge and there was no doubt about his passing it. He was then excused the mandatory two year delay between Club Coach and Senior Coach and he took this exam and passed with flying colours in 1977. (He did not become an amateur as such until 1986 when the SAAA gave a full amnesty to all professionals: He did this so that no one could ever point the finger at him being a professional should he ever be an international team coach.) The coaching courses at that time were held at Inverclyde Recreation Centre at Largs and Stuart attended several of them. Like everything else, they had their good points and their bad but it was here that he met Jimmy Campbell of the City of Glasgow club. Jimmy was a great character, always full of life, always asking questions, always ready to give you a straight answer to a straight question and a real font of knowledge. Stuart says of Jimmy: "One of the lecturers there was Jimmy Campbell, the best I ever came across in any course I attended at Largs by a country mile. He was passionate, knowledgeable and a humble man. He made all his lectures interesting. When I first coached women, Jimmy had a wealth of experience in that area and I would pick his brains on a regular basis. …. Jimmy Campbell was the person who had the most influence on my coaching philosophy: he made me understand all the emotions an athlete at the top level would go through."
He says much more about Jimmy who had a great influence on many coaches throughout the land.
He kept on training pro sprinters, and his first big success was when Neil Turnbull won at Powderhall. Never having won the New Year Sprint as a runner himself, he was quite keen to do so as a coach. Neil linked up with Stuart when he was an 18 year old Border Games sprinter. He raced sparingly but Stuart felt he had the ability to win the Sprint. Stuart, had learned how to peak for a big race and used his experience together with his own training methods to get him ready. He also persuaded a local hotel owner to put the runner and a training partner up for a month before the meeting. He ate well, had massage when necessary – and it all paid off when he won and his sponsors got their money back with interest. This was in 1983, and, under the heading 'PREPARATION PAYS OFF FOR TURNBULL', the 'Glasgow Herald' reported:
"Neil Turnbull, the 4 – 7 favourite, won the £1100 first prize in the New Year Skol Sprint to give Stuart Hogg's Glenrothes squad their first success. Turnbull a 19 year old electronics technician from Peebles, where he is helped by Tom Beaumont, moved into a Glenrothes Hotel for three weeks to prepare for the big race and the move paid off. From his mark of six and a half metres and aided by a brilliant start, Turnbull won the final by nearly two metres from the veteran back marker, George McNeill (Tranent), covering the 110 metres in 10.78 seconds. A strong wind helped the runners but it was still a fine performance as was the running of McNeill who, from two metres, covered the distance inside 11 seconds to repeat his runner-up position of 1971, McNeill, 5 – 2 before the final, edged Stewart Freeman (Ashington) into third place."
A very good run and a personal triumph for Stuart. Neil stayed with him as an athlete, became reinstated as an amateur under the terms of the amnesty offered by the SAAA in the late 1980's, and went on to win the SAAA 200m championship in 1987, and added three second and three thirds in Scottish championships indoors and out. You can see Neil winning his Heat at Meadowbank in 1984 on youtube at https://www.youtube.com/watch?v=b3vgk-gVu2A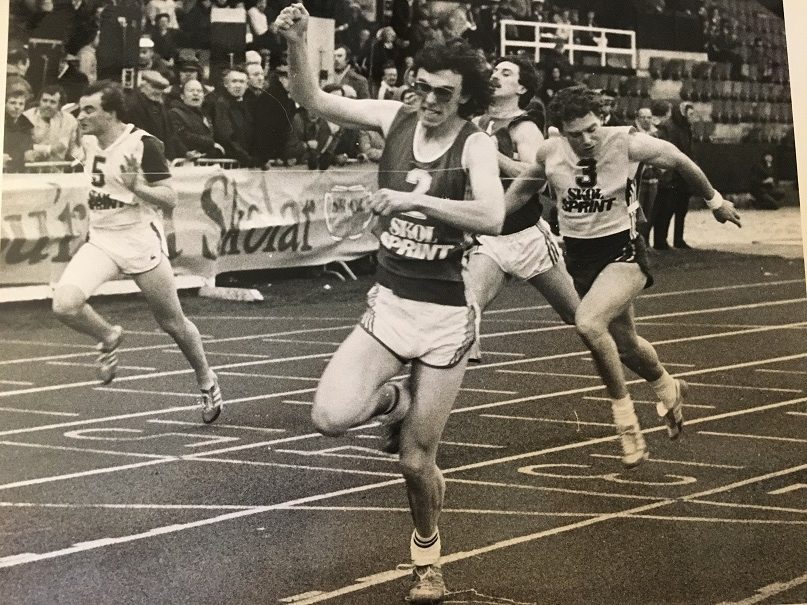 Neil Turnbull wins the New Year Sprint
Stuart already had some form as a coach by then. He had trained his first amateur when he took on Drew Harley of Pitreavie AC as a 15 year old in 1972. His work with Drew was also very successful in that he won the AAA's Under 20 200m twice in succession and ran for the GB team in both years. He first won it in 1974 in 21,5 which was a championship record time, and then again in 1975 in 21.9. No British Junior had won that title twice in succession before. At the end of '74, still a junior he was ranked number 8 in the 100 yards and number 5 in the 200 yards Scottish senior rankings. Harley's Championship record domestically was a victory in the SAAA 200m in 1975, and a first in the indoors 300m in 1974., '75 and '76. A really good runner, he unfortunately had to curtail his career after a bad case of Glandular Fever.
Stuart's next amateur athlete was a runner called Bruce Livingstone who won the SAAA Youths title in 1976 (22.2),4 Junior (U20) Championships 100m (1977: 11.2) and 200m (1977 22.1; 1978 22.7), went on to gain a GB B international vest. As recently as 2019 Bruce appeared in the all-time junior rankling list for his hand timed 10.6 sec: the runners ahead of him were Roger Jenkins 10.5, Drew McMaster 10.5 and David Jenkins 10.6. Not bad. For the coach, it meant that his runners had won the SAAA 200m in 1974, '75, '77 and '78: four years out of five. At this time, Stuart was still coaching pro athletes – and would continue to do so for a few years yet as he had an obligation to continue with them until they no longer competed.
The coach who was 'learning his trade' already had runners who had set GB junior records, won GB junior vests, won SAAA titles and represented Scotland: many coaches would have settled for these as lifetime achievments, most coaches never reach that level. But Stuart felt that he still had a lot to learn. He notes his mistakes:
Allowed ordinary athletes into his squad – not bad people, but those who wanted to socialise were not the sort he wanted in the squad;
Sometimes he overtrained the athletes – eg at warm weather training they trained harder which put them in injury potential zone;
He learned that it is not at all an easy task to bring athletes through to maturity and to be successful senior athletes. There are many aspects that can put obstacles in the way of a successful senior career
The coach has to make judgments such as – is the athlete going through rebellious phase going to turn into a good athlete? If so, then he has to be educated by the coach.
In these early days he put his finger almost immediately on one of the difficulties facing the coach: where to find good support staff. There was no funding available to assist the better athletes to be able to pay for medical treatment. It took him years to build up a support team that he could trust.
Finally he also felt that although he had athletes who competed for the British Junior Team at the European and World Junior Championships, that was not what his major ambition was, it was to have someone in the full team who would compete at the major championships. What was required? "I realised that attention to detail had to be much greater when you need to step up a level; as well as the need for the athlete's commitment to be greater you as a coach needed to match it at least as much, if not more so."
He says of his coaching career: "For me, the best thing has been the people I've met and worked with and being able to help them, that's the most enjoyable part. I got more pleasure from coaching than competing, because I was coaching at the highest level at Olympic Games and things like that"
." [Stuart Hogg: Sprinter] [ To the Top ] [Stuart's Athletes ] [Career Achievements ] [ Talking about Stuart .. ]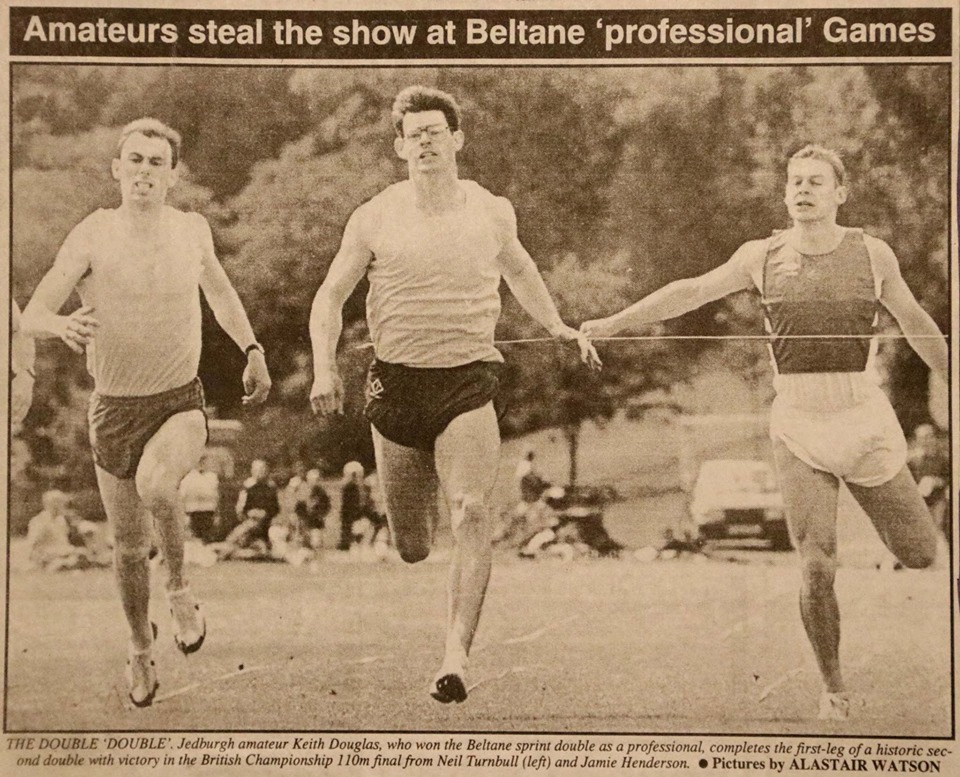 ….