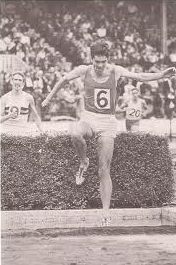 David Gareth Bryan-Jones was an Anglo-Welsh steeplechaser who represented Great Britain at the 1968 Olympic Games in Mexico City. He was born on the 25th of February 1943 in West Kirby, Merseyside and grew to six feet in height, with a racing weight of 150 pounds.
The above information fails completely to convey the personality and achievements of the man who, in athletics and orienteering circles, is always referred to – with affection, respect and admiration – simply as 'Gareth', with no need to supply the surname. He continues to be charismatic and influential, more than forty years after Mexico. On occasion, Scots have been suspicious of Anglos who somehow came to represent Scotland. Gareth has lived here for 45 years. We have been very lucky to have him and should be grateful for his extensive contribution to Scottish sport.
Gareth Bryan-Jones attended Leeds University before going up to Edinburgh University in 1965. His first year there was Scottish Cross-Country Champion Fergus Murray's last and it seems likely that the school of hard training that Fergus had established had its effect on the fitness of Gareth, who was strong enough to thrive. By the time the 1966 National CC took place, he had become a vital member of the winning team – Edinburgh University Hare & Hounds Club.
Despite the fact that Gareth is best known as an Orienteer and an Olympic steeplechaser, the first aspect of his career to be explored in this profile will be his participation in the Edinburgh to Glasgow Road Relay. This was the event which gave most of his running contemporaries the chance to watch the man in full flow. Gareth ran ten E to Gs in succession, winning ten medals – six golds, one silver and three bronze. Gareth was known for reliability, maximum effort for the team and consistent excellence.
Edinburgh University won the race in 1966, with Gareth extending the lead on the long, important Stage Six. He was third fastest behind Mel Edwards and Jim Alder but faster than Ian McCafferty. EU enjoyed a repeat victory in 1967, with Gareth once again moving away from the opposition and setting a time which was only slower than that of Fergus Murray (now ESH).
By 1968, after the Olympics, Gareth Bryan-Jones had moved to ESH and his new team ended up third, with Gareth equal fastest with Lachie Stewart (the future Commonwealth gold medallist for 10,000m) on Stage 6. I remember clearly watching the action on a steep downhill through Airdrie. Lachie was well clear but Ian Stewart (only one year before he won European 5000m gold and two years before his Commonwealth win in Edinburgh) seemed to be whizzing past at an incredible speed. Gareth, however, was pulling him in by 15 seconds, and was working harder than I thought possible for mere humans who wished to continue living! (I believe his former EU team-mates tried to give him the nickname of 'The Horse'!) Gareth thinks that this run demonstrated the beneficial effects of six weeks altitude training in Mexico and was one of the best road runs he ever had. At his best, only great Scottish distance runners like the Stewarts were Gareth's equals.
ESH won the E to G in 1969, well ahead of Shettleston. Gareth stayed in first place and was second-fastest on Stage Four to Dick Wedlock, the Scottish CC Champion. 1970 produced silver medals for ESH, with Gareth fastest on Stage Four, just holding off Norman Morrison. Then in 1971 it was bronze again, with Gareth second fastest on Stage Four to the flying Jim Brown. Another bronze was won by ESH the following year, with Gareth setting a new stage record on the Seventh Leg.
Gareth Bryan-Jones finished his E to G decade in style, with three ESH wins in succession. In 1973 he set a record on the Eighth and last Stage, extending the lead from 37 seconds to more than two minutes. Then in 1974 he made me very happy, because I was by now a team-mate and he held on grimly on the last stage, where he was second-fastest, finishing 32 precious seconds in front of a charging Jim Dingwall (EAC). As he sweated past with a mile or so to go, in control but working hard, he asked calmly, 'How far is he behind' and I was glad to reassure him that the gap looked wide enough to ensure victory. Then in the E to G record-breaking year of 1975, Gareth rounded things off perfectly by breaking his own best time for the last stage to ensure that ESH defeated a formidable EAC team by more than two minutes in an excellent 3.33.52.
Had he continued in athletics, who know how many more medals he could have won? Our loss was Orienteering's gain – but what a strong, classy runner!
Two very good runs on the road for Gareth Bryan-Jones were in 1968 when he started his Olympic year by winning the prestigious Nigel Barge Road Race. Then he was second in the Tom Scott 10 mile race from Law to Motherwell, only ten seconds down on local man Ian McCafferty, who went on to become one of Scotland's finest.
Next: Cross-Country running. In the 1966 National CC, he was seventeenth and part of the outstanding team that won very easily: Edinburgh University. 1967 resulted in another win, with Gareth 18th.  He improved that autumn with fourth in the annual SU versus SCCU match. In 1968, having previously won the British Universities title,  EU won the National by only one point from AAAC, and Gareth was second counter in tenth place. He was selected for the Scottish team for the International CC at Tunis, finishing a team counter in 47th position, with Scotland only just missing out on bronze in fourth place.
1969 produced gold medals for Gareth's new team, Edinburgh Southern Harriers. He was 9th and ran for Scotland once more, this time in the International CC on the fast but hilly course at Dalmuir Park, Clydebank. This was a fantastic occasion for Scottish spectators. Gareth was a team counter in 43rd place, with Scotland fifth.
Then in 1970 ESH won again, with Gareth 13th. Yet again he was selected to run for Scotland in the International CC, ending up 57th, with his team fifth. If only Scottish cross-country runners were as good nowadays!
After five successive team gold medals for Gareth Bryan-Jones, his final four Nationals were only slightly less successful. He finished ninth in 1972, uniquely for him without a team medal and did not run in 1973. Gareth explains that he had a lift from Chas Meldrum to the SU v SCCU CC match in St Andrews (in late November 1972) and near Milnathorp they were involved in a car crash when a car pulled out of a side road right in front of them. Gareth was thrown through the windscreen, but stayed in the car (a Lotus) as his legs were held by the dashboard.  He ended up with a very sore head, 38 stitches in his face and head, and a few less teeth. He didn't run again until the New Year and had no opportunity to race before the 1973 National CC. Since Gareth wanted some sort of a race, a friend told him that the Scottish Score Orienteering championships were being held on Sherrifmuir so he ran in that competition. That was how Gareth started orienteering. He is sure that he did run the 1973 National CC and finished 21st, although this is not recorded in the official results. ESH won National CC silver medals in 1971, 1974 and 1975, with Gareth 18th, 10th and 17th.  He always contributed well and was renowned for consistently good running. Had he continued for another five years, undoubtedly he would have shared in many more ESH successes.
 Still, between the E to G and the National CC, in 19 races over ten years, Gareth won no fewer than 11 team gold medals, four silvers and three bronze.
Gareth Bryan-Jones first ran the 3000m steeplechase while at Leeds University in 1964, finishing in 10.13. Having moved to Edinburgh University, he won the British Universities steeplechase in 1966, improving to 9.02. In addition, he ran in that year's AAA championships, finishing 10th in 9.00. In 1967, a week before the SAAA Championships, he retained his BUSF title in 8.52. Then on the 24th of June at Grangemouth he only just failed to catch Bill Ewing (Aberdeen AAC) who won the Scottish Championship in 8.55.2.
However, as John Keddie wrote in his centenary history of the SAAA, "in the following season, Bryan-Jones came into his own. Splendid victories in the 1968 Scottish Championships (8.40.6 – a CPB and All-Comers' record) and the AAA (8.36.2) ensured his selection for the Great Britain team for the Mexico Olympics, which were of course held at 'altitude'. This proved disadvantageous to the athletes from sea-level, especially in the distance events. As a result athletes from higher altitudes generally swept the board in these races, including the steeplechase which produced a surprise winner in Amos Biwott of Kenya, previously unknown to international athletics. Alas, Bryan-Jones, like so many Europeans, simply couldn't produces his home form." He was seventh in his heat, in 9.16.8, five seconds slower than the time recorded in another heat by John Jackson, who he had defeated easily at the AAA event, and also in the GB v Poland match, but faster than Maurice Herriott, who had won silver at the 1964 Olympics in Tokyo. This was undoubtedly disappointing for Gareth and so many others but he showed his true world rating at the Commonwealth Games two years later.
In 1969 Gareth looked set for another fine season after a series of marks under 8.50. However after running 8.41 in a heat of the AAA, despite easing off in the last two laps, he was injured in the final and lost his title. Gareth had taken the lead with three laps to go by overtaking on the inside of the water-jump. Unfortunately he landed near the edge of the water, and the boards and matting did not extend to the edge. The sad result was that he landed half on the matting and half on concrete, breaking a bone in his foot. This also deprived him of the chance of earning selection for the European championship in Athens, although he had already decided he would not go to Greece for political reasons. Previously Gareth had won the East District steeplechase in 8.41.0; and retained his Scottish title in 8.46.2. Bill Mullett (Brighton and Hove / Shettleston H) topped the Scottish list with 8.40.8 but Gareth's seven races averaged 8.45.1, which was superior to 8.46.4 (Alistair Blamire (EU/Shettleston H) and 8.48.4 (Mullett).
1970 produced the fastest steeplechase by Gareth Bryan-Jones. "Athletics Weekly" tells the story of his build-up to the Edinburgh Commonwealth Games. After running well on country and road, Gareth attempted his first steeplechase of the season in the Scottish League at Pitreavie on 26th April, winning in 9.07.6. Next on 16th May he won at Sale (8.54.8). A week later at the East District championships in Edinburgh he took a break from hurdling by winning the 5000m in 14.04.0. On 30th May he won at Meadowbank in 8.57.0. Then on the 5th of June (at Meadowbank once again) Gareth sealed selection by winning the SAAA title in 8.41.8, well in front of Bill Mullett, Bill Ewing and Dave Logue (EU), who was selected by Northern Ireland for the Commonwealth Games steeplechase.
On June 13th Gareth ran 8.42.6 but was defeated by England's Gerry Stevens (8.38.6), who ran a very fast last lap. Yet Gareth had raced frequently and had not yet peaked.
On 11th July, Gareth completed his preparations with another second place (8.46.6) at the White City in London. Running for GB versus East Germany, once again Gareth was outkicked by Gerry Stevens (8.44.0). They defeated the two East Germans – fourth was a certain Waldemar Cierpinski (9.04.8), who later astounded the athletics world by winning two Olympic marathon gold medals (in 1976 and 1980), probably with the assistance of performance-enhancing drugs.
On the eve of the Commonwealth Games, Gareth Bryan-Jones was ranked 6th, behind two Australians, two Kenyans and an Englishman. However Mel Watman believed he might have a chance of winning a medal.
In Edinburgh's Meadowbank Stadium, with which Gareth was so familiar, the steeplechase heats took place on Wednesday July 22nd. AW reported: "In Heat One, Olympic champion Amos Biwott (Kenya) wore socks, which was not so odd really as he never got them wet: as in Mexico he leapt the entire water jump! He ran a personal best of 8.37. Pending world record holder Kerry O'Brien (Australia) was quite content to let him go." Heat Two was won by Olympic silver medallist Ben Kogo (Kenya) in 8.44.8, in front of his team-mate Ben Jipcho (who later became for some time the best middle-distance athlete in the world), Tony Manning of Australia and Gareth Bryan-Jones of Scotland (8.52.6). There were five to qualify from each heat, so this was comparatively stress-free for Gareth.
The final was only one day later. The AW report is as follows. "What was shaping up as a classic confrontation between world record holder Kerry O'Brien and Olympic champion Amos Biwott resulted in the race being won by neither …. such is the unpredictability of athletics. Biwott at least came away with a medal but poor Kerry had nothing to show for his labours except bruises and the memory of falling headlong into the water jump while in the lead………
The incident happened on the penultimate lap. Earlier in the race Andy Holden (AAA champion and World Student Games silver medallist) had led past 1000m in 2.50.4 and O'Brien had been ahead at 2000m in 5.40.8. At that stage only Grant McLaren of Canada had been detached and nine men were grouped within a space of some 15 metres.
At that fateful water jump O'Brien was on the inside and just ahead of his team-mate Tony Manning when his spikes caught the rail and he fell at full stretch, leaving Manning out on his own. Holden, who was directly behind O'Brien as he approached the jump, found his way obstructed and his rhythm broken. At the bell (7.18.6) Manning led from Ben Jipcho, Holden, Biwott, Ben Kogo and Gareth Bryan-Jones.
Over the last lap Manning extended his lead to over 20 metres, winning in the fine time of 8.26.2, his second 1500m taking only 4.10.6. Jipcho, in becoming Africa's first man under 8 and a half minutes, held off Biwott, who himself improved by several seconds. Bryan-Jones, with a late run, passed Holden for fourth – both registering worthy personal bests. Bernard Hayward broke Tony Ashton's Welsh Record with 8.39.8 – no less than 17.6 seconds faster than his pre-Games best!
1                    Tony Manning (AUS) 8.26.2 (UK All-Comers and Games record)
2                    Ben Jipcho (KEN) 8.29.6
3                    Amos Biwott (KEN) 8.30.8
4                    Gareth Bryan-Jones (SCO) 8.33.8
5                    Andy Holden (ENG) 8.34.6
6                    Ben Kogo (KEN) 8.36.2
7                    Bernard Hayward (WAL) 8.39.8
8                    Gerry Stevens (ENG) 8.49.4
9                    Grant McLaren (CAN) 8.55.4
Kerry O'Brien (AUS) dnf."
Gareth's time was the fastest-ever by a Scottish representative; and topped the British ranking lists for 1970. Having peaked, he ran only one further steeplechase that year, for GB on Sunday 2nd August during the European Cup Semi-Final in Zurich. AW reported: "He took the lead with about 650m to go and with only half a lap remaining was 20m ahead. However he tired badly and misjudged the final water jump, coming to a dead stop after landing. Jean-Paul Villain of France (8.46.4) sprinted past in the straight, but Bryan-Jones (8.47.6) pluckily managed to stay ahead of the others."
By October, Gareth was steadily working his way back to full fitness by running the usual domestic road and cross-country relays for a winning ESH team. He was presented with the Harry Scott Memorial Trophy, as the member of an Edinburgh or Lothian club who was judged to have made the most meritorious performance during the season. This was an award he had previously received in 1968. In both 1968 and 1968 he had been joint-winner of the George Crabbie Cup for the best performance at the SAAA championships, sharing this trophy with Lachie Stewart and Alistair Blamire respectively.
1971 was, inevitably, less successful for Gareth Bryan-Jones, although he won the East District and SAAA steeplechases (his fourth Scottish title in a row) and was unlucky to miss the Olympic qualifying mark by 0.2 of a second when finishing third in the Coca-Cola meeting at Crystal Palace on 10th September. His time – 8.38.2 – topped the Scottish ranking list. (A footnote on the East District race, which he won very easily in 8.59.2, was that I came a very poor second (9.44.0) in my only season attempting the event. It was a relief that he did not lap me. By season's end I was left with a broken wrist and a badly-pulled hamstring to warn me that the steeplechase is a very, very tough event, best left to heroes like Gareth!). Our favourite Welsh Scotsman also ran a marathon in the very respectable time of 2.23.47 when fourth in the Edinburgh to North Berwick event in early May.
In 1972 Gareth topped the ranking list again with 8.48.0 but was not up to his usual high standard, although he won races at Crystal Palace and Meadowbank. In 1973 he was dogged by illness (mainly persistent headaches and flickering eyesight, caused by after the car crash in late 1972) and narrowly failed to break nine minutes. In 1974 he made a comeback and despite having a season's best of 8.55.6 won four times, defeating amongst others the Scottish list-topper Ian Gilmour.
Then in 1975 Gareth Bryan-Jones became for the fifth and final time Scottish steeplechase champion. His season's best was 8.47.8, again second-fastest to Ian Gilmour. By 1976 Gareth's main sport was orienteering. In 1973 he had been hooked immediately on that sport. Part of the attraction was the terrain, which was much more to his liking than cross country races involving laps on flat fields. In addition he had a family by now and orienteering was a much easier sport to compete in with his family.
Gareth Bryan-Jones had a long and illustrious career as an orienteer. He won many championships and represented Scotland and Great Britain. His best result in the British Championships was 3rd in 1978 at Tentsmuir. He won British age-group championships at M45, M50, M55 and M65. In addition he played a major role in organising international events (such as the Scottish 6-Day) and working on important committees, especially for Forth Valley Orienteering Club, which is one of the most successful clubs in Britain, having won several UK team and relay championships. Along with Martin Hyman, Geoff Peck, Carol McNeill and Tony Thornley, Gareth was involved in setting up the British Orienteering Squad and coaching system. At its start, Chris Brasher, Martin Hyman, John Dyson and John Disley all thought orienteering could learn a lot from the UK distance training heritage, which in the 1970s was very strong. Gareth also wrote a book called "Orienteering Techniques" which was considered 'a must for orienteers of all standards from beginner to elite'.
In 1987 Gareth was presented with the Silva Award by British Orienteering. This was "to honour those who have contributed in a special way to the development of orienteering over a period of years". He won the Scottish M60 orienteering at least five times between 2003 and 2010; and in 2004 and 2006, representing Ochil Hill Runners, won the Scottish M60 Hill-Running Championship. Gareth had become a regular hill runner. He and John Bryant had always talked about and sometimes done a run on their birthdays as many miles long as they were years old.  John's son Mathew did this every year and is now up to nearly 40. Gareth decided he must try and run 60 miles when he was 60 so he ran St Cuthbert's Way with two friends and his son. As they got to Lindesfarne, Colin Butler said, "The West Highland Way is only 30 miles longer – we should do that next year."  Colin was injured but Gareth had a go – didn't succeed in 2003 but did manage the whole way in 2004 in just under 24 hours. He has an ambition to run it again when he is 70. Gareth managed to run the 2011 Highland Fling (53 miles from Milngavie to Tyndrum) in just under 11 hours. Gareth's daughter Kirsty was for some years a GB Orienteering International and is a very active hill runner for Dark Peak; and his son Ali does well in ultra-races like the West Highland Way.
I will let fellow hill-runner Dave Hewitt have the last word on Gareth Bryan-Jones, a real achiever without a trace of condescension. In July 2010, Dave reported on 'The Maddy Moss', a low-key mid-week hill race in the Ochils near Stirling. "Race marshals are unsung heroes. The man who opted to stand on The Law, happy to spend 45 minutes or so in a downpour, saying "Well done, follow the fence, then the flags" to everyone who passed, was Gareth Bryan Jones, who ran the steeplechase for Great Britain at the 1968 Mexico Olympics. Mexico City sunshine, Maddy Moss rain – it still comes under the same athletics umbrella."