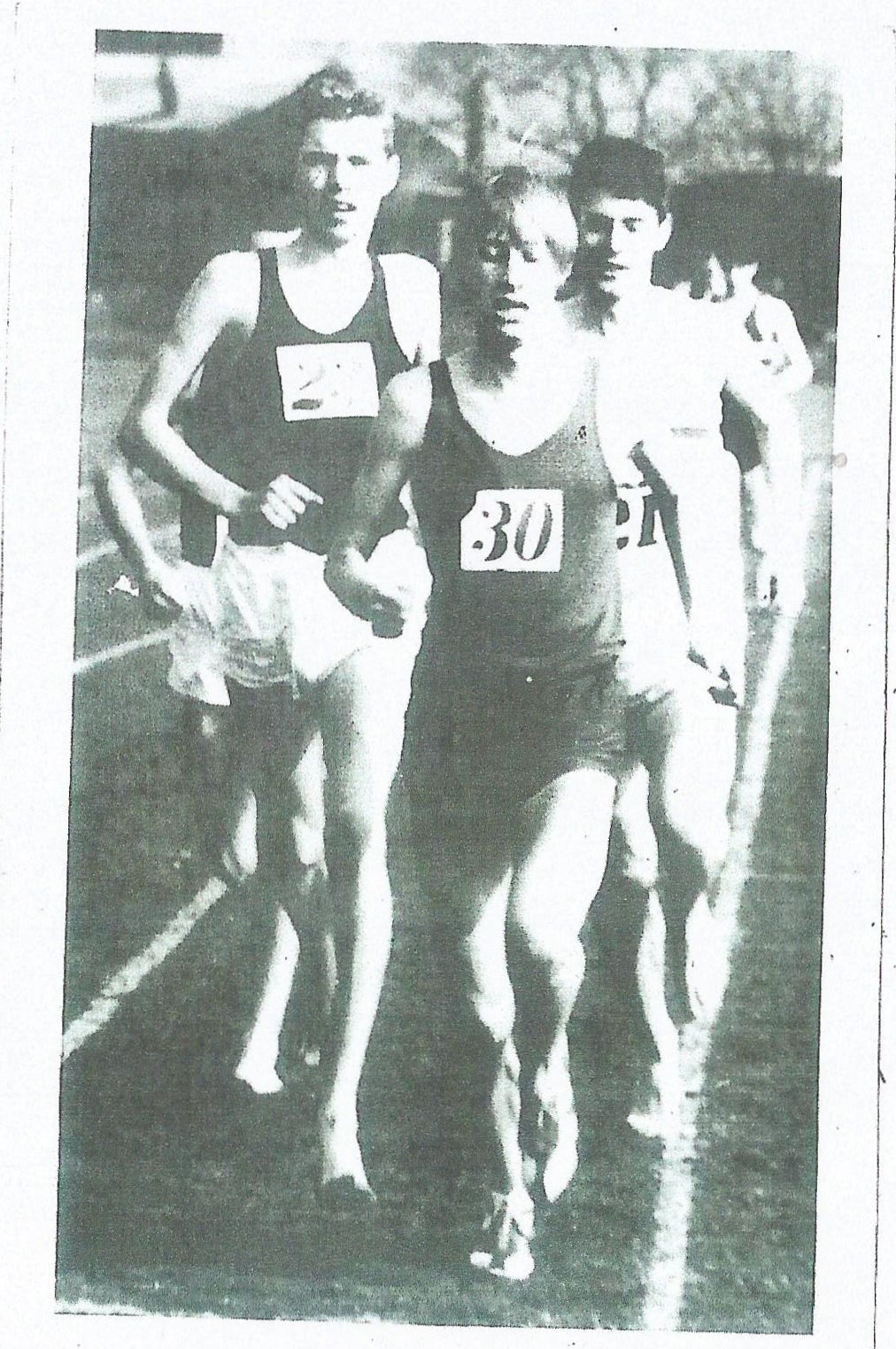 Alistair Blamire , Number 30, leads with Fergus Murray directly behind
Alistair Blamire was a superbly talented all-round distance runner who is seriously under-rated.   Whether it were on the roads or the track, over the country or the hills, he ran well.   He ran well in individual races and also in team events such as the Edinburgh to Glasgow.   Had he been running in the twenty first century he would have been a real stand out.   As an athlete he came from good stock.   His father, JR Blamire,  had won the Inter-Scholastic Under 14 100 yards in 11.6 seconds and 300 yards in 41.2 in 1928  and his uncle, G Blamire, won the 300 yards in 1930 in 41.6.   For times by 13 year olds these are still very good times.   The following profile has been written by his good friend and rival, Colin Youngson.   Colin writes:
"Athletics Weekly" on January 17th 1970 included "Who's Who in British Athletics" featuring a successful steeplechaser. The questionnaire was answered as follows.
Full name: James Robert Alistair Blamire.
Born in Edinburgh on 13th of July 1946.
Height: 5 feet 10 inches; Weight 130 lbs.
Pulse at rest: 52-55.
Student of architecture.
Clubs: Edinburgh University AC; Shettleston Harriers.
No coach: (advised by Frank Horwill as a junior).
Lives at Kirkconnel (Dumfriesshire).
'Always had a great interest in athletics as a boy and began training seriously in April 1963.'
tarted at 880 yards and mile; favourite event now is cross-country.
Best marks:
440 yards – 54.1 (1964)
880 yards – 1.57.0 (1965)
1500m – 3.51.1 (1969)
Mile – 4.14.6 (1965)
3000m – 8.10 (1969)
2 miles – 8.53.4 (1969)
3 miles – 13.37.0 (1968)
5000m – 14.07.2 (1969)
6 miles – 29.26 (1968)
marathon – 2.29.47 (1967)
3000m steeplechase – 8.41.4 (1969)
Annual progress at mile, 3 miles and steeplechase:
1962 – 4.50.2
1963 – 4.30.1
1964 – 4.20.9, 15.10.0, 4.23.2 (1500m SC)
1965 – 4.14.6, 14.34, 9.31 (3000m steeplechase)
1966 – 4.14.7, 14.16.8, 9.27.4
1967 – 4.22.7, 14.16.8, 9.32.6
1968 – 4.18.4, 13.37.0, 9.08.6
1969 – 3.51.1 (1500m), 14.07.2 (5000m), 8.41.4
GB International (3000m steeplechase) 1969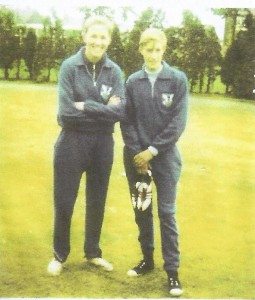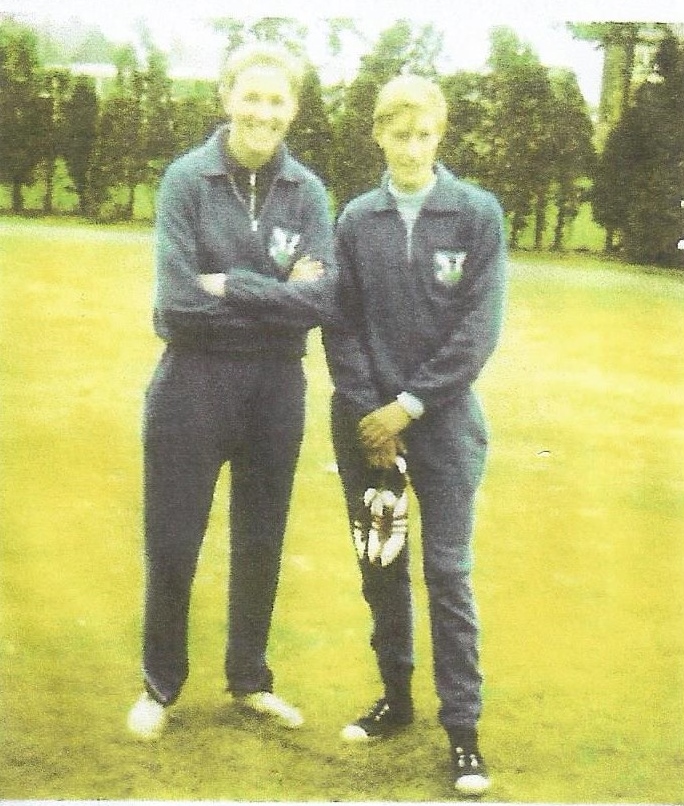 A modest looking Scottish Schools champion
Most pleasing performance: "breaking the Scottish Schools 1500m steeplechase record by 12 seconds in 1964". Most likes: "winning and setting personal bests and also that it is an individual's sport in which performance is dependent to a large extent on oneself". Dislikes: "injuries and the mental staleness which seems to affect me every track season".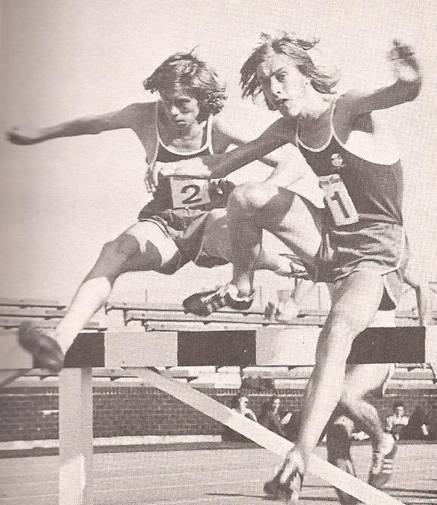 Alistair (1) and Ian Gilmour (3)
John Keddie had some more to add in his centenary history of the SAAA. He makes clear that, on 28th June 1969 at Grangemouth, Alistair Blamire's SAAA silver medal-winning 8.46.2, (which was the same time recorded by the gold medallist, British champion Gareth Bryan-Jones), was a Scottish Native Record (which lasted for 9 years), since Gareth was Welsh by birth (but Scottish by residence). Earlier in the year Alistair had beaten Gareth's championship best in the British Universities Championships at Motspur Park, with a time of 8.50.6, which stood for 32 years. In addition, Alistair's best-ever mark of 8.41.4 on 2nd August 1969, when fourth in the AAA Championships at the White City, was a Scottish National Record. (Although Blamire defeated Bill Mullett (Brighton and Hove / Shettleston H) on that occasion, and at the SAAA, it was the Anglo-Scot who gained revenge by setting the season's final Scottish National Record with 8.40.8 on 1st September, when they both competed for GB against France at the White City) Keddie wrote: "In many respects these were palmy days for Scottish steeplechasing, since between 1966 and 1969 Scotland could point to no less than five steeplechasers – Lachie Stewart, John Linaker, Gareth Bryan-Jones, Alistair Blamire and Bill Mullett – who attained full British representation." In that peak track running year of 1969, Alistair Blamire also raced well in Brno, Czechoslovakia and Verona, Italy; and averaged an impressive 8.46.4 for his eight steeplechases.
Competition for the Scottish team to take part in the 1970 Commonwealth Games in Edinburgh must have been intense. Sadly, illness affected Alistair Blamire (he was diagnosed with a chronic stomach illness in late 1969, which affected his training and led to inconsistency in his performances for the remainder of his running career) – in the end only Gareth Bryan-Jones was selected. In fact Blamire does not appear in the Scottish Athletics Yearbooks for seasons 1970 and 1971.
However Alistair made a steeplechase comeback in 1972. Despite representing Shettleston Harriers, he became East District champion; and then Scottish Champion (at Meadowbank on 24th June in 8.58.4); before adding a season's best by winning at the same venue on 29th July of 8.56.8. In 1973, Alistair Blamire ran consistently well all season, although he narrowly lost his SAAA title to Bill Mullett. Nevertheless, Alistair's 8.43.8, achieved at Crystal Palace on 13th July, was top of the Scottish rankings for the season. Unfortunately, this was not enough to secure selection for the 1974 Christchurch Commonwealth Games.
Subsequently, Alistair's track form tailed off. Representing ESH, he was third in the 1974 SAAA. In 1975 he tried the Scottish Marathon instead, finishing a distant sixth,  in 2.26.20. This was a considerable disappointment as he had had some success at the half marathon distance, finishing fourth, third and second in three successive attempts at the Morpeth to Newcastle road  race. He seems to have retired after 1978.
Now this section of the website is devoted to Scottish steeplechasers. My opinion is that the key statement in the AW questionnaire above is: "favourite event – cross-country". Although there is no doubt that Alistair Blamire was a very good steeplechaser, his athletic career was much more varied.
By the time I made his acquaintance, this apparently fragile athlete with steely determination was part of the all-conquering Edinburgh University cross-country squad who annihilated all opposition at Scottish University, British University and Scottish National levels. On the track, I remember watching him engaging in very close 3 mile battles with his EU rival Ian Young (Springburn H); and winning both the 5000m and the steeplechase at the1969 Rowland Shield, which involved runners from 14 Scottish and English Universities at Maiden Castle Sports Centre in Durham.
Alistair Blamire's cross-country progress had been very impressive. The record book shows that he finished ninth in his first attempt at the Scottish Junior National CC Championships in 1965, third counter in a winning Edinburgh University Hare and Hounds Club. His team-mates were Roger Young, Ian Young and Jim Wight. In 1966 EU could only managed third team, but this time Alistair won individual bronze, behind Ian McCafferty (Motherwell YMCA) and Eddie Knox (Springburn). Finally in 1967 he finished a close second to the brilliant Eddie Knox, who shortly afterwards won gold at the ICCU Junior CC in Barry, Wales. In his centenary history of the SCCU, Colin Shields wrote of the Scottish Junior National race: "This was the closest of the day, with Eddie Knox and Alistair Blamire locked together throughout the five mile race. Neither would give way, whatever the pressure applied by the other until, in the final 100 yards, Knox forced his way ahead for a narrow 1 second victory over Blamire. The Edinburgh student, however, had the satisfaction of leading his team-mates to a win over Shettleston and Springburn, giving Edinburgh University a double triumph (they had also won the Senior team title) only ever achieved in modern times by Victoria Park." Edinburgh had already won the BUSF team championship that year, when they defeated Oxford, Cambridge and London Universities at Parliament Hill Fields, London, emulating the victory of the 1950 Edinburgh team. Alistair ran for the Scottish Senior team in the ICCU race in Barry.
In 1968, Alistair Blamire produced perhaps his most memorable race – in the Scottish National Senior CC, which was the last to be held at Hamilton Racecourse. Colin Shields summed it up in this way. "With Ian McCafferty's wedding being held on the same day as the National Championship, Lachie Stewart (Vale of Leven AAC) started favourite to score a repeat victory in the Senior race. But he did not have it all his own way, for Alistair Blamire, runner-up in the 1967 Junior championship and one of the most improved runners of the year, gave him a determined challenge throughout the race. The pair were neck and neck throughout the entire seven and a half mile race, with Stewart gaining his expected win only in the last few strides to finish one second clear of the gallant Blamire……..Edinburgh University won their third team championship in a row by the narrowest possible margin of one point from Aberdeen AAC. The places of the two teams were as follows: 1) EUH&H (Alistair Blamire 2, Gareth Bryan-Jones 10, Dave Logue 13, Ian Hathorn 19, Alex Wight 24, Jim Wight 25) Total 93 points. 2) Aberdeen AAC (Mel Edwards 9, Bill Ewing 14, Peter Stewart 16, Alastair Wood 17, Steve Taylor 18, Joe Clare 20) Total 94 points." Once again, Alistair Blamire won a Scottish vest for the ICCU Championships, this time in Tunis.
Alistair seemed to peak for the Scottish National CC most years. Recovering from a collapsed lung, he could only manage 18th in 1969; but was back near his best in 1970, to finish fourth, not long after becoming the East District CC champion. Then in 1971 at Bellahouston he was a close second to the formidable defending champion Jim Alder (EAC) after a race-long battle, with the 1969 winner, Dick Wedlock (of the all-conquering Shettleston Harriers) a distant third.
Although Alistair Blamire had run for EUH&H in the National, having previously won the 1971 Scottish Universities CC individual title, he represented his club, Shettleston Harriers, on one of the greatest days of their long history. A newspaper report from March 1971 has the headline: BLAMIRE LEADS SCOTS TO CROSS-COUNTRY WIN. "Shettleston Harriers won the English National Cross-Country title at Norwich yesterday – the first Scottish club to win the championship since Victoria Park in 1952. The Scottish champions were led home by Alistair Blamire in 11th place, and had a total of 282 points. Lachie Stewart, the Commonwealth Games 10,000 metres gold medallist finished 19th. The other Shettleston placings were: Dick Wedlock (24), Norman Morrison (32), Henry Summerhill (65) and Tom Grubb (131). The race was won by David Bedford, a 21 year-old London sales clerk, with a time of 47 minutes 4 seconds for the 9-mile course."
At the 1971 ICCU event at San Sebastian, rain, hailstones and gales produced heavy mud. Alastair Blamire was fifth Scottish counter in 58th, ahead of Jim Alder.
Shettleston Harriers retained the National CC team award easily, with Alistair Blamire 3rd (surging away from Andy McKean towards the end) and Lachie Stewart fifth. Unfortunately their attempt to retain their English title was spoiled by the atrocious weather at Sutton Coldfield. Colin Shields reported: "A freak snow blizzard, which raged throughout the championship, was of such severity that one of the race officials collapsed and died on arrival at the hospital. The conditions ruined the race as a contest, with runners collapsing form exposure and exhaustion. In dreadful conditions of snow, hail and extreme cold, Lachie Stewart and other Shettleston runners dropped out, requiring medical attention, and Shettleston did not finish a team of six runners." Alistair himself had fought into sixth place, when he was forced to give up. (I remember the event well, since I struggled home in 112th place, which was never recorded since I refused to risk hypothermia by queuing to hand in my finish number.)
Colin Shields again: "Conditions were totally different at the International Championships at Coldham's Common, Cambridge. Bright sunshine and dry, firm underfoot conditions made it ideal terrain for Scotland's team. Unfortunately, Ian McCafferty ran very poorly and did not score. Ian Stewart (3rd), Jim Alder (20th), Lachie Stewart (27th), Alistair Blamire (36th), Andy McKean (44th) and Dick Wedlock (71st) contributed to fourth place in the team contest.
Having missed the 1973 National and moved back east, Alistair ran for Edinburgh Southern Harriers from 1974 onwards – which meant that I became a team-mate at last! ESH finished second team in the National five times in a row from 1974 to 1978, but sadly Alastair had retired before the team victories of 1979 and 1980. Alistair was first team counter in 1974 (fourth), when he went on to gain a Scottish vest for the inaugural World CC Championships at Ghent, Belgium, finishing a team counter in 66th place. In the 1975 National, Alistair was again first home for ESH, in sixth place. His final three performances in his favourite race were 12th (1976), 7th (1977) and 26th (1978). Overall, Alistair Blamire had an admirably consistent record in the most prestigious Scottish race. He also ran in ESH's bronze medal team in the very first Scottish CC (4-Man) Relay championship; and was on the anchor leg in the 1975 gold medal triumph (Martin Craven, Ian Elliot, Allister Hutton, Alistair Blamire).
However on the road the most renowned competition was the Edinburgh to Glasgow Relay. Edinburgh University Hare & Hounds won silver in 1964, with new student Alistair Blamire finishing fourth on the first stage, before handing over to the redoubtable Fergus Murray who promptly put his team in the lead with the fastest time on the second leg. 1965 was when, defeating previous winners Motherwell YMCA, EU smashed the record in the time of 3 hours 36 minutes 32 seconds, with a much fitter Alistair breaking the first stage record in 27.01, only a second in front of that outspoken old champion, Ian Binnie (Victoria Park AAC). Fergus ran an outstanding new record of 31.07 on the long sixth stage, taking 38 seconds off Ian McCafferty.
Even without Fergus Murray, the Edinburgh students easily retained their title in 1966, with Alistair equalling his stage one record. They won again in 1967, after a harder tussle with Shettleston, with Alistair only ten seconds slower than Mel Edward's fastest time on stage two. Another medal-winning EU performance was in 1969, when they finished third, with Alistair third-fastest on stage six.
Then in 1972 Alistair Blamire played his part in Shettleston Harriers' victory, by handing over second, only three seconds slower than Alex Wight's fastest time on stage four.
In 1974, Alistair was fastest-equal with fellow-steeplechaser Ian Gilmour (Clyde Valley AC) on stage four, keeping the ESH lead which was maintained all the way to George Square. In 1975, when ESH broke EU's ten year-old course record with 3.33.52, Alistair was handed the unenviable task of holding off the charging Andy McKean on the second stage. Blamire made it by three seconds, which meant that his ESH team led from start to finish. Alistair was the only one of the 1965 record-holders to play his part in setting the new 1975 mark.
Latterly, Alistair dabbled in fell running, breaking the record for the Carnethy Hill Race by one and a half minutes in 1975, and finishing fourth in the Three Peaks classic in Yorkshire the following year, after leading on the final summit.
Throughout his career, Alistair Blamire was plagued with shin splints or knee injuries. He never managed to maintain 100 miles per week despite the influence of the residents of 'The Zoo' (see Fergus Murray's profile in Marathon Stars) but he recalls: "Generally the mileage that suited me best was about 70 miles per week, including a mix of 5 to 15 mile runs and two or three fartleks (total of around 10 sessions a week). I used to run on grass a lot, due to shin soreness, and hated training on the track (except for the odd occasion).
Sessions which I recall include the following.
-12x300m with 100 m jog – this was the suicide session that we did at Westerlands and almost always on grass. I like to think that at our best we (Albie Smith, Dave Logue, Innis Mitchell etc) did it in 15 minutes, although the distances weren't exact).
– 18 laps (ten miles) on grass at Craiglockhart – bare feet of course!
– Fartleks on the road with Fergus ('The Beast') – ten miles usually and also suicidal. Fergus once invited me for a run and dinner at his place – it consisted of eating the tinned potatoes and stew first and then doing a ten mile fartlek on the Braid Hills!"
Ian Binnie once answered the question "Who were the three greatest runners?" He replied, "Emil Zatopek, Filbert Bayi and Alistair Blamire". His explanation was that Zatopek was an obvious choice; Bayi was a true front runner, like Binnie himself; and Blamire had beaten him on the first stage of the E to G in 1965, when Ian was making a brief comeback! Don Macgregor wrote: "Alistair was 19; Ian Binnie was 38. Binnie accused Alistair of going round the Maybury roundabout (just before the finish) the wrong way!"
You may think that Ian Binnie was being satirical, which was not unusual for him. However there is no doubt that Alistair Blamire, a quiet, modest man, was an outstanding runner on track, road and especially country.