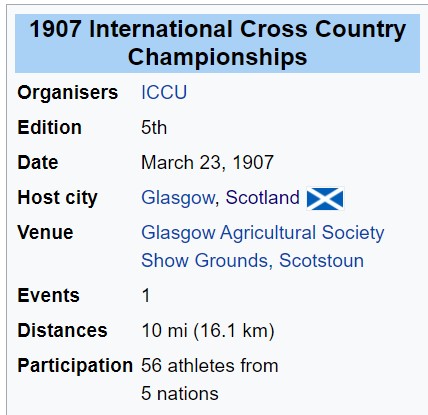 The first official cross-country championship had been held in Scotland in 1903 and a mere three years later it was back – Hamilton in 1937. Only one of the Scottish team that day would be known to most Scottish athletics aficionados. Tom Jack from Edinburgh who in the course of his career would win the cross-country championship of Scotland three times, run in the international 5 times and win the ten miles title six times, the four miles once and have numerous medals of all colours also in his trophy collection. For the race description we go to Colin Shields's book "Whatever the Weather" (an excellent book, the go-to book for all serious historians) who describes it thus:
"The international race was held at Scotstoun Showground over a four lap 10 mile course for the benefit of the 2000 spectators who attended the event. Newly crowned National Champion Tom Jack finished fifth over a tough course which included fences and water jumps on each lap in a fast run race, won by A Underwood (England) in 54 min 24.6 seconds. Jack split the English team , finishing less than a minute behind the winner, and the entire Scottish team finished inside the first 18 home to take the second place, behind England and finish well clear of Ireland and France, who made their first appearance in the race."
The Glasgow Herald had a longer report with all the places recorded.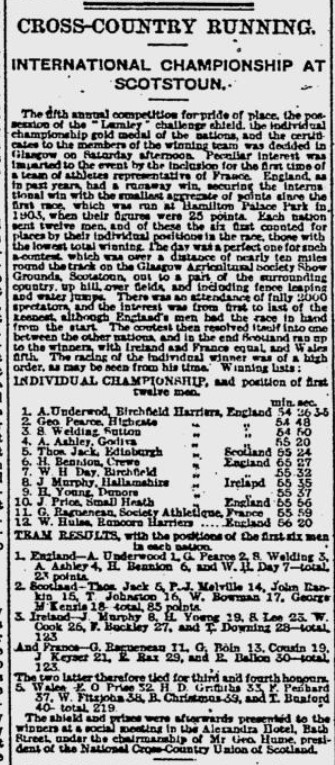 Follow the link above and read more about Tom Jack for whom this was the first of five cross-country international appearance – a good all round endurance runner from all distances from one mile upwards.