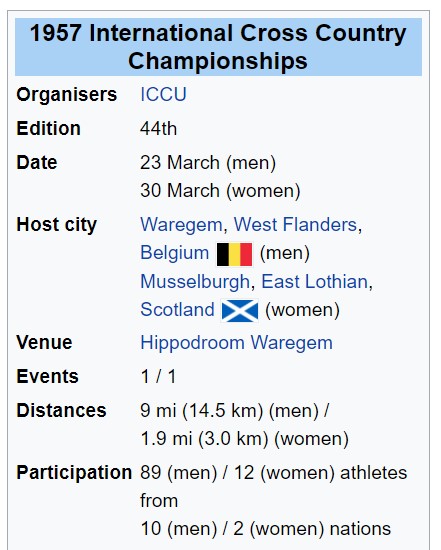 From the race detai;ls above, we can see that the championships were again split between the men and the women, and that again there were only two women's teams forward – Scotland and England and Scotland. It was again under the ICCU organisation but was again an unofficial championship. The team was chosen from the Scottish championships held at Craigie Estate in Ayr and were won by Morag O'Hare of Maryhill Harriers from Betty Rodgers of Shettleston and Helen Cherry of Bellahouston Harriers. They were joined in the international team by Doreen Fulton, Dale Greig and Mary Campbell. Unlike the last running of the women's international, the venue for the national championship and the international were different. In 1957 the race was held at Musselburgh on the East Coast. The result was not much different though. The Glasgow Herald report read: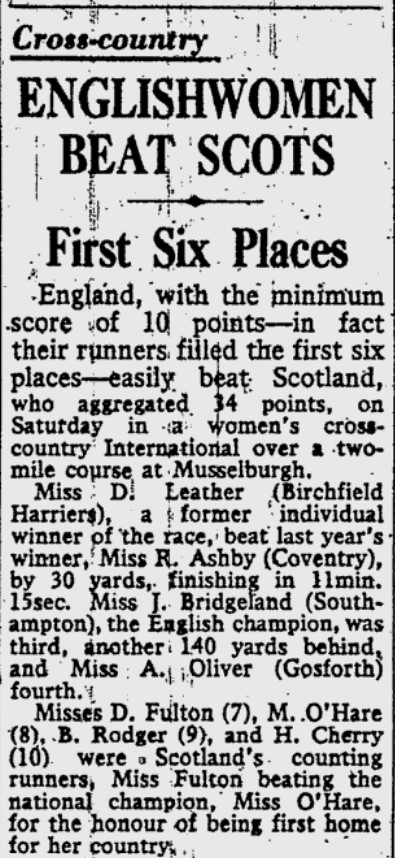 Dale Greig was eleventh and Mary Campbell twelfth. The race had been held on a beautiful day with blue skies and not a cloud in sight but as Dale Greig said, "The occasion brought no joy for the Scots."
There were ten teams taking part in the men's race with Scotland finishing eighth, ahead of Wales and Switzerland. The Glasgow Herald report did not single out the Scots in the headline this time.

Another Scots team that looked good on paper and in domestic races disappointed on the international stage.