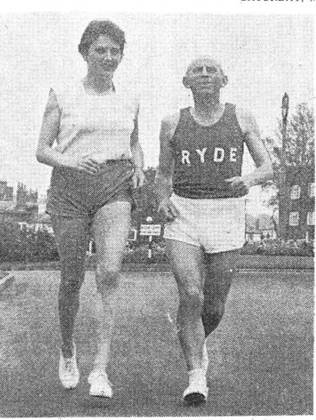 From Wikipedia: "Dale Greig (Born March 15, 1937) is a former Scottish long-distance runner who is recognised by the International Association of Athletics Federations as having set a world best in the women's marathon on May 23, 1964 with a time of 3:27:45. Greig held world best time until Mildred Sampson set a new mark nearly three months later. With this performance she became the first woman to break 3 hr 30 min for the marathon distance. Her record was set on 23 May 1964 at the Isle of Wight Marathon where she was followed round the course by an ambulance. It was her first attempt at the distance. She was also the first woman to run the 55 mile London-to-Brighton race in 8:30 in 1972 – seven years before female competitors were officially allowed. In 1974 at the age of 37 she won the first international championship marathon for women at the world veterans' championships in Paris."
The above entry from Wiki says a lot about her claim to fame but does not tell anything like the full story of Dale Greig's remarkable career. Track Champion,. Cross Country champion and international athlete for 13 years, marathon pioneer and world record holder, ultra marathon runner and more covers the bases and we need to look at what she did before the remarkable run in Ryde. Doug Gillon listed some of her career highlights in an article in 'The Herald' in April 1998 as follows.
Scottish Universities 440 yards champion 1956
Scottish Cross Country Champion 1960, 1962, 1964 and 1968
Scottish Cross Country Internationalist 1957 – 1970
In 1968, Dale (along with Doreen King, Margaret MacSherry and Leslie Watson) won Team Bronze medals for Scotland in the ICCU Cross Country Championships
World Record Holder Women's Marathon, 1964
First Woman to run the Isle of Man 40 Miles TT Mountain Course, 1971
Ran up and down Ben Nevis (4400 feet) 1971
First Woman to run the London to Brighton 53 miles 1972
IGAL World Champion Women's Marathon, Draveil, Paris, 1974
Competed in 10 IGAL Championships and three European Championships
It is clear that we are not talking about a plodder who was lucky one day – we are talking about a serious athlete who had a core of steel which enabled her to do remarkable things in the sport. If we take her career in order we might get some idea of what she had to do to become one of the top rated world athletes: was she not rated ahead of Ingrid Kristiansen, Wanda Panfil, Rosa Mota and others in an American poll of The Greatest Women Marathon Runners in history where she was ranked ninth with Catherine Ndereba first.
Dale started off her career as a track runner in summer and cross country runner in winter.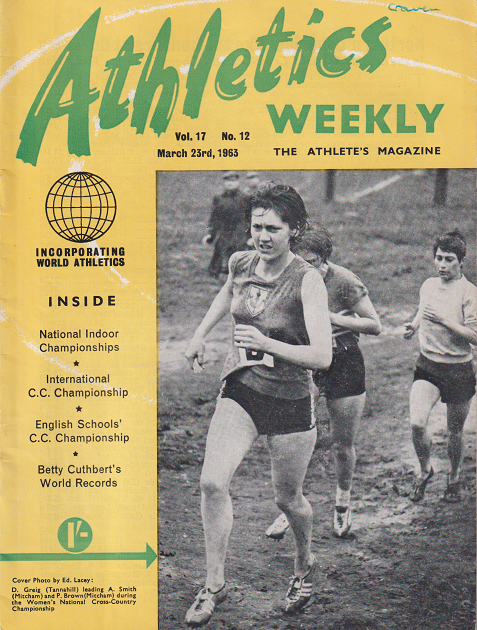 DALE GREIG: ATHLETICS WEEKLY COVER STAR
On February 16th 1963 at Fauldhouse, "over a course more like a Polar plateau than a cross-country course" Dale (Tannahill) finished second (by 7 seconds) to Georgena Buchanan (Western) in the Scottish Women's C.C. Championships. On March 9th at Richmond Park, when "rain, gale, mud and still more rain was the runners' lot" Dale battled her way to a very good 7th in the English Women's National C.C. Championships. Two weeks later, Dale (apparently wearing a Scottish International vest) became an AW cover star!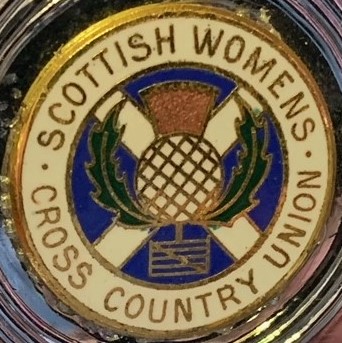 One of the interesting facts of her cross-country career was the close rivalry at times with that other great marathon pioneer who came after Dale and who capitalised on what she did to such an extent that women's marathon running in Britain was never the same again: Leslie Watson. If we look at their relative positions in the SWCCU Championships between 1964 and 1971 we get this picture.
| | | | |
| --- | --- | --- | --- |
| Year | Dale's Position | Leslie's Position | Time Difference (where known) |
| 1964 | 1 | 4 | |
| 1965 | 3 | – | |
| 1966 | 2 | 1 | 8 seconds |
| 1967 | 2 | 1 | 11 seconds |
| 1968 | 1 | 6 | |
| 1969 | 8 | 7 | 14 seconds |
| 1970 | 8 | 9 | 12 seconds |
| 1971 | 10 | 9 | 3 seconds |
In 1966 she was ranked fifth in Scotland for the Mile which was the longest distance women could race at the time with 5:36.0 – Leslie was second with 5:14.4 – and in the SWAAA Mile championships she was third to Watson's first place; in the West District championship, she was third while Watson was second. At this point she was of course thinking of the marathon. Her next appearance in the ranking lists is in 1969 when the 3000 metres was introduced to the championships and she was fourth with a time of 11:46.5 on the cinder track at Scotstoun. It is of more than passing interest to note that she was running for a club named Tannahill LAC. There had been no club for women in Paisley at the time and this was not unusual, for instance in Greenock there were two clubs for men (Greenock Glenpark and Greenock Well park) and the women had to form their own club, Greenock Rankin Park LAC. The difference was that Tannahill was a one member club – Dale was president, secretary and treasurer and sole running member! When one bears in mind that this meant that she had to pay all the affiliation fees (SWAAA, SWCCU, County, etc) out of her own pocket as well as all the incidental costs that clubs have to bear in order to survive. It was clear that she meant business.
A better than average career but not enough for Dale. At a time when the longest distance that women could run on the track was one mile, she took on the challenge of running 26+ miles. Working as secretary in Walter Ross's printing firm, she knew of the marathon at Ryde in the Isle of Wight (a notably hard course). Walter's brother lived in the Isle of Man so it was that she went to run in that one. She couldn't run with the men, that was clear so she started four minutes ahead of the field. The first of the 67 men entered passed her soon after the start but she finished the course, the challenge was simply to last the distance. She finished in 3:27:45 – she insists that she was actually 20 seconds faster but the recognised time was published in 'Athletics Weekly' and although the magazine published a correction a few weeks later, it has been ignored and the 45 seconds remained. The report in 'AW' was fairly detailed as far as the men were concerned (conditions were very humid, and only 49 men finished) but at the bottom, after the results and separated from the report by a line, it said "Scottish girl Dale Greig, starting 4 minutes before the men, ran unofficially and completed the tough course in 3h 27m 45s." The report in the local paper for Saturday, May 23rd, (from which the picture at the top is taken) read: "A slim 27-year-old Scots girl astounded the AAA officials when she completed the IW Marathon course on Saturday – the first woman to run this distance in Britain.. Dale Greig who at weekends turns out for her local club at Tannahill, Paisley,, came to the Island a week beforehand to train over the 26 miles 385 yards hilly course, one of the toughest in Europe. Three times winner of the Scottish women's cross country championship, her aim was to better the unofficial women's world record of 3 hrs 35 mins set up three months ago by an American girl over a flat course.
Although Dale was prepared to run among the 67 men competing, the officials would have none of it since marathons are, or rather were, a strictly male domain. Instead they allowed her to leave four minutes ahead of the rest of the field, and had a quiet word with the course ambulance driver to keep an eye on her. The same officials broke into cheers when 3 hrs 27 mins 25 secs later, Dale stormed over the finishing line in a sprint with a better time than many of the men, 19 of whom failed to finish. She ran straight into the arms of her widowed mother, Mrs Ann Greig who followed the race for most of its distance in a car.
"I knew she could do it," said Mrs Greig. "Dale is a secretary for the editor of a Scots sports periodical and lives for athletics." Dale's employer, Mr Walter Ross, himself a competitor in past marathons, agreed. "She's a bonnie lass," he said admiringly. Commented Dale: "Before the race I was nervous, but once I started I knew things would be all right." With a grin she added: "I felt sorry for the men I kept passing in the closing stages – they looked embarrassed. A couple who had given up and were sitting at the roadside struggled to their feet when they saw me.
A few hours later Dale went off to the athletes dance at the Royal York Hotel and remained until midnight. On Sunday she was up early and went for a swim before leaving on the long journey home."
Several things are clear: she suffered no harm, she enjoyed the race and it was at that time illegal in Britain. To make it worse, it was a mixed race and she had been helped for part of it by Walter's brother Bill – some say that Walter himself helped out in this way too. Officialdom was not happy and the following letter – reproduced in full – gives some of the flavour of their distaste.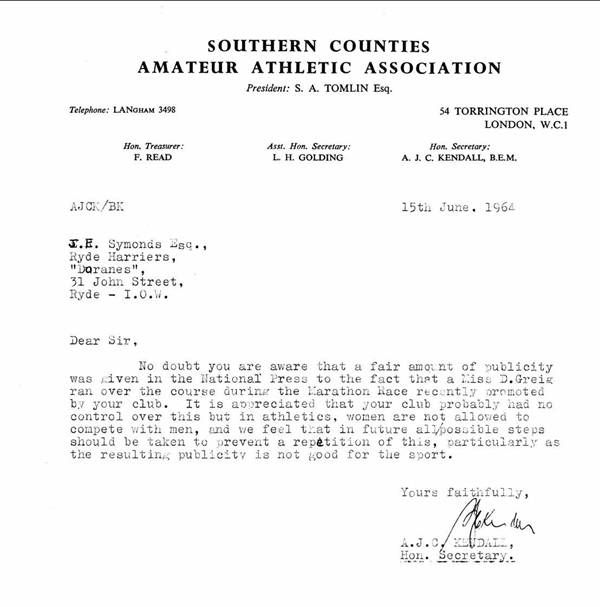 There were even family feuds about it. A doctor writing in the 'Daily Mail' warned that women (running marathons) would become 'old too soon'. The misogynist IOC President Comte Ballet de Latour wanted women barred from all Olympic events. Harold Abrahams supported this point of view but his brother Adolf, a noted sports medical expert and physician who had written a book called 'The Human Machine' among others, was very supportive of women running endurance events. Dale said "Walter's brother lived on the island and knew all the race officials and as I was going there on holiday, it was arranged that I would be allowed to run their marathon. I had to start four minutes ahead of the field so that they could say I was not part of the race. I was followed all the way by an ambulance and knew nothing about any world record at the time. The challenge was simply to last the distance. What nobody seems to realise was that I never considered myself a pioneer, championing women's rights. I just ran because I loved being outdoors."
The furore blew over and Dale kept on running – having won the SWCCU title earlier in 1964 she continued to run and in 1965 was third. Her next big challenge was the Isle of Man 40 miles TT Course in 1971 – interestingly enough the report on the 1971 SWCCU Championship says that she 'was satisfied with placing in the top dozen as she had her eye on a run in the Boston marathon' That would have been interesting as it was before Kathy Switzer had her famous contretemps with Jock Semple! Also in 1971 she ran in the Ben Nevis race – Britain's highest mountain at more than 4400 feet – which she said was a "body shattering" experience.
When she tackled the London to Brighton in 1972, she again had to start ahead of the men – this time she was an hour ahead. "I carried a map in my hand because I was worried about going off course," she said. "I needn't have worried about getting lost," she said, "the men caught me after about 14 miles and I was able to follow them after that." Her time was recorded by the Road Runners club of Great Britain as 8:30:04 but does not feature in the results. It was only seven years later in 1979 after Leslie Watson and two others had run over the course unofficially that women were allowed to run the 55 miles from Big Ben to the Esplanade in Brighton. It should be noted that she was not the first woman to cover the course but she was the first woman to run over it. It had earlier been done by a walker, the little known Lillian Salkeld is credited with walking the race in 12 hours 20 minutes in 1932. The '72 race however was all-Scottish affair with Alastair Wood setting the wonderful record of 5:11:00 and Dale doing her unofficial run on the women's side. Doug Gillon in an article in 'Athletics Weekly' of 30th October 2002, says: She had no doubts at all that she could go the distance after some remarkable training runs from her home in Paisley. She would set out at 7 am and head for the Ayrshire seaside resort of Largs but not by the most direct route. Her preferred run was through Bridge of Weir. "I'd stop there for an ice cream cone and walk while I ate it. By the time I'd got to Largs I'd done nearly 30 miles. Then I would have a swim in the outdoor pool. I'd hire a towel but I carried my costume in a pocket in a pocket of my wet-suit top. Then I would go for a cup of tea and a scone in a cafe and return along the coastal route along the shore of the Clyde by Wemyss Bay and Inverkip. If I got thirsty I'd just drink from a stream, or sometimes I might stop for a coffee and a wee cake before finishing in Gourock. I'd go to a friend's for a bath and then catch the train and be home by 3:00 pm. The total run was just over 50 miles and I did it quite a few times."
Walter Ross was an enthusiastic veteran harrier and was responsible for starting up the Scottish Veteran Harriers Association. He was also very keen on the international side of the movement and when he managed to get the IGAL World Road Running Championships to Glasgow in 1980 there were hundreds of runners from all over the world running through the streets on the south side of Glasgow in the 10000 metres on the Saturday and the marathon on Sunday. It was a wonderful festival of running and comradeship with exquisite pieces of jewellery in lined boxes for every finisher. The first such championship was held in Paris in 1974: one Scottish runner ran with an armful of flowers which he distributed to spectators with the cry of "Vive l'Ecosse!" As in Brighton, the day belonged to the Scots when, in 80 degrees heat, Alastair Wood won the men's race and Dale, aged 37, took the women's event in 3:45:21. This was the first ever marathon in which men and women were allowed to run together. The Editor of the 'France Soir' newspaper presented Dale with a trophy which she keeps in a cupboard at home with her other memorabilia. Reports always comment on two things – the fact that she has no trophies, medals or certificates on display and the fact that she made no money from her career. Doug Gillon goes on at length about the houses owned by Paula Radcliffe, Liz McColgan, et al and makes the point that while they are millionaires, she lives in a small home bought from the Council. Her line is simple and has been reported frequently and it runs as follows – "I don't envy them the money. I'm against materialism and glad to have missed the drugs which came into the sport after I had gone, but I envy them the opportunity that they have to make a career and a life out of running. I would have loved that!" The picture below is from an 'Athletics Weekly' article of 2002 by Doug Gillon and shows Dale with her friend Aileen Lusk running in the IGAL marathon.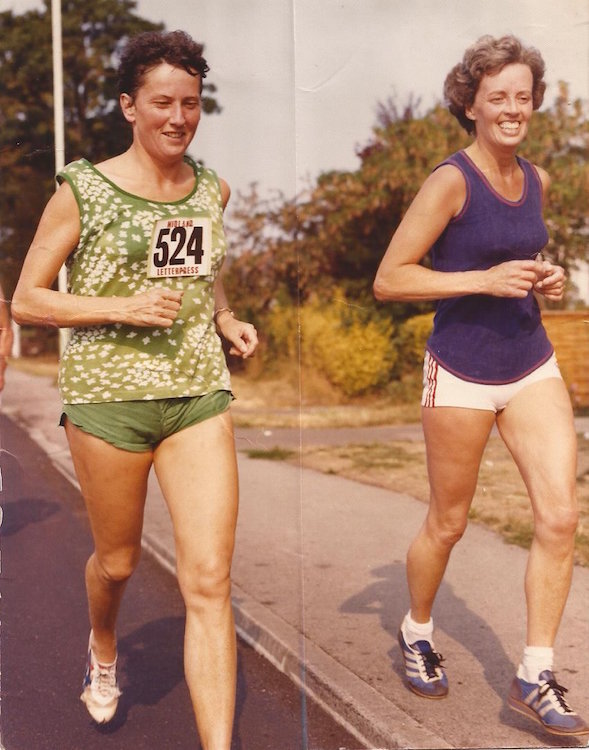 Finally, Dale is frequently seen as a bit of a loner – Doug's article from 'The Herald' of April 1988 says, "She admits to being a loner forming Tannahill Harriers of which she was the sole member – named after the street where she lived – because Paisley had no women's club." However you only have to see what she has put back into the sport to see that the remark is only partly true. As an administrator she has been
Secretary of the SWCCU between 1960 – 66
Treasurer of the SWCCU between 1967 – 70
President of the SWCCU between 1976 – 1979
Life Vice-President SWCCU and Road Running Association
Member of the Organising Executive in 1980 when the IGAL World Championships came to Glasgow
Assistant Secretary World IGAL 1982 – 1987
Honorary Life Member Scottish Athletics Federation and Scottish Veteran Harriers
Member of the Notable 19: a club whose members have won major marathon honours or held world records
Dale has had a wonderful career and been a first class ambassador for Scotland as a whole not just the running community: would that we had some like her today!
Dale Greig has been inducted into the Scottish Athletics Hall of Fame.
Postscript:
Dale Greig's Scottish Athletics statistical list is introduced by: "A pioneering woman distance runner who ventured into the area of marathons and ultra-distance running that even seasoned and hardened male runners regarded with trepidation, Dale Greig became one of the first women to run a marathon, setting the inaugural recognised IAAF Women's World Best for the distance. In addition to her competitive achievements, she acted as a national administrator, official, race organiser and athletics writer over a long period of time, editing "Dale's Diary" (from 1956-1958) in The Scots Athlete magazine". (She was also invaluable in producing the Scottish Veteran Harriers Newsletter throughout the 1970s and later. Dale's journalism was enthusiastic and well-written – her enduring love for running shone through.)
Here is a summary of Dale's articles for The Scots Athlete magazine:
October 1956 edition "Women's Notes" about 1956 track season, the 'retirement' of Aileen Drummond (who returned as Aileen Lusk and ran very well into her 50s) and the Scottish Women's Championship results (including Dale finishing second in the 880 yards to Molly Ferguson).
November 1956: Women's Notes about Scottish and British Women's Field Events and the AGM of the WSAAA.
January 1957: WN about the Scottish Women's Cross-Country Championships and which club might challenge Maryhill Harriers' supremacy.
May 1957: the first Dale's Diary (Women's Notes): detailed report about the WCCU championships held on March 16th at Ayr, won by Morag O'Hare (Maryhill) with Dale fifth and the first six selected to face England in an International Match at Musselburgh Racecourse on March 30th. That race is also reported: the English girls 'romped away' and Dale was 11th out of 12 finishers – but good-humoured about the event, in which Doreen Fulton (Springburn) was first Scot in front of Morag O'Hare. The Diary also looks forward to the WSAAA champs at New Meadowbank on 8th June.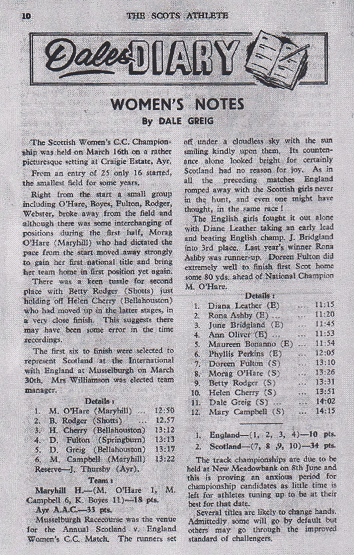 The very first "Dale's Diary"
July 1957: DD/WN about SWAAA results.
March 1958: no DD
Last Scots Athlete: June 1958: Dale's Diary / Women's Notes by Dale Greig about SWCC Champs on 8th March at Auchinairn. Ina Mae Mooney (Jordanhill Training College) won, with Dale Greig (Bellahouston) second, eight seconds slower. For financial reasons, the annual match v England was cancelled – a great pity since Scottish XC Champion Ina Mae Mooney would not get the chance to represent Scotland. (Ludicrously, from a 21st Century viewpoint, the longest Women's event in the 1958 Commonwealth Games would only be 220 yards!)
[Dale's last Scottish XC Championship victory was over three and a half miles at Musselburgh Racecourse on 9th March 1968. Running for Tannahill, she won decisively, finishing fifty yards in front of Doreen King (Western). Sheena Fitzmaurice (Aldershot) was third; Margaret MacSherry (Cambridge) fourth; Rosemary Stirling (Wolverhampton) fifth; and Leslie Watson (Maryhill) sixth. These were all outstanding Scottish runners – Rosemary Stirling went on to win the 1970 Commonwealth Games 800m!]
Dale died in April, 2019, and Colin Youngson has had access to her archive files. His selection from these files is available from this link: