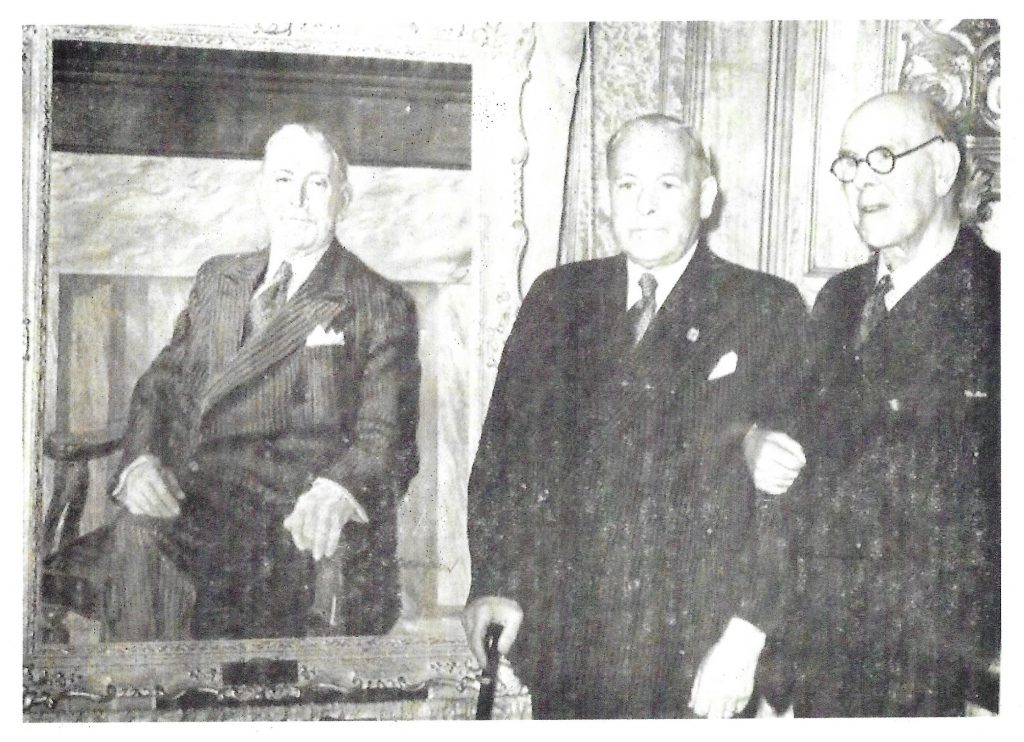 If we are being honest about it, despite all the complaints and acid remarks about football including 5-a-sides in athletics matches, the sport did a lot to promote amateur athletics. In the early days the amateur sports meetings organised by Queen's Park FC, Kilmarnock FC, Heart of Midlothian FC, Greenock Morton FC, St Mirren FC and others gave the athletes the competition that they needed as well as helping the SAAA to provide a full season of athletics every year. Rangers were involved from the very start in the 1870's and Celtic were comparatively late starters in sports promotion starting their version in 1890. Both clubs were driven by men with experience of athletics, and, it is clear, a love of the sport whose character was driven by a desire for success and although their sports overlapped with others for a time they each came to dominate the athletics scene – away from the championships organised by the respective governing bodies.
It is, first, maybe unfortunate that the two men pictured above – Maley of the Celtic and Struth of the Rangers – were not exact contemporaries although their careers did overlap to some extent and they died within two years of each other (Struth in 1956 and Maley in 1958) and , second, that the date chosen for the Celtic Sports was the one on which the SFA decided to start its winter season's activities. Look at this article from the Glasgow Herald in 1908
AN ATHLETIC BOOM
Last week was a memorable one in the sporting history of the city, [reported the Glasgow Herald of 10th August 1908]. On Monday the Rangers FC concluded what from every point of view had been the most successful meeting that they had held for a very long time, while on Saturday Celtic FC added one more to their brilliant list of triumphs. Both are in the fortunate position of having money to spend, and money judiciously handled will yield, as we have just seen, as big a return from athletics as from most forms of public amusement. That there was more lavish expenditure this season than previously is frankly acknowledged by the two managements and, without pausing to inquire how this sort of thing squares with official notions, we would merely mention that the Glasgow public has much to be grateful for to the Rangers and Celtic for introducing so many of those who distinguished themselves at the recent Olympic Games. But for those clubs it is just possible that we might never have had the privilege of seeing Melvin Sheppard, Reginald Walker and others who, by their achievements at the stadium, have enrolled themselves in the lists of the immortals. All are agreed that good as the racing was at Ibrox on the first day, it was infinitely better on Monday evening. General excellence took the place of individual excellence for the greater part and, after all, there is a greater source of satisfaction in this than in the creation of records, the one being the gratification of personal ambition, the other being the manifestation of universal competitive interest. It is difficult to say whether Reginald Walker's win in the open sprint or Sheppard's win in the half-mile was the finer effort. Both are monumental in that the time in the sprint is likely to be bracketed with JM Cowie's record of 10 sec while Sheppard's half-mile will rank as one of the finest ever witnessed in Britain and its significance is greatly enhanced by the fact that for a third of the distance he may be said to have cut out his own pace.
The Rangers manager at that time was William Wilton (Struth was trainer at Clyde FC) whwo was another giant in sports promotion but both clubs had provided the country with top foreign and Olympic talent which would excite the crowd and inspire the athletes competing against them, or even just watching them. However that may be, we should look at what they did for athletics.
First they provided regular, annual athletics meetings which benefited the participants and so raised the level of performance. The track at Ibrox was recognised as a fast one and many superb times were produced there, and, after a beginning on a not-so-good track, Celtic quickly caught up on that front. And each track was of teh regulation quarter mile while many other sports had tracks of different distances, or were on grass rather than cinder or ash.
Second they provided entertainments in conjunction with the sports that brought in the crowds. Sport needs spectators. Cycling was the main other spoirt sharing the bill to start with and particular cyclists were favourites with the paying public – eg RA Vogt at Parkhead was particularly well received. Parkhead for a time even had a concrete track outside the inside running track on which motor-cycle races were held, or motor cycle time trials were held. There were boxing matches – before the first world war, eg Rangers had a boxing exhibition featuring Ralph Erskine of Clydesdale Harriers who was world lightweight boxing champion as well as double SAAA silver medal winning 880 yard runner,
Third they kept the sport going throughout both wars. An important morale booster and a real help in keeping the sport in a healthy condition.
Fourth and maybe most important they brought the best of international talent to the city. Maley was the originator of the Celtic Sports and he was early noted as going to Bridge of Allan for the Strathallan meeting to persuade athletes to come to Celtic Park the following week for his sports; at that time he was an athlete himself and no doubt talked to athletes at meetings, he was then noted as being at the AAA Championships in England and bringing English athletes north of the border. Struth followed the superb William Wilton's example as a sports promoter (and we will do a profile of Wilton's work in this regard) and brought many of superb athletes to Ibrox where spectators were always in tens of thousands with a high of 75,000.
Their story us told in five parts: the links to these are below.
Maley and Struth: 1 Maley and Struth: 2 Maley and Struth 3 Maley and Struth: 4 Maley and Struth: 5
…