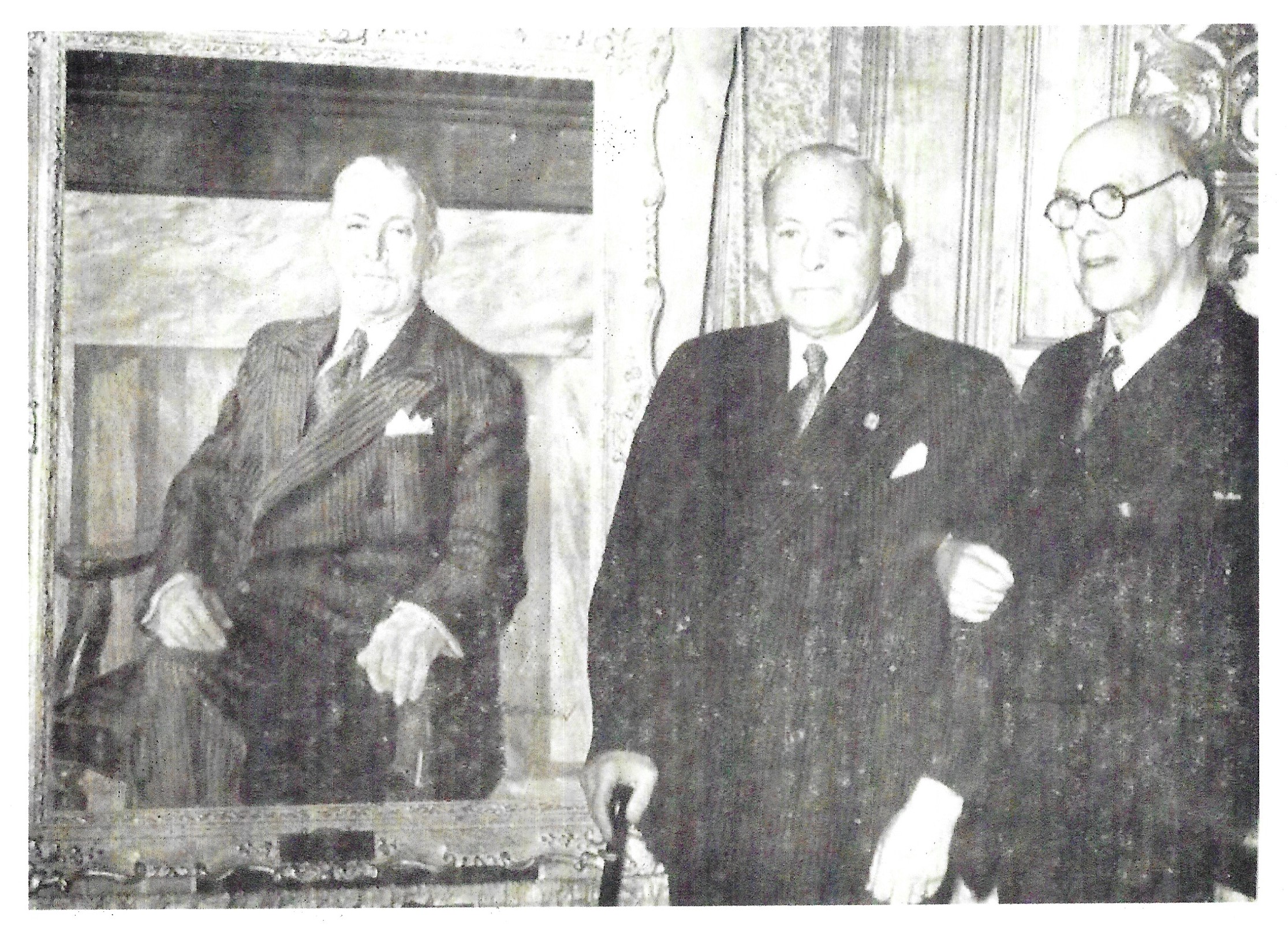 The picture above shows Bill Struth and Willie Maley in Glasgow City Chambers when Struth's portrait was unveiled at a civic ceremony. It is not unusual for guests to be invited to these occasions, sometimes they are there more for 'the look of things' than because they are well acquainted with the principal guest, but it does not take more than the first glance to show that these two are genuine friends. Is Willie making some remark to Struth – looks as though his lips are moving! And yet the two were managerial rivals in the football game, albeit at different stages of their careers:
| Name | Club | period as manager | League championships | Scottish Cups | League Cups |
| --- | --- | --- | --- | --- | --- |
| W Struth | Rangers FC | 1920 – 54 | 18 | 10 | 2 |
| W Maley | Celtic FC | 1897 – 1940 | 16 | 14 | – |
You will note that their careers overlapped for 20 years, from 1920 to 1940, and their success as manager was significant. They each had a similar attitude to their team which was maybe best encapsulated by Bill Struth's statement that "To be a Ranger is to sense the sacred trust of upholding all that such a name means in this shrine of football. They must be true in their conception of what the Ibrox tradition seeks from them. No true Ranger has ever failed in the tradition set him. Our very success, gained you will agree by skill, will draw more people than ever to see it. And that will benefit many more clubs than Rangers. Let the others come after us. We welcome the chase. It is healthy for us. We will never hide from it. Never fear, inevitably we shall have our years of failure, and when they arrive, we must reveal tolerance and sanity. No matter the days of anxiety that come our way, we shall emerge stronger because of the trials to be overcome."
Maley would probably have said exactly the same of the Celtic tradition. And yet they were friends – when Celtic won the League, Struth was invited to the raising of the flag at the start of the next season and you have already noted the photograph at the top of the page. There were two other things that they had in common:
*first they had both been involved in athletics before becoming managers, Maley as a championship winning sprinter (the cutting below is from 1896 SAAU Championships) and Struth as a well respected professional runner over distances from 100 yards to the mile, the clipping below from 1898 is self explanatory,
*and second there was a connection to Clydesdale Harriers. Maley ran for the club and there had been a close connection between the Rangers and Clydesdale from the very start of amateur athletics. At the sports held by both clubs, the principal officials were in general from Clydesdale Harriers. Up until his death in 1920 William Wilton had been the man behind the Rangers meeting and at the 1919 meeting, his last, Maley was one of the track judges. Struth of course officiated at the Ibrox sports – eg in 1914 he was the official starter there.

Below we see a result from a Celtic sponsored professional meeting at Parkhead in January 1898. The club's sports were always on the second weekend in August but after seeing a very successful meeting at Powderhall at the start of January 1897, Celtic held a meeting of their own with only three professional events which was a success. Hence the professional meeting with a longer programme. Struth, a professional athlete from Edinburgh came through for a share of the prize money on offer.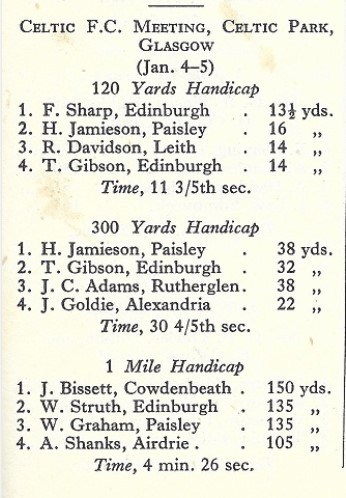 Here's something to maybe smile about. When Maley was a member of Clydesdale Harriers the club trained at Ibrox – Maley probably trained at Ibrox; as the cutting above shows, Struth sometimes ran at Celtic Park. Their careers met and inter-twined quite often and as sports promoters they had a lot in common.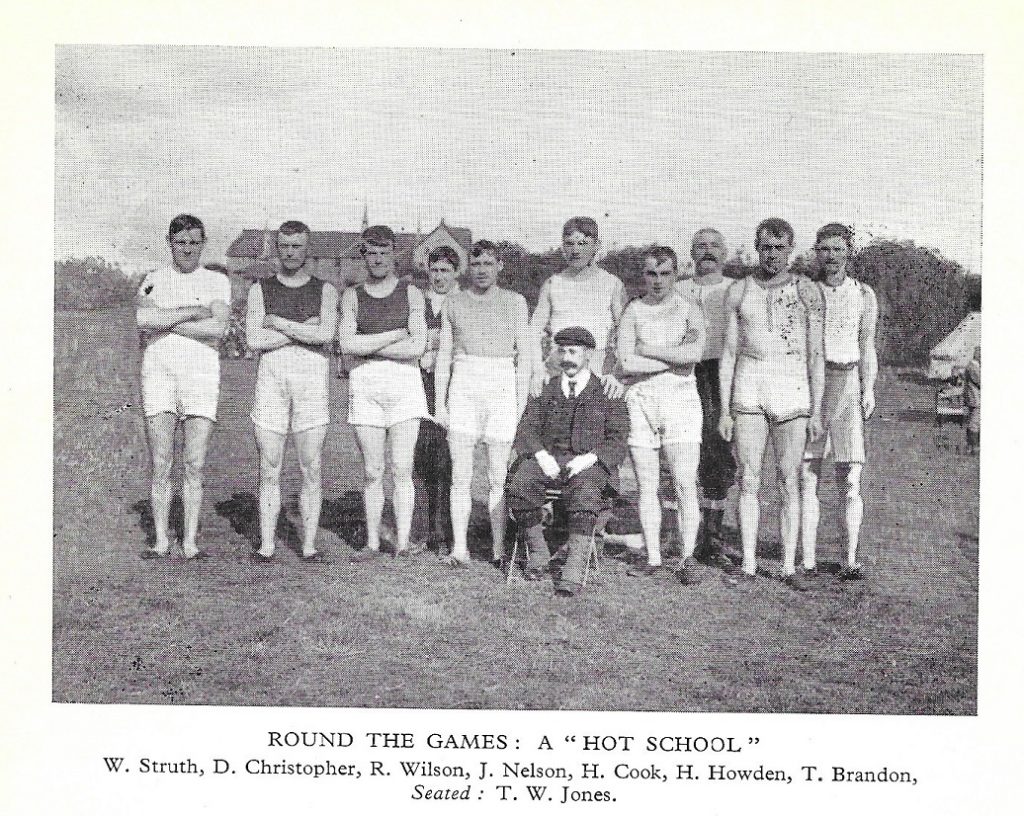 There was another connection. Struth started his managerial career with Hearts in Edinburgh and in 1908 he moved to Glasgow to work as trainer at Clyde FC. While he was there, he worked alongside Alex Maley, the third of the three brothers who had also been a runner who was still winning prizes as an amateur and member of Celtic Harriers. In 1914 he moved to Rangers as assistant manager becoming manager in 1920.
Maley had been organising the Celtic Sports for several years before Struth took over the running of the Rangers version and had learned a few tricks along the way. The 'Glasgow Herald' said this about the sports of 1911:
"The Celtic management spare neither money nor time in connection with their sports, and this season by way of celebrating an interesting epoch in their history, they extended more invitations than they usually do, with the result that Saturday's meeting in many respects will hold a cherished position in the club's records. Large as the attendance was, it it would have been larger still but for the tramway strike. As it was, the official estimate was 30,000. The arrangements of Mr Maley were in advance of anything previously witnessed at Parkhead, and when we mention that over and above football there were 53 different events all of which were disposed of in three hours and a half, it will be admitted that there has been nothing better in the way of athletics management seen in the city. Every item was so rapidly dealt with that there was scarcely any time for reflection."
The rivalry had always been there – from the Glasgow Herald of 4th August 1912 – the same issue that reported on the Rangers Sports the previous Saturday -: "Mr William Maley is well advanced with his arrangements for the great meeting on Saturday first. His programme contains several novelties that were not in the Rangers" Both clubs at that time had a supplementary meeting the Monday after the Saturday Sports and Rangers that year had "an interesting programme this evening. The distances are a departure from orthodox lines, being 120 yards, 300 yards, 1000 yards and a mile and a half, "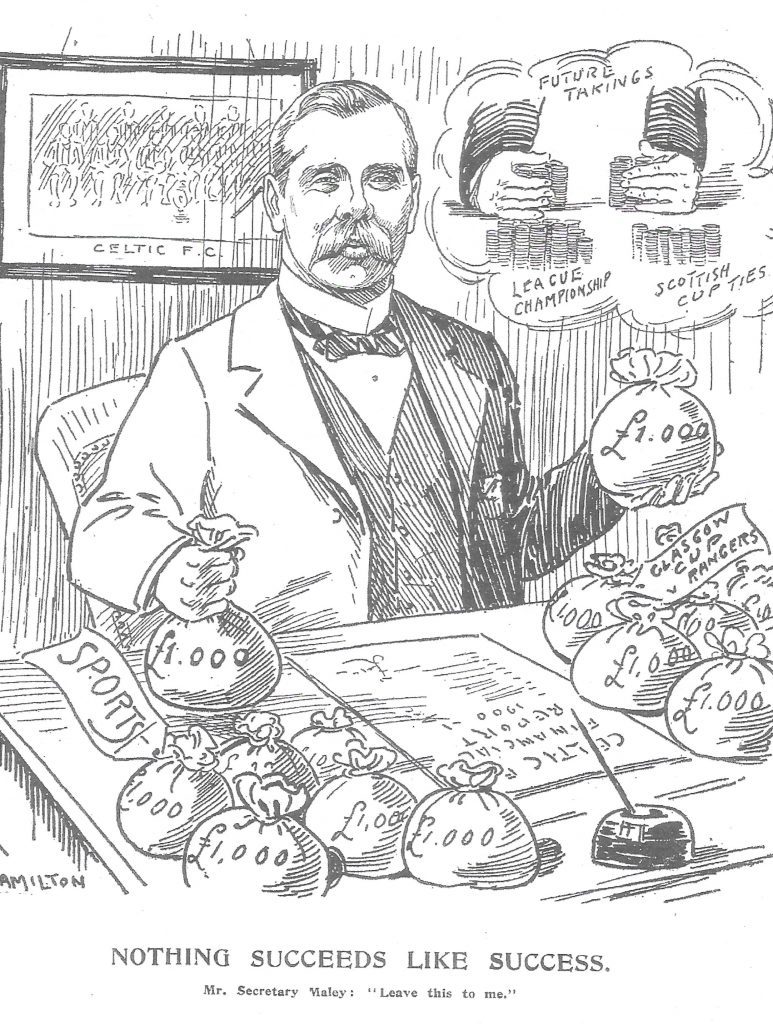 The two men were at different stages of their careers in 1920, but the rivalry begun on the football field continued on the athletics field. Although the Rangers Sports had been running since the 1870's, our part of the story begins with Maley starting his sports promoter career in 1890.