Scottish Athletics statistician Arnold Black posted:
"ATHLETE OF THE DAY – ALASTAIR HAY
Central AC's Alastair Hay won the 1500m title in 2010, the 5000m in 2018 but won his first senior titles over the country with 5 Scottish championship wins. He is seen 2nd from right in the 2007 1500m championship, flanked (l to r) by Derek and Scott Hawkins, Ross Toole and winner Collis Birmingham. He represented Scotland over 1500m at the 2010 Commonwealth Games and has career bests of 1:50.37 (800m), 3:38.9 (1500m), 4:01.67 (1M), 8:07.84 (3000), 14:07.81 (5000) and 30:20.74 (10,000), 30:06 (10k) and 68:15 (HM)."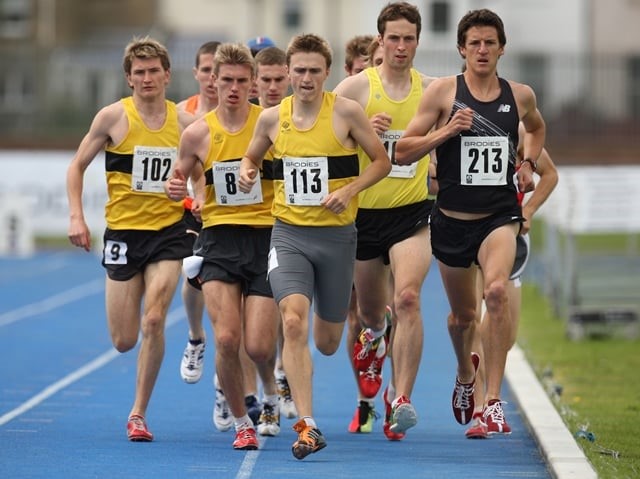 Alastair HAY (7.09.85) Central AC, Thames Valley
2002-2020 in Scottish lists
Championship Record:
Commonwealth Games 2010 1500 (12th).
Scottish: 1st 1500 2010, 1st 5000 2018
2nd 1500 2012, 2nd 5000 2015,
3rd 1500 2007, 2008, 3rd 5000 2017
East District: 1500 gold in 2013
10 Senior Track Internationals
2008 at Oordegem, Belgium. Memorial Leon Buyle (Flanders Cup Meeting) 3000m 17th 8.30.77,
(shortly after 1500m individual 3.46.57 running for Central AC at the same meet).
2009 at Oordegem, Belgium. Memorial Leon Buyle 1500m 4th 3.41.91.
2009 at St Mary's Classic, London. 1500m 2nd 3.45.63.
2009 at Loughborough v 5 other teams. 3000m 4th 8:21.25
2009 at Grangemouth v England, Ireland, Ethiopia 3000m 2nd 8:23.83
2010 at Loughborough v England, Wales and two other teams 1500m 1st 3:45.90
2010 at Oordegem, Belgium. International Flanders Meeting (June). 1500m 1st 3.42.66.
2010 at Oordegem, Belgium. Flanders Cup International (July). 1500m 7th 3.41.21.
2010 at New Delhi, India. Commonwealth Games 1500m 12th 3:44.61
2019 at Loughborough v England, Wales and three other teams 3000m 5th 8:16.53
Five Cross-Country Internationals
2006 at Termonfeckin (Ireland) v Russia, USA, Ireland, Wales, South Africa
9th (first Scot). Scotland third team behind Russia and USA.
2007 at San Vittore Olona, Italy. Cinque Mulini cross-country.
2009 at Bangor, Wales v England and Wales. Second (first Scot). Team second to England.
2013 at Llandeilo, Wales v England and Wales. Fifth (first Scot). Team second to England.
2019 at Dundonald, Northern Ireland. IAAF International 12th.
One Road Running International
2018 at Armagh (Northern Ireland) 5km Road v Wales, England, Ireland, Northern Ireland, USA and Belgium. Third Scot; team fourth.
Two Junior Cross-Country Internationals 2006-2007
Celtic Nations
2006 at Dublin: under-23 v Ireland and Wales. 6th (third counter) Scotland second to Ireland.
2007 at Belfast: under-23 v Ireland, Northern Ireland and Wales. Third (and second Scot. Scotland won team race.
One Junior Hill International
2001 at Black Forest, Germany. Internationale Schwartzwald-Jugendspiele (uphill-only race).
11th (Scottish team third – Scott Fraser and Iain Donnan).
Alastair Hay has been a truly excellent team man for Central AC.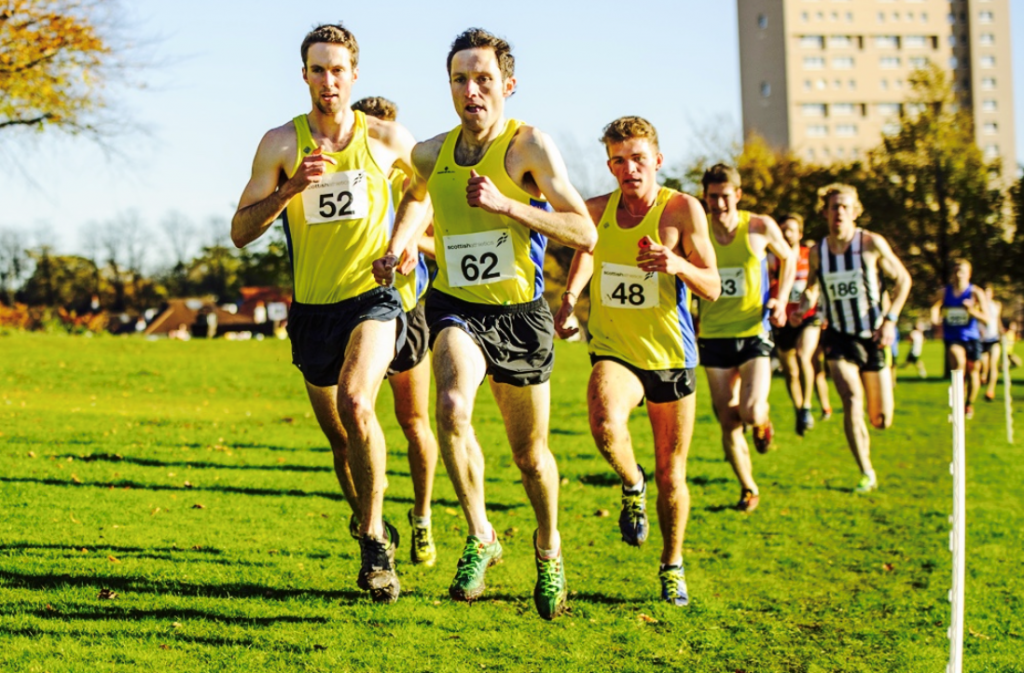 Scottish National Cross-Country Championships
Junior National individual Bronze in 2004; 2006 individual Gold, team silver.
Senior National: 2007 individual Bronze; 2008 team Silver (8th); 2009 individual Gold, team silver; 2010 individual Gold, team Bronze; 2011 Bronze, team Gold; 2013 team Gold (7th); 2014 team Gold (6th); 2015 team Gold (6th); 2017 team Gold (6th); 2018 team Gold (5th); 2019 team Gold (8th); 2020 team Gold (6th).
Scottish Short Course Cross Country
Individual Gold in 2007, 2008 and 2014; Silver in 2016; Bronze in 2009.
Team: Gold in 2007, 2011, 2014, 2016, 2018; Silver in 2008, 2009.
East District XC:
Alastair was Junior Champion in 2005-6, when Central won team gold; Senior Champion in 2008, 2010 and 2011 (Central won the team title in each of these years).
Inter-District XC Championships
Under-17: Individual Silver 2003.
Senior: Individual Gold 2006 (for Scottish Students) and 2009 (for East); Individual Silver in 2007 (Scottish Students) and 2008 (East).
Scottish Cross-Country Relays
2003 Team Gold in Young Athletes event.
Senior Relays: team medals as follows: Silver in 2004, 2005, 2007, 2010; Gold in 2006, 2008, 2009, 2013, 2014, 2016, 2017, 2019, 2020.
Scottish Road Relays
Team Gold in 2008, 2013; Silver in 2005, 2009, 2010.
Scottish 10k Road Championships
Individual Bronze in 2015 and 2019.Team Gold in 2015, 2016 (4th), 2019. Team Silver in 2018 (4th).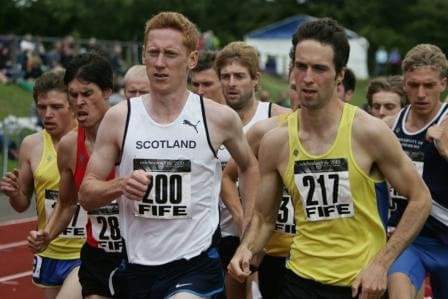 Alastair Hay (217) and Darren Gauson (2000) in the 2018 Scottish 1500m, which Alastair won.
QUESTIONNAIRE
NAME: Alastair Hay
CLUBs: Central Athletics Club and formerly Thames Valley Harriers and Queen Margaret University
DATE OF BIRTH: 07/09/1985
OCCUPATION: Physiotherapist
HOW DID YOU GET INVOLVED IN THE SPORT?
My Dad started running as a means of getting fit initially and then got into running 10ks, half marathons & marathons. I always remember being incredibly proud of him running in all these different events and I can see now that's where my initial interest came from. I remember doing the odd fun run at some of these events and I suppose it grew from there.
Through his work my Dad then met Tony Waterhouse (Ross Houston's now father-in-law) who was involved with our local club (Central Athletics Club) and he suggested that we go along and try the club nights out. I fondly remember going along for the first few times to the cinder track at Stirling University and being coached by the likes of Shona Malcolm and John MacDonald. From various junior groups at Central I then joined the middle/long distance group which was coached by Keith Whitelam at the time. Keith was really the first person who got me interested in middle/long distance events as prior to that I had been trying a bit of everything (e.g. high jump, shot put 200m, 800m). When Keith then moved away Derek (Easton) volunteered to take on the coaching of the group. Derek has then coached me for my entire senior career. Derek really stoked my interest in competitive middle distance running and fostered a great team spirit which is probably why I've stuck at it for so long.
HAS ANY INDIVIDUAL OR GROUP HAD A MARKED INFLUENCE ON YOUR ATTITUDE OR INDIVIDUAL PERFORMANCE?
I've been very lucky over the years to train at Central with such a great group of individuals and to have someone like Derek Easton to lead the group. With the close proximity to the University of Stirling I've trained with a lot of different people over the years and this helps to keep things interesting. I'd say it's been a culmination of people including Andrew Butchart, Robert Russell, Lewis/Morag Millar, Ross Houston, Dale Colley, Scott MacDonald, Michael Wright, Kris MacKay, Mark Pollard, Alex Hendry and Sean Reilly to name but a few.
The team ethos, particularly towards cross-country and road relays, has always kept me motivated.
WHAT EXACTLY DO YOU GET OUT OF THE SPORT?
I do just enjoy the physical feeling of running and the fact that it can take you to amazing places. I love the element of escapism running offers – that you can run in beautiful places that you may never come across if you weren't running.
WHAT DO YOU CONSIDER TO BE YOUR BEST EVER PERFORMANCE OR PERFORMANCES?
Probably qualifying for the 2010 Commonwealth games. My Dad had passed away suddenly at the beginning of 2010 and that obviously made it an extremely difficult year. I look back and like to think those performances were for him.
YOUR WORST?
The 1500m final of Commonwealth Games 2010. I'd been unwell in the days leading up to the final. However, I made some tactical mistakes during the race which left me in the wrong position with 400m to go.
WHAT UNFULFILLED AMBITIONS DO YOU HAVE?
I'd have loved to run for Great Britain, compete at another major track championships and run sub-4 minutes for the mile – there's still something special about that time that most people even outwith running can relate to.
OTHER LEISURE ACTIVITIES?
Fair weather cyclist.
WHAT DOES RUNNING BRING YOU THAT YOU WOULD NOT HAVE WANTED TO MISS?
Running has allowed me to meet some fantastic people and allowed me to travel to some amazing places and for that I'm truly grateful.
CAN YOU GIVE SOME DETAILS OF YOUR TRAINING?
Current training is a bit different from at my peak due to family and work commitments but I still run 60-80 miles per week including one interval session, hills and long run. At my peak I was probably running 70-100 miles per week in the winter with 2-3 interval sessions per week plus a long run.