Colin Youngson has had a look at Violet Blair's career as an endurance runner of quality with superb running over the country, on the road and particularly on the track. First we have the basic facts which are impressive, and then we have her replies to the questionnaire.
Violet B. Hope (born 4.11.56), Clubs: Central Region, Edinburgh University, Edinburgh Southern Harriers/Edinburgh Woollen Mill, became Violet Blair in 1979 when she married Bill Blair who went on to be Scottish Staff Coach for 5000/10000m.
She appeared in the Scottish Athletics ranking lists no fewer than 40 times between 1976-1992.
Personal Bests:
800: 2.07.72, 1984
1500: 4.14.47, 1983
One Mile: 4.40.69,
3000m: 9.19.4, 1983
10 miles 56.59, 1988
Half Marathon 79.54
Championship Record:
Scottish: 1st 1500m 1980 and 1983, 3rd 1500m 1979, 3rd 3000m 1984.
East District: 1st 1500m 1979, 1982 and 1987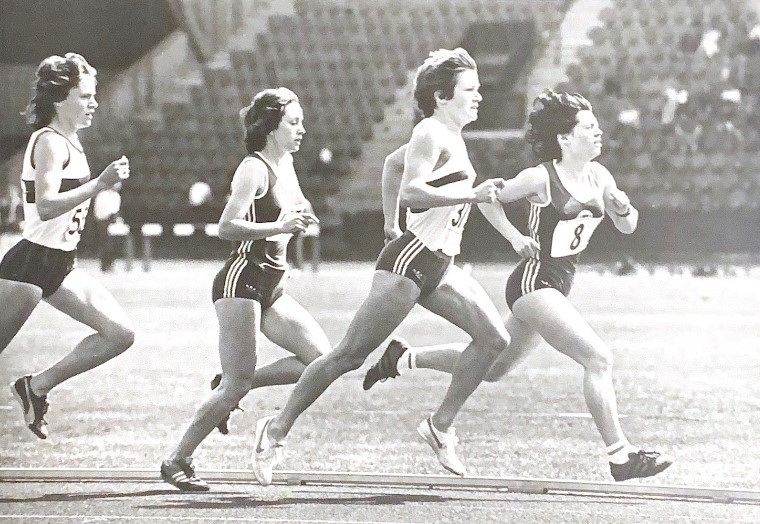 Violet in full stride, third from the left
Seven Scottish Track International Appearances:
1979 at Cwmbran v Wales and Israel 3000m 2nd 9:45.06. Scotland won.
1980 at Copenhagen v Denmark and Ireland 1500m 6th 4:28.9.
1983 at Birmingham v England 1500m 5th 4:27.46.
1983 at Edinburgh v Iceland, Israel and Northern Ireland 1500m 2nd 4:22.92. Scotland won.
1984 at Budapest v Hungary 1500m 2nd 4:25.91. Scotland won.
1984 at Birmingham v England, Yugoslavia and Wales 1500m 4th ex 8 4:23.41.
1987 at Edinburgh v Ireland and Wales 1500m 5th 4:35.23. Scotland won.
Four Scottish Cross-Country Internationals 1978-81
1978 IAAF World Cross at Glasgow
1978 at Barry v England, Ireland and Wales. 11th (Second Scot).
1979 IAAF World Cross 1979 at Limerick
1979 at Glasgow, Home Countries International 17th
1981 at Mallusk, NI v England, Ireland, Wales and Northern Ireland. 22nd (Third Scot).
Scottish National Cross-Country Championships:
1979: 4th; Edinburgh Southern Harriers team silver.
1980 16th Lanark Race Course (dreadful snow/icy conditions) ESH team silver
1981: 9TH ESH won
1983: 6th; ESH team silver.
1985 6th ESH won
1987: 10th; Edinburgh Woollen Mill team gold
1991: 6th; team silver.
1992 16th EWM won
Scottish Cross-Country Relay:
1984: ESH silver. 5th fastest leg
1988 ESH 3rd (2nd fastest leg despite being pregnant)
1992: EWM team gold.
Scottish Road Relay:
1976: ESH finished third, with Violet Hope second-fastest overall.
1981: ESH were fourth but Violet set the fastest time of the day.
1986: EWM were second, with Violet third-fastest overall.
East District Cross-Country
1979: Individual silver for Violet Hope. ESH team gold.
1980: Cupar – Individual gold for Violet Blair. ESH team gold.
1981: Dundee – Individual silver behind Elizabeth Lynch (later Liz McColgan).
1987: Individual silver.
Inter-District Cross-Country Championships:
1981-2 Individual bronze behind Liz Lynch (McColgan) and Kathryn Mearns. East (Violet's team) beat West.
Veteran Athletics:
1992 European Masters Championships – Kristiansand Norway: 1st 1500m
2002 British Veterans: 4th 800M
2003 British Veterans: 3rd 800M
2004 Scottish Veterans: 1st 800M
2007 Scottish Veterans: 1st 800M
British Veterans: 2nd 800M
2008 Scottish Veterans: 2nd 800M
British Veterans: 2nd 800M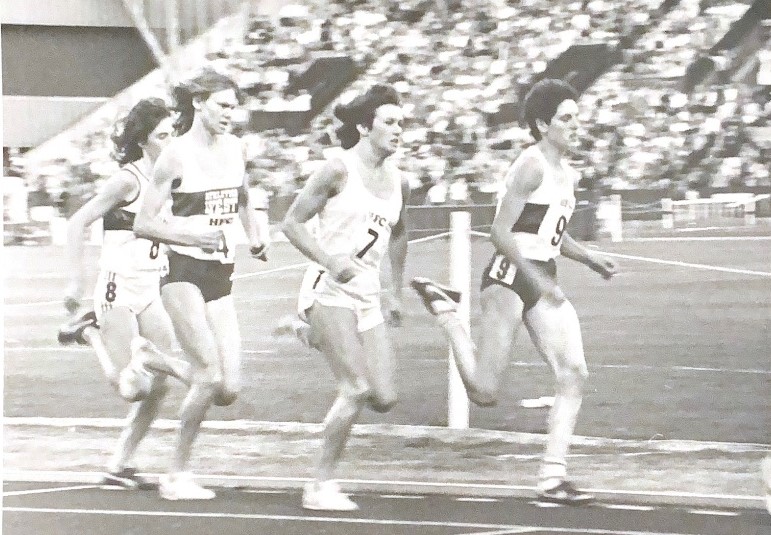 Violet third from the left
QUESTIONNAIRE
NAME: Violet Blair
CLUBs: Grangemouth Olympiads, Central Region, Edinburgh University, Edinburgh Southern
DATE OF BIRTH: 4.11.56
OCCUPATION: Maths teacher then system designer with Scottish Widows
HOW DID YOU GET INVOLVED IN THE SPORT?
When I was in 5th year at school, I went along to Grangemouth Stadium with a friend who wanted to get fit. She was a Scottish International Table tennis player. She only went for a few weeks but I joined Bob Crawford's group and started doing sprints and long jump. I then joined Grangemouth Olympiads and started competing for them in SNWL and Motorway league. Bob Crawford entered me and took me to my first cross-country and that was the start. I then joined John Erskine 's middle distance group which included Terry Young and Alex Bryce. When I went to University, I joined the Hare and Hounds and I would train with John's group in holidays
HAS ANY INDIVIDUAL OR GROUP HAD A MARKED INFLUENCE ON YOUR ATTITUDE OR INDIVIDUAL PERFORMANCE?
When I joined Edinburgh Southern Harriers I trained with Bill Walker and saw how hard his track athletes trained – people like Paul Forbes and Peter Hoffman. I started keeping a training diary and planning what races I wanted to run and when. When I went to Uni, I rolled up at Freshers Sports Fair and asked to join the Hare and Hounds. They were stunned, because they didn't have a Women's team. I became the first Ladies' Captain – and now Edinburgh Uni Ladies Hare and Hounds team are among the best in the country.
WHAT EXACTLY DO YOU GET OUT OF THE SPORT?
Fun and friendship. Keeping fit. Fresh air, being outside and, during the pandemic, a means of keeping sane.
WHAT DO YOU CONSIDER TO BE YOUR BEST EVER PERFORMANCE OR PERFORMANCES?
My best performance was breaking the Scottish Native Record for 1500m at the Scottish Championships. My 56.59 for 10 miles pleased me as well because I wasn't a fan of long distances.
YOUR WORST?
My run at the Olympic Trials in 1984. I had been training well but unfortunately went down with a stomach bug a couple of days before Gateshead. I finished 12th in 4.18.12. I was really disappointed because I had been looking for a PB.
WHAT UNFULFILLED AMBITIONS DO YOU HAVE?
None really in athletics. I really loved my time in athletics. Yes, I would have loved to have made a Commonwealth Games team but it wasn't to be.
OTHER LEISURE ACTIVITIES?
I retired from working and took up golf. I am gradually whittling down my handicap. I play for my club in the Midlothian ladies league. An outlet for my competitiveness.
WHAT DOES RUNNING BRING YOU THAT YOU WOULD NOT HAVE WANTED TO MISS?
Travelling. Running in all countries of the UK and abroad. I still miss the excitement of laying out my kit and packing my bag ready to travel to a race. Even spending hours on a bus going up and back to UK Women's Leagues was fun. Meeting lots of interesting people and making new friends. European Clubs Cross Country champs were always really good fun. The camaraderie of a hard training session. Chatting on a long Sunday run along the canal.
CAN YOU GIVE SOME DETAILS OF YOUR TRAINING?
I used to average about 60 miles a week in the winter. A 10 miler on a Sunday morning, track sessions on Tues/Thurs/Sat. One fast 4 mile run usually on a Friday. 2 circuits and a bounding session. My favourite track session was 10x400m with a minute recovery.