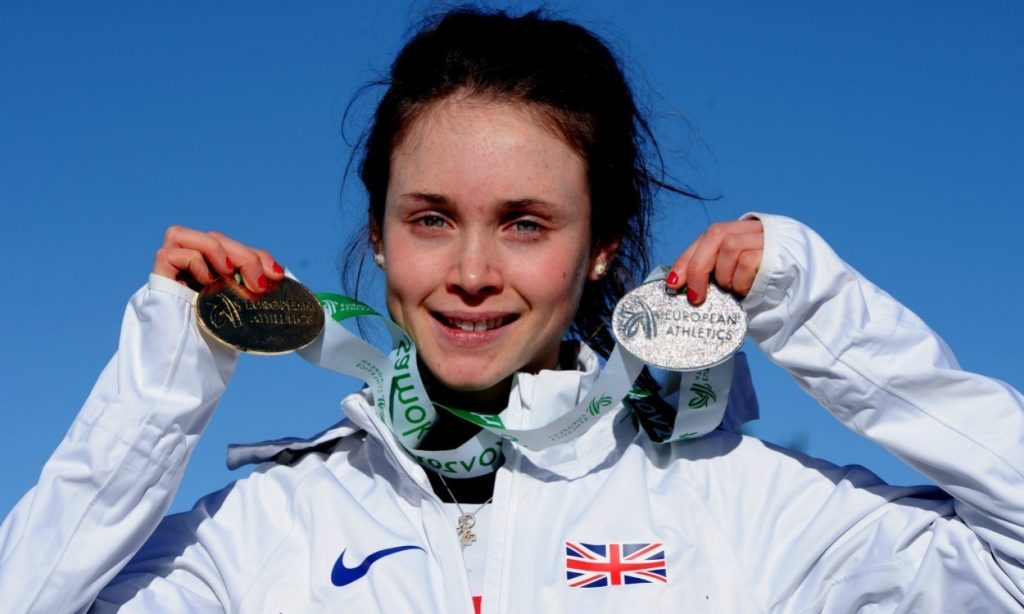 Rhona Auckland had a short but successful running career which peaked marvellously in 2014 and 2015.
Her Power of 10 profile states that she started racing (for the Banchory Stonehaven club, near Aberdeen) as an under-15 in 2007. By 2009 (under-17) she was taking part in the Scottish, East District and Great Edinburgh International XC events, as well as winning the South Grampian Schools XC and finishing fourth in the Scottish Schools 3000m.
Coached by Joyce and Ken Hogg (in Aberdeen), in her first year as an under-20 in 2010, Rhona won the Scottish Inter-District XC Championships and ran well in British Cross-Country Trials. On the track, she ran for Scotland in the Celtic Games 3000m, which she won; and also finished first in the Scottish Schools 3000m.
In 2011, Rhona Auckland won for Scotland in the Celtic Nations Cross-Country; and was second under-20 in the Celtic Cup 3000m.
2012 showed further improvement: now an Edinburgh University student, Rhona won: Scottish Students Cross-Country; Home Countries International XC; Scottish Senior National 4k XC; and ran for Britain at Budapest in the European Cross-Country Championships. She also won the Scottish under-20 3000m.
As an under-23 in 2013, Rhona's impressive success continued with victories in: Scottish XC Championships; the Home Countries International; Scottish Universities 3000m; British Universities 10,000m. For Britain, she finished 7th in the European XC at Belgrade; and 9th in the European 10,000m in Tampere, Finland.
In 2014, although new personal bests for 5000m and 10,000m were set, Rhona Auckland's finest achievements were in cross-country. In February, she won the Scottish Senior National Cross-Country Championships. In November, the Scottish Senior National Short Course Cross-Country. Then, in December, came the crowning moment: a tremendous televised victory, at Samokov, Bulgaria, in the under-23 European Cross-Country Championships.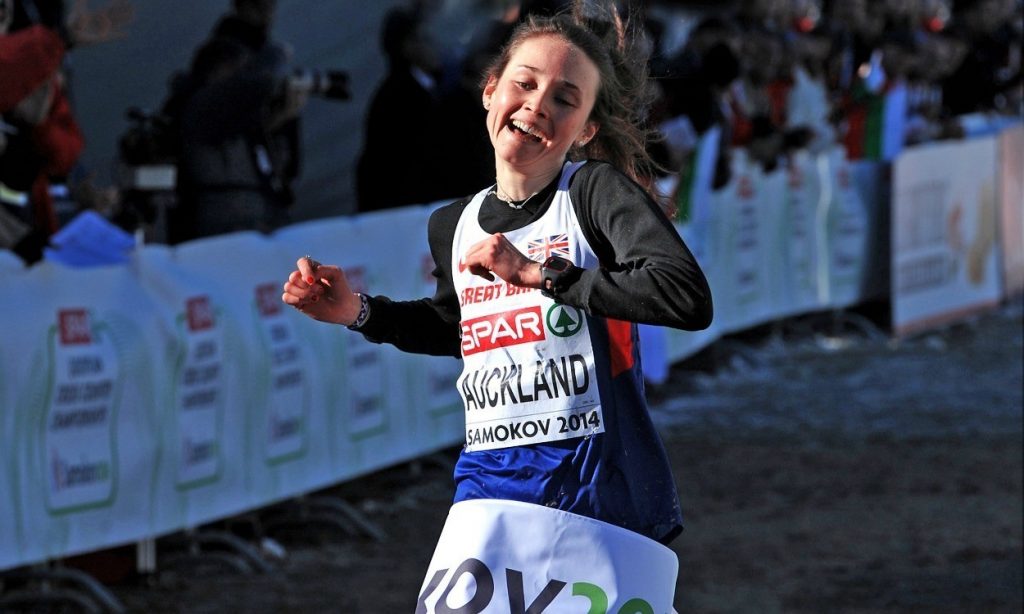 Rhona's coaches, Joyce and Ken Hogg, wrote later "Rhona Auckland's progress was excellent, from competing for GB, at European Junior Cross Country to European U23 Cross Country and Track and Field Championships, to Senior European Cup 10,000m and World Cross Country Championships. The excitement of being present, when she won the European U23 Cross Country Championships, and the Silver Medal at the European U23 10,000m Championships, was incredible."
Sadly, due to injury problems, 2015, so far, has been Rhona Auckland's last big year in Athletics. She set new personal bests for: 3000m (9.18.3); 5000m (15.27.6); 10,000m (32.22.79); and 10 miles on the road (56.12).
Rhona set one pb with 7th in the 5000m at the IAAF Diamond League Sainsbury's Anniversary Games at Olympic Park, London; and another pb when second in the 10,000m at the European Athletics under-23 Championship in Tallinn, Estonia. She was 19th in the World Cross-Country Championships at Guiyang, China.
When she went to America to further her studies, she raced cross-country (in Kentucky, Indiana, Wisconsin and Nevada) for New Mexico University, earning "All-American honors" when her NMU team 'The Lobos' won the NCAA Cross-Country Championships.
On her return from America, she decided to take a break from competitive running to concentrate on her career and she now enjoys running socially.
Fraser Clyne (former GB marathon international) says: "Rhona is a wonderful athlete with a great personality." In May 2016, he wrote the following article for the Aberdeen Evening Express:
"North east distance runner Rhona Auckland has admitted defeat in her efforts to recover fitness in time to launch a bid for a place on Team GB at this summer's Rio Olympic Games.
The 22 year-old Banchory Stonehaven AC competitor is currently based at the University of New Mexico in Albuquerque and enjoyed success last autumn when helping her side win the prestigious US collegiate cross country team title.
This came after an excellent summer track season when Auckland was silver medallist in the 10,000 metres at the European under-23 championships in Estonia where she set her best time of 32min 22.79secs.
That performance ranked her third in Britain and was also just seven secs outside the Rio qualifying standard.
Auckland also had selection aspirations over 5,000m after setting her best time of 15:27.60 in a Diamond League meeting at London's Olympic stadium last July. That was the fourth quickest by a Briton in 2015 and was a fraction over three secs outside the Rio standard.
Auckland hoped to kick on with her training in the spring before returning to Britain for the UK Olympic trial at Highgate, London this month, but injury has scuppered her plans and put her Olympic dream on hold for the time being.
She was sidelined for more than three months and has only recently returned to running training, although she was able to do a large amount of gym work and aqua jogging in a bid to maintain some core fitness.
Auckland put herself to the test by competing in the 5,000m in the Brian Clay invitational meeting at Azusa, California last month where she clocked what was, for her, a modest time of 17:00.65.
She said: "The race, as I'm sure you can appreciate, was very disappointing. I knew I was far from being in peak shape but with the amount of effort I've put into the last three months, I'd really hoped I'd be at least in the low 16 mins range.
"It basically highlighted that chasing the qualifying standard in an unrealistic time frame was silly, but I'm glad I gave it a shot.
"I've made the hard decision to step back, stop worrying about racing and rediscover my love of running naturally.
"Forcing it isn't working and now that the time pressure is off, I'm going to go back to basics and build up for the next cross-country season.
So, I have plenty of time to do this smartly, and would like to travel a little, doing some fun road races. But for now, I'm scaling back."
(Rhona Auckland emailed Fraser Clyne in 2017 and 2019:
Sept 2017
"Life with me has been good. I graduated from New Mexico in May and moved to Boulder in July to pursue a job in Health Education. I joined a club level running group out here and have been enjoying getting back into running in a low-key and social manner. Beginning to feel fitter but lots of work to do and am just enjoying not taking it too seriously! My plan is to move back to the UK next summer."
August 2019
"I'm based in London, working in research for the Royal Pharmaceutical Society. Really enjoying city life (which has surprised me!) Running lots – but as my commute to work or for fun with old running pals; nothing too serious, but really enjoying it!")
After the Covid pandemic ends, Rhona Auckland surely has several years to find again, if she wishes, the world-class racing form that she reached in her early 20s.