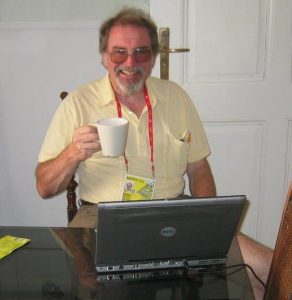 Doug at Work
Doug Gillon started out as a runner, a pretty good runner, before becoming one of Scotland's best and most respected athletics journalists. He attended three, four or ten times more Olympics than any athlete did, he covered more sports than any other journalist that I can think of has done, and still managed to keep his allegiance to his roots in the country's athletics. It is appropriate though to start where he started – and Colin Youngson covers his career as a runner.
Eric Fisher (born 1946) became a good cross-country and marathon runner and a very good coach, as well as being a key figure on the Edinburgh Boys Brigade scene. He first got into the sport through Sunday School picnics where all the races were short sprints which he could never win. He wanted longer distance races, as did another youngster by the name of Douglas F. Gillon (born on the 12th of July 1946) the subject of this profile. These picnics were all held at Dalkeith Country Park and when such races were introduced, these two used to beat everybody else easily.
Later on, in 1966, Eric Fisher became involved properly in the sport when he was 19 years old and Claude Jones of Edinburgh AC who worked in Ferranti's asked if there were any runners in the factory who were not involved in the sport. Eric was pointed out to him and he was invited along. The first night there he was involved in a 2.5 mile race: it was a handicap race but all athletes started at the same time. He saw one guy he knew and told the handicapper he could beat him. It turned out that it was Doug Gillon (again) who had been attending George Watson's College and was ranked number 3 in the United Kingdom for the steeplechase in his age group. Eric kept up with them for about 100 yards, fell away and finished between two and three minutes behind them. That wasn't bad for a youngster on his first night though.
Doug Gillon features in the Scottish Athletics Yearbook which lists statistics from the 1965 season. With a time of 4.24.2 for 1500 metres Steeplechase, he was fastest Junior in Scotland, in front of his EAC team-mate John Fairgrieve. Doug produced this time in the Schools International fixture in Brighton on the 24th of July, when he was narrowly beaten into second place after a bold front-running bid for victory. He had earned selection for the Scottish team by becoming Scottish Schools champion by winning the 1500m Steeplechase title at Meadowbank. His time that day, 2.25.7, was only 0.3 of a second slower than Alistair Blamire's record, set in 1964. This was after Doug had finished third in the Schools mile at Goldenacre. The race was won by Jack MacFie of Daniel Stewart's, who went on to finish third in the Brighton international mile. Doug and Jack trained together; and Jack was to run well for Edinburgh University, Scottish Universities, EAC and Victoria Park. His most successful event was probably 880 yards. He won many contests with a strong sprint finish and had a best time of 1.53.3.
(A really unusual feat was when Jack MacFie broke the outright record for racing up umpteen steps to the top of London's Post Office Tower! This challenge took place in April 1968, shortly after Edinburgh University had won both the British Universities Cross Country and Scottish National XC team titles. He clocked a rapid 4 minutes 46 seconds and was 2nd to go up in the EU team of 6: Hugh Stevenson, Jack MacFie, Ian Hathorn, Andy McKean, John Exley and Ken Fife. All the EU runners were better than London University's best. As an extra guest for EU, Sheila Duncan set a women's record.)
Doug Gillon also made the 1965 Scottish Senior lists with 10 minutes 10 seconds for the gruelling 3000m Steeplechase.
In November 1965, Doug made the EAC team for the prestigious Edinburgh to Glasgow Road Relay – and what a successful debut it was. Doug took over from the great Jim Alder in 4th place on the 7th Stage and managed to hold this position. Although EAC ended up 5th after the final 8th Stage, they were presented with the Most Improved team medals.
There was further improvement for Doug in 1966: 9.46.0 for 3000m Steeplechase, run in London (14th in the Scottish rankings). This was to be his fastest ever in this event.
The Scottish Universities Track Championships took place at Westerlands in Glasgow on June 3rd 1967. Spectators watched Doug Gillon racing around indefatigably completing several events for the new Heriot-Watt University, a team that was short of numbers. The Scottish Association of Track Statisticians Archive makes clear about two of his best runs that summer: 58.1 for the 440 yards Hurdles (8th in the Scottish rankings) and 10 minutes 0.2 seconds in the 3000m Steeplechase, when he won at Grangemouth on 6th August (14th).
In the 1967 E to G, Doug ran Stage 7 once more and improved his team's position from 7th to 6th, which turned out to be their place at the finish.
In Summer 1968 Doug ended up 21st in the Scottish rankings for 3000m Steeplechase with 10.11.6. After he left university, his journalistic career took precedence.
Hugh Stevenson has been a member of Victoria Park AAC for many years. In his day a talented hurdler, who won the SAAA Junior 120 yards Hurdles title in 1965, he is notorious for satirical 'imitations' of athletics friends and foes. Doug Gillon featured frequently in Hugo's humorous repertoire as 'The Expert', and was treated with fond derision as Gillon became Scotland's finest Athletics Journalist. Doug's friends at VP also included 'The Doc' (John Baird), 'Jake the Snake' (Jack MacFie) and 'The Boss' (Roddie Campbell).
Then in 1977, racing for Victoria Park AAC, Doug Gillon produced a surprise personal best time of 57.19 for 400 metres Hurdles (16th in the Scottish Rankings). (Many years later, Doug was awarded Life Membership of VPAAC, for services to athletics journalism.)
Doug Gillon himself emailed a colourful series of memories from these early days. Inevitably these are much more entertaining than the previous paragraphs, which had to be sourced mainly from cold statistics!
" I was born in Edinburgh on 12.7.1946, and attended George Watson's College in Edinburgh where I tried almost every sport imaginable: athletics, rugby, squash, badminton, cricket in which I represented the school; learned to ski at Aviemore, and canoe in Loch Lomond and the Hebrides. I dabbled enthusiastically in basketball, hockey and volleyball, plus football (which we had to arrange for ourselves, being a "rugby school"). And tennis and golf at which I was abysmal. In fact not even as good as that.
I was obsessed with sport from an early age and remember beating Eric Fisher who was in the same Sunday school class, probably before we were 10. It was a cross-country race of, of maybe .75 of a mile. I recall winning in a sprint finish (first race I ever won) I'm not sure if it was from Eric. Later, he trained for cross-country with the BB, and always beat me comfortably, as did another BB lad who gave Eric some competition. His name (McMahon, I think, but Eric could confirm) never featured in athletics in future, and whenever I recalled these days in the future, I always considered him a talent lost to the sport. Especially once Eric developed in the marathon.
In the coronation summer of 1953 I remember reading the report of the first ascent of Everest. I was six and transfixed. I still have the newspaper with its souvenir pictures . . . Hillary, an alien figure against an impossibly blue sky. And who had taken this photograph, I remember thinking. Tensing, of course, but perhaps this was the first evidence of an enquiring sporting mind. The next was being summoned by my father to hear news of Bannister, Brasher and Chataway, and the first sub four-minute mile. And I recall creeping out of bed at 3.00am on a spring morning in 1955, to tune in to Eamonn Andrews' boxing commentary on the Don Cockell v Rocky Marciano world heavyweight title fight. Cockell got his head boxed off in nine rounds. I devoured every line of all the newspaper reports. I wanted to know all about these icons. Reading about them inspired me, and while doing the greatest job in the world, I've since been privileged to meet and interview many of them, including Chataway, Brasher, and Bannister.
From an early age I had a dream . . . that I might be a good enough athlete to represent my country, to go to the Commonwealth Games, and perhaps even the Olympics. Well, it didn't quite work out like that. There were a few injuries, the pre-lottery dilemma of carving a career, paying a mortgage, and raising a family. Not to mention insufficient talent. But life took odd twists which resulted in me covering 11 Olympics. Thanks primarily to having defied my parents' wishes that I study law – a decision that caused a fair bit of domestic aggro.
My father was a public relations consultant, involved in the then fledgling sport sponsorship industry. Many early such events in Scotland were his creation, including the first national awards dinner (Usher Vaux). This brought him into routine contact with the likes of Jim Clark and Jackie Stewart, because his clients sponsored motor racing at Charterhall when these future F1 champions were young drivers. Winnie Shaw, Bobby Macgregor, Harvey Smith, Dick McTaggart, Ming Campbell, and a host of other celebrities were household topics of conversation. My dad brought home their autographs, and even that of Muhammad Ali.
So sporting excellence was a step closer for me than just reading about it in the papers. My old man was on first-name terms with them. Yet when I announced that I wanted to write about sport rather than read law, he went ape. There was a lecture about sports writers, with whom he worked daily: how advancement relied on luck, and not necessarily talent, that there were many very good journalists earning a pittance on local papers, because they'd never had a lucky break. It was a hard-drinking, cynical and unpleasant profession. But he let slip some Damon Runyonesque tales about Scotland's sports scribes, which only whetted my ambition.
My eclectic sports participation meant I did no real athletics until I was 17. I discovered latent cardiovascular fitness by chance, thanks to a knee ligament injury sustained at rugby. I ran every day to recover strength (straight lines, no side-stepping), and was persuaded to do some track races. I discovered the long-standing school mile record was in reach, and beat it with 4:24.1 on a five-lap-to-the-mile grass track at Myreside. I was briefly coached by John Anderson whose rep sessions at Meadowbank (in some illustrious company) frequently made me ill. I'd have run over broken glass for him, but quickly learned he could cause a row in an empty house. I retain the greatest regard and affection for him – a truly iconic coach, and we remain friends. I'd never have become a journalist but for John and the life lessons which I did not even realise I was learning until decades later.
I joined Edinburgh AC, and recall running a mile, 3k chase, and six miles "for the point" in one evening during a club match at Ayr. It was my first 'chase and first time over a water jump. Not for the last time, I fell in, but managed to finish, in second or third, I think.
Barrier technique was clearly lacking; as were facilities. So having decided to do the #chase at the Scottish schools, I took the wooden bench seats from the Myreside stand, and stacked them three-feet high on the track, to practise hurdling, knowing that if I hit these benches I would go down, to focus the mind. So just like the real thing.
I also recall a 3k chase at Westerlands (Aug '65, I think) in which Lachie Stewart and John Linaker had a ding-dong battle. Approaching the bell, I heard them closing on me and just managed to avoid the humiliation of beng lapped as Lachie broke the Scottish record.
EAC clubmates Jack MacFie, John Fairgrieve and I took 1, 2, 3 in the mile at the 1965 Scottish Schools Championships at Goldenacre. It seems significant, looking back, that we'd done regular very competitive weekly track rep sessions (eg 10×400, 6×600) together at Ford's Road. As Goldenacre had no waterjump, the schools steeplechase (1500m) was held over to the Scottish Junior champs the following weekend, on cinders at Meadowbank. I won relatively unchallenged and was disappointed to learn I'd missed the national record by less than a second. I was told that medalling in both mile and 1500m SC was a first. I was more interested in it getting me selected for Scottish Schools.
At Brighton I had a lead of 50 metres in the Schools International, but got caught right on the line by a guy called Barry Davies who was unbeaten in Britain that year. He later became a cyclo-cross international, I believe.
There was no coach, and no advice at Brighton. I was then selected for an SAAA Junior team against the Army, a 2k chase, at Pitreavie. I managed to slip right under the water jump barrier for total immersion while warming up, but won the race in the same time as the runner-up. Definitely fuelled by how I'd felt when I lost on the line at Brighton.
I briefly worked in London as an executive officer with HM Customs & Excise, sharing a flat with Northern Ireland 800m internationalist Les Jones, later to become GB athletics team manager. When Les died, sadly most prematurely, I found myself shoulder to shoulder with Linford Christie, carrying one end of the coffin at his funeral in Portadown.
I joined Thames Valley where Ron Roddan was a young sprint coach. Did sessions with John Bicourt among others, and sometimes with a group which included Lillian Board.
I took a sabbatical from C&E to study for a BA in Commerce at Heriot Watt University where Adrian Weatherhead was then star athlete and Bill Walker the leading coaching light, team manager, and factotum. I recall a uni cross-country at Caird Park where Adrian was leading by about 100 yards when he shot off course. I had to resist the temptation not to shout him back (I was second) but we were team mates, after all! And he won comfortably. But the general standard of athletics was so poor that I won the 400h, 880, mile, and 3 miles in one afternoon at the University championships. My times were so dire that I carefully expunged them from my memory.
There were a few false starts before I became a journalist. I wrote the odd snippet for the school magazine at Watson's. Malcolm Rifkind was a classmate, and before he moved at a young age, so was Mike McLean (800m CG 1970). Peter Burgess, who later won three Scottish decathlon titles, was also a contemporary and we were in the same team at the Schools international in Brighton (he did LJ then). So were my mates Jack MacFie and John Fairgrieve.
England's World Cup win in 1966 quite spoiled my day. I'd hitched overnight from London, got a lift from Edinburgh to Ayr, and won the Land o' Burns steeplechase. Then came off the track to learn England, drawing 2-2 when I lined up, had won. I took silver in the Civil Service 3k SC in 9.46. Can't recall who won. Weeks later, I fell on an escalator, damaging ankle ligaments which took months to heal in my early time at Uni. This caused me to drop the 'chase and try various events including 400 hurdles, with little success. Eilidh Doyle would have beaten me by nearly 30 metres! I guess in league matches over the years I tried every event bar the pole vault, "just for the point".
Scotland's big athletics hero was Jim Alder who had won the marathon at the 1966 Commonwealth Games in Kingston (and was to fight his way to silver in the 1970 Edinburgh CG). Jim was a cult figure, hard as nails. The Victor's fictional comic strip hero, Alf Tupper, aka Tough of the Track, was a wimp by comparison.
I'd run in the same Edinburgh-to-Glasgow team as Jim (my most terrifying moment as a young athlete was Jim Alder handing me the baton in the lead, at Airdrie War Memorial). I knew all his backround. I was in awe of him, of course, but he was friendly and gave advice. No arrogance, although he was among the best in the world. I could not help comparing him with some of the very one-dimensional footballers I queued to speak to outside Ibrox or Parkhead after reporting Old Firm matches. And Lachie Stewart was from the same cloth."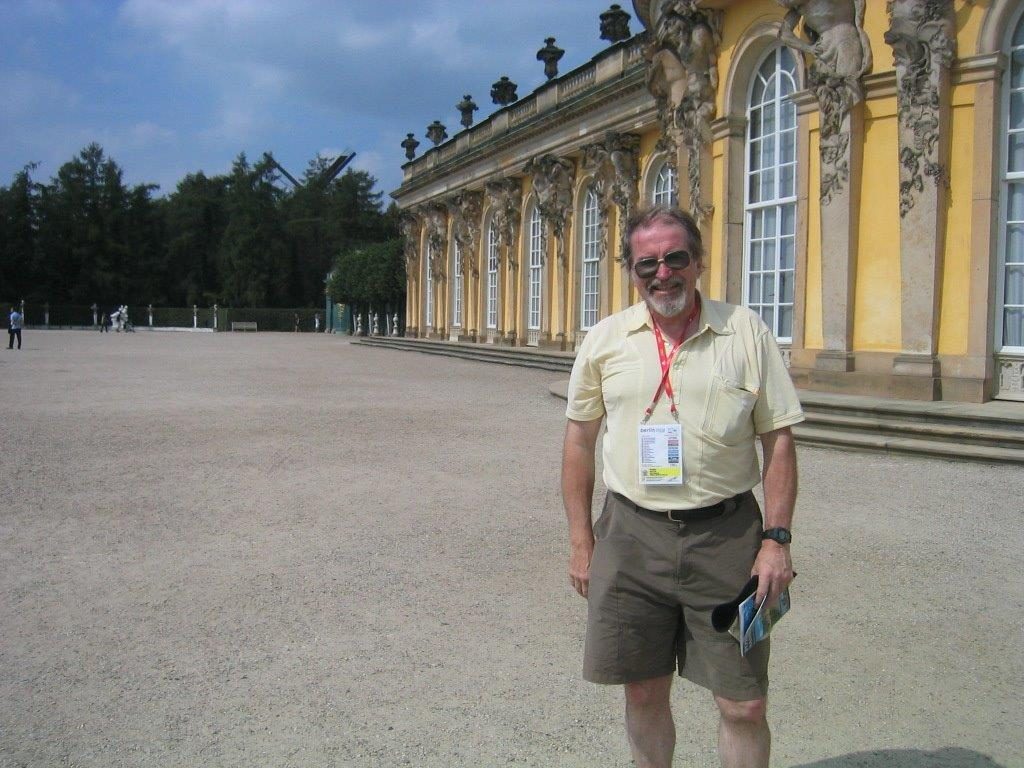 Doug later added the following reminiscences:
"AT EAC a large group would go out on Sunday mornings. For me, those peaked briefly at a max of around 2 hours 10min which, eyeballs out for me, would be no more than 19-20 miles. These would be hilly: from Fords Road, out to Colinton, Redford, Balerno, and past the reservoirs. Finlay Steele was the top junior (around 51mins, I think in the Tom Scott in 1964 or 65). I recall finishing second junior to him on a very hot day on the Law to Motherwell course. I only just broke the hour but was well out of my comfort zone – completely wasted.
Bert Carse (later emigrated to Western Australia) would slaughter everyone bar Finlay on these Sunday runs. They started very friendly, everyone chatting. Silence would gradually descend, and then the boot would go in, and we'd fragment into little competitive groups.
Carse was the class act over three miles on the track, and Neil Donnachie, Bob Greenoak, and Barry Craighead were still competing for the club. Barry, who was then a joiner, would often give me a lift home in his van, which I recall once contained a coffin, or panels thereof!
I enjoyed handicap races at Highland Games, and on reflection they taught pace-judgement which sometimes seems lacking today, as a consequence of the decline of HG.
When I joined the Sunday Post (1968) I went out at lunchtimes, jogging from Port Dundas to Westerlands where I'd join a few others in a track rep session, then jog back. Lachie was often training there, and I recall Myra Nimmo too, training in the early 70s, prior to the '76 Olympics where she did the long jump.
My training was indiscriminate, lacking structure as well as motivation because I could not race. Athletics contests in the late 60s were almost always on Saturdays – and I worked on Saturdays, focusing on my career, which caused me to abandon competitive aspirations. With a young family, serious commitment to training would have been a huge indulgence – unfair to my long-suffering wife, Mary. My job was disruptive enough to normal family life and she was hugely supportive of my work.
Nevertheless, I did attempt to keep in some shape. I'd go down to VP on Tuesday evenings. Jack MacFie put me to shame, travelling every week from Edinburgh despite being a GP. Our sessions were always competitive, whether track reps or round the Scotstoun area, or along The Boulevard. I'd also attempt to go out from home, perhaps once a week, and perhaps twice from the office at lunchtime but would only run a total of about 35 miles per week.
I'd various trails ranging from two to a maximum of seven miles, such as out to Mugdock reservoir or round Dougalston.
League athletics opened some Sunday options in the mid '70s, and briefly rekindled competiive juices. They did so again with the marathon boom in the early '80s. I got quite fit prior to the Glasgow marathon in either '81 or '82, while working for the Sunday Standard, going out every day through Glasgow Green for about 35-40 mins and also from home. I got up to around 60mpw then. On marathon day I promised to run with Bobby Watson (Airdrie manager) in the early stages, until he settled down. I left him about five miles, and stupidly got sucked into the race. I reached 19 miles in a couple of minutes over two hours, and was really chuffed – felt I should break three hours. Within two miles I'd strained my groin. I dragged my right leg to the finish – passed by Bobby in Pollok Park! I finished in 3:45. I never ran another marathon, and about three years there was a Damascene moment: my 11-year-old son, Gregor, beat me over two miles when we jogged on holiday in Cornwall.
I continued to jog two or three times a week into my 60s, but the knees are now paying for all those times I stepped over the door and onto the road or pavement. If I knew then what I know now, a lot more would have been done on grass. The last five years I have been able to do little more vigorous than a walk."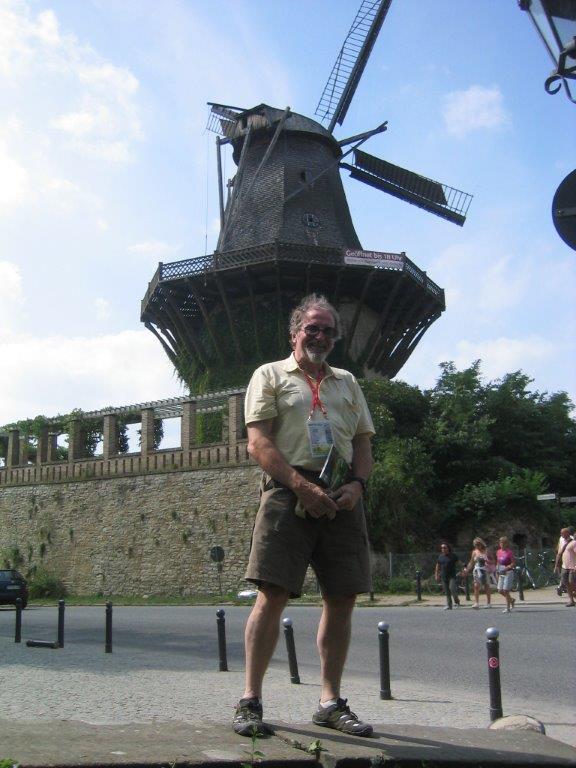 It is important that we started with Doug as a runner and club man because it indicates that he knows the sport from the inside, is happy with the participants, and is, indeed, happy to be a participant. How can one who mixes with The Boss, The Doc and Jake the Snake ever be accused of being out of touch? Now read on for Doug's journalistic career.