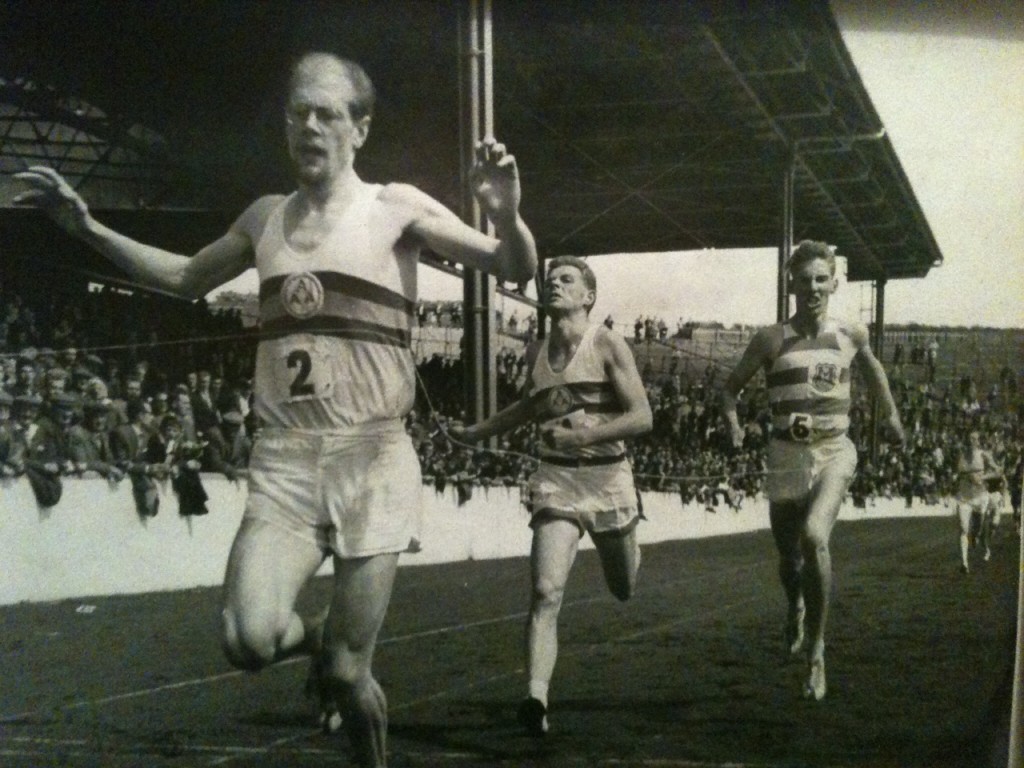 The Last Rangers Sports: Peter Keeling wins with Hugh Barrow in third
Although this page is about 'The Rangers Sports' it should be noted that for a while in the 40's and 50's there were well-attended sports meetings in Edinburgh on a regular basis and in other places more spasmodically. There are pictures on this page from the Edinburgh sports to illustrate that point but the one which resonates most with the top athletes from that period was the Ibrox event. Although there were good, very good, sprints and field events at the meetings, and from time to time an SAAA Championship event was incorporated, my memory tells me that the middle distance events were the highlights. It was one of the best cinder running tracks in Scotland and athletes liked it – but the crowds were something else: 50000 and 60000 were not unusual. I went along to see them for the first time after the 1952 Olympic Games in Helsinki when many of the Olympians competed – Lindy Remigino, Herb McKenley, Arthur Wint among them – and Tom O'Reilly from Springburn won the steeplechase. I ran there in 1962 at the last ever Rangers Sports and the crowd was huge. Cowal was big but Rangers was bigger.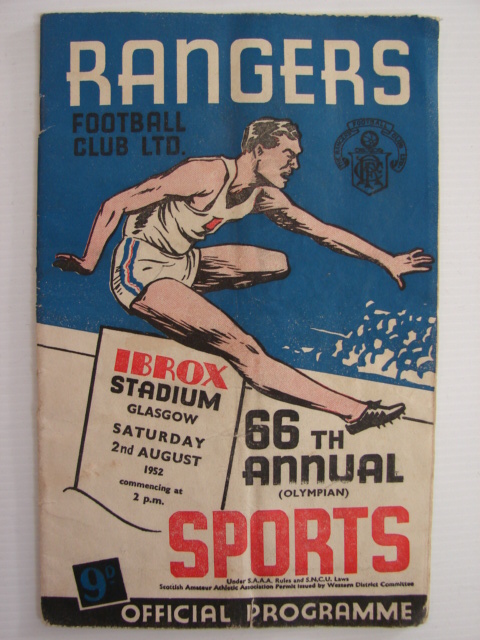 The Programme from the last Sports in 1962
The Rangers Football Club was founded in 1872 at a time when it was not at all unusual for a man to be a member of several clubs in several sports: football players were also athletes, cyclists and oarsmen too. The first open athletics club in Scotland was Clydesdale Harriers, founded in 1885, and right from the start it had many from other sports as members but the connection with Rangers was strongest with several men being founder members of both clubs. The Harriers trained at the Rangers Headquarters at Kinning Park to start with and then moved to Ibrox for training facilities when the football club moved. It was natural therefore that when the Harriers started holding annual sports the initial favoured venue was Ibrox and several big and successful meetings were held there before the first world war with lots of the major stars of the sport from all over Britain being involved in the action. As early as season 1889 there were references to "joint sports with our good friends, the Rangers Football Club". These meetings continued – with the Harriers also being involved in sports meetings at the grounds of Celtic and Partick Thistle – until after 1918. Rangers provided the ground and some financial backing but the Harriers did the organising and if, as was the case on a couple of occasions, there was a slight financial loss, the Rangers covered it.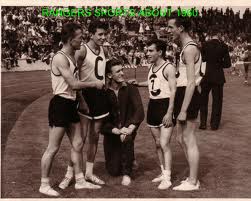 A group of Clydesdale Harriers at the Rangers Sports in 1960 or 1961
More than any other club in Scotland, The Rangers always showed an interest in athletics generally. Right at the beginning with the Clydesdale Harriers and the club having many members in common – eg William Wilton, Tom Vallance, JR Gow of Rangers were Harriers and on the Harriers football committee. Joint sports were organised with the athletic club providing the bulk of the officials and knowing who to invite to make the events a success. The football club also invited Eric Liddell to train at Ibrox and such as Alfred Shrubb and Wyndham Halswelle competed at Ibrox. Bill Struth, legendary Rangers manager, had been an athlete and a professional runner in his younger days and he was keen to see athletics at Ibrox. In his recent biography, "Mr Struth: The Boss" by David Mason and Ian Stewart reference is made to Mr Struth's own running career and the link to Clydesdale Harriers. The club's involvement in athletics is also mentioned in "Field of Dreams" by Iain Duff and documented in some detail in "The Gallant Pioneers" by Gary Ralston. One of the biggest captures of any sport in the early 1930′ was when Paavo Nurmi ran at Ibrox in 1931.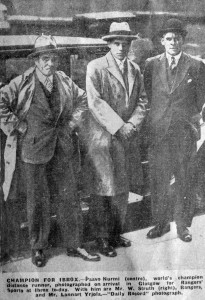 This comprehensive account of the race was written by athletics historian Alex Wilson.
There were races at half time in big football matches (see the profiles for Hugh Barrow and Lachie Stewart in particular) and I remember clearly seeing one featuring Derek Ibbotson in the Mile at half time in the match between a Scottish Select and a South African Select with SA playing in the green and white of Hibernian and including two Rangers players (Johnny Hubbard and Don Kitchenbrand. He it was, who was given credit for the burgeoning of the Rangers Sports as a really big domestic competition with a significant international dimension. The peak years for the sports however were the post-WW2 years and although the great draw for many of the crowd was the five-a-side tournament with all the Glasgow teams (Rangers, Celtic, Clyde, Third Lanark, Partick Thistle and Queen's Park) taking part, the Ibrox crowd was very knowledgeable about athletics and the management was sympathetic to the needs of the athletes.
The man behind the sports in their glory days was indisputably Bill Struth who was always on the qui vivre for interesting items. The following is a direct quote from the Shettleston Harriers Centenary History:
"Early in his Army career when he (Allan Watt) was stationed in Orkney, he was given three days leave to travel to Glasgow to compete in the Rangers Sports. A summons had come from Bill Struth, the legendary Rangers manager, asking the army to give Allan time off to take part in the invitation 100 yards against the American Clyde Jeffrey. Fifty years later Allan was to learn that Mr Struth had another reason for wanting him to appear. The American was the scratch man. Allan was off one and a half yards and Willie Waddell, the famous footballing Deedle Dawdle of Rangers, was off three yards. The Yank won, Allan was second and 'Deedle' third. In the early 1990's Allan was at Ibrox as a guest of Rangers at Ibrox when the wife of the Rangers doctor recalled the wartime race. She claimed that Struth had deliberately kept Deedle an amateur so that he could take part and the crowd would see a Rangers player beat the American guest and the Scottish star. The Deedle turned profssional immediately after the race."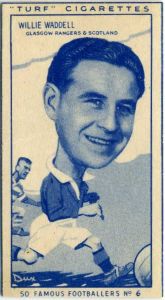 There is a shortage of information about the Sports so the intention is to cover the period from 1946 to 1956 in some detail and then to include personal reflections and observations as well as isolated reports on individual events to give something of the flavour of this wonderful meeting.
The meeting was always held at the start of August and was usually blessed with good weather and this only adds to the happy memories of those who attended. Emmet Farrell's report for the 1946 meeting reads as follows: "To Rangers FC fell the honour of opening the August programme of meetings, and while on occasion there have been classier meetings, notably in Olympic Games years when Finnish and American athletes graced the Ibrox sward, nevertheless there was keen sport in both the invitation and open events. Then of course the proximity of the August Bank Holiday meeting precluded any chance of Wooderson and certain other stars from the South appearing; the coloured stars Wint and McDonald Bailey were especially attractive guests however, arrangements however having been made to fly them to Glasgow and back to London in time for the international match against France.
However this meeting will be remembered chiefly for the record-breaking achievements of Alan Paterson who, with a jump of 6 ft 6.5 in broke his own native record by three inches and also HM Osborne's (USA) all-comer's record by the narrow margin of a quarter of an inch. Paterson was in great form and could have gone on to make further attempts on the British record of 6 ft 7 in with every chance of success, but team manager Jack Crump advised "enough" in view of Monday's international match.
In the medley relay, the tall, loose-limbed Wint fascinated the large crowd with a loping quarter of a mile to make things easy for team-mate Dove who ran the final half-mile sector. However later in the special quarter mile handicap, Wint after catching the field to whom he gave some useful starts, just failed to produce enough steam in his finish to hold his English colleagues Lewis and Collier. Winning time was 48.2, Wint's time 48.6 McDonald Bailey streaked across the Ibrox grass in the special 120 but, despite breaking evens, he failed to catch Wigham , Victoria Park, (off 8.5 yards) by inches in his Heat. In the final of this event, Scottish sprint champion, Hugh Broadley of Glasgow YMCA off the low mark of three and a half inches, finished second to Cambridge student J Fairgrieve.
By his forward running in the heats of the open half-mile, the Stirling youth JS Petty, who has been so much in the public eye in recent weeks, installed himself a hot favourite for the final of this event. Off 38 yeards he was always nicely placed, and his well timed, devastating finish left his field standing. His winning of the Rangers half-mile sets the seal on his recent successes. It is to be hoped that he will not be asked to do too much too early, for he has a future in athletics. Worthy of mention was the double of DJ Nicolson of Victoria Park in the sprints. Although he had useful starts in both events to win through represents a power of running in both heats and finals.
A grand race was the open Mile, J Millar of Shettleston 9 (off 38 yards) holding off A Forbes, Victoria Park, (95 yards) in 4 min 16.9 sec. The eight-lap steeplechase, always a feature of Rangers Sports, was won by ex-champion JC Ross of Shettleston but the unexpected rule of jumping the hedge without tipping the bar was not to the liking of many competitors, one of whom received a bad scrape from spikes in a melee at one of the jumps."
It is clear from this report that the event was a big in quality as well as in numbers of competitors and spectators. To mention Arthur Wint and McDonald Bailey as almost 'consolation' for the missing stars such as Sydney Wooderson for a meeting that also included a Scottish record in the high jump with the AAA's secretary and international team manager present, is an indication of the high expectations. The inspirational effect of racing against these men must have been huge: John Hume of Clydesdale Harriers found himself warming up beside a tall, coloured athlete and they were talking away when he suddenly realised that it was Arthur Wint. John always ran well but not usually that well! The reference to the hedge in the steeplechase is interesting in that at sme meetings, the water-jump had a hedge erected right up against the barrier so that the athletes could not see the water and using the rail to push off over the water was very difficult under normal conditions.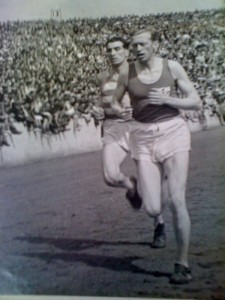 John Jo Barry and Andy Forbes at Ibrox
The 1947 meeting was reported on in the September issue of 'The Scots Athlete' by John Emmet Farrell under the headline 'IBROX THRILLS' as follows: "We are accustomed to expect thrills at Rangers' athletic gala, but surely the 1947 August Carnival surpassed itself in this respect. A record crowd of over 70,000 watched the fascinating and sporting duel between the high-jumpers Alan Paterson and Bill Vessie. Paterson came-back with a vengeance to reach Olympian heights. Bothe he and Vessie tied at 6 ft 7.5 in to set up a new British record, beating "Corney" Johnson's record of 6 ft 7 in. Alan has two marks to aspire to. First the Olympic record of 6 ft 9 in, set up by Johnson at Berlin in 1936, and the colossal world mark of 6 ft 11 in, standing to the credit of Lester Steers, who, we understand, is attempting a successful come-back. Then has there ever been a more impressive bit of sprinting that McDonald Bailey's bullet-like exhibition in winning the 100 metres in 10.4 sec, sprinting reminiscent of Jesse Owens at his best.
American distance star, Curtis Stone, put the crowd in a good humour with a beautiful piece of striding in the steeplechase, and Edinburgh student, Cofie, repelled the American challenge in the 400 metres, clocking 48.2 sec (off 10 yeards), to make us wonder why he did not tackle this event in the Scottish Championships. There was the bird-like exhibition of hurdling presented by the coloured star Harrison Dillard and our own veteran "Don" Finlay, hero of a thousand races, and the magnificent finish in the 800 metres, where British "find" GW Nankeville (off 10 yards) split Americans Trevor Perkins and W Hulse in a 1 min 52.3 race.
What shall we say of the relay, a pulsating race if ever there was one. In the first half-mile sector Bill Hulse of America streaked away to hand over a nice lead to colleague Smith with Fairgrieve chasing. McDonakd Bailey set to give Guida perhaps 12 yards thrilled the crowd with a brilliant attempt to catch his man, and Trevor Perkins of USA, set of with approximately five yards in hand. But the thrill of the race was still to come. Running with tremendous verve and courage, Pugh not only caught his man but forged to the front. A heart-breaking race ensued down the finishing straight, but Perkins proved just the stronger in a desperate finish.
Like other meetings this year, the five-a-side football served up did not reach the athletic heights. This is not just the opinion of athletics enthusiasts, but according to the leading scribes of the Press who cater for the football public. But all-in-all, it was a grand day's show and will provide lasting memories."
The entire meeting was of a top class standard with athletes mentioned being from Scotland, England and USA. There were almost certainly athletes from all over the United Kingdom as well. A crowd of 70,000, international competition of a high standard and a new British High Jump record!!! And this in the days of genuine austerity where not only was money short, but food was rationed and food parcels sent from South Africa for international class Scottish sportsmen to augment their diet, and clothing could not be bought without clothing coupons.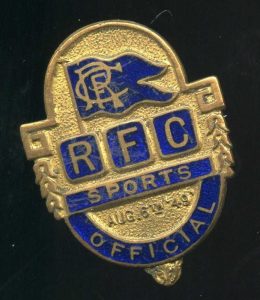 In 1948 the sports were held on 7th August and the report read:
"HIGH JUMP AND HURDLES THRILLS AT IBROX
The sixty-second annual sports of Rangers Football Club were not so favoured by the weather as they have been in the past, but the meeting at Ibrox Stadium on Saturday was enjoyed by over 30,000 spectators. The outstanding feature was the invitation high jump in which there was the unusual spectacle, in Scotland, of three competitors clearing six feet three and a half inches. AS Paterson and A Jacques (Canada) failed to improve on that figure, but Edleman (US) went 2 inches higher and in an exhibition jump reached six feet six and a half inches.
Perfect hurdling was exhibited in a thrilling race between two Americans, Scott and Dixon, the former winning by inches in 14.5 seconds – only 1-10th outside the British record but beating the Scottish all-comers record set by Donald Findlay at Rangers Sports by 2-10th seconds.
The prestige of the sports remains as high as ever despite the handicaps experienced on Saturday. Because of the claims of the Olympic Games several of the athletes entered were unable to attend but Mr Struth produced others of very high standard to take their places. The various events were carried out with expedition and trhere was nt an idle moment in the programmes of 35 events.
Results: Invitation events
120 yards: 1. J McLaughlin, Maryhill H (4 yds); 2. A Watt, Shettleston H (3) 11.7 sec.
440 yards: 1. JB Panton, VPAAC (20); 2. A Watt, Shettleston (24). 47.6 sec
Half-Mile: 1. J Speirs, Shettleston (34); 2. J Smart, Edinburgh SH (26). 1 min 53.5 sec
Two Miles: 1. A Forbes, VPAAC (30); 2. H Nelson, NZ (scr). 9 min 30.5 sec
120 yards hurdles: 1. E Scott US; 2. CK Dixon (US). 14.5 sec.
High Jump: 1. TE Edleman, US (3″) 6′ 8.5″; 2. A Jacques, Canada (2″) 6′ 5.5″
5-a-side: Celtic 1 goal, 1 point, beat Hibernian, 1 goal.
Winners of open events:
100 yards: W McNaught, VPAAC (5.5) 10 seconds. 220 yards: MT Fraser, Garscube (12) 22.5 seconds
Half-Mile: K Sigrist, Glasgow Police, (36) 1:57.6. Mile: W Watson, Motherwell YMCA (95) 4:26.6
High Jump: A McLaren, St Modan's (10″) 6'5″. Eight-lap steeplechase: JM Burns, Shettleston (160 yards) 9:45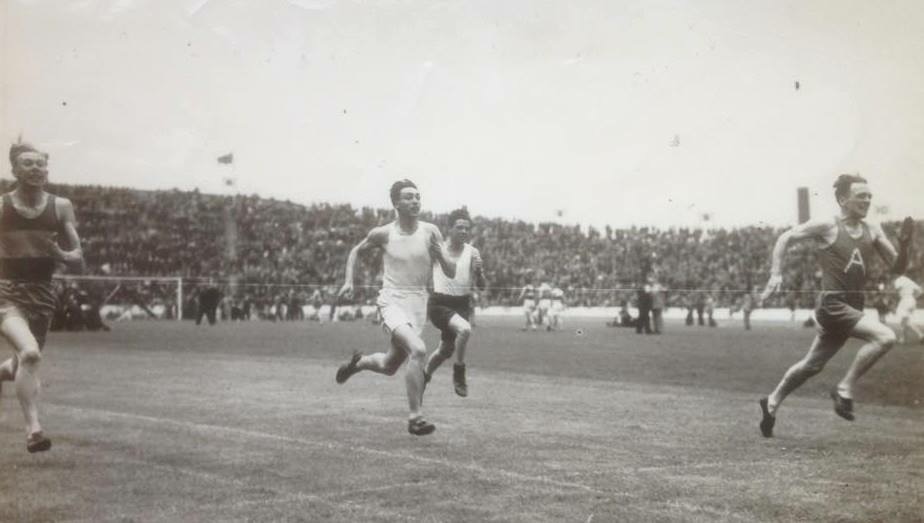 100 yards heats at the 1948 Games
***
With limited space in the magazine and the Empire Games review, AAA's and AAA's Junior Championships plus a triangular international to be covered, coverage of the 1949 Rangers Sports had to be squeezed into Emmet Farrell's monthly 'Running Commentary' slot under the sub-heading "Don's Sun Has Not Yet Set" and read Despite the presence of a seven-man American team it was wonder veteran hurdler Don Finlay who earned the greatest ovation from the vast 60,000 crowd at the Ibrox Stadium on the occasion of the Rangers' Annual Sports. Tall Richard Attlesey was a surprised man to find that he could not quite cope with the RAF man's devastating form. The watches showed 14.5 seconds for the 120 yards hurdles which is one fifth of a second inside Finlay's own record. As there was a fairly brisk following wind however, the record ,may not be passed. Nevertheless it was a brilliant exhibition of hurdling.
Alan Paterson's feat in clearing 6 ft 4 ins, despite a thigh injury, was also a meritorious one, though Dick Phillips had not the best of luck with one of his efforts. John Joe Barry outclassed his field despite the apparently liberal handicaps and in the fresh gusty conditions running solo for the last three quarters of a mile, his good time of 9 min 14.2 sec for Two Miles was value even better. The American team did not quite reach the high spots on this occasion. Constant travelling and different conditions can take the snap out of a touring athletic team. However, big Bill Brown's victory in the special quarter fairly tickled the vast crowd who dearly love to see the scratch man win through. Brown travelled wide at the bend to get on terms with his field and at the finish there was quite a bit of daylight between him and his opponents so that the 49.4 secs taken was a really splendid effort."
In the following year (1950) there was no report bit a short list of invitation event results that is quite impressive
120 yards: 1. E McDonald Bailey (AAA) scr; 2. J Maclachlan (Maryhill H) 4y; 3. CM Wilkinson (AAA) 1.5y 11.3 sec;
220 yards: 1. A Bragg (USA); 2. JCM Wilkinson (AAA); 3. ND Stacey (AAA) 21.5 sec;
440 yards: 1. AS Wint (AAA) scr; 2. R Pearman (USA) scr; 3. D Pugh (AAA) 47.7 sec (Scottish all-comers record);
880 yards: 1. MG Whitfield (USA) scr; 2. JS Smart (ESH) 24y; 3. JS Petty (St Modan's) 20y 1:50.8 (Scottish all-comers record)
Mile: 1. DG Wilson (AAA); 2. GW Nankeville (AAA); 3. T Kirwan (USA) 4:17.2
Two Miles: 1. H Ashenfelter (USA) scr; 2. P Green (AAA) scr; 3. G Adamson (W Kilbride) 115y 9:15.6
120 yards hurdles: 1. W Fleming (USA); 2. D Halderman (USA); FJ Parker (AAA) 15 sec
High Jump: 1. AS Paterson (Vic Pk) 6'5″; 2. V Severns (USA) 6'4″
Mal Whitfield – double Olympic 800m champion plus two relay medals, take two tenths of a second off the furlong all-comers; Arthur Wint, Olympic 400m champion, while colleague Rhoden not to be outdone had two 400m medals (silver and bronze) and two 4 x 400 medals (gold and silver), a world record at 800m, and a man whom you would be well advised to look up on Wikipedia, a wonderful role model – Horace Ashenfelter – an FBI man who won the 1952 Olympic steeplechase – and of course Alan Paterson, European HJ winner. Any one of them capable of filling a stadium.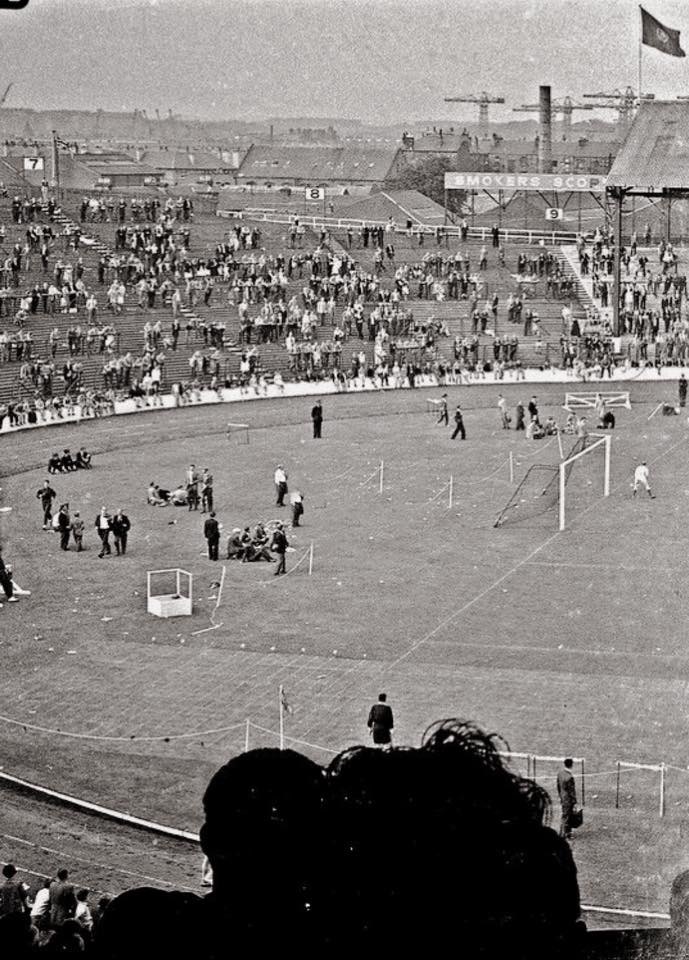 Rangers Sports in the late 1950's: Five-a-side in progress, note the handicap markers on the sprint straight on the grass, the starter's podium, track markings, etc. The crowd looks a bit smaller than in the heyday of the meeting.
1952 was of course Olympic year and the Rangers Sports benefited from the number of stars who had come to Europe for the Games in Helsinki. The Headline in the 'Scots Athlete' read "Mighty fine, Mr Davis." and Emmet Farrell wrote – "Despite "enjoying" weather far removed from their usual, the Rangers had more than their share of records. No wonder, with such a galaxy of Olympic stars. Giant 6ft 8.75 in Texan Walt Davis cleared 6 fet 8.25 in to erase the wonderful Paterson-Vessie record from the record book. Inspired by Laz of USA Norman Gregor cleared 13 ft 2 ins for a new native record in the pole vault. In that romantic and very Grecian event, the discus, Olympic champion Iness threw the platter 166 ft 1 in to put the previous Scottish all-comers record of 153 ft 3 in well in the shade.
McKenley tore around the semi-circle to head Remigino and stop the watches at 20.9 to take two tenths of a second off the furlong all-comers, while colleague Rhoden not to be outdone showed something of his Olympic form by completing the full oval in 46.8 seconds, four tenths inside the all-comers record. Finally our own Bill Nankeville, showing more fire than he did at the Games ran a grand three-quarter mile in 3 mins 0.4 again a Scottish all-comers record."
It would be interesting to get a full copy of the results of all the meetings but particularly of this one where all the American and West Indian runners gave of their best before the knowledgeable Glasgow crowds.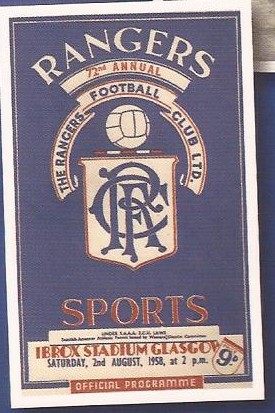 The cover from the 1952 sports is above but the entire programme for the 1958 version of the meeting can be seen at this link .
Walter Ross was finding it harder to keep the magazine going – it was a drain on his finances and despite donations from well-wishers and a captive market it was not really paying its way. There was no report on the Sports in 1953 and the slim joint August – September issue had too much to report on from two of the busiest months of the year. The results of the Invitation events at the meeting held on 1st August were as follows.
120 yds handicap: 1. R Quinn (VPAAC) 4 yds; 2. WH Crawford (Bellahouston) 5; 3. W Henderson (Watsonians) 4. 11.5 sec
220 (Scratch): 1. J Schatzle (USA); 2. WJ Ferguson (AAA); 3. A Pinnington (AAA). 22.2
880 (Scratch): 1. C Joyce (USA); 2. D MacMillan (Australia); 3. J Schlereth (USA) 1:52.9
2 Miles (Handicap): 1. J Stevenson (Greenock Wellpark) 150y; 2. L Eyre (Leeds Harehills) Scr; 8:54.7 [Scottish All comers record]; 3. I Binnie (VPAAC) scr 8:58.4 [Scottish Native Record].
440 Hurdles (Scratch): 1. DK Gracie (GUAC); 2. AW Scott (AAA) ; 3. AID Francis (AAA) 53.7 [Scottish Native and all comers Record]
Long Jump: 1. KAB Oluwu (Nigeria) 22 ft 4 ins; 2. R Soble (USA) 22 ft 2 ins; 3. AR Smith (GUAC) 20 ft 5.5 ins
High Jump: 1. BM O'Reilly (Donore) 6 ft 4 ins; 2. NG Gregor (AAA) 6 ft 2 ins; 3. V Fritts USA) 6 ft 2 ins
Pole Vault: 1. F Barnes (USA) 13 ft 6 ins; 2. NG Gregor (AAA) 13 ft 3.75 ins [Scottish Native Record]; 3. GM Elliott (AAA) 13 ft 3 ins.
Weight: 1. T Jones (USA) 53 ft 7.75 ins; 2. M Engle (USA) 49 ft 10.5 ins; 3. GM Elliott (AAA) 41 ft 9.75 ins.
It is clear from the above that the quality had not slipped too much – two all-comers and three native records and contestants from six countries testify to that.
1954 was Vancouver Commonwealth Games year and what with the Bannister/Landy Mile and, more particularly from a Scottish point of view, the McGhee win in the marathon absorbed almost all the available space.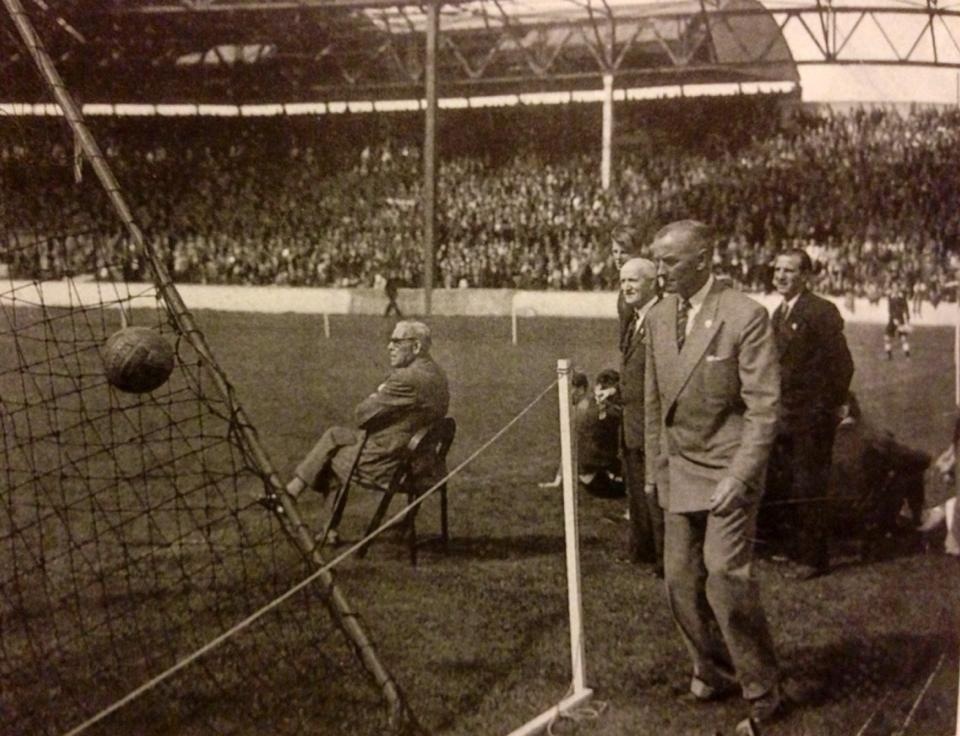 I couldn't find either a report or the results for the 1956 Sports but there was an "Ibrox Floodlit Meeting" on 15th September that was a great success. Bill Struth, the manager who above all set the standard for the sports and keep them going, died on 21st September 1956 which was less than a week after the Floodlit Meeting. He is pictured above at his last Rangers Sports. Olympic year again, and a host of Olympic athletes. James L Logan reported this time. "The international Floodlit Meeting at Ibrox Park organised by the SAAA and sponsored by the Scottish Daily Express, emphasised the powerful effect of professional publicity in the successful promotion of sports events in this country. Despite the miserable weather which lasted right up to starting time, and the fact that the football season was in full swing, a crowd of 25000 turned up in expectant mood: not to while away a few hours but eager to acclaim pure sporting performances by athletes whose calibre was known after a week's publicity.
The Continental-style ovation given to Brian Hewson after his magnificent effort in the 800m was something new to Scottish ears. Wave after wave of cheers rolled round the stadium and the enthusiasm burst out again when his time was announced. And how Brian deserved this reward! Undisturbed by the preliminary haggling for position, he came through to the perfect striking situation and unleashed his winning move at the beginning of the back straight, a sustained effort with no sign of fade at the tape. His nearest challenger, the German H Reinnagel, closed the gap slightly but the issue was never in doubt. The time of 1 min 47.5 secs is the second best ever achieved by a British athlete, just 0.1 behind Derek Johnson's time in the 1954 European championship final, and easily beats Mal Whitfield's Olympic record of 1 min 49.2 sec. It should not be forgotten, however, that old warrior Whitfield recently returned 1 min 49.3 sec in the American Olympic trials and finished fifth behind Tom Courtney who clocked 1 min 46,4 seconds! Still, the American trials are on the level of another Olympics, demanding optimum effort. Courtney, it should be noted, holds the Scottish All-Comers "880" record and Hewson, if he had continued to the 880 mark, would have been well inside the American's figures; which all adds up to a lot of 'ifs' and 'buts' which will only be resolved at Melbourne!
The amateur track and field statistician has been overwhelmed in recent months by pre-Olympic reports flooding in from all over the world. Only a professional checking his records daily, could hope to keep track of all the world class names. This was emphasised in the 4 x 440 yards relay.
When the great Jamaican team of Arthur Wint, Herb McKenley, George Rhoden and Les Laing set up the Scottish All-Comers record of 3 mins 15.8 sec at Ibrox Park in 1952, each of those names was known to everyone. Wint was reigning Olympic 400 metres champion, McKenley and Rhoden were 440 yards and 400 metres world record holders, and Laing was just a fraction below that class. They went on inevitably to the Olympic title and the world record. Now we have a German team, with names familiar only to the most knowledgeable, smashing the Jamaicans Scottish record by 3.4 seconds, easily beating a British team who were also inside record. Who would dare forecast Olympic winners in these circumstances?
In the ladies 4 x 100 metres relay, the English team moved with the poise and assurance of world record holders and cruised in just one fifth of a second outside the Olympic 'best'. The British girls both in individual and relay events have already struck 'world' form and should go to Melbourne stacked with confidence. The 1500 metres was a big disappointment to home fans. Just as we filled our lungs to roar for Graham Everett's challenge, the local boy went down with stunning suddenness at the top bend. Even allowing for the break in rhythm, Boyd's winning time of 3 mins 50.6 secs, suggested that Everett could well have been closely involved in the finish.
It was interesting to see Josy Barthel again. "Out of the blue" winner of the 1500 metres at Helsinki, Josy is one of these athletes who boost the morale of others who are not built in the classic mould. Short, almost squat, with heavy legs and balding head, he makes up for lack of natural physical advantages with the virtues of tenacity and consistency. Simce Helsinki, he has maintained a position just short of the modern masters. It is too easily forgotten that many of the great names of 1952 have now entirely disappeared from the news. Eamon Kinsella, winner of the 110 metres hurdles in 14.5 seconds, is another athletes with a fine record of consistency. The American negro C Pratt with his very close snap-down action may have had his accuracy impaired by the grass track – he pulled down several hurdles – and Kinsella's powerful, flowing style appeared more suitable to the conditions.
Enthusiasm for the home victory in the high jump was tempered somewhat by Bill Piper's moderate winning height of 6 ft but it should be borne in mind that apart from the heavy underfoot conditions the temperature at an evening meeting in September is more trying for the field events men who have to hang around between their efforts. In these circumstances, V Sillon's winning vault of 13 ft 6 ins and I Ward's 13 ft for second place were most commendable. Encouraged by generous applause, the Pole A Walczak broke a 20 years old All-Comers record by throwing the javelin 230 ft 2 ins. Tall Diane Leather, a late entry, was too powerful for her German and Polish opponents in the 800 metres and returned the excellent time of 2 mins 9.7 secs.
In the 3000 metres, Ibbotson gave an uncharacteristic performance and we were also disappointed in our first view of wonder boy sprinter Young. These however were minor blemishes in a memorable evening."
These were NOT the Rangers Sports – no open competition but the feast of athletics put on for the public can be seen from the results. I make it nine countries represented.
100m: 1. KJ Box (Liverpool) 11.3; 2. H Jensen (W Germany) 11.3; 3. JRG Young (Bishop Vesey's GS) 11.4.
200m: 1. L Pohl (W Germany) 21.7: 2. ER Sandstrom (RAF) 21.8; 3. W Henderson (Benwell) 22.3.
400m: 1. H Mann (E Germany) 47.8; 2. M Poerschke (W Germany) 48.2; 3. FP Higgins (Southgate) 48.2.
800m: 1. BS Hewson (Mitcham) 1:47.5; 2. H Reinnagel (E Germany) 1:49.3; 3. MA Farrell (Birchfield) 1:50.0
1500m: 1. IH Boyd (Herne Hill) 3:50.6; 2. J Barthel (Luxembourg) 3:50.7; 3. F Janke (E Germany) 3:52.3.
3000m 1. Z Kryszkowiak (Poland) 8:05.4; 2. GD Ibbotson (RAF) 8:08.1; 3. G Havenstein (E Germany) 8:08.6.
110 H: 1. E Kinsella (Eire) 14.5; 2. C Pratt (USA) 15.2; 3. E Roudnitska (FRance) 15.4.
400m H: 1. H Dittner (E Germany) 52.7; 2. RD Shaw (Achilles) 53.5; 3. M Basset (France) 54.5
High Jump: 1. W Piper (Glasgow Police) 6 ft 0 in; 2. AM Law (Paisley Police) 5 ft 11 in; 3. MC Ludow (Hythe) and V Sillon (France) 5 ft 10 ins.
Pole Vault: 1. V Sillon (France) 13 ft 6 ins; 2. I Ward (Bury) 13 ft 0 ins; 3. GE Broad (Hermes) 11 ft 6 ins.
Javelin: 1. A Walczak (Poland) 230 ft 2 ins [Scottish All-Comers Record]; 2. PS Cullen (Rotherham) 204 ft 5 ins; 3. CN Loveland (Army) 201 ft 1 in.
4 x 100m Relay: 1. W Germany [Pohl, Feneberg, Fuchs, Jensen] 41.8; 2. England 41.9; 3. Scotland 42.9
4 x 440 Relay: 1. Germany [Kuhl, Poerschke, Blummel, Mann] 3:12.4; 2. Great Britain [Farrell, Shaw, Wheeler, FP Higgins] 3:14.4
4M Paarlauf: 1. Finchley H [E Shirley/FG Salvat] 16:34.3; 2. Sheffield United Harriers 16:48.9; 3. Bellahouston Harriers 16:58.9.
Emmet Farrell commented on the meeting in the same issue of 'The Scots Athlete' as follows:
"Devastating Hewson The piece de resistance was undoubtedly Brian Hewson's800 metres where he left a classy field trailing helplessly in his wake when he unleashed a last lap effort of beautifully controlled running. His time of 1 min 47.5 secs is the second best ever by a Briton. Perhaps Hewson, under a cloud for some little time, is beginning to find his real form at the right time. Klaus Richtzenhain of East Germany recent conqueror of Pirie and Chataway over 1500 metres in fast time, elected to start in this race but faded badly.
Polish Trouble Maker Kryszkowiak of Poland provided us with a bit of pronunciation trouble, then added insult to injury by stealing away in the last lap from a classy 3000m field like Mr Mercury himself in the good time of 8 min 5.4 sec. The Pole, a delightful mover, really went to town before the bell and despite a determined effort Ibbotson could not close an ever-widening gap. The latter, though running well, has had a hard racing programme and seemed to lack sparkle.
Everett Stumble Spoils 1500 metres. A very interesting 1500 metres provided an anti-climax when Graham Everett bursting into the lead at the last lap stumbled leaving Ian Boyd to win narrowly from 1952 Olympic winner Josy Barthel who, though some five seconds slower than his record, still shows some remnants of his Olympic silk. Barthel is strong and looks as if he is running on a tight rein. While he hardly looks able to repeat his surprise win at Helsinki he may be building up to a peak and provide contenders with more trouble than appears evident. Other highlights of this mini Olympics include Walczak of Poland's javelin throw of 230 feet 2 inches for a new Scottish All-Comers record. Sillon of France's13 feet 6 inches pole vault. Kinsella of Eire's impressive 110 metres hurdles win. Diane Leather's narrow revenge win over U Donath of Germany with a 2 mins 9.7 secs 800 metres. The game but futile attempts of Wheeler and Higgins to close the gap against the combined German 4 x 400 metres relay in a race where both teams beat the all-comers record. Interesting novelty the two man team 'paarlauf' race over four miles was also well received. The strong English team representing Finchley H of Eric Shirley (AAA Steeplechase champion) and Frank Salvat was just too classy for English rivals Sheffield United and a host of Scottish teams. But a word of congratulation is due to Bellahouston's Nelson and Connelly for their game display and fluent running to gain third place to prove themselves easily the best of the Scottish contingents. Yes, it was a feast of good sport."
John Freebairn from Kilsyth was a very talented all-rounder who became an SAAA coach for the throwing events after his competitive days were over. He remembers competing in the Sports of 1958 where he won the shot putt and was rewarded with a Parker-Knoll armchair which was better than Hugh Barrow's transistor radio (see below) but much harder to fit into the family car. He also took part in the high jump immediately and his opening jump was 5'11" which was not good enough for a place in the event. He did however get a second in the pole vault. These were the days of landing in flat sand in the 'jumps for height' but at Ibrox the sand was piled high . John had seen the Walt Davis/Alan Paterson duel in 1952 and had been roped in by Fraser Riach to help retrieve the javelin in the floodlit meeting. Unfortunately the 1958 Sports was his only competition because he turned professional at the end of 1958 to compete on the Highland Games circuit.
Despite the success of the 1956 meeting, the floodlit meetings continued only intermittently and the picture above is of Hugh Barrow finishing second to Morris Jefferson in an invitation Junior mile on 3rd October 1962. Jefferson, who won in 4:10.1, was the AAA's Junior Mile champion who ran 4:05 for the distance as a Junior and Barrow, who was second in 4:10.2, had been second in the AAA's 880 yards in the same year. They were fine times, run on cinders, for an evening in October in Scotland when the weather is not at its warmest!
Having given some idea of the Sports and the standard of competition it is only fair to point out that the football club's commitment to athletics went beyond the special events that brought them in around £4000 a time. Ian Binnie, the famous and independent minded international endurance runner on one occasion had promised to run at the Rangers Sports when he was called by the AAA's at the last minute to run in London for the British team. He refused saying he was already committed to the Ibrox event. The tale is told in Doug Gillon's obituary notice for Binnie which can be found here but Struth was so impressed with the runner keeping his word that he presented him with a key to Ibrox Park telling him that he could train there any time so long as the football team was not training on it. A prize indeed as Ibrox was the best track in the country at the time.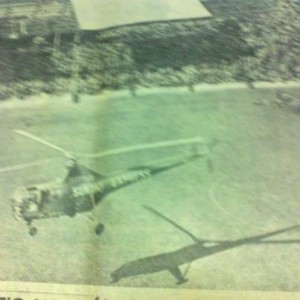 The 'Daily Express' Helicopter lands at Ibrox in 1959
The half time events at Old Firm games were well-known and I quote from Iain Duff's book about Ibrox "Temple of Dreams" where the following appears on pp 90 and 91 under the heading "On the right track".
"For more than 70 years the Rangers Sports had been Scotland's leading track and field event, but with the death of Bill Struth the main driving force behind the annual meetings had gone. Declining crowds led to the event finally being scrapped. However in the mid-1960's there was a slight return for athletics to the stadium. There was growing unease among the authorities at the level of trouble on the Scottish terraces, especially at Old Firm games. In an attempt to ease the tension, they came up with various initiatives aimed at diverting the rival fans' attention away from each other. One such idea was to invite prominent athletes to take part in a series of half time races on the cinder track around the pitch.
Hugh Barrow, a member of Victoria Park athletics club, was one of the athletes invited to take part., running in a one mile race on the Ibrox track at the 1965 Ne'erday match. It was a bizarre experience. "On the day in question, you were told to report to the primary school on Edmiston Drive where you changed," he said. "Then the athletes warmed up on the training area under the main stand, sharing the arena with the City of Glasgow Mounted Division so you had to be careful. " As soon as the half-time whistle blew the athletes headed off down the tunnel, while the players went on the opposite direction. "When you took to the track, what an atmosphere! Not even an Olympic champion would experience this. You had been cautioned from wearing either blue or green vests – and that was a pity, as my club wore blue and white hoops" He went on,
"Time was at a premium so you were on your marks immediately – the gun went – although you could hardly hear it – and you were off, heading round the Copland Road bend. Then came the first surprise, the track was lined with police, sometimes actually on the track, so it became an obstacle race. Then suddenly, halfway up the back straight, a police snatch squad rushed out in front of you across the track, heading for the crowd. When you were on your next lap, the snatch squad were on their way back across the track with a culprit, so you had to swerve to avoid them for a second time. It wasn't exactly made for fast times, however on this occasion I managed a win over my old rival, Ian McCafferty, who went on to greater things including the Olympic 5000m final in Munich.
There was no prize money for the winner, "for my endeavours I was presented with a transistor radio by Scot Symon and a cold wash back at the primary school."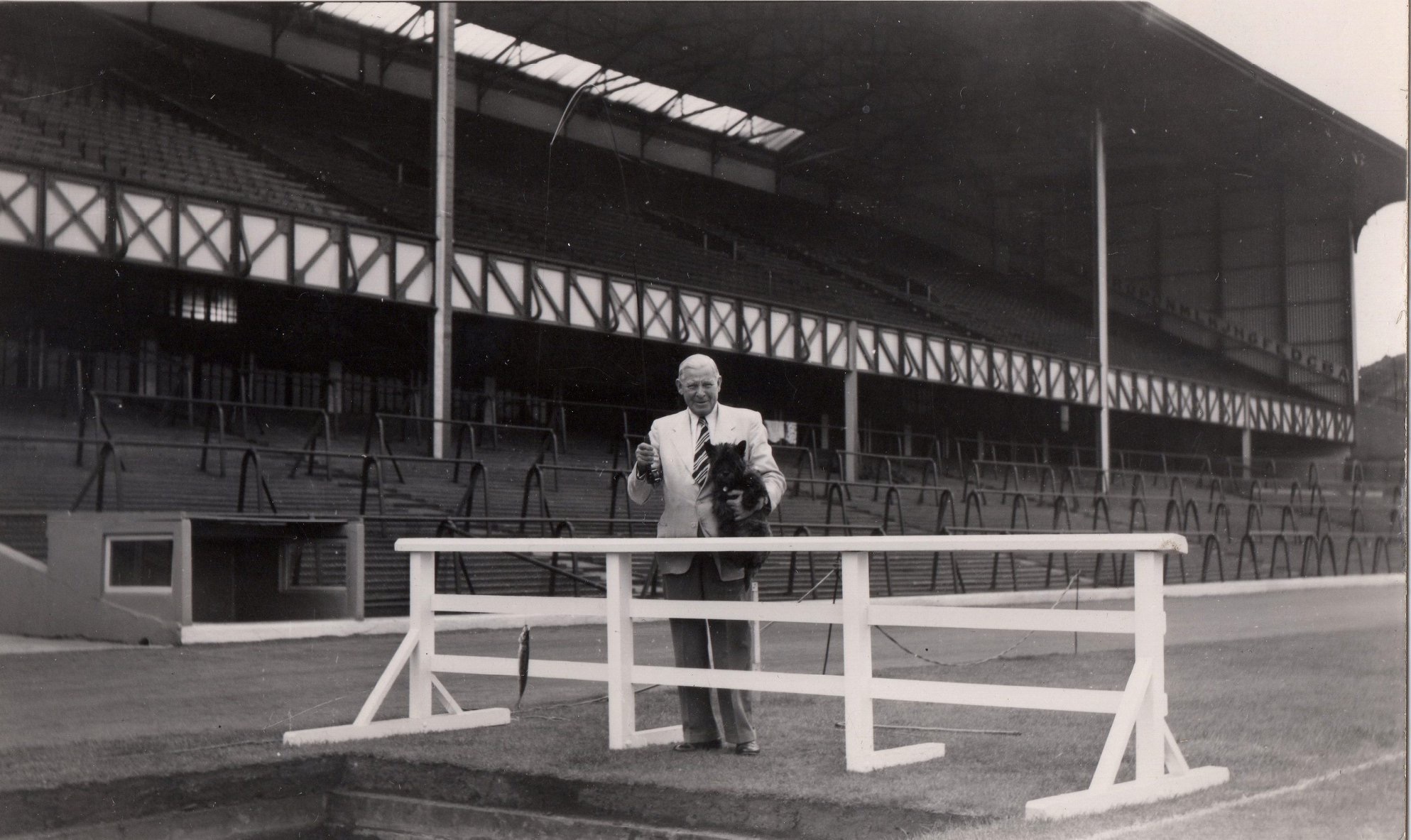 The man responsible for the Sports lasting as long as they did: Bill Struth at the water-jump: on the day of the sports, there would be a hedge placed in front of the barrier.
Another member of Victoria Park to compete there was Colin Young. He says
Sports at Ibrox
I have used the heading above as I have memories of both the Rangers Sports and Police Sports – both held at Ibrox. I cannot now recall which I am remembering!
As a Spectator: I used to go with my dad who had been a half miler himself when at university – and may even have run at Ibrox, as the clock on our mantelpiece at home was a prize he won. I can still hear the voice of the announcer George Bradley who announced at both meetings – he was the deputy registrar at the university. I guess Fred Evans would have been the starter and my dad can recall being started by Fred when he ran in the early 1920s. I believe Fred was the groundsman at Helenvale.
Some memorable competitors and races:
Seeing the great Jamaican runners such as Arthur Wint, George Rhoden and Herb McKenley – must have been in the early 50s. My research suggests they might have been there after the Helsinki Olympics but I cannot be sure! If this is so it is a reflection on the status of these sports at Ibrox that such men appeared. My memory was that Wint ran the half-mile but research proves me wrong – by a quarter of a mile! Remigino of the USA was another name to the fore in the sprints.
I also recall hearing the name Rintamaki announced – but my Internet researches tell me he was later than the early 50s. Also later would have been the South African 440yds hurdler, Gert Potgieter who had been a gymnast and could hurdle with either leg no problem – so he just ran and took the hurdles as they came! Wonderful to watch! I also recall the English athletes Anne Pashely and June Paul both being there to sprint and John Savidge throwing the discus.
I recall watching Ian Binnie running in the 3 miles and 6 miles on more that one occasion. He had a stopwatch on his wrist and reached across to start it at the beginning of every race. On one occasion I recall Ian building up a tremendous lead throughout the race – only to have it whittled away at the end and loose the race because he couldn't sprint.
Another race memory is seeing John McIssac breaking the long-standing 440yds record, which had stood at 48.6 secs since set by Halswell in 1908. Halswell was an officer in the HLI and was killed in the first war. Not so very many years ago the RHF (successors to HLI) gave the Halswell/Halswelle cup as a trophy. John did 48.00 that day in 1958 – wearing a VP singlet even though he was a student at Glasgow Uni at the time!
You will find that Wikipedia carries a different story on this one. Stating that Halswell's record was broken after 25 years but I do recall his name on the programme! Wikipedia also says that Menzies Campbell took Halswell's 300 yards record in 1961 – my shaky memory is that it was Eric Liddle's 300 yds record!
Joe McGhee won the marathon one year – in bare feet and sandshoes and I recall him doing his lap of honour wearing a substantial laurel wreath!
In these days there were a lot of cycle races at the sports and I do recall the cyclists getting the slow handclap for not racing – which is of course what they seem to be doing when jockeying for position for the sprint.
5 a side football was also a feature – mainly to draw in the crowds which were substantial.
Me as a competitor: I started my own career running in the boys 100 yards and then carried on to the youths and open 100 and 220. The open 220 had over 20 heats so there were semis and finals. All handicap stuff of course – I never won any prizes there and have more memories of the Highland games (amateur circuit) for some reason.
Now I wonder how all this was crammed into one highly entertaining sports meeting!"
Thanks for the memories Colin. Maybe I should say for some of the younger ones among us that RHF stands for the Royal Highland Fusiliers and HLI stands for the Highland Light Infantry (Glasgow's own regiment.) The earlier Rangers Sports are covered at the following links
The First Rangers Sports Rangers Sports: 1890 – 94 Rangers Sports: 1895 – 99 Rangers Sports: 1900-1909
Rangers Sports: 1910 – 1920 Rangers Sports: 1920 – 1929 Rangers Sports: 1930-1939 Rangers Sports 1940 – 45