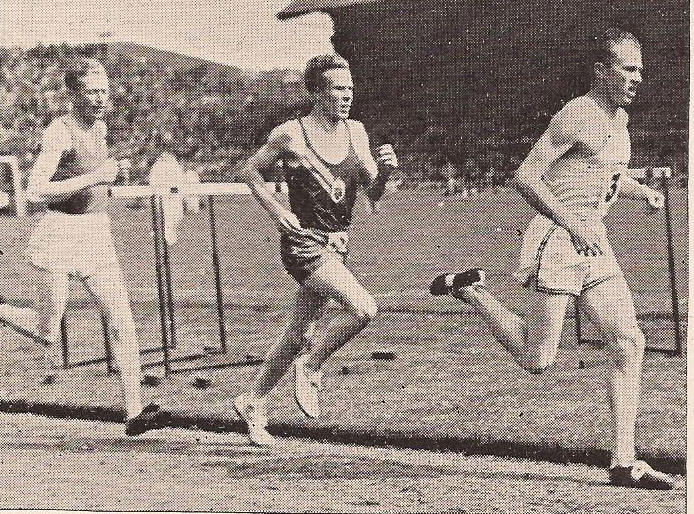 JJ Barry and Fred Wilt in the Police Sports of 1949
The Glasgow public was treated after the War un 1945 to an annual feast of athletics that we can only dream about. The very best from international athletics came to the city and competed in the Rangers Sports and the Glasgow Police Sports and for the price of a train ticket they could go through to Edinburgh and see the Highland Games at Murrayfield. This page summarises the Games from 1945 although they started well before that and it can be seen from the reports that the standard slid over the years as society and the sport of athletics altered and priorities became different.
In 1947 the sports were held on 27th June, the week after the SAAA Championships, and was a purely domestic affair with the top men being 19 year old Alan Paterson in the high jump, D McD Clark in the hammer and Andy Forbes in the two miles. Paterson was particularly interesting: he had won the Irish Championship in 1946 with a leap of six feet five and a half inches and been top man in Britain since then. In 1947, despite being the AAA's champion he had been eliminated in the SAAA Championships after being unable to clear 5′ 8″. At the Police Sports he won the event with six feet one and a half inches. Clark (Royal Ulster Constabulary) won the wire hammer with 168′ 9.5″ beating the existing 166′ 5.5″ set by his countryman T Nicholson. Andy Forbes of Victoria Park won in 9:28.9 from McLennan of Shettleston and Lamont of Victoria Park. Victoria Park and Shettleston tied for the tem race with 11 points each. 1948 was Olympic year and although the British Police Championships were held at Hampden, there seemed to have been no specifically Glasgow Police event.
However, 1949 was the first of the post-war bumper years. The Glasgow Herald headline read "SIXTY THOUSAND CROWD SEE RECORDS BROKEN" and the report read:
"Four Scottish all-comers records were established at the sixty sixth Glasgow Police Sports at Hampden Park on Saturday. The crowd of 60,000 though reserved the greatest cheer for AS Paterson (Victoria Park) who just failed to make a new British record in the high jump. The Scot was more confident than he has ever been and it was by the merest touch of the bar that he was unsuccessful in clearing 6′ 8". He had previously beaten the American Phillips and the Norwegian Paulsen. The latter who was second in the Olympic Games high jump, could not beat 6′ 4″ on this occasion, and the American after clearing 6′ 5″ complained of back strain and could no better. Paterson's wining effort of 6'7″ was a most creditable performance, particularly in view of the fact that a football five-a-side match in which the spectators were scarcely interested did not help his efforts to concentrate on that height and on the British record attempt.
WILT-BARRY DUEL
One of the best races in the programme, which unfortunately lasted too long, was the two miles in which JJ Barry of Eire found more than his match in Fred Wilt of the United States. Finishing the first mile in 4 min 32 sec the Irishman did more than he was accustomed to do by making the pace. Neither he nor Wilt was concerned about the field of handicap runners during the first mile and a half. Then both made substantial progress and over the last lap the American put in a finish with which Barry was unable to cope. He as well as the winner was inside the 45 year old record of Alfred Shrubb, the winner by 4.4 seconds and Barry by three seconds.
RF Ault who is only 23 had no serious opposition in the 440 yards hurdles, and won as he liked in 55.1. The previous all-comers record was 56.2 made by J Livingston Learmonth 22 years ago. Harrison Dillard, the American and Olympic sprint champion, set up a new 120 yards hurdles record of 14.5 beating DO Findlay's 11 year old time by 2-10th second ran through the 220 yards handicap to return 22.1 sec in a strong wind. Herbert Douglas in the long jump returned 23′ 11 5-10th" A Bolen, who like Dillard and Douglas is a coloured man, equalled the 440 yards all-comers record and Douglas in a heat of the 100 yards equalled WR Applegarth's record which has stood since 1913."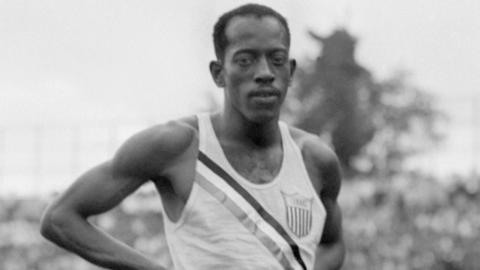 Harrison Dillard won the handicap 220 yards at the end of the afternoon in 1949
The "Scots Athlete" couldn't let the meeting pass without comment, and the commenter was Emmet Farrell who said,
"G-Man Catches Tired Hare" Despite their hectic week of athletics the American team of athletes finished up their programme at the Glasgow Police Sports with displays worthy of their exceptional talent. Fred Wilt and John Joe Barry again fought out a terrific struggle in the Two Miles but the Yank who is a member of the FBI, popularly known as a G-Man, brought out a finish worthy of Zatopek to beat the "Ballycurren Hare" in 9 mins 5 2/10th secs which beat Alfred Shrubb's all-comers record of 9 mins 9.3 secs set up away back in 1909. Barry was also inside the old figures and both received an ovation worthy of their efforts. Subject to confirmation, all-comers records were also set up by Harrison Dillard and Dick Ault in the hurdle events and by Herb Douglas in the broad jump. Veteran Don Finlay ran surprisingly well to hold his renowned opponent"
Results of invitation events:
100 yards: 1. Robin Ward (Glasgow Univ) 3yds; 2. W Christie (Bellahouston) 4 yds; 3. J McLaughlin (Maryhill) Time 9.7 secs
220 yards: 1. Harrison Dillard (USA); 2. DY Clark (Garscube); 3. G McDonald (VPAAC) 22.1 secs
440 yards: 1. D Bolen (USA) scr; 2. AB Watts (England) 12 yds ; 3. P Dolan (Eire) 4 yds 48.4 secs
880 yards: 1. T Begg (Glasgow Univ) 40 yds; 2. S Petty (St Modan's) 36 yds; 3. A Boysen (Norway) 18 yds 1 min 52.1 sec
Two Miles: 1. F Wilt (USA) scr; 2. JJ Barry (St Machans) scr; 3. L Theys (Belgium) 32 yds 9 mins 5.2 secs (new Scottish all-comers record)
120 yards hurdles: 1. Harrison Dillard; 2. DO Finlay (England) 3. E Arneberg (Norway) 14.5 secs (new Scottish all-comers record)
440 yards hurdles: 1. RF Ault (USA); 2. ER Ede (USA); 3. A Klein (Norway) 51.1 secs (new Scottish all-comers record)
High Jump: 1. AS Paterson (Victoria Park); 2. R Phillips (USA); 3. B Paulsen (Norway) 6 ft 7 ins
Broad Jump: 1. H Douglas (USA); 23 ft 11 3/4 ins (new Scottish all-comers record)
Putting the Shot: 1. D Guiney (Eire); 2. J Giles (England); 3. J Drummond (G Heriot's) 45 ft 2 1/2 ins
One Mile: 1. W Williamsn (Greenock Wellpark Harriers) 105 yds; 2. T Tracey (Springburn Harriers) 95 yds; 3. R Boyd (Clydesdale Harriers) 85 yds 4 mins 19.5 secs
A fine mix of domestic and foreign athletes but with competitors from America, Norway, England and Eire the Glasgow public was well served.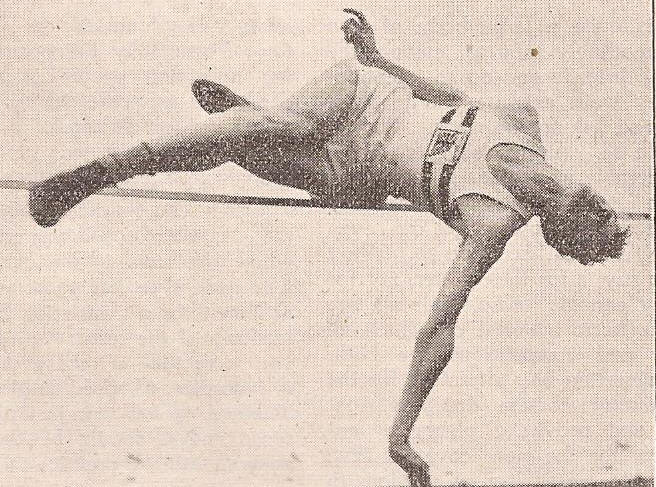 Alan Paterson
This was followed a year later by another top class meeting on 10th June, 1950 at Hampden: R McFarlane (Canada won the half-mile and the quarter-mile. "Canadian Athlete's Do to nearly three-quarters of the journey. In the special 440 Dave Bolen strode out gracefully to win on his own and though Doug Harris of New Zealand could do no better 1 min 54.3 secs in the special half-mile, his facile striding seemed to indicate that he is well on the road to recovery from the serious Achilles injury sustained in last year's Olympics. uble: The performance of R McxFarlane (Canada) in winning the half-mile and the quarter-mile was the outstanding was the outstanding feature of the long series of Glasgow Police Sports held at Hampden Park n Saturday before a crowd of 50,000 people. McFarlane, a tall strapping athlete, who is 23, ran particularly well in the half-mile opposed by RL Brown of USA and R Bengtson of Sweden. JS Petty, the Scottish champion, set off at a tremendous pace completing the first "quarter" inside 57 seconds – an excellent time on a track rendered very loose by the drought. Rounding the last bend, Bengtsson raced to the front but when the straight was entered McFarlane with his powerful relentless strides broke the opposition and won handsomely in the fine time of 1 min 54.4 sec, the fastest time run in Britain this season. McFarlane equalled the all-comers time of 48 seconds in the 440 yards. As in the half, he allowed others to make the pace but he powered down him rivals and won from the American H Mariocco." The meeting standard was very high indeed with the Mile being won by S Langqvist (Sweden) from H Ashenfelter (USA) and J Ashby (AAA) in 4:20. The other invitation events were no less glamorous: 100 yards: 1. WJ Dwyer (USA0, 2. B Shenton (AAA); 3. W Jack (Victoria Park). 220 yards: 1. Dwyer; 2. Jack; Shenton. 120 yards hurdles: 1. H Dillard (USA); 2. W Birrell (AAA); 3. JP McAslan (Trinity AC). There are lots of top quality athletes in these results: Harrison Dillard and Horace Ashenfelter were both Olympic champions; Dwyer and Shenton were also Olympians and Jack was one of Scotland's best ever sprinters.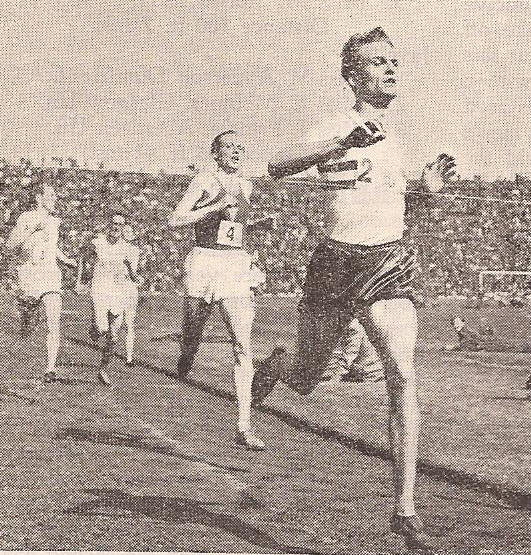 Bill Nankeville winning from Landqvist and Erikson
The standard was every bit as good in 1951. The results of the invitation events speak for themselves:
100 yards: 1. E Conwell (USA); 2. E McDonald Bailey (AAA); 3. J Wilkinson (AAA) 9.9 sec
220 yards : 1. E McDonald Bailey; 2. J Wilkinson; 3. W Jack (Victoria Park) 21.1 sec
440 yards: 1. M Mariocco (USA); 2. RL Browne (USA); 3. AW Scott (AAA) 48.7 sec
880 yards: 1. MJ Parlett (AAA); 2. RL Browne; 3. L Gurney (AAA) 1:55
Mile: 1. GW Nankeville (AAA); 2. B Landqvist (Sweden); 3. L Ericsson (Sweden) 4:15.5
The field events were equally good with RE Richards of the USA setting a new British pole vault record and John Savidge setting a new British all-comers record for the shot. Alan Paterson was third in the handicap high jump after clearing 6'6″ But the really big attraction was on the women's side of the event with Fanny Blankers-Koen winning both the 100 yards and 220 yards from June Foulds (AAA) defeating the best of Scots like Morag Carmichael and G Thomson.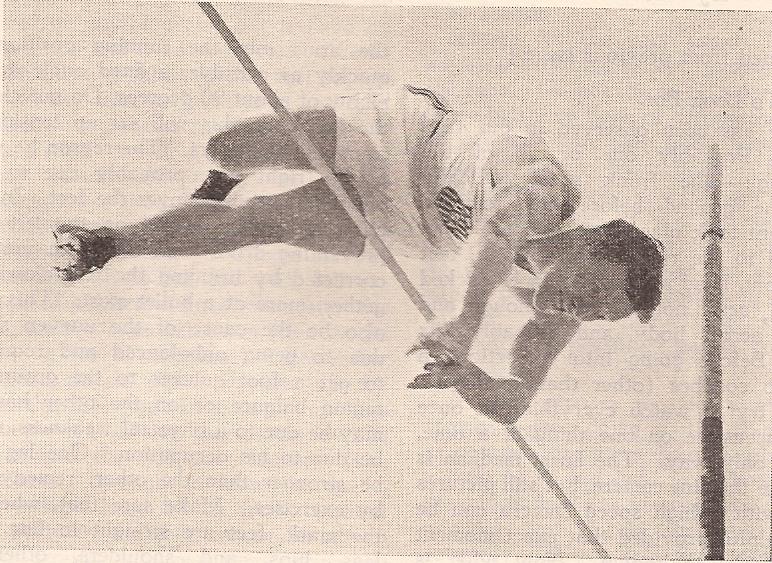 Richards in 1951
In Olympic year of 1952, the SAAA Championships were held on the first Saturday of June and the Police Sports moved to the vacant date at the end of the month, and a fine sports meeting it turned out to be. One of the bonuses was that women's events could now be included: the usual date of the second Saturday in June always clashed with the SWAAA championships and none of the best Scottish women athletes were available. There was no impediment to their inclusion two weeks later. The Glasgow Herald headline and report read:
MAGNIFICENT TIMES AT POLICE SPORTS
No fewer than six Scottish all-comers records were established in the Glasgow Police Sports at Ibrox Stadium on Saturday before a crowd of nearly 36,000. In the men's invitation races the Jamaicans were responsible for two of the records, an Australian one and a Scot one, and in the women's events Miss M Jackson (Australia) and Miss Y Williams (New Zealand) were the record breakers.
GV Rhoden (Jamaica) easily won the 440 yards in the excellent time of 47.6 sec – 1 1-10th faster than the all-comers record held jointly by his countrymen, H McKenley and AS Wint, and 1.8 seconds outside McKenley's world record. RH Weinberg, (Australia), the AAA's champion, won the 120 yards hurdles in 14.2 sec beating the record of 14.4 made by J Davis (USA) at Rangers Sports last year. How PB Hildreth (AAA) failed to lower the existing record is a mystery for he was only beaten by a yard and yet timed at 14.6 sec. The Scottish champion JGM Hart was credited with 14.7 sec which easily beat the best time he has done – he holds the Scottish native record of 15.3 sec. A whirling wind may have assisted the competitors in this event.
From a Scottish point of view the best performance of the meeting was the win of DK Gracie in the 440 yards hurdles. With competition from JM Holland the New Zealand champion and record holder, who was runner-up in the Empire Games in 52.7, it was expected that Gracie would have to do something special to win. Drawing the inside lane gave Gracie confidence and so well did he prohrace that he and Holland took the last hurdle together and the Scot won on the tape in 53.8 seconds.
The international 4 x 440 yards was more or less a procession led by the Jamaicans. J Laing covered the first quarter in 50.7, Rhoden the next in 48.8 and McKenley the third in the exceptional time of 47 seconds and Wint ambled round the first quarter in 49.3 for a collective time of 3:15.6 – 6.4 seconds outside the world record.
Miss Jackson's 10.5 seconds for the 100 yards, although probably favoured by a fitful wind, proved her the equal of many male competitors at the same meeting. Until recently Miss F Blankers-Koen (Holland) was the world record holder with 10.8 seconds. Times of 10.6 and 10.4 have since been returned by Miss Jackson. Miss Williams' 19′ 3 1-4th " long jump was the more remarkable in that she did not have good conditions."
The comments about Fanny Blankers-Coen being the former record holder for the women's 100 yards were interesting since she could have been at Ibrox. A separate article in the same issue of the paper read: "Miss FE Blankers-Coen, who was unable to accept Glasgow Police's invitation to take part in their sports because the Dutch championships and Olympic trials were being held in Rotterdam broke the women's world 100 metres record yesterday with 11.4 seconds." She also set a new Dutch record for the 200 metres and equalled her own world record in the 80 metres hurdles. It would have been an interesting confrontation had she made it to Ibrox – the world 100 yards record holder versus the world 100 metres record holder!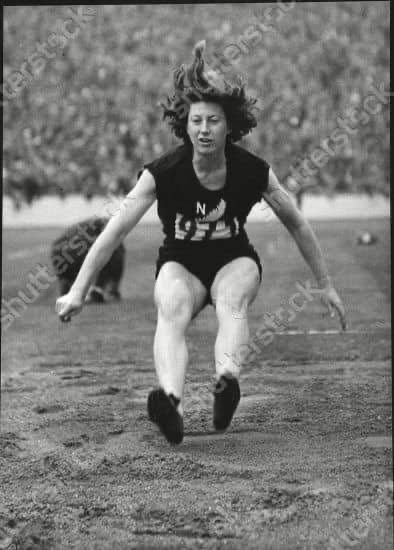 Yvonne Williams (New Zealand) winning the long jump.
The results of the invitation events were:
100 yards: 1. B La Beach (Jamaica); 2. RH Weinberg (Australia); 3. W Henderson (Watsonians) Time: 10 sec
220 yards: 1. H McKenley; 2. L Laing; 3. B La Beach (All Jamaica) Time 21.7 sec
440 yards: 1. GV Rhoden (Jamaica); 2. E Carr (Australia); 3. P Fryer (AAA) Time: 47.6 sec
880 yards: 1. AS Wint (Jamaica); 2. DRT MacMillan (Australia); 3. JM Landy (Australia) Time: 1:55.8
Mile: 1. GW Nankeville (AAA); 2. LM Marshall (New Zealand); 3. CW Brasher (AAA) Time: 4:13.7
Mile Relay: 1. Jamaica (Laing, Rhoden, McKenley, Wint); 2. Australia and New Zealand (DRT MacMillan, KL Doubleday, JM Holland, E Carr) Time: 3:15.6
120 yards hurdles: 1. RH Weisberg; 2. PB Hildreth; KL Doubleday (Australia) Time 14.2 sec
440 yards hurdles: 1. DK Gracie (Glasgow University); 2. JM Holland; 3. KL Doubleday (Australia) 53.8 sec
Pole Vault: 1. TD Anderson (AAA); 2. GM Elliott (AAA); 3. W Piper (Glasgow Police) 12 feet.
Discus: 1. J Savidge (AAA); GM Elliott (AAA) 140′ 5″
Putting the 16lb ball: 1. J Savidge (AAA); 2. GM Elliott (AAA); 3. W McNeish (Victoria Park) 52′ 1″
100 yards women: 1. M Jackson (Australia); 2. S Strickland (Australia); 3. WM Cripps (Australia) 10.5 seconds
80m hurdles women: SB Strickland (Australia); 2. D Harper (AAA) 11.4 seconds
Broad Jump women: Y Williams (New Zealand); 2. D Willoughby (AAA); 3. V Johnston (Australia) 19′ 3″
Alan Paterson, who had been a major part of all the big meetings, not just in Scotland but throughout Britain. on that very day was winning the high jump in the Canadian Olympic trials and cleared six feet and half an inch and won the event. Paterson had competed in the 1948 Olympics and was about to go to the 1952 Olympics. In the actual meeting at Ibrox in the open events, in the second mile (there was a first class mile and a second class mile) Graham Everett won from a mark of 90 yards!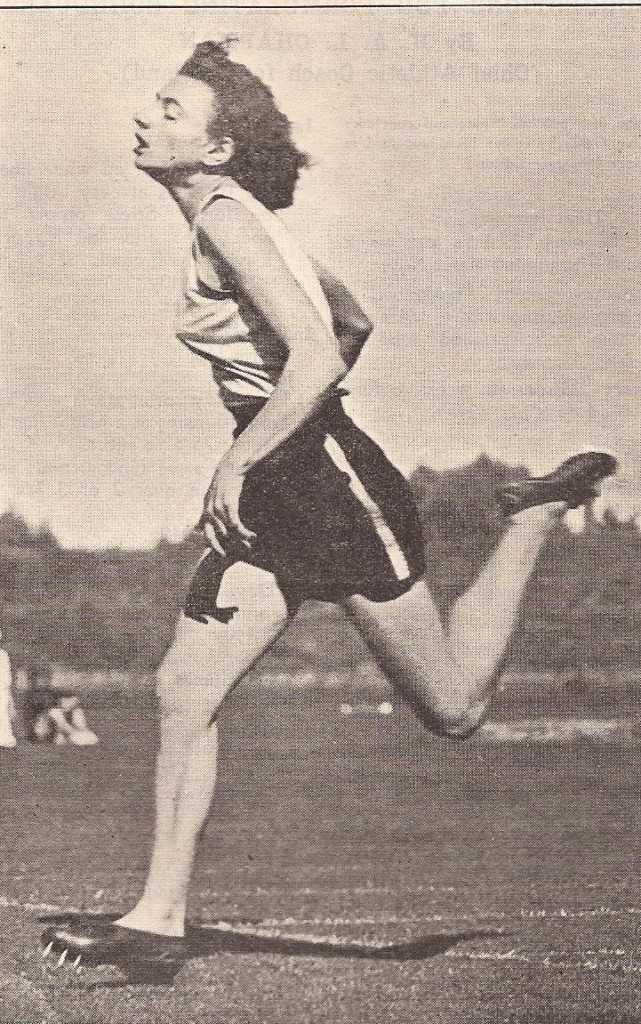 Marjorie Jackson
Saturday 13th June, 1953 and the Police Sports were held at Ibrox and the Glasgow Herald report read:
"OVERSEAS ATHLETES EXCEL AT POLICE SPORTS
Glasgow Club Runner's Mile Record.
No fewer than five records were made at Glasgow Police Sports at Ibrox Park on Saturday – two of them in the invitation mile event. The first record was in the 16lb weight putt in which WP O'Brien (USA) who stands at the ready in the shot putt circle in the opposite direction to his putt sent the missile 57 feet 10 inches, broke by 2 feet 8 inches his own Scottish all-comers record set up at the Edinburgh Highland Games in September last year, and beat by 1 foot 8 inches the British all-comers record held by a fellow countryman WM Thomson. O'Brien has already to his credit 59 feet 0.5 inches and 59 feet 2.5 inches which have yet to receive official approval as world records.
Another American JW Mashburn won the 440 yards in 47 seconds – only 2-10ths outside the British all-comers record. K Haas (Germany) who was second in 47.2 seconds was credited with a new European record. He was 4-10ths inside the time returned by AK Brown (Britain) in 1938 and by M Lanzi (Italy) a year later.
BRECKENRIDGE'S FEAT
A splendid race for the mile proved that Scotland has a great performer over the distance. The race was won by S Carlsson (Sweden) in 4 min 9.9 sec – 1 1-10th sec better than the Scottish all-comers record of SC Wooderson set 13 years ago – but it might have been an even greater triumph for ADN Breckenridge (Victoria Park AAC) had he not waited too long behind the leaders early in the race. He went to the front at the half-mile stage, and though passed before the finishing straight he rallied strongly and only failed by a foot to beat R Lammers (Germany) for second place. Breckenridge who is only 21 clocked 4 min 11.2 sec, a new Scottish native record. GM Eliot (AAA) in the pole vault set a new British record of 13 feet 8 ins. "
The comments of Parry O'Brien's step-back shot putt technique are of interest as it must have been one of the first sightings of it in Scotland.
Results
100 yards: 1. J Futterer (Germany); 2. J O'Connell (USA); 3. W Jack Victoria Park) 10.1 secs
220 yards: 1. J Futterer (Germany); 2. W Jack (Victoria Park) ; 3. EWJ Ferguson (AAA) 21.7 secs
440 yards: 1. JW Mashburn (USA) 47 sec; 2. K Haas (Germany) 47.2 sec; 3. S Steger (Switzerland).
880 yards: 1. M Whitfield (USA); 2. M Stracke (Germany); 3. A Boysen (Norway) 1 min 50.9
One Mile: 1. S Carlsson (Sweden) 4 min 9.9 sec; 2. R Lamers (Germany); 3. ADN Breckenridge (Victoria Park) 4 min 11.2 sec (Scottish native record)
440 yards hurdles: 1. AJ Hardy (AAA) ; 2. H Kane (AAA); 3. WH Ciephan (Watsonians) 54.8 secs
Pole Vault: 1. GM Elliott (AAA) 13 ft 8 ins British National and Empire Record; 2. C Calladine (AAA) 12 ft 6 ins; 3. O'Connor (Eire) 11 ft 3 ins
Weight: 1. WP O'Brien (USA) 57 ft 10 ins (British all-comers record); 2. WB Palmer (AAA) 43 ft 1 inch; 3. GM Elliott (AAA) 39 ft 9 ins.
Women's Events
80 metres hurdles: 1. F Blankers-Koen (Holland); 2. M Sander (Germany); 3. P Threapleton (Northern Counties WAAA) 11.5 secs
100 yards: 1. B Brouwer (Holland); 2. G Goldsborough (Northern Counties WAAA); 3. M Sander (Germany) 11.5 secs
Long Jump: 1. W Lust (Holland) 18 ft 4 1/2 ins; 2. M Sander (Germany) 18 ft 2 1/2 ins; 3. P Devine ( 'Q' AC) 17 ft 7 ins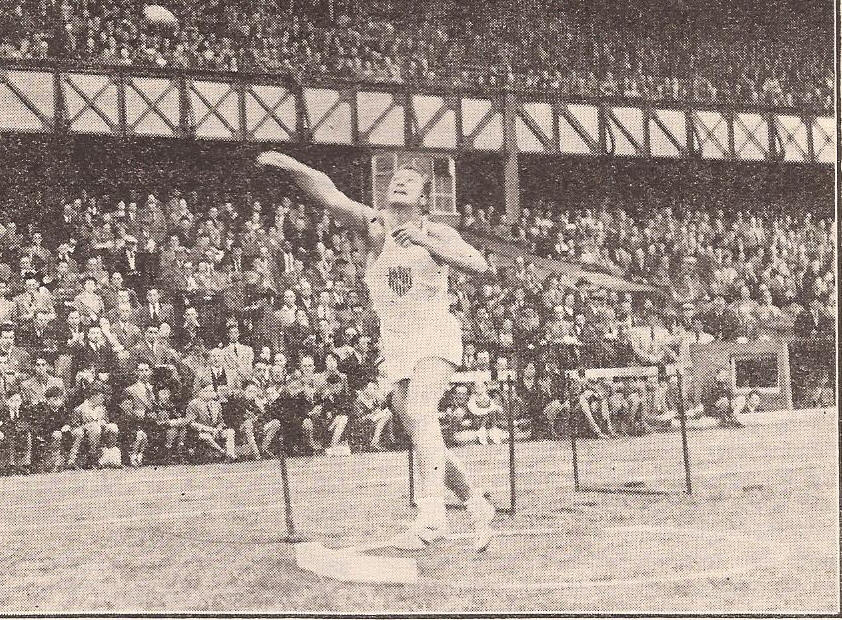 Parry O'Brien in the Police Sports in 1953
Of course that excellent magazine The Scots Athlete had a lot to say on the meeting and I will quote from it – if you want the entire article go to the issue for June 1953, you can get it at www.scottishroadrunningandcrosscountrymedalists.co.uk at the archive page. I'll quote the comments on Breckenridge and on events not covered above.
"Despite the appearance of American and Continental stars it was Alex Breckenridge of Victoria Park who stole the thunder. Surrounded by milers of Olympic and world class Alex was not the least bit over awed and after a comparatively slow half he upset the stars idea of a cat and mouse race by boldly taking command in the third lap. It was a unique experience to see noted milers Nankeville (rated second only to Bannister in Britain) Dwyer of USA with Alan Parker and Freddy Green in trouble and run completely out of the race. The Scot held his lead until about the 300 yards mark when the new flying Swede S Carlson and Olympic finalist Lamers of Germany tore past in a devastating sprint to the tape. But Breckenridge was not finished yet and found something round the last bend and though no one could catch the Swede he chased Lamers right to the tape. It was obvious even before an official announcement had been made that fast times had been made. When Carlson's time of 4 min 9.9 secs for a magnificent new Scottish all-comers record which displaced Sydney Wooderson's 4 mins 11 secs came through I knew that Breckenridge had beaten the Scots Native record and so it proved. The new record of 4 mins 11.2 secs displaces Bobby Graham's 4 mins 12 secs which was set up 18 years ago in 1935. Now at last Scotland has a miler of real class. I should say that Breckenridge is essentially the stamina type of miler willing and able to maintain a fast pace in the miler's bug-bear – the terrible third lap. He proved his amazing stamina by turning out roughly 1 hour later in one of the open miles where only a fast finish by R Ballantyne of Kilmarnock Harriers off 80 yards kept him from pulling off a startling double. He was recorded this time with 4 mins 17 secs.
Despite a slight spiking incident near the start Mal Whitfield strode round beautifully after a slowish start to win the half-mile invitation scratch from Stracke of Germany. There was some disappointment when his time of 1 min 50.9 secs was announced despite being only 0.2 behind his all-comers record set up at the same venue in 1950. Obviously people look for and expect a world record from him. The US flying streak has gone on record saying that he intends to break all world records from the quarter to the mile before he retires, a somewhat tall order but after witnessing Whitfield's smooth striding and later on his devastating sprinting finish in his two unofficial furlong appearances I can well believe that his ambitions of creating world records at distances so far apart as the quarter and the mile are not impossible. Many good judges believe he is the ideal candidate for the four minute mile.
… J Futterer the German sprint star had a fine sprint double beating O'Connell of USA in the hundred and Willie Jack in the furlong. In the heat of the latter Jack headed Futterer but in the final the German produced a devastating burst which would not be denied. Jack's form was his brightest of this season whilst clubmate Ronnie Whitelock, though not in the prize-list continued to show grand form and did well to nose out AAA nominees in the sprint heat. Incidentally the times in the hundred were comparatively slow due to an adverse wind.
… The Dutch ladies trio were too strong for their opponents in the three Ladies events. Miss Brouwer cast in the Blankers-Koen mould was too strong for her opponents in the invitation "100" as was her compatriot Lust in the broad jump. Evergreen and inimitable Dutch veteran Fanny Blankers-Koen who seemed to be limping ever so slightly reserved herself for her speciality – the 80 metres hurdles and when the field got away gave her opponents no chance, leading from start to finish despite a brave effort by the German Olympic runner-up Sander. This was not a record breaking race but it was certainly a heart-breaking one, the field taking three false starts before finally being despatched on the fourth pistol shot."
It is a longish article and is well worth following up.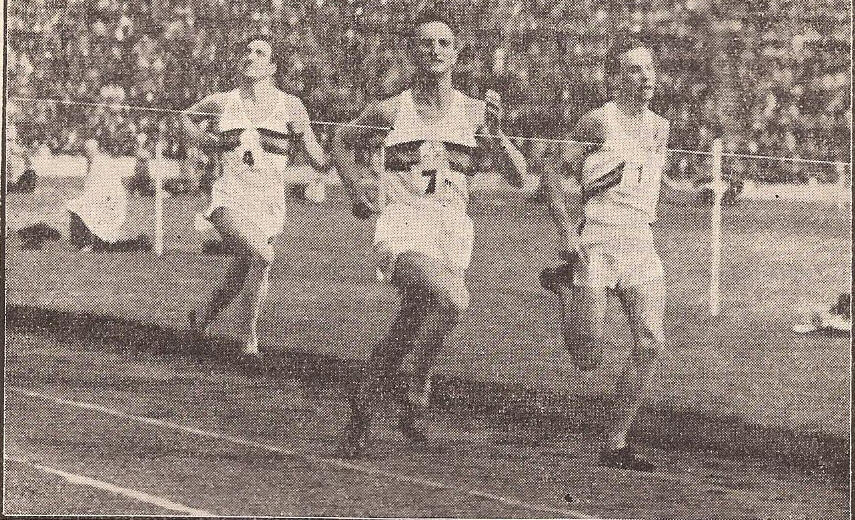 1954: Pat Ranger wins from Warren and Eyre
The Sports of 1954 have a special resonance for me – they were one of the first really big sports meeting that I had ever seen. Runners like Lindy Remigino, Audun Boysen, and the best of the Englishmen were there. The date was 12th June and the Glasgow Herald headline read:
"FIVE RECORDS BROKEN AND THREE EQUALLED
Eventful Police Sports at Ibrox
Three Scottish all-comers records were made on Saturday at the Glasgow Police Athletic Club's Annual Sports meeting at Ibrox Park before an attendance officially given as 22,000. They were 9.6 seconds for 100 yards by L Remigino (USA), 1:50 for the half-mile by A Boysen (Norway) and 13 min 57 sec for the three miles by W Ranger (AAA). A new Empire and British National pole vault record of 14′ was set by GM Elliott.
In addition the British 100 yards record was equalled by L Remigino, and G Neilsen (Denmark), runner-up to Boysen in the half-mile equalled the all-comers record made by MG Whitfield (USA). LH Kane (AAA) equalled the all-comers record for the 440 yards hurdles.
It was however the three miles that appeared to stir the emotions of the crowd, for the Scottish champion, I Binnie, set out at record breaking pace, clocking 4:26.1 for the mile, and 9:11.1 for the two miles, but found himself totally unable to retain the big advantage he held entering the last mile. It was during this critical stage of the race that G Warren (Australia) came well into the picture. He had been well behind during the second mile but when he came up to L Eyre and Ranger over the last mile it became abundantly clear that he was going to have a big say for individual honours. Warren, Eyre and Ranger caught Binnie just before entering the finishing straight, and Ranger with a superb effort crossed the line first in the fine time of 13:57. Warren returned 13:57.8, Eyre 13:57.9 and Binnie 14:0.2 which beat his own record.
Remigino, the Olympic champion was in a class by himself in the 100 yards equalling the all-comers record in the 100 yards in his heat with 9.7 seconds, and then clocking 9.6 in the final.
The half-mile was also a "one horse race" for Boysen took only 56 seconds for the first lap, and although Nielsen did show some signs of seriously challenging him during the second lap, the Norwegian pulled ahead and beat Whitfield's time by 0.7 sec. The pole vault exhibition was splendid and Elliott's performance, the best of his career, enabled him to beat the European champion, R Lundgren, Sweden.
Another athlete who impressed was L Jones (USA) who strode through his heat of the "quarter" and the final and won as he pleased in the fine time of 47.5 seconds. It was disappointing to see DK Gracie finish last of the four in the 440 hurdles, won in time he has bettered on more than one occasion."
The Mile was not reported on but the result was: 1. DR McMillan (Australia); 2. L Ericsson (Sweden); 3. JW Brown (AAA) 4:12.6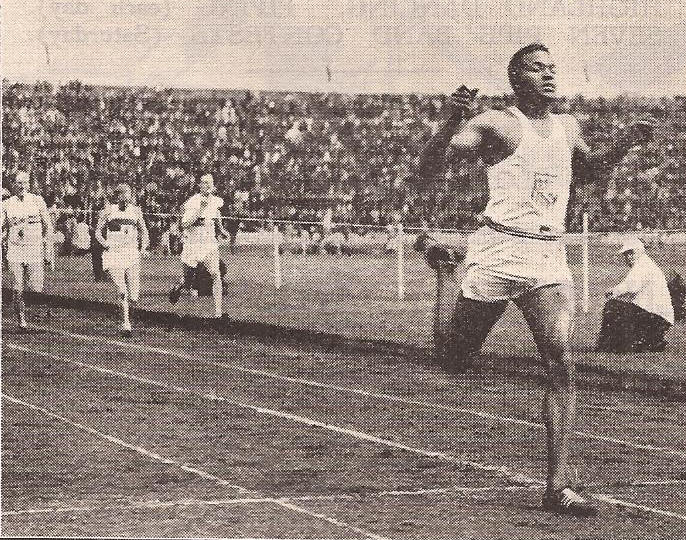 L Jones wins 440 yards in 1954
In 1956 the Sports were held on Saturday 9th and the headline was about a local boy – "NEW ALL-COMERS RECORDS AT POLICE SPORTS. Everett's fine running in the mile." There were again many big names on parade – Ibbotson, Dunkley, Jungwirth, Hewson, Shaw and Larsson with the best of Scots in opposition – Binnie, Everett, Piper and then there were no fewer than nine open events where the Scottish club runners were performing on a big stage. On a sunny day, the Glasgow Herald estimated the attendance at 30,000 but felt that the quality of the meeting deserved more than that. It also remarked that with half of the spectators arriving three quarters of an hour after the start of the meeting, perhaps a meeting of two and a half hours would be sufficient. "Two Scottish all-comers records were broken. S Jungwirth (Czechoslovakia) reduced the Mile record of K Wood from 4:08.8 to 4:04.5, and DG Ibbotson (AAA) reduced the three miles record of 13:50.3 by RH Dunkley by 16.9 seconds with a time of 13:33.4 seconds. Jungwirth was the pacemaker almost throughout the mile running with a somewhat low, quick-striding action for a tall man. IH Boyd (AAA) kept close to him and the Scottish champion GE Everett (Shettleston Harriers) was always within reach of the pair. Over the last furlong Boyd tried hard to get in front but but the Czech, with a strange head-wobbling movement, strained every sinew and held off the little Englishman in a desperate finish. Everett ran splendidly and finished third in 4:07.5, a time which beat the native record of 4:11.2 held by AD Breckenridge by 3.7 seconds.
I Binnie (Victoria Park AAC) holder of the Scottish three miles record set off in the three miles in a pace more suited to a mile event. He clocked 4:24 for the mile but his rivals, including Ibbotson, paid no attention to him, for they were 50 yards or more behind him for the first half of the race at which stage Binnie registered 6:47.1. Thereafter Binnie faded and and at two miles Ibbotson was in front with O Saksvik (Norway) and RH Dunkley (AAA) close on his heels. Over the final lap the Norwegian gradually dropped back as the pace quickened and Ibbotson held off Dunkley in the straight. Dunkley eight yards behind at the post, was 5.5 seconds inside his own previous all-comers record. "
Other results: 100 yards: 1. T Erinle (Nigeria); 2. AS Dunbar (Victoria Park); 3 E Sandstrom (AAA) 10.1 sec;
220 yards: 1. RG Roberts (AAA); 2. RJ Ruddy (AAA); E Sandstrom (AAA) 21.9 sec
440 yards: 1. V Hellsten (Finland); 2. P Higgins (AAA); 3. H Kane (AAA) 47.7 sec
880 yards: 1. BJ Hewson (AAA) ; 2. M Rawson (AAA); 3. DCE Gorrie (AAA) 1:47.7 (NB: Gorrie was one of the first MSPs at Holyrood as a Liberal Democrat representative)
3000m steeplechase: 1. E Larsen (Norway; 2. P Hedley (AAA); 3. D Pemble(AAA) 9:07.1
High Jump: 1. W Herssons (Belgium); 2. W Piper (Glasgow Police); 3. W Little (Glasgow University) 6'3″
Pole Vault: 1. J Puronen (Finland); 2. I Ward (AAA); 3. G Elliott (AAA) 13'6″
High Jump (Women): 1. O Modrachove (Czechoslovakia); 2. D Tyler (WAAA); 3. J Fraser (WAAA) 5'4″
The invitation high jump for women was a new event but it was to be a few years yet before the first women's events were to be included in the main programme. In what has been called the 'Alan Paterson effect' the high jump was increasingly popular the event in the open programme was won by Alan Houston of Victoria Parl who had a handicap of 4″ and won with a height of 6'4″. Three high jump competitions in a meeting that had as shown above runners from Scotland, England, Nigeria, Finland, Norway, Belgium and Czechoslovakia.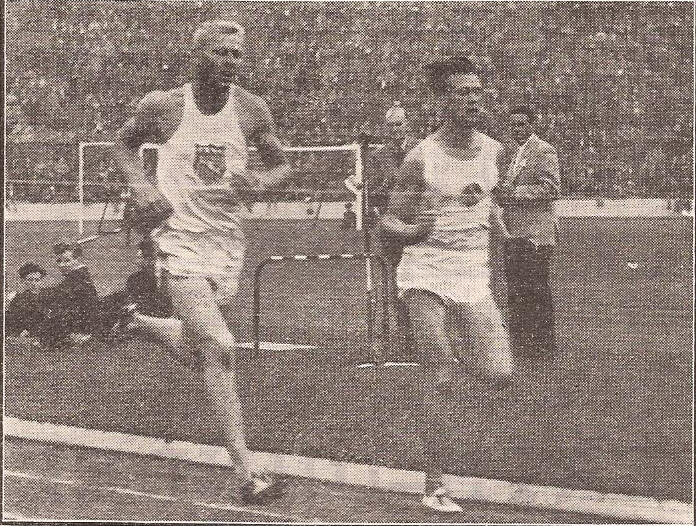 Mashburn (left) and Hass in the quarter mile, 1953
On June 15th 1957 Glasgow favourite Derek Ibbotson made the headlines once again – "IBBOTSON'S ACHIEVEMENT AT POLICE SPORTS" – when he switched from the three miles to the mile and set new British, European and Scottish all-comers records for the Mile. Report: "GD Ibbotson, holder of the AAA's Three Miles title, gave notice of his intention to do particularly well at Glasgow Police's seventy fourth annual sports at Ibrox Stadium on Saturday by requesting that he take part in the Mile rather than in the three miles event. That he was serious was proved when on an afternoon of stamina-sapping heat, he broke the European, British and Scottish all-comers records for the mile by winning in 3 mins 58.4. Ibbotson's time is the second-fastest ever run in the world. Only J Landy (Australia) who holds the world record of 3 min 58 sec has achieved faster time. The 18000 crowd gave the Yorkshireman a magnificent reception when he became the first to run the distance in Scotland in under 4 minutes. That Ibbotson succeeded may be due in the first instance to the pace and judgement of a colleague, L Locke, who ran the first lap in 57.2 sec – Ibbotson was then comfortably in fifth place – and the half mile in 1 min 58 sec, at which point Ibbotson was moving up. At the end of the third quarter of a mile, Ibbotson led the time being 2 min 59.8 sec. No one was able to extend him in the final lap and yet he completed it in 58.6 sec. The previous British record of 3 min 59.4 was held jointly by RG Bannister and two Hungarians, L Tabori and I Roszavolgyi. The Scottish champion GE Everett, profited by competing in the top class for he finished fourth in 4 min 6.6 sec- 0.9 sec better than his previous best for the distance achieved at the corresponding meeting last year. M Bernard (France) who was second was delighted with his time of 4 min 5.8 sec, the best ever by a Frenchman. Ibbotson who visited his wife and newly born daughter in St Helier Hospital, Carshalton, Surrey, said of Saturday's race:-
"Had it not been quite so hot, and had someone been able to stay with me to the bell, I think I should certainly have broken the world record. I had not planned to try for a four minute mile but knew after hearing the time for the first lap that it was possible. The only encouragement I had was the other athletes lining the track and urging me on."
His next race will be in Dublin a week today. R Delaney and BS Hewson will compete with him in a mile event. "That should be a fast race," said Ibbotson, In my present form I should be able to do a mile in 3 min 57 sec if all the conditions are right."
That was the only race reported on but the other results were as follows:
100 yards: 1. JA Spooner (AAA); 2. B Randall (Australia); 3. AS Dunbar (Victoria Park) Time 10.2 sec
220 yards: 1. B Randall; 2. W Henderson (Watsonians); 3. A Spooner (AAA) 21.4 sec
440 yards: First Race: 1. Z Makomaski (Poland); 2. JD Wrighton (AAA); 3. M Farrell (AAA) 48.3 sec
Second Race: 1. FP Higgins (AAA); 2. JV Paterson (Edinburgh University); 3. MA Rawson (AAA) 48.2 sec
880 yards: 1. BS Hewson (AAA); 2. M Rawson; 3. M Farrell 1:52.4
Mile: : 1. GD Ibbotson; 2. M Bernard; 3. M Berisford (AAA) 3:58.4
Three Miles: 1. S Ozeg (Poland) 2. SE Eldon (AAA); 3. E Roszaki (Finland Time 13:47.4 (I Binnie was fifth in 14:29.8)
3000m steeplechase: 1. EG Ellis (AAA); 2. J Llewellyn (SAAA); 3. I Auer (Finland) 9 min 24.4
Not so many from abroad as heretofore but a strong AAA's team plus athletes from Finland, Poland and Australia as well as the top Scots made it a good meeting. No high jump among the invitation events but the open event was won by David Cairns of Springburn.
In contrast to previous years, the stars in 1958 were entirely domestic – John McIsaac in the 440, Donnie McDonald in the 880, Graham Everett in the Mile, Ian Binnie in the Two Miles and Peter Milligan in the Pole Vault were the winners of the invitation events. No event was won by any athlete from outwith Scotland. The Glasgow Herald headline read "LONG STANDING RECORD BROKEN AT IBROX. J McIsaac's splendid time" And the headline did not lie! The record broken was Halswell's 440 yards record set back in Olympic year 1908. The report reads:
JW McIsaac (Glasgow University) easily won the invitation 440 yards on Saturday at the Glasgow Police sports at Ibrox Park and broke the longstanding Scottish record for the distance. His time of 48 seconds beat by 0.4 sec the record time of the lat Capt W Hallswell who set up the record in 1908 , the year he won the Olympic Games 400 metres. At the halfway stage McIsaac led from L Locke (Polytechnic Harriers) and he put in an excellent sprint in the final straight and won by 10 yards from D McDonald (Garscube Harriers). Performances in the other invitation track events were also of a high standard. GE Everett (Shettleston Harriers) was not challenged at any time in the Mile but he had a good time of 4 min 8.7 sec, just over two seconds outside his native record. It was unfortunate that there was no one capable of keeping him company to provide the challenge necessary for record times.
IS Binnie (Victoria Park) started very fast in the two miles and 4:19.5 for the first mile was too good for him to maintain the pace as his eventual time of 9 min 5 sec proved. His own native record for the distance is 8 min 58.4. JJ Connolly (Bellahouston Harriers) finished second in 9 min 12 sec. It was his anxiety to get away from Connolly that made Binnie make the mistake of running such a fast first mile.
The most exciting race of the invitation series was the half-mile in which D McDonald narrowly beat L Locke and IR Boyd (RAF) with a nicely times finishing burst."
It is a pity that there was no actual account of the half-mile if it were such a good race. Remaining results of the invitation events.
440 yards: 1. J McIsaac (Glasgow University) 2. D McDonald (Garscube Harriers) 3. W Morrison (Larkhall YMCA) 48 sec
880 yards: 1. D McDonald (Garscube Harriers) 2. L Locke (Polytechnic Harriers) 3. IR Boyd (RAF) 1:56.4
Mile: 1. G Everett (Shettleston Harriers) 2. DM Asher (Glasgow University) 3. WJ More (Kilmarnock Harriers) 4:8.7
Two Miles: 1. I Binnie (Victoria Park) 2. JJ Connolly (Bellahouston Harriers) 3. D Dickson (Bellahouston Harriers) 9 min 05 sec. Winning team: Bellahouston Harriers 10 points
Pole Vault: 1. P Milligan (Victoria Park) 2. MJM Brown (Jordanhill TC) 3. W Piper (Glasgow Police) 12′ 3″
The meeting was a much lower key affair than it had been: there were no invitation races at 100 or 220 yards, there was only one invitation field event, with few exceptions the competitors were all Scottish and a team race had been intrduced to the two miles when there had previously been no note of such an event in the two or three miles races.
*
In 1959 in the second week in June, a fortnight before the SAAA Championships, there was another purely domestic Police Sports. The invitation events had shrunk even further – there were now only two on the programme, the two miles and the high jump, compared with ten or eleven just a few years earlier. "EVERETT'S FINE TWO MILES AT IBROX. Scottish Records Broken. The event which attracted most interest in the Glasgow Police Sports at Ibrox on Saturday was the two miles individual and team race. GE Everett (Shettleston Harriers) , the Scottish Mile champion and record holder, quickly went to the front of a select field of representatives of five leading Scottish clubs, and at the end of the first mile, which he completed in 4 min 24.3 sec, Everett was 30 yards ahead of AJ Wood (Shettleston). Everett continued to show magnificent form and by running the second mile in 4:26 he established a new Scottish native and all-comers of 8 min 50.3 – beating the two year old native record set by 6.9 seconds and also GD Ibbotson's all-comer's record established at Dunoon in 1957 by 0.5 seconds. Wood did well to finish second in 9 min 0.1 sec and J McLaren (Victoria Park) was third in a personal best time of 9 min 12.5.
CW Fairbrother (Victoria Park) won the invitation high jump at 6′ 6″ and went on to win the open event at 6′ 3″. A Houston, to whom he was conceding 3″ was second to him on both occasions. Fairbrother had his customary three attempts at six feet seven and a half in the invitation event but the Scottish record set at this height by AS Paterson, still eludes him."
Results of invitation events:
Two Miles: 1. GE Everett (Shettleston); 2. A Wood (Shettleston) 3. J McLaren (Victoria Park) Time: 8:50.3 Team race: Victoria Park 12 pts (3, 4, 5)
High Jump: 1. C Fairbrother (Victoria Park); 2. A Houston (Victoria Park); 3. DS Cairns (Springburn)
*
In 1960 the invitation events were down to one – the two miles – but the open events were well supported and also for the first time incorporated a steeplechase event. Top men were Eddie Sinclair (Springburn Harriers) and John Linaker (Pitreavie) in the two miles although Crawford Fairbrother performed well in the Open High Jump. "Good Two Mile Time by E Sinclair. E Sinclair (Springburn Harriers) and J Linaker (Pitreavie) ran a splendid two miles race in a stiff wind at the Glasgow Police Sports and Sinclair's winning time of 9 mins 11.3 secs was only 2.3 secs slower than the Scottish record – set 40 years ago by Alfred Shrubb. The Springburn runner's superior finishing speed enabled him to gain a narrow win over Linaker. Several runners, including Sinclair and Linaker, withdrew from the 3000m steeplechase because the water jump was more than 12 feet but RA Henderson (Braidburn) the backmarker raced through the field and won in 9 min 38.4 sec.
CW Fairbrother (Victoria Park AAC) , off scratch of course, won the handicap high jump at 6′ 7″ , a very fine jump in the conditions. WM Campbell (Kilmarnock), off 8 " was second with 6′ 6″."
Two Miles result: 1. E Sinclair; 2. J Linaker; 3. J Connolly (Bellahouston) Time: 9 min 11.3 sec Team race: 1. Victoria Park 17 Points; 2. Springburn 20 pts; 3. Bellahouston 22.
The standard in the open handicap events was high and there were many stars (real such as Crawford Fairbrother) or up and coming (such as Dick Hodelet of Auchmountain Harriers) and Jim Finn (Monkland) first and second in the Youths 880). Names that stand out are WM Campbell, AS Dunbar, Bert McKay, Mike Ryan, Jim McLatchie and Tom McNab. Good, very good, but the international dimension was missing.
*
Nevertheless the 'Glasgow Herald' gave the Police Sports of 10th June 1961 good coverage with Graham Everett and Mike Hildrey getting the headlines. They read: "EVERETT AND HILDREY IN GOOD FORM: Records broken at Ibrox." And the report read:
"GE Everett and MG Hildrey were the outstanding performers in the Glasgow Police Sports open sports meeting on Saturday at Ibrox Stadium. Everett broke three records in his two mile run in conditions which were certainly not in his favour, and Hildrey equalled the Scottish Native record in the 100 yards with a time of 9.8 sec. Everett was taken along at a merry pace by R McKay (Motherwell YMCA) and both were well ahead of the field at half distance in the fast time of 4 min 14.5 secs – too fast, as Everett admitted afterwards. It was clear that if this pace were maintained the all-comers record would be broken. Unfortunately McKay was unable to carry on, having fallen out more or less exhausted after one of his best-ever mile times. Everett was alone thereafter, but but his time of 6 min 31.4 secs for the mile and a half beat T Riddell's native record and JJ Barry's all-comers record by 2.4 secs. He slowed over the last half-mile and lost his chance of beating the all-comers record of 8 min 45.6, but the time of 8 min 48.6 beat his own best Scottish performance by 1.8 secs.
Hildrey won the special 100 yards only by inches from a clubmate, R Whitelock. The time was exceptionally good on grass rendered heavy with rain. Hildrey was, as usual, half a yard behind Whitelock at half-distance, but he finished very strongly.
McKay made a fine recovery after his exhaustive effort in the two miles and won the mile in 4 min 08.3 from 40 yards."
Results of invitation events:
100 yards: 1. M Hildrey (Victoria Park); 2. R Whitelock (Victoria Park); 3. WM Campbell (Glasgow University) Time 9.8 secs
Two Miles: 1. GE Everett (Shettleston); 2. AH Brown (Motherwell YMCA); 3. J Connolly (Bellahouston) 8:48.6
Team race: 1. Edinburgh Southern 21 pts; 2. Bellahouston 22 pts; 3. Shettleston 24 pts
The open events contained some interesting results – Menzies Campbell was second in the 100 and first in the 220 yards (off 4 in the 220 from Mike Hildrey off scratch – Hildrey was second); Jack Brown of Dumbarton won the 880 yards, McKay won the Mile from Willie Gault (VPAAC – 145 yards) and Jim McLatchie off 45 yards; Tommy Thompson of Paisley (210 yards) won the steeplechase from Charlie Meldrum (St Modan's) off 85 and Tom O'Reilly (Springburn) off 120. The field events featured a high jump where A Lay defeated David Cairns (Springburn) and Willie Piper (Glasgow Police) and there was a very interesting Junior 880 yards:
1. R Rae (Bellahouston) off 38; 2. J Cameron (St Modan's) off 36; 3. JL Stewart (Vale of Leven) off 130 yards. Time 1:53..3
It was another domestic meeting with only two invitation events but it looked like a very good meeting for the spectators with several close contests.
The short report on the 1962 meeting appeared in the 'Glasgow Herald' of 11th June, 1962 was headlined "ANOTHER WIN FOR JP McLATCHIE" and read
"JP McLatchie (Ayr-Seaforth) ended a successful week when he won the 3000 metres steeplechase at the Glasgow Police Sports at Ibrox on Saturday. McLatchie, conceding up to almost 200 yards, steadily overhauled his rivals and won comfortably in 9 minutes 20.6 seconds. He ran from the back mark of 10 yards in the half-mile, and although only fourth in the final, recorded a personal best time. WM Campbell (Glasgow University) ran the fastest heat in the 220 yards, 21.2 seconds, but he was forced to take the outside in the final and lost narrowly to C LaPointe (Bellahouston) to whom he was conceding 10 yards. Results:
Invitation Events
Two Miles: 1. AH Brown (Motherwell YMCA); 2. R McKay (Motherwell); 3. C Laing (Glasgow University 9:05.4
Schools 4 x 220: 1. Glasgow HS; 2. Hillhead HS; 3. Allan Glen's HS 1:43.2
Open Events
100 yards: 1. LM Piggott (Garscube H) 5; 2. R Mayberry (Bellahouston) 5.5; C LaPointe (Bellahouston) 5.5 9.8 seconds
220 yards: 1. LaPointe 12; 2. WM Campbell (Glasgow University) 2; 3. AM Miller (Glasgow University) 5 21.8 seconds
880 yards: 1. JM Brown (DumbartonAAC) 24; 2. DC Young (Bellahouston) 30; 3. RB Stoddart (Bellahouston) 18 1:51.9
Mile: 1. W Morrison (Larkhall YMCA) 40; 2. J McDonald (Bellahouston) 95; 3. WP Marshall (Motherwell YMCA) 135 4:12.6
3000m steeplechase: 1. J McLatchie (Ayr Seaforth) 65; 2. JL Stewart (Vale of Leven) 125; 3. H McWilliams (Greenock Glenpark Harriers) 260 9:20.6
Long Jump: 1. JP Craig (Glasgow University) 22′ 2″; 2. D Shedden (Beith) 21'6″; 3. R McCormick (Unattached) 20′ 8″ 22′ 0.25″
High Jump: 1. C Julien (VPAAC) 8″; 2. D McGhee (Clydesdale) 7.5; 3. AM Law (Paisley Police AC) 3.5″ 6'6″
Shot Putt: 1. DM Edmunds (St Joseph's College) 7'3″; 2. GAK Taylor (Garscube) 5′ 6″; 3. J Brown (Hoover) 11′ 9″ 48′ 4.5″
This was the shortest ever post-war report on the Glasgow Police Club Sports – and it was to be the last. Many of the long-established and well known sports meetings that had lasted for decades, over half a century, die at this time including the Rangers Sports, the Lanarkshire Constabulary Sports (normally at Shawfield at the start of June), the Glasgow Transport Sports at Helenvale all went from the calendar and Scottish athletics was much the poorer – I remain to be convinced that the present competition structure is better.