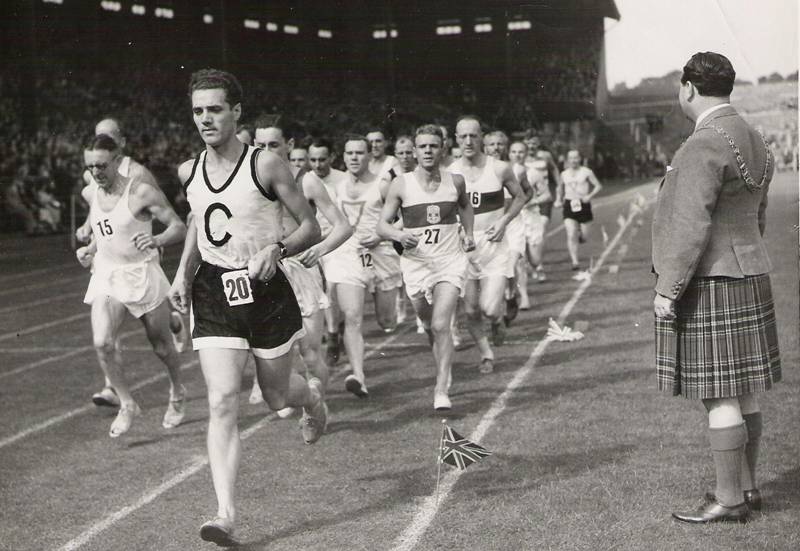 David Bowman (Clydesdale Harriers, 20) leads the field in the marathon from Edinburgh Highland Games in 1951
There have probably always been big sports meetings in Scotland's capital city but they have been under a number of different banners. Where in Glasgow there were the Rangers Sports and the Glasgow Police Sports at Ibrox and the Lanarkshire Constabulary Sports at Shawfield or the Glasgow Transport Sports at Helenvale which were all distinct events with large crowds, there have been the Edinburgh Highland Games, the British Airways Games and, my favourite title, the Edinburgh Corporation Lighting and Cleansing Department Open Meeting. The Highland Games however was run on a five laps to the mile grass track at Murrayfield which could be treacherous when rain fell, even when there was a good track at New Meadowbank, and athletes really did come from far and wide. One of the things different from other similar meetings, was the fact that, according to Neil Donnachie who ran in several of the Edinburgh Games, athletes in the open events changed in the same dressing room as all the 'stars' from around the world. The list of famous names for almost 30 years who cam to the meetings is too long to list but if you read through what follows you will get Olympic champions (well into double figures), European Champions, Empire champions, not to mention national champions from over a dozen countries. The New World (USA, Canada, Jamaica), the Old World (almost every European country), Africa (Nigeria, Rhodesia, Kenya, South Africa and others) were all represented. The Games were organised by the wonderful Willie Carmichael whose story is told here and who was responsible for bringing the 1970 Commonwealth and Empire Games to the city.
Looking through 'The Scotsman', the first Highland Games were held at Murrayfield on 19 July 1947 in front of an estimated crowd of 20,000. The report was brief and is worth repeating since it was the start of a meting destined to be significant in Scottish athletics for several decades. It reads:
"Spectacle, thrills and spills contributed to make the Highland Games sponsored by the Edinburgh Corporation at the Rugby Union ground at Murrayfield a big success, and a crowd estimated at 20,000 were kept interested right to the end. With pipers, Highland dancers, competitors in the heavy events wearing kilts, there was an atmosphere of a Highland Gathering, and the speed at which the large programme was carried through reflected well on the promoters.
GE Mitchell, reinstated again as an amateur, was a winner of four field events, and when making a preliminary swing in the hammer throw there was a gasp when the head came off the hammer. Happily however no one was injured. Another "incident" was when a photographer, lying on the track in the face of the oncoming cyclists, was blamed for a collision between two competitors.
The athletic thrill of the afternoon was provided by the inter-city relay race. CJ Hall, the Scottish half-mile champion, found one of his shoes coming off and, in stopping to replace it, lost fully 50 yards when he had been leading. Withe a great burst of speed he chased RJ Sharp and was only beaten by about three yards – a most gallant effort.
DRB Grubb, one of Scotland's most prominent milers, won the youth race over that distance; EQA Colie won the 220 and RJ Watt, Boroughmuir FP, had a double when winning both the high and long jumps."
It sounds like quite a meeting. The Triangular International in 1947 was held in Murrayfield too.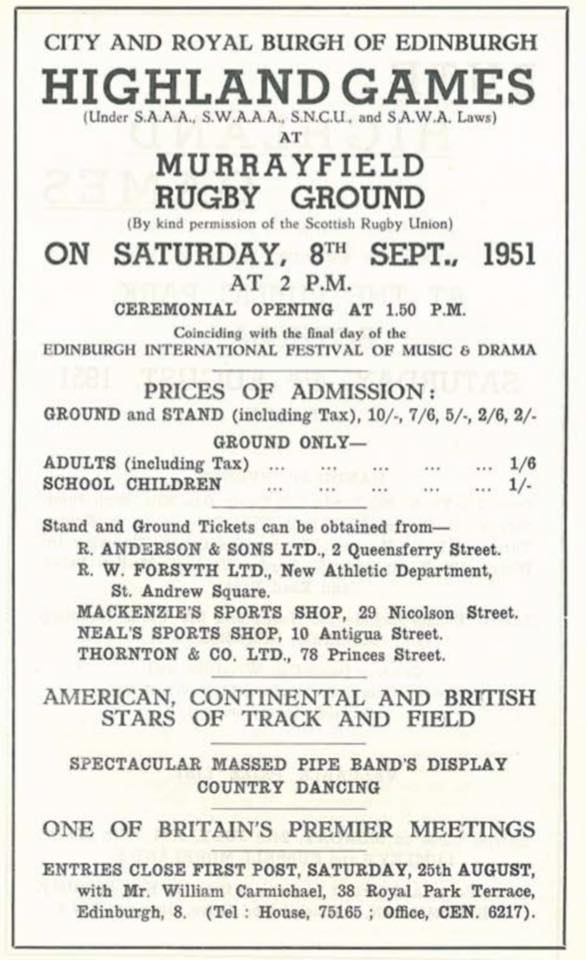 The report in the 'Scots Athlete' tells us:
"Since JE Farrell in "Running Commentary" has touched on the highlights of athletic performances at the England – Ireland – Scotland athletic contest, held in conjunction with the Scottish Marathon Championship (Falkirk to Edinburgh) on 5th July at New Meadowbank, we only wish to make a few general comments whilst presenting the details for study and reference. The meeting was freely criticised for being too dragged out and finishing very much behind the scheduled finishing time. It is only fair to point out that this was partly caused by the officials in not allowing other events to take place while the marathon leaders were approaching, which was wise and courteous, but it seems there could have been better planning of the scheduling of events.
The meeting did not enthuse the crowd as it ought to have done. Sports' promoters must make it their definite intention to cater for the public. Such an approach was lacking at this contest. The announcement of the results were disgraceful, the announcement of an event being given possibly after one or two other events had taken place. Surely a hold up such as this is not necessary, and surely, very annoying to the public. Then again it has been reported that the irish officials objected to the Senior Five-a-Side Tournament, and we would uphold this objection. The tournament was not in keeping with the meeting and anyway, the SAAA should aim at fostering pure athleticism – in the end it would gain more dividends for the sport, through a greater athletic-minded public. Such football tournaments cannot compare with the thrills of athletic contests. There was a large attendance, and the bumper 'gate' will help the SAAA Treasury, since out of the income England and Ireland only received a guarantee of £50 each.
Though Ireland gained most individual successes, England won the contest with 85 points to Ireland's 64 points and Scotland's 37 points. The meeting was summed up quite aptly in the Irish Press thus:- "To Ireland the honours, to England the victory. To Scotland the money."
100 yds: 1. E McDonald Bailey (England) 2. A Watt (Scotland); 3. J Fairgrieve (England); 4. JA Gregory (Ireland). 5 yds, 2 yds, 1 yd 10.1 sec
220 yds: 1. J Fairgrieve (England); 2. AJ Gregory (Ireland); 3. A Watt (Scotland); 4. WD McKee (Ireland); 5. R Toone (England) 2 yds, 1 yd 23 seconds
440yds: 1. JP Reardon (Ireland); 2. B Elliott (England); 3. C O'Clelrigh (Ireland); 4. DC Pugh (England); 5. WDH Connacher (Scotland) 3 yds, 4 yds 49.7 seconds
880 yds: 1. CT White (England); 2. RL Sarbutt (England); 3. CJ Hall (Scotland); 4. JR Nelson (Ireland); 5. WN Ritchie (Scotland) 3 yds, 6 yds 1:57.9
Mile: 1. JJ Barry (Ireland) ; 2. AH Pettet (England); 3. WT Hawkley (England); 4. F Sinclair (Scotland); 5. RTS Macpherson (Scotland) 10 yds, 5 yds 4:25.2
Three Miles: 1. HA Olney (England); 2. A Forbes (Scotland); 3. SH McCooke (Ireland); 4. DM Haw (England); 5. J Owens (Ireland) 14:32.0 A new Scottish native record of 4:32.2 by A Forbes.
120 yds Hurdles: 1. Prince Adedoyin (Ireland); 2. DO Finley (England); 3. JGM Hart (Scotland); 4. F Sharpley (Ireland); 5. RA Powell (England) 2 yds, 4 yds 16.0 seconds
High Jump: 1. Prince Adedoyin (Ireland) 6'2″; 2. RC Pavitt and AW Selwyn (England), tied, second, 6'0″; 4. GA Garrick (Scotland) 5'8″
Long Jump: 1. Prince Adedoyin (Ireland) 23′ 5.75″; 2. DC Watts (England) 23′ 5.25″; 3. J Morris (England) 21′ 9.75″; 4. RM Smith (Scotland) 21′ 9.75″; 5. GH Caithness (Scotland) 20′ 3″
Javelin: 1. MY Chote (England) 185′ 9.5″; 2. MJ Dalrymple (England) 184′; 3. PG Skea (Scotland) 164'11"; 4. M Gleeson (Ireland) 158′ 2″; 5. D Kernohan (Ireland) 154'5″
Shot: 1. D Guiney (Ireland) 48′ 11″; 2. HE Moody (England) 46′ 5″; 3. C Glancy (Ireland) 41′ 11.5″; 4. DMcD Clark (Scotland) 30′ 10″; 5. JD Brewer (England) 30′ 7.75″
Discus: 1. E Nesbitt (Ireland) 142′ 3.75″; 2. EJ Brewer (England) 139′ 9″; 3. A Fields (England) 138′ 2.5″; 4. D Young (Scotland) 129′ 9.5″; JD Brewer (England) 121′ 2.5″
Mile Relay (440, 220, 220, 880): 1. England (R Toone, McDonald Bailey, DC Pugh, CT White); 2. Ireland; 3. Scotland 20 yds, 70 yds3 min 36.5 secs
There was no mention of an 'Edinburgh Highland Games' in 1947 but in 'The Scots Athlete' of August 1948 there was a whole page advertisement for the 'City and Royal Burgh of Edinburgh HIGHLAND GAMES' to be held at Murrayfield Rugby Ground on Saturday, 4th September, with Open Athletics Events, Open Cycling Events, Open Wrestling Events and Invitation Events. Entries closed with Willie Carmichael on 23rd August and other attractions included Piping, Shinty, Highland Dancing, Massed Army Gymnastic Display, Massed Pipe Bands and Massed Military Bands. Furthermore 'Olympic Stars from Several Countries Will Take Part'. I don't know when I have ever seen a bigger or more ambitious programme for a one day meeting – there were twelve open athletics events alone! With the Olympic Games being held in London in 1948 space was scarce and the only actual reference to the meeting was in the December edition of the magazine where Emmet Farrell's 'Running Commentary' read as follows:
Are Football Tournaments Necessary? Before finally leaving the track season I should like to comment on an interesting feature concerning the Murrayfield Highland Games on 4th September. On a none too favourable day this meeting attracted an audience of approximately 25,000, and remember there was no 5-a-side football, and that a major first league match was taking place at Tynecastle. Surely this is an answer to those who assert that an athletics meeting must include such a tournament to attract a crowd. Perhaps active Eastern District Secretary Willie Carmichael who has been connected with several of these successful Edinburgh promotions can tell us the secret of success. No doubt the programmes were very comprehensive and attractive and good prizes offered, but similar conditions pertained in the west with less successful results. Could a better advertising campaign have something to do with it?
No results – of even the most cursory kind – but evidence of a large crowd and no complaints of over running this time!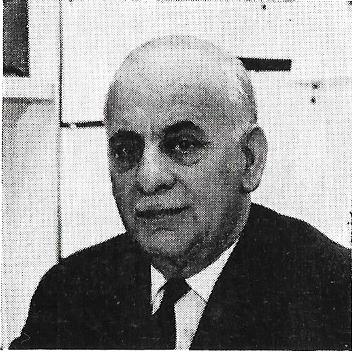 Willie Carmichael
The back page of the July 1949 issue of 'The Scots Athlete' was taken up by a full-page advert for the City and Royal Burgh of Edinburgh Highland Games once more, on 3rd September, and offered 12 open athletics events and 9 invitation events plus a full marathon (26 miles 385 yards specified on the advert) plus cycling, military bands and wrestling. Entries again to Willie Carmichael who produced quite a show. The 'Scots Athlete' for September covered the event in some detail. First of all Emmet Farrell said: Murrayfield a Picture. If there is a better venue for an athletic meeting, particularly a Highland Games gathering than Murrayfield I should like to know of it. With its spacious stand, compact ground, its bright green sward, its general surroundings and atmosphere, Murrayfield looked a picture. Add to this a huge warmly appreciative crowd, a host of athletics personalities headed by Olympic champions Fanny Blankers-Koen and Arthur Wint as well as the real Highland Games atmosphere and you have the ingredients of a real feast of sport. .
W Carmichael who was the guiding light in this promotion once again proved his great flair for organising and it was grand to see such a resounding success. The hard-working Eastern District secretary has the gift of imagination and believes in doing things on a big scale. For example the appearance of Fanny Blankers Koen and Arthur Wint would alone have drawn the crowd. But an invitation was also sent to a select British team of athletes and cyclists: and what a team Jack Crump had with him including the great Welsh sprinter Ken Jones, quarter-miler Lewis, half-miler Tom White and three great milers in L Eyre, AB Parker and Douglas Wilson. In addition there was Ron Pavitt, one of England's and Britain's great two new high jumpers and a charming bevy of Britain's best lady athletes including Dorothy Manley, Sylvia Cheeseman and new hurdle discovery Miss Desforges.
Fanny Blankers Koen did not disappoint. She was a colourful and resplendent figure in her flaming orange track suit. Equally so as she stepped on to the mark in white blouse and orange trunks and once more she moved gracefully but robustly over the hurdles and later over the flat. The Dutch girl has the solid robust qualities of the Dutch house frau allied to the elfin grace of a Peter Pan. Picturesque too was chocolate-coloured Arthur Wint from the time he warmed up in his white creamy track suit till he faced the starter and once more gave us a demonstration of that lazy, effortless style which deceives the eye but does not deceive the opponents who strive to hold on to his pace. But at the end of the day in attempting to recapture once more the high-lights of the meeting, perhaps the most striking feature of all was the magnificent enthusiasm of the spectators. The warm sportsmanship of the Edinburgh audience remains a fragrant memory."
Although Emmet was as literate and accurate in his observations as ever, an article further through the same issue entitled "City of Edinburgh Highland Games: some impressions and reflections" by DA Jamieson, an athletics establishment figure who had written a lot of the '50 Years of Athletics' book on the history of the SAAA in 1933. He had much more space than Emmet and could spread himself and his comments more generously. It is an excellent article and reads:
It was in a scene of inspiring pageantry and splendour that the Scottish amateur athletic season of 1949 made a dignified and impressive exit with the presentation of the Third Annual City of Edinburgh Highland Games at Murrayfield Rugby Union Ground, Edinburgh, on Saturday, 3rd September. The genesis of this athletic gathering – which now bids fair to take primary place in the athletic sports calendar of the country – is to be found in the Holidays-at Home sports promotions which throughout the war years gave much pleasure and welcome relief to the people. To the small coterie of athletic enthusiasts to whom the development of this experiment was entrusted by the City Magistrates and Town Council the full flowering of their cultural efforts must afford the keenest satisfaction and pride.
Most sports promoting bodies would shrink from the responsibilities of holding an athletic gathering on such a date when the appetite of the Scottish football piblic is being whetted during a period of restricted football fare, but this Highland Gathering is unique in respect that it wholly excludes football from its prospectus and makes a direct and absolute endeavour to submit entertainment of a thoroughly comprehensive athletic nature combined with the introduction of intermissions both interesting and attractive. In this bold departure the promoters have met with signal success and richly deserve the congratulations of the Scottish sports-attending public.
In attempting to review the actual proceedings within the arena at Murrayfield it is somewhat difficult to visualise and maintain a clear picture, which inevitably becomes blurred by the multiplicity of happenings within the circle. With the presentation of many field events concentration on any given event becomes well-nigh impossible and even to the lay observer there will have to be a drastic pruning to obviate the danger of this meeting drifting into a state of wild undergrowth of foliage out of all proportion to the blossom.
Of the running handicap events which figured on the card the greatest thrill was provided in the finish of the 1 Mile race, in which the North of England entrant R Poxon, after a ding-dong struggle up the straight with a Borderer, R Taylor, literally threw himself at the tape, which action gained him the victory. This was indeed a handicapping triumph if also a judge's nightmare; but in the Youths' Race over the same distance a different picture was seen when a fifteen-year-old competitor – D Stirk, Pilton AAC – running from the limit allowance established a winning lead halfway through the race which he maintained easily to the tape.
The Invitation events all attained that high standard of performance which is expected of them. Although small in number of starters, the 100 yards race was rich in the quality of its participants, and Ken Jones, the Welsh Rugby Internationalist, found himself renewing acquaintance with the Murrayfield sward in yet another sphere of athletic activity and with a similar degree of distinction. His winning time of 10.2 secs does not truly reflect the merit of his performance, since the runners were sprinting up wind which had a considerable degree of strength in its gusts. Throughout the afternoon field events were exclusively engaging the attention both of competitors and of such spectators as were conveniently positioned to watch, and one heard through the loud-speaker that a new record for the Hop, Step and Jump had superseded that other achievement in the same event which awaits ratification by the SAAA. Since the claim affects Lindsay's own earlier performance it must be gratifying to the Shotts AAC member to be able to substantiate still further his record achievements.
The participation by women in athletic events at sports promotion is too often watched by many spectators with a tepid interest and regarded in the nature of an interlude. The first appearance, however, in Scotland of Fanny Blankers Koen as a competitor in the 80 metres hurdles and 200 metres flat aroused the keenest interest of the spectators. On both occasions she was opposed by the fleetest of Britain's women athletes and Blankers Koen's dual victory was warmly applauded. Tru it is that the Hurdles iten quickly assumed a processional character, yet such was the urge to greater endeavour shown by the Scottish lass – Jean Thomson, Dumfries – that whilst running into third place she created a new native record of 12.5 seconds, time which is still capable of further reduction by this talented athlete.
Stronger opposition was provided against the Dutch athlete in the 200 metres race, but here again the supreme class of this Olympic star could not be denied as she swept through to the tape a winner in the most impressive manner. The appearance of this great woman athlete is bound to have an inspiring influence upon these girls who are so earnestly striving to restore to its pre-war prestige in Scotland the cult of athletics among its young women. The incidence of a period of calm which now prevailed gave ideal conditions for the decision of the 300 yards race and also the 1 Mile item. In the former race – one of the most testing distances in the running schedule – LC Lewis gave a brilliant performance when winning from Jones in the fast time of 31.1 seconds. Although this is not an officially recognised distance for acknowledgement on the list of records, yet it will be classified as the fastest run under the "Noteworthy Performance" entries. While it can be claimed that there is no finer grass track in the country than Murrayfield provides with its highly resilient and perfect cover of turf, the fact that Lewis had three turms to negotiate in his progress to the tape accentuates more keenly the great merit of this run.
An effortless win by Arthur Wint in the Half Mile scratch race in the very fast time of 1 min 54.1 secs came as a kind of anti-climax to the apologia which had been broadcast to the spectators prior to the decision of this race. Here young Petty's effort is worthy of mention and the steady improvement in the Scottish Champion's pace must be extremely gratifying to his mentor as well as to his club connections. Even more select than the 100 yards scratch event was that of the Mile race in which four runners took part – but they were four of the best, including L Eyre, the young Yorkshireman whose name must now be added to that great list of great milers who figure in athletics history. His winning effort in 4 min 16 secs – and making all his own running – speaks for itself and one would have liked to have seen the young Irish student Vic Milligan, no stranger to Edinburgh, test his paces once again against such sterling runners over this distance.
In the high jump event, RC Pavitt gave a polished display, clearing a meritorious 6 ft 5 ins.
Of some 14 starters in the Marathon Race there were eight survivors, and the finish in a relative sense, was very close. How galling the experience must be to be a runner-up in a race of this nature to be able to keep company with his opponent over a major part of the distance yet find himself unable to make that final effort which would yield him the fruits of victory – also the laurel wreath. There was little sign of exhaustion in Paterson's bearing when he reached the winning line in mere 5 secs ahead of CH Ballard , confirming the wonderful stamina and endurance shown by him in his SAAA title win last July.
Behind all this cavalcade of sport and spectacle looms the figure of the man who from the very outset has been the creator and director of all this pulse-stirring setting of athletic activity and the fullest tribute must be paid to Willie Carmichael of the SAAA whose dynamic energies and flaming enthusiasm has put the seal of quality upon this Edinburgh Festival sports promotion. By virtue of his achievements in the sphere of athletic sports organisation he stands beyond challenge as the supreme impresario of Scottish sport.
But – and it is a necessary repetition – there must be a curtailment in the list of events to ensure that patrons can take an intelligent interest in what is transpiring in the field. More especially is this needed when one considers the fact that the finest exponents of the information conveyed through the microphone that so-and-so has achieved a certain feat in a certain part of the sports arena leaves with its hearer a certain sense of disappointment that the deed has eluded his attention.
It appears to be a chronic defect in athletic meetings of larger proportions that the arena should be crowded with individuals who are simply trespassers, and to whom repeated exhortations to get off the track leaves stone cold. A glimpse of what ideal conditions might be achieved was observable during the performance given by the Alsatian dogs, following which the ground was speedily cluttered up again. Again, during the massed Pipe Bands Display the number of amateur photographers exercising their hobby was beyond reason. Incidentally it was amusing to note the backward stepping of the "snappers" as the bands arrived. It suggested the title to a new pipe tune 'The Retreat of the Camera-man'."
Fair coverage of the meeting, well written – and no doubt about what he thinks on any point connected with the event!
***
In 1950, there was a preview in the August 1950 Scots Athlete. " Edinburgh Highland Games. These Games have won for themselves a considerable niche in the Scottish sporting calendar. This year's meeting is to be held at Murrayfield Rugby Ground on Saturday, 2nd September and every effort is being expended to maintain the variety and quality presented at its three predecessors. The quality of the athletic performances at these Games has hitherto been of an exceptionally high standard. last year was almost a unique occasion as two Olympic champions, Fanny Blankers Koen and Arthur Wint, were seen in action. Again this year international athletes will contest scratch races at 100, 300, 880 yards, Mile and 3000 metres and women's 80 metres hurdles. It is hoped that Maureen Gardner (Mrs Geoff Dyson) will be seen in the latter event. An Inter-City Edinburgh, Glasgow Manchester, relay and inter-association, SAAA v AAA, relay are two new features which should provide great racing. The Edinburgh Marathon run round the boundaries of the city proved a popular introduction last year and is being again held over the same course. Jack Paterson, Polytechnic Harriers, is coming up to have a go again. He won last year and holds the Edinburgh Trophy. J Henning is coming over from Belfast. Charlie Robertson, Scotland's former marathon, saw the Games from the Stand last year: this time he contests the marathon.
It is unfortunate that the state of the turf coupled with the proximity of the rugby season has necessitated some restrictions in the number of competitors in the field events. The throwing events will be by invitation and the jumps on a restricted handicap basis. Being held as they are in the midst of Edinburgh's International Festival of Music and Drama, these Games attract quite a large number of foreign visitors, but they are also well supported by residents in Edinburgh and around."
The report appeared in the September issue.
"The Edinburgh Highland Games, held on 2nd September at Murrayfield, was a magnificent athletic gala, holding the attention of the large number of spectators to the end of the proceedings. It lived up to its reputation of being one of the best dates on the whole athletics calendar. Every invitation event was star studded with noted athletes from various countries participating. Although no records were broken there were some brilliant performances.
In the scratch 100 yards, Brian Shenton (last year's runner-up), fresh from his European victory, won with a great finish from AR Pinnington with Scottish champion Sandy Bruce third in 9.9 seconds. Anglo-Scot Norris McWhirter impressed greatly with his 300 yards win in 31.6 seconds, just 0.4 outside Halswelle's long-standing native record. The half-milers were pic-nicking – European champion HJ Parlett won from Roger Bannister in 2 mins 3.6 secs. Victor Milligan extended the famous John Joe Barry right to the tape in the mile race won by the latter in 4 mins 24.3 secs. Tom Tracey (Springburn) was first home in the 3000m team race but the team award went across the Border to the Gosforth Harriers.
Alan Paterson maintained his standard with 6 ft 5 ins in the High Jump. Perhaps the most colourful event was the Pole Vault. Erling Kaas, the colourful Norwegian athlete, cleared 13 ft 6 ins and after gallant tries failed at 14 ft. He was given a rousing reception. In the same event, young GM Elliott became the third Britisher to clear 12 ft 9 ins. JA Giles won the Shot and J Drummond of Heriot's, the former Scottish champion, pleased being runner-up with one of the best home efforts in a long time being but 4 inches off the native record. Drummond also won the Scots Hammer event.
Edinburgh beat Manchester and Glasgow in the inter-city relay, and a popular win was the relay victory of the Scottish Select (J Petty, N McWhirter, W Jack, D Gracie) against the AAA team. Elspeth Hay rounded off the track events display by beating Maureen Dyson and Jean Desforges in a special 100 yards.
Not the least impressive scene on the arena by any means was the grand display of Scots Country Dancing to teh accompaniment of massed pipe and military bands. In the round the city marathon, Scottish champion Harry Howard (Shettleston) gradually pulled from the leading group and running powerfully went on to finish the testing course a clear winner giving him further claims as one of Britain's best. Veteran JE Farrell (Maryhill) moving strongly in the latter stages passed noted English and Irish rivals to be runner-up. Among the majority of contestants who retired were F Gratton (had travelled unwell) and Charlie Robertson who felt the effects of his record breaking run the previous week. (Winning time was 2:40:10, Farrell 2:43:46; G Iden 2:45:42).
In 1951 there was no report on the Games themselves but a first class report on the marathon with some excellent photographs.
Thanks to Arnold Black, I have a copy of the programme of the meeting and very interesting it is too. The invitation events included a One Mile with runners W Nankeville (Walton AC – British Mile Champion 1949/50; best time 4:8.8), AB Parker (Barrow AC – Winner of Mile in Triangular International 1951), HJ Parlett (Dorking St Pauls AC – British Empire 880 yards and European 800 metres champion), W Lennie (Vale of Leven AAC – Scottish Champion), J Smart (Edinburgh SH – Scottish Half Mile Champion, 1948), D Grubb (Heriot AC and Victoria Park AC), R Coutts (Aberdeen University AC – Scottish Inter Varsities Champion) and D Parmenter (Burchfield Harriers); a 100 yards with Brian Shenton (European 200 metres champion 1950), W Jack (Victoria Park – Scottish 100 and 220 yards champion), J Millican (Elswick H – Northumberland and Durham 440 yards champion), O Hardmeier (Edinburgh SH, Swiss Olympic representative), AS Dunbar (Stranraer Harriers) Scottish JUnior 100 yards champion), E McDonald Bailey (British Champion and record holder and these were all in the same heat. The second heat of the 100 yards included Andy Stanfield (USA – American 100 and 220 champion 1950), MD McWhirter (Achilles – Scottish Internationalist), J Schofield (Elswick – Northumberland and Durham 100 and 220 yards champion) and J Mclachlan (Maryhill Harriers – Scottish Internationalist). The Two Miles Flat Race (Invitation) was a team race with Victoria Park, Garscube, Gosforth, Bedlington Harriers, Motherwell YMCA plus five individuals from the AAA's including Walter Hesketh, C Brasher, TG Hosking and RF Robins plus Eddie Bannon entered as an individual. There were open events including a 100 yards with 18 Heats of seven runners and handicaps ranging from a half a yard to 11 yards. Below is the centre page from the programme with some highlights of previous games.
*
1952 was Olympic year and many of the Olympians travelled to Scotland and competed at both the Rangers Sports and Edinburgh Highland Games. Remigino, McKenley, Rhoden and company were an inspiration and although there was a big demand on space with coverage of the Olympics including previews, reports and reviews after the event, the magazine managed to cover the big Scottish events after a fashion. The comments on the Games were in the November issue of 'The Scots Athlete'.
"Spectacular Edinburgh Games". The Edinburgh Highland Games with its magnificent Murrayfield setting provided the usual mixture of music spectacle and sheer intrinsic athletics. Mal Whitfield who surely must be one of the greatest half-milers of all time revealed versatility by winning his own speciality – then going down to 220 and winning that also. Another McKenley-Rhoden duel ensued with McKenley on top. Then Rhoden showed his versatility by taking the '200' with a remarkable 9.7 secs. It was another triumph for the organisers, with the complete programme of the multifarious events concluded 7 minutes before schedule – quite unusual – but a pointed reference for sports promoters. Of course, as usual the genius behind the scene, who seems to leave no stone unturned in ensuring the success of a meeting is our own Willie Carmichael, formerly the Eastern District Secretary and now the SAAA Vice President. The Association President ins Duncan McSwein who is also responsible as treasurer. It will be recalled that Mr McSwein and Secretary Mr Gilbert were at Helsinki as Assistant Team managers to the British team." It also points out separately that the attendance was 50,000!
The 'Glasgow Herald was a bit more fulsome about the match, saying "Fully 50,000 people saw excellent sport at the Highland Games at Murrayfield on Saturday including the making of three Scottish all-comers records. In the weight putt P O'Brien (USA) reached 55′ 2" – half an inch better than the previous record set last year by JE Fuchs (USA). O'Brien later competed in the Scots Hammer and, although he is a novice in the event, showed that with a week or two of practice he would probably beat any Scot. GV Rhoden (Jamaica) equalled the all-comers record for the 100 yards with 9.7 seconds. This was a grand performance especially as he had just previously run the quarter-mile in which another Jamaican, H McvKenley, beat him in an extremely close finish in 47.6 and thus reversed the position in the Olympic 400 metres. Rhoden competed with a limb in plaster protecting a slightly pulled muscle.
The best dual performance of the meeting was accomplished by MG Whitfield, the Olympic 800m champion. He won the half mile with 1L57.1 and then the special furlong in 22.3 seconds. His form in the latter event revealed that he possesses the pace of the best sprinters for it was over the last 20 yards that he passed L Laing (Jamaica). One of the surprise results was the defeat of the Olympic 1500 metres runner-up R McMillen (USA) in the Mile. DR Burfitt (AAA) was in the rear at half distance and McMillen apparently out on his own. Over the last lap, Burfitt wiped out McMillen's 30 yard lead and beat him by five yards in 4 min 17.4 sec.
W Davis and J Biffle (USA) achieved all that was required to win the high and broad jumps. Davis was suffering from a damaged foot and ceased jumping at 6′ 2″. In the women's events, B Brouwer (Holland) knocked 0.1 second off the 100 yards all-comers record and SB Strickland (Australia) reduced the 80 metres hurdles all-comers record from 11.3 to 11.2 seconds."
Looking at the names listed, the athletics enthusiast is in wonderland!. Almost all the Jamaicans – McKenley, Rhoden, Laing – only Wint missing, the Americans – Davis, McMillen, the marvellous Whitfield, the great Parry O'Brien; the Australian women – Betty Cuthbert, Shirley Strickland! And the crowd of 50,000 is confirmed
.After the Olympic year of 1952, 1953 was bound to see a bit of a drop in standards but nevertheless the meeting featured athletes from Germany, Belgium, Switzerland, the Argentine, the Netherlands and England as well as the best of Scottish athletes. Results:
100 yds: 1. R Gallan (Argentine) 9.7, equals Scottish A-C record); 2. B Shenton (AAA) 9.9; 3. W Jack (Vict Pk) 9.9
220 yds: 1. B Shenton 22.0; 2. PG Fryer (AAA) 22.4; 3. W Jack (Vict Pk) 22.6
440 yds: 1. H Geister (Germany) 48.7; 2. LA Smith (AAA) 49.2; 3. S Steger (Switzerland) 49.5.
880 yds: 1. W Leug (Germany) 1:54.2; 2. B Grogan (AAA) 1:55.0; 3. DC Seaman (AAA) 1:57.4.
Mile: 1. DC Law (Achilles) 4:19.3; 2. L Eyre (AAA) 4:20.9; 3. CJ Simpson (Small Heath) 4:24.4
Two Miles (Individual): 1. F Green (AAA) 2. I Binnie (Vict Pk); 3. C Brasher (AAA) 9:04.1
Team Placings: 1. Vict Pk 10 pts; 2. Shettleston Harriers 21; 3. Edin Sth 29.
Inter-City Relay (1408 yds): 1. Glasgow (D McDonald, W Jack, R Whitelock, DK Gracie); 2. Edinburgh; 3. Birmingham. 2 min 44.8 secs.
Inter Association Relay (1408 yds): 1. AAA (L Smith, AW Lillington, B Shenton, PG Fryer); 2. SAAA 2 min 52.6 secs
HJ: 1. DRT Cox (AAA) 6ft 2 in; 2. NGA Gregor (Kent CC) 6 ft 0 in; 3. K Cunningham (Vict Pk) 5 ft 10 in.
LJ: 1. AR Smith (Glasgow U); 2. J McAslan (Edinburgh S); B Devine ("Q") 21 ft 2.5 ins
PV: 1. GM Elliott 13 ft 6 ins; 2. NGA Gregor; 3. J Vicario (Belgium) 12 ft 6 ins. (No distance for Gregor was listed in the results as published.)
Wt: 1. V Depre (Belgium) 45 ft 5 in; 2. J Drummond (Heriot) 44 ft 2.5 ins; 3. T Logan (Vict Pk) 41 ft 4.5 in.
WOMEN:
100: 1. A Pashley (AAA) 11.0; 2. P Brouwer (Neth); P Devine ("Q")
220: 1. P Brouwer 25.3 (Scottish A-C record); 2. A Pashley; 3. E Hay.
80m Hurdles: 1. J Desforges (Essex L); 2. I Pond (London Olympiades); W Lust (Neth) 11.4
Inter-Association Relay (704 yards): 1. English WAAA (Pashley, Burgess, Desforges, Johnson) 1:19.0; 2. SWAAA
***
In 1954 we know that there was another Edinburgh Highland Games but unfortunately 1954 not only had a European Games but also had a Commonwealth Games in Vancouver! A Commonwealth Games in which Jim Peters and others came to grief and Joe McGhee won. The incident is well known and can be followed up on this website at the page called Vancouver 54. It took up pages and pages in all the papers of the day and – relatively speaking – even more in 'The Scots Athlete' One of the side results was the lack of any coverage of the Edinburgh Highland Games simply because of the timing of the two events. The former over-lapped the latter, which is a shame because the advertisements for the event on 21st August included the note that Star Attractions" included "Ten reigning American Athletic Champions and final try-out for Britain's contenders for European Championships" as well as proclaiming that it was "one of Scotland's Greatest Gatherings, the prelude to the Edinburgh International Festival of Music and Drama and Edinburgh Military Tattoo."
However when in doubt look up the 'Glasgow Herald' archive and sure enough there was a short report. "Shot and Hurdle Feats at Murrayfield: Rain Spoils Edinburgh Games. Heavy rain which fell throughout the afternoon marred the eighth Edinburgh Highland Games at Murrayfield on Saturday reducing the attendance to around 18,000 and making the creation of new records virtually impossible. One of the best performances in the field events was the shot putt of 53′ 5″ by JA Savidge, the British Champion. The merit of this effort in the conditions can be appreciated when it is pointed out that D Koch (USA) achieved 5′ 5" less. Another performance of note was the 15.2 sec for the 120 yards hurdles by E Kinsella who for the second time beat the British champion P Parker – this time by 1.5 yards.
The world 3 mile record holder, F Green, was not stretched in the Two Miles which he won in 9 min 20.3 sec. Young J McLaren (Shotts) performed very well indeed in finishing third, again beating the Scottish senior cross-country champion, E Bannon. American successes were gained in the high jump, 100 yards, 440 yards and, surprisingly, in the caber. F Jeter (USA) and the Em[pire Games champion E Ifeajuna, Nigeria, both jumped 6′ 2″ but the Nigerian was placed second because of ne failure. W Williams of the USA had little to spare in the 100 yards. H Hogan (Australia was in front with 20 yards to go but Williams and KA Box (AAA) wo was second produced a stronger finishing burst.
***
The first mention I could find in 1955 to the meeting was in the August issue of 'The Scots Athlete'. The comment was simply that apart from Cowal, Highland Games generally were not doing well but Edinburgh was an exception because of the super effort from Willie Carmichael and 'the Highland aspect is largely bolstered by prominent continental and British stars'. There were some remarks in subsequent issues but no comprehensive report. Eddie Kirkup of Rotherham won the marathon and in his review of the season, Emmet Farrell said that 'we had another star in Ayrshire lad, Jackie Boyd of Glasgow varsity and Garscube. He displayed all the polish of a brilliant middle distance runner. One of his best performances was at the Edinburgh Highland Games when he went right through his field from virtual scratch in the open half, returning a time equivalent to faster than the International scratch event at the same meeting.' However, if space forbade coverage in the magazine, there was a short report in the 'Glasgow Herald' of 22nd August. "Records at Edinburgh Highland Games. Two all-comers records were broken and one equalled at the ninth Edinburgh Highland Games on Saturday at Murrayfield. The new all-comers records were achieved by K Wood (AAA) with 4 min 8.8 sec in the Mile and by Miss T Hopkins (Queen's University, Belfast) with 5′ 6" in the high jump. The equalled all-comers record was 25,1 sec for the furlong by Miss M Francis (WAAA), the British record holder for 100 yards. The Games records were, of course, broken in those events and the other Games records were achieved in the marathon, inter-city relay and the Two Miles. E Kirkup (Rotherham) won the marathon in 2 hrs 31 min 03 sec – 7 minutes better than the previous best of the late Donald Robertson four years ago. Wood had a runaway win in the Mile. He was content to lie behind the pace-maker AD Breckenridge, but entering the last lap, he never gave his rivals a chance to get on terms with him. His time was 1 second better than that of G Nielson (Denmark) at Ibrox Stadium which is awaiting approval.
Miss Hopkins was an easy winner, beating the present all-comers best in the high jump of D Walby (late of Glasgow University) by 4″. She attempted 5′ 8.5″ hopeful of beating the world record, but failed.
The best race of the say was the Two Miles in which P Driver and BT Barrett fought out a terrific last lap, the latter losing by a yard in the good time of 8:57.7. The Scottish champion I Binnie tried hard to keep up with the leaders but he evidently cannot cope with the powerful finish of English runners."
This was the unfortunately the last year that the marathon was run at the Games: it had been popular with runners and supporters alike. The comments on Ian Binnie by the anonymous reporter do not show a lot of sympathy and taken with those made the following year seem to me to indicate some slight bias against the man.
***
In 1956, the games were held in what can politely be described as poor conditions – the 'Glasgow Herald' had the headline "Conditions Overcome By Visiting Athletes" and the class of the visiting athletes was undoubtedly of the highest.with Zimny of Poland, Khaliq of Pakistan and Barthel of Luxembourg mixing it with the best of British talent. The report went on :"Despite the atrocious weather performances at the tenth Edinburgh Corporation International Athletic Meeting at Murrayfield reached a high level. For example, Abdul Khalid (Pakistan) romped home over the squelching turf for a 100 yards victory in 10.1 seconds – a time probably equal to half a second better in fairer times which confirmed his reputation of being capable of 9.6 for the distance. Perhaps the most striking performer of the meeting, however, was K Zimny of Poland aged 21 who raced in easy and comfortable style throughout the Two Miles and won as he liked in the good time of 9 min 21 sec, showing barely a trace of exhaustion at the finish. The field beaten by Zimny was impressive, despite the absence of GD Ibbotson who failed to appear with the Amateur Athletic Association team. I Binnie (Victoria Park) who reported some weeks ago that he had retired from athletics, made a surprise re-appearance. As usual he ran well enough in the early stages and then fell away but he was able to count for his club who won the team honours. AH Brown (Motherwell) the Scottish 6 Miles champion did well to finish third with outstanding Spanish, Belgian, German and Dutch runners taking part.
J Barthel (Luxemburg), the Olympic 1500m champion, measured his field for three-quarters of the distance in the Mile, made his way easily to the front over the last lap and raced home seven yards ahead of Murat (Yugoslavia). K Wood (AAA), winner of this event for the past two years, was another notable absentee from the AAA team.
A Pole Vault of 13′ 6″ by Wazny (Poland) was excellent in the pouring rain for the pole must be perfectly dry for the best two handed hold to be useful. Miss TE Hopkins (NI) was one of the outstanding women athletes with a perfect hurdle effort of 11.8 sec for 80 metres, and she went on to win the high jump with 5′ 1″ – a moderate effort for her."
The report is very interesting for a number of reasons: first it refers to the meeting as the Edinburgh Corporation International Athletic Meeting – the words Highland and Games not yet being the regular description of the event; second it points out that real international stars were prepared to come to Scotland and race on a five laps to the mile track and turn in very good times and the fact that the net was cast far and wide by the organisers is shown by the countries mentioned in this short report – Poland, Pakistan, LuxemburgSpain, Holland German and Belgium as well as England Ireland and Wales.
The picture above, kindly supplied by Graham McDonald of Pitreavie AAC, is of the finish of the 100 yards at the 1957 Games. Result (from left): Abdul Khaliq (Pakistan) 1st 9.9; Brian Shenton (GB) 4th, Gavin Carragher (Australia) 3rd, Ronnie Whitelock, Victoria Park, 2nd, 9.9, J Glen Edgar, E Roy Sandstrom. (Edgar partially hidden by George Barber of Maryhill Harriers in the kilt).
1957, 17th August was the date for the Edinburgh Highland Games and a really well supported one it was. The 'Glasgow Herald' didn't make a habit of giving the attendance but this time it did and said that the numbers were 25000. Quality athletes from all over Britain and abroad were taking part, and I'll include the results here although I won't make a habit of it for all meetings. Mike Lindsay, born in Glasgow but brought up and living outside the country, made the headline of 'Lindsay's Record' and the report read: "One Scottish Native Record and one Games record were broken at the Edinburgh Highland Games on Saturday at Murrayfield where there was an attendance of 25,000. The British Junior Shot Putt champion MJ Lindsay, who was born in Scotland, won the shot putt with a fine throw of 52′ 3.5″ and beat the previous best set three years ago by T Logan (Renfrew & Bute Police) by as much as 5′ 8.5″. This was achieved by his first putt. M Iqbal (Pakistan) was second with 43′ 11.5″ and the Scottish Champon, J Drummond, was third with 43′ 8.5″.
E Kinsella (Eire) won the 120 yards hurdles in 14.6 sec and beat his own games record set three years ago by 0.5 sec, but he only narrowly beat G Raziq (Pakistan). One of the best performances by a Scot was in the final of the special 100 yards in which the Scottish champion, R Whitelock (Victoria Park), ran very well and lost to A Khaliq (Pakistan) in 9.9 seconds, an exceptionally good time on teh difficult grass course. Three heats were necessary and Whitelock gained a fine win in the second, beating ER Sandstrom (AAA) in 10.1 seconds. The time for the other two heats was 10.2. The Victoria Park runner who did not allow the presence of the more reputable sprinters to unnerve him, is almost certain to gain a place in future British International teams.
The Scottish relay team (GE Everett, Whitelock, JG Edgar and J McIsaac) also ran very satisfactorily and were only beaten by 0.3 seconds by a strong English team (MA Farrell, A Breaker, B Shenton and FP Higgins). Miss H Bloemhof (Holland) although not yet as good as her country woman Miss F Blankers Koen, a former Olympic champion, easily won the women's sprints from Miss J Paul (AAA). Miss D Tyndal (Scotland) was third in each, beating the Scottish champions Miss ISH Bond.
Invitation Event Results
100 yards: 1. A Khaliq (Pakistan); 2. R Whitelock (Victoria Park); 3. G Carragher (Australia) 9.9 seconds
220 yards: 1. B Shenton (AAA); 2. G Carragher (Australia); 3. A Breaker (AAA) 22.6 seconds
440 yards: 1. JD Wrighton (AAA); 2. FP Higgins (AAA); 3. J McIsaac (Victoria Park) 48.6
880 yards: 1. MA Rawson (AAA); 2. JV Paterson (Edinburgh University); 3. E Buswell (AAA) 1:55.4
Mile: 1. K Wood (AAA); 2. AD Gordon (AAA); 3. M Berisford (AAA) 4:09.4
Two Miles: 1. LD Reed (AAA); 2. G Knight (AAA); 3. A Lawrence (Australia) 9:03.4
(Team Race: 1. VPAAC (I Binnie 5, J McLaren 7, J Russell 12 24 pts)
120 yards H: 1. E Kinsella (Eire); 2. G Raziq (Pakistan); 3. P Hildreth (AAA) 14.6
High Jump: 1. D Wilson (AAA); 2. D Vandyke (AAA); 3. W Piper (Glasgow Police AC) 6′
Pole Vault: 1. GM Elliott (AAA); 2. I Ward (AAA); 3. A Ditton (Pakistan) 13′ 6″
Javelin: 1. M Nawaz (Pakistan); 2. J Khan (Pakistan) 203′ 5″
Shot Putt: 1. M Lindsay (AAA); 2. M Iqbal (Pakistan); 3. J Drummond (Heriot's AC) 52′ 3.5″
Hammer, Scots 1. M Iqbal (Pakistan); 2. D Brands (RAF); 3. A Valentine (London AC) 107′ 8″
The match events tended to be mixed in with the Invitation events but where Scots were involved they have been covered in the text, including the women's events. There were also handicap events and schools relays. It was a real gala event with world stars and Euro, Empire and Olympic medallists sharing the day with the local athletes. And not a football kicked anywhere on the sward, as they liked to call it!
***
There was nothing in the magazine for 1958 but Alex Wilson in Germany was good enough to send n some information about a very interesting meeting at Murrayfield. There were lots of all-comers records on the track and in the field events as well But Mike Lindsay returned after his triumphant competition the year before and won the Shot Putt with fifty two and a half feet, not far off his Scottish record of fifty two feet three and a half inches of the previous year. The Australian Norma Thrower set a new all-comers record for the 80 yards hurdles of 11.1 and in the women's 100 yards Olympic champion Betty Cuthbert, also of Australia, equalled the all-comers record of 11.1 seconds. Mary Bignal (later Mary Rand after marrying the Olympic oarsman Sidney Rand) won the high jump with five feet four inches.
Peter Radford, third in the Olympic 100m, won the 100 yards in 9.8 seconds. The Indian star Milka Singh, the British Empire Champion and record holder won the 440 yards in 47.6 from Britain's two Johns – John Wrighton was second in 47.8 and the AAA's champion John Salisbury was third in 48.4 Britain was very strong in the 440 yards event at the time and these two were the mainstay of the relay teams with Glasgow's John McIsaac also being one of the top quarter-milers of the day. George Kerr of Jamaica set an all-comers record in the 600 yards of 69.8 seconds. Merv Lincoln, the Australian rival to Herb Elliott, trained by Franz Stampfl, Roger Bannister's old coach who had emigrated to Australia, won the Mile in 4:06.8 from Derek Ibbotson who ran 4:07.9 and Mike Berisford. The Two Miles was won by Basil Heatley in 8:52.4 from Welshman John Merriman and the Kenyan Arere Anentia. Anentia won bronze in the six miles in the Empire Games in Cardiff and Kenya was just starting to make a breakthrough in middle distances. Keith Gardner of Jamaica won the men's 120 yards hurdles in 14.1, another Scottish all-comers record. In the 1000m flat, Mike Blagrove from Ealing won in 2:10 which was an all-comers record with Scotland's Jim Boyd second in 2:10.9.
1959 was a bit quieter than most with no athletes from abroad but there were athletes of real talent from all parts of the United Kingdom and Eire with the 'Glasgow Herald' report being headed by Mike Lindsay's performance in shot and discus events. Lindsay's Native Records at Murrayfield: MR Lindsay (Anglo-Scottish AC) set up Scottish native records in the shot putt and discus at the thirteenth annual Edinburgh Highland Games at Murrayfield on Saturday and contributed to Scotland's success over Ireland by 101 points to 71 in the 16 event international. Lindsay's 55′ 2.5″ in the shot putt improved the native record by 2′ 5″ and 2′ 5.5″ better than the games record. He broke the discus record by 5′ 8″ with 160′ 11″.
The Scottish sprinters in the 100 metres failed but young MR Hildrey (Victoria Park AAC) atoned for their shortcomings in the 220 yards. John McIsaac (Victoria Park) demonstrated his return to form with a fine win in the quarter-mile in the good time of 48.6 seconds. With his colleague RL Hay taking second place, they earned 8 valuable points for the team. GE Everett (Shettleston Harriers) finished fifth in the joint match and invitation mile and was second in the match in 4 min 10.4 secs. In the match he was 0.4 sec behind J McLaughlin, an Irish miler. The Mile was won by JP Anderson (AAA) whose last lap effort was too much for Everett. GD Ibbotson was second in 4 min 8.7 seconds 0.8 secs behind the winner.
The outstanding performance of the meeting was the victory of DH Segal (AAA) in the 300 yards in 30.1 sec – one second inside the all-comers record. DH Jones and HM Yardley, both of the AAA's team, who were second and third also broke the record with times of 30.7 and 30.9 seconds."
There were many other talented athletesbut despite the best efforts of Brightwell, Rawson and Fairbrother no other records were broken.