20/7/1913 – 5/11/1992
Dad was interviewed by The People's Journal for the edition published on Saturday, October 10th 1981. The article is typed up in full; and I can sympathise now with his memory being inaccurate at times!
SPORTING HIGHLIGHTS
JAMES TOOK UP RUNNING AGAIN – AT 65
In the opinion of many folk, the top performance in the recent City of Aberdeen Milk Marathon came from 68-year-old James Youngson, who finished 201st in 3 hours 31 minutes 16 seconds. This sprightly pensioner was a keen athlete in his younger days, but returned to competitive running only three years ago. James explains, "When I was at school in the 1920s, you had to be in the first X1 or XV or you weren't very highly regarded. That was until a chap called Jock Kerr Hunter (later to become adviser to the Scottish Council for Physical Recreation) arrived at Gordon's College and he encouraged everyone to take part in some sport. In those days there were about six athletic clubs in the city and, as a member of Y.M.C.A. Harriers, I achieved some success in mile and two-mile events."At the age of 16, James became infatuated with the Cairngorms and made regular cycling trips with two friends to the mountains. When war came in 1939, James did a stint of four years overseas. "Nine months from demob (in 1945), I was asked to start a physical training session for my unit. I had to instruct everyone, including the C.O."
REDISCOVERED
Towards the end of his army service he caught typhoid fever and in later life T.B. He fought back from illness and carried on hill climbing and cycling to keep up his fitness. Then, in 1978 (actually September 1977), the council announced a 'Fit Like' campaign (part of Sport for All week?) to encourage people to exercise to improve their fitness. The scheme included walking, jogging, cycling and swimming (he only watched the latter, enviously). "After finishing second in the 'Fit Like' scheme, I rediscovered my enthusiasm for running, which I hadn't taken part in since 1945," he says. So, after six months training (no – almost two years!), and at the age of 65 (actually 66), James entered the 1978 (actually 1979) City of Aberdeen Milk Marathon.
His son Colin is the current Scottish marathon champion and has won many other events, including two Swedish marathons. Colin finished third in the 1979 event, but what of his father? "I expected to come in last and I did," laughs James, but he did complete a tiring course in four hours five minutes. Undeterred, he joined the Scottish Veteran Harriers club in Glasgow last year.
BEST
James came third in the M65 age group in the World Veterans' Marathon Championship. He was second Scot home (behind Gordon Porteous). Three men counted, and M65 was the only Scottish Veteran team to win gold medals in Glasgow 1980.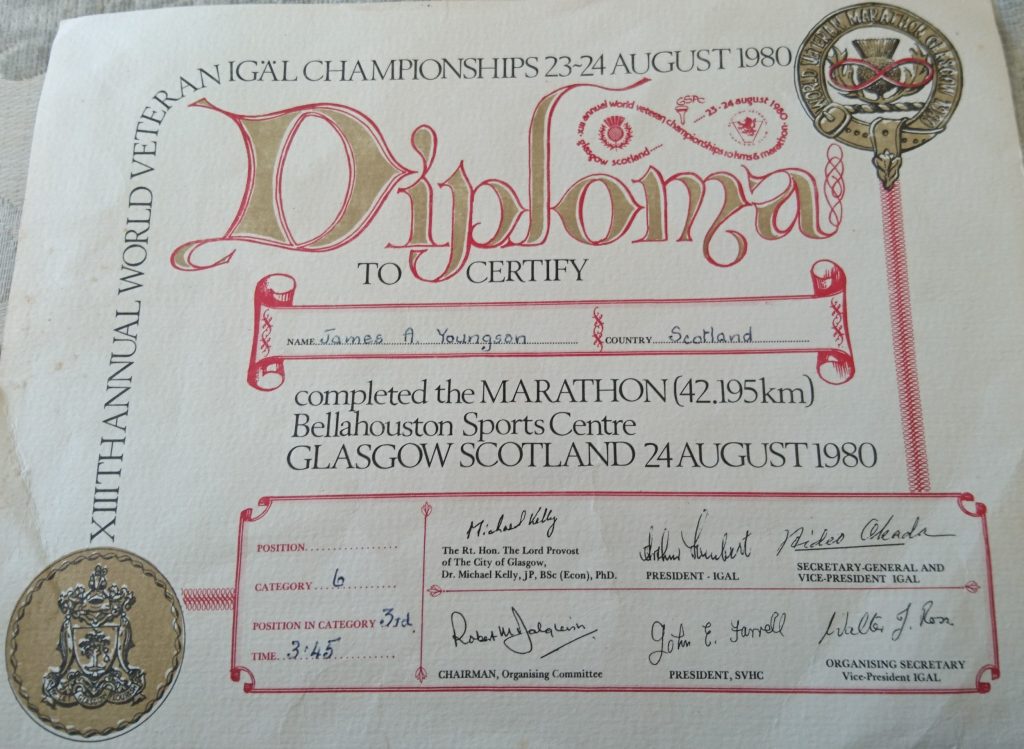 Having lowered his personal best in that event, he had high hopes entering the city marathon the following month. James won the over-60s prize, but was disappointed with his performance. This year's 201st place was achieved in an excellent time, a new personal best, but he feels capable of lowering that by eleven minutes. And what of the future? "I intend to keep on running because I enjoy it. I know of one man who is 70 and still going strong, so I feel I've got a bit to go." James feels very strongly about fitness. "Too many people come home from work and flop down in front of the television when they should be out getting fit. There are so many different ways to keep fit apart from jogging."
Dad, ever the enthusiast, kept cuttings, race numbers, a few medals (including an Aberdeen Milk Marathon one), a trophy, certificates and congratulatory notes from Mel Edwards. Fact or part-fantasy, his interviews are always interesting to read.
One newspaper photo from September 1977 captures Dad in a shoulder stand in the coal cellar, surrounded by crates of home-brew bottles. The article states as follows. "All this week a 64 year-old-man has been running the pants off 20 and 30-year-olds to become the favourite for the best competitor award in Grampian's 'Sport For All Week (eventually he finished runner-up and, on checking his diaries, this must have been the 'Fit Like' scheme). Mr James Youngson, of 49 Hamilton Place, beat a University rower, a physical training instructor and 12 other competitors to win a two-mile race, was beaten by only ten seconds in a four-mile walk and came fourth in a six-mile cycle race. Mr Youngson, the oldest competitor in last night's race along the promenade, won by fully 40 seconds in a time of 13 minutes 9 seconds. Today he was thrilled at his performance, although a little sore after it, when he told the E.E. about his secret. 'Yoga,' he said, 'Is the answer for physical fitness – for giving that bit of energy and push.' Mr Youngson admitted it was crazy at his age he should be beating people, in some cases, more than 40 years younger than himself.
But his incredible achievement is down to simple hard work – sessions of yoga, bouts of jogging and lots of walking. He has twice tried to locate the source of the River Dee by walking its entire length; and spent a week jogging in preparation for this week's events. His advice is to take some exercise every day. 'There are 24 hours in the day and no one can say there is not time. People could do a set of relaxing exercises in the evening before having a cup of tea or a pint.'"
I have a newspaper photo of Dad (in hooped shirt and normal grey trousers) and others jogging for the Evening Express cameraman in the Duthie Park. In 1978 he did jog down there and at Hazlehead on several Sundays, culminating in the sponsored 'Jog-Walk' which he took very seriously (26 laps, but felt he could do better in future). In mid-December 1978 he ran a six-mile cross-country race at Balgownie.
On Saturday 24th February 1979 he travelled with good 'young vet' Aberdeen AAC runners to the Scottish Veterans 10,000 metres cross-country championships on Irvine Moor, Ayrshire. There he finished 89th from 111 and was timed at 43.40, winning a proper Scottish Cross-Country Union plaque for second over-60, behind a great runner, John Emmet Farrell. Dad's diary comments: "Feel a bit frustrated at not being able to really challenge him." He took part in a May 1979 'National Jogging Day' five-mile run from Fetternear, Kemnay. In June, according to the E.E. "Mr James Youngson, who celebrates his 66th birthday next month, put to shame" all the hundreds of other participants in the Jog-Walk for charity in Duthie Park, since "he had to be forcibly stopped in his tracks at the end of the afternoon and finished with a grand total of 33 laps" (each of three-quarters of a mile, apparently). On the 16th September that year in the inaugural Aberdeen Marathon he was actually last (59th) equal with a young guy from California (quite a few had dropped out on a very tough course) in 4.05.39. Dad's diary thanks the American for his companionship and notes "Shattered but gradually recover." Then on 16th December he ran the Hydrasun cross-country at Balgownie, triumphantly noting on his race number '3rd last'; and that Mum sat in the restaurant until the race was over and then had to give him a lift home in the car! In his diary he notes about the race: "Heavy going but happy."
1980 events included managing 18 miles in a Hazlehead Park sponsored walk in April; and completing the 4th Annual Scolty Hill Race in Banchory. I also remember him really enjoying the Aberdeen AAC club half marathons (From and to the Bridge of Dee: out the North Deeside Road, turn left at Milltimber Brae and again at the Mill Inn, then in the South Deeside Road.) Dad said it was his favourite distance because, unlike after full marathons, he could then enjoy wolfing down a big meal! On the 24rd of August, he took part in the World Friendship Jog before running the marathon in the 13th Annual World Veteran Championship Marathon, around Bellahouston Park in Glasgow. I was a jogging supporter that day, and can assert that Dad's 3 hours 45minutes 21 seconds (for 3rd M65) was slowed somewhat by his prostate – no less than six comfort breaks! His age-group team gold (with other M65s, the great Gordon Porteous and Bert Grant) was his country's only one. The World Veterans team gold medal and (silver individual one for third place) are delightful thistle-shaped designs by Carrick Jewellery Ltd. (I was overjoyed to obtain a World Vets team gold medal as third counter for GB in the 1999 World Vets M50 Cross-Country, thus almost equalling my father, although I could only manage 7th in my race …..) Then his 'disappointing' run on 28th September 1980 in the Aberdeen Marathon produced a good time of 3.36.18.
Although 1981 saw the highlight of Dad's comeback; it was also the beginning of the end, for running at least. In March at the age of 67, he was interviewed just before the first London Marathon (the photo showed him racing along grinning). "It won't be so much a case of stamina and will to win as a triumph of mind over body." He had decided not to compete himself since it seemed too much of a commercial event. "Those watching the marathon should bear in mind that it does not really matter where you finish. The majority of the field will be setting out to prove something to themselves, and at the end of the day, life without a challenge means very little." The reporter, Russell Smith, goes on "And who better to pass judgement on the marathon than a man who has, in his time, recorded 3 hours 36 minutes despite a history of malaria, tuberculosis and – worst of all – a complete mental breakdown." (Bet Mum loved that!)
" 'Long-distance running was my salvation after that breakdown, which was caused by pressure of work. At first it seemed daft that a man in advanced years should even contemplate such an energetic pursuit. Those who witnessed my first attempts quite rightly looked on me as a silly old man.'
But having beaten the doubters and won his battle with fitness, James Youngson now has a message for those in middle age. 'You don't know what you are missing,' he says, 'Give it a try – whether it be walking, jogging or running. Exercise – to a suitable timetable – opens so many new doors. It does not need to be competitive. In my case running seemed to be a logical extension to the hill-walking I undertook as a means of beating my mental breakdown.'
Since those early days, the Youngson fitness formula has encompassed yoga, meditation and a proper diet along the road to the top as one of Scotland's leading veteran runners. Running 50 or 60 miles a week (Wow!) keeps him in trim for the next challenge, just possibly a crack at the New York Marathon, along with his son Colin."
He ran an impressive 39 laps in the Evening Express Jog Walk at the Duthie Park on 14th June 1981. The programme for the 27th September 1981 City of Aberdeen Milk Marathon includes 14 'Pen Portraits – Athletes to Watch'. Those with photographs are: Alastair Wood; Don Ritchie; Fraser Clyne; Colin Youngson; and James Youngson of Aberdeen A.A.A.C. "Now aged 68, set his best time of 3.36.18 in last year's race when winning the over 60 class. Father of Colin." Dad just loved publicity! Race day was wet and windy, and the course typically far from flat. Unfortunately I had a sore throat, a stomach bug and surprisingly enough sense to avoid taking part. Dad, however, (who may even have tried the pre-marathon carbo-loading diet) arrived at the Duthie Park finish full of life, terribly apologetic about having run right away from his 47 year-old club-mate Ian Morrison. A great performance, which is still the Aberdeen AAC M65 club marathon record in 2010. His diary comments: "Very windy but with strength from God and Lord Jesus, do 3.31. Very stiff but enjoy a meal when I get home."
However Dad had a cataract operation shortly after this, and by the time he did his best to run the 1982 Jog Walk at Linksfield, he was suffering badly from giddiness, which made further racing impossible. Probably taking part in the Scottish Amateur Athletic Association 1983 centenary year 'Round Scotland Relay' was his last hurrah, although he continued to walk as fast as he could for several years.
BUT WHAT ABOUT HIS EARLY RUNNING CAREER?
Impressed though I am by Dad's comeback running (even more impressed, now I approach my 63rd birthday myself), I was intrigued about the running he did in his youth. There were clues: his Gordonians blues blazer, tie and scarf (dated 1933-34); a personal best mile mentioned as 4 minutes 40 seconds; a North Eastern Harriers Association medal engraved on the back '3 Miles 1934-35'; a weird anonymous medal with a design, which could just be Egyptian. Then there was the battered little presentation case of six knives (Sheffield England; Stainless De Luxe) which he boasted he had won (under an assumed name, to preserve his amateur status) for winning a mile on the professional Aboyne Highland Games grass track. In the town of his childhood at Birse Cottage, and probably in front of the King. No prize his son Colin could ever win, he insisted, could ever compare with these! (In July 1989, my three boys were mildly amused onlookers when I too entered under a pseudonym ('Jim Alexander from Aboyne'!) and finished third in half-mile and mile races at the professional Taynuilt Highland Games, winning a couple of fivers and escaping detection by SAAA snoopers!)
Of course 'young Dad' must also have been 'cross-training' like crazy, as well as running, and race-walking to and from Burtons, via Jack's Brae: sea swimming on the first of January or in the salt water Beach Baths or even in Egyptian brine; cycling up to Ballater after work on Saturdays, staying at a Youth Hostel, and then taking his racing bike through the Lairig Ghru; sleeping in mountain bothies and ditches; speedy hill-walking away from Jimmy Chivas; playing football, badminton and basketball and striding out briskly in the Egyptian desert while towing dogs called Joe, Bess or Ena; and (mainly after the war, I believe) taking part in time-trial fixed-gear bike races on the South Deeside Road.
Hunter Watson, the long-time Aberdeen AAC secretary and historian, offered more information in a club magazine. Apparently, during the two World Wars, the association of local clubs was renamed the North Eastern Harriers Association (NEHA), and the 3-Miles team Road Race usually took place in December. Another regular event was the Round the Town Relay. The YM Harriers were often the best team in Aberdeen during the 1930s (others included Aberdeenshire Harriers, Aberdeen University, Shamrock Harriers and Caledonian Harriers). Prominent YM athletes at that time included the Milne twins, Alex and George, who did especially well in five and seven mile races. (Auntie Peggy Dad's older sister, married an Alexander (Alec) R. Milne, who died on 28th February 1978. He was a retired Aberdeen Savings Bank manager (Holburn Branch); and his last address was 1 Hopecroft Gardens, Bucksburn. In Aberdeenshire 'Alex' is usually pronounced Alec. Had Peggy first met him due to the fact that her brother Jim was a team-mate of Alex in the YM Harriers? Maybe I will find out Alex's date of birth via his death certificate; and then ascertain whether he had a twin brother called George!)
The club rented a wooden hut on the south bank of the River Dee, upstream from the Victoria Bridge. This hut belonged to a swimming club. Lighting was by paraffin lamp, and water had to be carried in from the outside and heated over a stove lit by the athletes. A zinc bath was used for sponging after training runs. Track training was carried out on a cinder running track in Linksfield Road. When they all went out for a cross-country or road training run, a 'Pace-maker' and a 'Whip' were appointed, to make sure that the pack stayed together, until near the end when they were free to race home. (Even when I ran for Victoria Park AAC in Glasgow in the early 1970s, a similar system operated, with a slow pack going off first, and then the fast pack to chase them round a certain traditional road route.) Then in August 1939 the YM Harriers agreed that the club should go into abeyance until the war situation became clear. War was declared on 1st September; and the club was never formally reconstituted. However some of its trophies are still competed for by Aberdeen AAC.
On the quest to find out about Dad the young athlete, I went to Aberdeen Public Library and looked up microfilm of old editions of 'The Press & Journal' and 'The Evening Express'.
He left Gordon's College at the age of 15, probably in 1928, but retained his link with the school as a Gordonian. His Blues Scarf has the dates 1933-34. Was this for summer track athletics or winter road and cross-country? On Saturday 17th June 1933, the Evening Express has a brief mention of an athletics contest between Aberdeen University and Gordonians at King's College grass track (where I also raced many times in the 1960s and 1970s). The Students won, but five Gordonians, including 'J.A.Youngson' are reported to have done well! The reporter was 'confident that, with a bit more training, Gordonians will give their rivals a better tussle'. Dad may also have competed for Gordonians at King's in a five-team athletics match on 5th August 1933. 'Varsity' won; with Shire Harriers second; Gordonians third; in front of Dundee Hawkhill Harriers (!) and Aberdeen YMCA. By the way, until the 1970s it was traditional to refer to athletes by their initials in sports reports. Hence J.A. Youngson. I remember Mum saying that some of Dad's pre-war friends used to call him JAY rather than James or Jim!
(In his diary on March 4th 1978, Dad mentions going down to King's College and jogging round the field "which takes me back some 40 years. Very enjoyable. Manage 9 laps plus and ease-off lap. Home to a large meal.")
So how about the 1933-34 Winter Season? Well although Gordonians had a pretty good athletics team, it seems that they could not field a squad to take part in cross-country events. This would explain why there is no mention of Dad taking part in the NEHA fixtures that season. It also explains why he later changed clubs, joining Aberdeen YMCA Harriers in early Winter 1934. On December 14th 1933, the EE published a timewarp photo of three 'Trail-layers', each with a satchel under his left arm, dropping a trail of shredded paper for a NEHA cross-country course. I knew of this system, but it had stopped by the mid-sixties, when I first ran cross-country. Did all the runners get lost if it was windy?
However Dad definitely ran well for Gordonians in Summer 1934. I remember that he said he used to train sparingly, since athletes at the time were afraid of becoming 'stale'. A 1933 EE article on diet emphasises that 'over-feeding and rushing of meals will bring on staleness quicker than anything else'. Oatmeal porridge is recommended, as well as fish, milk, eggs, roly-poly pudding. Vegetables are deemed necessary at dinner, but only a few potatoes. In the morning, the kidneys will be cleared if one drinks a glass of water. Cakes and sweetmeats are regarded with suspicion. An occasional dose of treacle is considered a good laxative. Simple foods and not overloading the stomach should pave the way for future success!
On the Wednesday the 4th of July 1934, the EE reports that there was an athletic meeting at Seafield (Gordon's College's old sports grounds, where in 1965 I finished a very long way ahead in the one mile race on a grass track during the local derby Aberdeen Grammar School versus GC match.) Dad however, representing Gordonians, finished half a yard down on Alex Milne of the YMCA, who won in 4 minutes 50 and four-fifth seconds, with George Milne third. Maybe they talked Dad into changing clubs that autumn! Dad is also named in the winning medley relay team (probably running 880 yards) when Gordonians beat Aberdeen YMCA Harriers. This was also the overall result in the match. Very probably it was Dad's form this summer which won him his Gordonian Blue, and enabled him to buy his scarf and the blazer which he wore so proudly.
On Friday 27th July 1934 there was a match at Hazlehead: AU Hares and Hounds vs YMCA vs Gordonians. On this occasion, Dad finished third in the two miles race, behind one Varsity runner and one Shire man. There was a team race, so he certainly would not have been last! The winning time was 10 minutes 19 seconds. Gordonians had one extremely good sprinter and some field athletes, but Dad seems to have been their best distance man. Incongruously, right next to the P&J athletics report is a very large advert for cigarettes with the slogan 'Have a Capstan!'
On the 4th of August 1934, adjacent to a list of results from the Empire Games is an equally detailed list of results from the Pittodrie Sports! Dad finished third in the one mile behind a couple of successful local runners: C. McPherson and A. Watt (both Shire). It must have been a thrill to race against the best local men (and some from Dundee) in front of a crowd of 5000 on the Dons' hallowed ground.
It was announced in the EE in late October 1934 that "The Aberdeen Y.M.C.A. Harriers have now everything in apple pie order for the coming season. Although the active membership is 21, there are still a few vacancies for lads who wish to take up the harrier game." Who could resist the call? Not Dad!
Then, Eureka! A report of the race in which Dad won his NEHA medal! The P & J on Monday 19th November, 1934, described a race which happened on Saturday 17th. Below is a summary.
"DOUBLE HONOURS FOR Y.M.C.A.
In the North Eastern Harriers Junior 3 miles 6-man team championship, held at the Links, Aberdeen Y.M.C.A. Harriers achieved individual and team victories." There follows an account of the first two miles, led by various nonentities. Then! "In the last mile, the favourite, James A.Youngson, went to the front but could not shake off the Milne twins, who were running in a loose and easy style. These three club-mates had a desperate fight, until the final sprint. Alex Milne won by inches from James A. Youngson, with George Milne a yard behind.
1 Alex Milne YM 16.45 and one fifth of a second; 2 James A. Youngson YM; 3 George Milne YM.
Team placing: 1 YMCA (1, 2, 3, 7, 10, 11 = 34 points'; 2 Aberdeenshire Harriers; 3 Aberdeen University"
(Outsprinted in a close race! This explains my genetic inability to win in a sprint, then.)
The EE on the following Saturday 24th November 1934 comments further, in a weekly column by "Roadside" who deals with cycling, running, race walking and track athletics.
"PROMISING 'Y.M.' RUNNERS
Last Saturday's three-mile junior team race at the Links resulted in another YMCA triumph. Alex Milne, James A. Youngson, and George Milne filled the first three places and the club also won the team event by a comfortable margin.
The 'Y.M.' also had the first three men in the two-mile novice championships at Pittodrie Park in October. This would seem to indicate that they have, at present, the best set of youngsters in the city.
To get back to the three-mile junior race. The event was held under ideal conditions and, although the time does not stand comparison with former years, it must be kept in mind that formerly the course was shorter. The lap has now been carefully measured, and it is 854 yards which gives a course of six laps plus 156 yards. The previous course never exceeded 5 and three-quarters laps. The running of the race on the left-hand turn, and the shifting of the finishing line was, I think, quite a successful innovation.
Next step was to try to find an account of the novice two-mile race, round the cinder track the outside of the football pitch before the Dons home match versus St Mirren on October 13th, 1934. If Dad had ended up favourite for the three-mile event, surely he must have won the earlier race? But no, he didn't even run, although the Milne twins did, so Dad must have won a novice race previously, just possibly while representing Gordonians during 1933-34, and subsequently had been upgraded to 'junior' athlete status. A 'novice' before the war was someone who had never won a race in open competition.
On Saturday 24th November 1934, there was a 20-mile relay race from Invercannie Waterworks near Banchory (starting on the 20th milestone on the N. Deeside Road) to Aberdeen. Although the Milne twins ran for the YM Harriers, who finished second, Dad was not named in their team that year.
In December 1934, Dad was mentioned in the EE as liable to figure prominently in the forthcoming YMCA Harriers 5 mile club championship over the Torry course. This was "likely to result in a duel between James Youngson, James Thow and the twin brothers – Alex and George Milne". The route was from the foot of Menzies Road, past Craiginches to the top of Nigg Brae, where the runners took the turning that led to Bridge of Dee, before crossing the bridge and racing down Riverside Road, to finish near Victoria Bridge. However Dad did not take part. Arthur Lobban won, followed by Alex and George. In Dad's 1981 interview he said that he had some success before the war in local one mile and two mile events. In addition, he definitely ran well over three miles; but perhaps five miles was too far, considering how little he trained. Maybe, by contrast, the Milnes gained superior stamina because they banged in the miles by training together all the time – tantamount to cheating!
There is no mention of Dad in early1935, until the last race of the season, on Saturday 16th February 1935. The EE article states the following.
HARRIERS RACE FOR CALEDONIAN CUP
Six Teams to Compete in Stiff Test
The fifth annual three-mile race for the Caledonian Cup, on road, country and then road, will be held under the auspices of the North Eastern Harriers Association, today at 3 p.m. It is the N.E.H.A. 3 Miles Junior Cross-Country Championships.
The competition is open to all amateur clubs within the area. Teams are of twelve runners each, of whom the first six men home count for places.
Teams are forward from 'Varsity, Shire, Aberdeen YMCA, Gordon Highlanders (2 teams) and Elgin YMCA Harriers.
The course is from South Esplanade West (in Torry), past Craiginches to Harpers' Works, striking off to the left to take the fields over to the road leading under the railway. Runners then take the country again to come on to the road at the railway cabin, and thence back to the finishing point in South Esplanade West again.
Stripping accommodation is at the Dee Swimming Clubhouse, near Victoria Bridge, but 'Varsity and 'Shire will strip in the 'Shire hut at Suspension Bridge.
Trail layers are asked to report at Dee Hut, at 2.15 p.m."
There follows a full list of entrants, oddly not including Lobban and the Milnes.
Next Monday's P&J has the results!
Y.M.C.A. Man First Home in Harriers' Event
"Varsity won the N.E. Harriers' Association three-mile junior team championship which was decided over a course at Torry on Saturday afternoon.
A field of sixty runners took part. From the start, A.R. Hewitt and N.R. McLean ('Varsity) forced a stiff pace, with J.A. Youngson (YMCA) five yards in the rear. Taking the country, McLean went to the front, with Hewitt and Youngson at his heels.
Midway over the country the three leaders were having a tousy duel, the Elgin team being well bunched together for the team award. Coming on to the road again, McLean was clinging to three-yard lead, from Youngson and Hewitt, with H. McDougall ('Varsity), J. Riddell (Elgin) and W. Grant ('Shire) ten yards behind.
In the last 200 yards Youngson came away with a terrific burst of speed to pass McLean and carry on to win his first individual honour by twenty yards in the good time of 16 minutes 35 and a fifth seconds.
An exciting duel took place between McLean and Grant for second place, the former just getting the verdict by inches at the tape."
Well! Where did that sprinting power come from? Perhaps this was Dad's greatest-ever victory. Presumably, having won a 'junior' race, he would now be classed as a senior athlete!
The following Saturday's EE 'Roadside' column emphasises how well Elgin YM had done, to come second to Varsity in the team race. Then he writes "The individual winner was J.A. Youngson of Aberdeen Y.M.C.A., who returned the second-fastest time for a winner of this race. The cup and individual medals were presented to the successful competitors by Mr Alexander Silver."
Evidence of Elgin YMCA Harriers Club's rise to prominence came in their promotion of an amateur athletics meeting on Wednesday 19th June 1935. This was the first meeting held since the inauguration of the club, and took place at Boroughbriggs Park, Elgin (where I raced a North District cross-country league race at the age of 62 in 2010!) In the previous Saturday's EE, 'Roadside' mentioned that "The 'stars' to appear in the one and two miles handicap races are W Fraser (AU), L Davidson ('Shire) and J.A. Youngson (Y.M.C.A.)." Then the P&J on Thursday 20th reported that the Two miles race (handicap) was won by local runner J. Riddell in 9 mins 41 and three-fifths seconds, from J.A. Youngson (Aberdeen YM) and A. Murray (Elgin).
In November 1935, Dad was selected to compete in a legendary Aberdeen team race.. Alex Wilson, supplied me with the following report in 'The Scotsman':
"ROUND THE TOWN RELAY RACE AT ABERDEEN
The North-Eastern Harriers' Association held their 20-mile Round-The-Town Relay race at Aberdeen on Saturday 30th November 1935. Five teams of six-a-side participated in the event, which was won by Aberdeenshire in the excellent time of 1 hour 44 mins 17 secs.
Lobban (University 'A') led J. Youngson (Y.M.C.A.) by ten yards at the first lap, covering the distance in 12 mins, 12 secs. In the second lap, D. Annand (University) and A. Milne (Y.M.C.A.) ran abreast until 100 yards from the finish, when Annand pulled away to lead by 10 yards at the take-over. In the third lap, G. Milne (Y.M.C.A.) finished 100 yards ahead of L. Murray (Aberdeenshire) , and in the fourth, fifth, and final stages C. McPherson, W. Grant and F. Yeoman, of the Aberdeenshire team, secured the lead respectively. Results were:
1 Aberdeenshire Harriers; 2 'Y.M.C.A.'; 3 University 'A'; 4 University 'B'; 5 Caledonian Harriers."
Hunter Watson supplied more information. The YM Harriers had not long been formed (possibly in 1933); and Dad would have worn a royal blue vest with a red and yellow triangular badge.
The P&J listed all the numbers of all the competitors in the five participating teams; and stated that the Shire Harriers had a winning margin over Dad's team of only a hundred yards, with the University a further 400 yards behind. In addition there is a blurred picture of the five first lap runners, who were (left to right): "A.J. Youngson (initials wrong way round) (Y.M.C.A.); E. Wood (Caledonian); A. Lobban (Varsity A; A. Hewet (Varsity B); and A. Watt (Shire)". Dad is indeed wearing a dark vest with triangular badge and white shorts and white shoes, and looks very young (22), with short dark hair and skinny legs. What a pity the microfilm spoiled the clarity of the photo.
The man who outsprinted Dad – 'G. Lobban' of the University, does not exist in the programme. This refers to A.W.C. Lobban, who was listed as Varsity B but must have run for the A team. There is also an A. Lobban (Arthur, later the club secretary) in the YMCA team. I assume these were two different athletes (both good runners).
1935 was the very first 'Round-The-Town Relay Race'. Six stages made up a total of around 19 miles. The First lap (2 and a half miles) started at the end of University Road, and went along King Street, up School Road and St Machar Drive to Great Northern Road and along to the end of Anderson Drive to the first take-over. (Dad must have been okay on uphills.) His 1935 time for the First lap was faster than the stage winners in 1936, 1937 and 1938. YMCA won the last two events. The Relay will have stopped after that, due to the start of the Second World War.)
Second lap (4 miles) – over Anderson Drive to the Bridge of Dee. Third lap (3 and a half miles) – Over Bridge of Dee and Abbotswell Road to Balnagask Road, out to the terminus at the end of Victoria Road, and in to the end of Menzies Road. Fourth lap (5 miles) – Out Menzies Road to Kirk o' Nigg, down Abbotswell Road and over Bridge of Dee to Victoria Bridge. Fifth lap (1 and three-quarters miles) – Along the Quay to the end of Market Street and down to the end of Church Street, thence to the Promenade and to 'the Dance Hall'. Sixth lap (2 and three-quarters miles) – Along the Promenade to the Bridge of Don and in King Street to the end of University Road, where the race finished.
And that is almost the last mention of Dad's early running I have found. Certainly he did not run longer cross-country fixtures (over five or seven miles) in January and February 1936; and did not defend his Caledonian Cup title, probably because, having won a 'Junior' event, he was no longer eligible. Furthermore, there is no mention of J.A.Y. in the summer 1936 Amateur track season. Was that when he was running under a pseudonym in Professional Highland Games like Aboyne, Ballater and Aboyne – when the famous steak knives (which I keep now) were won? If only I had asked what name he ran under!
However, one more newspaper cutting (from the Dundee Evening Telegraph) has been found. On 23rd July 1936, Dad came third in a handicap 2 Miles in the Arbroath FC Supporters Club Sports, at Gayfield, Arbroath. There was a crowd of 5000. The winner was A. Hay (Dundee Thistle – off 120 yards) in 9 minutes 34 and a fifth of a second. In second place was John Suttie Smith (Dundee Hawkhill – off 80 yards) and third J. A. Youngson (Aberdeen YMCA). Hay was a very good runner who competed for Garscube Harriers (a Glasgow club) during WW2. Suttie Smith had been an outstanding Scottish Cross-Country International; and Scottish Champion five years in succession between 1928 (when he was a brilliant second in the International XC at Ayr Racecourse) and 1932. For Dad to race against such a legend must have been thrilling. In fact, I do remember him mentioning Suttie Smith – although at the time his name meant nothing to me. Yet JSS, for the last time (from 10 consecutive appearances) had run for Scotland in the 1936 International XC at Blackpool – so he must still have been a very fit Senior athlete when he overtook Dad!
Dad was a man who took up new hobbies with great enthusiasm; and many of these did not last long. Perhaps he felt he had run as well as he could over one to three miles and did not want to devote more time to training. Perhaps he was sick of being outgunned by the Milne twins, who continued to do well right up to World War Two. Maybe Dad was working long hours and preferred to use his leisure time for cycling or walking. In any case, this 'restless character' was in no danger of getting fat or unfit!
I have Dad's diary for 1944, at the age of 30, when he was stationed in North Africa not far from Cairo and when his handwriting was less illegible. He was playing quite a bit of football; and then on 23rd April, there is the following entry: "Did my first training run round the perimeter wire. I felt fine." Next day: "Another training spell. My legs felt quite stiff so must carry on every day until they are looser." He runs every day; it takes about 8 minutes for each circuit. 28th April: "I don't feel so good, have strained the old chest muscles over my heart." He rests and then on the 1st of May: "Hurrah! Got up feeling much better but pain still there so no training now. I am sorry, but I will go too hard at it in training." On the 3rd: I have gone to the sick officer to find my pain is simply muscles and my heart is fine."
On the 5th of May: "Am longing to start training again but pain is still there." Three days later: "Started training again doing exercises and four times round the square. Pain over heart not as bad now." 9th May: "Do some light exercises. Will I be fit for Sports Day, I wonder." Next day: "Exercises and a few laps. Doug Stone and Derek Payne came training with me which was a nice change." By the 20th: "More training with short bursts of speed and finished with a quarter mile and beat Derek easily but felt very tired afterwards." Two days later: "Tired after hard swim in salt water and felt stiff. Doesn't agree with running."
On the 24th of May: "Felt low all day. Did four laps. Thoroughly enjoyed it." (I think that says a lot for the therapeutic effect of exercise on Dad's mood; and that was almost thirty years before he added constant prayer to his regime.) The day after: "Race day but left it alone. One of the boys is supposed to have done the mile in 5 mins. Very good going. I doubt if I could beat 5.30. However enjoyed the training." (Note the characteristic Youngson lack of confidence before races.) 26th of May: "This is my last day of training. Did a fast half mile with Derek Payne. Felt fine and looking forward to Sports Day. This sort of life suits me. I don't have much time to think." Then after two days rest, on the 29th of May: "Well, the Sports Day. As usual was very nervous. 2nd in half mile to Jock David, in 2.12 and two-fifths secs; 2nd in the mile in 5mins 2 and a half secs. So what, I lost to better men but I'm not so young as I was (i.e. not quite 31). Very, very tired. Bed is the best place and the best friend." Thereafter he gave up running and took up regular badminton! He also enjoyed reading 'Cycling' magazine. That September he was sent to hospital by the R.A.F. unit psychiatrist because of serious stress at work (no mention of malaria, but he may have suffered that as well during this period). Two months later he felt fit, but with weak legs; and by the end of 1944 he was sailing past Gibraltar en route for Britain at long last. He may have competed again in 1945; or he may have waited until 1977 to start running once more!
After marrying Flora in 1945 (from his diaries it is clear how happy they were with each other) he seems to have restricted his exercise routine to cycling to and from work. However by 1948, apart from hurling me about in the infamous bicycle side-car (sometimes to watch the Sunday morning finish of 25 or 50 mile cycle races, while Mum went to church), he had a number of weekend and holiday bike rides down to Mum's relatives in Dunblane and district; up Deeside or through Banff and Buchan and over the Highlands. Then in 1949, having built a new bike (a Raleigh Record Ace) he got me a special seat and put in a lot of road miles. On one holiday in July 1949 he went off on his own to Lochinver and on 24th July stayed at Achmelvich Hostel (on the hilly route I did with Innis this summer). Mum did a little bit of cycling too!
For 1950 he kept a cycling mileage total: 2790 and a half! The most serious holiday trip in July took him to Fraserburgh; then Inverness, Ullapool, Achmelvich. Lairg, Tongue, Castletown, John o'Groats, Wick, Carbisdale Castle Hostel, Bonar Bridge, Strathpeffer, Inverness, Aviemore, Braemar, and home. Although he did use one local train and one bus, he cycled 441 miles in a week, with two days over 100 miles!
Dad's Youth Hostel card makes fascinating reading. Between 1951 and 1954, as well as 'local' stays at Feughside, Ballater and Braemar, he stayed at places as various as Crianlarich, Penrith, Truro, Land's End, and Dublin.
One of Dad's two major foreign trips was either in 1952 or 1956 (unfortunately I do not have those diaries) when he spent a hectic fortnight probably touring Germany and what used to be called the Benelux countries – I have his battered map but no indication about the route, which would have been supplied by the Cyclist's Touring Club (CTC). Certainly in July 1954, when he was newly 41 years old, his hostel card and map both indicate a vast tour of Scandinavia. He must have gone south by train before taking a boat from Newcastle to Esbjerg in Denmark. Then he cycled east to Kolding, Odense and Copenhagen before boarding the little ferry from Helsinborg (Elsinore) across to Sweden. He stayed at Orkellunga Youth Hostel and then turned north to Jonkoping and Karlskoga (quite close to Orebro, where Stella and I worked in 1973). After that, it was west to Karlstadt, into Norway and probably on to Oslo. Then he stayed in Eidfjord and Bergen, where he boarded the boat back to Newcastle. I can only speculate on the enormous number of kilometres covered! As late as 1959, as well as leaving me puffing behind on Mum's lady's black bike en route to Feughside (19 miles) or Auchmithie (Arbroath – 53 miles!), he was off touring Wales. Later destinations included Broadmeadows in the Borders, Winchester, Cumbria and Once Brewed (a hamlet on Hadrian's Wall).
Tell me, do YOU ever take any exercise?!