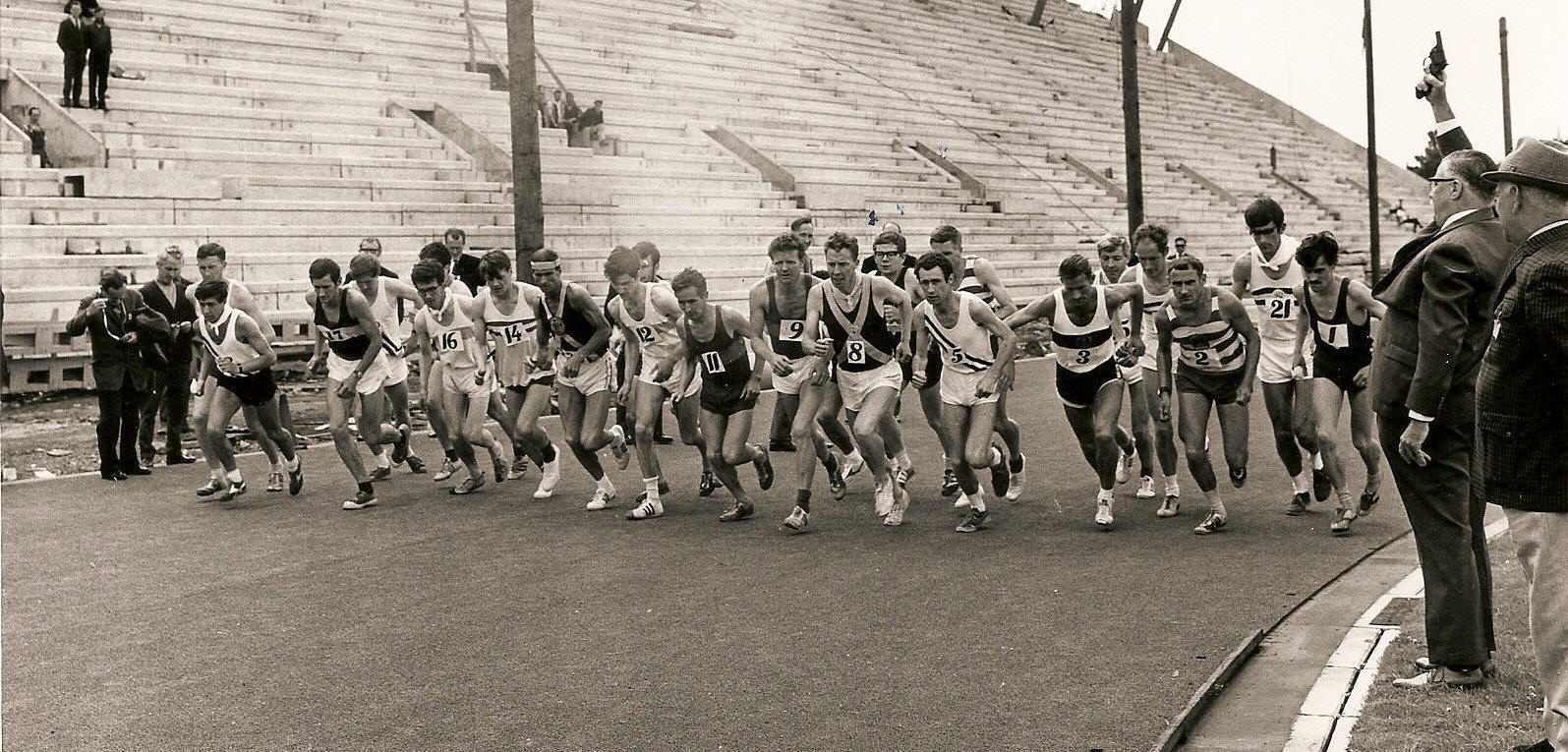 The Scottish Marathon Championship was first run in 1946 and in the almost 75 years since then it has seen small fields, large fields, it has been contested by runners of all sizes and had its share of incidents many of which were dramatic, some of which were funny but the event has never been colourless. Scotsmen were running, racing and winning British and Commonwealth Games marathons for two decades before the first national championship was held. The champions and championships receive coverage and homage elsewhere on the website: this page notes some of the lesser known facts and points out some of the personages who have taken part
There were marathons run in Scotland for the first part of the 20th century but the distances were often of various distance with the word marathon meaning simply a long road race.
The proper marathon distance was covered at Powderhall in 1909 after the London Olympics of 1908
Before the Second World War there were no Scottish marathon championships but the AAA's Championships were held from 1925 when Dunky Wright was third and second in 1928. The 1930's were the best decade for Scots in terms of success at British level. Dunky Wright won in 1930 and 1931 and his Maryhill Harriers team mate Donald McNab Robertson won in 1932, '33, '34, 36, '37 and '39. Wright also had a second place in 1932 and Robertson was second in '46 and third in '47. They won 8 out of 10 AAA's championships between 1930 and 1939.
In the period from 1925 to 2019 McNab Robertson won the British event more than any other runner and Wright was the fourth most prolific winner.
Scottish winners since McNab Robertson in'39 were Jim Alder in 1967, Allister Hutton in 1990, Andrew Lemoncello in 2010, Derek Hawkins in 2013 and Calum Hawkins in 2016.
Scots filled the first three places in the AAA's in 1967 – Alder (2:16:08), A Wood (2:16:21 and D Macgregor (2:17:19), and again in 2016 – C Hawkins (2:10:52), T Tewelde (2:12:23) and D Hawkins (2:12:51).
The most prolific winner of the SAAA Championship was Alastair Wood

(Aberdeen AAC) with 6 wins between 1962 and 1972, followed by

Fraser Clyne

(Aberdeen) with 5 victories between 1992 and 1997.

The Aberdeen record in the event has been remarkable with Wood and Clyne followed by Colin Youngson with 3, and Peter Wilson, Graham Laing and George Reynolds all with a victory apiece. Club total: 17 gold medals.
Colin Youngson won 10 medals in 13 starts in the event between 1972 and 1985 – 3 gold, 3 silver and 4 bronze and Don Macgregor won 3 golds and 6 silvers over 21 years between 1965 and 1986. Don Ritchie (Aberdeen AAC/Forres Harriers) also won Scottish Marathon silver medals 21 years apart: between 1967 and 1988.
Next best club performance was that of Shettleston for whom Joe McGhee ( won 3 golds in a row between 1954 and 1956); and Hugo Fox (2), Harry Howard (1), Brian Carty, John Duffy and Brian Scally all won once. Club total: 9 titles.
Two runners have won three-in-a-row. Joe McGhee in 1954, 55 and 56 and Fraser Clyne who performed the feat in 1992, 93 and 94 and then 'did the double' in 1996 and 97.
Only one club has produced the first three in the race in the same year. Maryhill Harriers had McNab Robertson first, Dunky Wright second and Andy Burnside third in 1946.
First runner inside 2:30 was Joe McGhee in 2:25:50 in 1955. First inside 2:20 was Jim Alder in 1970 in 2:17:11 and the only runner inside 2:15 was the Mexican Espinosa in 1999 in 2:14:31.
Although it was the official Scottish Scottish championship, it has often been won by 'foreigners' : in 1989 Ian Bloomfield from England won from Terry Mitchell (Fife) who himself won in 1987 and 1991..
The first three all came from outwith Scotland twice: in 1990, Chris Tall won from Stan Markley and Brian McEvoy and in 1999 the first three came from outwith Britain: Mexico (Espinosa), Poland (Mokaya) and Kenya (Chelanga).
The most unlucky (?) runner to run in the SAAA Championship was probably Tommy Rewcastle of Plebeian Harriers on 25th June, 1956. The standard award was for all runners inside 3 hours for the distance that year. 15 men had been inside the time and won the award when Tommy came into the stadium and as he approached the tape, the standard gun, which indicated that time limit for standards had been reached, was fired almost in his face as he crossed the line in 3:00:01 He was denied the standard for the sake of one single second after running for three hours. The feeling among runners on the day was that it was a deliberate attempt to deny him the award because so many had been inside the three hour limit. Incidentally among those unplaced ahead of him were Eddie Campbell of Fort William St Mary's AC, Harry Haughie and Adam Reid of Springburn, David Anderson of Greenock Wellpark and David Bowman of Clydesdale Harriers.
For a race that lasts for at least two hours there have been some very dramatic finishes. In 1958 Hugo Fox of Shettleston arrived at Meadowbank to find that the groundsman had not yet opened the entrance. Didn't faze Hugo though – he climbed the gates, which had spikes on top, and won the race in 2:31:22.
One of the closest finishes ever anywhere was at the AAA's championships in 1932 when Dunky Wright led Donald McNab Robertson on to the track at the White City and after a torrid battle between the two Maryhill Harriers, Robertson won by 1.4 seconds.
Another close finish was in the 1966 British Empire Games when Jim Alder, who had been leading by 15 seconds in the approach to the stadium, was misdirected and the lead went to Bill Adcocks of England. Redirected by Dunky Wright, Jim chased and caught Adcocks on the track to win comfortably in 2:22:07.
And although they were not Scottish, remember these finishes? Dorando Pietri? The original – Pheidippides? Remember Joe McGhee defeating Jim Peters in Canada? which brings us to
The Scots runners who have won the British Empire and Commonwealth Games three times. The first games were held in Canada in 1930 and Dunky Wright won that race, Joe McGhee in 1954 and Jim Alder in 1966. There were also two Scots who won medals in the marathon in major Games for other countries – Mike Ryan in Mexico Olympics and Paul Bannon for Canada. Click on their name for the story. Alex Breckenridge formerly of VPAAC, ran for the USA in the Olympics as did Jimmy Duffy for Canada in the 1912 Olympic Marathon.
There have been many families where two members have run good times for the distance. Just a few: Father and Son: Allan Adams snr (2:23:03) and Allan jnr (2:22:12); Bill Scally (2:24:05) and Brian (2:27:32); Father and Daughter: Alan Partridge (2:22:30) and Susan (2:30:46); Mother and Daughter: Deborah Macdonald and her daughter Katie Husband and Wife/Partner: Allan Adams (2:22:12) and Lynne (2:36:19; Brother and Sister: Doug Gunstone (2:19:07) and Penny Rother (2:53:00); Brothers: Callum Hawkins (2:08:14) and Derek (2:12:49) so far in their marathon running careers; Stuart Easton (2:23:33) and Derek (2:26:53); Jim Spence (2:39:42) and Lawrie (2:16:01). Sisters: Karen Macleod (2:33) and her sister Deborah MacDonald (3:20). Cousins Charlie Haskett (2:18:29) and Gordy (2:23:57).
Not content with mother/daughter marathons one mother and daughter combination (both Garscube Harriers) has enjoyed considerable success in events including an ultra. Anne White has twice won the W65 category of the prestigious annual British and Irish International Masters Cross-Country, as well as leading her Scottish Masters W65 team to victory. In addition, Anne has completed the Manchester Marathon and is particularly pleased to have finished first W60 in the 2017 Kintyre Way Ultra-Marathon. Her daughter Katie won the W35 category of the 2017 British and Irish Masters XC; and, also in 2017 set a marathon personal best of 2.40.31 in Frankfurt. Then, on the sixth of October 2019, she finished First Woman in the Loch Ness Marathon, recording 2.42.03. Both mother and daughter won Half-Marathon silver medals in the 2018 World Masters Championships in Malaga, Spain
The numbers in the early days were low but the numbers in the 1970's and 80's were huge with tens of thousands of Scots running marathons the length and breadth of Scotland in times ranging from under 2:15 to outside 6 hours. There were also huge numbers of runners inside 2:30, 2:40 and 2:50 with many women running times that a decade or so earlier were beyond all but the fastest men.
A Scottish marathon runner set a British record time for the marathon but was not credited with a Scottish best time. The man in question is Alastair Wood who set a British and European best marathon tine in 1966 of 2:13:45 on the Forres course. The time was however not ratified by the SAAA although it was ratified by the GB Board and by the internationally recognised ARRS website. Read about it here.
Many of the runners raised money for charity and one of the most prolific was Gus Campbell of Clydesdale Harriers who raised tens of thousands of pound for charity. There are many stories about Gus but one of the best which shows the spirit of the time was this one. Running in the Glasgow Marathon he would push a pram and encourage spectators to throw money in to it. It was also where he kept his rolls, sandwiches and drinks. The night before the race he told his workmates that if any of them gave him money on his way round he'd give them a drink of champagne. On the day he was making his way sedately round Bellahouston Park pushing his pram when he met a young lady walking along and crying. He asked what was wrong and she said that she had promises of money but she would never make it to the finish. She was so disappointed. Gus told her that she was like him, just aiming to get to the finish, if she came with him she'd make it. She agreed and he asked if she'd like something to eat. He then asked her what she would like on her roll – cheese or ham? And of course it was washed down with champagne. They made their way to Glasgow Green where her husband was patiently waiting for her. She'd done it! Gus was introduced to her husband as the man who gave her a roll in Bellahouston Park.
Tommy the Clown from Inverclyde ran many road races including marathons dressed up as a clown and carrying a bucket for spectators to make their donation. And these two men were not alone in using the distance to raise money.
Now, in the 21st century, marathons are being organised which would have been unrecognisable as such just a few years ago. For instance the RunMhor marathon from Callander to Balquhidder is run mainly on the road but also incorporates some trail running but the finish is what really makes it different: the runners come over a couple of paths through fields and down to a river which is usually 30+ metres wide. There they have to get into a boat to be transported across before running the last half mile to the finish. At the finish they receive a voucher for a free pint of beer. When they get into the boat they are offered a glass of Pimm's. During the race the seven feeding stations offer peanuts and raisins as well as the usual drinks. The boat has on occasions been held back a minute so that someone else can get in. To be fair, it is described as a Fitness Event and not a race.
During the period of the 'running boom' there were marathons held all over Scotland. In the big cities of Glasgow, Aberdeen, Dundee and Edinburgh there were marathons, in other towns such as Motherwell and Forres, in areas such as Inverclyde, the Black Isle, Loch Rannock, Lochaber, Caithness, Benbecula, Galloway, Shettleston and Dumfries. In one year there were no fewer than 14 marathons held in Scotland from the Borders to Caithness, from Benbecula to the Black Isle.

The Glasgow Marathon was the biggest and the biggest number to enter the Glasgow Marathon was for the race on 22nd September, 1985 – 11,492. It was won by David Lowes in 2:15:31 with first Scot being Mike Carroll in 2:18:24. First woman was Angie Pain in 2:37:06 while Sandra Branney was first Scotswoman in 2:45:06. There were 55 runners inside 2:30 and 877 inside 3 hours.

It was also a time when Scottish marathon runners of all standards travelled to Europe, the USA and even further afield to race. Note the following venues visited by some of the top men: Jim Dingwall ran in Enschede, Edmonton, Boston, Bermuda (twice), Israel, China, Spain, Hong Kong, New York and all over the British Isles. Dave Clark: Finland, New York, Essonne, Boston (twice), Tullamore, Chemnitz, Berlin (twice), St Hilaire de Riez (France), Rome, Beijing, Marseilles, Barcelona, Geneva, Montreal, New York, Florence, Rio de Janiero, Tel Aviv and Honolulu as well as all over the British Isles. Note that these were in addition to running in many domestic races. The full list for all the Scos can be seen at http://www.scottishdistancerunninghistory.scot/career-lists-for-some-scottish-marathoners/ . The list includes such as Don Macgregor, Jim Alder, Fergus Murray, Colin Youngson, Fraser Clyne, Andy Daly, Lindsay Robertson, Allister Hutton and others.