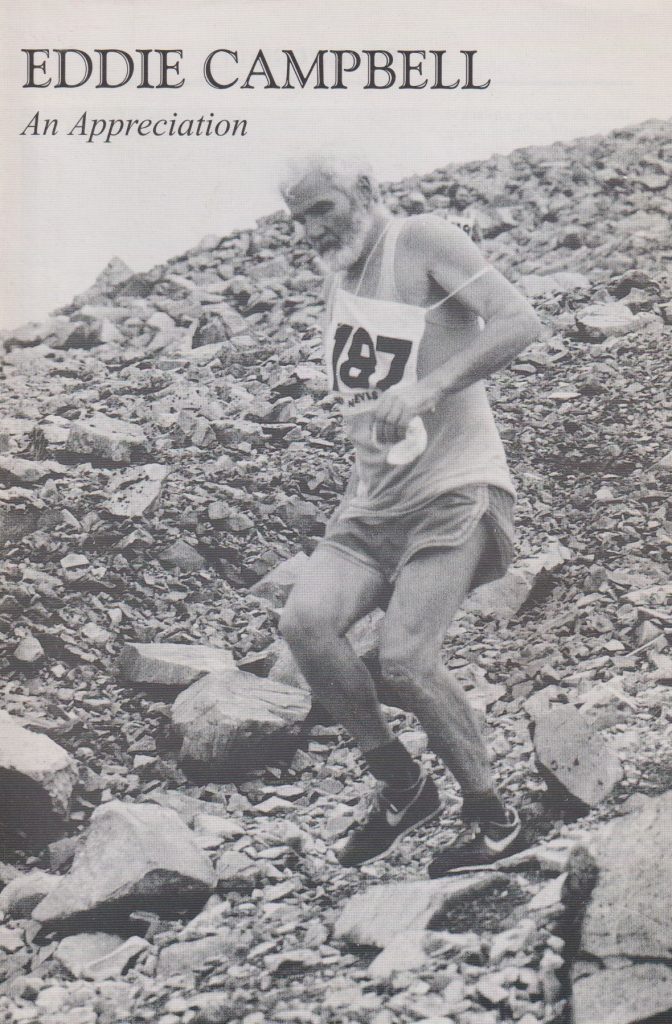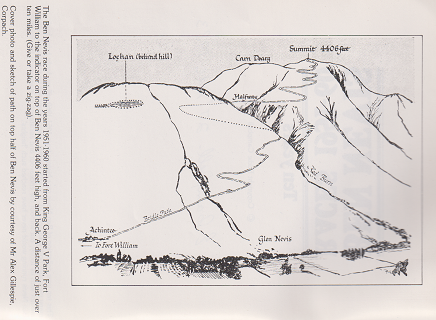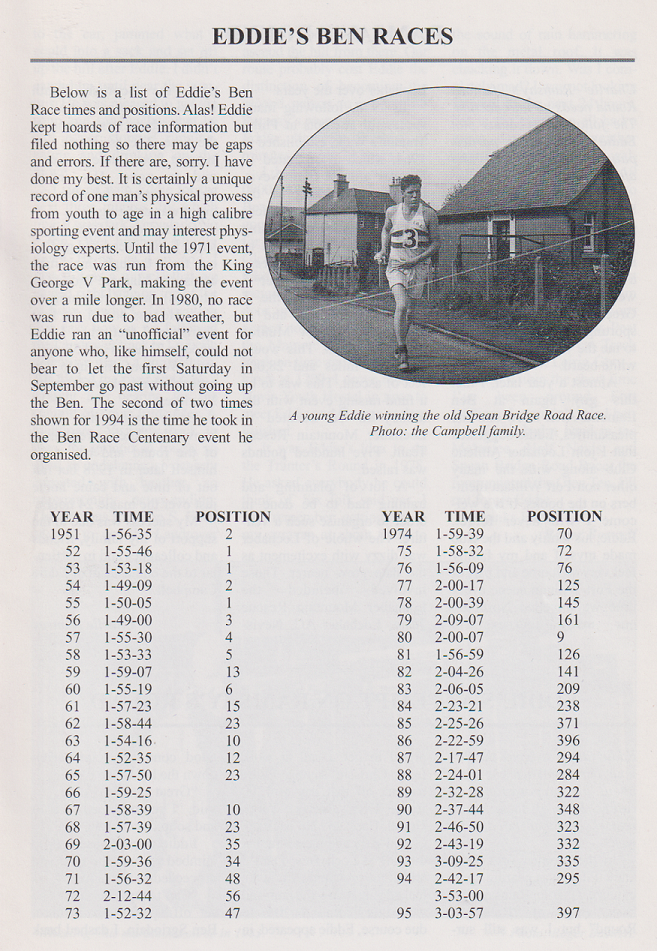 Roger Boswell (Lochaber AC) wrote: "It was Eddie's idea to do the Lochaber Marathon, Lochaber Half Marathon, Glasgow to Fort William Relay, Fort William to Inverness Relay, Four Tops Race, Aonach Mor Race, Peat Track Clockwise, Peat Track Anti-Clockwise, Lairig Ghru Race – all these while I have been around Fort William. I wouldn't mind betting that Eddie had a hand in the Melantee, Half Nevis and Spean Bridge Road Race (the forerunner of the Glen Ten). I'll not forget Eddie. Thanks, Eddie.
Colin Youngson (Aberdeen AAC) remembered: "Aged 21, I raced against Eddie in 1969, during my first marathon (Inverness to Forres) and then at my one and only Ben Nevis Race. Thereafter, I stuck to marathons, since there were no scary downhills! In the late 1980s and early 1990s I got to know this unforgettable, charismatic man a lot better, especially when I raced the Lochaber Marathon, when he was the most enthusiastic, supportive organiser imaginable. It was a privilege to be one of his many admirers."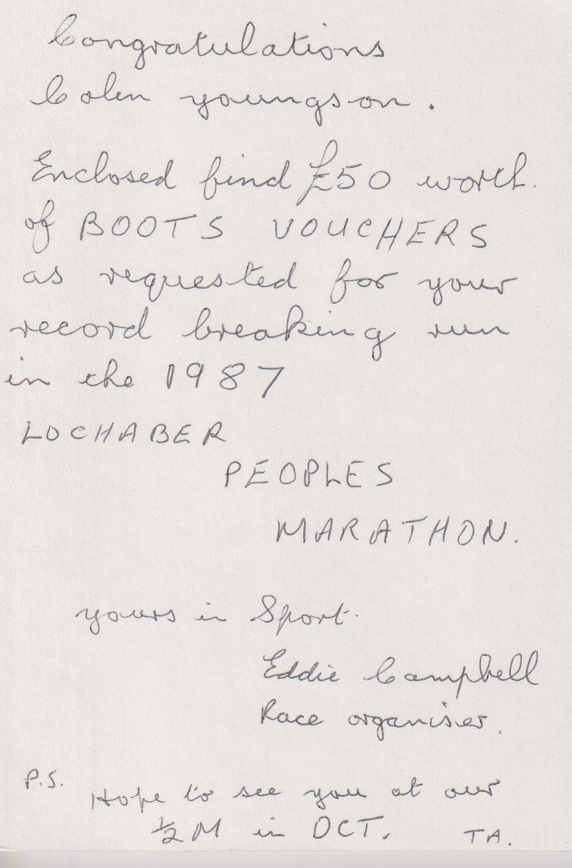 (A challenging event was 'The Three British Tops' (Snowdon, Scafell Pike and Ben Nevis) in which fell runners were driven in a car between runs. In 1956, two cars left Fort William for the inaugural record attempt. Three times Ben Nevis race winner, from Lochaber AC "bricklayer Brian Kearney" was to do the running. The start was from Caernarvon Quay at 23.30 on July 7th and the finish at Pier Head, Fort William 15 hours and 23 minutes later. Snowdon was run in darkness and mist, Scafell Pike in rain and Ben Nevis in rain. Subsequently, the record was reduced by four Englishmen: from north to south Mike Turner of Liverpool in 1963; from north to south, George Rhodes of North Staffs in 1964; Peter Hall of Barrow (from north to south later in 1964) and in 1971 by Jos Naylor (from Fort William to Caernarvon in 11 hours 54 minutes). In 1973, Eddie Campbell created a new Veteran's Record of 13 hours 22 minutes for this same north to south route, having been chauffeured by the Ben Nevis Race Association chairman, George McPherson.)
Leen Volwerk, who edited "Eddie Campbell: An Appreciation", published in 1997, which contains many tributes to the late hero, wrote the following:
"Eddie will not be running the Ben Race this year; nor did he run it last year. It will take many of us a long time to get used to the idea of a Ben Race without Eddie. His death is a watershed in the history of the race: we have now entered the post-Eddie era.
No one comes close to matching his distinguished record in the Ben Race: first three times; in the top ten ten times; started and finished forty-four times; a continuous presence in the race from 1951 and 1995. He was as much a part of the race as the mountain itself.
Eddie, always a striking figure in his later years, as befitted one who was different from the ordinary man, was a legend for his Ben Nevis exploits but there was a lot more to the man. He was inspirational to a host of runners both in Lochaber and in the wider world. Some top-class runners relied on Eddie's guidance when they attempted record-breaking runs on the Ben or other Lochaber mountains. His drive and resourcefulness led to a lot of new races entering the race calendar as a memorial to his energy and enthusiasm. We owe a lot to Eddie.
Essentially a modest man, he was still quietly confident of the work of his own achievements. This was what gave him the serenity and dignity which characterised him. All of us who knew him felt privileged to do so. He had presence. In a sense, he still has. As a former Ben Race winner, Allan MacRae of Assynt, wrote: "Eddie may be gone, but the challenge of the race remains. Other runners come and go, but Eddie has left an indelible mark on the history of the race."
Runners, remember Eddie at the summit cairn today; he was once as tired and inspired as you."
*
There were lots more tributes to this remarkable man, one of the best was this one which appeared in the Fell Runner of February, 1997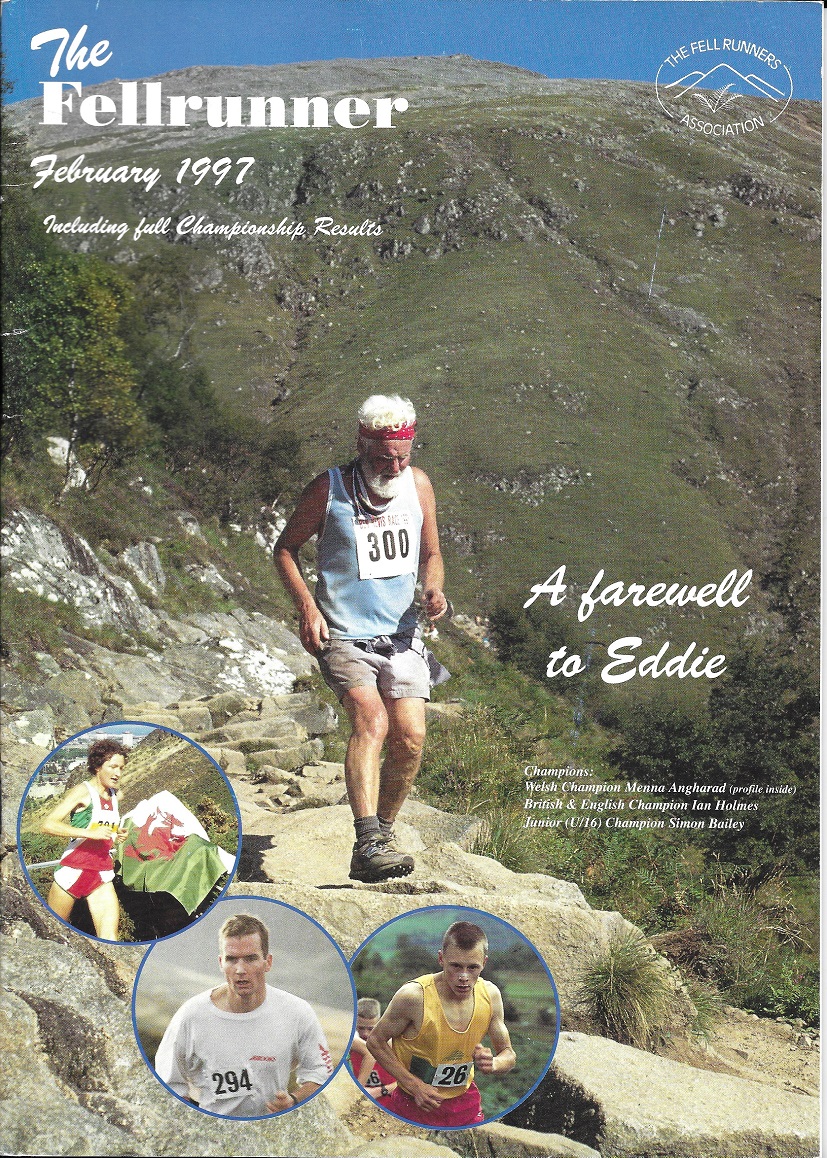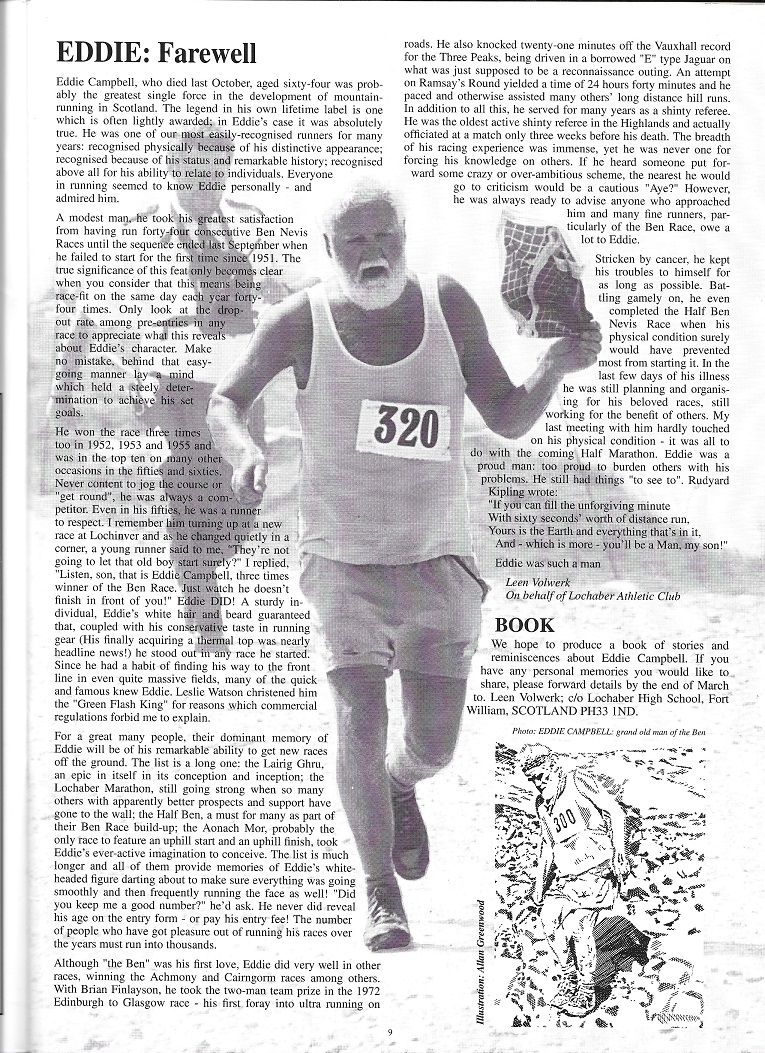 *
We didn't see Eddie running in the central belt too often but there was one year when he ran in the Edinburgh to North Berwick 22.6 miles race and was asked at the end by Jack McLean of Bellahouston why he wore such long shorts – "They add minutes to your time, Eddie!" Eddie looked at him and said with a straight face, "If you lived where I lived, you'd wear shorts this length as well!" He had a sense of humour. One of the big challenges in the North of Scotland is the Ramsay Round which comes next.
..