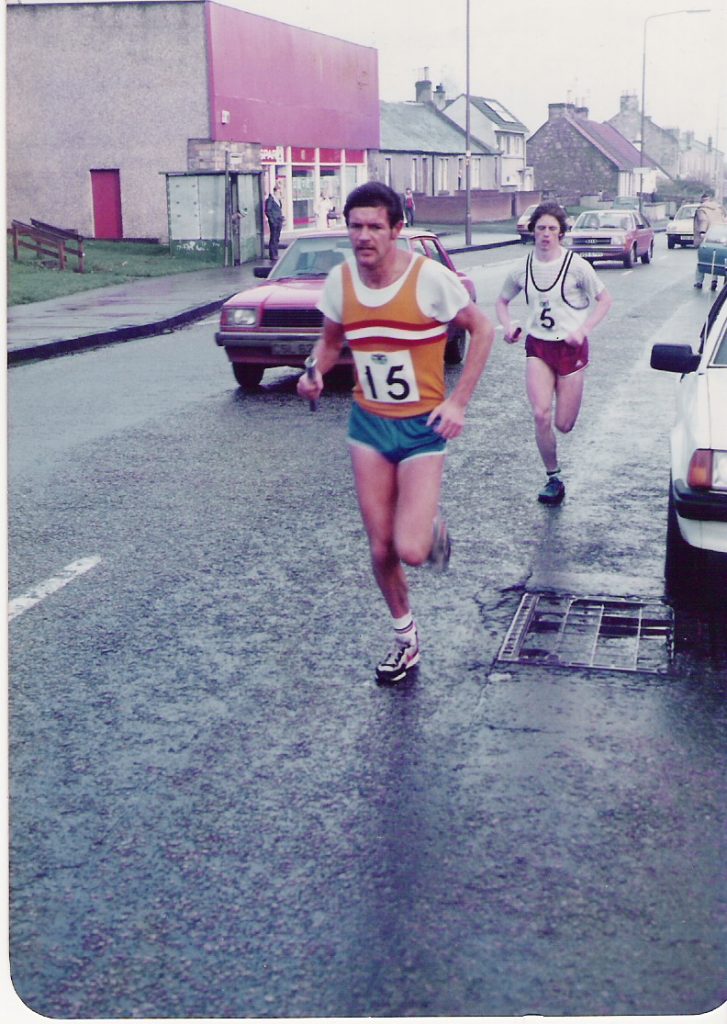 Hugh passes Paul Ross on the third stage of the Edinburgh – Glasgow Relay on which he caught 8 other clubs.
Hugh Forgie trained with our squad at Coatbridge from about 1983 to 1986 or '87. He was already a successful athlete, having been coached by Alex Perrie to many good performances. A member of many excellent Law & District teams from the time when he was in the Youth Team that won both the Midlands & National Cross- Country titles in 1973. On the Track he was a Scottish Internationalist and won the Silver medal in that event in the Scottish Championships in 1979. He also gained the Silver Medal in the British Indoor 1500m final behind Seb Coe. He had that medal and its ribbon above the mantelpiece in his Carluke home for some time. In 1980 and 1981 Hugh was a member of the Law Senior Men's Team that won the West District Cross- Country Championships. A very good athlete indeed.
He was also a great character and an asset to any team or squad that he ran with. For a proper review of his career, read the appropriate obituary on his club website: you'll find it at http://www.lawaac.co.uk/news/latest-news/1084-remembering-club-athlete-hugh-forgie
Paul Ross, the runner just behind him in the photograph above described him as one of the best guys he ever trained with. And he was well liked by all in the group. Look at the runners in the photograph below – as well as Hugh (or Shug as he was always called) you'll see Sam Wallace , Alex Gilmour, Graham Getty, Jim Orr, Susan Crawford and other very good athletes as well as some who were not quite as good. But Shug (8th from the left) treated them all the same and was respected by them all.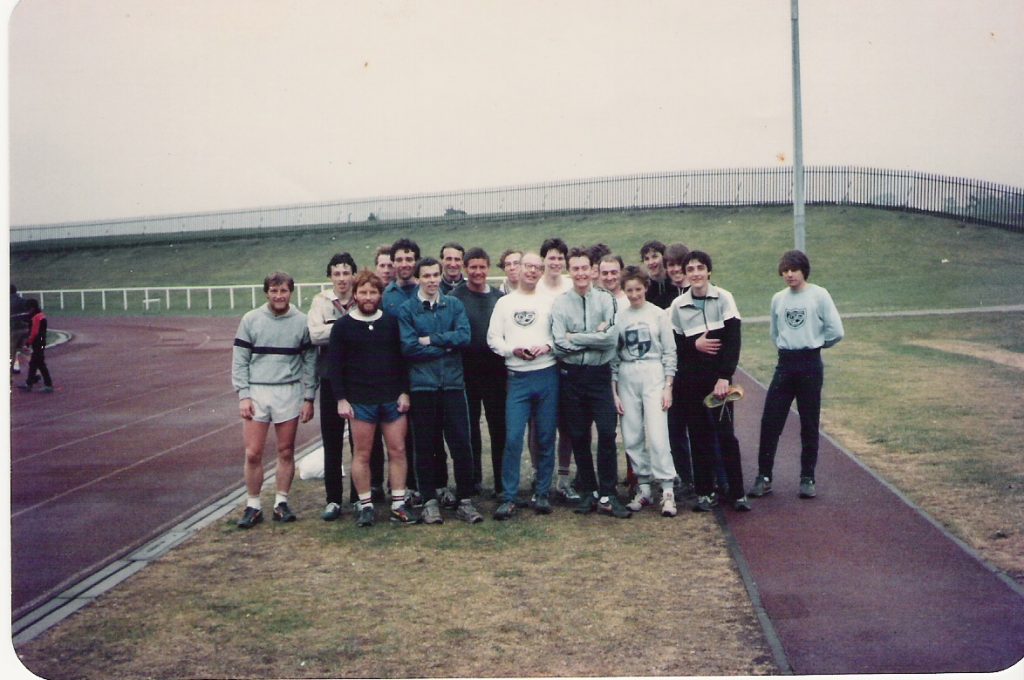 At that time he drove a Ford Cosworth car – very fast car which he drove fast! There are lots of good stories about him – and I'll tell just a few. The squad grew and Hugh clearly liked it – helped it grow, always asked before he invited anyone along – Kevin Snowball, David Marshall, Alex Gilmour, Billy Nelson were all recruited in the first instance by Hugh. What was he like?
*
One year in the mid eighties before running the third stage of the Edinburgh to Glasgow he came to me and said what was it like.
Undulating, I said. At the end, after a very good race indeed in the course of which he picked up 8 places, he came to me and said, "Undulating? Undulating? Ah couldnae fin the doonhill bits!"
Any time he was racing somebody he didn't know about, he came up to me and asked what he was like. No matter what I said, he asked, "Aye, but kin he feenish? I can always feenish!" And he could too. He had a tremendous finish in any race and it won him many a race too.
At another time he came up to do a session on a Saturday at Postie's Park in Dumbarton and brought his girlfriend Donna (from Carlisle!) who decided to top up her tan – it was a very hot day. Not typical West coast weather at all. Donna lay on the grass at the hammer cage wearing a brief two piece swim suit. I'd never seen guys heads turning through 360 degrees as they did 400m reps before.
Then there was the time when he came up to Clydebank on a dark winter's night so that I could show him the kind of hills I was talking about and what they were for and what time of year to use them. We had a look at one rather steep hill and spoke about leg strengthening, heart and lung, sprint action, etc and that was fine, then went round the corner to a much more gentle slope and that was where we were doing the session. When he took the track bottoms off, I discovered that they were held up by his girlfriend's dressing gown cord! He didn't want to lose it. Then when we started the session itself, I discovered that he was wearing his girl friend's tights to keep his legs warm!
He had a real heart of gold and would do anything to help if he could. As a coach I often had Christmas presents from athletes – in the 1990's half of them gave me bottles of whisky and the other half gave me toiletries – I thought they maybe saw me as a smelly old alkie! But there was only one Hugh Forgie – he had a training diary like everybody else and one year when he placed it inside the car on the passenger seat, there was a parcel wrapped in newspaper on top of it. When I got home and unwrapped it – it was a pheasant that he had shot himself, plucked and dressed it was pretty well 'oven ready' as they say. My wife marinaded it in red wine before cooking it. Excellent. Nobody else ever gave me a pheasant!
We were all shocked when we first heard of the leukaemia diagnosis and were not surprised when we read the newspaper stories about his pioneering work and his fund raising activities. He was a super guy, a great friend to everybody who knew him and a real one-off. The picture below shows him in his black T training with a group at Coatbridge in the mid 80's.