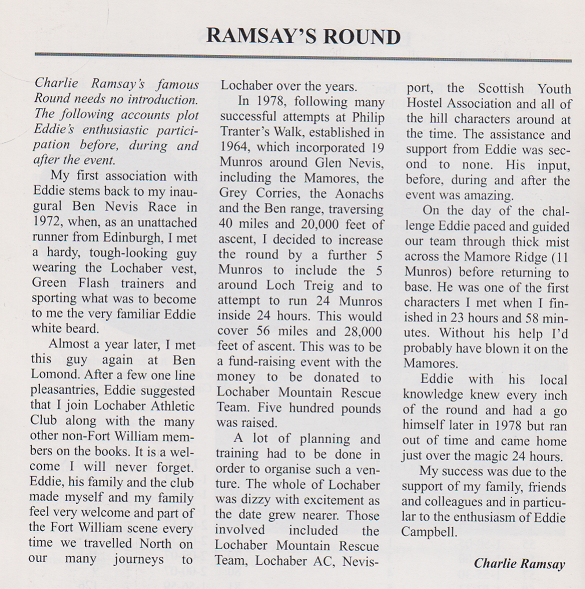 (The Wikipedia entry for Fell Running, states: The Ramsay Round, also known as the Charlie Ramsay Round, is a long distance hill running challenge near Fort William, Scotland. The route is a circuit of 58 miles, taking in 24 summits with a total climb of around 28,500 feet. Ben Nevis, Great Britain's highest peak, is included in the route along with 22 other Munros. Originally, all 24 summits on the Ramsay Round were Munros, but Sgorr an Iubhair was declassified as a Munro in 1997. The route was devised by Charlie Ramsay as an extension to an existing 24-hour walking route, and first completed by Ramsay on 9 July 1978.
Charlie's completion created Scotland's Classic Mountain Marathon. The aim is for participants to complete the route, on foot, within 24 hours. Runners must start and finish at the Glen Nevis Youth Hostel, and may run the route in either a clockwise or anti-clockwise direction.)
These challenges were/are serious and the men to tackle them are all good, strong and clever men. You can't navigate the Ramsay Round, for example, without being able to read a map. I once sat in on Bobby Shields and his brother Jim talking about a run over many miles of the Scottish Highlands and they were reading the maps as you or I would read a book. No hesitation, contour lines taken as read, assumptions about the nature, steepness and an automatic, at times unspoken, spotting of the best line to take.
One man who could run equally well on Road, and Hill was the great Donald Ritchie. There is another very good article on the Ramsay Round at this link .